Mix / Women
15 Cuff Earrings We Are Dying to Put Our hands On
Cuff earrings are a blast from the past, and they've gotten trendy pretty fast as well. If it's the first time you're hearing about them, it's time to climb out of the rock you've been living under and stepping up your fashion game. So, what are they?
Cuff earrings, also known as ear cuffs or ear sweeps, are just the right accessory right now. They are fun, they are unique and they are designed to bring attention to your earlobes and helix. The best part? It often doesn't require piercing, making you open to experiment and get adventurous with your fashion statement.
Because like every other thing that has gained popularity in this "smart" time of ours, ear cuffs can be many things at once. Chic and bold. Punk and stylish. Bohemian or hip. Carefree or collected. Seductive or geeky. Extra or subtle. And even formal and classy. Cuff earrings can be anything you want to make out of them; as long as you don't overdo them.
There are many ways to style ear cuffs. You can go for a cute look by adorning your ears with pixel sized cuff earrings or you could pull off a more rebellious stunt by sporting a bolder piece. If none of these sound right, simply accessorize yourself with crystal ear cuffs and be the ultimate image of class and sophistication.
We have gathered here 15 trendiest cuff earrings and they are everything your closet needs right now! But before you go on to purchase one of these beauties, it would benefit you to know a few things about them.
Throughout history, cuff earrings have gained much popularity. Cuff earrings, anciently known as 'Kaffa', are seen in early paintings from various ancient cultures. The styles, designs, and ways of wearing this particular accessory have evolved over the years and still continue to adapt to modern changes.
They are common in both eastern and western cultures. Ear cuffs and eastern fashion have been like a happily married couple, never letting go of each other. Cuff earrings, particularly elaborate stone-studded and tasseled ones, have adorned the ears of Indian ladies- from Mughal queens to millennial Boly divas. To this day, heavy ornamental cuffs are one of the favorite picks of Indian brides for their wedding along with classic to go with traditional outfits, like saree or ghagra-choli.
On the other hand, the relationship of the West with cuff earrings has been like a love affair. They have on-and-off flings every now and then. The style comes back to trend from time to time. Marilyn Monroe showed off cuff earrings and made them popular in her days. But ear cuffs have been immortalized by the punk culture in the 80s. The concept of single earring also sprang from them around that time. The cuff earrings trend, for many years, has been synonymous with punk. But recently it's been adopted into main stream fashion particularly after the punk themed MET gala of 2013.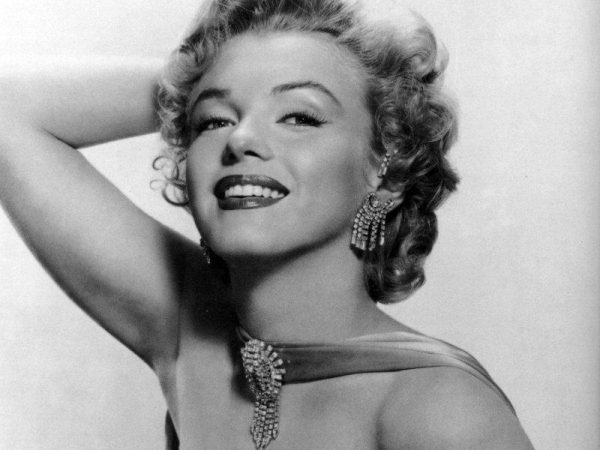 If you're worried about how to pull off your cuff earrings or which outfit to pair it up with, get inspiration from the A-lists of the Hollywood stars. We have seen celebs like the rebellious Cara Delevingne to prim and proper Emma Watson indulge in this style. From Rooney Mara to Miley Cyrus, everyone has their own idea of cuff earring styling.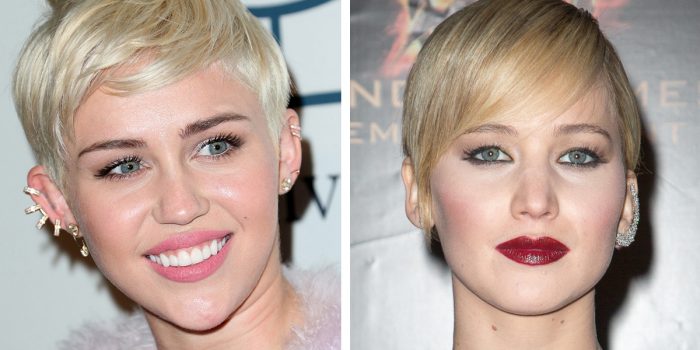 If you feel like it's a trend among the younger generation, well you are wrong. You should check out Jessica Alba dazzling on with her ear cuffs. Also don't forget Eva Green's ear-do in 300. Take ideas on what to pair with your cuff earrings to look dapper and dashing this summer!
A few "wow" factors of these cuff earrings at a glance:
Pros
With a tiny addition to your style, you can change your whole fashion statement.
You never have to venture out of your comfort zone.
They are flexible: Can be worn as regular pair of earrings or as a single ear cuff.
You wouldn't need to put on too much jewelry since ear cuffs would function as center piece of your ensemble.
Fulfills the motto "less is more".
Without hurting your pockets, you can adopt hipster, rockstar, bohemian or royal looks.
A great conversation starter.
Now that we have established that ear cuffs are simply much better that plain old earrings, here's a few reasons why you shouldn't make this a part of your everyday style:
Cons
Not appropriate for every occasion.
Not to be worn overnight or every day as it may obstruct your blood flow when clipped on for long periods at a time.
As most cuffs are clip ons, chances of losing them are high.
Can turn into fashion fail when overdone. So never wear elaborate ear cuffs and heavy earrings together. If you jazz on elaborate ear cuffs, choose simple neckwear.
Frowned upon by many but don't let that stop you!
With both pros and cons covered, we can safely assume that now you know the general Do-s and Don'ts. So, let's move on and acquaint ourselves with the different types of ear cuffs you'll find in the market! There are lots of options to mix and match form, starting with:
Pixels
Single/double/multi helix rings
Solid bands
Ear wires
Climbers/crawlers
Large circular cuff
Tassel and chain
Ornate Indian style
Wrap around
Hairstyles that complements cuff earrings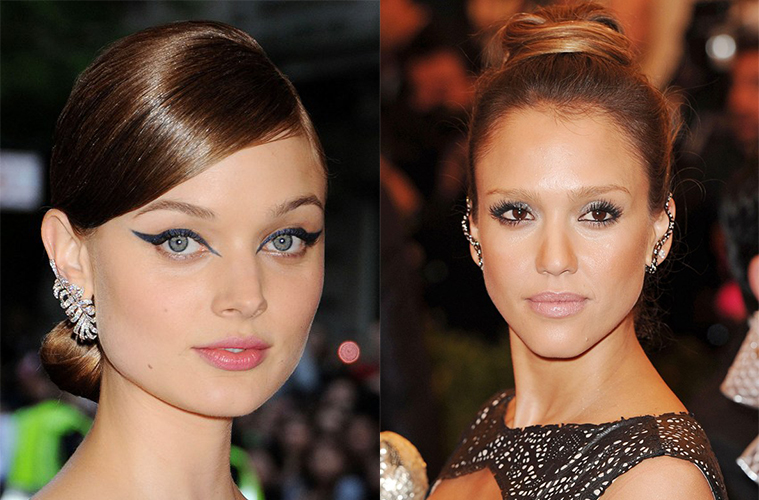 Ear cuffs look good with almost any attire if you do your hair right. Hair is the closest neighbor to your ear and because of this, you need to set your hair in such a way that it makes your ear wear stand out. Here are some fitting hair styles to complement those gorgeous ear cuffs :
High updo
Messy bun
Asymmetrical hair do
Low ponytail
Fishtail
Messy braid
Side swept
How to care of your cuff earrings?
You are definitely going to fall in love with these cuffs. So don't let them wear away before their time. Here are some useful tips to preserve them:
Avoid contact with organic chemicals, like perfume and makeup
Maintain minimum contact with water
After use, wipe with soft cloth
Store in airtight box
Ear cuffs and ear wraps are usually one of those "one-size-fits-all" kinds of accessories. But if your ear cuffs ever start to hurt, you need to take a minute and fix the issue. Prolonged usage of very tight ear cuffs will undoubtedly leave an ugly bruise due to blocked blood flow. Do not take this lightly since it often takes months to recover bruises like these. So, how to fix it? The easiest and most convenient method is to take pliers and gently adjust the gap according to the thickness of your ear cartilage. You only need to widen the gap minutely. If your cuffs become too loose there's a risk of them falling off. Nobody likes to worry about their accessories 24/7 right? It would definitely ruin your quality time if you have to be constantly vigilant of them, plus it may make you look uncomfortable.
If you ever find yourself sporting a bruise at the end of the day, take a cue of ice and wrap it in a small piece of cotton cloth and gently rub it against your ears for a while. Massaging your ears lightly with your thumb and forefingers following the ice rub is also a good way to encourage blood flow in the affected area.
With all the precautions taken and prepping done, let's take a look at 15 cuff earrings our team fell in love with.
Best Cuff Earrings Our Team Loves This Year
1. Pixel Jewelry 1985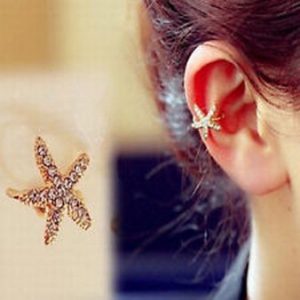 Product specifics
High quality materials
Crystal and alloy
Clip on
Nickel free
Tarnish resistant
Hypoallergenic
Product description
One word for it: cute.
We are hopelessly falling in love with these cute pixel ear cuffs! A pixel is a tiny earring worn mostly on carriage of an ear. Some like it high on the top, others like it low. Pixels add a rebellious and girly edge to your look. If you dress right, they can be chic and elegant as well.
There are so many to choose from.
The pink star shaped one
The rhinestone crystal ring
The crystal leaf
The classic band, either gold or silver
The helix
Pixels are like ear cuff starter pack. They are the most basic ear cuffs and the most loved.
Tips and tricks
You can pair up regular earrings with pixel or let it stand alone, depending on how you feel.
It is suitable for everyday wear.
2.  
JOVIVI Non-Pierced Hollow Triangle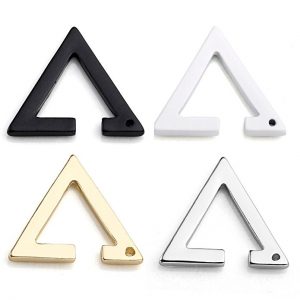 Product specifics
Four pairs with each pair of different color
Black, silver, gold and white
Size 23*24 mm
Stainless steel body
Product description
These triangles are both chic and bold.
Although they look complicated, they are easy to slip on and stay fixed on ear cartilage without any piercing. These are made of stainless steel and come in four pairs of four colors.
Tips and tricks
This is the kind of ear cuff you rock with black nail polish and a fishtail, whether with that black dress or with high-tops, skinny leggings and your favorite topper.
Although they come in pairs, you should only wear one. Otherwise what was supposed to be fabulous would turn into fashion fail.
3. MS body jewelry Double Band Helix Ear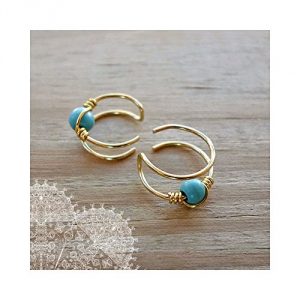 Product specifics
Handmade
Hammered 20 gauge gold brass
4mm turquoise bead
Suitable for upper ear cartilage
No piercing needed
Product description
These turquoise beauties are so simple, sweet and swoon worthy.
These no pierce requiring ear wraps are the ultimate can't-go-wrong cuff earrings. With a double band helix body made of gold, it's the turquoise conch that steals the show.
Tips and tricks
Feminine and cool, they are suitable for women of all ages and for everyday wear.
4.  
Cyntan Set Vintage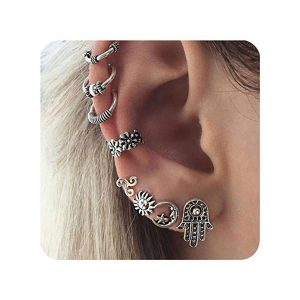 Product specifics
Alloy
Silver toned
Weight 8.8g
8 pcs
Size 4 Pcs : 0.9 cm, 3 pcs : 1 cm, 1 pc : 1.5 cm
Product description
Nothing screams punk and stylish more than a full fledged set of vintage punk stud earrings.
These silver toned rings, appropriate for casual, exudes a bohemian aura. The set of eight earrings consists of studs and cuffs, made of alloy,  to be worn in one ear all together.
Tips and tricks
These are super perfect to be edgy and subtle at the same time. Because they are tiny, they won't instantly draw attention and you can pull of subtlety. And once someone notices them they would be at awe, admiring your understated edgy look.
There are so many possibilities to complement this set. You don't have to get out of your comfort zone; you can wear your regular outfit and still look like a member of a punk band. But the most head-turning combo would be a dress of pastel shade and these four pairs of earrings. The cute rebel!
The set is meant to be worn in one ear only and comes with eight different pieces. But if you buy two sets you would instantly be the clever owner of eight pair of earrings appropriate for everyday or formal use, without spending much.
5. Edgy Hammered Double Spiral Tragus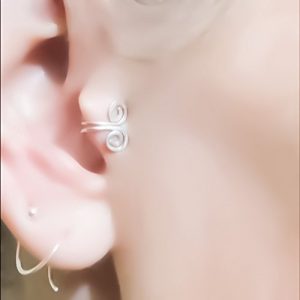 Product specifics
Handmade
Product goes into production after placement of product
Sterling silver, yellow  or rose gold
One size fits all
No piercing required
Product description
This edgy ear cuff is made to be worn on tragus.
The specialty of this dainty yet distinguished jewel is that it's handmade. Your piece would be made after you place your order.
It's hammered into an eye catching double spiral. You can choose from yellow, sterling silver or rose gold. No piercing is required.
Tips and tricks
It will go just fine with anything and everything. You can sport a hip look combining the tragus with a pixel cuff or with usual earrings. The best part is that no matter what you do, you can't overdo this cuff. Flaunt this edgy look and add some boldness to your personality!
6. Silver Phantom Jewelry Dragon Ear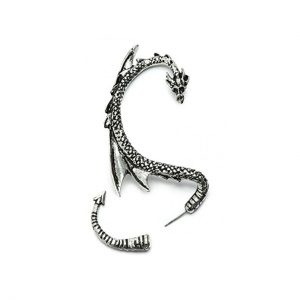 Product specifics
High quality antique silver alloy
Rubber backing for comfort and firmness
Measures 4cm at the widest part
Gothic touch
Game of Thrones inspired
Requires piercing
Product description
Game of Thrones inspired  dragon ear cuff!
These earrings are an ornate pair of dragon shaped into round cuffs. The stand out feature of the cuffs, apart from being dragons, is that they are made of antique silver.
There's a fangirl inside every one of us who wishes to ride dragons and take on the Iron Throne. But alas!
We might not be a dragon riding Khaleesi, but we can be dragon rocking khaleesi with these cuffs.
Tips and tricks
They are absolutely perfect and more importantly, appropriate for cosplays and Halloween get up but the fangirl within you won't satiate, we know. So we will not make suggestions for you on when to put them on. Because you are not going to listen anyways, you can wear them whenever and where ever you want to.
7. Alchemy of England Steampunk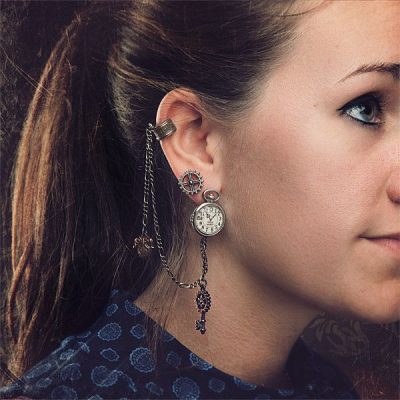 Product specifics
Material is pewter
Gothic inspired
Victorian charm
Product description
Steampunk Uncle Albert's timepiece ear cuff is truly timeless.
Unique in its idea, this Gothic inspired piece features a clock shaped stud with an ornate keychain dangling from it at one end and an ear cuff attached to a chain, to be attached to ear cartilage at the other end. The timepiece has another chain with a tiny pendant dangling from the cuff. All things combined, it is a wonder that a jewelry rooted in punk culture can be adapted to exhibit such elegance.
Tips and tricks
Rustic gold in color, this earring is so confidently classy that you can walk on red carpets with it.
8. Rubans Gold Plated Traditional Indian Jewelry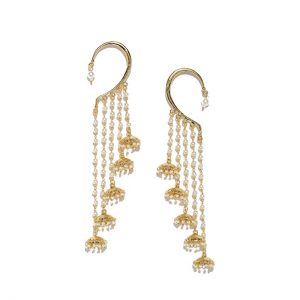 Product specifics
Designer earring
Handcrafted
Brass alloy
Gold plated
Pearls
10 cm in length
4 cm in width
Product description
This Indian bridal jewelry has a gold plated body with pearls dangling from chains. It requires no piercing. Shaped like the ear they are meant to simply hang from the ear with the pearls hanging from behind the underside of the ear.
Bold and majestic, they would be appropriate for night outs, proms and similar events.
You are bound to turn heads with these pearls. They are eye catching without getting extravagant.
Originally, each ear cuff was designed to be worn on both ears with traditional attires but you can create your own fashion statement and wear them with whatever you deem fit.
9. Earring NYKKOLA Charm Elegant Angel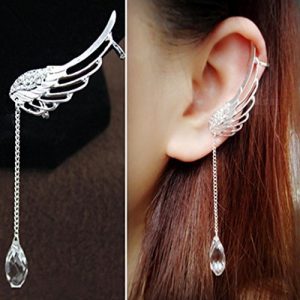 Product specifics
Eco-friendly alloy
Sterling silver plated
Nickel free
Cadmium free
Lead free
Safe for allergic individuals
No piercing required
Product description
This silver plated angel wing ear cuff is made of eco-friendly alloy. There is a silver body of intricate design covering the cartilage and a white stone dangling at the end of the chain from the ear lobe.
Tips and tricks
The cuff looks something out of a fairytale. It is a pleasure to the eye and brings out a sense of tranquility like an angel has cast a charm on you. Dazzling as it is, it is perfect for any evening party.
They come in pair, but wearing a single one is better for casual outings.
10. Pink Universe Pearl Ear Clip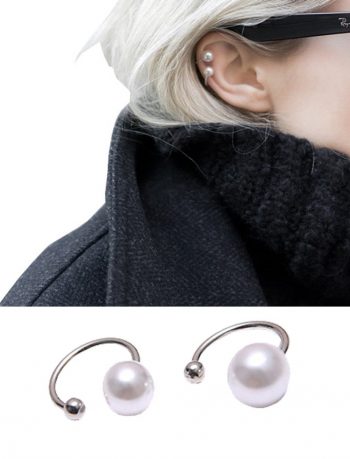 Product specifics
Copper
Imitation pearls
8 mm in diameter
Open hoop
No piercing required
Safe for allergic individuals
Product description
These royal looking pearls are made of gray imitation pearls on a body of copper. They are U shaped and can be clipped onto the ear without any piercing.
These pearl beauties are subtle, stylish and seductive. They are one of those which are perfect for both casual and formal and can never go wrong.
You can don them on with anything and everything. You can even wear them on your wedding, if you are adventurous enough!
A fun way to wear them is to clip on both to the cartilage of the same ear in whichever direction you prefer.
11. Humble Chic Tiny Spike Ear Climbers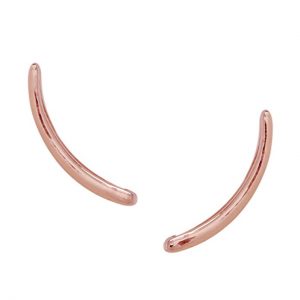 Product specifics
Adjustable size
Available in three other colors
Crescent shaped spike
6 inch
High shine plated metal used as base
Might cause irritation in allergic individuals
Product description
The crescent shaped ear climbers are available in gold tone, rose gold and silver. Made of high shine plated metal, they might cause irritation and not safe for allergic individuals.
The rose gold tone exhibits a heartwarming softness.
They are ear crawlers, a type of cuff earrings, built as studs. The studs are screwed into the ear piercing and then rotated upwards.
Tips and tricks
They are dainty and delicate, showcasing sophistication. This makes them suitable for parties and work and school. Unlike other cuff earrings, these looks better when worn in pairs.
12. El Vincere Vine Crystal Ear Cuffs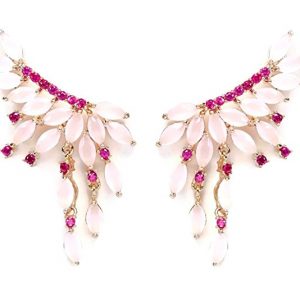 Product specifics
Gold plated with simulated rose quartz
Platinum plated with cubic zirconia
Bridal
Product description
Inspired by nature, these pair of vine crystal come in two colors- pink and white. The pink pair is gold plated and made of simulated rose quartz. The white ones are cubic zirconia fashioned upon a platinum plate.
Tips and tricks
They are an epitome of elegance and perfection and therefore a perfect fit for a bride to wear on her wedding. You can also wear them to the best parties. People are bound to turn heads in your direction, so get ready to bathe in a sea of admiration.
13. Bling Jewelry .925 Silver Swirl CZ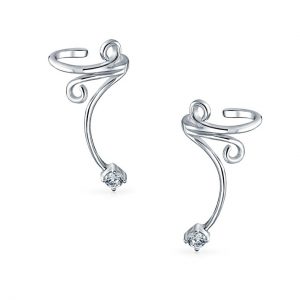 Product specifics
Lustrous .925 silver
Cubic zirconia
Electrocoated
Comes in pair
Clip on
No piercing required
Weight 1.6g
Product description
The hypnotic pair of cuff earrings are made by electro-coating which makes them super long-lasting. These silver and cubic zirconia clip ons require no piercing.
Tips and tricks
These dazzling silver beauties allow you to make an image of a carefree yet prim and proper person. They are a perfect way to express that less is more.
14. FarryDream 925 Silver Cuff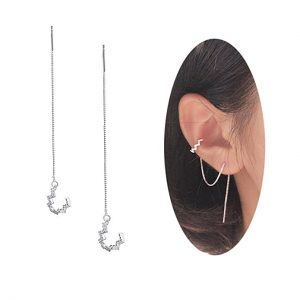 Product specifics
Sterling silver
CZ stones
Size 10.5 cm
Weight 7 g
Product description
This long cuff earring is very unique. Made of sterling silver they come in a pair.
It has a long thread like chain attached to cuff. You attach by clipping on the cuff to the cartilage of your ear and pass the end of the thread into the piercing on your earlobe. This causes the thread to create a wave in the middle and dangle at the end.
Made nickel free, it is safe for use, especially for those of you who are easily prone to allergies.
Tips and tricks
This threader tassel makes a chic statement. The tassel is apt for hangouts, picnics and anything casual.
15. Original Elegant Black Coloured Cuff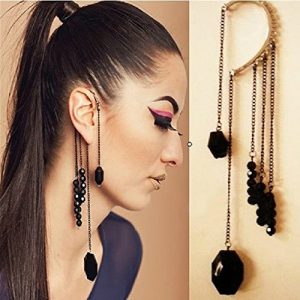 Product specifics
Black colored
Circular cuff
Slip on
No piercing required
5 long tassels
Black stones attached to end of tassels
Product description
This golden circular cuff is made of 5 tassels attached with beads and pearls of black color.
Tips and tricks
This piece stems from Gothic and punk culture. It is all about being dramatic and extravagant. Therefore, it is not for everyone. You have to be bold and brave and have a hardcore commitment to this fashion statement. Only then will you be undoubtedly basking in  the limelight you deserve.
Final Words
You should throw away yours reservations and give these cuff earrings a try. If you are not so sure, start with a pixel or the gold and turquoise beauty. Soon you will find yourself dying to buy the silver swirls, the threader tassels and perhaps even the black circular cuffs. If you have your big day coming, get brave and give the crystal vines or Indian bridal pearls a try.
When you wear them to somewhere, always make sure you are not violating dress codes.
No matter which one you wear, you will only sparkle like a glam queen only if you wear and carry them with confidence. After all, confidence is the most necessary accessory!