A Selection of Men's Jewelry Boxes (Because Men Need One Too!)
last updated:
Oct 26, 2021
When you spend a pretty penny on jewelry, you should keep your high-quality pieces safe and organized.
Jewelry boxes are a fantastic way to keep all of your valuables in one spot. Also, with the right one, you can have a unique accent to add to your closet or bedroom.
We've found several phenomenal jewelry box options that every guy will love.
Whether you're looking for a gift or if you're ready to organize your collection, let's look at some of the best boxes out there.
Top 7 Picks!
1

. Hives and Honey Trenton Brown Wood Valet Box
The Hives and Honey Trenton Brown Wood Valet Box is sleek and masculine with impeccable finishes. It's one of the many jewelry boxes that will keep your pieces perfectly safe with plenty of internal organization.
Read more
Its exterior finishes set it apart, as it boasts a rich antique walnut finish paired with chrome hardware.
Even the angle lift top looks exceptionally luxurious when you open the box to grab your jewelry.
There's plenty of space inside the jewelry box to house watches, rings, bracelets, earrings, and even larger valuables.
With the plush lining on the inside, you can ensure all of your delicate metals are kept scratch-free and polished. Another remarkable feature of this guy-friendly jewelry box is its cufflink organizer.
Apart from your favorite accessories, there are also built-in pen loops for you to keep your expensive pens. You'll find the ideal placement for your luxurious Cartier or Mont Blanc fountain pens.
Also, there's a fantastic compartment with a plush lining explicitly designed for sunglasses.
2

. Stock Your Home Luxury Dresser Valet Organizer
The Stock Your Home Luxury Dresser Valet Organizer is undoubtedly one of the largest jewelry boxes you'll find. Not only does it feature individual storage compartments but a pull-out drawer as well.
Read more
You'll have plenty of room to keep all of your valuable accessories as well as electronics and other belongings. In the main compartment, you'll find suede-lined areas to keep all of your pieces.
Also, there's a dedicated section for loose change and keys, helping to keep your essentials organized.
With the hinged lid, getting into the box is just as easy as closing it to keep your belongings safe. In total, you'll find ten divided sections designed to help with cufflink, clip, tie, and watch organization.
As mentioned, it has a pull-out drawer. In the drawer, you'll also find soft lining to protect your rings' quality and help prevent tarnishing.
Everything that you could imagine can easily be stored in this high-quality and minimalistic jewelry box.
3

. Mele & Co. Hampden Glass Top Wooden Dresser
There's nothing that exudes confidence more than an old-world-styled jewelry box for men. The Mele & Co. Hampden Glass Top Wooden Dresser Top Valet is a fabulously designed solution. It has everything you'd expect from a classic jewelry box with high-end, professional finishes.
Read more
This is one of the few jewelry boxes any man will be proud to display in the open. It has an antiquated appeal while also showcasing confidence and masculinity.
The glass top adds an extra layer of fascination at the top of the box, allowing you to showcase your favorite pieces.
Apart from its styling, this jewelry box is incredibly convenient to use. You'll find three levels of organization, helping to keep all of your essentials separate. The upper tier features a glass viewing window where you can keep your most expensive pieces.
Another unique feature of the upper tier is that it has removable cushions that you can use for watches or other jewelry pieces.
The lower level features two coin slides, helping you keep your loose change organized. Everything that you could dream of in a jewelry box is included with this model.
4

. Charlotte Monogrammed Black Wood Jewelry Box
Are you looking for a simple and straightforward men's jewelry box with a bit of customization? The Charlotte Monogrammed Black Wood Jewelry Box is the perfect choice for the modern man.
Read more
There's plenty to appreciate with this jewelry box, especially if you're looking for a contemporary and sleek style.
The straight lines are a fantastic option for any closet and you can customize the box with beautifully printed monogramming. Available with letters from A to Z, you can add an extra heartfelt touch to your gift.
You'll appreciate the black coloring of the exterior wood, which is what makes this piece versatile for any room.
Also, the internal soft lining is a muted grey color, which contrasts beautifully with the darkened wood coloring. Undoubtedly, the most important part of any jewelry box is its storage, and this design has plenty.
On the inside, you'll find adequately sized compartments designed for up to four watches or ten pairs of cufflinks. There's also plenty of space for loose change, pens, sunglasses, and other everyday essentials.
5

. Things Remembered Gunmetal Tri-Tone Valet Box
The Things Remembered Gunmetal Tri-Tone Valet Box has a special design that makes it an amazing gift. This jewelry box is a beautiful way to show someone how much you care. With its sleek and glamorous design, it's a convenient solution for essentials.
Read more
One of the more unique features of this valet box is that it doesn't have standard organization like others.
Instead, the box is completely open, making it a great option for your everyday needs. If you're more interested in a small, low-profile box, this is one of our top recommendations.
The exterior of this jewelry box is its most remarkable component as it combines different metal finishes. You'll find satin gunmetal with satin silver and shiny silver finishes.
You'll love the classic herringbone striping down the edge that adds an extra layer of dimension to the piece.
For a stunning contrast, once you open the box, you'll find it's lined with black velvet. With velvet, you can guarantee your jewelry won't get scratched and can be kept safe.
As a gift, this jewelry box is an exciting option as you can have it engraved.
6

. Glenor Co Watch Box with Valet Drawer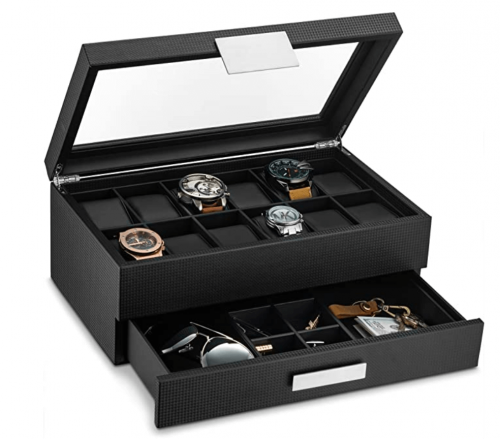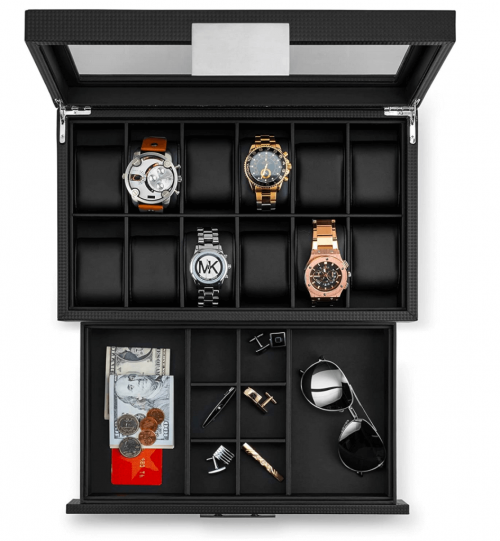 This is one jewelry box that would make a great addition to room décor. The perfect design is suitable to balance up modern styles and create a feel of sophistication for all your jewelry items. From watches to rings and even gadgets, you can arrange them all neatly inside the well-styled compartments.
Read more
Made by Glenor, there is an artistic feel to the overall design of this box. It has a uniquely beautiful exterior that was made with carbon fiber.
This can only mean that the durability is incontestable and high-quality materials dominate the entire covering.
There are metal hinges to make it convenient to open and also a glass top so that you can easily see the jewelry you have placed inside even when you are not going out.
Inside the box are 12 compartments that are very well lined with ultra-smooth PU leather. The walls are made of sophisticated stainless steel, and it also comes with a drawer at the bottom to provide more space for your accessories.
You can keep your watches at the top, your sunglasses, rings, pens and even your money in the other compartments.
7

. Arolly BELA Dark Wood Valet Travel Case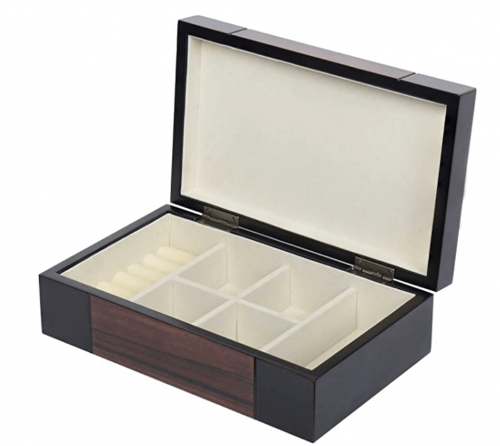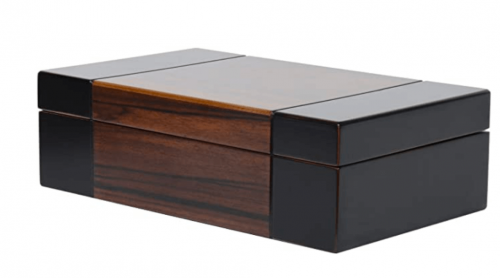 This organizer was made with dark wood that looks like that used to make most of the furniture used in different settings. The color is aesthetically pleasing, and you can place it right there on your table or countertop.
Read more
It is not so portable but quite efficient with a dimension of 12.1 x 8.1 x 5.1 inches and weighs 2.25 pounds in total. There are hinges by the side to make closing it easy, so that dust doesn't get to your valuables.
When jewelry comes in contact with each other, there might be some scratching, and that would reduce how appealing they look.
Inside this jewelry box, there are separate pockets divided by well-lined walls to avoid contact. It has four compartments for watches, one compartment for your glasses, necklaces or bracelets and another that can take several of your rings, pendant or cufflinks.
You can choose to go for the dark wood or the brown color. Any of the two has the same design, they are only both available to select the one that goes with your other furniture.
The price is really great, and you don't want to miss the opportunity to get such a wonderful deal.
How to take Care of a Men's Jewelry Box
After getting a jewelry box or travel jewelry box and storing all your items correctly, it's great to learn how to take care of it so you can enjoy it for as long as possible.
In this section we have a few tips to help you make sure that your box looks as lovely as possible, every time;
✓ Don't use any harsh chemical to clean the box, you can use a mild cleaning agent, like soap, to wipe the exterior part of the box
✓ Don't allow moisture inside the box
✓Make sure that you keep the box where it isn't prone to spillage