Our Selection of the Best Chain Chokers for 2023
last updated:
Jan 07, 2021
When it comes to necklaces, there's nothing more stylish than a choker. We have chosen some of the best chain chokers for 2020 that are not only beautiful but are extremely comfortable as well. They're also available to buy at a great price! 
Some of them have a single chain, some have a double. We've chosen chokers with a dainty chain, others with a chunkier one and some feature long rectangular style chains. The great thing about chain chokers is that there are so many different ones to choose from!
If you like a more minimalistic choker we've got this covered however if you prefer a splash of sparkle, we've chosen a couple of special chokers featuring shimmering crystals and pretty charms. Whatever takes your fancy, we've catered for all tastes. 
 
10 Chain Chokers for 2020
1

. PROSTEEL Figaro Chain Choker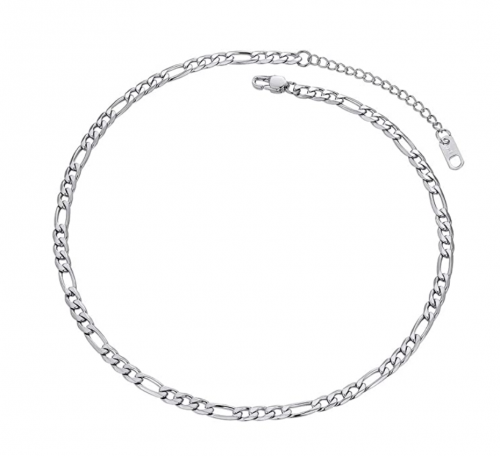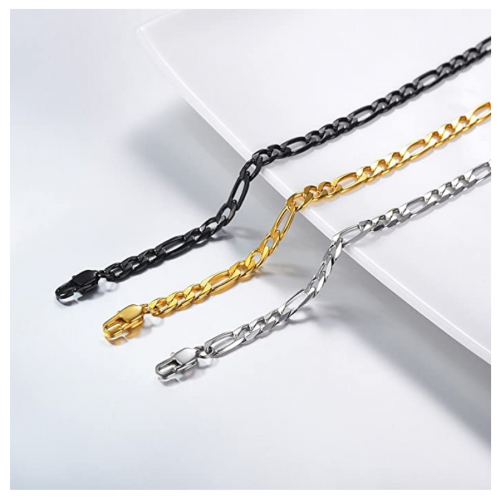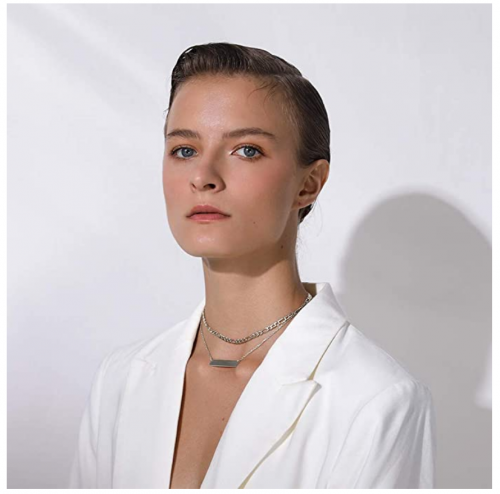 Stainless steel
Extendible chain
Lobster claw clasp
If you're looking for a chain choker that can be worn on an everyday occasion, then look at this piece of jewelry from PROSTEEL. 
Read more
This necklace is made from stainless steel which is a great material because it can withhold wear and tear when worn daily. The advantage of using stainless steel is that it doesn't oxidize or tarnish and is hypoallergenic so is safe to wear if you have sensitive skin.
Approximately 14 inches long, this choker chain can be extended by an additional 2 inches which is fantastic. It allows you to adjust the necklace to the exact length you want it to be. You can even change the length of the necklace every time you wear it depending on your outfit. This jeweler also offers this necklace in a variety of colors including black, gold plated and sterling silver. 
The lovely necklace has been designed with a high-quality lobster claw clasp. The clasp is easy to use and will prevent your necklace from coming off. 
The weight of the piece is approximately 6gms so it's heavy enough and you know it's made from a good quality metal but light enough ensuring plenty of comfort. 
The designer has opted for a classic simplistic style. What we love about this style of choker is that it can be worn in so many ways, short as a choker or longer like a necklace, making it extremely versatile!
The necklace comes with a gift box making it the perfect gift for someone. It also comes with a 30-day money-back guarantee.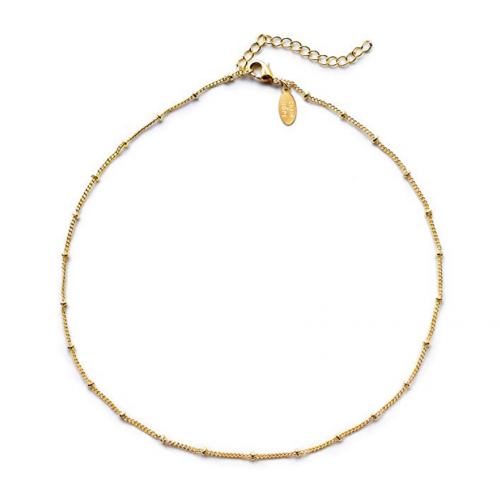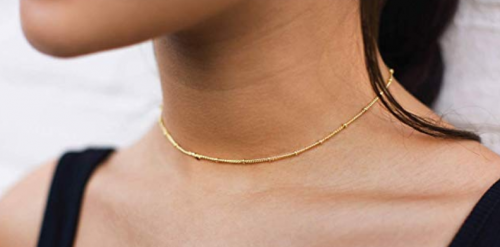 14k gold 
Extendible chain
10% of profits are donated to Water Mission charity
A gold chain choker like this one will make a timeless addition to your jewelry box.
Read more
The necklace has been made from a 14k gold plated brass metal which gives off a beaming shine. 
What's interesting about the chain is that it is a beaded curb chain. Featuring 2mm gold bead balls, this detail makes the necklace stand out. Once again, we've chosen a necklace that has an extendable chain. The chain is approximately 13 inches long and has a 2-inch extension, giving you plenty of options when it comes to fit.
The chain has a very understated, sophisticated feel to it. The piece of jewelry could suit a variety of occasions - erfect for wearing at work or out for a night with the girls. This simple but elegant choker is gorgeous, you won't want to take it off! 
What's special about this necklace is that the gold choker has been made as part of a charity scheme whereby 10% of the profits are donated. The charity, Water Mission, provides clean water to people in Africa. Not only do you get to buy something beautiful but by purchasing this choker, you get to give back to a special charity where clean water is really needed. 
3

. Benevolence LA Gold Choker Necklace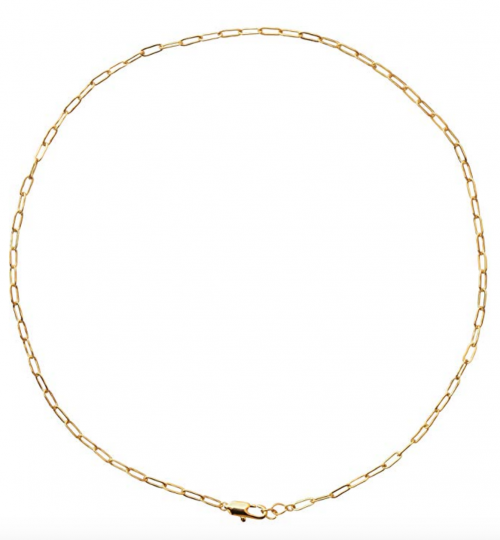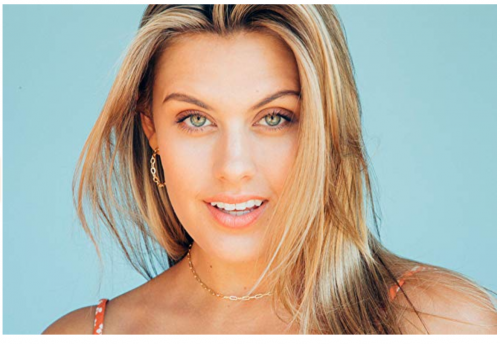 14k gold
Rectangle long link chain
Signature gift box
This beautiful gold choker is sure to transform any outfit! The first thing that catches your attention is the vibrant gold color which will brighten up your day. The choice of gold metal makes this piece extremely glamorous.
Read more
The type of chain makes this choker unique. The necklace is made up of elongated rectangular-shape links. The design detail gives the piece a modern vibe.
The size of the chain is approximately 14 inches long and features a lobster clasp making it easy to put on and remove. The chain is hypoallergenic as well as adjustable, giving you lots of options when wearing. 
The design of this choker makes it a perfect piece of jewelry if you want to create a layering effect as part of your outfit. The gold metal and long link detail make this choker an ideal accessory if you want to mix and match it with different pieces of jewelry.
Fancy something a little different? The necklace can also be adapted and worn as a bracelet by wrapping it around your wrist a few times. The choker also comes in a stylish signature gift box. 
4

. Hoops & Loops Sterling Silver Italian Chain Choker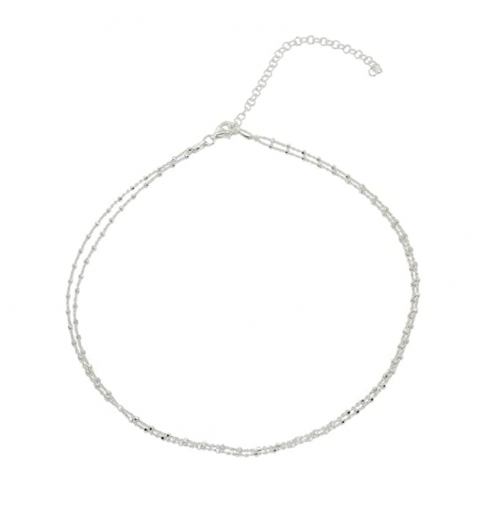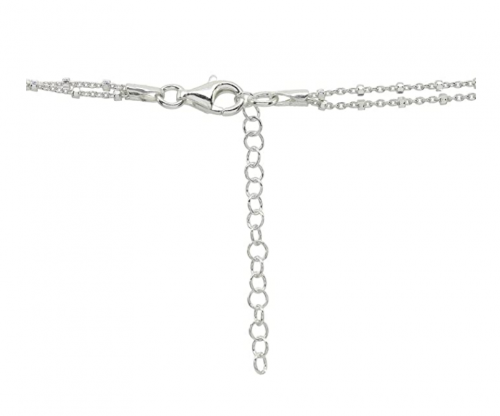 925 Sterling silver
Double strand chain
Extendable
Love Italian style jewelry? Look at this latest creation from Hoops & Loops. This beautiful Italian choker has been made from stunning sterling silver.
Read more
You'll notice from the picture this necklace has been created using a finer sterling silver giving it a dainty feel. 
Hoops & Loops have done a fantastic job in creating the Italian style choker by including two strands of silver. If you look close enough, you may notice that each band features small round sparkling beads. This detail makes it very eye-catching and beautiful. 
What's great about this piece is that it has an extendable chain. This is a ball chain that is 13 inches long with an additional 3 mm.   
If you like the sound of this Italian style choker, the jeweler offers an extensive collection of pieces including bracelets, earrings, and necklaces.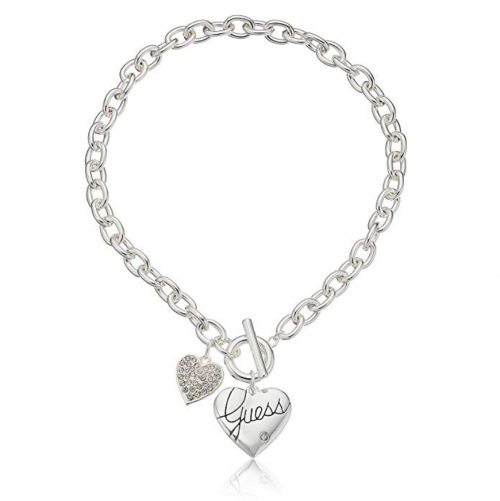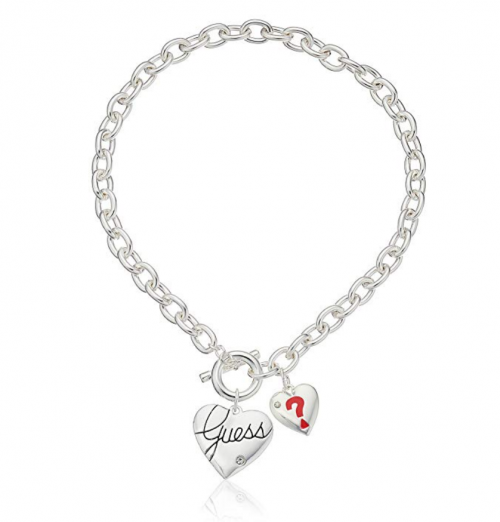 Silver metal
Short chain
Heart-shaped pendant
If you're looking for a chunkier style choker, then this chain choker will make the perfect jewelry accessory! 
Read more
Made from a silver metal, we like how the designer has opted for a shorter chain. Produced in China, the choker features a touch of sparkle in the form or a heart-shaped pendant.
Featuring synthetic clear gemstones, we love how this adds some shimmer to the entire piece, making it stand out.  
Nearly all our chokers are attached via a clasp however this necklace is different, it features a bar and hoop.
Attached to the hoop, a silver shaped charm contains the writing 'Guess' showcasing the brand. We really like this design detail and feel it adds a lot to the piece. 
6

. SEAYII 14K Gold Dainty Chain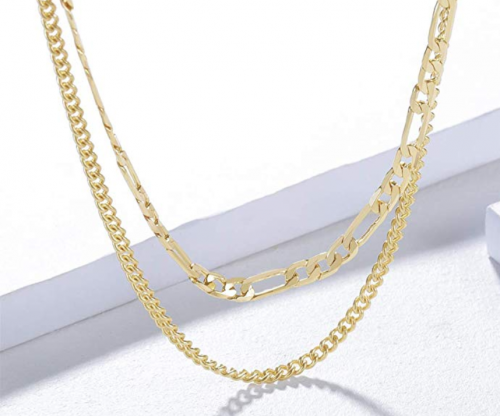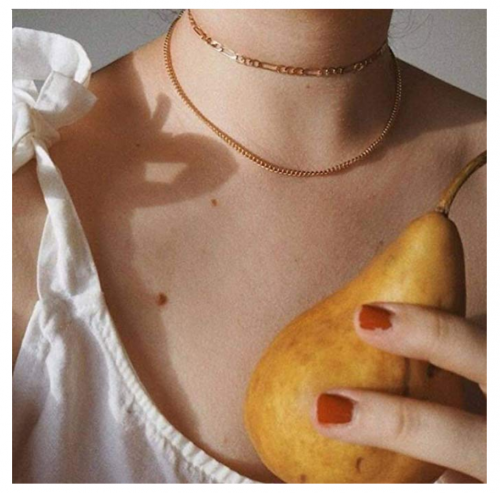 14K gold
Two-layer necklace
Handmade
If you love this two-layer minimalist look, this jeweler gives you two necklaces for the price of one! 
Read more
The gorgeous necklace has been created using a brass material that has been coated in 14k gold. What's great about this is that the 14k gold coating makes this choker look expensive whereas it's a fraction of the price. Even though the metal isn't real gold, the metal is still nickel and lead-free. 
Consisting of two necklaces, the chain choker has been designed with two different styles of chains. The longer chain resembles a minimalist style which is approximately 14.5 inches long. The width of this chain is 2 mm whereas the shorter chain classed as a 'Figaro chain' is approximately 12.5 inches and is 2 mm wide. It also has an adjustable chain allowing you to extend the length if needed. 
Another reason why we like this choker is because it gives off a bohemian feel that would be perfect to wear in the summer months. The attention to detail that has gone into the design and production of this piece is very evident.
A lovely detail is that this choker will arrive in a little blue box making it ready to be given as a gift. The packaging also ensures safe arrival of the item. 
7

. BaubleStar Star Moon Charm Chain Choker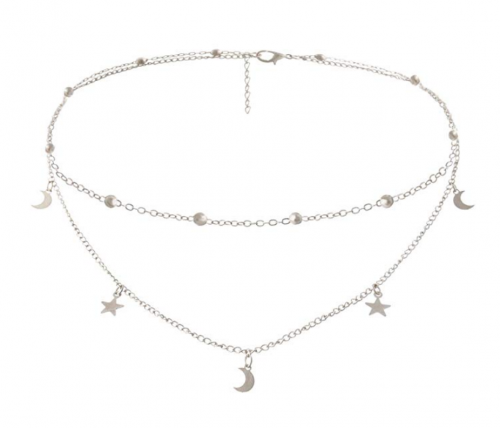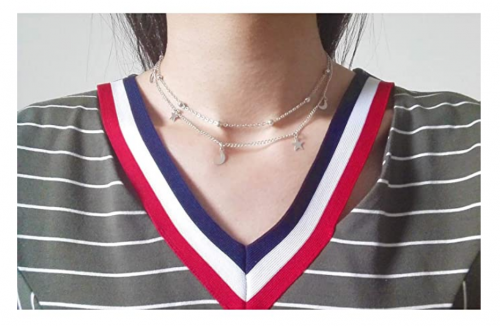 Silver-tone chain
Two-layer necklace
Free and easy return or exchange
Created using a silver-plated metal, we love how the silver-tone enhances the star and moon charms on the longer chain within this choker.
Read more
On the shorter chain, the jeweler has chosen to include some small round beads which complement the charms. 
We like how the charms and beads are smooth in texture and are shiny. This shows the quality of the necklace and the high level of craftsmanship which has gone into making the piece. You'll be pleased to hear that the choker is being sold for a low price so you're getting a stunning necklace for an excellent price! 
To give you an idea of the size of this layered choker, it is approximately 13.6 inches in length, weighing 10 grams. The necklace offers an extendable chain giving you the option of wearing it tight around your neck or looser.
 
As well as silver, the necklace is also available to buy in gold and rose-gold plated metal making it a great fashion accessory. If you're not 100% happy with your purchase, the supplier offers a free and easy return or exchange policy. They also guarantee that if you contact them, you'll receive a response within 24 hours.
8

. Carolyn Pollack Sterling Silver Chain Double Strand Choker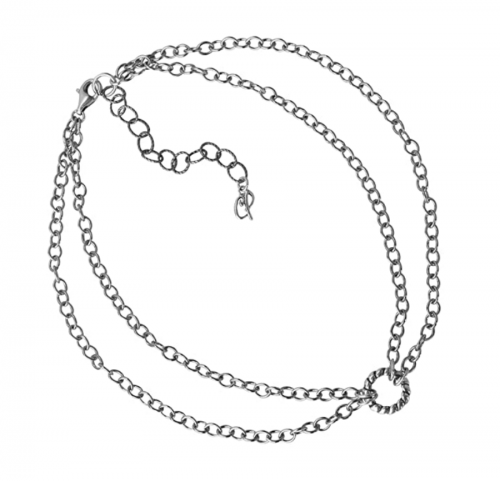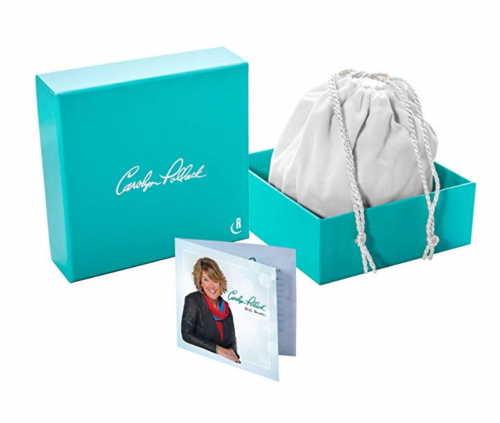 925 Sterling silver
Lobster claw clasp
Made in the US
One of our most expensive pieces, jeweler Carolyn Pollack has done a fabulous job in creating this sophisticated chain choker. 
Read more
Made from sterling silver, we love how this material gives the necklace a beautiful shine. 
This is another example of how a jeweler has produced a two-layer choker however this time they have created the piece with chains the same length. These chains feature oval links that are polished and textured creating a striking design. The chains are then gathered by a ribbed center circle, giving the choker necklace a lovely centerpiece. 
The necklace is approximately 16 inches long by 1inch wide. The piece is then completed with a lobster claw clasps. 
Designed and produced in the US, this gorgeous piece of jewelry will arrive in a lovely turquoise blue gift box, containing an inner soft cream pouch bag that will hold and protect your choker until you receive it.
We love this choker necklace by Carolyn Pollack and think that if you have a higher budget, this necklace is worth the price.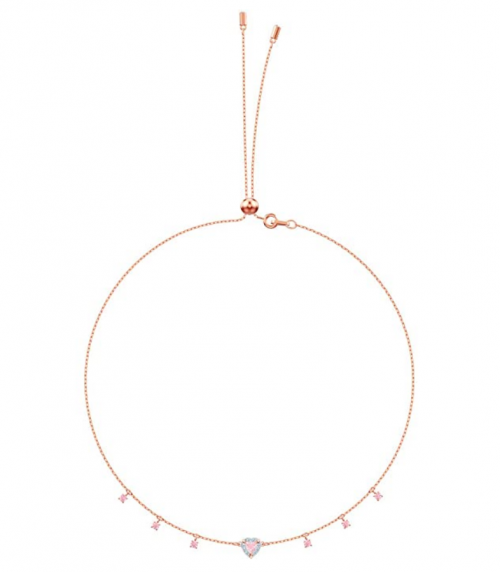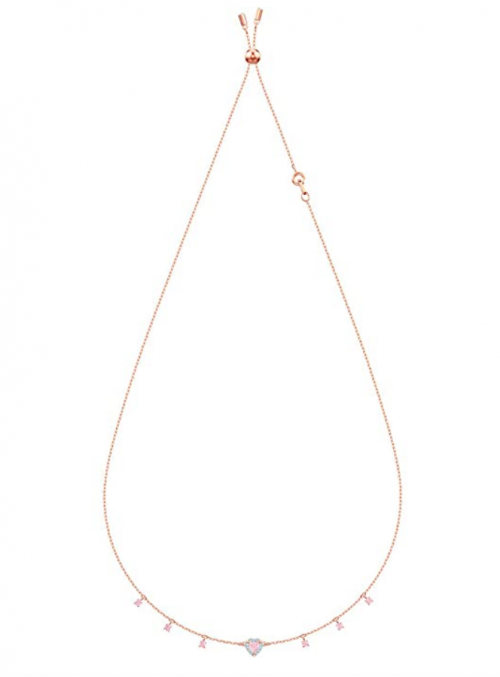 Swarovski crystals
Rose gold plating
Heart-shaped center piece
What's better than a single diamond necklace? A necklace that features seven diamonds! 
Read more
Swarovski are experts in their field when it comes to crystals so with this choker, we were expecting great things and they delivered.
The necklace consists of one heart-shaped crystals positioned in the center of the choker surrounded by three smaller square diamonds either side. What's lovely about these pink=colored crystals is that they have a subtle shimmer that gives this necklace a charming feminine look.
The choker has been created using a rose gold plating. The loops that make up this chain are extremely small, giving it a delicate feel. Preferably worn as a choker, this chain can also be adjusted to wear as a longer necklace. 
This chain choker would make a beautiful birthday or Valentine's present. It would look gorgeous worn with a cute summer dress or blouse, adding a subtle sparkle to your outfit. 
When you think of Swarovski, what comes to mind is crystals, sparkles, and femininity. If you like this necklace, you'll love their extensive collection which you can find on their website. 
10

. GemStar USA Sterling Silver Open Heart Chain Choker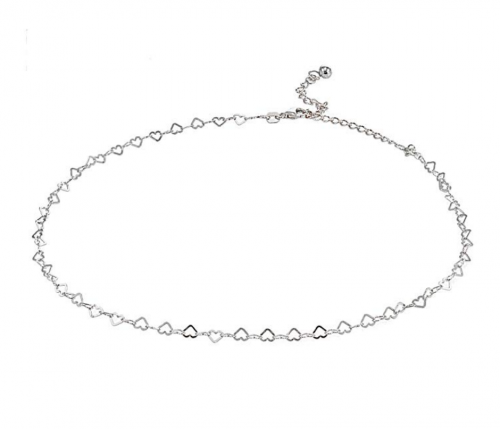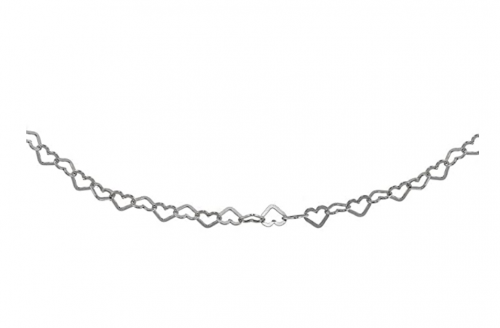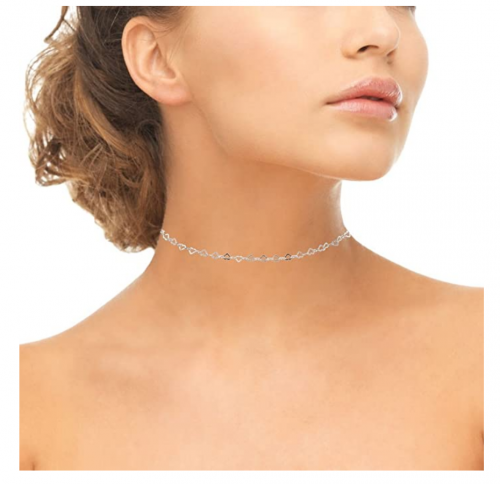 925 Sterling silver
Extendable chain
30-day money-back guarantee
Delicate, dainty and desirable, this beautiful necklace has been handcrafted in Italy. The stunning choker has been created using a shiny sterling silver which you won't want to live without. Suitable for young girls and women, this open-heart Italian choker would make a fantastic birthday present!
Read more
You'll notice that this necklace is different from all our other chokers. Rather than the chain featuring heart-shaped charms or pendants, the sterling silver hearts make up the chain, creating a continuous line of open hearts. We love this!
The necklace is approximately 13 inches long, plus it has a 3-inch extender if you want to wear the choker looser. The piece is secured around your neck with a spring-ring clasp. This necklace is also available to purchase in rose gold-plated silver and yellow gold-plated silver. 
This lovely piece of jewelry will arrive in a cute fabric pouch ready to be given as a gift to someone special. The supplier also offers a 30-day money-back guarantee if you're not 100% satisfied with the item. 
GEMStar USA offers an extensive collection of jewelry featuring cubic zirconia, precious metals, and gemstones. They produce a range of necklaces, bracelets, earrings, and rings. You're certain to find something you like!  
Evaluation Criteria
Durability
When it comes to durability, we felt it was important to select chain chokers that would withhold daily wear. We chose materials that would be strong as well as attractive. These included 14k gold, stainless steel, and 925 sterling silver. 
Chokers made from 14k gold were an easy option because the material was more durable than other metals. 14k gold consists of gold but it is also mixed with other metals like nickel, copper, zinc and a rhodium-plating. Gold on its own is a relatively soft material so mixed with these other metals, makes 14k gold a strong material. It also looks very beautiful! 
Stainless steel was another good material when it came to the choker. The benefit of having a necklace made from this metal was that it wouldn't rust or discolor which meant it would be a long-lasting choker. Unlike other materials, stainless steel is unplaited so it wouldn't chip or fade over time. 
We also chose necklaces made from 925 sterling silver. The interesting thing about this material is that it consists of 92.5% silver and 7.5% copper. The copper alloy is what makes the 925 sterling silver durable. The silver and copper aren't reactive metals unlike nickel so it wouldn't trigger a bad skin reaction.
There's also a common belief that sterling silver can help people who suffer from arthritis and inflammation. The silver can be absorbed through the skin. When in the body, this metal provides pain relief.
Style
Choker necklaces are known for being stylish, so we wanted to make sure that all the chokers we chose were elegant and simplistic.
Most of the pieces we chose didn't contain any jewels apart from a couple, so it was important that they were quality necklaces that had their own individual style. 
What we liked about the selected chain chokers were that they held something unique and different about them, making them stand out from one another. Whether it was the type of the chain, the charms, and crystals or the fact that it was a double layer chain choker, we wanted each individual choker to have something special about it. Which they all did! 
When you think of chokers you may assume that these are only worn on a special occasion, however, we wanted to select chokers that could be worn daily and we achieved this!
We also wanted to choose chain chokers in a variety of colored metals including gold, silver and rose gold. This meant that there was something to appeal to everyone's style. 
Wear Comfort
When buying necklaces, one of the most important things to consider before buying the product is whether it is going to be comfortable.
When deciding on our chain chokers, we chose pieces that had a long enough chain. You'll notice that the chain on some of our chokers can be extended by 2 inches, allowing you to have a comfier fit. It was also important that the chokers were easy to put using the clasps.  
When it came to the material of the choker, it was vital that the necklaces wouldn't cause any discomfort to your skin. Therefore, we chose chain chokers made from 14k gold, stainless steel or sterling silver, reducing the chances of any skin irritation occurring. 
Another thing we paid attention to was the weight of the necklace. As you know, chokers are worn higher up on your neck so we choose lighter-weight chain chokers as these would be more comfortable.
The fact that we selected chokers that could be worn every day, not just on a special occasion, complemented this decision.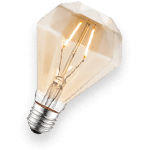 French Revolution
During the French Revolution around 1798 women began wearing a red ribbon choker around their neck. This fashion symbol paid homage to people who died at the guillotine. 
Golden chokers
The first choker can be dated back to 2500BC. According to curators at the Jewelry Museum of Fine Arts, the first chokers were crafted by Sumerian artisans. Made from gold, it was believed that the golden choker carried special powers and could protect its wearer. 
Multiple meanings
Interestingly, the choker has taken on many different meanings throughout history. In the 19th century, upper-class women would often wear a choker as a fashion accessory. These would feature expensive diamonds, gems, and materials, reflecting the lady's wealth. However, in the late 19th century a black or red ribbon choker could be worn by a prostitute. The choker has also commonly been worn by ballerinas. This costume accessory placed around their neck is worn as an iconic part of their outfit. 
FAQs
q:

What is a choker? 

a:

A close-fitting necklace that is worn around your neck. 
q:

What type of materials can a choker be made from? 

a:

They can be made from different metals including silver, gold, platinum or materials like velvet, lace, and ribbon. The tightly fitted necklace can be decorated with diamonds, gemstones or beads. The great thing about chokers is that they come in all different styles. 
q:

Do you have any top tips on how to put a choker on? 

a:

A choker may not be the easiest thing to put on, so we suggest putting the choker on backward. Begin by facing a mirror and wrap your chain choker around the back of your neck, bringing it forward and attaching the clasp at the front so you can see what you are doing. Once attached, you can then move the clasp to the back of your neck. If you can't move the clasp you already know it's too tight.

If it's too loose, it won't look like a choker, it will look more like a necklace. Remember, there is a fine balance between looking great and being comfortable. 
Finally...
A chain choker is a fantastic piece of jewelry to wear on any day. What we love about our selection of choker chains is that they offer lots of different styles giving you plenty to choose from. 
Whether you like gold, silver or rose gold, we've carefully selected a variety of chokers to appeal to everyone. We've also opted for chain chokers made from 14k gold, stainless steel, and sterling silver because they're some of the most durable materials available. 
So, if you fancy adding a new piece of jewelry to your collection, look at some of the best chain chokers for 2020. We guarantee our selection won't disappoint!