The Finest Red Carpet Jewelry of 2016

The year 2016 is not yet half over, but we have already had some huge red carpet events, packed with the world's most stylish celebrities. It's just June, but we have already had the Oscars, the BAFTAS, the Golden Globes, the Cannes Film Festival, and the MET Ball, and that is just to name a few. With each star studded event, there is some serious fashion inspiration, both in stunning gowns and ensembles, and also in red carpet jewelry.
Some stars have an impressive jewelry collection of their own, whilst others are lucky enough to borrow out of this world pieces, from some of the world's top jewelers, to give them some extra glitz on the red carpet. Not only does the celebity get noticed on the red carpet, but so does the jewelry brand, and us normal people, get some great jewelry inspiration. So sit back and relax and take a look at some of the finest red carpet jewelry from 2016 so far.
Red Carpet Jewelry at the Golden Globes 2016
Jennifer Lopez looked absolutely stunning, in a canary yellow gown by Giambattista Valli, with sparkiling shoes by Jimmy Choo, and a clutch by Judith Leiber. She matched the sparkle of her accessories with a whopping 200 carats of diamonds by Harry Winston, including two necklaces of over 100 carats collectively and a sixty carat bracelet, as well as stunning yellow diamond drop earrings, and two diamond rings. Now that is how you do red carpet jewelry J-Lo.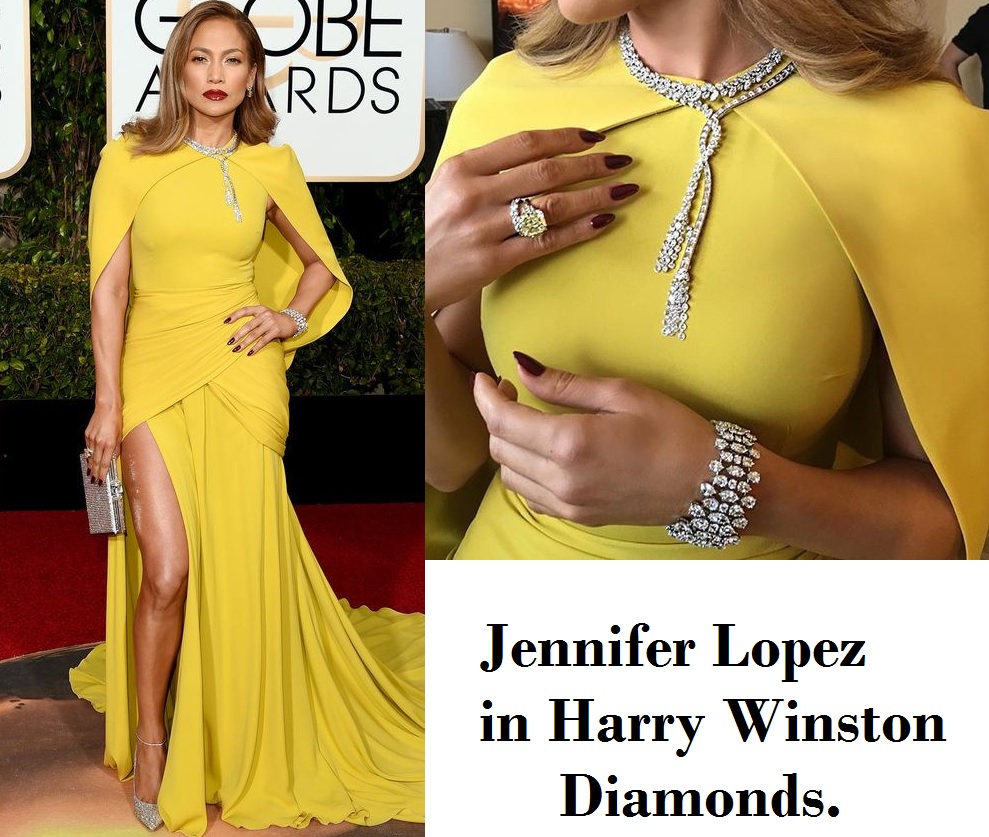 Jennifer Lopez absolutely nailed it, but there were other celebrites who showed off some seriously enviable red carpet jewelry on the red carpet of the 206 Golden Globes. Actress Eva Green went a little more contemporary and edgy, teaming her ethereal Elie Saab Haute Couture gown, with a cool diamond and pink gold Berbère ear cuff by Repossi – absolutely stunning. Hollywood's sweetheart, Jennifer Lawrence looked stunning in a red cut-out gown by Christian Dior. She glammed up the simple silhouette with an out-of-this world Chopard bib necklace, in 18 carat white gold, and almost 160 carats in diamonds.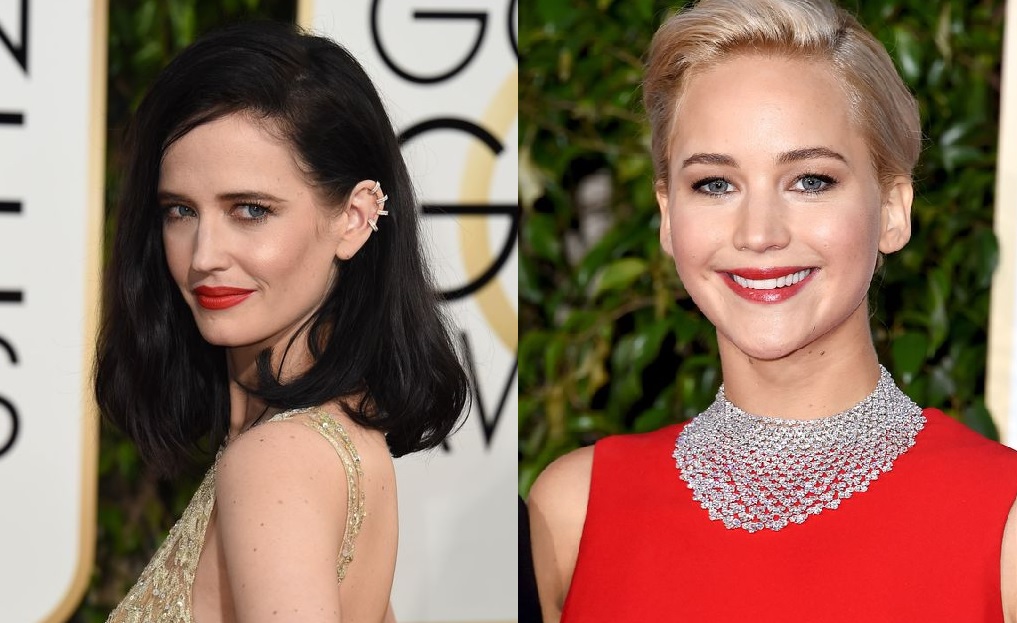 Red Carpet Jewelry at 2016 Golden Globes (L-R) Evan Green and Jennifer Lawrence.
Red Carpet Jewelry at the Oscars 2016
The Oscars is probably the biggest red carpet event of the year, so there was plenty of sparkling jewels to lust and drool over. The stunning Kate Blanchett was the standout, when it came to her choice of jewelry, with a gorgeous pair of platinum drop earrings, set with dozens of round diamonds, by Tiffany & Co. They worked perfectly with the dreamy, powder blue gown, with ornate detailing, from Armani Privé.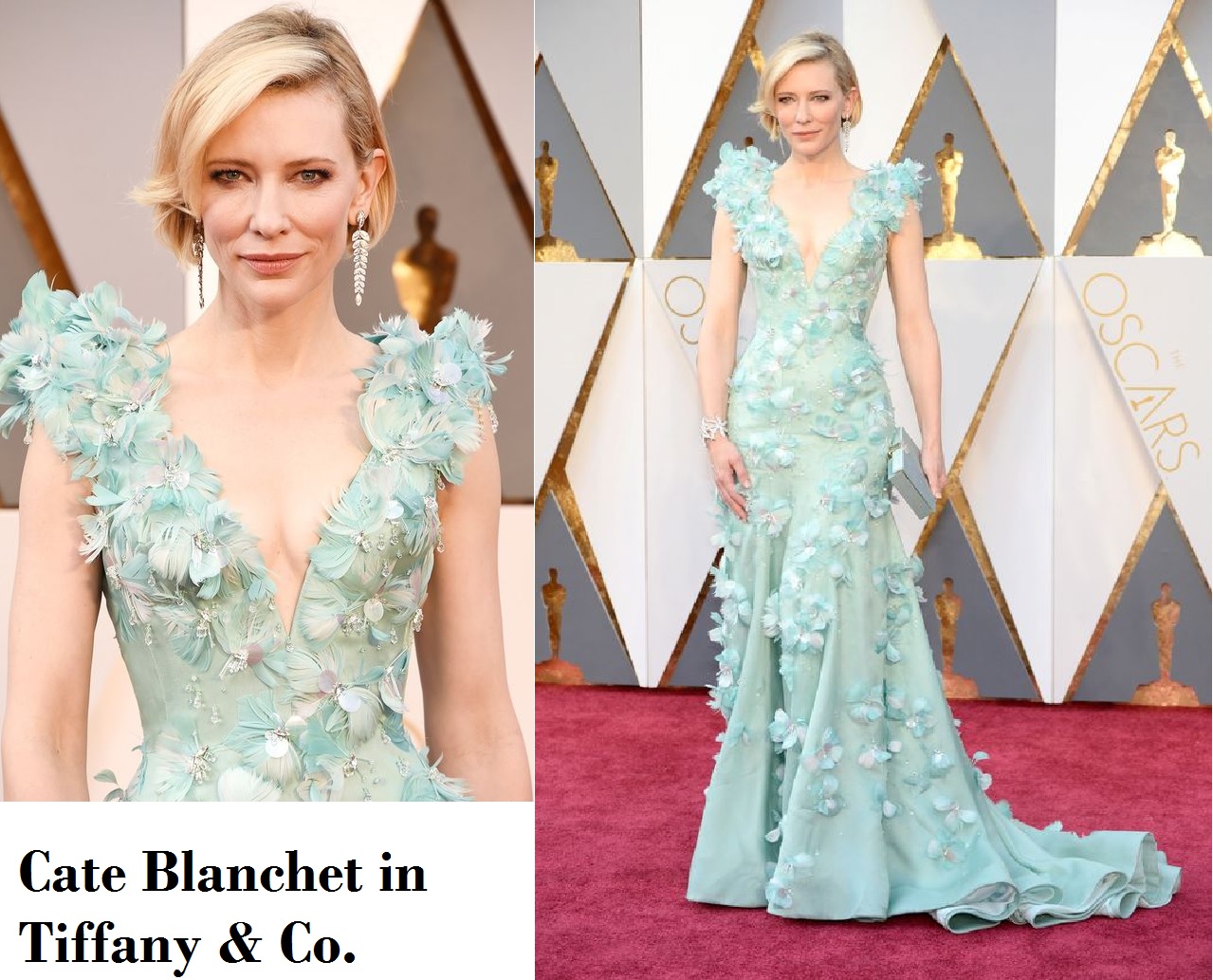 Saoirse Rohan showed us all how to work the mismatched earring trend, with stunning Chopard drop earrings, featuring a whole plethora of precious stones, including 18 carats of emeralds, 6 carats of jadelies and over 3 carats of diamonds, as well as pearls. They looked so beautiful with her sea green sparkling gown from Calvin Klein Collection. Naomi Watts also showed plenty of sparkle on the red carpet in an amazing ombre Armani Privé gown, that she teamed with a dynamite collar necklace from Bulgari, with brilliant cut and pave diamonds…an absolutely stunning look all round.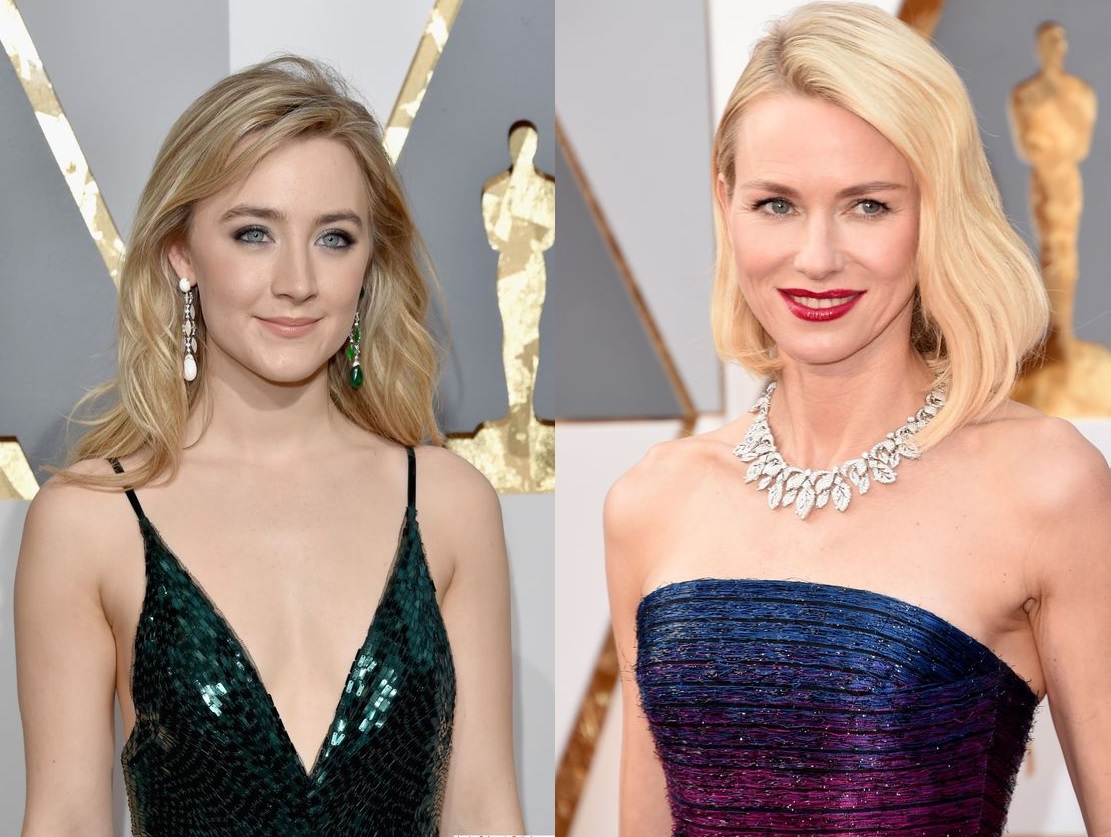 Red Carpet Jewelry at 2016 Oscars (L-R) Saoirse Rohan and Naomi Watts.

Red Carpet Jewelry at the MET Gala 2016
The MET Gala is a red carpet event that sees our favourite A-listers, really push the boundaries when it comes to their fashion choices. So, most of the ensembles were on point, and that includes the jewelry. The jewelry look that really pushed the boundaries, was that of Kate Bosworth and the amazing diamond Dolce & Gabbana crown/headpiece. She matched it to her heavily embellished Dolce & Gabbana gown, looking like a character out of a fantasty movie, whilst remaining super chic. The hair, the make up and the styling, were all on point. Bravo Miss Bosworth.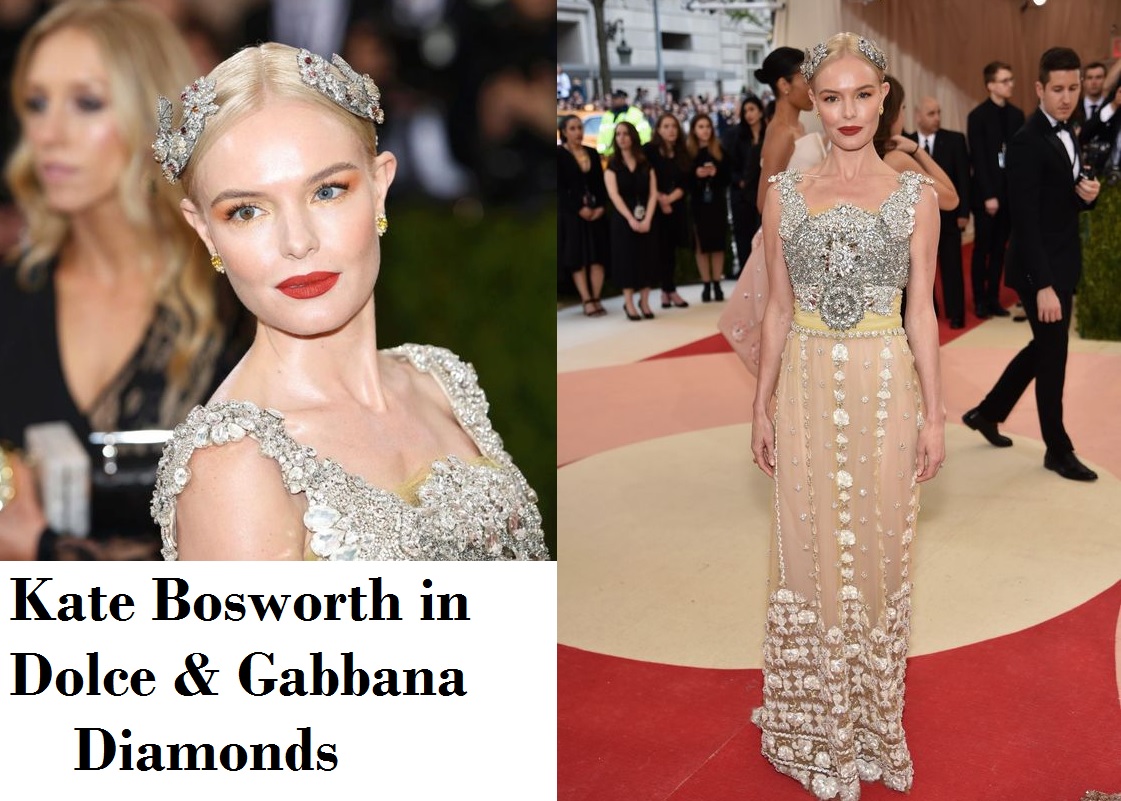 There was plenty of other covetable jewelry looks on the MET Gala red carpet, with almost too much sparkle to handle. She is one of Hollywood's finest beauties, so it was no surprise to see Amber Heard looking stunning at theMET Gala in a slinky golden gown from Ralph lauren Collection. She matched her jewels to her gown perfectly with delicate gold and diamond necklaces by Anita Ko. Marot Robbie wore a stunning crisp white gown by Calvin Klein Collection, which really set off her 18 carat gold Bone Cuufs by Tiffany & Co and Elsa Peretti Diamond by the Yard earrings.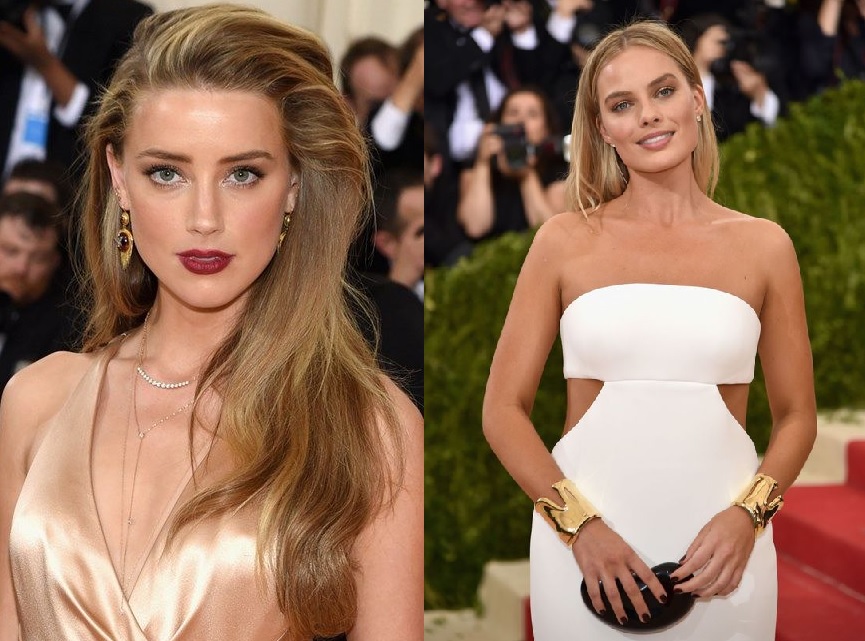 What jewelry have you been coveting from the 2016 red carpets?