Rings / Women
Are Thumb Rings a Thing of The Past?
 10 Thumb Rings we Think Are Not!
Thumb rings are fast becoming an integral part of the fashion life of many people around the globe. In fact, quite a great number of people have used thumb rings that match their outfit for a really long time now. Surprisingly, these people have remained loyal to that special blend of uniqueness and style that thumb rings offer.
So like most of these people, we decided to check out how modern, thumb rings have gotten over the years. To our surprise, the jewelry's general aesthetic appeal still remains the same.
The evidence is the collection of 10 rings that we managed to fish out on Amazon. Thus, If you're like us, and you find appeal in this type of vintage accessory, here you go.
Our 10 Favorite Picks!
1. California Toe Rings 
14k Gold Filled Double Swirl Wire Wrap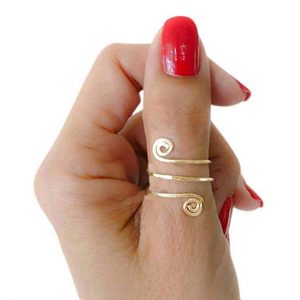 This item comes as the right option if your partner is defined by style, courage, as well as individuality. We personally loved the uniqueness and personality that it delivers at an affordable price. That said, other than the price, the design of the ring was the other factor that caught our eye.
It comes in the form of a spiral, or if we're to take a page from the maker 's book, the design is a swirl of 14K gold-filled wire that gently hugs your thumb. 
Now, coming with that is a high level of comfort since the ring doesn't weigh much (around 2 ounces).
Together with the price, aesthetics, and build quality, this is one of the most complete rings to give any girl. We recommend the coming holiday season to that. The only advice that we can give here is that you try to spice things up regardless if it's going as a Christmas gift.
Take some time to take her somewhere that she'll love, and then give her the gift then. If you do this, you'll be on her mind with just a single glance at the ring. That's regardless if she's in the middle of a meeting or next to you. The ring makes sure you're never far away.
Tip: Your boyfriend could give this to his mom for the holiday season. It should definitely win you a lot of points with her.
2. SOVATSl 
Chic 925 Sterling Silver Rhodium Plated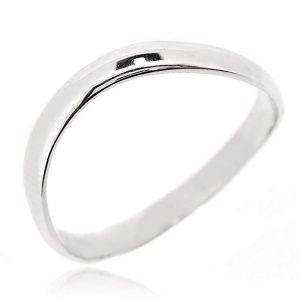 If you are looking for the right kind of hand jewelry that will help showcase your personal sense of style, then choosing this particular one should do the trick. It comes with the perfect properties that go a long way in accomplishing just that. Having said that, let's dive into a few things about this product.
Starting with the build, the thumb piece is made from Sterling silver which is rhodium plated for extra glitter and a layer of protection. The end result, if paired with different outfits is that you reflect class as well as high quality. These are 2 traits that are useful in the case of people who prefer a cool look, rather than one that announces their presence.
If that's not you, or this ring will be going as a gift, then make sure you give it to someone who prefers being inconspicuous.
As for the time, the most obvious choice is Christmas. After that, New Year, Valentine, anniversaries, and birthdays are good choices to consider. Finally, the item weighs just 0.32 ounce and is 3 mm wide. The petite size makes it very comfortable to wear long-term.
3. Sac Silver
 Chevron Set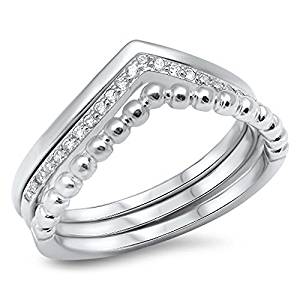 This ring's most appealing feature is that it's stackable. The Chevron Set piece is all about style and class. Combine this with the first line, and the result is that you can change the degree of appeal and thus, vibe that it gives off. This practically makes it the perfect gift to give to your partner this season since she can tailor the ring to her taste.
If she's the type who doesn't feel the appeal of gold or extra stones, she uses the base ring.
On the other hand, if she doesn't mind the eyes that gold or even gemstones bring, she has 2 more rings to add to the base model. One encrusted with Cubic Zirconia, the other shaped into the form of a beaded ring. To any woman, it's the ideal gift for any setting, whether simple or classy.
Point said, all 3 rings are made of Sterling silver, which delivers both comfort and quality, 2 essentials for daily use. So even if you're not giving the gift to your wife, and you're instead here for a solid gift to give to your daughter, this is our recommendation. It should cover most of her needs for a long time (think maybe the next holidays or even maybe her birthday).
4. Jude Jewelers
 Retro Vintage Leaf Braided Twisted Wrap


This option stands out from all the others on the list because its vintage look brings in a rush of nostalgia. The ring is made from stainless steel which is braided to create a comfortable feel and then shaped to form a leaf. That look is one of the most unique we've seen, and considering you won't find it on another's thumb anytime soon, it's flattering as well.
Point made, it weighs just 0.64 ounces and combined with the build quality, you have a piece of jewelry that's fit for daily use over long periods of time. Still not in perspective? Think about this then; the ring doesn't have any plating nor is the maker's choice in metal non-hypoallergenic. So it won't fade and it won't cause any reaction like skin discoloration.
As for who you can give it to and when we think your daughter will love something like this. Or better yet, buy one for yourself too to make this a mother-daughter thing. But if it's too corny for either of you guys, then maybe we should stick with the original plan. The coming Christmas and New Year are prime times to give the ring. But of course, if you have someone other your daughter in mind, you may have to keep the idea for her birthday.
5. Sac Silver
 Sterling Silver Chevron Ring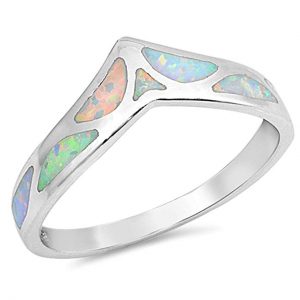 This is another option crafted from .925 Sterling silver, but where things are different is that this ring uses opal in the stead of CZ. The result is that the ring's appeal takes a huge hike, as it looks like each stone contains a rainbow with the way they shift through different colors. It's perfect for most women because we all love eye-candies, and this takes the crown.
Another reason why we recommend this ring is because of its applications. If you're giving it to someone whose work requires her more professional side, it'll be a great addition to her collection. But on the chance that work uses her more feminine and personal side, you're still good to go.
Give her the ring on Christmas if you want the best effect. Though, make sure it's not completely a house affair. So instead, take her someplace nice (her hobbies should act as a guide here) and at the climax, you can give her the gift. For others like her birthday or anniversary, you may need another piece of jewelry to properly show her how much of your love and support she has access to.
6. Chuvora 
925 Sterling Silver Celtic Knot Band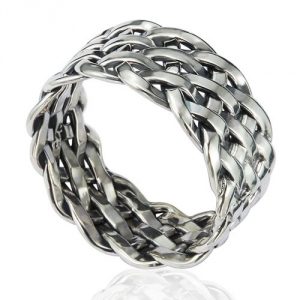 Here, the design gets a little technical. The Chuvora ring makes use of Celtic knots to create a design that almost looks braided. Compare this to others on the list, and you'll notice that this ring has a cultural vibe. We recommend the ring first to people who you know are sophisticated. They'll appreciate everything that the ring embodies. 
That is, from the rugged design to the feel, and even down to the weight, the ring is practically created for people who will choose functionality over looks any time of the day.
Coincidentally, that includes the average man too. If you're looking for a unisex ring, that both you and your man can wear as a sign of love during this season, we recommend this option to you. Celtic traditions are pretty popular because of their unions too, so the extra tone of romance is welcome. 
Now, having said that, the ring, despite its size, is actually made out of 925 Sterling silver.
This means it brings in a bit of durability and then, a side of glamor since Sterling silver is pretty shiny. All-in-all, it's always good to see jewelry makers avoid sacrificing the looks for build quality. When done right, you'll find rings like this.
7. Silbertale
 925 Sterling Silver Adjustable Open Finger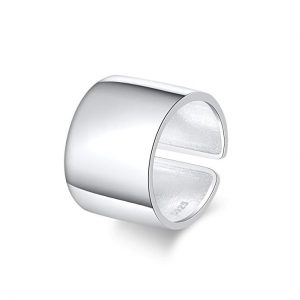 The whole design involves a single band of open ring which is adjustable. There's no color scheme in play nor is there any precious stone on the ring. Instead, the design is completely minimalistic and thus, the ring itself is an open slate. 
If you're here for a gift, we recommend this piece to you provided she's the type who visits both professional and casual settings.
Its simple looks gives it enough leeway to easily combine with any outfit in her wardrobe. At the same time, the whole design also isn't flashy. Rather, it's inconspicuous with the help of 925 Sterling silver. 
Following that, we have the material's famous durability. And though it's not on the level of platinum, it's more than capable enough to handle daily use. Now, here's the thing—we recommend you buy a pair of this ring to share with your significant other. The season and tone are right, and if you add in a gift card, you'll create one of her most exciting memories.
8. Smartsilver
 Adjustable Thumb Ring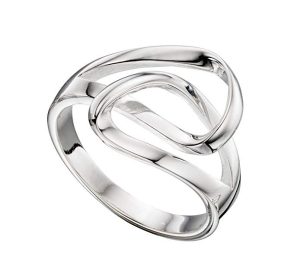 Now, here is a piece that possesses the special kind of design practically all women want. This thumb ring has a clever design that fits all sizes (fingers as well) from 7 up to 11.5. In other words, the thumb ring is adjustable and with the use of Sterling silver, its integrity is maintained.
Now, regarding the design; the ring comes in the form of twisted loops, which gently hugs your thumb. 
Now, with that part discussed, let's talk about the ring's use as a gift. The band is perfect for all situations whether formal or informal. And this, particularly, is why you can give the ring to anyone.
In one way or the other, it'll see some use, which is where it shines the most. That is, provided you give this to your girl in addition with a gift card and maybe a date in a quiet, romantic spot, the ring will remind her of you when it's used. This is why you must make a good impression because it does have its rewards in the form of a deeper connection between you and your partner.
9. Heartbeat 
Sterling Silver "Swirl Pattern"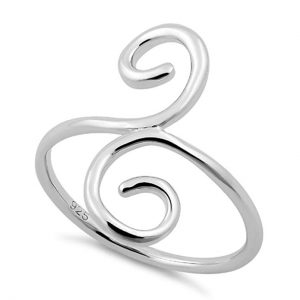 Heartbeat's ring certainly sets a romantic tone with its name. The band is made out of 925 sterling silver, and it adopts a swirl design that's comfortable to wear and also aesthetically pleasing. Now, while the former is no slouch when it comes to benefits since it does offer long-term use value, the second is what we want to discuss.
With a bandwidth of 1.6 mm, this beauty is painted a bright and attractive silver hue (courtesy of the Elysium plating), which together with the swirl design creates a ring that combines nicely with most, if not all outfits in your wardrobe. For that professional girl of yours, this is a gift that keeps her grounded and also tells her that she has your support in all of her choices.
Alternatively, if she's the type who prefers a casual vibe, then this will put her in a separate class from others. Add that to the fact that the gift is unique and she, even more so, and you would have created a tone that she'll fall in love with quick. Just make sure you give this to her around Christmas, though not necessarily on the same day if you have plans (dates).
10. Rush Industries 
Paw Print Ring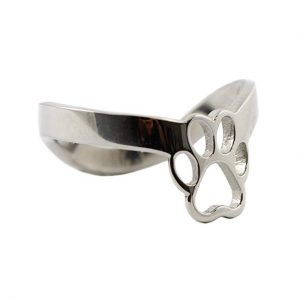 Now if you are an animal or pet lover, especially ones that have paws, then you just might fall in love with this thumb ring as well. The piece lets you flaunt a silver design made with the help of high-quality stainless steel. Its design comes with a paw print in front and works perfectly as a gift.
It also goes a long way in delivering a great sense of style. Though, it's not only concerned about how good it looks, since comfort is a major demand these days. To that, the thumb ring is curved to perfectly fit. Point made, our favorite part about this ring is the price. For an affordable price, you get a design that's unique enough for your woman and a good build quality. 
The presence of a free velvet pouch just adds to the overall appeal as it makes the entire gifting process easier.
Still, if you're planning on giving this as a birthday gift, then you might need to better package the ring to make the most impression. Otherwise, you personally present and help her wear the thumb ring.
—–
How To Properly Choose and Wear Thumb Rings
To some people, thumb rings are considered old fashion so many ask why we still have them being flaunted here and there. The truth is, thumb rings are just too good and satisfying to use for them to be gone in such a short manner of time. In fact, it doesn't look like the rings are going away anytime soon, since their delivery of style, quality, and beauty is uniquely one of a kind.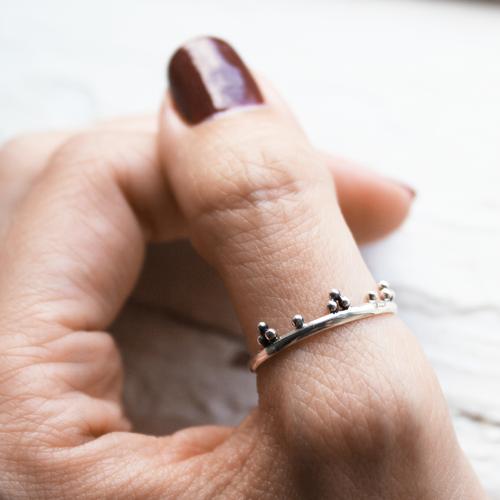 These days a lot of people wonder if they actually made the right approach when purchasing and wearing their thumb ring. If you having doubts about it too, then you should read on. We've highlighted below, 2 key factors that can help you pick the right ring for the job.
Getting The Right Size
Getting the right size for your thumb is a very important step that helps you come up with the right kind of ring that fits into your finger. To measure your finger size, you can easily make use of a ring-sizer, which is a device that's helpful in finding your exact size.
If at all you find an appropriate fit, it is recommended you go a size up, just to ensure there's an extra room to help your ring fit properly and comfortably. If you're not the one wearing the gift, hopefully, she has a ring lying around or you can ask her best friend.
Wearing The Thumb Ring

After getting the right ring size for your thumb, it is a great idea to consider matching your thumb ring with your outfit. Rings are also used to highlight the color scheme of your outfit, and so, you are likely to have a better appearance when you wear the same color rings as other accessories you are wearing.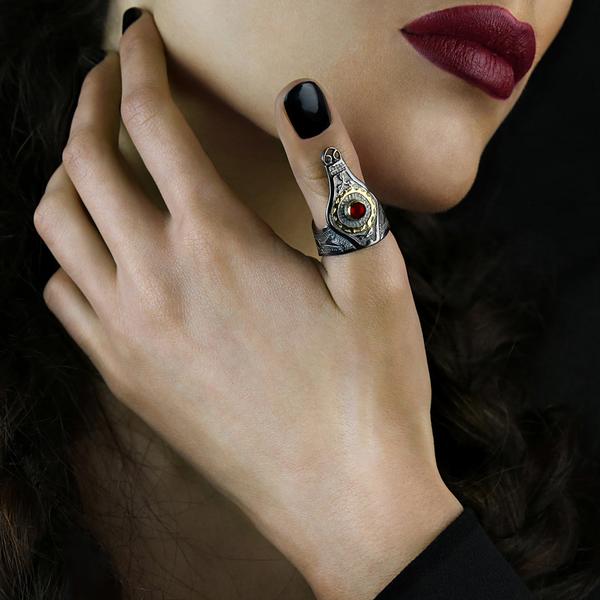 For example, wearing a gold thumb ring and wearing silver earrings and a gold necklace at the same time doesn't sound like a good idea.
What Do Thumb Rings Represent
If you take a trip through history, thumb rings are symbols of power, class. commitment, and love. We love the last part since it fits the Christmas tone and also the occasion (in the case of a gift). If you've been looking for a ring that'll subtly show that you're committed to your partner and vice versa, thumb rings are the best after your ring finger. 

What are the advantages of thumb rings?
Using a thumb ring does carry along some advantages. First on the list is the fact that thumb rings give you a break from your wedding ring. In the case that you're going for a vacation during this holiday, this will come handy (literally) as it can serve as a substitute for your wedding ring. This way, you spare it the stress so that it lasts longer. 
Having said that, while you can wear the thumb ring alone, you can and should try to pair it with your wedding ring. Each ring is far from the other which gives you greater balance and in some ways, space and style.
Our Final Thoughts
The above list contains some of the best thumb rings that are sure to deliver that stunning appeal directly to a woman. They come as highly affordable accessories that are also awesome gifts to our loved ones. However, they may be regarded as old fashion, but the truth is they are not, as they primarily come in the top modern, stylish forms available in the world of fashion.