Shades of Blue - Find Your Go To Blue Jewelry Pieces
Blue is one of the most popular colors of the season and when we are talking about accessorizing, it never upsets. Blue jewelry is chic and universal- no matter what the occasion, show off the hue in with eye-catching styles. Grasp this color trend in all the right ways and take a look into how to wear your blues!
Blue Crystal Stones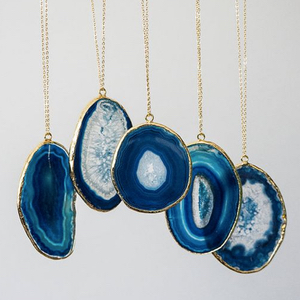 Crystal jewelry has become a hot commodity recently and we see these type of pieces everywhere. You will see them at flea markets, online boutiques, it's hard to miss pieces like this! From crystal rings, earrings and a more well-known favorite, necklaces.
Blue agate necklaces are one of the many crystal types that people are searching for left and right. The pretty detailing of the blue designs and crystals itself makes for an amazing delicate piece that you can wear all the time. The stone itself being delicate makes it a piece that should be well cherished. Not to mention, it's an incredible fact to note when you think of where that stone came from, you have a piece of the earth hanging around your neck. Another perk is that whatever necklace you choose, yours will always be one-of-a-kind. All crystals and stones are all unique!
Personally, my favorite place to shop for crystal jewelry items, especially in blue is at my local farmers or flea market.
Blue Rings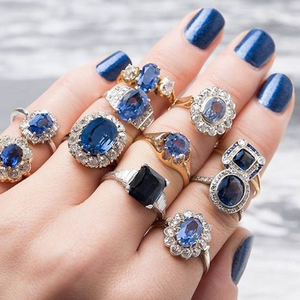 If you are a ring lover, blue is a must-have for your collection.
A new trend with engagement rings is having a colored diamond and blue makes the cut for top color choices. Diamond rings are on the top of our blue jewelry list. Check out I Do – Interesting Facts About the Engagement Ring, for another glimpse into ring designs. Blue looks chic and trendy, who wouldn't want this rock on their finger?
Mixing blue in with your other daily ring wear creates a stylish look that is one to talk about. You can slip a blue ring on by itself for a polished look or create a trendy feel by wear multiple at one time… the bluer the better. Gold or silver bands, blue is versatile and goes any color palette. With so many ring designs out there, it'll be hard to choose a new favorite.
Blue Earrings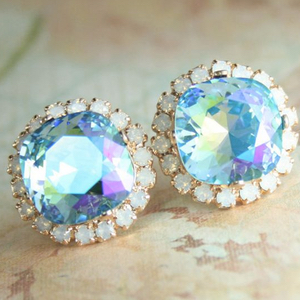 Your ear accessories need a little love and upgrade too when it comes to blue.
Blue jewelry comes in all shapes and sizes especially when we are talking earrings. For everyday wear, the classic route with rounded shape diamonds is just the way to go. Blue diamond earrings are a girl's best friends. Simple and sleek design, they give off a vintage and elegant style that goes well with any outfit.
Blue earrings also attract all age ranges. If your little girl is heading to a school dance or you have a brunch date with friends, you both could wear the same pair of earrings to show off style!
Speaking of style, blue earrings are a piece you can wear through all seasons. You can change out light for dark to compliment the time of year and also your outfits.
Blue Bracelets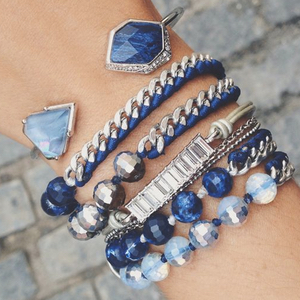 Blue bracelets by themselves or stacked with others make for a head-turning style. Bracelets with gems, braided designs, cuffs, and beads, there are tons of blue out there.
With stacking of bracelets, don't be afraid to wear all your blues at once. This way of wearing your designs goes casual and classy. You could be wearing skinny jeans, a white tee with a leather jacket or a prom dress and stacking your blues looks fabulous either way!
Blue Statement Piece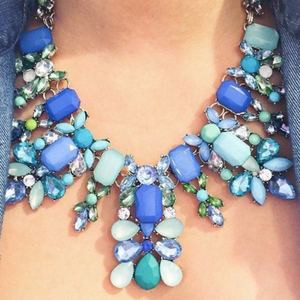 Nothing says statement more than blue!
Statement necklaces are seen on the runways to streetwear and they are here to stay. Blue incorporated into a largely designed necklace tells a story all on its own. Different shaped gems create fun designs and when in blue, you will get compliments left and right. This category necklace is perfect to wear with that little black dress you love for a special occasion or for a workday with your office attire, it works well with all your favorite go-to closet staples.
There are so many color trends out there when it comes to fashion. Finding the missing piece your outfit needs just got easier because you can never go wrong with adding jewelry to your look. Stack-able rings, bracelets to diamonds, the list is infinite. Next time you are on the search for new accessories to incorporate into your wardrobe say yes to blue jewelry!