Just Ripe - Designs Resembling Your Favorite Fruit Jewelry
Colorful creations that are just ripe, get ready to take a bite out of your new go-to jewelry designs. Fruit jewelry design is a big hit, especially during the Spring and Summer seasons. A gold pineapple can really take on your wardrobe in ways you could have never imagined. From rhinestone strawberries to a bold yellow banana, peak into a world of all the fruits you could ever dream of!
Statement Fruit Jewelry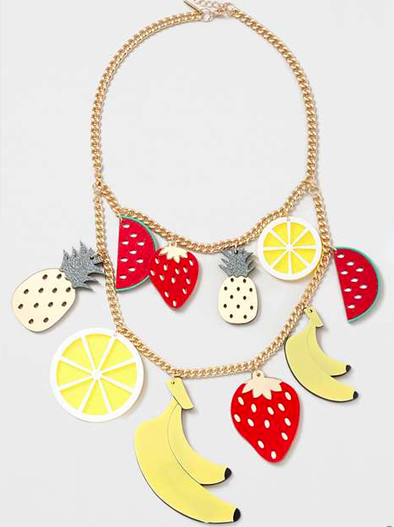 Make a splash with a fruit statement necklace. The more fruit the better!
The red and yellow makes for a head-turning accessory that will be the talk of the town. Mega fruit puts an entirely new meaning into a statement piece and makes just as much as an impact as a diamond necklace would. It's refreshing to try something new when it comes to fashion every once in a while, even if it is fruit hanging around your neck!
Statement necklaces can be the missing piece to an outfit- create attire that pops! Step out of your comfort zone and get funky with watermelon, lemons and so much more.
Fruit Salad Charms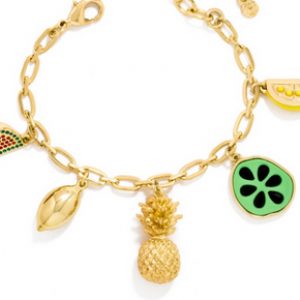 Another fun and trendy way to tie in fruit as an accessory is with a charm bracelet… We have all worn charm bracelets at some point in our lives so this time, pick the fruit!
With fruits to make a fresh fruit salad, lemon, kiwi. pineapple and watermelon, you will have the perfect combination hanging around your wrist. You have the green light to rock this bracelet all season long. Pair with your favorite maxi dress for a golden summer style or wear to a holiday party, it's multifunctional.
For a fashionable selection of gold fruit jewelry that has a two thumbs up, shop Bauble Bar for your accessory needs!
Cherry Fruit Jewelry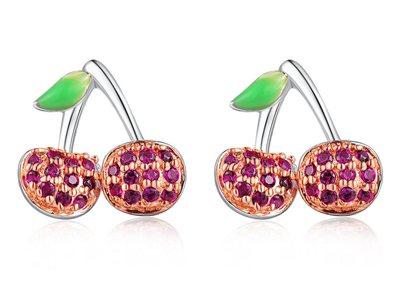 Need more fun style to add to your jewelry collection? Add something sweet and feminine to your ears with cherry earrings!
Decked out in gems, a little shine to your look is always approved. Instead of boring stud earrings, or the usual large diamond, make things ripe- pun intended! Cherry earrings are a great jewelry piece for all ages. They look chic on an uptown girl and adorably cute on a little one, they are relatable to all demographics.
If you want to get the party really going, layer your cherries with other fruit accessories whether it be a fruit necklace or another pair of earrings!
Mix and Match Fruits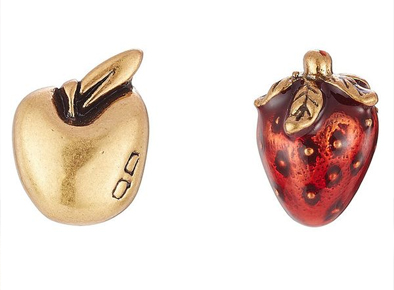 Not only are cherries on the must-have list but so are mix-matched fruits!
Two different fruits are a party for your accessories all on their own. Nowadays, fashion isn't always about to be symmetrical or monochromatic, take a chance and create fun ways to wear non-matching earrings. No one said a gold apple couldn't be a mate of a ruby red strawberry!
Many designers and brands have similar styles of mix-matched earrings. A perk about this trend is that you now have more pairs than you had before when creating new earring sets in your favorite fruits.
Flowers and Fruit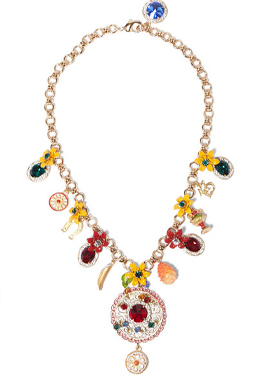 Get in tune with your tropical side with a ton of charm and of course… fruit!
An array of adorned charms covered in crystals and gold sounds like a dream come true. Nothing gets better than a decked out statement necklace that is ready for vacation or a special occasion. Teardrop design with intricate detailing, this type of necklace not only will have you looking and feeling glamorous, but it will feel like you are on a tropical vacation no matter what day it is! Even if there is a day where you just want to feel glamorous at work, throw on a tropical flower and fruit necklace and head out the door! You will definitely be best dressed in the office!
Necklace styles with flowers and fruits bring out a chic coco cabana vibe and not to mention are lust-worthy! It combines classy, colorful and fun. Who could ever say no to gem-encrusted fruits?
Now that you are most likely head over heels for fruit, take on the newfound colorful appreciation for jewelry. Even if you don't like to eat fruit, you will love to wear it!