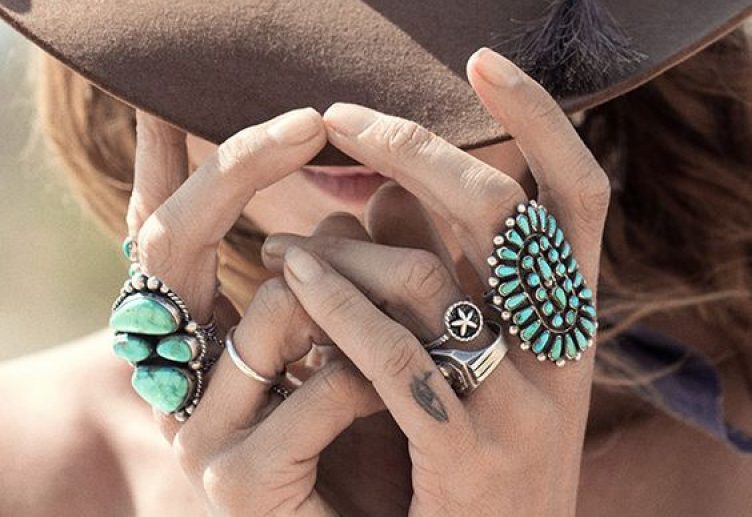 Inspiration
Insight Into the Boho Chic Look: Must Have Jewelry
Nowadays the boho chic look is one of the most popular fashion trend among youngsters, but not many are aware about the history of the whole bohemian, hippie concept. All begun with the 'Summer of Love' phenomenon during the summer or 1967, when hippies gathered in San Francisco and protested against the Cold War America and rejected the values of the modern life and embraced the alternative lifestyle, free love and gender equality. From this free thinking and hippie lifestyle evolved later what we call nowadays bohemian fashion. In our days, when we say boho chic perhaps festival style comes into my mind instantly. The reason why the boho chic look is so popular among young girls, can root back to the original concept of the hippie lifestyle: to live freely without expectations, sexual freedom and embrace the alternative lifestyle (see sustainability, eco friendly living and fashion, vegetarianism and veganism). Behind the lifestyle, perhaps the fashion side is what youngsters are mostly interested about. The whole gist of this fashion trend is the freedom of wearing clothes effortlessly. Maxi skirts, fringe skirt and tops, hats, sandals and ankle boots are the staples of the boho chic look. And jewelry. Lot of them. To look effortlessly bohemian this summer, next to your favorite bohemian inspired clothes, jewelry are must have for this trend. As the boho chic is about living freely, without caring about other people' opinion on our lives, expect more jewelry than one would usually wear, expect earthy tones and lots of gemstones and accessories.
Stacks of boho bracelets
If boho chic, the basic must have jewelry comes into our mind is a large stack of bracelets. The concept on wearing bracelets is to mix materials, even though it is gold, leather, stones, it doesn't matter. The larger and colorful is the better. A stack of bracelets is a great summer accessory, perfectly complements your favorite shorts with a basic tee, or a tiny patterned maxi boho dress.
You may not be that person who goes every summer to any major festivals, but with a large stack of boho bracelet you can embrace the 'summer of love' feeling, wherever you go or travel.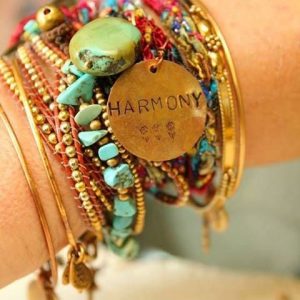 Chunky rings
As effectively the boho chic trend allows to wear anything we want, chunky rings are a must have. The same 'rule' applies as in the case of the bracelets. The bigger the ring is, the more colorful and brighter the stones are in it, the more is bohemian.
Actually there is a reason behind why the boho chic look is more popular during summer than winter. You don't have to worry about wearing layered clothes; with a maxi skirt, tee and sandals and some chunky rings and feathered earrings you turned on the mood for summer and positive thinking. This is what the bohemian lifestyle tries to convey: live the moment positively and don't worry about what other people say.
Boho earrings
A beautiful bohemian inspired earrings is definitely a must have in every girls' jewelry box. As we all know, statement jewelry cannot missed and if you are that free spirited girl, than embrace the boho chic trend on its finest. There are those days, when the weather is ugly, and your days doesn't seem to start the way you want it. For those days a colorful pair of boho earrings will be the cure. Boho earrings are timeless in fact, it can be summer or winter, they look good paired with any set.
Head piece
The head piece perhaps is the key piece of the boho chic look. The flower head piece is a festival style must have accessory, wit
h it you will definitely bring the flower child and hippie mood. As all trends, the head piece evolved as well and can be of different styles, whether you opt for a basic head band, the classic flower head band or a glam jewel head piece which is the accessory of the the latest trend – haute hippie.
Yes, in our days we can definitely talk about the haute hippie look which is a more evolved version of the boho chic. Florence Welch and Lana del Rey are just a few celebrities who embraced the haute hippie style. This trend is a more glamorous version of the boho chic in terms of clothing and accessories.
After all, a head piece is a perfect accessory for any events, it can be a romantic jewelry if you want to spice up your upcoming wedding photo shoot, or you want to glisten your jewel head piece on the next summer festival and to shop up your haute hippie style.
Whether you consider yourself a bohemian, free spirit or you are that person who doesn't like to follow any trend, don't forget that only you are free, don't need to live under no one's expectations and do whatever and wear whatever it makes you happy. This is what being bohemian is about after all.