Gilded Headbands- Find the Perfect Statement Hair Piece
Headbands made a comeback when we watched Blair Waldorf rule on Gossip Girl a few years ago. Being a trendsetter these days doesn't always have to be your shoes or that stunning dress you like to wear to turn heads… Try something different for a change and make way with a statement hair piece in gold! Gilded Headbands have come back into play after the up roar of Game of Thrones or any other show that shows off extravagant gold items that are put into hair. Being universal for any grand occasion, here is a list of must have gilded headbands in gold!
Golden Floral Statement Hair Piece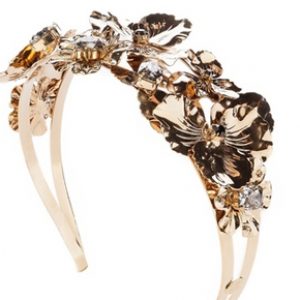 When it comes to a statement piece, gold takes flower crowns to a whole new level!
A floral headband is most likely on the top of your hair accessory list. After putting on a golden creation, there is no turning back. Just like statement jewelry, keeping the rest of your ensemble simple so that your gilded headband can have all the power is the perfect way to wear these flowers.
Being a universal design, any hairstyle goes with a floral headband- a ball gown isn't the only thing you can wear with a stunning piece! A night out on the town with friends or you want to be the bell of the ball at an opera, wear this headband wherever you please to show off the ultimate wow factor!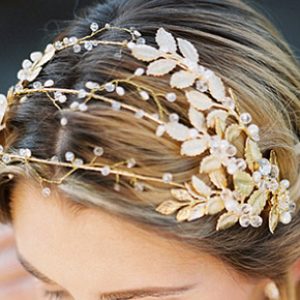 Golden Leaves Statement Hair Piece
Golden leaves with any accessory item has become one of the most trends to date. Handcrafted pieces and originality is what we all are looking for and when it comes to a goddess look, a gilded headband will never disappoint!
Any gilded gold layered headband will transform your look into a golden dream. With beaded details and a design resembling a Greek Goddess, how can you not put this delicate piece into your hair. The triple layer of accented leaves and beads puts a royal crown resemblance to the style. It is a delicate creation that can turn any classic hairstyle into a fashion statement for any special occasion.
This design is a great way to put some flare into a wedding or bridesmaids dress. There are so many ways you can style your hair and by slipping these golden leaves into the mix, your look just went up on style points. 
Golden Crown Statement Hair Piece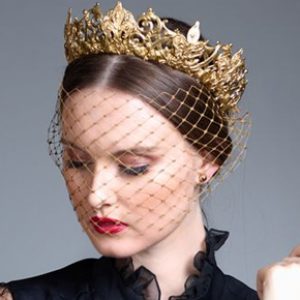 If you are looking to get a little more royal, there is a gilded headband style that is just for you… The gold crown!
Crowns, especially in gold, have come back into style since the Victorian Era has taken over more and more runways. Crowns are more on the high end spectrum but that doesn't mean we all can't have one! With intricate details and elegant demeanor, once again you can easily wear a crown for your wedding day. For the younger generation, crowns on prom night are two thumbs up! Any black tie event or very special occasion are also appropriate times to rock a gold crown.
Hair up in a bun or down and sleek, a golden crown goes hand in hand with just about any hairstyle.
Another great perk of having a crown for your statement hair piece is that you can customize it to make it your own. Add feathers or more gems to a crown to add a little of your personality into your look!
Golden Sea Statement Hair Piece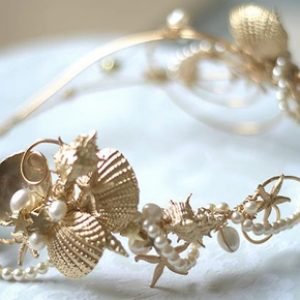 Gilded Headbands can go so many ways with design and featured pieces. We have gone through golden leaves and a crown fit for a queen but what about those who love the beach and sea?
Under the sea inspired fashion can be seen just about anywhere these days and once you see a beachy headband, you won't be able to take your hands off of it!
Gold seashells to starfish, sea life has gone from buried treasure to stunning hair pieces. One with pearls makes it that much better! The dainty look of  gold seashells intertwined with pearls indeed makes your hair looked like enchanting buried treasure. These designs are made for a beach bride or once again the bridal party. If you are all about being decked out for your wedding, How to Choose the Ideal Wedding Jewelry, is also a great article about accessorizing for your big day!
For all you headband and Blair Waldorf lovers out there, let this list guide you to your perfect statement hair piece. Let a gilded headband be your gold prized possession!