The Industrial Revolution - Buckle and Chain Jewelry
A perception on the future looks a little more gun metal and gold these days. From inspiration of this years Met Gala"Manus x Machina: Fashion in an Age of Technology," weird materials, buckles and chain links, have never looked this good. Shiny details are diving into the accessories category by tying in futuristic details with old era design. When it comes to eye-catching jewelry, the Industrial Revolution is taking over. Take a look into designs that show off what Industrial is made of!
Industrial Metal Cuff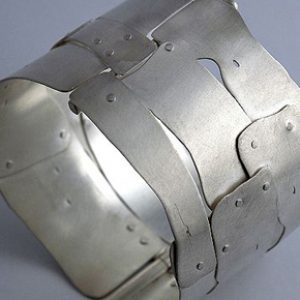 When it comes to metal, wearing it around your wrist is now the cool thing to do. Designers have taken on the Industrial Revolution trend in full force when it comes to jewelry. An all over metal cuff structure looks man made or machine made which makes this piece unique.
Accented detailed hardware designs, metal cuffs look like the came straight off of a robot. Speaking of hardware, a great way to recycle scraps of old metal is to create a cuff of your own. A craft project that will result in a on-of-a-kind jewelry item, why not get your hands dirty and make a futuristic creation of recyclables. Second hand stores can be a gold mine to find old metals to transform into a new bracelet or necklace!
To incorporate this type of piece into your wardrobe, keep things simple. By pairing with a simple black dress or any solid bold colors, you have a lethal combination!
Industrial Brass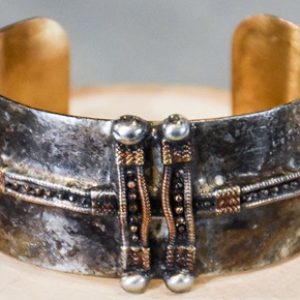 Speaking of cuffs, brass designs can also get the job done!
Brass mixed with appliques of other materials to create textured patterns makes a piece stand out amongst all others. The designs that look like they have wear and tear on them is what grabs much attention- a cuff looks like it could of been from years in the past when really it was made just a few months ago.
Brass designs not only look great in bracelet form but in any accessory. Designer, Mikal Winn has a variety of creations that look industrial with a boho modern twist. Check out Mikal Winn's designs and see how his pieces capture the modern and industrial era all in one.
Industrial Arm Candy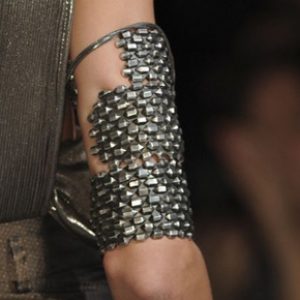 Arm candy has a completely different meaning when it comes to industrial style.
Basically looking as if it were a prop from the movie Mad Max, metal arm pieces are beyond stunning. This type of arm accessory looks like it could be art sitting in a museum. Reminding us of spartan days or vikings resembling bullet proof armor, rock this amazing design with favorite metallic outfits to show off a futuristic fashion.
Creating an arm piece that has fine detailing once again puts our minds on a flutter asking ourselves if this was man or machine made?
Having a robot arm is taking high fashion by storm!
Industrial Chain Links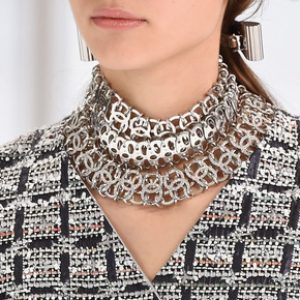 Chain links will be more well know in 2016 than ever- no we aren't talking about chain link fences!
With the industrial movement taking on a futuristic vibe, chain link jewelry has evolved since the neon colorful 90's bracelets and necklaces. Layer pieces or find a large statement necklace that shouts futurama, chains aren't just being used as a construction product these days.
Mixing metals with more metals is approved this year so don't be afraid to get a little out of hand with silvers and golds. Chunky designs will be here to stay for a while, you will catch a few on the runways all season long… The more metallics the better!
Industrial Buckles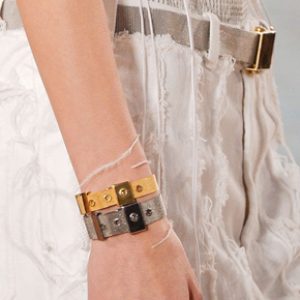 We may have seen buckle accessories back in the day but now, dust them off for some action! Those metal like woven mesh bracelets have made its way back to the fashion scene. When you were younger, you have probably purchased a plastic looking buckle bracelet from Claire's but now designers are making headway with rock hard designs.
Mesh bands along with belt resembling holes and buckles are ready to create industrial looks. Shiny top notch hardware and sleek and clean styles, buckles are back again for another go around.
Now that you have seen metal, chains and buckles, start your search in the Industrial Revolution! That flawless piece is out there waiting or you!