To the Moon - Moon Jewelry
Planets are unique all on their own. There are different shapes, sizes and colors. One in particular makes for the perfect shape to wear… the moon! Moon jewelry is making its way to the top of fashion's it list. It's a fundamental shape and an easy to wear accessory that is ideal for any soiree. Here is a compilation of ways you can wear moon jewelry.
Tear Drop Necklace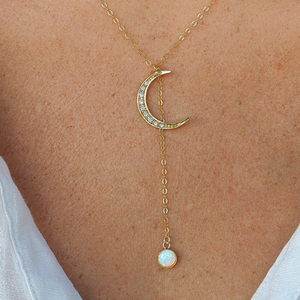 When you think of tear drop necklaces, you probably envision a single hanging gem that is actually shaped as a tear drop. A dainty piece I found from Lili Claspe Jewelry is a moon necklace along with an accent tear drop style. The pop of sparkle in the crescent moon and gem stone on the end gives it that extra wow factor.
Moon jewelry can be delicate similar to this specific design. It's feminine and trendy which checks off all the boxes you need for a perfect jewelry piece. It is easy to pair with all your go to attire and is appropriate for day or evening wear.
You can never have too many necklaces!
Layered Necklace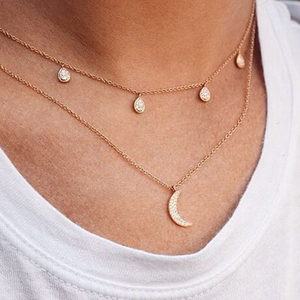 Layering your necklaces has become one of the most loved trends of 2016. Some pieces you can buy with already attached necklaces or you can add your own personal flare by combining ones from your collection. Going back to tear drops, I love small tear drop shapes with a mix of layering. It's cute, boho and looks good on anyone. Add your crescent moon to the look and you have a match made in heaven. It is simple enough to wear on casual days to work or lunch but glam enough to wear on a night out or when you want to dress up a bit.
An added touch are shiny gems embellished into the shapes. A flourishing moon that has a touch of shine makes for the perfect moon jewelry!
Stud Earrings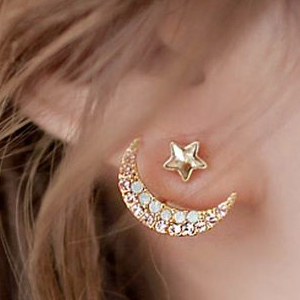 We have all worn stud earrings a few times in our life but with moon jewelry, it takes things to another level!
Simple moon shaped studs to glamorous diamonds, earrings are stylish to wear to show off some bling. My favorite way to wear moon stud earrings is in cuff style! There are cuff earrings that are over the top extravagant but with moons, the simplicity will do just the trick. Charming gold crescent moons are my absolute favorite and if I can have an earring with that quality, it moves to the top of my must haves list of jewelry.
Cuff Ring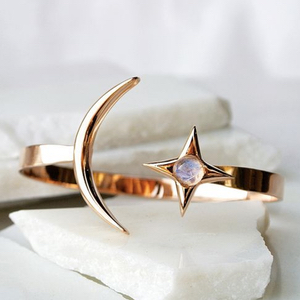 If you haven't notice by now but cuff rings are taking accessories by storm. These design usually have two shapes or gems on either end with the circular part rounding the back of your finger.
When bringing in moon styles into a cuff ring, my pick goes to the gold crescent moon. It's ordinarily chic and looks great on. Along with a star as its opposite, this style ring is made for every day wear.
Ring designs with simplicity are those that can make a bigger statement for how small they can be. Clean and sleek, moons just make things that much better!
Hair Clip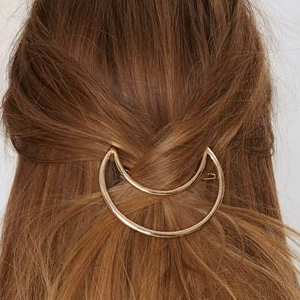 Accessorizing doesn't always mean throw on a necklace or bracelet… hair comes into play as well!
Hair accessories used to be a thing of the 90's but now they are an approved way to give hairstyles more style. When channeling moon jewelry into your hair, hair clips are a great way to make a fashion statement. When I came across Nasty Gal's hair accessories section, they had an abundance of trendy clips to choose from. The one that caught my attention the most was the gold moon clip. The clean shape of the crescent moon placed in your hair puts so much style into your look as easy as 1,2,3!
Hair clips are hot topics for weddings, prom and any special occasion. How could you not rock a moon in your hair on prom night? If you love hair accessories and gold, Gilded Headbands shows off amazing ways to style up your do!
Every girl is different, sometimes we don't want to settle for classic. Moon Jewelry is unique, it gives you freedom to play a little more with your personal style and accessories.With all the moons in your hands, what's you favorite?