2016 Oscars Jewelry Trends
Marianne 13 May 2019
1245
Find out which new designer names, beautiful pearls, and examples of most breathtaking bracelets ever, appeared as game changers for the 2016 Oscars Jewelry Trends.
When the 2016 Oscars Awards ended, and when I had a chance to take a good look at what kind of jewelry was seen that night on the red carpet, I came to a conclusion… It seems that the 2016 Oscars Jewelry trends marked a new era, an era that brings famous people jewelry trends much closer to "Mortal" people, and that the uniqueness is having its 5 minutes of glory. This year, instead of watching the movie stars appearing on the red carpet all looking similar to each other, we had a chance to see that each of them walk that famous carpet with their own personal style, and what is most important, jewelry trends were more relaxed and authentic!
The thing that brought joy to my heart is that this year, there were a couple jewelry designer names that were not so big before, well at least not in this glamour movie world. Maybe you have noticed a few new, for example Sevan Bicakci, as well as Niwaka. It will be very interesting to see how some lesser known names in the jewelry sea, compete against the sharks like Chanel, Harry Winston, and Chopard. Also, it will be really, really interesting to see what new trends will emerge this year, and if the Oscars Night brought a wind of change.
When taking a look at the jewelry that was worn at the Oscars this year, the direction where it is going promises a lot! I have noticed that jewelry choices of the today's popular movie stars say one thing: "There is a smell of change in the air!". By change, I mean diversity.
This year, the celebs on the red carpet, finally, didn't look like they are all about outshining others by their interpretation of  "Classic Beauty Look", which actually made them all look pretty much the same. In my book, that is quite a positive thing! It was not all about who showed up with the shiniest , and at the same time the most classic looking diamond, or who came with the smallest stud…  No, this year, it seems that the Movie Star World's finest finally grew up, and decided that being yourself is the most important shine you can wear. This year, they have probably confronted their stylists and instead of taking what they told them, they decided to act a bit rebellious and go for pearls, mismatched pairs of earrings, and fantasy-inspired necklaces that are "Not Appropriate" for their age…
On the other hand, when it comes to dresses, there was not a single game changer worn that night… It seems that the 2012 Calvin Klein's, white-caped dress that Gwyneth appeared in, will be remembered as the last game changer, when it comes to Oscars Red Carpet Fashion. But, I am not here to talk about dresses, I am here for jewels! However, if you are interested in finding out more about movie world jewelry fashion, you can check out our "Catching Fire – The Best Movie Inspired Jewelry" article by our own Gemma.
So, without further ado, I present you some of the most notable 2016 Oscars Jewelry Trends.
2016 Oscars Jewelry Trends – Beautiful Pearls
 Brie Larson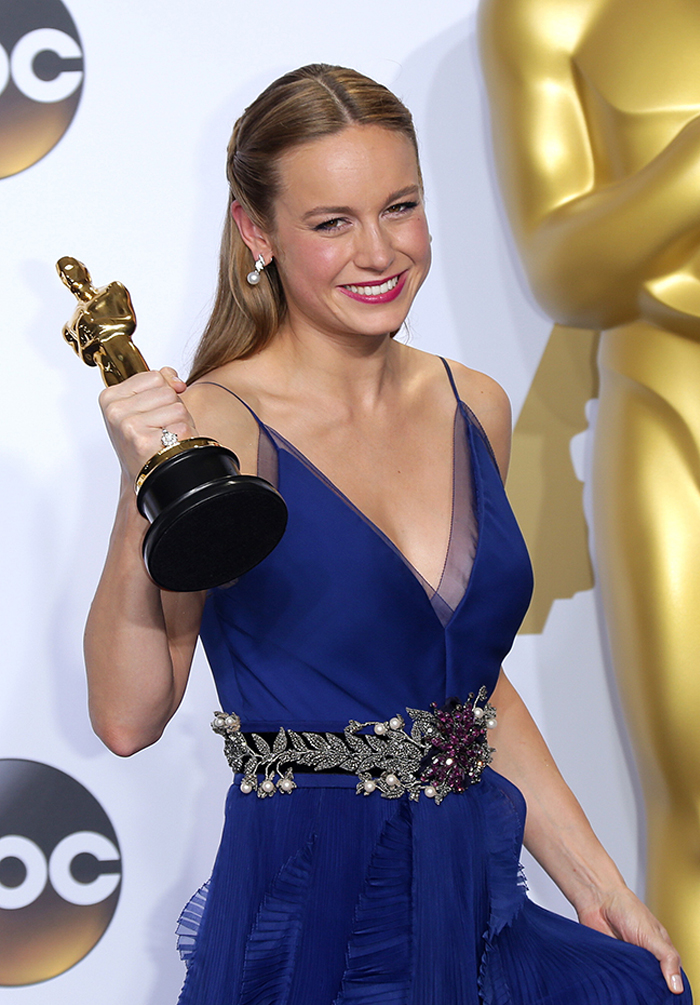 Of course, I will begin with the star of the 2016 Oscars. Brie. She took the red carpet by storm, with her perfect example of classic, elegant Hollywood beauty! Her "Princess" half up hair style made some room for gorgeous droplet pearl earrings, which were perfectly in harmony with the royal blue dress and a pearl-encrusted belt. And for the grand finale, the hand that held the Oscar was beautified by a Niwaka diamond ring. In her case, the minimum is the maximum!
Retro Jewelry + Modern Dress
Julianne Moore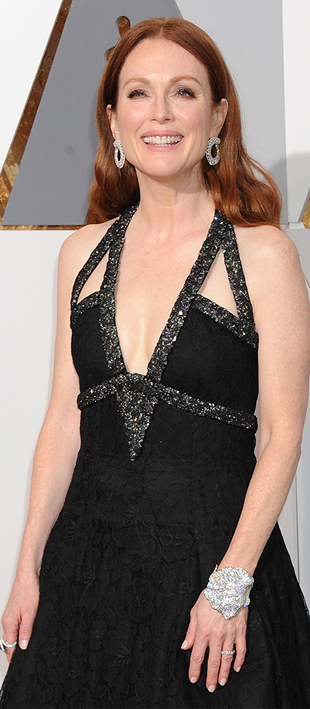 The thing that I love the most about Julianne is that she was always true to her style and always found a way to make it work. As expected, that hasn't changed even this year, at the 2016 Oscars Awards. She appeared on the red carpet with a modern black Chanel Haute Couture dress, with  retro-looking Chopard diamond hoop earrings, and a Chopard Diamond, platinum-titanium cuff. As always, she looked divine.
The More Different the Better – Earrings
Sophie Turner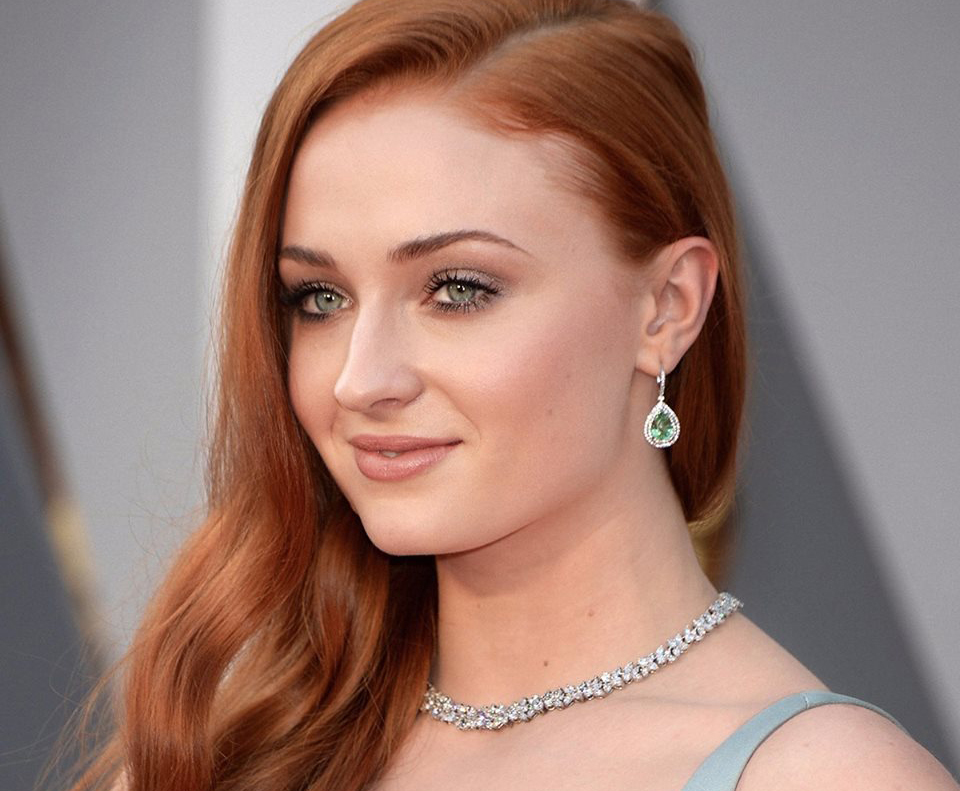 Okay, this year, the earring trend is that there is no particular trend. It seems that all the stars wanted to leave their personal statement with the earrings.  There were chandeliers, hoops, mismatched earrings, and plenty other styles and designs. But, there are two that won our hearts! The first one comes from "Sansa Stark", I mean Sophie Turner. She appeared wearing gray-green Galvan dress, and Tiffany & Co. earrings with a beautiful diamond tennis necklace. She definitely deserves the throne.
Classic Glamour Simplicity
Naomi Watts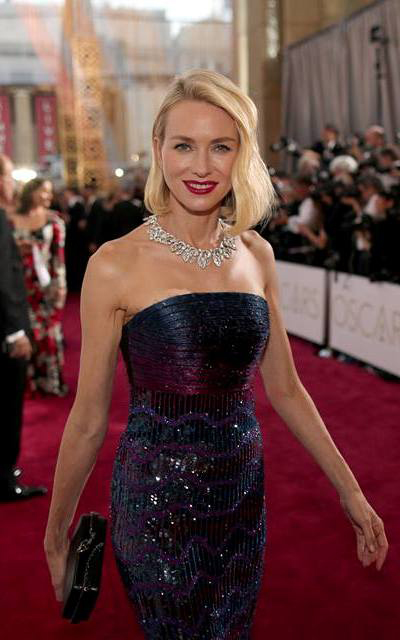 I will end this 2016 Oscars Jewelry Trends article with Naomi Watts.  Noami's statement Bulgari diamond necklace, we definitely learned who brings the glam to glamour! And, to even more highlight her simple, but unbelievably elegant look, she topped it off with simple red lips! Sometimes, diamonds and red lipstick is everything a girl needs. Okay, the Armani dress also helps a lot!