Inspiration / Jewelry
Amazonite Meaning, Healing Properties and Best Jewelry!
Even if you don't typically have an interest in healing crystals, read on to learn about Amazonite meaning, its fascinating history, and of course, to shop for some gorgeous jewelry pieces! We've selected our favorite pieces that you can buy right now.
Have you ever heard of the amazonite stone? No, it isn't a gemstone made by Amazon (although would we be all that surprised if they created one? They do everything!).
Amazonite is an actual gemstone that may not be one of the more popular gemstones, but we think that it definitely should be.
Today our goal is to raise awareness about this gorgeous gemstone. Not only does it look beautiful and make for a perfect stone for jewelry, but it also has an interesting history and powerful healing properties!
If you have any interest in crystals and their potential for healing, you definitely need to learn all about amazonite.
What is Amazonite?
So, let's start with the basics. What exactly is amazonite? If you haven't heard of it before, you likely have zero frame of reference for what it is or what it looks like. You aren't alone!
As we mentioned, it is not an incredibly popular gemstone, so there's a good chance you haven't heard of it before, or if you've heard it, you don't know much about it.
Amazonite is a green-hued stone, technically a green tectosilicate mineral. While it is primarily green in color, there is some slight variation in color.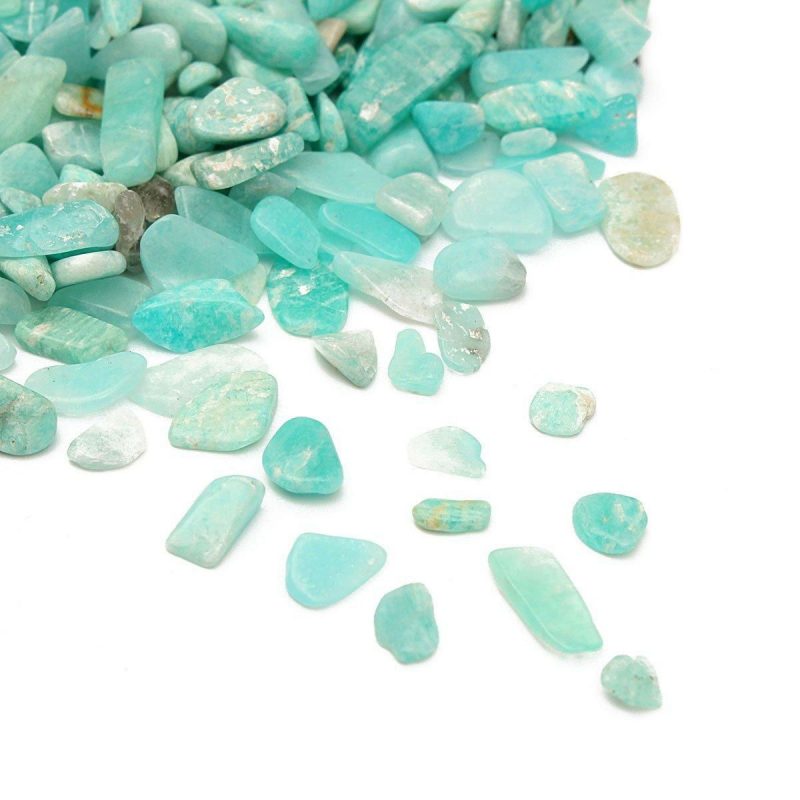 Some amazonite stones will be more blue in color, and some have a nice green and blue variation within one stone. In some instances, amazonite can actually look very similar to turquoise, with a bright blue-leaning green hue. It is a gorgeous bright colored stone. 
In terms of the durability of the stone, it scores a 6-6.5 on the Mohs hardness scale, making it a fairly durable stone, though far from the most durable of gemstones like diamonds, rubies, or sapphires.
It can be susceptible to scratches, so you will want to take care of any jewelry pieces you have. However, given the fair durability score, you can feel confident wearing amazonite jewelry every day.    
History of Amazonite
We joked earlier about amazonite being associated with ecommerce giant Amazon. That is certainly not correct, but the stone does get its name from the other Amazon, the Amazon River located in the Amazon Rainforest!
The name comes because green stones used to be found there at the Amazon River, which was previously thought to be amazonite. However, ironically, no deposits have actually been found there, but the name stuck and was never changed!
Instead, amazonite can be found in other parts of Brazil, as well as Russia, certain states in the United States, Madagascar, parts of China, and Australia. 
There has also been some confusion over the years regarding why amazonite is colored the way it is. For years, people believed that it was due to copper, as copper compounds tend to have the same blue/green hue that amazonite has.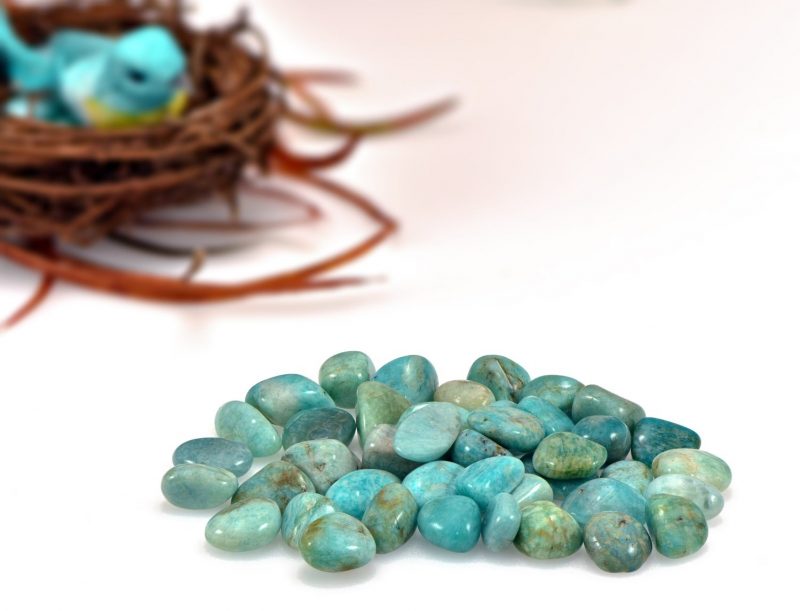 However, studies from the 1980s found that the coloration seems to be a result of water and lead found inside the stone. 
You can also sometimes find streaks of white within amazonite, which is believed to be from albite, another type of mineral. While you may find the white to make the stone appear more unique, it makes the stone less valuable.
The more of a pure variety you can find, the more valuable the gemstone will be. While that makes sense, sometimes we find that amazonite with some white in it can look interesting. 
Amazonite Meaning & Healing Properties

In addition to just being a cool gemstone to look at, amazonite is also believed to have powerful healing properties.
If you tend to suffer from stress or anxiety, you will be happy to know that amazonite is known as a soothing and calming stone, helping you to relax, calm the mind, and see things more clearly.
It is often referred to as either the hope stone or the stone of truth. Given its green hue, amazonite is often associated with good luck, similar to other green stones like jade.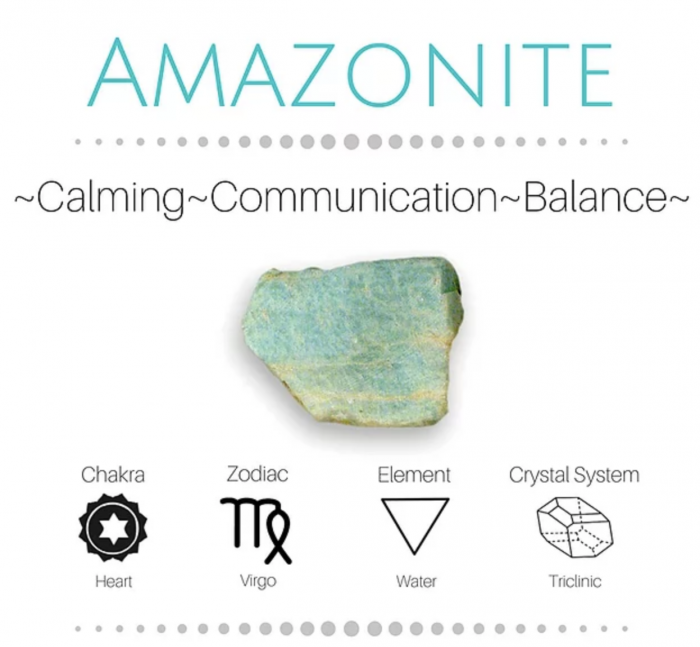 Amazonite is supposed to specifically target the nervous system, helping to calm the entire body and mind. It also is associated with the heart and throat, and so for many, they prefer to wear this stone as a necklace to keep it close to those parts of the body.
However, no matter where you wear this stone, you can benefit from its healing properties. 
In terms of conflict and communication, amazonite is also a powerful stone that can help you see things more clearly and from another person's perspective! This can help you navigate conflict and help you to see things more clearly instead of from an emotional place. 
No matter your specific situation, you are likely to find amazonite a help in your life, keeping you calm and seeing things clearly and rationally. Who doesn't need that in their life? 
Shop Amazonite
If you are looking to add amazonite to your jewelry collection, you've got lots of gorgeous options to choose from! Below are some of our favorite pieces that you can shop right now!  
Earrings
1. BillyTheTree Gemstone Jewelry
Amazonite Lobster Clasp Earrings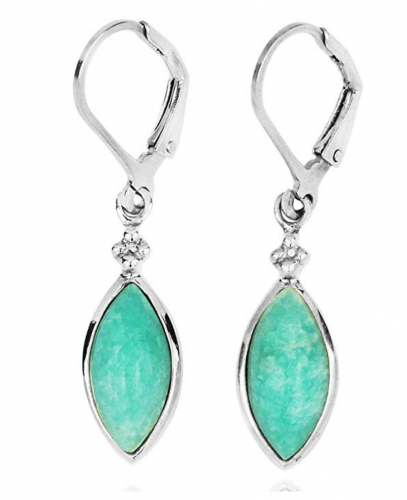 These gorgeous drop earrings are unique from any pair we have seen before! We love the long scoop like design, and the hammered metal gives it a more rustic appearance, which we really like.
The amazonite is a gorgeous addition sitting at the bottom of the drop, meaning it'll be easier to show them off, even if you wear your hair down! If you are in search of a unique pair of drop earrings, these are perfect for you. 
2. Gem Stone King 925 Sterling Silver Amazonite Earrings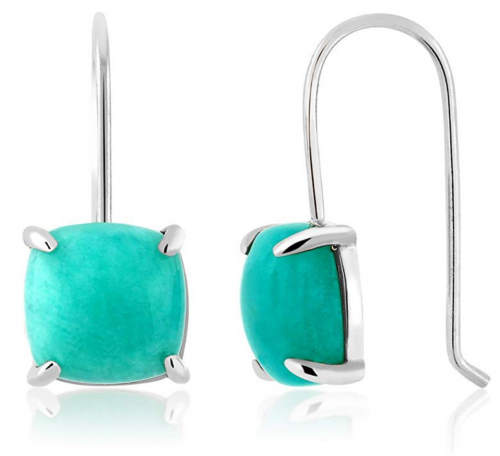 If you prefer something a little more simple, these amazonite earrings are perfect. They are slightly more elegant than a basic stud, but are still wonderfully simple, showing off the beauty of the amazonite stone.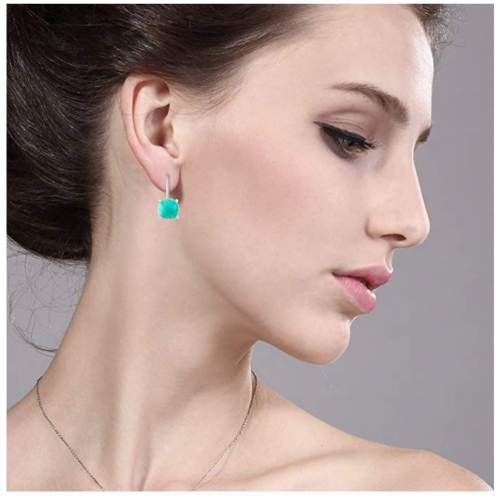 We love the cool tones of the silver mixed with the hue of the stone; it makes for a beautiful set of earrings that can be dressed up or down with ease. 
3. Ice Carats Amazonite Stud Earrings
If you prefer a simple, minimalist look, go with these studs. These are perfect as an everyday pair of earrings- not too large, not too small, they are just right!
The dainty stud earrings are technically sterling silver, but all of the attention is on the amazonite, as it should be! These are a great staple pair of earrings that everyone should have in their wardrobe.
They have the gorgeous blue-green shade, but are small enough that you can wear these with just about anything. 
Bracelets
1. Tumbeelluwa Amazonite Natural Druzy Gemstone Bracelet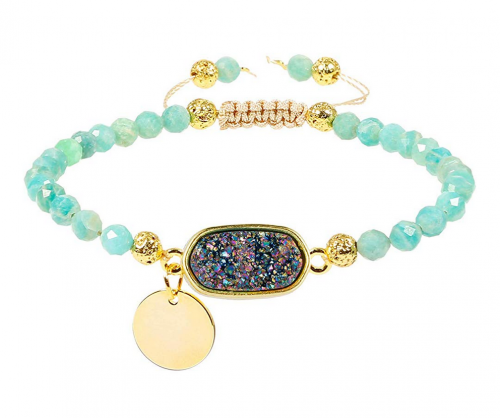 Another common way you will see amazonite in jewelry is in a matte or frosted way, just like with this bracelet.
If you don't want a bold blue-green hue, this is a great way to tone the color down while still getting the wonderful healing properties of the amazonite stone!
We also love the addition of the druzy gemstone; we can't resist adding some sparkle to our jewelry! This also helps amplify this bracelet and makes it a bit more dressy compared to a standard bead bracelet. 
2.
Cherry Tree Collection Beaded Stretch Bracelet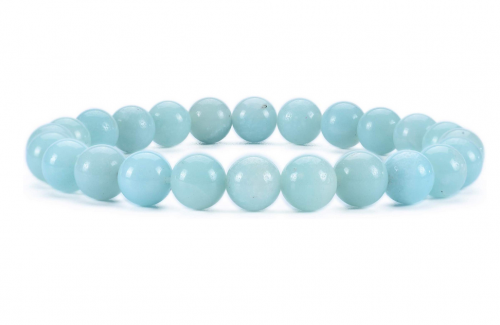 On the flip side, if you do want a more traditional looking bead bracelet, and you love the bold turquoise color, here's the perfect bracelet for you!
This bracelet is entirely amazonite in its gorgeous bold shade. This is a perfect, casual, everyday bracelet that will give you a nice pop of color for any outfit, along with the healing properties of the gemstone. You can't go wrong with that!
Best of all, if you want to stack this piece with another one, you can purchase this exact bracelet with another gemstone, there are 38 gemstone options to choose from! 
3. Justinstones Unisex Amazonite Beads Bracelet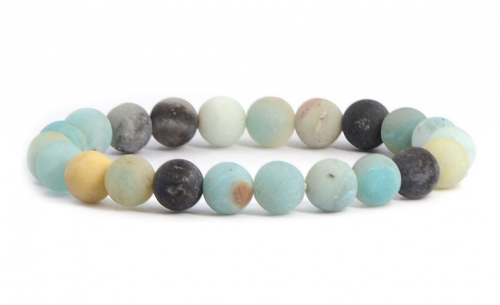 If you are looking for a more subtle bracelet, we recommend this option. Similar to the earlier option, this features matte amazonite, which majorly tones down the color.
However, this bracelet is entirely amazonite; it does not contain any other crystals, especially any druzy crystals. If you want something simple with subtle color, this is the perfect option for you.
This is a great piece that is perfect to wear every day and will match with almost any outfit since the color is more muted. If you want the healing power of amazonite on you every day, consider this bead bracelet!
Necklaces 
1. Amandastone Reiki Chakra Pendant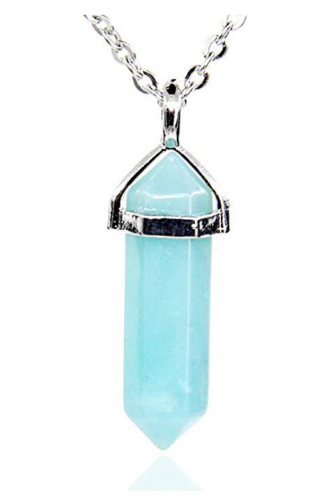 If you prefer your amazonite in the form of a necklace to keep it close to your heart and chest, why not consider this pendant necklace, complete with the hexagonal gemstone pendant?
This takes on more of a classic healing crystal appearance, great for anyone who has a strong interest in the healing properties of crystals and gemstones.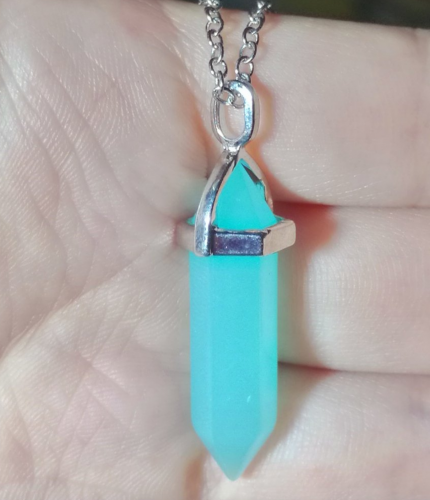 Complete with a silver chain, this is an awesome way to show off your pendant and is a great casual necklace to wear every day, allowing you to keep the amazonite on you and close to your heart wherever your day takes you!
2.
POMINA Semi Precious Stone Beaded Short Necklace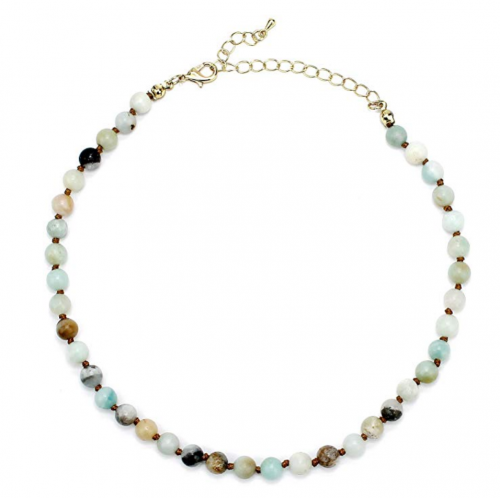 If you like the idea of the bead bracelet but want a necklace instead, this necklace is perfect for you. Complete with different sized amazonite beads, this is a unique take on a classic bead necklace.
We love that the beads increase in size down towards the front of the necklace. It also comes with an adjustable clasp that allows you to have some control over the overall length of the necklace.
This is a great necklace that can easily be dressed up or down; we think it would look great during the day or for a night out!  
3. NOVICA Amazonite .925 Sterling Silver Necklace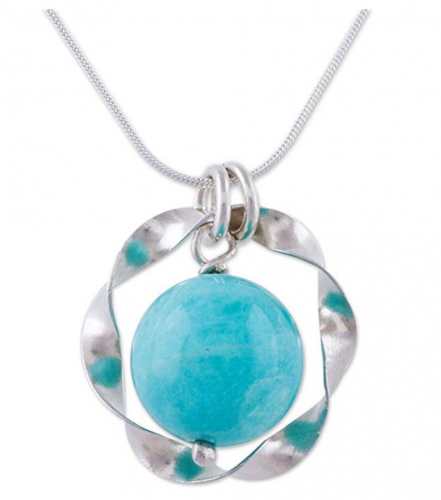 For a unique take on the classic pendant style necklace, this necklace is absolutely gorgeous and eye-catching.

The pendant itself has the one amazonite stone encircled in a gorgeous ribbon-like sterling silver ring.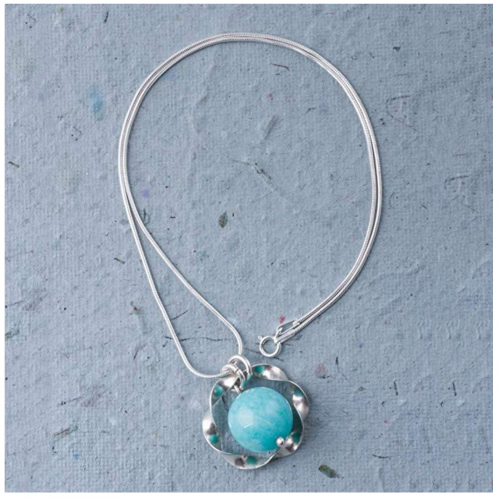 This is another necklace that could easily be dressed up or down, and we love how unique it is. The simple silver chain ensures all of the attention is on the gorgeous stone. 
Rings
1. Sorrelli "Aegean Sea" Divinely Diamond Ring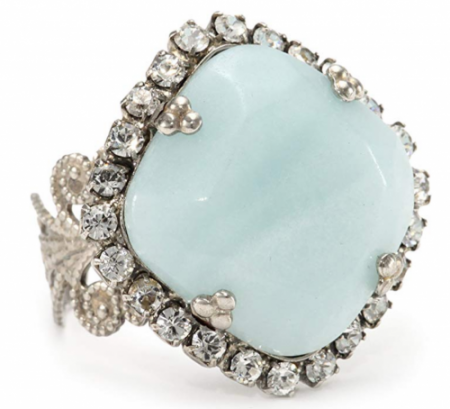 This is one of our favorite statement rings we have found, ever! This ring features a large center amazonite stone and is surrounded by a halo of Swarovski crystals.
The band itself is also incredibly intricate with scrollwork designs on both sides. This has a beautiful vintage appearance to it, perfect for anyone who loves antique looking jewelry.
Even the band itself has an aged look to it, helping the ring retain that gorgeous vintage appearance. 
2. Huang and Co. Amazonite .925 Sterling Silver Ring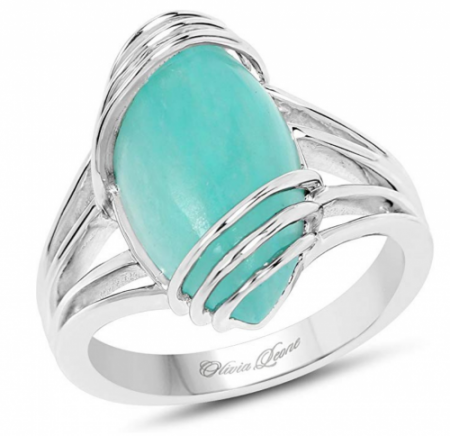 For a more modern leaning ring, this gorgeous sterling silver ring is an excellent choice. We love the unique way that the center stone is secured with the simple bands of sterling silver, as well as the unique cut of the stone itself.
This is an eye-catching ring that has unique detailing but is still very modern. If you prefer modern jewelry, but not necessarily minimalist pieces, we think this ring is perfect for you.  
3.
LoveHuang 18KT Yellow Gold-Plating Ring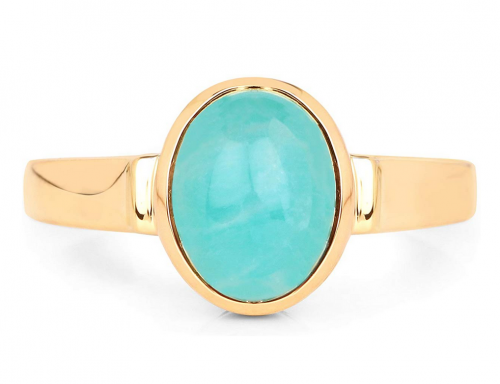 Finally, if you are after a modern and minimalist ring, this is the one for you. The simple round gemstone is shown off beautifully with the gold-plated sterling silver band. This is also great if you prefer warmer tones with your jewelry.
Even though the amazonite is a cool shade of blue, the gold band warms it up nicely, ensuring it will match perfectly with other warm or gold-toned jewelry that you already have. 
Finally…
Amazonite is a gorgeous, blue-green gemstone that has powerful healing properties to help soothe and calm the body and the mind.
Named after the Amazon River, this unique stone is just as beautiful as it is powerful. Whether you believe in its healing properties or not, it makes for a great addition to any jewelry collection.
From more simple, elegant pieces, to more casual bead bracelets, there is something for every occasion when it comes to amazonite!
We hope you will decide to learn more about this powerful stone and add some pieces to your collection. Keep an open mind and see what the stone may be able to do in your life. Be sure to let us know what your experience is!