Gemstones / Mix / Women
10 Diamond Stud Earrings that Make for the Perfect Gift this Holiday Season
Yay! The holiday is almost here, and it's that special time where you share gifts around to all your loved ones. Holidays bring out all the fun we have been missing throughout the year—and it's also a time to get back in the circles of family and friends and share the love with everyone. One other thing that spices the holiday more than it is, however, is sharing gifts. So if you haven't still made your mind up about the perfect gift to give out this holiday season, then why not choose diamond stud earrings?
Why You Should Choose Diamond Stud Earrings
Diamond stud earrings are a mix of simplicity and beauty. To the latter, they have that sparkling shine that seems to glimmer all around the room. They are also eye-catching and adds a bit of sophistication and class to your vibe. So falling in love with them isn't so tricky with their allure. Now, what takes the cake with diamond studs is their history. Better yet, the history of diamonds.
Diamonds have been famous for ages as one of the most beautiful gemstones in existence. Certainly the stone of royalty, diamonds have also been said to be interpreted as purity, love, wealth, and perseverance – all positive symbols. Over the years they have remained relevant to fashion, and have appeared on various accessories like necklaces, wristwatches, rings, and studs.
But how did diamond stud earrings first emerge?
Earrings have been a favorite even before any of us can remember. They made a very significant fashion piece for about five millennia especially popular in ancient Egypt. With the ending of the 19th century, this awesome jewelry made an appearance and hasn't left since then. The popularity surged in the 1970s with royals and celebrated making a fashion statement out of it. Several houses of fashion also adopt the piece of jewelry, adding their trademark by creating different shapes and sizes out of it. Now, with the presence of both diamonds and earrings, it was only a matter of time before someone combined the 2. The result is diamond stud earrings that come with the advantage of being more budget-friendly when compared to others.
In this review, we have compiled a list of diamond stud earrings that are perfect as gifts. You don't need to worry about browsing through large collections at the gift shop or scrolling through never-ending pages on the internet, all you need is here.
Our 10 Favorite Picks


1. VIR JEWELS
AGS Certified SI2-I1 14K Diamond & White Gold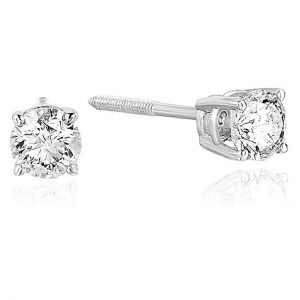 This piece from VIR jewels is as simple as they come. With just one look at the diamond stud earrings, you are guaranteed to pick it up for your holiday gift. It comes with a beautiful and elegant design to decorate the ear of anyone who wears it.
The product was made with natural 0.50-carat white diamond set in metal with screw back. Handcrafted especially to meet the highest quality and build—the earrings are not only beautiful, but they are also highly durable. And since it has just one diamond stone, clean-cut and round enough to fit into the metal body, it creates a petite, but flawless personality.
That said, one of the major reasons why we recommend this as a holiday gift is the packaging. The pair of earrings come in a jewelry gift box. In other words, you don't need to go through any additional wrapping. It's simply straight from delivery to the ears of your baby girl or partner.


2. Natalia Drake Diamond Miracle Plate Earring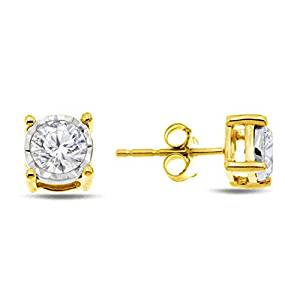 White diamonds are no doubt aesthetically pleasing, especially when they are crafted into jewelry items. And this is precisely what Natalia Drake achieve with her collection. They are all that you need to make the holidays more awesome when you use them as a gift for that special one.
That said, let's move on to the pair of earrings. The Diamond miracle plate earring was made with around 0.5 carats white diamond, measuring about 2 mm in length, and set in a body-safe metal. It is made with three different plating's which include rose-gold plated silver, sterling silver, and yellow gold plated silver. Therefore, it's up to you decide which one the person prefers.
For example, if he or she is allergic to certain metals, then the best choice is the option of Sterling silver. For anyone who loves making statements, the yellow gold or rose gold variant is the obvious choice. And concerning the size, the frame is petite at just 10 mm—a size perfect for everyone. So whether it is the rapidly coming Christmas or maybe Valentine's day that's a bit further away, don't hesitate to get this diamond stud earring for the one special to you. It even comes in a classic jewelry box to make the process a lot easier.
3. Houston Diamond District
 2/3 Carat Solitaire Diamond Studs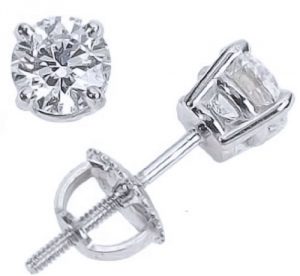 When you find diamond stud earrings that everyone is clamoring about, you certainly want to check out why. So we found this fantastic piece of jewelry made by Houston house district, and we are sure that you would have whoever you want to give, bedazzled by its charms. — Or so to speak.
Made from the finest and purest of diamonds, these perfectly sized earrings are made with plat-950 metal. The 2/3 round carat diamond is set in place on a perfect and light platinum metal. You should know that platinum is one of the safest metal that can come in contact with your skin. That means no discoloration nor reaction since it's skin-friendly.
It is also light-weight, weighing just 0.63 carats without any additions. You can wear it for as long as you want without even noticing they are there. 
Thinking of surprising your loved one with a gift they will always remember, then why not give this a try?
Each time they use the earrings or even see it will play memory of you. Expect some out-of-the-blue calls if you go for this piece.
4. Di Aura
 Sterling Silver Diamond Accent Pave Earrings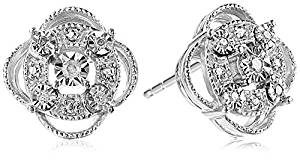 Gifts are a lovely way reminding those around you that you care about them. And there is no better time to give that gift than during this season. To that, here's another option that we want you to consider. We particularly love it for its array of stones that are set in a rhodium-plated Sterling silver-made pair of earrings.
The setting can be called 'Miracle Platters' and it creates a reflection of light that's powered by a collection of round stones. 
Still, the amount of stones on the pair of earrings seems much like overkill, doesn't it? Especially with the fact that you seemingly have to deal with the extra weight. Fortunately, that isn't the case.
Each diamond weighs less than 0.75 carats and is externally and internally flawless. When you give this as a gift to your loved one, the pair is practically a statement of love that can be applied to a lot of her events (for your boyfriend, check out other options).
Finally, this piece of jewelry also comes in a gift box so you won't be spending any extra cash or maybe even time on going through gift wraps.
5. Amanda Rose Collection
 AGS Certified Round Diamond Solitaire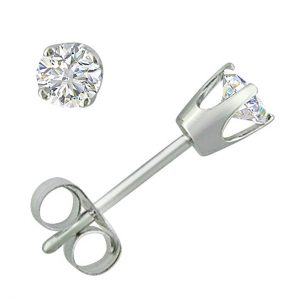 Solitaire diamonds are highly appealing; they have this awesome sparkle created by light reflecting off tiny sections on the surface. Now, add this to a great stud, and you get an awe-inspiring piece of jewelry that catches the eyes of every one that sees you. This is what Amanda rose has added to her collection.
The AGS (American gem society) certified diamond stud earrings come with a 0.25 carat round, solitaire diamonds with a 14K white gold setting for the perfect ambiance. It also has rhodium finish that gives it friction backs so that they don't lose hold on your ear. With a 3 mm length, the earrings are perfect for literally anyone, while still shiny enough to make whoever you give, fall in love with it.
Nonetheless, while its potential is glaring, it should be mentioned that the packaging isn't quite as satisfying as others on the list.
The pair comes in a jewelry bag, and depending on who you are or the standard the person you're giving it to maintains, this may be "alright" or underwhelming.
6. La Regis Jewelry
 Cultured Freshwater White Pearl Stud Earrings
If you know someone who loves the look of diamond earrings, here's another choice for them. Though it has a twist in the form of the cultured pearl that's attached. Having said that, let's talk about the pair. The earrings are designed with 'virtually flawless' diamonds renowned for their sparkle. These diamonds weigh 1/50 carat and are set to contrast with the above-mentioned pearl to create one of the most beautiful earrings we've seen.
Now, check this; while the company heavily focuses on the looks, the build quality isn't neglected. From the hypoallergenic property of 14K gold to its durability, daily use isn't a problem till the next holiday season and long after. With this kind of stats, we weren't surprised when we saw its price tag. If your budget is around that point, give this a try.
7. Forever Solitaire Diamond Earrings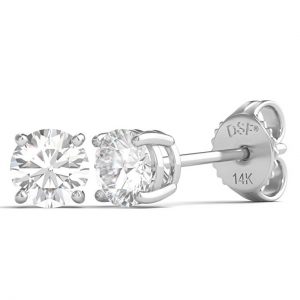 This is another diamond stud that is fit for any collection that's focused on holiday gifts. With its allure, it's one of those pieces of jewelry that catches the eye of anyone who sees them. Why? Try reading the next part. 
This pair was made by Diamonds Studs Forever with the help of pure 14K white gold metal. The metal then combines nicely with the pure white diamond set into it.
Following that, there's also the 4-prong setting that comes with all standard earring to make it a perfect fit for everyone. This, with the naturally treated, two 0.50 carat (or 0.6 g) diamonds, makes the pair a joy to use. 
So you can be sure you will be seen pinned to the ears of whoever you give it to. That surely provides a feeling of elation that you'll get addicted to if it's regularly used.
Christmas, New Year, Easter, Mother's Day, Valentine, or even Children's Day are choices to consider if you're choosing this.
8. Natural Diamond 14k Gold Fashion Stud Bar Earrings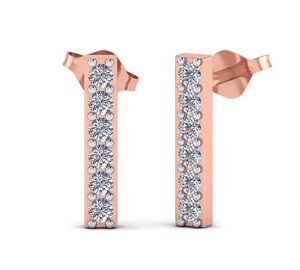 This is a spectacular addition to Fehu Jewel's wide selection of jewelry. The diamond-studded earrings are not ordinary, as they are a rare piece of timeless artifact that will amaze anyone you buy them for.
The earrings have 12 round diamonds set in a rectangular 10.5 millimeter rose gold metal. Its 0.17-carat diamonds are natural and have undergone no stone treatment making it as pure as they come. There's the excellent cut, with an eye-catching pave setting which Fehu did an excellent job in perfecting. You can tell there was a lot of attention to detail while it was being crafted.
The great thing about the earring is that they are beautiful, but still safe for suitable for those that have sensitive skin. Even though you might be tempted to get one for yourself, get it in a gift wrap and present it to spice up this holiday season for your loved ones.
9. Dazzling Rock Real White Diamond Kite Shape Men's Studs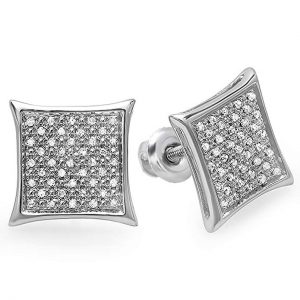 This is one earring that will certainly amaze you. In a different design from all the previous earring, dazzling rock earrings have a diamond kite shape and is as hip as they come. If you want to impress your man this holiday, then you certainly won't be disappointed with the effect that these earrings will have on him.
With shimmering crystals and clear diamond stones, the earrings are 12.2 mm in length and have micro pave setting. The metal is made of 925 sterling silver which is great for just about every man. Each of the 82, 0.2-carat diamonds placed in them are natural and clean cut with a high-end polish finish. All these details make them look adorable.
When it comes to quality, these pieces have been made to the highest standard. All test and detail are well taken care of to give a masterpiece that has no buts.
This gorgeous accessory would give the needed sparkle to any outfit that you might have on. It also comes with a screw back to make it comfortable to wear and compliment you gracefully. Buying one for your man will allow him to know just how much you have been thinking about him all year.
10. Cubic Zirconia Halo Round Diamond Studs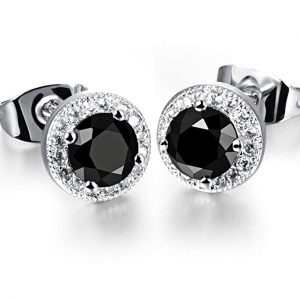 If you want to get an affordable diamond stud earring for your loved one, then this is a perfect choice for you. The earrings come with a gorgeous black diamond placed right at heart and surrounded by AAA grade zirconia diamonds. This alternating color complements the gemstone considerably making sure that it is effortlessly dazzling.
The metal that house the sparkling stones is made of sterling silver plated with a rhodium finish. This prevents any irritation to the ear and allows you to enjoy its unique beauty. But one thing that you still have to love about this earring is how light they are. Having a height and width of 8 millimeters, the round shape, and great finish makes them extra-comfy to put on.
Although you might want to get a big piece of jewelry for a perfect gift, this black diamond stud earring will still have a remarkable effect. You just wait and see for yourself.
Frequently Asked Questions on Diamonds Stud Earrings
How important is quality when buying diamond stud earrings?
There are lots of quality when it comes to diamond, and if you want to get one of them, you need to seriously consider the quality when you are about to purchase it as a gift. You also need to know that the better the quality of the diamond the more expensive the jewelry will be. The fact is that flawless diamonds are almost impossible to buy, but you can get mid-quality diamonds that are still beautiful.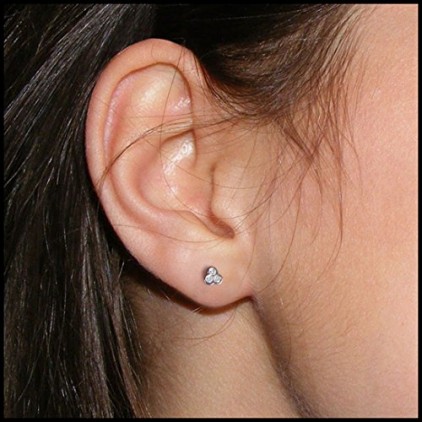 However, if you still can't afford to get a natural diamond then, you can buy a good grade cubic zirconia. This remarkable imitation is similar to natural diamonds with their sparkle and brilliance, but they are actually made with a crystalline material with the same color, hardness, and flawlessness of diamond.
Q: Should I choose a black or white diamond?
Black diamonds are simply carbon-filled diamonds that don't reflect light. While the white diamond sparkle and catch all the rays on the red carpet, dazzling everyone. Black diamonds kind of keep their cool. And although black diamond earrings are quite low in demand when compared to their white counterpart, they still make it to the accessory collection of some of Hollywood's finest.
Actresses like Angelina Jolie, Katherine Heigl, and Carmen Electra have been spotted with it several times. And don't be deceived by its unpopularity, you can still spend as much buck on them you could spend on white diamonds.
Q: How do I take care of my diamond studs?
You can get a small napkin to clean your diamond earrings once in a while. Get a toothbrush, gentle soap, and liquid to wash it in the comfort of your bathroom. But you will ultimately need to take it to the jeweler for proper cleaning. They have all the required tools to get your diamond looking all new and shiny.
Q: What metal best combines with diamonds?
925 sterling metal, gold, rhodium, and stainless steel can be used for the metal holding the diamond that comes with your earrings. However, you should know that not all these metals are good for the person you want to buy it for. Some of them might react adversely with the person's skin and cause adverse effects.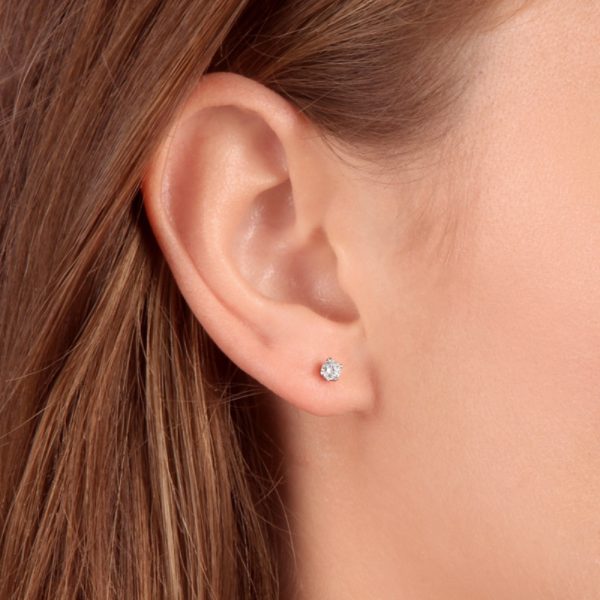 Platinum is the best metal you can get, they don't peel, and neither do they cause skin irritations. They can be expensive though, so if you are sure the person you are getting for won't have a skin rash or redness when using them, get the option. Sterling silver is especially exquisite and durable too.