Go Simple and Bold with a Collar Necklace from Our Selection
last updated:
Mar 24, 2020
A necklace can make or break an outfit and when it comes to choosing the right necklace to complete your look, there are lots of things to consider. Should you choose something glitzy or more simplistic? Chunky or dainty? These are just some of the things you may be unsure about when deciding on your piece of jewelry. To help you on your way, we've selected a variety of simple and bold collar necklace options in a range of prices.
So, what is a collar necklace? Essentially, we're talking about a short necklace that lies flat around your neckline. This is different from a typical necklace that hangs freely and ranges in length and size. You've probably seen lots of them before and mistaken them for an average necklace.
Whether they feature beautiful crystals and gemstones or keep things simple with textured metal, collar necklaces are a must-have fashion accessory.
Our 10 Favorite Collar Necklaces!
1

. Anne Klein Collar Chain Necklace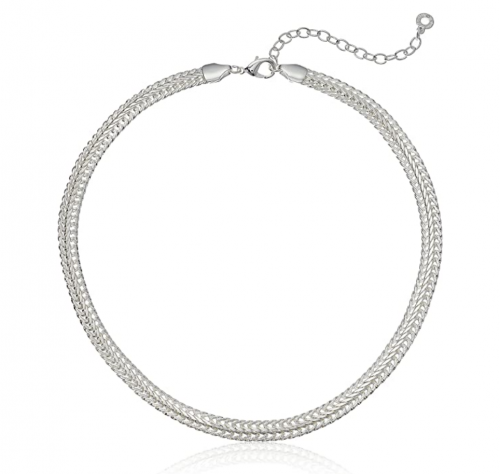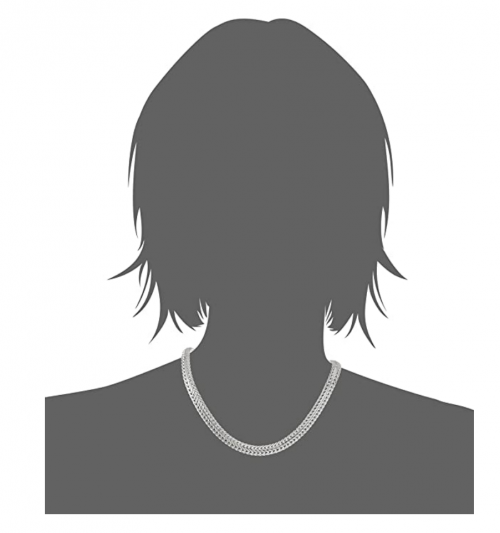 Silvertone
Flat collar chain
Adjustable length
This necklace is a very simple design that is sure to stand out for the right reasons. If you're looking for a collar necklace that could be worn with a range of outfits, this piece is a strong contender.
Read more
We think it could be worn for any occasion and you could even match it with another necklace for a layered effect.
What's great about this necklace is that it looks like it's made from sterling silver; however, it's made from a silver-toned metal. This means you're getting it for a fraction of the price! 
It consists of a flat collar chain. You'll see that this style of chain is quite unusual, very different from a lot of the other necklaces we'll be reviewing.
The chain is approximately 17 inches long offering an adjuster so you can wear it shorter or longer. The piece is very lightweight, at around 1.14 ounces, and has a lobster claw clasp. 
2

. Jerollin Crystal Rhinestone Collar Necklace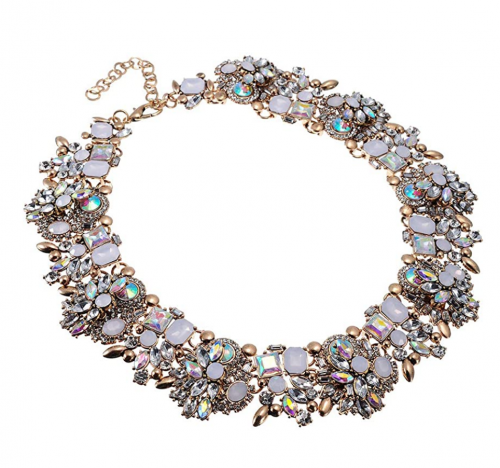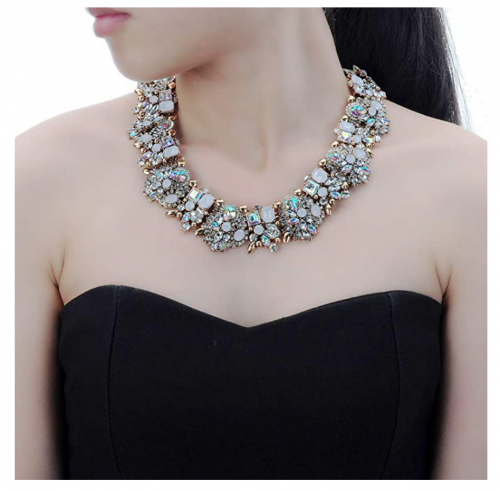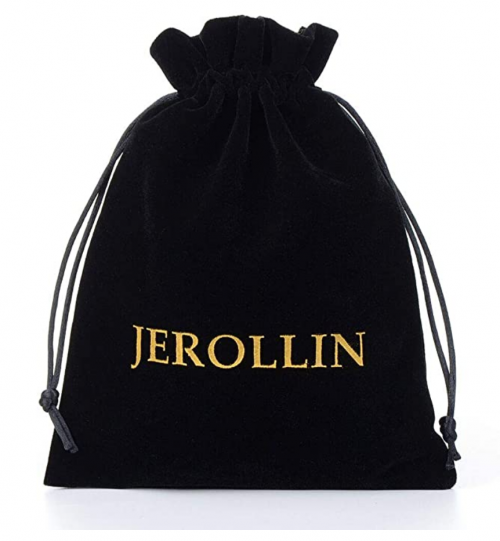 Vintage style
Crystal Rhinestones
100% satisfaction guarantee
What a breath-taking spectacle of crystals, gemstones, and beads! This necklace is a huge statement piece, you'll turn a few heads wearing this gorgeous beauty.
Read more
A lot is going on with this necklace; however, everything comes together to create a vintage look that is well balanced.  
If you like chunky vintage jewelry, you'll love the fashion necklace. The first thing you'll notice is the size and scale, it truly is magnificent. Approximately 1.57 inches wide by 17.72 inches long, this is a big piece of jewelry. You're getting your money's worth with this collar style necklace. 
Featuring dozens of stones, it is very special. Crystal rhinestones, opals, and glass beads cover it creating a gorgeous display of shimmer and sparkle. Pink, grey, white, silver, purple and gold, this necklace has a beautiful warm feel to it, it's extremely feminine. 
 
The chain has been made from a copper alloy metal. What's great about this material is that its strong (sturdy enough to hold all the stones!) and safe to wear against your skin, particularly if you have sensitive skin.
The fashionable piece of jewelry could be worn on multiple occasions – weddings, birthdays and graduations, to name a few. What's great about it is that it comes in a variety of colors including black, green and pink. The list of colors is endless! You can also opt to buy it with a matching pair of dangle earrings. 
The crystal collar necklace will arrive in a branded cloth bag. The jeweler is also offering a 100% satisfaction guarantee which is great news; however, we don't think you'll need to use it.
3

. Holylove Statement Necklace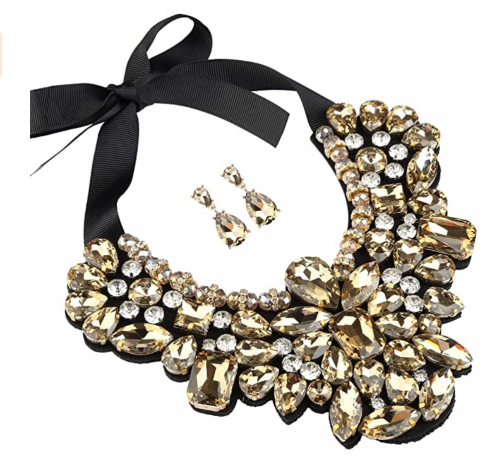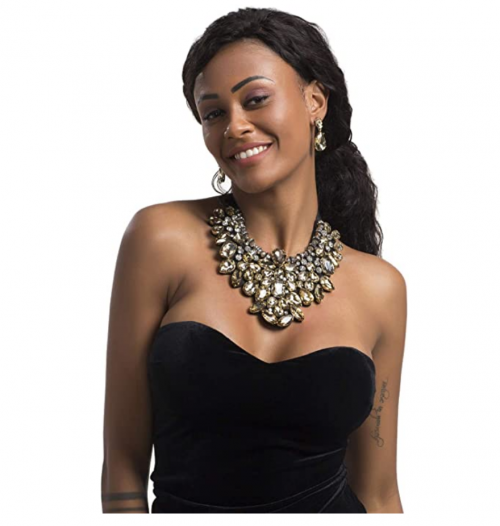 Crystals rhinestones
Necklace and earrings
Ribbon chain
Black and gold are perhaps one of the best pairings when it comes to the color of your jewelry. This necklace takes it to the next level by using these two bold colors to make a real statement.
Read more
But don't worry if you prefer a bright color, you've got eight options to choose from. This is costume jewelry at its best! 
Once again this is another gorgeous collar necklace where crystal rhinestones make up most of the necklace and when it comes to the desigmn, it is a masterpiece.
The necklace features a display of sparkling rhinestones and crystals as well as shiny glass beads. This piece is made up of small and large stones, varying in size. Even though a lot is going on in the necklace, when it comes to the number of crystals and size, the overall effect is simple.
To give you an idea of the scale of this necklace, one of the largest stones is approximately 0.79 inches x 1.18 inches, making a bold statement within it. 
The size of this choker necklace is approximately 6.02 inches in drop by 7.32 inches wide. Though this choker is quite tight-fitting around your neck, the necklace will drop down lower on your neck if required.
 
Part of the chain where the rhinestones attach is made of alloy metal. The other half of the chain, where the necklace attaches around your neck, is made from a black ribbon. The back of the necklace is also made from a velvet material, making it soft against your skin. 
This is the perfect piece to wear to a party, wedding or night out with friends. Best worn with a boob tube or strapless dress, it would make a lovely addition to your outfit. 
The choker necklace is available in a variety of colors including champagne, pink and royal blue. There is an option to purchase matching dangly earrings as well. The jeweler also offers a return and money-back guarantee with this item. 
4

. Betsey Johnson Memoirs of Betsey Bow Necklace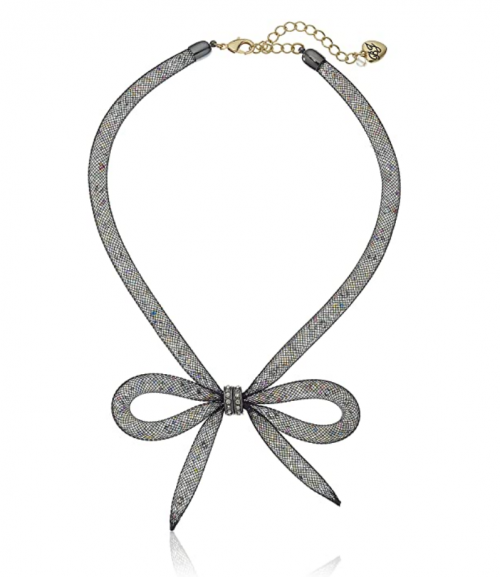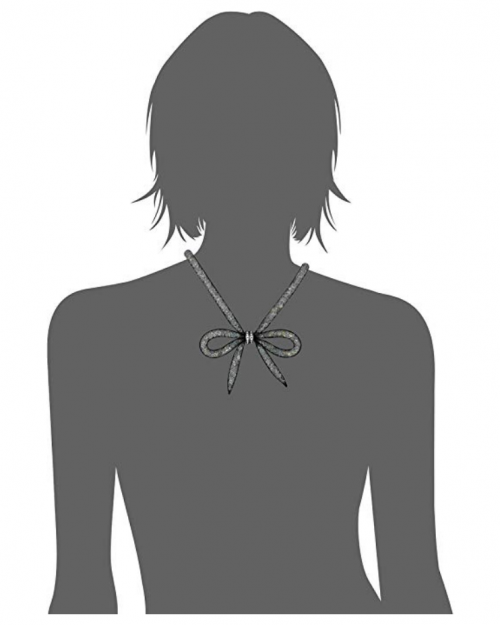 Bow mesh chain
Chic style
Handmade
This collar necklace takes a simple design a step further by incorporating a unique mesh texture that looks great from any angle. From a distance, this could be mistaken for an elegant piece of ribbon, but this is a 3D mesh necklace with sparkling beads.
Read more
The choice of color makes it an accessory which you'll want to wear daily. Created from a grey and black mesh material, the piece is extremely stylish. The mesh material wrapping around a grey colored fabric makes up the inner section of the chain.
This detail gives the piece a textured composition which you'll like. When it comes to the bow part of the chain, this has been given a touch of sparkle. Small, sparkling silver beads decorate two-crystal accented rings which are threaded onto this knot within the bow, giving this piece a gorgeous shimmer. 
This mesh bow necklace gives off an iconic vintage and handmade feel which you would expect from jewelers at Betsey Johnson. We'd wear it with a plain top or dress, so they'd compliment each other.
What's great about this necklace is that it can be worn at a good length, 15 inches to be exact, with a 3 ½ inch adjuster allowing you to wear it shorter or longer. It's another of our pieces that are on the lighter weight, around 1.6 oz.
 
This is a super cute necklace which we can guarantee that you'll get plenty of compliments on. 
5

. PG Rose Gold Plated Love Collar Necklace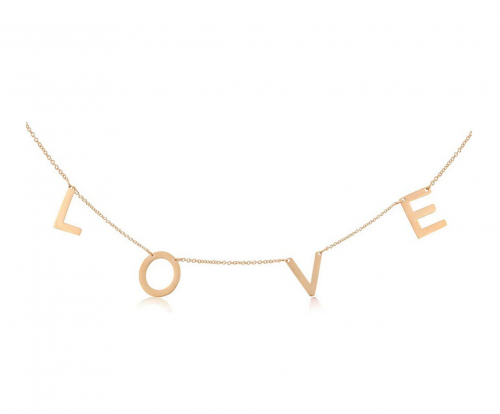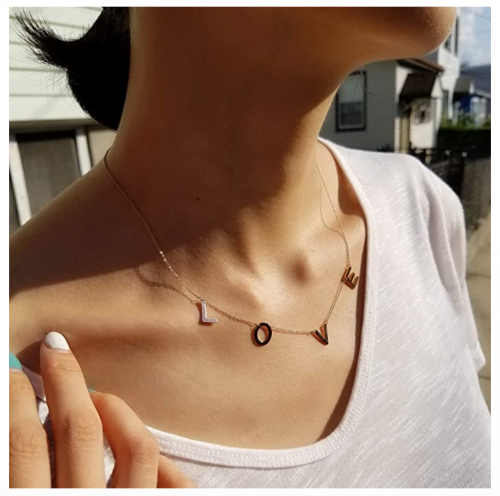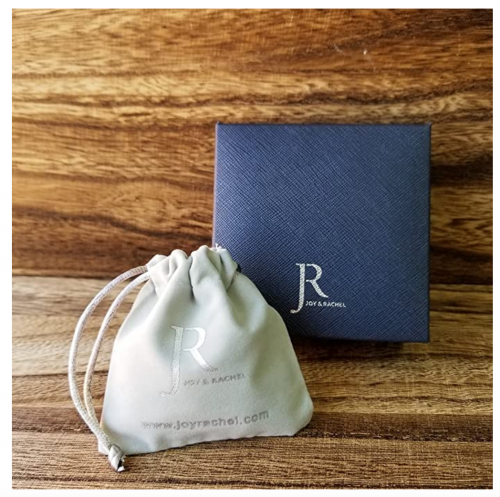 Rose gold plated stainless steel
Adjustable chain
Gift packaging 
Love is in the air with this gorgeous piece! Necklaces that spell out words are becoming increasingly popular and are very on-trend this season.
Read more
This is a dainty piece of jewelry which once again gives you the choice to wear it as part of a casual outfit or if you have plans to go for a more formal look. 
Rose-gold jewelry gives off a lovely warm glow, therefore we love it so much! 100% nickel-free and lead-free, you can be reassured that your skin will not be exposed to any harmful material. The choice of stainless steel also makes it durable whilst still looking beautiful, plated in rose gold. 
When it comes to the design, this necklace is an example of one of our more simplistic pieces. Created with a thin dainty rose gold plated chain, it features capital letters spelling out 'LOVE'.
 
The collar necklace has a rolo style chain that is adjustable in length allowing you to alter the length of the chain, so it is either adjusted to 16 inches, 17 inches or 18 inches. 
It comes in a gorgeous leather gift box making it the perfect gift for someone special in your life. Mother's Day, Valentine's Day or a birthday, this would make a fantastic present for someone special to you. 
6

. Black Bow Jewelry & Co. Diamond Cut Link Collar Necklace
Sterling silver
Polished and diamond-cut finish
Lobster clasp
It's incredible how just a simple design can make such a bold statement. This necklace is simply stunning and looks like a sculpture. Finer details which have been etched into the surface of the metal help to bring it alive!
Read more
What's interesting about it is that the piece will move effortlessly with you when worn around your neck. 
Made from 925 sterling silver, you simply won't miss it! The interesting design element gives it a lovely unique quality. Each bar that makes up the necklace, has been beautifully polished to give the piece a super smooth shiny surface. The bars also give it a sleek three-dimensional element.
 
Looking at it, you'll notice that the collar is thinner at the end by the lobster clasp and gradually gets wider as you get to the middle of the chain. The necklace is a nice length, 17 inches to be exact and is fastened with a lobster clasp.
 
Created by The Black Bow Jewelry Co., it will arrive in a blue signature gift box with a black ribbon, making this a lovely gift. 
7

. Black Bow Jewelry & Co. Multi Circle Collar Necklace
Sterling silver
Polished and textured finish
Bib style, multi circle link drape
Featuring a unique and bold design, this option is made up of dozens of metal hooks which all vary in size. A statement piece, it has a relaxed Bohemian feel to it, so if you're looking for something special to complete a casual outfit, this could be the perfect addition!  
Read more
Sterling silver is a gorgeous metal, particularly when it comes to a necklace like this one. Smooth, shiny and stunning would be great words used to describe it.
This bib-style collar necklace is a very fashionable piece. The different sized circles which make it up are extremely distinctive. Each silver circle has been created with a textured finish. The smaller circles gradually get larger as the necklace extends down your neck.
Tiny silver circles then join larger circles together creating a triangular point at the tip of the piece. This all pieced together makes a triangular-shaped drape which is approximately 18.5 inches in length and features a fancy lobster clasp. To give you an idea of the weight of this bolder necklace, it is approximately 21.42 grams.
 
It comes with a turquoise-colored signature blue gift box with a black satin ribbon. 
8

. SWAROVSKI Crystal Nice Feather Collar Necklace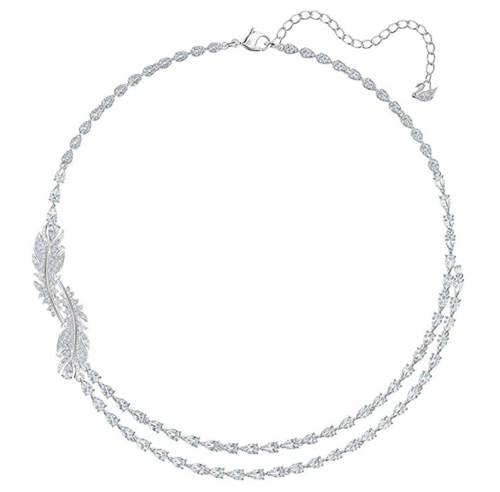 Swarovski crystals
Feather collar style necklace
Rhodium-plated
There's a lot to see with this option. A simple dainty design has been used to create an attractive necklace that looks different from every angle. From a distance, it has a simple and understated feel and on closer inspection, you can quickly see the intricate detail that makes it something special. 
Read more
SWAROVSKI crystals are utterly beautiful! SWAROVSKI is one of the leading experts when it comes to crystals and this necklace is no exception. This necklace is full of crystals – small singular round ones and large ones that decorate the chain.
 
The interesting thing about this piece is that it is a double-layered necklace, so you get double the crystals for the same price! It features pear-shaped crystals that form the collar part of the necklace and create a glitter effect for the two feather motifs.
 
This SWAROVSKI necklace is rhodium-plated. The great thing about this is that this rhodium plating protects the surface of the necklace from any scratches, making it durable. 
Perfect as a birthday, wedding or anniversary present, the SWAROVSKI necklace would bring a lot of sparkle to any outfit. It's important to point out that it's a higher-priced collar necklace but if you like your crystals, you know it's worth it! 
9

. IGEMA Bib Collar Necklace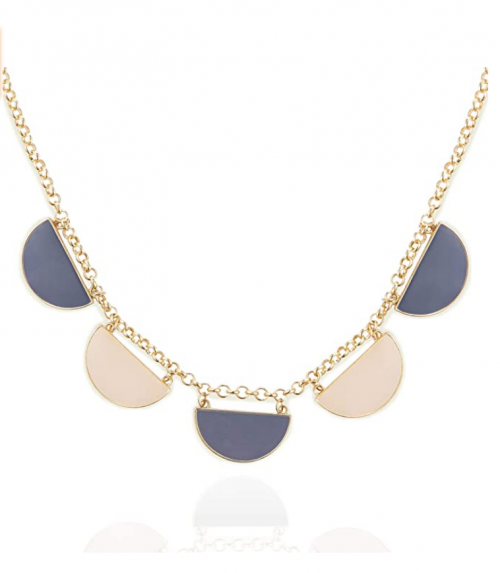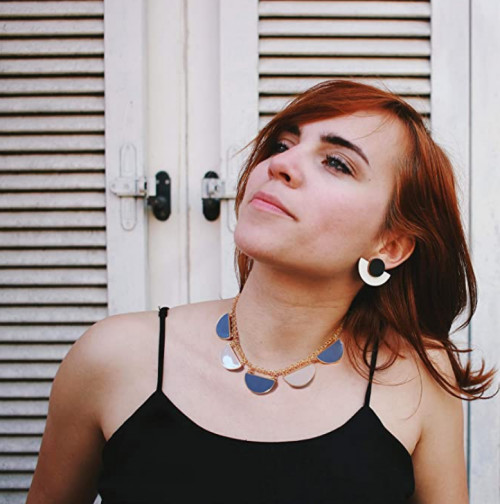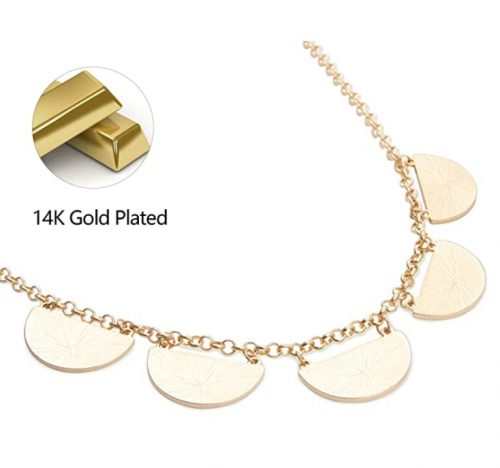 14k gold-plated
Collar style necklace
Money-back guarantee
This necklace cleverly uses two shades of enamel to create a light yet bold look which can be matched with a range of styles. 
A somewhat understated look, this is a great choice if you're looking for an item of jewelry to complete your casual look and could also be worn as part of a smarter outfit for work. 
Read more
The necklace is made from brass which has been plated in 14k gold. This means that not only does it look fantastic but it will also be hard-wearing and should keep its shine. For such a reasonable price you are getting a nice item of jewelry.
Further benefits of this piece are that its rust and stain-resistant as well as being hypoallergenic and nickel-free which is great news if you have sensitive skin. 
The necklace features a 16-inch chain plus an extra 2 inches which means you can choose to wear it longer if you prefer. 
The geometric design has been made to represent health, good luck, and beauty. So, whether you're buying this for yourself or a gift, this necklace should help brighten up the day of its wearer. 
You'll receive it in its velvet gift bag which will help to keep it safe and protected. You've also got peace of mind in the form of a money-back guarantee if you aren't 100% satisfied. But we're sure this won't be the case and you'll love it!
10

. GUESS Hearts Link Necklace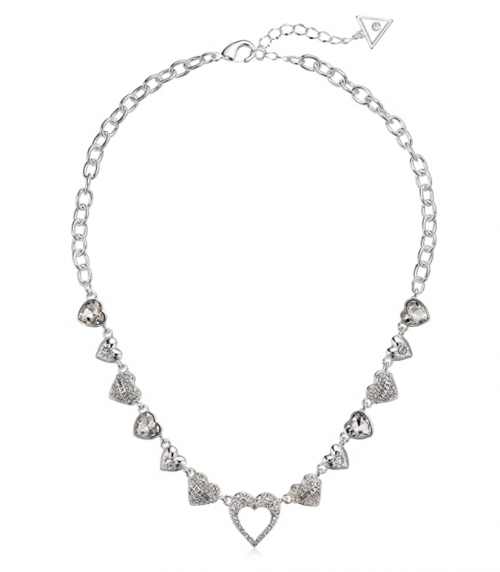 Heart pendants with pave crystal accents
Silver-tone finish
Adjustable length 
Prepare to have your heart stolen with this intricate heart link necklace. If you like charm jewelry, this item will be right up your street as it has a similar feel to a charm bracelet. 
Read more
The necklace design is made up of a repeated pattern of hearts that come together to a central heart-shaped pendant. This is a very pretty option and when viewing it up close you'll notice that each heart features its own design.
These include a pave crystal heart, a heart with a single crystal and a smaller heart that uses a gemstone at its center within a sunshine symbol. The central pendant is particularly elegant and continues the pave gemstone design seen on the smaller heart shapes. We really like that the pendant has been hollowed out in the shape of a heart as this adds an extra level of depth.
 
This necklace is brought together by a simple metal chain and is fixed using a reliable lobster claw clasp. This will help to keep it secure and safe.
We particularly like the chain extender which is finished off with a triangular pendant and its own small crystal. This is a nice touch and not only means that you can extend the 16-inch chain but also adds that extra touch of elegance.
It comes in its deluxe box to keep it safe or ready to give to someone as a gift straight away. 
Evaluation Criteria
Durability
All the collar necklaces we chose needed to be made from materials that were durable and looked good.
We chose necklaces that were made from sterling silver, rhodium plating and 14k gold. The great thing about these metals is that they are scratch-resistant and hypoallergenic so safe for you to wear if you have sensitive skin. 
Some of the necklaces we chose featur diamonds or gemstones. These stones are hard-wearing and capable of withstanding daily wear and tear. 
Style
We wanted to choose a mixture of simple and bold collar necklaces in a variety of colors and sizes.
Our choice of necklaces vary in colors including gold, silver, and black. We also wanted to provide lighter and daintier pieces as well as heavy chunkier pieces.
We felt it was extremely important to have a selection of necklaces that is suitable to wear daily and on special occasions. 
Wear Comfort
All our options are comfortable to wear. For the bold, chunkier collar necklaces, we were careful that these were comfortable to wear, even though they were slightly heavier in weight.
We think we achieved in having a good balance between size and weight.
A lot of the options we chose consist of large chunky beads and gemstones. We made sure that the necklaces that went into our top 10 were soft to wear, avoiding any discomfort.
To overcome this, you'll see that we chose some necklaces that had a felt backing. This achieves 100% comfort.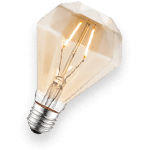 Ancient Egyptians
The Ancient Egyptians loved to wear collar necklaces. A wealthy Egyptian could afford to own a collar made from silver, gold or precious stones. If they weren't very wealthy, a collar could also be made from wood, shell or bone – these materials were more accessible and affordable.   
Sterling Silver
Many collar necklaces are made from sterling silver. This is a durable metal that is easily molded to create attractive designs.  
Length of a Collar Necklace
A collar necklace is typically known for being 14 inches long; however, more recently, collar necklaces offer an adjustable chain allowing them to be longer. 
FAQs
q:

What is a collar necklace? 

a:

This is a necklace that lies flat on your body (around your neckline) rather than hanging freely. 
q:

What is the difference between a collar and a choker necklace? 

a:

A choker necklace is worn tight around the neck whereas a collar necklace goes around the entire neck, either tight or loose. 
q:

My collar necklace is made from sterling silver, is there anything I should be aware of when it comes to this metal? 

a:

Sterling silver is a hypoallergenic metal that can easily be maintained. It's important to be aware that if you don't wear your sterling silver necklace very often, it can tarnish.

Don't worry if this happens because the silver can easily be polished with a cloth to make it look like brand new. 
Finally...
So, there we have it, if you were ever in any doubt about what makes collar necklaces a must-have accessory, we've given you 10 options that show just how versatile these necklaces are. 
We've chosen what we believe are 10 exceptional examples and there's something for every budget.
Our selection includes simple and bold designs for a multitude of occasions which can be matched with your wardrobe whether you're shopping for workwear, casual or a night out on the town.