We Found 10 Unique Chain Earrings in Every Price Range!
last updated:
Mar 16, 2021
Chain earrings are a unique piece of jewelry that everyone must have in their collection. Edgy, colorful, girly, sexy and sophisticated, you may be surprised to find the number of types of chain earrings available to choose from.
To help you weave through the best chain earrings we've collated our favorite 10 which each offer something unique! 
Crystals, hearts, black onyx and cubic zirconia's, one thing for sure the chain earrings we've selected aren't boring. We've chosen earrings which are made from a variety of materials including sterling silver, stainless steel, and 14k gold. 
Our collection of earrings includes box, curb, bead, figaro and loose-rope style chains. Who'd have thought there were so many different types of chains. So let's get started!  
Evaluation Criteria
Durability
All of the earrings we chose are durable.
We chose earrings that are made from strong metals like stainless steel, 14k gold, and sterling silver. It is important that the earrings look good and are hardwearing because they are going to be worn daily.  
Style
Style is another area that we spent a lot of time considering before selecting our top 10 earrings.
We wanted to choose earrings that are comfortable to wear as well as stylish. Whatever your style, we wanted our collection to feature different types of chain earrings suitable for everyone's tastes. We think we achieved this. 
Wear Comfort
Comfort was one of the most important things to consider when selecting these 10 earrings.
Our collection consisted of both dainty and chunkier earrings. Even though the earrings ranged in size they needed not to be too heavy. We only chose earrings that are relatively lightweight and are comfortable. 
 
Another factor we took into consideration is how the earrings attach to your earlobe. We were careful to only select earrings that have a secure and comfortable attachment. These mainly include hooks and studs.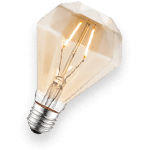 Box chain
A box chain is made up of square-shaped links. These resemble a box-like shape and when joined create a very sturdy chain. 
Black onyx
Black onyx is a deep black stone that can feature white and grey bands of color. Some believe that a black onyx is a powerful protective stone that encourages happiness and good fortune into one's life. 
Antiqued finish
This is a process by which the surface of a metal or stone is given a weathered or aged look. 
FAQs
q:

Are chain earrings expensive? 

a:

They can be expensive, but they can also be relatively cheap. The great thing about chain jewelry is that it ranges in prices so there's something suitable for everyone's price bracelet.

Having looked at our collection of the 10 most unique options, you'll find a pair of earrings that will meet your budget. 
q:

Are chain earrings heavy? 

a:

When it comes to chain earrings, they do vary in weight so you must do your research before buying your earrings. It's also important to establish when and where you're planning to wear your earrings.

We'd recommend buying a pair of lightweight earrings if you plan on wearing them all day. That way, they'll be super comfortable and won't make your earlobes sore.

However, if you want a pair of chain earrings to wear on a special night out, we'd suggest choosing whichever pair takes your fancy. It's important to remember to take them off at the end of the night before you go to sleep to avoid hurting your ears and damaging your earrings. 
q:

How can I best look after my earrings? 

a:

There are several ways you can best look after your earrings. These include:

✓ Avoid wearing them when you swim or do any form of exercise

✓ Ensure that they're the last thing you put on and the first thing you take off

✓ Never sleep in your earrings

✓ Avoid using sonic jewelry cleaners because this can cause stones to loosen in your earring

If you want to clean your earrings the best way to do this is by soaking them in warm water and use a very soft toothbrush to clean them. Once brushed then wipe the earrings dry with a soft cloth. 
Finally...
We've pulled together our 10 favorite chain earrings and in doing so we've chosen something for everyone. You can probably see just how versatile chain earrings can be.
Whether you are looking for something slight and subtle or bold and beautiful, these earrings can be easily matched with a range of styles for both casual and formal occasions.
You can even take it a step further by matching your chain earrings with a necklace and bracelet that incorporate the chain design. There are so many opportunities to match this piece of jewelry with your look!