We Found 10 Unique Chain Earrings in Every Price Range!
last updated:
Mar 16, 2021
Chain earrings are a unique piece of jewelry that everyone must have in their collection. Edgy, colorful, girly, sexy and sophisticated, you may be surprised to find the number of types of chain earrings available to choose from.
To help you weave through the best chain earrings we've collated our favorite 10 which each offer something unique! 
Crystals, hearts, black onyx and cubic zirconia's, one thing for sure the chain earrings we've selected aren't boring. We've chosen earrings which are made from a variety of materials including sterling silver, stainless steel, and 14k gold. 
Our collection of earrings includes box, curb, bead, figaro and loose-rope style chains. Who'd have thought there were so many different types of chains. So let's get started!  
10 Unique Chain Earrings
1

. Black Bow Jewelry & Co. Five Strand Multi Style Chain Earrings
925 sterling silver
Loose-rope style chain
4mm ball stud
These are tassel earrings with a difference! Using five different styles of chains these earrings offer a classy chic look that can be matched with a range of styles. Made from sterling silver, the metal has been polished which gives them an effortless shine. 
Read more
Starting at the top, a simple silver stud has been attached to a small hoop from which the tassels hang. This is a simple design that works well and allows the earrings to hang comfortably.
The chains are held in place by a cup of metal which keeps them secure and hides the join. This is a clever design and a great way to bring the earrings together. Each of the tassels is made from a different type of chain which gives the pair of earrings a unique look.
The piece incorporates five different types of chains which are known as figaro, box, curb, bead and loose-rope style chains. All of these are quite different and the mixture of shapes and the designs work well together. 
Another feature that we like is that each of the chains is a different length which helps to complete the classic tassel look. These are 2 7/8 inches so a nice long pair of earrings. The lengths are also arranged in a random order giving a relaxed free-flow feel to the piece of jewelry. 
2

. Michael Kors "Brilliance" Drop Stud Earrings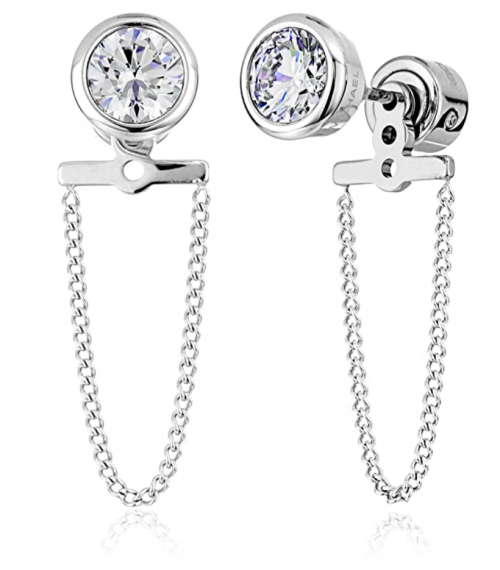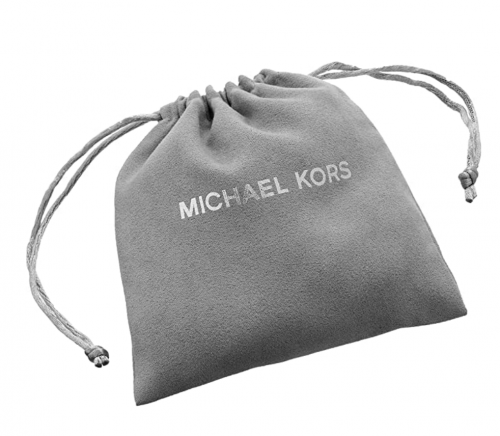 Cubic zirconia
Silver-tone bezel setting
Removable chain drape
When it comes to these earrings, the star of the show is the cubic zirconia stones. Creating a gorgeous white sparkle, these cubic zirconia gemstones have a beautiful glimmer. Set in a silver-tone bezel, they give the chain earrings a lovely shimmer that will catch your eye straight away.
Read more
Round and approximately 0.38 inches wide, these gems are a brilliant addition to the earrings. 
Sitting softly on your earlobe, these cubic zirconia's attach to a small dainty drape chain which drops from one side of the gem and attaches to the other, creating a simple loop. A nice detail that the jeweler has added to these earrings is that they've made the chain removable so you can keep them or remove the chain when you want. 
These earrings are made from a lovely stainless-steel material which has a silver-tone finish to them. The great thing about stainless steel is that the material is durable and resistant against corrosion. Your earrings will stay looking like new for a long time. 
Even though these are made from Michael Kors, they're being sold for a very reasonable price. The jeweler is selling them in rose gold and gold if you prefer a warmer tone metal.
They also come in a stylish soft grey 'Michael Kors' branded pouch which you can keep them nice and safe in. 
3

. Steve Madden Box Chain Earrings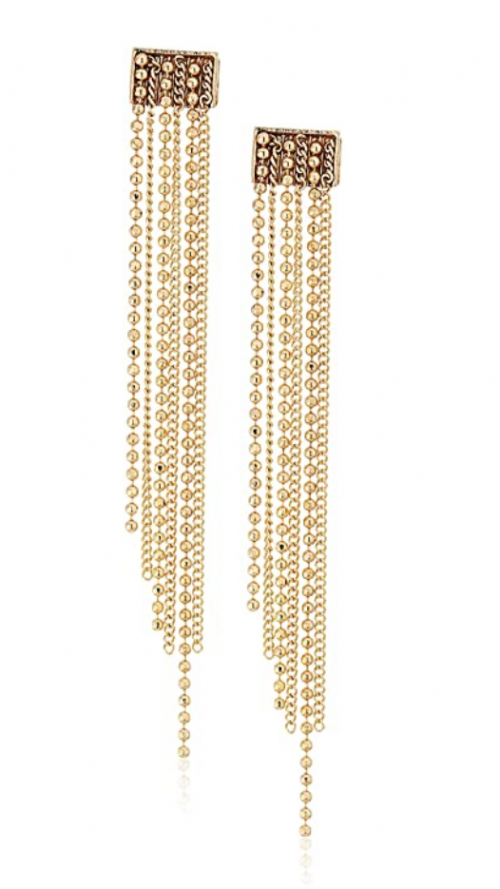 Yellow gold-tone alloy
Box chain
Comes with a drawstring bag
This earring is a rainbow blend of metal. We love tassel jewelry and these beauties are a great example of why tassel earrings are so popular.
Read more
The main body of the earrings is made from plated alloy in a yellow gold-tone. The earrings feature a long hook which means that the earrings will remain safe and secure when you put them on. 
The star of the show here has to be the seven strips of chain. This striking design includes gold colors that we can't help but take our eyes off. The box chain that has been chosen for this design means that the earrings will move freely and you're getting a lot of dangle for your dollar.
A nice detail with these earrings is the way that the chains get longer as they approach the center, with the longest silver chain sitting comfortably in the middle. This makes the earrings appear as being a very similar design to a chandelier and makes them very attractive.
The chains come in at a whopping 3.6 inches in length which means these earrings are a lovely stand out piece. Very stylish and somewhat rockstar look. 
Your earrings will also come in their very own classic drawstring pouch which is perfect when given as a gift or when storing them yourself. 
4

. Meow Star Gold Chain Earrings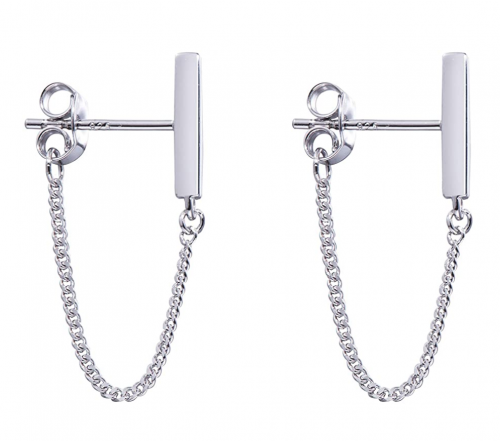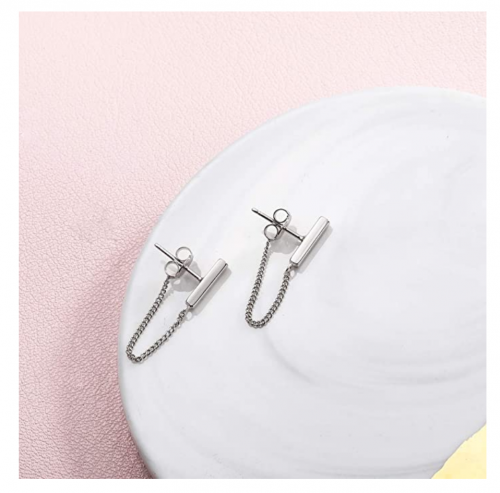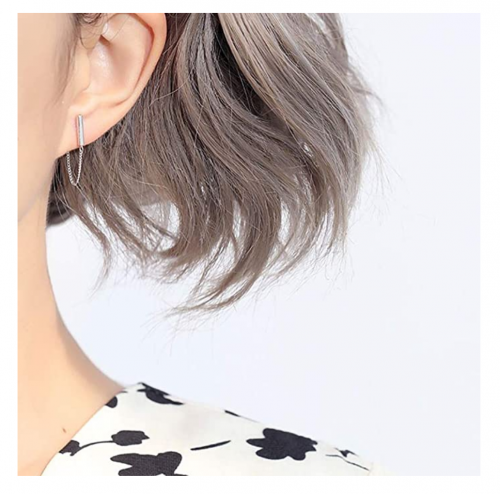 925 sterling silver
Platinum-plated
Bar earrings
Balancing a classic bar design with a dangle chain detail, these threader earrings are a minimalistic alternative option for you to enjoy. These are another variation of the chain earring which we think is bang on trend!
Read more
As well as a chain, these earrings also feature a stylish bar which gives them a modern and minimalist feel. The bar which is approximately 1cm in length, sits nicely against your earlobe whilst a thin dainty chain drops from the bottom of the bar, attaching itself to the back of the earring.
3cm in length, the chain is a lot shorter than most of our other earrings giving this a dainty dangle feel. This overall design makes these chain earrings a great accessory for everyday wear and super light, making them very comfortable to wear. 
Made from sterling silver, the chain earrings have a lovely smooth shiny finish to them. They are also rhodium-plated which makes them extremely durable as well as beautiful. The jeweler also sells the earrings in 18k gold-plated or rose gold-plated, giving you plenty of choices. If you wanted a longer length chain, the jeweler also offers these chain bar earrings in 
6cm and 9cm which is fantastic! 
These stylish earrings would make a great present for yourself or to be given to someone else. Either way, these earrings come in a nice jewelry gift box which includes a soft polishing cloth. 
5

. Black Bow Jewelry & Co. Two-Tone Chain Dangle Earrings
Stainless steel
Two-tone rope chain 
Gold-plated
If there is one thing you want from a dangle earring, it's the length. Size does matter and with these earrings, you won't be disappointed. Reaching an impressive 4 5/8 inches these earrings remind us of a firework that streaks through the sky.
Read more
This is another example of a design that has used a dual colored design to make the most out of different colored metals to give this item of jewelry that wow factor. 
This is an example of a rope chain and you'll notice that it catches light extremely well and almost looks like tinsel. The two outer chains are a lovely silver color and show off the stainless steel metal in all its glory. The striking middle chain is a beautiful glowing gold color that warms up the pair of earrings making you gravitate towards them. The middle chain is a gold-plated sterling silver. 
At the top of the chains, a simple hoop attaches to the ear wire which helps give the earrings that extra dangle. The ear hooks are nice and long which means that they will remain safe and secure and will be nice and comfortable. 
6

. SLUYNZ 925 Sterling Silver Earring Chain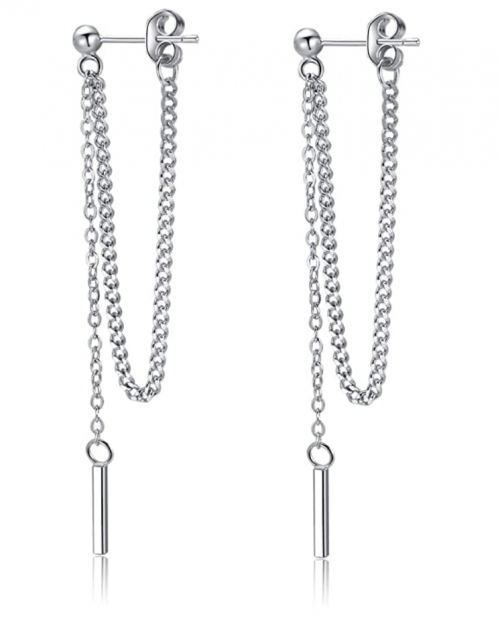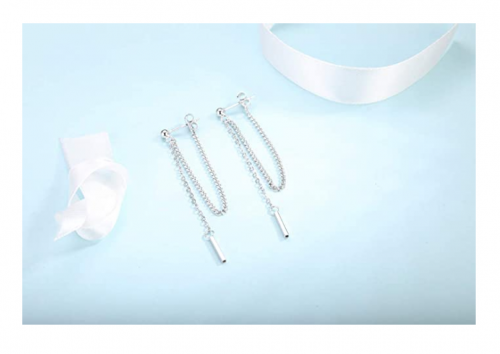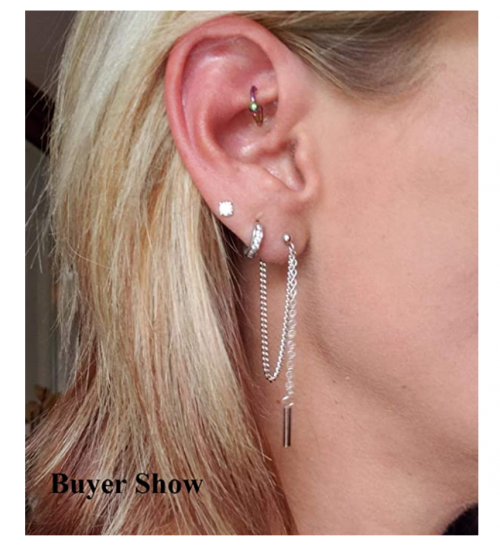 925 sterling silver
Nickel-free and hypoallergenic
Electroplated
This is a great way of using a chain as part of a pair of dangle earrings and you'll notice that the earrings make use of a simple stud design from which the chain hangs.
Read more
Starting at the top, the classic stud has been fitted with a hoop, through which the chain is attached. The other end of the chain fits on to the butterfly hook. 
The chain itself shows off the bright sterling silver which has been stamped to confirm it is 925 sterling silver. At the end of the chain, there is a small silver bar which is again linked by a hoop. This brings the design together and along with a long-chain, the bar is the centerpiece of these earrings. 
One of our favorite features about this pair of earrings is the way that they move. They are sure to capture a lot of attention which is something all dangle earrings should do. The finished effect is a very shiny pair of earrings that have been electroplated which helps to avoid oxidation. These earrings are also nickel-free and hypoallergenic, so safe for people with sensitive skin. 
The silver earrings are a must-have option for your earring collection however if you prefer a different colored metal the jeweler also sells these in a bronze or gold color. 
7

. Black Bow Jewelry & Co. 14k Tri Color Gold Earrings
Tri-color – 14k yellow, white and rose gold 
3 diamond-cut puffed hearts
Gift packaging
The great thing about chain earrings is that they offer you the opportunity to wear something that stands out. These earrings pack a lot of design into one precious piece of jewelry. 
Read more
The chain that has been chosen for this earring is a simple cable chain which is made from 14k yellow gold. This is a nice deep yellow color and provides the perfect backdrop for the rest of the design. It also gives the earrings a nice length and they are 2 ¼ inches long, including the ear wire.
The real star of the show has to be the puffed hearts that have been added along the chain. There are three hearts on each earring and this is where the tri-color design comes into its own.
At the end of the chain, a beautiful bronze heart can be found and this is the largest of three hearts. Next up a slightly smaller white gold heart is affixed to a separate chain. This lighter shade helps to lift the yellow gold.
The third and final heart which is also the smallest of the three is a golden color. The three colors work extremely well together but what gives the earrings that extra glitz and glamour is the diamond cut style given to the puffed hearts. The hearts, each of which is hollow have been polished to give it an extra shine. 
The three chains are held together by a simple loop that is affixed to a round ball. This carries the diamond cut design and almost looks like another heart. Overall, this is a lovely design and well worth the money. 
8

. Silpada 'High Life' Multi-Chain Hoop Earrings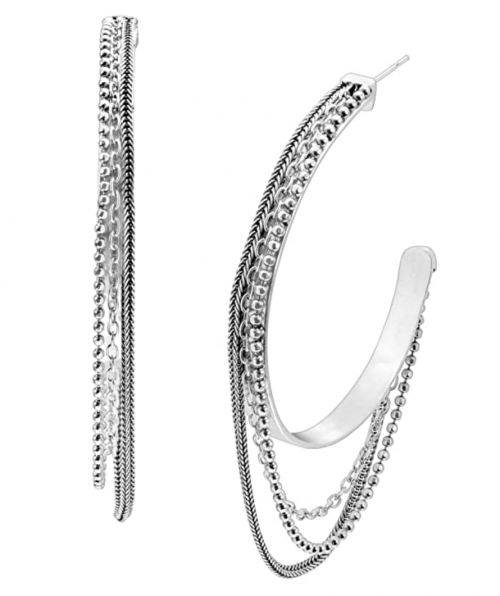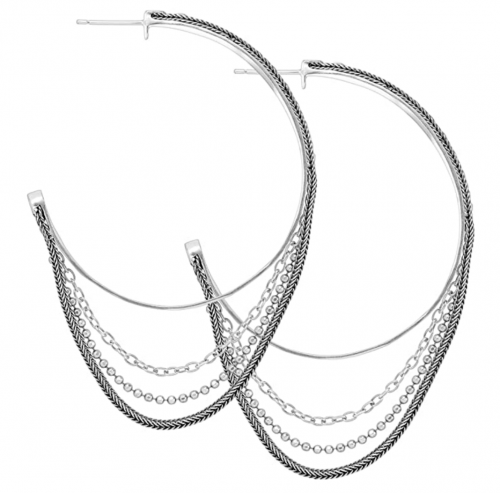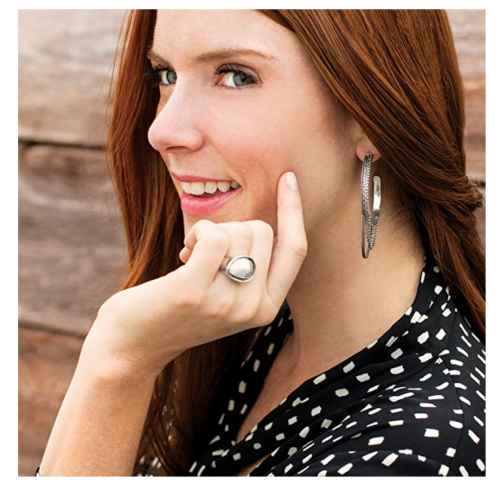 925 sterling silver
Antiqued finish
3 chain hoop 
Chain earrings very often combine different styles of earrings to create quite a distinguished look. That is certainly the case with these earrings. 
Read more
The hoop earrings have been given some extra dazzle by adding multiple chains that dangle from the sterling silver hoop. Each of the three chains is quite different and complement each other well.
The chains cascade from the top to the bottom of the hoop. As they are longer than the actual hoop, gravity pulls them down and they dangle freely. 
The sterling silver has an antiqued finish which gives the earrings an aged vintage look. You can also rest assured your earrings contain they're own 0.925 sterling silver stamp. 
The central hoop keeps things simple with a smooth shiny surface. This is a stylish and sophisticated pair of earrings that can be worn on all occasions and easily matched with a necklace and bracelet. 
9

. Benevolence LA Dagger Threader Earrings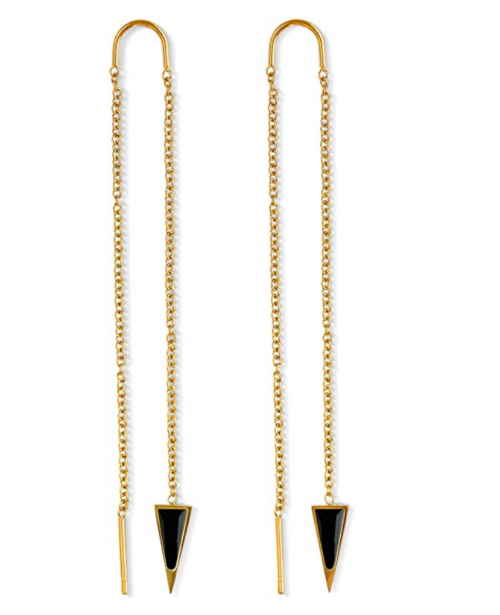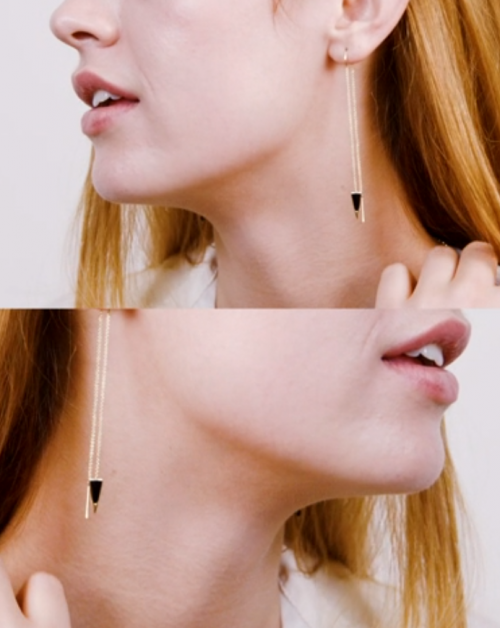 14k gold
Black onyx
Nickel-free and hypoallergenic
If you fancy something a bit different then look at these dagger threader style chain earrings. The first thing that catches your eye is the striking black onyx cut into a triangle-shaped dagger.
Read more
Simple, sleek and elegant, this black onyx has been cut into a long thin triangle shape which has a sharp point at the tip. You could also easily mistake the shape of this black onyx for being the head of an arrow, making it a very interesting piece. The black onyx also features a thin 14k gold border which frames the arrow, giving it a sleek and sophisticated finish. 
The black stone is attached to a long thin chain that doubles over and drops down alongside the black onyx arrow, creating a two-chain earring. At the top of the first chain, you'll notice there is a break in the chain where a smooth curve appears. This is where the earring threads into your ear. The second chain then drops down, finishing with a gold bar at the bottom of the chain.
This dainty chain has been made from a stainless-steel metal which has been dipped in 14k gold. The advantage of using stainless steel is that it's a durable and hard-wearing material so your earrings will be able to withstand the daily wear. The choice of stainless steel also makes these earrings suitable if you suffer from sensitive skin because they're nickel-free and hypoallergenic. 
Another thing we love about these chain earrings is that they're super long, 3 inches to be exact. The chain is also a very small delicate looking chain that gives this pair of earrings a very minimalistic feel. 
As well as black onyx, this jeweler also sells these dagger chain earrings with an opal or a turquoise stone, giving you plenty of options. 
This pair of chain earrings come in a stylish jewelry box. Not only will this box make these great for giving as a gift to someone, but the box will keep your earrings safe when you're not wearing them. 
This jeweler is working with a charity called Water Mission. A portion of the money made from these earrings goes towards building a water system in Africa whereby they provide people with clean, safe and accessible water. 
10

. OwMell Sparkle Chain Earrings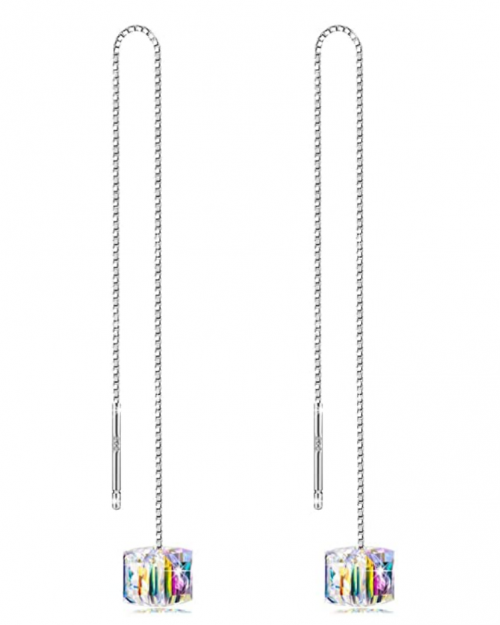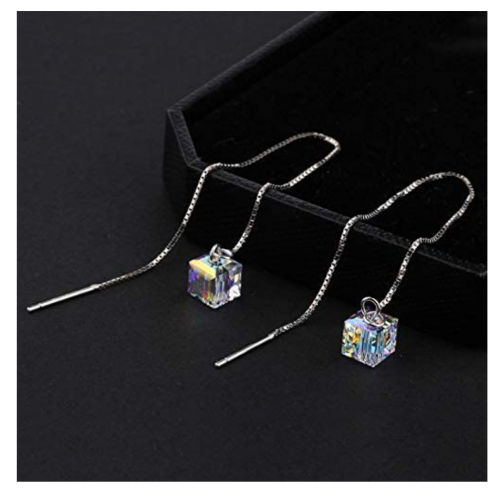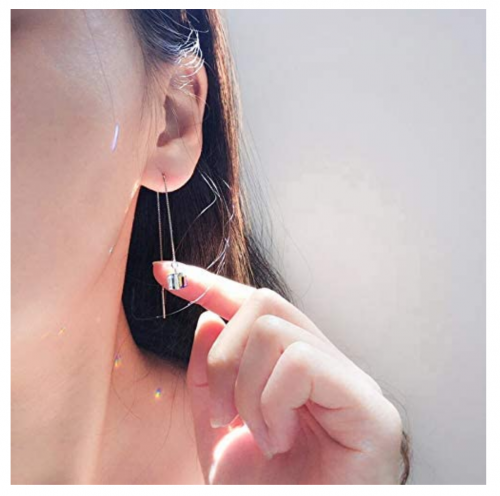 925 sterling silver
Crystal cube diamond
Lightweight
Last but no means least are these gorgeous chain threader earrings featuring a stunning diamond! This pair of earrings is one of a kind. Featuring a small cube-shaped crystal diamond, these chain earrings will bring a touch of sparkle to your outfit.
Read more
What's interesting about the crystal pendant is that it reflects the light and shows off different colors from different angles, creating a beautiful spectrum of color that you won't want to miss. 
The earrings which consist of a chain and crystal are extremely lightweight, making them very comfortable to wear. They're approximately 3.9 inches long by 0.24 inches wide (including the width of the crystal).
The threader style earrings have been made from a lovely 925 sterling silver which gives the piece a beautiful smooth and shiny finish which will leave you feeling mesmerized. They're also platinum-plated which makes them stronger and prevents them from tarnishing. For those of you with sensitive skin, these earrings are nickel-free, which is great to hear. 
The chain earrings arrive in a gift bag and come with a silver polishing cloth, so you can keep your precious earrings looking shiny all day long.
Another great thing is that these earrings are being sold for a bargain price so don't miss out getting them, they're a must-have buy!
Evaluation Criteria
Durability
All of the earrings we chose are durable.
We chose earrings that are made from strong metals like stainless steel, 14k gold, and sterling silver. It is important that the earrings look good and are hardwearing because they are going to be worn daily.  
Style
Style is another area that we spent a lot of time considering before selecting our top 10 earrings.
We wanted to choose earrings that are comfortable to wear as well as stylish. Whatever your style, we wanted our collection to feature different types of chain earrings suitable for everyone's tastes. We think we achieved this. 
Wear Comfort
Comfort was one of the most important things to consider when selecting these 10 earrings.
Our collection consisted of both dainty and chunkier earrings. Even though the earrings ranged in size they needed not to be too heavy. We only chose earrings that are relatively lightweight and are comfortable. 
 
Another factor we took into consideration is how the earrings attach to your earlobe. We were careful to only select earrings that have a secure and comfortable attachment. These mainly include hooks and studs.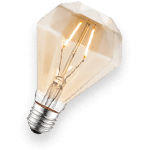 Box chain
A box chain is made up of square-shaped links. These resemble a box-like shape and when joined create a very sturdy chain. 
Black onyx
Black onyx is a deep black stone that can feature white and grey bands of color. Some believe that a black onyx is a powerful protective stone that encourages happiness and good fortune into one's life. 
Antiqued finish
This is a process by which the surface of a metal or stone is given a weathered or aged look. 
FAQs
q:

Are chain earrings expensive? 

a:

They can be expensive, but they can also be relatively cheap. The great thing about chain jewelry is that it ranges in prices so there's something suitable for everyone's price bracelet.

Having looked at our collection of the 10 most unique options, you'll find a pair of earrings that will meet your budget. 
q:

Are chain earrings heavy? 

a:

When it comes to chain earrings, they do vary in weight so you must do your research before buying your earrings. It's also important to establish when and where you're planning to wear your earrings.

We'd recommend buying a pair of lightweight earrings if you plan on wearing them all day. That way, they'll be super comfortable and won't make your earlobes sore.

However, if you want a pair of chain earrings to wear on a special night out, we'd suggest choosing whichever pair takes your fancy. It's important to remember to take them off at the end of the night before you go to sleep to avoid hurting your ears and damaging your earrings. 
q:

How can I best look after my earrings? 

a:

There are several ways you can best look after your earrings. These include:

✓ Avoid wearing them when you swim or do any form of exercise

✓ Ensure that they're the last thing you put on and the first thing you take off

✓ Never sleep in your earrings

✓ Avoid using sonic jewelry cleaners because this can cause stones to loosen in your earring

If you want to clean your earrings the best way to do this is by soaking them in warm water and use a very soft toothbrush to clean them. Once brushed then wipe the earrings dry with a soft cloth. 
Finally...
We've pulled together our 10 favorite chain earrings and in doing so we've chosen something for everyone. You can probably see just how versatile chain earrings can be.
Whether you are looking for something slight and subtle or bold and beautiful, these earrings can be easily matched with a range of styles for both casual and formal occasions.
You can even take it a step further by matching your chain earrings with a necklace and bracelet that incorporate the chain design. There are so many opportunities to match this piece of jewelry with your look!