Necklaces / Other / Women
Tassel Necklaces Are all the Rage and We Found 10 for you to Fall in Love With!
You have seen tassel products, especially necklaces all over the place, and they are truly beautiful. If you are the curious type who likes to know where most of these famous fashion items come from, we can help you with a little trip back to how tassel necklaces started and later became all the rage that it is today. After that, we will look at why you need to have them in your jewelry wardrobe, then we will proceed to show you the best ten tassel necklaces in the modern market.
Why we love tassel necklaces
First reason is that they can actually change the way you look on a particular outfit. With the tassel necklace on your neck, you can look different without changing your clothes. This can be seen in an official setting like the office where you have a lot of restrictions on how flexible you can be with fashion. If you are almost always on skirts and blouses or shirts, you will look the same throughout the week.
Even if you get creative and wear formal gowns to work, you will still look more or less the same. This is where the tassel necklaces come in, because of their rich look and variety of styles, you can actually wear them to work and not look the same way you did yesterday, even if the kind of dress you wear on both occasions are similar.
Second reason is because they add more color and life to your outfit. If you find yourself in a situation where you need to add more spice to your clothes but cannot do so because of dress code restrictions, a tassel necklace would go a long way in making you dress more colourful. The knot and drop of threads have a way of adding more activity to even the simplest outfits, so go on and pick from the list below to look your best.
The third reason is because they add more beauty to your face. Hair and makeup are known to enhance facial features and make a person more beautiful, the same effect can be achieved from accessories. The tassel necklace will create a focal point around your face, which will automatically draw more attention to it. Though all tassel necklaces have the common tassel feature, those with unique chain designs even do more justice to the wealth of beauty this special type of necklace has. You will see ten of the most sought after tassel necklaces below.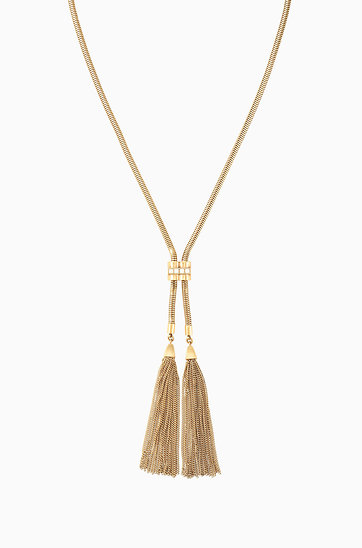 The fourth and last reason we will look at, is because they are a break from the norm. By norm, we are talking about the usual gold, silver and diamond pendant necklaces. While they will never stop being ever so beautiful, it is good to wear something different than precious stones from time to time. Also, tassel necklaces are taking over the fashion industry, you have to keep up with fashion trends if you don't want to look old school in front of your peers.
When it comes to tassel necklaces, a huge advantage it has over other types of necklaces is the fact that the resources need to manufacture it as not hard to find. Gold, diamond, and other materials used to design necklaces and their pendants take a lot of time to make and require so much money to get the original version of the material, that is why they are so expensive most of the time. As far as the tassels are concerned, your pocket will not suffer while you go ahead and buy what will make you look more beautiful. Get ready to fall in love with these hot tassel necklaces that are taking over the jewlery market.
Our 10 favorite picks!
1. Long Silver Tassel with Lovely Knot Pendant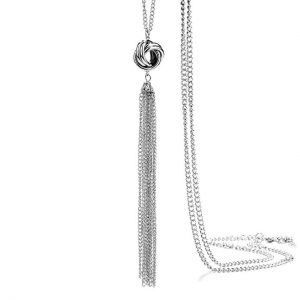 This piece is very beautiful and long enough to help you make a statement. It has a really classy design, which entails a knot pendant, the actual tassel and the chain. It is not like the common tassels which are just under the necklace, serving as the pendant. It has a figure just below the neck base, which is in-between the chain and the tassel figure. That classy design is the reason why this product of Onnea fashion brand is so popular and high sought after.
The length of this necklace measures up to 30 inches, and you can wear it down until the tassel touches your chest and even below that level. The chain type is link in nature and the overall weight of this jewellery is 1.12 ounces. It is the best gift you can give your female friend, sister, wife, girlfriend, mother or favourite colleague. Whoever she is a fan of tassels does not matter, get it for a friend and watch her express so much happiness at the quality of the gift.
What is more exciting than the cool features of this necklace is the fact that it is very affordable. You can buy up to three or four and share among your best friends to mark your union.
2. Long Y Shaped Tassel Necklace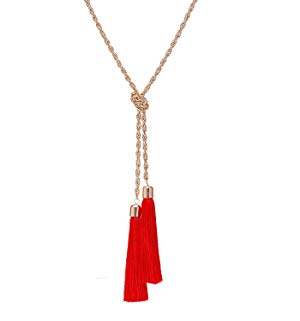 A tassel jewelry looks good when it is coloured, and when it is colored in red, it even looks more beautiful. Since we cannot separate the cuteness of tassel necklaces from the top female colors, here is one of the most eye catching types you will find in the jewelry market today. Not only does it have all that is needed in a regular necklace, it comes with a rich red tassel under it and that bright redness will not fail to make you a show stopper when the need arises for it.
The Lariatneck jewelry brand is responsible for this cute tassel necklace, which means you can be rest assured that this product will last for a long time, as long as you are going to maintain it very well. Some ways to maintain this tassel necklace are avoiding any contact with chemicals and storing in the right jewellery box. The necklace comes in a fine box of its own, so you can always return it there after every occasion.
The tassel used in this necklace is 4 inches long, and the chain itself is up to 45 inches in length. This means you can take it as long as you want, it looks better with more length, which is why you should feel free to take it down to your chest or even lower down to your stomach. The manufacturers have put a 90 days' warranty on this product.
3. Gold tassel pendant long chain necklace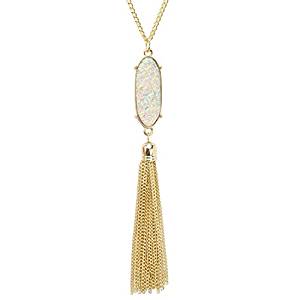 There is absolutely no way we can talk about necklaces without mentioning gold, it is the delight of the fashion industry and arguably the most common type of material used to design jewelleries. Here is a necklace that is almost 100 percent gold made. It is long, just like the other two mentied above, and it can serve as a good addition to that dress you feel might make you look under dressed for an occasion.
The figure holding the chain and the tassel feature is a pendant. So you can have it all with this necklace, a pendant of graceful shape and a tassel to cap it all up and make your frontal view a totally elegant sight. The pendant is made up of resin material and the tassel is made up of alloy, just like the chain. The chain is between 30 and 32 inches long; you can take it as low as you want it to go. The tassel is just below the pendant and adds another 3 inches to how deep this already long jewellery can go.
This is a product of KISSPAT jewelry brand, and as very common with them, they have put a 90 days' money back guarantee on this tassel necklace, so when you buy it, you are doing so at zero risk. You can use this jewellery as a casual or formal accessory. It does not have a lot of colors and can be used without breaking any office rules.
4. Long chain handmade statement tassel necklace
One look at this necklace and you will fall in love with the richness and natural aura that oozes out of it. This necklace was made by hand in a factory owned and managed by the ever so trustworthy OKIKO brand, the package measures 31.5 by 0.4 by 0.4 inches, and the entire product is just 4.8 ounces. It is specially for women, but men are beginning to wear it because it also looks good on them.
The material used to make this tassel necklace is high quality ammonite stone of 8cm. Since consumers have declared this tassel necklace a unisex product, why don't you take that to your advantage and start preparing to get it as a gift for your man? If you are both scheduled to go out for an occasion, you can rock them as matching necklaces to go well with whatever you choose to wear.
From the factory it was handmade in Indonesia, this product can be shipped and delivered to any part of the world you may be reading this from. The multi-coloured chain and golden brown tassel have been made to blend well with each other. It is good for you to note that the multiple colours used to make this jewellery is a sign that it is chiefly meant for informal gatherings, you may use it for official ones as well, depending on what is allowed at your place of business.
5. Disk Circle Pendant with Tassel Fringe Set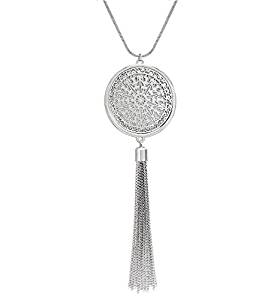 From the MOLOCH brand, comes this royal looking tassel necklace. It does not just have a pendant in it, the pendant is special, one that is circular in shape and takes the form of a coin. Just before the tassel stands the golden coin with all its sparkling features. It no faces though, just lines that look like they are shooting from the dot figure at the centre of the coin, it looks like the source of the entire beauty of the circle. What a way to design a necklace pendant!
The tassel hanging from such an artistic coin adds a finishing touch that only those with a good eye for jewelry can appreciate. This statement pendant's chain is more than 37 inches long, the chain has a lobster clasp closure and the coin looking pendant is 1.9 inches in diameter. As well detailed as it is, the pendant is really light and will pose no threat to your comfort at all. The color of this jewelry will no fade away, and the materials used are very friendly to the environment. It will not rust and will pose no harm to your health, even if you have sensitive skin type. Women and girls in your life would value this tassel necklace as an important gift, it will make them stand out in parties and other occasions, as well as remind them how much you care.
6. Double Crystal Long Tassel Sweater Chain Pendant Necklace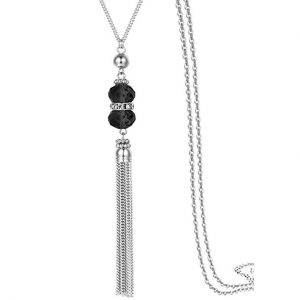 The pendant used to make this jewelry is not only unique in design but also in color. The crystal is black, and there are two of them in this single pendant. The way the green crystals were placed on top of one another has to be the next most stunning feature of this necklace, after the tassel that sits under the pendant from which it dangles and brings the wearer all the attention and admiration any jewellery can possibly get.
The necklace has a total length of 32 inches and comes with an extra chain for those who might want to adjust it to be a little longer than it already is. With total weight of 13.6 ounces, this product was made with your comfort in mind. There is a 91-day warranty on this necklace, so when you are buying it, you can be rest assured that you take no financial risks whatsoever.
Men are not the target market for this product, they therefore cannot wear it. But if you are male, you can buy it for the women around you. She could be your wife or colleague, just someone who is worth such a green and shining beauty. If the person you want to gift this item is really special to you, put it in an elegant gift box and get it delivered to her doorstep.
7. Rose Gold Tassel Necklace with Oval Quartz Pendant

The rose gold tassel necklace with oval quartz pendant is really similar to the double crystal long tassel sweater chain pendant necklace mentioned above. The main difference being the green colour, the absence of any crystal and the shape of the pendant. What they both have in common is the tassel and fact that they are both highly sought after in the jewelry market. The pendant used here is somewhat plane, all the activity going on in the aforementioned coin is absent here, this means it is for simple people who love tassel necklaces but just don't like too much attention.
The gold used for this product is real 14k, it is electroplated om 1mm brass chain with high quality beads. The chain is not less than 28 inches long and will really fall as low as you want it to, no matter your shape, size or height. This product was designed in the United States, and is the work of a collaboration. Two of your favourite jewellers; Benevolence LA and Cadence Cameron Brue have come together to birth this stunning tassel necklace.
The package of this product measures 3.3 by 2 by 0.8 inches, the item has a total weight of 0.96 ounces and has been in the market since the last quarter of 2017. If you like jewelleries but still want to look simple and stunning at the same time, go for this necklace.
8. Golden Tassel Necklace with Adjustable Neck Chain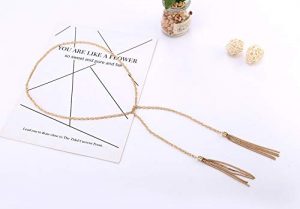 We have walked though quite enough golden tassel necklaces with a pendant, here is one without a regular pendant. It has a knot at the base, which is more than a substitute the pendant in other options. What makes this necklace stand out is the color of the tassel, which is not the same as the chain. The colour of the pendant is dark green, and can easily be mistaken for black from afar.
The dark nature of the tassel blends very well with the golden brown chain, which leaves us with a completely stunning finish.
The tassel is 4 inches long, while the chain is 45 inches. You can see that thought the chain is very long on its own, the additional 4 inches of the tassel tales it up to almost 50 inches, which means this necklace can reach any length you want it to. It's all based on the type of dress you are wearing and where best it is to stop the pendant. This golden brown tassel necklace with adjustable neck chain is a product of Lariatneck brand, it has been in the market since mid-2017 and the product comes with a 90 days' warranty to protect you from any accidents.
0. Turquoise tassel strand and gold brown cotton strings statement necklace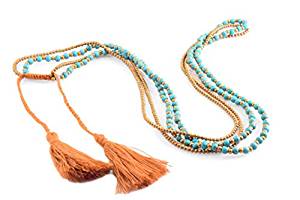 All the necklaces listed above have one tassel feature, but this one has two. It looks like a cultured fashion item, and has all the features of a traditional tassel necklace; it is long, full of beads, has more than one tassel and is very colorful…who wouldn't want to own something like this?
Topping all the features that we have not even finished mentioning, this tassel necklace is very affordable. You can buy more than one without feeling any heat from your bank account. So get one for yourself your best friend, it is a good accessory that you use to crash parties together in your casual wears. This necklace may look like it has the entire rainbow colors on it, but there are just two; green and golden brown.
Because of the way it is designed, it appears more colourful than it really is, which is a good thing in the world of fashion. The brains behind this top notch tassel jewelry are expert jewellers from the Blupear brand. The necklace is 35 inches long and you can adjust it as much as you want, the size of the beads used to create the chain are 4mm each, the golden chains are smaller, and they are 2mm each. This jewelry serves as both necklace and bracelet, it is all about what you want at that moment in time.
10. Quatrefoil Chain Tassel Pendant Necklace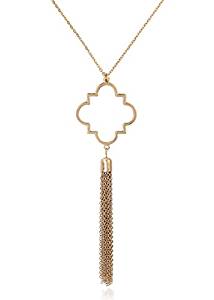 When the POMINA brand introduced this product for sale in September 2017, a lot of women rushed into the online stores and offline jewellery shops to get one for themselves. As expected, this caused a lot of attention to be placed on the already well-known brand. If you are seeing this silver tassel jewellery for the first time, you obviously did not hear of it when it first came out. So now is your opportunity to get a sunning tassel silver jewellery for your loved ones and yourself.
Usually, a pendant is what occupies the space between the chain and the tassel in these types of jewelleries, but there is a difference here, which happens to be one of the reasons why it is well loved in the fashion world. That supposed pendant is a figure with no stone in it, just a lovely shape and no ornament whatsoever inside it. It may look empty when you hold it, but after you wear it, the beauty really comes out as the colour of your dress will be the filling that void needs.
The chain is 36 inches long, the package measures 5.4 by 4 by 1.1 inches, while the total weight of the package is 1.6 ounces…very light! The design is really simple and welcoming, you can use this tassel necklace to make a grand entrance at work. When you buy it, wear it to the office in your usual attire, you will look different because of this tassel necklace.