Mix / Watches
Super Elegant Black Watches for Men: Perfect All Occasion Gift!
Marianne 12 Mar 2020
2575
There are some colors out there that are just totally timeless. Trends come in and out throughout the years. We all know that specific styles change from season to season and year to year. One season everyone might be wearing and promoting big and bulky jewelry or boxy sweaters and leggings. But the next season it's all about a tight and fancy coat with dainty jewelry. It seems to always be fluctuating, but we especially see those changes as we reflect back on decades.
Denim, hoop earrings, scrunchies, need I say more? When you think of a specific decade, whether it be from your own childhood or early adulthood, or from your parents or grandparents, what do you think of when it comes to fashion?
Does the jewelry stand out to you in any way? Maybe you can see the style or the size of the jewelry that seems significantly different or oddly similar to what is in style now. But have you ever realized that the colors of clothes and jewelry often is changing too? We can all recall the days of neon, or the trend of rainbows, deep shades of colors like mustard, olive, and burgundy. It's so interesting how there seem to be color trends just as much as style and size trends of jewelry!
Even though the jewelry world, as with any other industry, is constantly changing there are some things that always remain the same. We get so excited to see the new trends and love when some of them last for years, while some of them go out just as quickly as they came. But as exciting as the ever-changing and developing world is, there is something so special about a classic piece of jewelry. Some colors never have and never will go out of style, right?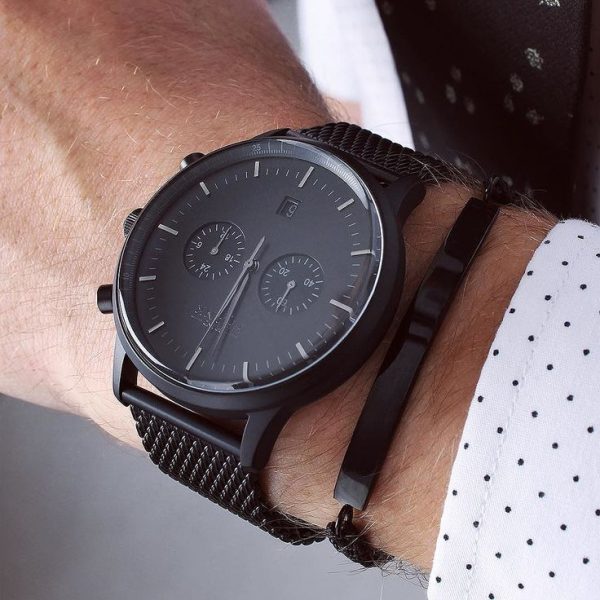 Of course, there are years when one of these timeless colors seems to be more popular and preferred on the market, but overall, these specific colors are always on the must-have list. What colors come to your mind when we talk about classic and timeless jewelry? We immediately think of silver, gold, and black. Yes, black. This may not mean for your wedding ring, or maybe it does, but we mean those staple pieces that you wear every day. Most jewelry wearing women own a black pair of earrings or a bracelet, right? What black jewelry do men wear?
We are always seeing black rings and necklaces in the jewelry world, which are very masculine and are easy to pair with most wardrobe pieces. But our absolute favorite black jewelry for men, a piece that will never go out of style, is a black watch. They are so elegant and fashionable.
They are sleek and sexy. They are timeless and can be worn for any occasion! If you are looking for a super elegant black watch for yourself, or to give as a gift to the man in your life, we have picked ten of our absolute favorite to show you!\
Our 10 Favorite Picks!
Bulova 40mm Modern Diamond Accent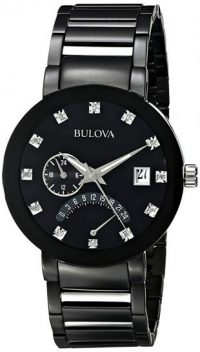 This watch fully embodies everything we are looking for in an elegant black men's watch. It is a highly rated Bulova piece that is sure to be the solid product that you or the man in your life is looking for. It is a stunning piece. The watch is made of stainless steel, which we absolutely love. What is so great about stainless steel? If you are wondering this, you're probably not the only one.
Stainless steel is used for many things, all the way from skyscraper building to the zipper on your jeans, and everything in between. It's used to make operating tables in hospitals, the fridge in your house, and even parts of your vehicle! So why would you want to wear it on your wrist in the form of a watch? The real question here is, why wouldn't you want to wear it on your wrist?
The reason stainless steel is so popular for thousands of different purposes is that it is durable, it is sure to last wear and tear, and it is high quality that is 100% recyclable. It's used regularly for jewelry, especially men's watches because it is perfect for the job. It can uphold your working days as well as your playing weekends. It won't tarnish, even after wearing in water. And it won't color your skin gross or funky colors after a day's wear. This is a fabulous metal material if you are looking for a new piece of jewelry.
A
side from the metal, there are many other reasons we love this piece. The sleek black face stands out with its perfectly round face. It features a half circle and full circle subdial as well as a square date window. Where you typically see numbers on an analog clock, this was is embedded with square diamonds. We love how unique this feature makes this watch. It's priced fair for the quality and the materials used to make this watch. It would be the perfect gift for the man in your life!
Fossil Mens Nate – JR1354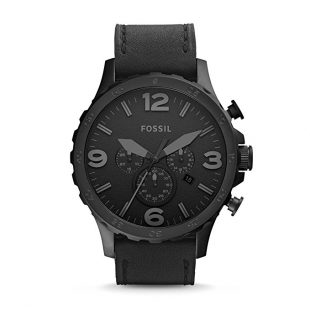 When it comes to watch buying and giving, you can't go wrong with a Fossil watch. This is a safe option because these are great quality and reliable. They also come at a more affordable price than a lot of brands out there, which makes them highly sought after. What we love most about Fossil though, is how classy and attractive their watches are.
This sleek black one, in particular, is stunning. It is all over black, with dimensional subdials that gives it just enough variety and depth. The face displays a seconds counter, a date window, and more! It has a large face, with the casing measuring in at 50 millimeters. That is larger than a lot of men's watches you may have seen or may be used to wearing. We love how it is bold and stands out. It is perfect if that is the kind of look you are going for.
Are you looking for the perfect masculine watch? Look no further. This piece does not need bling or shine. It is stylish and classy. The all-over black is simple and manly.
Timex Unisex Weekender 38mm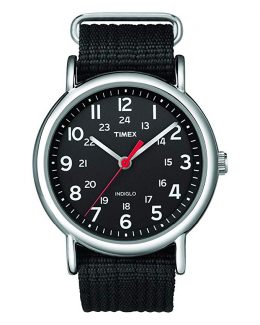 Next up we have the Timex Unisex piece. People are praising this watch nonstop, and we are not surprised. First and foremost, it is a fantastic option for gift giving because of its value and price. Are you looking for a nice black watch to give someone without spending too much? If so, this is a great option for you. It is a great watch and it's so inexpensive that you could even buy more than one to give as birthday gifts or graduation presents to friends or relatives.
We love the fabric black band that keeps it sleek, yet very comfortable. It is made of nylon material and is 20 millimeters wide. If you are the person you gift this to are looking for more color or just the flexibility to choose how to style this watch, the band is very easy to switch out. Whether you want a different color all of the time, or just to switch it after work to go out for the night, there is a band for you.
The bands are simple to switch back and forth and they are a great quality that will last you years to come. Next, we have the face of the watch. The case is 38 millimeters in diameter and 9 millimeters thick. We love the way that the thick silver casing frames the face so elegantly. But as much as we love the silver and black contrast, nothing beats the read second hand on the face!
We love the way it keeps the black watch subtle, but also makes it a little bit edgy. We also love that this watch has a light feature so that you are able to see the screen even if it is dark outside or in the room. This Weekender piece is such a great option with an enticing price for gift giving for any occasion!
VAVC Men's Black Leather and Simple Design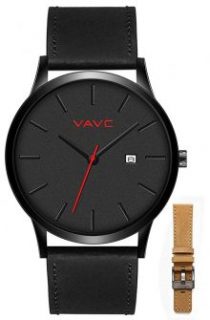 We are obsessed with this men's elegant black piece. This one is so sleek and modern. It is all over black with a couple of pops of red that make it very bold and fashionable. It's is sure to provide you with accurate and precise timing that won't fail you over time. It holds to the correct time and is very reliable. The band is black, but it also comes with an additional band that is brown. We love the way that including both options makes it simple to switch out the bands with your style.
It has a 42-millimeter casing diameter and solid black face. On the face, it says the brand name, VAVC in red and features a red seconds hand as well. The mineral crystal dial window face is hardened and scratch resistant to ensure that it will last you a long time without getting scuffed up. It is waterproof as far as your daily use goes, but you shouldn't take it swimming or deep sea fishing. Lastly, it comes at a very reasonable price that makes it great for gift giving or purchasing for yourself. Whether it is a graduation, a holiday, or a birthday this is a great gift to give!
Diesel Mens Franchise DZ1437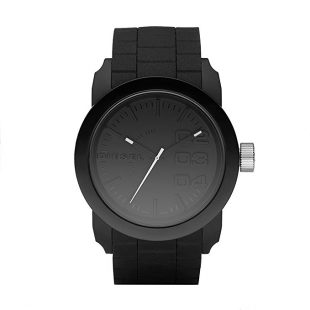 This next watch is one from a well-known brand called Diesel. Diesel has been in the watchmaking industry for about 40 years. They are a fashion line that ranges from denim to fragrances and obviously watches. These are well known no matter where you are in the world. Though they are not high-end luxurious options, they are very popular for other reasons. They are offered for at a reasonable price, making them more available to people everywhere.
This piece is the all over black Diesel Men's Franchise DZ1437. The band is 24 millimeters wide and made of textured black silicone featuring a buckle closure. The dial is 44 millimeters wide and has a 3 hand analog clock on the face. The face is made of mineral crystal and the case is stainless steel. The piece is unique, as the numbers 02, 03, and 04 are the only numbers displayed, each one oversized. This watch is not to be submerged in water but will continue to function properly if it happens to get splashed or maybe rained on on a stormy day. With a price like this for such a well-known brand and classy option, this would make a fantastic gift for any occasion!
Citizen Eco-Drive Black Ion-Plated Axiom Watch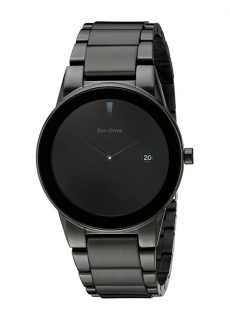 This option is a little more expensive than some of the others we have on this list, but if it's in your price range for buying or gift-giving, it is a fantastic option. It is a Citizen Eco-Drive watch that is sophisticated and fashionable. We love the modern design and the simplicity of the watch.
It comes with a 23-millimeter standard length textured band. The band is stainless steel as well as the case. The band is textured to add some variety to it and has a fold-over clasp. If you find that the band is too large for your wrist, you can simply take it to a jewelry store and they will fit it properly to make it customized to your wrist. The watch charges in natural light and indoor light as well to keep it accurate and functioning properly for long periods of time. The face is simple and features a date window right near the 3 on the clock. The face is protected by a fantastic crystal that is solid and will hold up to your daily whereabouts. We love how masculine this piece is and think it is a great quality option.
Casio Men's G-SHOCK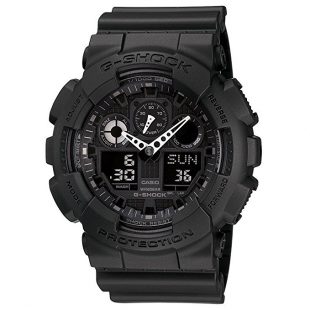 We couldn't give you a list of black watches without giving you a solid military series piece. This piece is hardcore. It is a Men's G-Shock watch made by Casio. If you are on the market for a durable black option, this one might be calling your name. Do you work a job that you are outside a lot or working with heavy materials? Do you work in a warehouse of some sort of construction? Any type of job like that would make this an ideal option for you. We love the way it is bold and thick, strong and durable. Yet at the same time, it is still classy and elegant. It's not overbearing, but it's not a weak piece of jewelry that is for sure.
It's shock-resistant and water-resistant up to 200 meters. Yes, you read that correctly. That means you are safe to wear it up to 650 feet in the water. It is full of exciting features that make any purpose you want in a watch possible. It has a 1/1000th-second stopwatch with a speed indicator. It also has a full auto-calendar that is pre-programmed to last until 2099. How awesome is that? That's not all. It also includes world time for 29 time zones and you can choose if you want daylight savings time on or off. You can also set your home city time to make things easy. The list goes on and on! It's truly an incredible watch full of every aspect you could want in a watch.
Have you ever had a watch that doesn't light up at all? For some people that may not be a big deal, as you usually use it during the day and in nicely lit up areas like a working office or outside during business hours. But for other professions or situations, that can be a bit of an annoyance as you need to be able to use your watch even when it is not conveniently light in the room or outside. If you have found yourself in this type of less than ideal situation more than a time or two, you might be on the market for a piece that lights up and is operable no matter the time of day or the location.
If you want a mix of elegant and efficient, classy and durable, this is the option for you! Does your husband or father work in a position or live a lifestyle that they would enjoy a very durable watch? If so, this is the perfect gift. It's a steal of a deal for all that it offers and how long it will last and it's a great product.
Vincero Chrono S Wrist Watch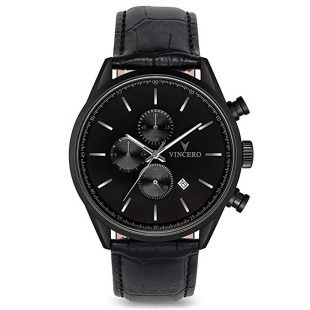 Are you looking for super elegant? Something you can wear to work but that will pair nicely with a suit as well? If so, we've found the option for you or for you to gift to that lucky man in your life. This watch is accurate, practical, and handsome. It is a little bit pricey, but nothing outrageous.
It is a quality piece that would be great as a gift for Father's Day, a Birthday, Christmas, or anything in between. Our eyes are immediately drawn to the 22-millimeter Italian leather band. The premium watchband is cut from calf leather and will last you years to come. We love this matte black version and how sleek it is.
The face is protected with a sapphire coated mineral crystal glass. It is scratch-resistant, water-resistant, and even scrape resistant. The time is sure to hold accurate with its Japanese Miyota Quartz movement feature. It also has 3 timer sundials. This stunning piece is the perfect gift or purchase. It can be worn for any occasion, day or night, and would make any outfit look classier and more put together.
Nixon Corporal SS A346. 100m Water Resistant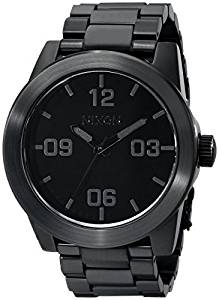 Next up we have a Nixon Corporal SS A346. If you have been in the market for a watch at all before, you are probably familiar with the Nixon brand. These products are guaranteed to be some of the best at a reasonable price. They are durable and quality pieces.
This piece, in particular, is black throughout the face and the band and we love how the shades and textures come together to give such an elegant look. The entire watch is made of stainless steel which we love because it will last a long time and the color will not fade or tarnish.
The case is 48 millimeters with a 3-hand movement face. The face also has large numeral indices making it easy to tell the time quickly. We're obsessed with this product and we can promise you that we are not the only ones. This is one you will want to add to your watch collection.
Vigor Rigger Japanese Quartz Movement and Mineral Crystal Lens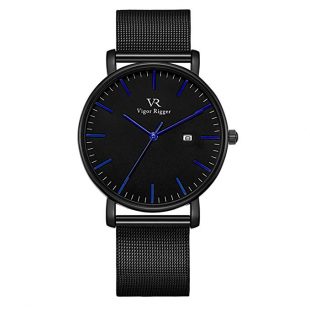 Last but not least we have this Vigor Rigger Men's Stainless Steel piece. Are you looking for a black watch that has features that are unique and will stand out in a crowd? If you want that pop of personality in a black watch, this might just be the one for you. It is full of characteristics that make it different than other black watches you may have seen.
First of all, we are so attracted to the band on this watch and how unique it is. It is made of stainless steel, but it has such a cool texture to it. The face is made of mineral crystal glass that will keep your watch looking sharp for years. Aside from the uniqueness of the band, we are also in love with the contrast of the blue on the face display. The hands on the clock and each of the minute number tick marks are a bright and vibrant royal blue. This adds such an awesome vibe to it and is an element that you don't find in a lot of watches.
As much as we love the look of it, we are also very impressed with the quality and functionality of it. It's priced low and is a perfect price point for gift giving. This is a piece that will be worn time and time again and would be such a wonderful gift to give.
Criteria for Choosing Black Watches for Men
What do you look for when you are searching for a new watch? It can be a bit mind-boggling trying to find one that fits you the best. Not just physically, but also your personality and your priorities when it comes to wearing a watch. If you work in a different time zone or even with a company that operates in another time zone, you are probably looking for an option that displays more than one time-zone. If you are looking for a simple, yet very functional option that you can constantly rely on, you may find yourself looking for a watch that displays the time as well as the date.
There are so many different reasons, occupations, and preferences that may lead you to want specific qualities to your own watch, and this list offers a variety of all of that. From the most simple face to one with a handful of subdials, there is a piece out there for you or for the person you are giving this watch too. Whether you are the person who is buying your very first watch or you have a collection, you need to own a black one!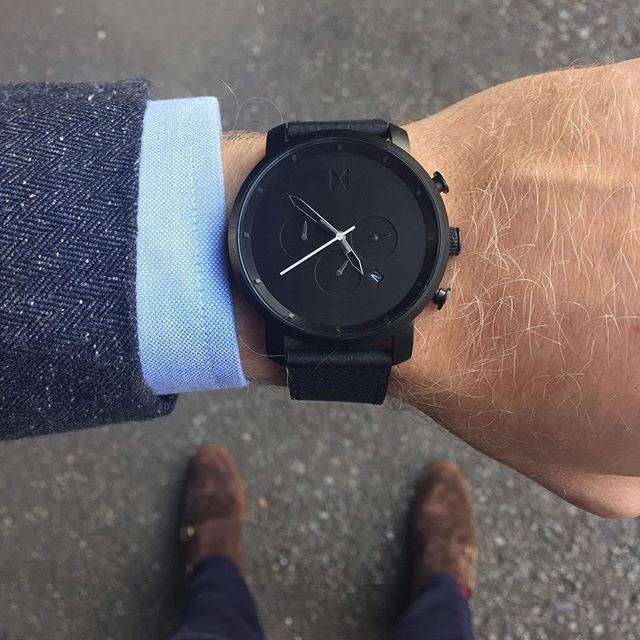 We love that there are so many options out there for something like a men's elegant black watch. Just one simple search can turn up thousands of results. But as wonderful as the lengthened list of options is, it can sometimes be overwhelming.
As you go to purchase one, you want to find one that fits your style, your budget, and your lifestyle the best. We hope that this list of 10 super elegant black watches for men helped you to find one that is perfect for your personality. If you are buying one as a gift for a friend, relative, or significant other, we hope that this list helped narrow down the options.
It is nice to be able to find a product that is tried and true by others and that you can feel confident about when purchasing. So no matter the occasion for buying or giving, we hope that you found the perfect option that you have been searching for.