Mix / Other / Rings
10 of Our Favorite Tungsten Rings for Men
Jewelry for men is making a big comeback. A few decades ago, a man casually sporting rings or a chunky bracelet was most likely making a fashion faux pas. Today, with the rules of masculinity being turned on its head, the era for experimentation has taken off in full swing. This brings us to the focus of this article, rings, the most versatile piece of jewelry to exist, rich in variety and gender neutral since ages ago.
For starters, you don't need to become Mr. T to wear a ring. Although you can do so, if you wish, with a dip in gold, rings are for the everyday man- the suave businessman, the trendy athlete or the plain old family man. Depending on your personal style, there's a lot to choose from such a powerful signet ring, a sweet wedding band, an artsy birthstone and more.
The one invariable factor every man needs to account for, regardless of style and preferences, is the quality. And the metal used in the ring is largely of what comprises its quality. When it comes to sleek men's jewelry, tungsten is quickly rising to the top as the world's favorite, overriding old classics such as the gold and platinum.
Why We Are Loving Tungsten!
Just when you thought there could no new breakthroughs in the world of jewelry- after all, it dates back to prehistoric ages-tungsten walks in and starts a frenzy. Especially as wedding bands for men, tungsten is the metal of choice. Let's decode why this shiny grey metal has taken over jewelry stores.
The Strength and Durability of Tungsten Puts All Metals to Shame
Nobody likes a ring that chips, breaks apart or tarnishes easily. Tungsten rings, on the other hand, last you a lifetime without as much as a microscopic dent in them. The metal, one of the hardest in existence, is used in the form of the compound tungsten carbide for rings which creates an unreal level of strength. Tungsten carbide has a score of 9 on the Mohs scale of mineral hardness while silver, gold, and platinum have 2.5, 3.5 and 4 respectively. These numbers speak for themselves.
Such Amazing Quality at Such Low Prices
The sheer herculean strength of tungsten rings might make you wonder: just how expensive are these? Like we say, there is no price tag on quality and tungsten proves it too. Despite being eons ahead of traditional metals like gold and platinum, it is much more affordable.
The average white gold wedding band can cost anything above $700 while simple platinum bands can be as expensive as $2,000. Compare that to the $200 stylish tungsten platinum ring, a lifetime of unblemished sheen and next to nothing in maintenance- it is an unbelievable deal. Some of the simpler tungsten rings can even cost as low as $8!
The Gloss of Tungsten Never Goes Away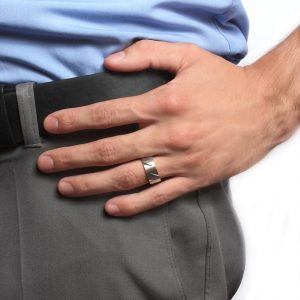 We would be lying if we said appearance doesn't matter. Especially for jewelry, it's crucial. Tungsten, even in its raw nature, appeals to our aesthetics. Usually, in a gunmetal grey, it is similar to platinum although the gorgeous mirror finish of quality tungsten takes it to a whole another level.
The color can also change to different tones like a mirrored white or black with polishing. No matter how the metal is treated, tungsten rings always ooze a glossy class which is everything we want in men's jewelry. And best of all, the finish on your tungsten ring, unlike gold or platinum, does not fade away with time.
Besides these, tungsten is also hypoallergenic, so you don't need to worry about any allergic reactions. It also doesn't react with water or other chemicals. Tungsten remains undamaged and as good as new, even in the most extreme of conditions.
Cons of Tungsten
Tungsten is arguably the best metal for jewelry and we are absolutely loving how it has taken over. However, the metal is not without its flaws and we certainly need to assess it objectively. Here are some of the drawbacks of tungsten rings you should consider before buying them.
Tungsten Jewelry Can't Be Resized
When jewelry shopping for the love of your life or maybe a special friend, getting the finger size right is half the ordeal. And if you do get it wrong, which is the likeliest possibility, it is not so bad because you can always have it resized. Not with tungsten though. Once you have it, you better pray you got the right size; it cannot be resized. This is because of the extraordinary hardness of the metal which makes it impossible to reshape it once it has been formed. A small price to pay for an unimaginably powerful piece of jewelry, we'd say.
It Is Strong – But It Is Brittle
Yes, a tungsten ring is never going to bend out of shape or crush into little bits. But this awesome metal is not without its Kryptonite and that is a blunt force. With heavy pressure, the sort you never really experience in real life, the ring may fracture.
It Is Not The Lightest Metal In The World
You may have guessed this by now; tungsten gets heavy. It is, after all, one of the strongest metals in the world and you are bound to feel the weight. So, if you are uncomfortable with heavy jewelry, you might want to steer clear from the tungsten lane. However, the perceived weight of tungsten is quite similar to platinum and if you don't mind having a platinum ring on your fingers, there is no reason why you can't go for the superior tungsten.
All being said, we can conclude that most of the tungsten's cons are basically the by-product of its incredible strength. This just goes to prove the hype about the metal is real and it's justified. That's not so bad, is it?
While half of the crazy popularity of tungsten is credited to its toughness, the other half certainly goes to all the trendy designs. After all, it is featured by fashion bloggers and men's magazines for a reason. Check out our top 10 tungsten rings for men, the very best designs we've seen:
1. King Will BASIC Men

A simple and stylish ring, in the blackest of blacks, for the man well versed in the language of fashion – King Will has made a classic tungsten ring which stands for everything we love about the metal. And at such a low price, it would be a crime not to buy it.
King Will is one of the newer crop of jewelry makers and the modernist style of theirs really shows. With the beautiful vision to make dreams come true at the altar as they essay the role of "the vow keeper", they never fail to create stellar designs of all sorts but are always rooted in quality. The BASIC Black Tungsten ring from King Will is indeed basic but it is exactly why we love it.
The surface of the ring is brushed to a fine matte while the sides are a polished beveled edge. The insides of the ring are highly polished to comfortably slide onto your finger and stay put while the words "tungsten carbide" and "king will" are printed in a regal font.
Unlike other tungsten rings, this one is structured in a rounded fashion, known as the comfort fit, and this, along with the inner polish makes it easy to put it on or off. Sleek and stylish, this ring doesn't contain any cobalt which is often added to tungsten to lower the costs of the making of the ring.
If you are already impressed with the workmanship of this ring, you will be happy to know this is a gender neutral. Both men and women can pull it off while appearing as suave as ever. To add to the brand's incredible service, their ring comes complete with a gorgeous black box and a service card.
In case you are going back and forth about the ring, peruse the customer reviews a bit. Welders, mechanics and even construction workers swear by it- this ring can withstand the toughest conditions. Simple, classy and durable – it really is everything we love about tungsten rings.
2. Vakki 8mm Hawaiian Koa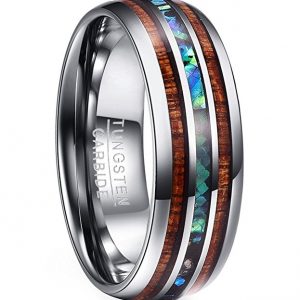 If you imagine tungsten rings to be all dull and drab, you are in for a surprise. Vakki brings to us the Wood and Shell Tungsten ring and believes us if you will, the combination of old-school funk with understated elegance is to die for.
The design of this ring by Vakki, a mirrored silver sheen with a Hawaiian twist, is unlike anyone's interpretation of a solid tungsten ring. In fact, in a roomful of men sporting rings, you can spot the Vakki tungsten in an instant; the distinctive style misses no one's sight.
Made from 100% genuine tungsten carbide and completely cobalt free, it is impossible to put even a scratch onto this. The ring is inlaid on its two sides with Hawaiian koa wood, known for its rich auburn color and deeply lined pattern. A thin slice of abalone shell runs through the middle of the ring, lined with thick tungsten. Abalone shells are said to promote compassion and peace in the soul and has long been a part of many cultures. Besides, its iridescent colors are coolness for the eyes and can be credited for setting this Vakki ring apart from most others. The iridescent glow, flanked by auburn and silver is a vision to behold.
The width of the ring is about 8 mm and Vakki offers a wide range of sizes to choose from. It is a comfort fit ring to ensure it easily slides over the knuckles. The metal used in the ring, tungsten carbide, is imprinted on its insides. It also comes in a velvety black box, beautiful as a gift as well as an easy storage option. Vakki lets you exchange sizes or a full refund, within a 30-day window, in case you picked the incorrect one or just don't like it. And of course, this ring also has a lifetime guarantee card.
Who thought such a groovy style could blend in so perfectly with sturdy tungsten rings? This tells us men's fashion need not be just solid blacks and blues; there's a lot more to play with. Especially for vacation outfits, the Vakki Wood and Shell Tungsten ring would be a great accessory. In tropical forests or by the salty sea, this ring is going to be your style staple all over the world.
3. Bling Jewelry Tungsten Celtic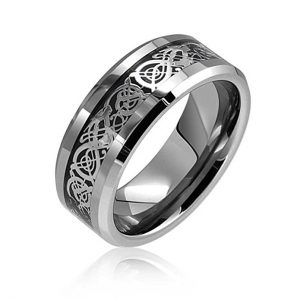 A solid tungsten ring with patterns that speak to the dragon in you- this ring is for the soul that breathes fire. Strong, powerful and filled with gravitas, the Bling Jewelry Celtic Dragon Tungsten ring is the sort of ring we expect men belonging to a posh inner circle club to wear.
Bling Jewelry believes fashion should be liberating, a form of self-expression. Their collection is inspired from the diverse personal styles from all over the world but also aligned with the latest trends which hit the runway. This ring, for instance, draws heavily from Celtic or Indo-European styles yet stays true to the tastes of international trendsetters.
With 4.7 out of 5 stars on Amazon, the ring has done impressive work. The ring is a gorgeous silver, glossy and shiny. Being a neutral color, it can be deemed to be suitable for everyday wear as long as you've got the attitude for it. The insides are slightly domed for a comfort fit finishing to make it easy to wear.
However, it is the design on the ring does it for us. We are talking about the Celtic interlace patterns, entwined with dragons, which are deeply carved on the sides of the ring. A unique take on a tungsten ring, it adds another layer of strength to the metal. The width of the ring is 8 mm and it weighs 11.4 grams.
Finally, to wear this loud and aggressive ring, there is something you need to get down to. And that is confidence and a whole lot of swagger. After all, to pull off eclectic patterns which make a statement, attitude is the make or break for the final look.
Coming in a black velvet pouch, this could also be a great gift for your friend with a dragon as his Chinese zodiac. Besides, any confident man can wear it for an instant power trip.
4. FCL Tungsten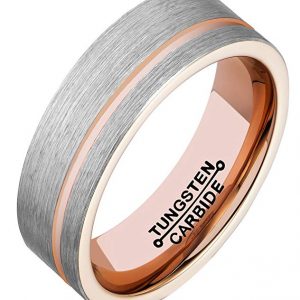 Think you are ready to splurge a little on a tungsten ring? In that case, look no further. If you are going to be spending money, we can't think of a better choice than the FCL Brushed Rose Gold Tungsten ring. With rose gold, a color which soothes the soul, and a stylishly simple design, this ring is worth the pretty penny.
Of the rings in our list, this is one of the most suitable rings as a wedding band. With the strength of tungsten representing a commitment that shall never break, the warm blush of rose gold stands for the sweet bond of the couple, love and harmony. This is also true from a jeweler's perspective. For ages, they've used yellow gold, white gold and rose gold to signify fidelity, friendship, and love. And we believe love is, in fact, the pixie dust which makes marriage magical.
Made from solid tungsten carbide which consists of absolutely no cobalt, there is no reason anybody should doubt the durability of the ring. It is nearly impossible to put a scratch on it or bend it out of shape; this wedding band will last a man's lifetime. The outer surface has two stripes, one wide and the other relatively narrow, which protrude upwards.
This portion of the ring has a handsome gunmetal color and a matte finish. This nicely complements the texture of this section, a brushed surface you can't resist running your hands down. This also works well with the sheen of the rose gold which peeks through the groove between the two stripes in gunmetal gray. The inner sides are polished, domed and are also flush with rose gold.
The FCL Brushed Rose Gold ring comes in an elegant black and white box, cushioned in a velvet padding. They offer a range of sizes from 7 to 13 and you can match yours from the chart provided by them. If you don't like the ring, FCL has a 30-day money back guarantee option you can avail.
The Pantone color of the season which the world is raving about- it's romantic, it's trendy and it looks great. Add tungsten, the favorite metal for wedding bands, and you have the ring which will symbolize your love for an eternity.
5. 100S JEWELRY Mens Wedding Bands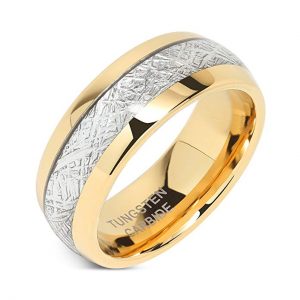 Who said men can't rock golden jewelry like a boss? Tutankhamen did. And so can you. In case that is not exactly what you had in mind, this duo-toned ring by 100S Jewelry can double as a wedding band too. A casual reminder of your eternal love or a glam accessory for your Vegas trip, the ring strikes gold all the time.
100S Jewelry is an online retailer of men's jewelry and they have been doing a fabulous job. From simple grey tungsten rings which blend in the crowd to loud diamond-encrusted chains with a blinding glare, this brand does the whole spectrum. This ring is one of our favorites. The combination of gold and silver is a classic and the meteorite inlay is one fad in men's jewelry which just does not go away.
The sides of the ring are lined with 14kt yellow gold plate, polished to the point of being reflective and beveled to a smooth edge. The gold extends all the way to the inside in a smooth dome. A thick silver inlay, designed in the texture of meteorites and set in a bezel, runs through the middle of the ring. Besides pure tungsten carbide, 100S jewelry has used the highest quality material for the plating and inlay of the ring. It is 8 mm wide which is the standard and it weighs 1 ounce.
This ring is presented in a textured grey box and 100S Jewelers offers plenty of sizes to choose from. The variability in the sizes ensures that couples can buy matching wedding bands; after all, unisex wedding bands which are fashionable as well as of superior quality have always been a rarity and the aim of the brand has been to fill this gap.
Symbolically gorgeous as wedding bands or just an accessory for casual fun, the ring does a darn good job, no matter what the role.
6. King Will GENTLEMAN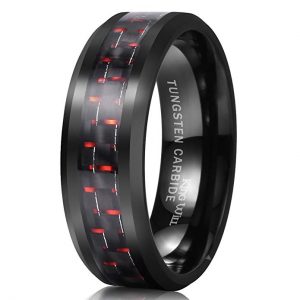 If you ever wonder what street smarts look like, we've got the answer and it is the GENTLEMAN Black and Red Tungsten ring by King Will. The deadly color combination that has never failed to date and a design which says "watch out", we are impressed by this heavy-duty piece of fashion greatness.
This is not the first time the brand has appeared in our list and certainly won't be the last. After all, their huge collection can even make the Queen's jewelers quake. With such variety appealing to so many different styles, it is no surprise that they dominate the list.
A polished black with matte bevel sides and an inside which glistens with black polish, King Will's sure-fire formula proves itself to be a success yet again. In the middle of the ring, there is a carbon fiber inlay design in black and red which adds a sophisticated manliness to the ring. Besides, a tungsten ring with a great three-dimensional touch- who can ever refuse that?
The other features of King Will rings are also included in the GENTLEMAN ring. The emboldened font on the inner ring polished to a rich smoothness and of course, the beautiful black box, a complete package for gifting the ring to your loved one. The tungsten carbide, too, is as genuine as ever. The width of the band is 8 mm.
If the words of longstanding fans of the ring are to be believed, this is a phenomenal ring; once you put it on, you will never want to take it off again. With a deadly design and a sturdiness which lasts a lifetime, this could easily be any man's all-time favorite accessory.
7. Queenwish 2mm Blue Tungsten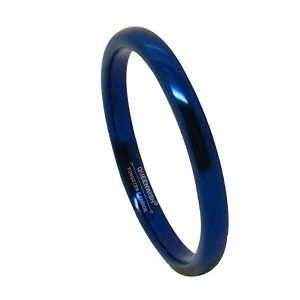 Tungsten bands are often thick and difficult to miss. After all, they embody a meteoric strength with magnetism that pulls you right in. The Queenwish Blue Tungsten Ring is slightly offshoot in the sense of its barely -there presence on the fingers but the powerful aura of the ring with a hint of sleek style is impossible to miss.
Queenwish prides itself on its jewelry, designed to be timelessly beautiful. Specializing in tungsten carbide jewelry of all sorts, they especially focus on couple's jewelry and rings. From vintage tungsten to futuristic cuts and finishes, Queenwish serves this mighty metal in every style you could conceive of.
At a width of 2 mm, it is as thin as a wedding band can be. But that does not deter one's sight from the captivating blue polish of the ring, a high gloss finish that catches the light at every angle. The name of the company, Queenwish, and the metal, tungsten carbide is lightly engraved on the inner band but it can hardly be seen. The ring itself is very simple, just a rounded thin band with a comfort fit design. The star of the ring is, undoubtedly, the midnight blue polish of the ring, an almost intoxicating shade.
The ring comes in a beautiful black box with the brand's logo and is available from sizes 4 to 10, a universal range. Made from highest grade material, you need not worry about the color wearing off. The finish stays put through showers, swims and heavy labor. However, being a thin band, it cannot be engraved, at least not with visible lettering.
Simple yet beautiful, you can purchase a couple's set and don matching wedding bands. If you like your wedding bands flashier, maybe try layering it with other rings. That said, men can wear this ring any time they want to accessorize in a discreet style.
8. AX Jewelry Carbide Diamond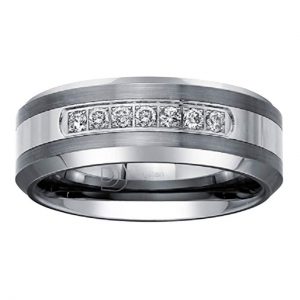 Diamonds are the pinnacle of wedding jewelry. In its dazzling glare, it spells out love, commitment and a lifetime of togetherness. AX Jewelry's wedding band brings our two favorites, diamond, and tungsten, in a stunning ring for the man who is ready to say "I do".
AX Jewelry is an international diamond jewelry retailer, with factories set up in India and China. For 30 years, they have been crafting some of the finest diamond jewelry pieces we've seen. Using solely conflict-free diamonds, their wedding collection is especially beautiful. This ring is from that very collection and of all the gorgeous tungsten rings on our list, we have to say this ring is arguably the best for the new husband.
The band for men has all the textures and finishes that we love in tungsten jewelry. Shiny beveled edges, two stripes of matte brushed finish and a middle stripe with a shiny polish- all of this in a beautiful liquid silver. 7 glorious diamonds, of 0.2 carats, are channel-set with prongs on the middle in a stainless steel groove. The edges round off to the inner ring in a domed polish.
The diamonds are of H-I grade meaning they are nearly colorless while the clarity is of I1-I2 grade which means inclusions in the stones may be visible to the naked eye. These are set in a panel of stainless steel which as we know, is not as resistant as tungsten. Therefore, over time, it may have scratches or dents. However, the contrast of the steel with the surrounding tungsten adds a nice touch. The width of the band is 8 mm and it comes packaged in an exclusive box of the brand.
It is expensive but definitely worth it. A masculine iteration of a diamond-encrusted wedding band, we cannot think of a better ring for a man who is ready to embark on the most beautiful journey of his life.
9. King Will CLASSIC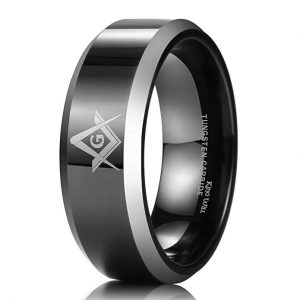 The oldest and largest fraternity in the world, Freemasonry is the stuff of legends. A league of the most distinguished individuals in the world, the mere association with this society is an honor. King Will's CLASSIC ring for men is a one of a kind take on tungsten rings with Masonic imagery.
Freemasons need no introduction. A fraternity of brothers, they work together for self-development and the betterment of society through philanthropy, making the world a better place. Anybody, with some prerequisites, can become a Mason through the appropriate channels. This ring features the universally recognized symbol of Freemasonry, the Square, and Compasses.
Made from black polished tungsten with beveled edges, this is a classic tungsten ring, just like King Will asserts. The insides dome into a comfort fit design with a shiny finish. This is genuine tungsten carbide, the best of its kind.
On the ring, the Square and Compasses are neatly printed; basically, a square and a compass joined together with a G placed in the middle. Although what they really mean is a secret known only to members, the general opinion is that the two geometric tools represent the human soul and body, with G standing for God, at the center of human existence. If true, this is indeed a profound connotation.
The width of the band is 8 mm. Sizes are available from 7 to 15. The ring comes in the elegant King Will black box we all love.
If you are a Mason, you have every reason to be proud of the fact. And when this Masonic accessory comes in a gorgeous black ring, made from the strongest tungsten there is, you will want to flaunt it too.
10. EOVE Jewelry Camouflage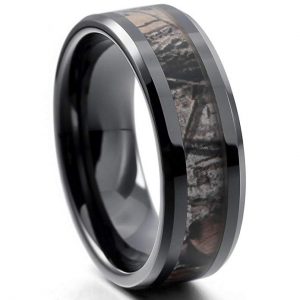 If there is one style which simply screams alpha male, it is the camo. With the toughness of tungsten and the sheer masculinity of camo, EOVE brings to us the Camouflage Hunting Black Tungsten ring for men. Embodying impossible physical strength in an accessory steeped with style, this ring is everything we want in a man's tungsten ring.
EOVE is an online jewelry retailer, selling everything from children's fashion to men's jewelry. Their products never fail to get top notch customer rating and this ring is no different. People who've worn it are raving about the sturdy quality, the masculine aesthetic and the reasonable price tag. Advertised primarily as wedding bands, it can definitely be gifted for any purpose at all and even bought as a "treat yo' self" special.
The ring itself is shrouded in black tungsten. Polished to high shine from the edges all the way into the inner ring, rounding into a smooth dome for comfortable design, this is a classic take on tungsten ring. Except in the middle of the ring where it takes on a rugged vibe. A tree camouflage pattern pops out, flanked by matte black tungsten on the sides. The camo print is covered with acrylic which is resistant to scratches, much like tungsten.
Made from high-grade tungsten, you can be sure this ring is going to last you a very long time. Scratch resistant with a camo background which will not fade, this is just as robust as it looks. The width of the band is the standard 8 mm.
For a red-blooded man who can bravely rock any accessory he wants, the Camouflage ring by EOVE is a perfect choice. It appeals to his personal style, sense of self-expression and the warrior streak in him.
Frequently Asked Questions
In love with tungsten already? The metal has indeed brought men's fashion a long way. Having seen various designs which span all through the style spectrum, from funky to romantic to business casual, there is perfect tungsten for every man out there. If you still have doubts about making a dive for it, this section answers the most common questions about the metal.
Q. Are tungsten wedding bands really expensive?
Answer. We have discussed how part of the charm of the metal lies in how affordable it is, accessible to everyone. Gold and platinum don't stand a chance against tungsten when it comes to the price point. The rings covered in our list- all of which can be used as wedding bands, replacements, gifts or for day-to-day styling- range from paltry single digits to hefty triple digits. Some tungsten rings can even cost a thousand or two, depending on the detailing, stones used and the embellishment. It is always, however, less costly to purchase a tungsten wedding band than gold or platinum of similar design and is, of course, much more durable.
Q. Can tungsten rings be engraved?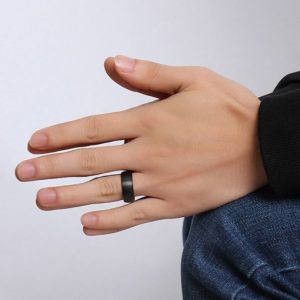 Answer. Yes, custom engraved tungsten rings can be made, however, the customer wants it. But it is no easy feat. Because of the extreme hardness of the metal, traditional engraving techniques are futile. Laser engraving, on the other hand, is a slightly more expensive alternative which can do the trick. It is how the Square and Compasses symbol was engraved on the 9th ring of our list, King Will CLASSIC's ring.
Q. Is it impossible to cut off a tungsten ring?
Answer. The assertion that tungsten rings can't be cut off is a myth. In emergency situations, such as a broken finger, the metal can easily be cut with equipment available at the hospital or even just an angle grinder.
How do I clean my tungsten ring?
Answer. Being made from such a durable metal which can withstand almost any condition, cleaning is blissfully easy. Just use some mild detergent and water and scrub it clean with a cloth. Do not, however, use harsh chemicals such as ammonia or chlorine; it is unnecessary and may even chemically react with the tungsten.