Anniversary Rings for the Sweetest Anniversary Gift
last updated:
Feb 07, 2020
An anniversary is an important date in the life of all couples who have made a commitment. The commitment could be a long lasting friendship or the sacrament of matrimony, and no matter which one it is, it deserves to be celebrated with anniversary rings for both her and him!
Couples who have been married hit milestones such as a five year, ten year, twenty year, or fifty year anniversary - just to remember how they have grown together throughout the years.
Whatever the anniversary milestone, we have selected some of the sweetest anniversary rings for gifts.
We have put a lot of time into this selection of beautiful and affordable anniversary bands for you to view so we're sure there's at least one option you'll be adding to your cart!
Evaluation Criteria
Style
The 10 beautiful anniversary rings we selected all are very unique and worth the price. The metals are high end and the stones are stunning. These rings are elegant, modern, contemporary, glamorous and go with any outfit!
Some options on our list are suggested for anniversaries only to signify the major milestones a couple reaches. Other picks are perfect for a number of occasions such as birthdays, Valentine's Day or as an engagement/promise ring.
Whatever romantic occasion or couple milestone you are celebrating, you will find at least one option on our list that fits the bill!
Wear Comfort
The selection we have chosen features only comfort fit anniversary bands. The rings slide easily on and off and are perfect for daily wear.
Purchasing a ring that does not sit well on your finger or causes skin discomfort is certainly not a good investment.
We made sure to only include options that got rave reviews and offer a wide a selection of sizes to choose from.
We also paid attention to the weight of each ring on our list, excluding jewelry that we thought was too heavy for everyday wear.
Durability
We have investigated all of the pieces and have found that the gemstones are genuine. The bands are real 14k, 10k or 9k white gold and sterling silver. The settings are made to last.
Only the best materials have been selected for use and the artisans who designed the pieces on our list are all professional craftsmen.
The prices are extremely reasonable for each piece and all the rings come with either a 30-day money guarantee, a free return policy or a warranty.
This means that even if you're not satisfied with your purchase, you will be able to return the ring and get a 100% refund!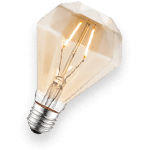 How do you wear your anniversary ring?
A lot of you may wonder whether an anniversary ring replace your wedding or engagement ring. Now that's up to you!
However, we thing that an anniversary ring should be stacked together with your bridal or engagement set.
This is why a lot of our choices fell on rings that are dainty and perfectly stackable!
What style of ring is an anniversary ring?
There is no particular style to these rings. An anniversary band or ring is a piece of jewelry that represents your relationship and the particular anniversary milestone you are celebrating.
While we prefer daintier bands with tiny stones since these are easier to stack with engagement/wedding rings, a solitaire or multi-row stone ring will certainly make any lady out there happy as well!
FAQs
q:

Do Men Typically Buy Anniversary Rings as a Gift?

a:

Anniversary rings have been steadily growing in popularity as traditional anniversary gifts. Regardless of the anniversary milestone you are celebrating, a jewelry item is always a good idea to gift - you just can't go wrong (we girls know!).

The thing to keep in mind is to choose an anniversary ring that will look good stacked with other ring jewelry a woman may wear on a daily basis.
q:

Are Women Interested in Anniversary Rings as Gifts?

a:

Women are always interested in gifts for their anniversary, especially if it's a jewelry item! This is a special day for them and the trend of buying an anniversary ring for a man is growing as well.

The world has changed and so have people's spending habits. Women appreciate modern jewelry and also love to give their man a jewelry gift. This is why you may want to check out some of our men's rings lists!
q:

What are the Ratings on Your Selection of Rings?

a:

The ratings for every company are high. The brands we have selected to include sell high end jewelry and the satisfaction rate is up in the 95th percentile.

Consumers are raving about the sparkling gemstones and the highly polished bands. People who have purchased these pieces are thrilled to see the jewelry still looks brand new after wearing the rings for a year.
Finally...
We always hand-pick every selection we have for you to view. Our choice for anniversary rings includes a variety of designs, metals and gemstones - so regardless of the style of ring you are looking for, we got you covered!
Each piece comes with a warranty and free shipping. Each piece is sold by a brand that is known for good quality products, great customer service and offers risk-free purchases.
We paid attention to selecting pieces in different price ranges; so even if you're on the tightest of budgets, there will be at least a few options on our list you'll be able to afford.
An anniversary ring is so much more than just another piece of jewelry to gift; it's a symbol of what was and what is yet to come; don't miss out on the opportunity to celebrate such a sweet, romantic milestone with a sweet ring!