Mix / Rings / Wedding Jewelry
The Most Beautiful Selection of Promise Rings for Him & Her
Marianne 10 Oct 2019
3781
Have you found yourself falling a little faster or deeper than you anticipated? Don't worry, you're not alone. It's exciting to meet someone after weeks, months, or years of dating around, that seems to stand out from the crowd. Someone who understands you is loyal to you, and may even love you. These kinds of relationships are special and can bring so much light during the hard times and the good times. It is exceptional to find a bond that can last the test of time, the trials of life, and the adventures we all face. But just because you found that special someone, doesn't necessarily mean that you're ready to tie the knot in the next couple months or so. With all that in mind think about promise rings, and what significance they can have.
The two of you may have goals, ambitions, and desires that keep you on your independent path, and though you are committed and could potentially see a future together, that step is a bit in the distance. Do you find yourself overwhelmed with gratitude for this significant person in your life? Do they know just how much you care about them?
Your relationship is definitely past the hanging out and even dating, stage. But the leap to marriage is a bit far-fetched right now. You know that you are loyal to each other, committed to a strong relationship, and you want to show your special someone just how much you love them. You're ready to promise them your here and now, your dedication to the relationship, and your hopes for a future together. Are you looking for a piece of jewelry to symbolize that promise? We're here to help.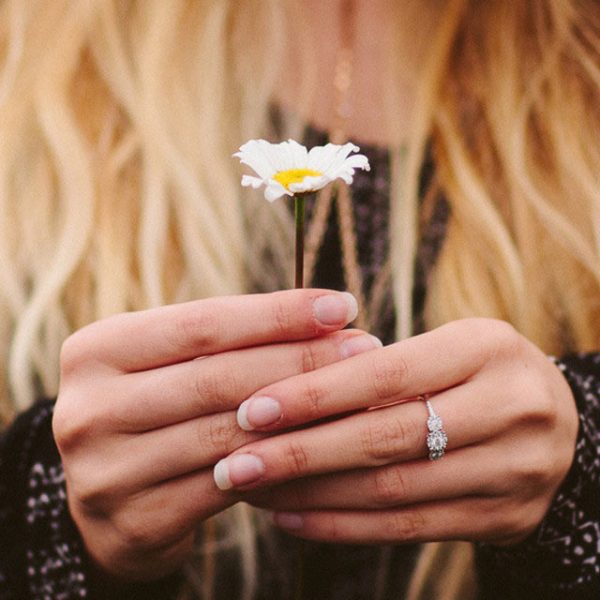 Promise. What does that mean to you? The dictionary says that a promise is a declaration or assurance that one will do a particular thing or that a particular thing will happen. A promise is a vow, a guarantee, an oath, and an agreement. It holds so much trust and commitment in one little word. So whether you are making the declaration to stay loyal to a person now, or that marriage will happen, or anything in between, a promise ring is a perfect way to form that connection and show your promise, whatever that may be. Promise rings are often referred to as pre-engagement rings. Are you leaving soon for a work trip or something that will keep the two of you apart for a longer amount of time than you'd like? Do you want something to take your relationship to the next level, without jumping to "I do"?
A promise ring is wonderful because the meaning it can hold and represent is personal to each couple. Whatever your promise is to your amazing man or incredible woman in your life, there is a ring that will embody and represent that promise. You can be sure to find something that will put your desires and commitment through a symbolic piece of jewelry that they can wear and hold on to each and every day.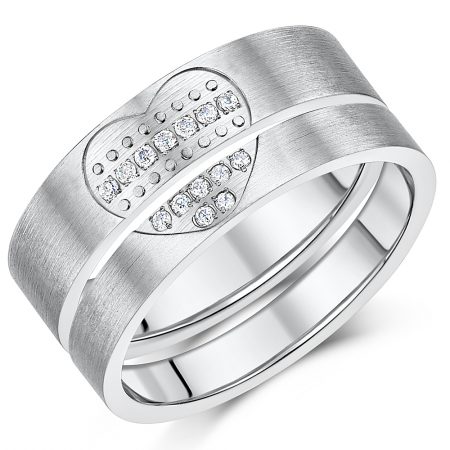 We have found ten gorgeous rings, five specifically for men and five for women, that we are sure you will have a hard time choosing between. There is a range of pricing, color, material, and overall look. So let's find you that stunning ring that is perfect for your relationship, and then you can confidently take that next step in your relationship.
Our Selection of Promise Rings For Girls
1. 2 Heart Birthstones 2 Names & 1 Engraving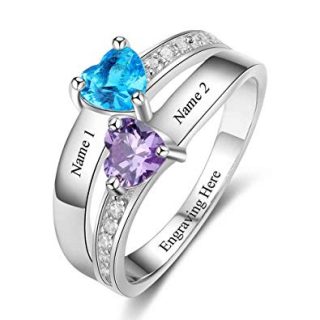 There are so many aspects to this gorgeous ring that we just can't get enough of. There is no question that this stunning piece will leave your special someone full of "Oh's" and "Ah's". It is priced a little higher than your everyday average ring, but that's because this customizable promise ring holds so much more value than that. So let's talk about the details and why you may just want to grab this beautiful piece right away.
The ring is made of 925 sterling silver, which with proper care, is sure to last as long as you and your sweetheart want it to. You can order this ring in sizes 5 through 12. The ring dazzles with six beautiful stones. Four of which are small, white, round stones. Two of each of these stones line the band near the center of the ring. The other two stones are the focal point of this special promise ring. There are two larger heart-shaped cubic zirconia stones. One of the most special things about these beautiful touching hearts is that you can customize what color they are. Choose to put each of your birthstones in each of the hearts to make this promise ring exclusive to the two of you. We love the way any combination of colors, or even two of the same color if you have the same birthday month, come together and shine on this ring.
The hearts are big enough to ensure that your birthstones stand out, while still being dainty and a ring she will want to wear every day, regardless of her outfit of the day.
Next, you can make this ring even more personal to the two of you by engraving it. Write your names on either side of the birthstone hearts, and then engrave the inside of the ring as well. This is the perfect place to write something special between the two of you, like "I promise", "I love you" or "You & Me". Whatever it is you decide to engrave, you can be sure that this promise ring will fill her heart with joy and security of the wonderful relationship you share.
2. BORUO 925 Sterling Silver Cubic Zirconia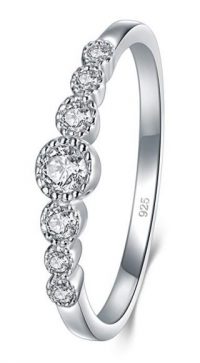 We absolutely admire this gorgeous promise ring! It comes at a price that will leave you just as excited as the look of it does. This stunning ring is made of sterling silver and shines with seven high-quality cubic zirconia gems. This ring is made to fit comfortably, shine brightly, and encompass all of the elegance that you could possibly want in a promise ring. This is the kind of ring that could easily transition to an engagement ring or even a wedding band. With proper storage, wear, and care, it is sure to last you many years.
What all does taking care of sterling silver entail? It's nothing complicated and absolutely worth it to ensure that your product lasts for years and years to come. Luckily, this gorgeous promise ring comes platinum plated and rhodium finished which prevents tarnishing. So don't be concerned about it changing colors or turning your finger green. Because let's be real, most of us worry about that when we find a deal this good on such a beautiful piece. Have you ever had that happen to you? Just because it comes at a pleasing price, doesn't mean we have to compromise the quality of the product. Do you worry about wearing your sterling silver jewelry?
Are you concerned that it won't last very long if you wear it frequently? Well, we have good news for you. Contrary to popular belief, it is important to wear your sterling silver ring often to help it last. Yes, you read that right. This is because the natural oils on your skin help the ring to avoid tarnishing. With that being said, it is best to avoid wearing the ring when cleaning with bleach or other chemical cleaners, as well as when swimming in chlorinated water. That's the kind of product you want to give and wear for a promise ring, one that won't be ruined or discolored in a short amount of time. You want something that will hold up while being flaunted each and every day and always hold its shape, which is exactly what you can expect out of this ring. You will not be disappointed in this steal of a deal promise ring, and even better, she won't be either!
3. Sterling Silver Knot Ring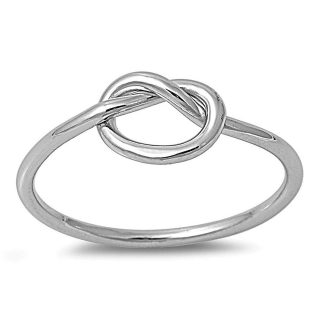 We are obsessed with this ring and it won't take you long to see that we are not the only ones. This gorgeous piece is unique and would make the perfect promise ring. The infinity knot in the center of the ring is the perfect way to display your love and commitment to that beautiful woman in your life. It is simple and classy and easily paired with any attire or other jewelry of choice. We love everything about this ring, and that includes the low and budget-friendly price that you'll pay for it. Make her dreams come true as you get her something that symbolizes your lasting love for her in a unique and elegant way!
This ring is made of true 925 sterling silver. For those of you wondering what that really means, we'll help you out. Sterling silver is 92.5% pure silver mixed with other alloys. These alloys make the pure silver stronger so that it is more durable. So you can be sure that this is a ring that will hold up to your daily life, just like the promise you have made that this ring represents.
4.
CZ and Created Opal Ring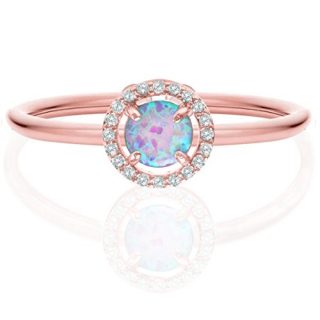 This piece is the perfect promise ring gift! We are enamored with its uniqueness and beauty. It is full of gorgeous and outstanding qualities that make it hard to resist. First of all, let's address the main difference of this ring than we see in most rings. The ends are not attached. That's right, it doesn't make a full circle. So is that a good thing? What is the point of that? The open ends make this ring adjustable!
We absolutely love this special feature because one size fits most. It bends and adjusts to fit the finger, without being flimsy or breaking. It is firm and can fit her just how she wants. Whether that be the position on her finger or a specific finger, she will be able to adjust it to her style. And not to jump the gun, but if she chooses to wear this promise ring on her left index finger, she can do so. Then if, or when, you choose to further the relationship in the future, she can simply move it to another finger and then wear her engagement ring on the left index finger. Rather than having to be resized depending on your relationship status, she can easily switch things up. Whatever her reasoning, we love that it has this flexibility and can be adjusted to her wants and needs.
Next, let's talk about the structure. It is made of a gorgeous 14k gold plated metal that is long lasting and classy. It is also nickel free, lead-free, and hypoallergenic. So you can be sure that your sweetheart will be comfortable wearing it. We also love that it comes in three different colors, each with a different colored gemstone as well. The first option is a beautiful rose gold color with a created opal that is sure to catch eyes and bring compliments. The next is 14k yellow gold plated with a stunning greenish opal. Third, it's available in a white gold color with a blue opal. You can't go wrong with any of these beautiful color combinations and you can be sure to get her the one that fits her style the best.
Lastly, we are almost as in love with the price of this ring as we are the colors and beauty of it. You will love the inexpensive price tag. We love products that are great quality and without breaking the bank. So embrace on to that promise the two of you share, communicate it with her, and then give her this exquisite ring to symbolize that for her and the world to see every day!
5.
JewelryPalace 1.5ct Simulated Diamond Band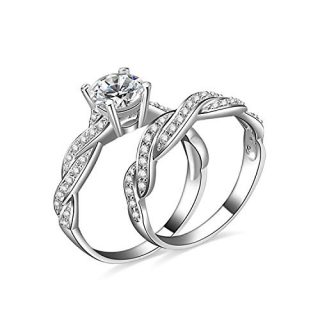 This next gorgeous piece is our final choice for the women's promise rings. It is the epitome of the classic women's diamond ring at a fraction of the price. The stunning bands each have their own elements that make them elegant and beautiful, but they go perfectly together as well. Are you looking for something that will make your girlfriend feel like a queen? This piece will show your special woman that you are committed to her, that you love her, and that she is everything to you. This is the perfect ring for that pre-engagement promise stage that your exciting relationship has gotten to. There is a list of reasons that people are absolutely loving this ring and we will go over some of our favorite aspects of it.
We briefly mentioned the price, but know that you will be shocked at the beauty and the quality with how much it costs. This is definitely one that will not break the bank. We love that the ring is made of 925 sterling silver, and then coated in rhodium plating which gives it all the shine you are looking for!
The true sterling silver ensures that it will not change color and with proper care, it will be as long-lasting as your promise to each other. The sparkling high-quality cubic zirconia will make your girlfriend smile from ear to ear. This is a ring that is sure to please, but you and her, in quality and presentation. It comes in a wide variety of sizes, ranging from size 4 to size 11 and includes each of the half sizes in between. We love that the ring comes in two separate pieces, so she can wear both of them or just one at a time.
Whether she needs to take the bigger gemstone ring off for her work, or she wants to flaunt the whole set, it is completely up to her! The way the two bands sit together and look to weave between each other is absolutely flawless. This is a promise ring that will tell her there is something more to come, that you promise her a fantastic future, one step at a time. And most importantly, that you love and treasure where your relationship is at right now!
Our Selection of Promise Rings For Men
1. Real Love" Heart Stainless Steel Band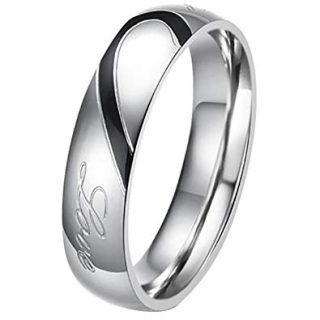 This piece is a fantastic choice for that special gentleman in your life! It is made of stainless steel and it comes in sizes 6-12. We love the way that the black contrasts with the silver band and makes this ring stand out more than your typical silver ring.
Ladies, are you and your boyfriend looking to get promise rings for each other? Because if you are looking to give this stunning promise band to your man, we have good news. You can take it one step further by buying the women's version as well. It comes in a little bit smaller band with a rose gold stripe, the two rings forming a heart when they are put together. But whether you want it as a set or just the men's ring for your Prince, this one is sure to please! It is great quality and comes at a very appealing price. Between the black curve, there is gorgeous engraving on either side of the ring. It says Real Love, which is sure to let your boyfriend know that you love him and only him and that you promise to keep loving him.
2.
King Will 6MM Comfort Fit Beveled Edges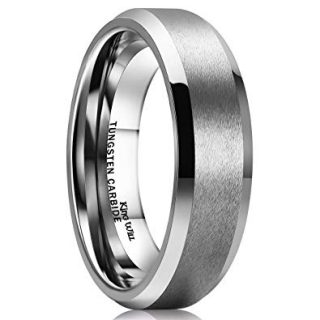 This stunning piece is masculine and elegant all at the same time. It is 6 millimeters wide and comes in a large selection of sizes. It is available in sizes 4 through 16, including the half sizes of each one. We are obsessed with the detailing of this handsome piece. The center has a matte brushed center and the edges of the tungsten ring are beveled. It is scratch resistant and even comes with a lifetime warranty! You will be shocked at the price you get all of that for! Like we said before, it is made of tungsten carbide, giving it the perfect color.
Tungsten bands are not difficult to take care of. If you find your man's promise ring getting a little dirty, simply take a few drops of mild soap and mix it with warm water. Then wash it off and wipe it clean to have a ring that is as good as new. As with most jewelry, it is best not to wear this ring if you are working with any kind of harsh chemicals or intense pressure, as either of these things may possibly cause damage to your ring. It is very low maintenance and the type of promise ring that your handsome man will be thrilled to receive as a symbol of your love, loyalty, and affection towards him.
3. BULZi – Massaging Comfort Fit Silicone Ring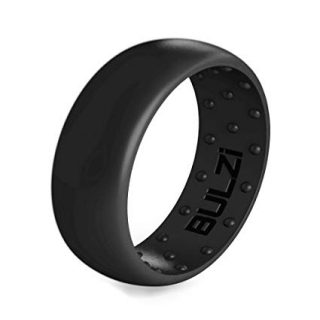 Does your boyfriend or husband dislike wearing jewelry? Is he the type of guy that works a challenging hands-on type of job? Does he work out frequently and hates the idea of wearing a ring to the gym? If you answered yes to any of these questions, or for whatever reason he may not be wanting that promise ring the two of you talked about getting for each other, then this is most definitely the ring for him! This ring is a silicone men's ring (also available for women) that will make all of his ring worries go away.
The BULZi silicone ring is better than your typical option on the market. Why is that? It is designed to raise up, just a touch, allowing air to flow between the finger in the ring to prevent uncomfortable sweat or tightness. It also is extremely comfortable and people are raving about it. So don't think you're the only one out there with a ring-hating man, because there are tons of other women who are raving about this ring for their special someone.
Another thing we love about these is that the variety is incredible. For just the black version alone, you can find it in several different options. This specific men's ring also comes in blue, green, gray, turquoise, white, camouflage, and teak. You can choose the width, texture, and design. They have different colors and widths galore, so you are sure to find the right option for your man's style!
Another fantastic thing is that it will last him forever. Whatever he does for work or his athletic hobbies, you can both be sure that this ring will not damage and that it will hold up to his hard work. This is a great option for those active men out there, so surprise him with the perfect promise ring for him!
4.
King Will Duo Men's 8mm Band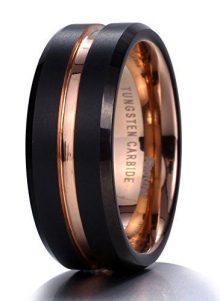 We love this piece to give to your special guy as a promise ring. It is 8 millimeters wide and comes in sizes 6-15, with all half sizes in between. We are obsessed with the way the 18k rose gold plated center contrasts with the black beveled edge. This is a piece that would look classy for any occasion, and he'd be thrilled to wear it day and night to show his commitment to you as well as your love and loyalty for him. The ring is made of tungsten carbide and will give him that comfortable and stunning look that he is wanting. It also comes in a ring box, which makes it the perfect gift as you show your promise of adoration and commitment to him.
5.
Cavalier Jewelers Band – Engraved "I Love You"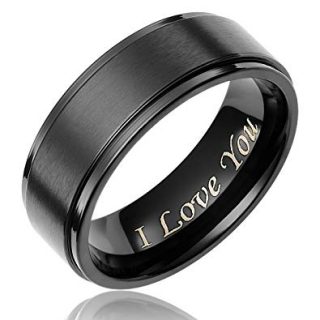 We've seen a few stunning options for men now, but let's pause for a minute. Can men really wear promise rings too? The answer is yes, absolutely! A promise ring may seem like it is traditionally for a man to give to his wife or girlfriend, but the meaning behind it is definitely fitting for men and women alike. It says to your significant other that you are faithful to them, that you are willing to sacrifice for them, that you will always be their friend and their person, that you are serious about them and that you love and cherish them. It may mean that you promise to marry them one day in the future, or that you promise to continue your commitment of marriage to them. A promise is between two people, and likewise, these promise rings are perfect for either one to represent that promise.
With that being said, last but not least on our beautiful selection of promise rings, we have the 8-millimeter black titanium band. This classic piece is made of genuine titanium and is lightweight and comfortable to wear. It will not bend or crack like other metals, because of the strength and durability of the titanium. It is a steal of a deal and is sure to delight the special man in your life. We can't get enough of the "I Love You" engraving on the inside, as it is the perfect representation and reminder of your loving promise to him.
Final Notes
Now that you have an abundance of options, it's time to choose one that is perfect for your relationship. A promise ring is a fabulous way to show that you are in love and committed to your boyfriend or girlfriend. People often wonder what finger to wear it on. Is there a right or wrong answer to that?
Often times it is worn on the left ring finger if you are not yet married. However, as much as we think of it as the pre-engagement ring, it can also be a fantastic gift to give to your spouse. You may want to give it to them for an anniversary, holiday, or birthday gift to renew that love and commitment you have made to them and show them how much love you hold for them and your long-lasting relationship.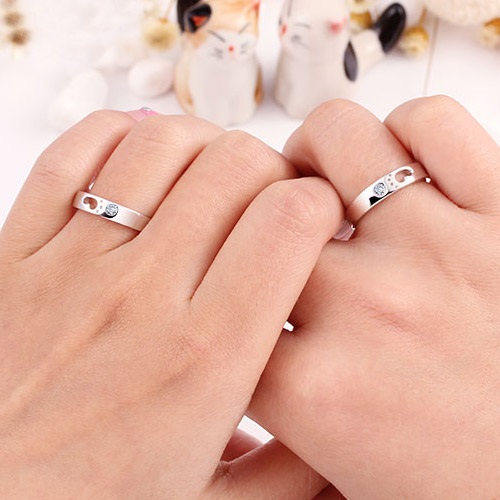 If this is the promise you are looking to share, your significant other probably wears a wedding band already on their left ring finger. It is suggested that you wear it on your right ring finger in this type of situation. However, when it comes down to it, you can find any kind of recommendation out there for how to wear yours. The best thing to do is to wear it where you feel it is the most comfortable for you. Because what matters more than anything is the meaning and story behind the ring, the story it has told and the future it promises to tell for your tender relationship. This ring is the perfect way to make your promise and allow your special someone to hold the promise close to them each and every day.