Gift Guides / Jewelry
Anniversary Jewelry Gift Ideas in Every Price Range!
Marianne 25 Feb 2020
5441
Is your anniversary coming up? How exciting! Anniversaries are such wonderful occasions to share with your partner and celebrate how far you have come in your relationship and marriage. Whether you are coming up on your big first anniversary, or your 50th, it is a very special moment! So to mark these special moments we have comprised this awesome guide for anniversary jewelry gift ideas.
The big thing that people think to get as an anniversary gift is jewelry, and it makes sense why. Who doesn't like jewelry? Jewelry is a great gift idea that will help you show off how much you really care for and love your spouse. No matter how much jewelry someone has, they can always have more! Whether it is a new ring, earrings, a watch, a necklace, or cufflinks, and the list go on! There is plenty of variety when it comes to jewelry.
A lot of people get nervous that they have to spend a lot of money on an anniversary present, but that isn't true. There are great options out there for all sized budgets. In truth, the gift will be special to the person receiving it whether it costs 5 dollars or 5 thousand dollars. This is your husband or wife we are talking about! If you have a more limited budget, your spouse is certainly aware of that and will be thankful that you took the time to find them a gift at all.
Instead of being worried about finding the perfect gift, get excited about sharing your special day with your spouse! Anniversaries are supposed to be fun and romantic! To help make your life easier, we have come up with this ultimate gift guide that covers a wide range of anniversary jewelry gift ideas. Broken down into three main sections, a limited budget, moderate budget, and large budget, we are here to give you ideas no matter how much you are able to spend.
Is This Good For Men and Women?
Yes! When you think jewelry, you probably think of women, and that is understandable. But if you are a wife looking for an anniversary gift for your husband, jewelry is an option for him as well. If he is not a very flashy person, that is okay. Consider getting him something like a watch or a pair of cufflinks, or even a nice belt with a metal belt buckle. If he is more info fashion and accessorizing, consider an earring (if he's got the piercing), a necklace, or a new pinky ring (just to name a few examples).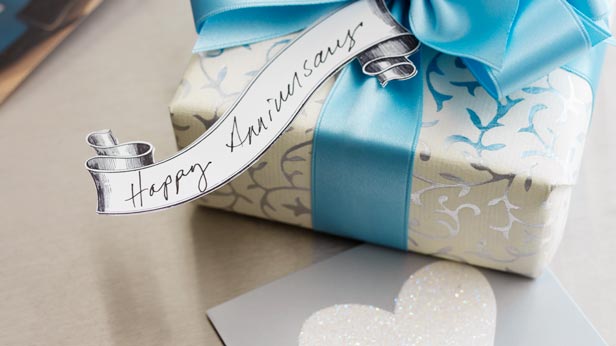 We are going to cover gifts for both husbands and wives on this list so that everyone can easily find the perfect gift or gift idea for their upcoming anniversary. Let's get started!
Limited Budget: Under $100
Our first section of gift ideas is for those with a more limited budget. Keep in mind, having a limited budget is totally fine! Do not feel bad if you cannot afford an extravagant gift. Life is difficult, and if you are just starting out, just paid for a wedding, have children, or simply have bills (and who doesn't?), you shouldn't feel pressured to purchase an expensive gift.
Gifts are certainly about the item itself, but they are also about the meaning behind them as well. Your husband or wife will appreciate a gift you pick out for them no matter the cost because it will be special that you took the time to pick it out. With that in mind, here are some great gift ideas that your spouse will love. These are so great, they won't even realize they didn't cost a small fortune!
1. Rare Mother of Pearl Cufflinks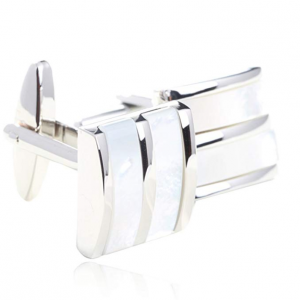 Ladies – cufflinks are a great anniversary gift idea for your husbands! In particular, these mother of pearl cufflinks look incredibly expensive, but won't actually break the bank. Cufflinks really make a suit look so much nicer, and that is a benefit that both you and your husband can enjoy! These cufflinks are very high quality and feature rare mother of pearl inlaid in 18K white gold plating. The cufflinks themselves measure 1.8 centimeters high by 1.5 centimeters wide- basically a small square, which is a perfect modern shape for a cufflink.
Trust us, more than likely your husband would never go out of his way to buy himself a pair of cufflinks, so you can instead do him the honor for his anniversary gift! Perfect to wear to the office or out for date night, these are versatile cufflinks that certainly dress up a suit without being too over the top. When you order these cufflinks they also come in a nice gift box, making it an even better option as a gift to get for your husband for your anniversary.
Jewelry can be tricky to get for a man and if you aren't sure if he would want to wear most items, know that cufflinks are a safe choice that is dressed up and elegant but don't feel like "jewelry."
2. Merdia Women's 999 Flower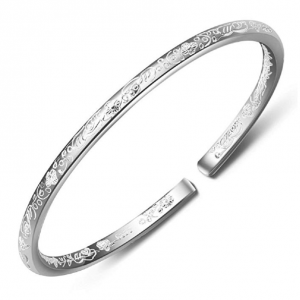 A wonderful jewelry gift idea to get for your wife is this gorgeous sterling silver bangle. While link bracelets used to be popular, bangle and cuff bracelets have taken over in popularity the past few years and are a really modern jewelry choice. However, this bracelet still has a timeless elegance to it and would be perfect to give for any anniversary! The bracelet itself is beautifully engraved with a floral and scrollwork design, but what we also love is how thin and delicate this bracelet is!
Typically you will find that jewelry is either simple and delicate or more elaborate and bigger, but this piece perfectly combines both elements to make for a really unique piece that looks far more expensive than it actually is. Because it is made of sterling silver though you can feel confident giving this as a gift to your wife and know that she can wear it daily and it will still stay in beautiful condition. Best of all, because this bracelet is thin (measuring about half a centimeter wide) it is a perfect stacking bracelet, another popular jewelry trend that we love. Give her this as an anniversary present, and come next year, you can add to her collection!
3. Kate Spade Ear Cuff Jacket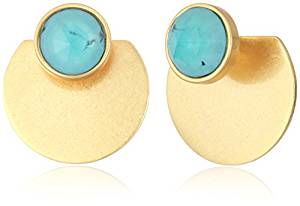 Earrings are always a wonderful gift idea to get for your wife, especially on your anniversary. Are you also planning to take her out to dinner or on a weekend romantic getaway? These are the perfect earrings to give her that she can wear out with you! Earrings are the perfect accessory that goes with almost any outfit- no matter the occasion or neckline of a woman's outfit, a pair of earrings are always the perfect finishing touch.
In particular, these Kate Spade ear cuff jackets are a wonderful, modern piece of jewelry that she can add to her collection. Ear cuffs are the hottest earring trend right now, and these are a great example of earrings that are very modern and on-trend but still have a traditional and elegant look to them.
The gold backing mixed with the turquoise stone is a beautiful color combination that will look good on any woman! If you don't like the stone color, you can also choose from green, navy blue, cream, or light pink stone. The stones are cubic zirconia and the metal is gold plated. These earrings look incredibly expensive but are very affordable and make for a great anniversary gift. At 4 inches tall, these earrings are big enough to make a statement but are sure to not be overpowering, especially if your wife has smaller features.
Moderate Budget: Under $500
If you have a little more money to spend, this next set of ideas is for you. Perhaps you have a special anniversary coming up (1 year married, 5 years, 10 years, etc.) While every anniversary is special and deserves to be celebrated, there are certain milestones that do stand out. If you are coming up to one such occasion, it makes sense to spend a little bit more on the gift, without going too crazy.
These gifts are still fairly affordable but are a step up in the budget. If you are really looking to impress your husband or wife and want to go that extra mile, these are some great jewelry pieces we found that are sure to knock their socks off!
1. Amazon Collection 14k Yellow Gold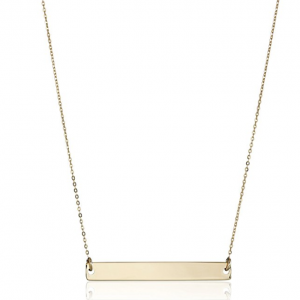 This necklace is actually from Amazon's own collection, but it is of wonderful quality and also gives you the chance to make it personalized. Bar necklaces have become very popular recently, and while you can certainly keep the bar plain, you can also choose to engrave it with something! Whether you put your wife's name, your anniversary, or even your children's' names, it is a great gift idea that you can really turn into the perfect romantic anniversary gift. In fact, why not even engrave a special message to her?
Even a simple 'I love you' would make for the perfect inscription that she will absolutely love. The necklace itself is 14k yellow gold and comes on a 17-inch chain. Shorter chain lengths are also very popular again and this necklace will sit perfectly right below her collarbone. This necklace is simple enough that you can wear it during the day, but it is also a perfect accessory to wear for a night out. This is a versatile, beautiful necklace that she is sure to love and appreciate for years to come.
2. Peora 14 Karat White Gold Stud Earrings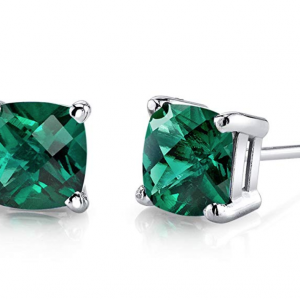 Are you worried that getting your wife just another pair of earrings will not feel special enough? Look no further than this beautiful pair of emerald studs! While these particular earrings are emeralds, the birthstone of May, a great idea for you is to get a pair of studs that are your wife's birthstone! This may mean an emerald if she is born in May, or if not, you could get her a similar pair with a different stone. We loved this pair in particular not just because of the stone, but the cut as well!
A cushion cut is a beautiful vintage cut that has become incredibly popular lately and really makes these earrings even more unique. The earrings are finished with 14 karats white gold and the emeralds are just over 1.7 carats. Who says studs can't be statement earrings? These earrings certainly are, but they are also so elegant and perfect for almost any occasion.
Have you already gotten your wife a pair of earrings in her birthstone? Consider instead getting another special gem that is important to her – perhaps the birthstone of your children, for example. If you have more than one child, you've got anniversary gift ideas for several years!
3. The World Jewelry Men's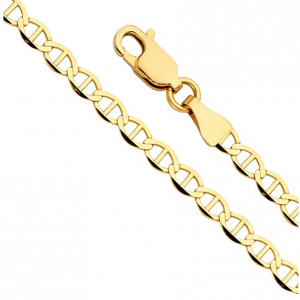 If your husband isn't afraid to wear a little jewelry, then this gold chain is the perfect anniversary gift for him. What we love about this chain is that it is of wonderful quality, but isn't overly flashy. This is a pure 14 karat yellow gold chain with a width of 4.5 millimeters- not too small, but also not too big! The larger price tag for this item is valid because it is not simply gold plated, but is pure gold and stamped '14k.'
If your husband enjoys wearing a chain all of the time, this is a perfect upgrade to get him to celebrate your anniversary. Even the chain link design itself is very masculine, this would never be mistaken for a ladies gold chain! Best of all, you can also choose the length that you want. Choose from an 18 inch, 20, 22, or 24-inch chain. This chain also comes in a nice gift box, making it the perfect gift to surprise your husband with for your anniversary.
Large Budget: Above $500
Has it been a big year? Maybe you reached your 50th anniversary. Or perhaps you have welcomed the birth of your first child or experienced a great job promotion. It has been a wonderful year of marriage, and this anniversary, you want to celebrate. These next items are more expensive, but wow are they amazing!
If you have the budget and really want to show your spouse how much you love them and are happy to be married, these are some excellent ideas to consider. While money is certainly not the most important thing in life, sometimes if you have the money it is nice to choose to spend it on someone other than yourself. And who is more deserving than your spouse? No one! These are showstopper anniversary gifts that any husband or wife would love to receive.
1. Michael Kors Smartwatch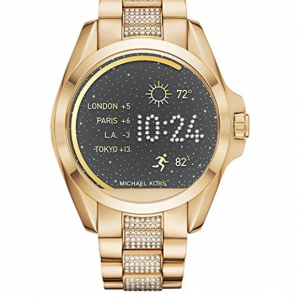 Are you really looking to make an impression on your wife for your anniversary? This smartwatch from Michael Kors is the way to do it. If you thought that all smartwatches had a very masculine or athletic appearance to them, you would be wrong! This is an awesome smartwatch that has a beautiful appearance, complete with a gold band and rhinestone embellishments.
This watch even gets smartphone notifications and will track all of your wife's activity including her sets and any working out she does. This is perfect for any woman who is active and always on the go but doesn't want to sacrifice style just to keep up with her fitness. This is certainly an expensive item, but it is a high-quality smartwatch that she will love wearing both day and night.
Best of all this watch is also water resistant and is equipped with wifi and Bluetooth technology and runs on Wear OS, an operating system from Google that is compatible with both Android and iOS devices!
2. TAG Heuer Men's WAZ1112.BA0875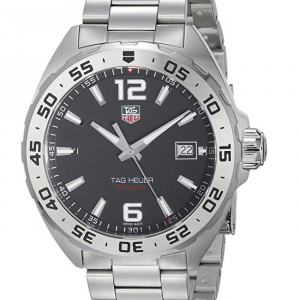 We included a gorgeous watch for the ladies, and now it is time for a real showstopper for the men! If you really want to get your husband a luxurious gift for your anniversary, this Tag Heuer watch is the perfect gift idea. Again, if you are worried that your husband won't wear anything that feels like 'jewelry' you are sure to be safe by getting him a nice watch, which does serve as a perfect accessory to wear to work and out on the weekend.
This watch, in particular, is a top of the line model that is sure to impress just about anyone. This is a Swiss quartz movement watch complete with an analog display and has an impressive anti-reflective face! Best of all, this watch is also water resistant up to 660 feet, so your husband will be able to take it with him on all your vacations, even trips to the beach! Coming complete with a nice Tag Heuer gift box, this is the perfect 'wow' anniversary gift to get for your husband!
3. Dazzling Rock 3.65 Carat (ctw) 14K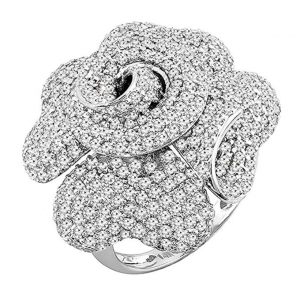 Finally, if you are looking for the perfect gift idea for your wife, why not consider getting her a cocktail ring? These rings go on a woman's right hand and are the perfect statement piece of jewelry to wear to a formal occasion or a super nice night out on the town. This ring, in particular, is a gorgeous eye-catching design that any woman would absolutely love to add to her jewelry collection.
Coming in at a total carat weight of 3.65, this ring is comprised of numerous small diamonds to form a beautiful flower design. The ring itself is 14 karats white gold and the diamonds are round. If you don't like white gold, you can also get it in classic yellow gold as well. This is a beautiful, luxurious anniversary gift that is perfect for those incredibly special occasions. If you wear this ring, you really don't need to accessorize with anything else, this is sure to catch everyone's eye- how could it not!
Wrapping Up
And there you have it! We hope this list has given you some great anniversary jewelry gift ideas. Jewelry is such a classic gift idea for a romantic occasion such as an anniversary, so you know you cannot go wrong with any of the items on this list.
Whether your budget is big or small, you can still find something beautiful. It isn't about what you spend, it is about your intention behind it. If you have a large budget that is great and there is nothing wrong with spending your money on a nice gift, but if you don't, that is perfectly fine as well!
No matter your budget, what matters is that you are thinking about your upcoming anniversary and how you want to celebrate. Love is the most important thing in life, right? Always keep that in mind, and choosing the right gift to go along with how you feel about your spouse will ensure you have your best anniversary yet. Cheers to many more years together!
Frequently Asked Questions
 Still wondering if jewelry is the right gift choice for your anniversary? No problem! Before making any big purchase you should stop and think about if you are making the right decision. Here are some answers to some frequently asked questions that should help you make up your mind one way or another.
 Do people still follow traditional anniversary gift themes?
That depends! There is a decades-long tradition when it comes to anniversaries. Each year comes along with a certain theme that couples should use to guide them towards the perfect gift. For example, year 1 is 'paper' and year 2 is 'cotton.' For your 60th anniversary? The theme is 'diamond' (get excited, ladies!) While this is the longstanding tradition, in truth, many couples may incorporate this theme in a small way, but do not use it as the main focus.
Perhaps get your wife for your first anniversary a nice charm bracelet with a paper card to go along with it. Second anniversary? How about a new silver charm for that bracelet and place it in a cotton gift bag? You can still have fun with each year theme, but don't feel limited to just that. We promise you, your wife will be much happier if you get her a piece of jewelry instead of following the yearly theme of paper! Listen to us now, and thank us later!
 Is there a certain typical budget guideline people follow?
A lot of people ask this question because there are guidelines with other types of gifts. For example, when you got engaged, you probably heard a lot about the guideline of spending at least one month's salary on the ring (and some people say to spend three months salary!) In truth, you should not feel forced into any type of budget when it comes to buying a gift for your spouse. You know your finances and what you are able to spend, don't let any outside guide tell you what to do.
If you have placed aside a good amount of money and want to spend it on a gift, go for it! If it has been a hard year financially and you can't really spend that much, that is okay too. People today care far less about tradition and expectations are simply not like they used to be in the past. Each year you should approach your anniversary as a happy time to celebrate, not with a calculator in hand wondering how much money you need to spend.
Should I consider upgrading mine or my spouse's engagement or wedding band?
A lot of people get married at a time when they don't have an incredibly large budget. Perhaps you are young and just starting your career. No matter the reason, that often means that you cannot afford a very expensive engagement ring or wedding band.
As years go by and your financial situation changes, you might think it is a great anniversary gift idea to upgrade your wedding rings. The truth is, it depends! While some couples may get excited to upgrade their rings, others will have an emotional attachment to their rings and will not want to upgrade even if they can afford to do so. We would caution you when it comes to this gift idea, as you don't want to accidentally offend your spouse. Because this is also a major jewelry item (they wear it every day!) we recommend asking your spouse if this is something they are interested in, and if they are, go together to look at rings and pick something out.
This can make for not just a wonderful gift but a wonderful bonding moment as well, so don't miss out on that opportunity! However, if you mention it to your spouse and they do not seem interested, don't push them. They may be attached to their ring, and honestly, that is a wonderful thing! Love doesn't have a price tag attached!