Other / Rings / Wedding Jewelry
15 Best Silicone Wedding Rings
Marianne 14 Feb 2020
24601
Are you recently engaged or about to get married? Congratulations! This is an exciting time in life that you are sure always to remember.
One of the biggest decisions a couple will make together about the wedding is – the wedding rings! While there are plenty of traditional styles to choose from, from opal wedding rings to rose gold wedding rings, an increasing number of couples are in search of an alternative solution.
Whether you are looking to cut costs somewhere (and who isn't – weddings are incredibly expensive!) or lead an active lifestyle, you are a great candidate for choosing one of our best silicone wedding bands.
That's right! These rings have gained a lot of popularity recently as an affordable and durable silicone wedding rings.
They look very nice and sleek, with the added benefit of costing far less and being able to withstand rough conditions.
If you are still unsure about this trend, we understand. To help prove to you what a great option these are, we've rounded up the 10 best silicone wedding rings for 2020!
Believe it or not, you've got a lot of options when it comes to their design, color, and style.
Here are the rings we have found that all would be perfect wedding bands. Cheers!
10 Best Silicone Wedding Rings!
1. Kauai Silicone Rings

First up on our list of best silicone rings is this beautiful collection from Kauai. If you know anything about silicone wedding bands, you have likely heard of this brand.
Built from the best, safest, most durable silicone, and featuring a beautiful scrollwork design, these rings are a great option for many couples looking for a striking, unique looking wedding band.
If you thought you had to settle for a traditional wedding band, you were wrong!
Choose between several different color options, including neutrals like blacks, grays, and creams, and more bold options like red or pink.
If you aren't a fan of the band design, you can always choose their classic burgundy option which is a beautiful color and has a sleek band.
Complete with a lifetime warranty, you can feel confident you will have this ring for life. Should anything happen to it, you can get a replacement. Given how durable the silicone is, chances are you won't need one!
These rings can stand heat up to 400 degrees and do not lose their shape. Best of all, they also feature a comfort fit with a smooth interior so that you can wear this ring every day with ease.
No matter your lifestyle or career, this ring can go with you. With a unisex design, these are great rings for both men and women, and you can easily find your size, as their rings come as small as a size 5 and as large as a size 13.
2. Enso Women's Braided Ring

Looking for silicone rings for women? This braided ring from Enso Rings is an excellent option. Still featuring a sophisticated design, it is thinner in design, giving it more of a delicate look.
This is a great option for any bride who wants a silicone ring but doesn't want it to look too "manly." Best of all, you can choose from a large variety of colors to get the perfect one for you; coral, fuschia, lavender, pink sand, mint green, midnight blue, misty gray, peach, obsidian black, red, plum purple, turquoise, or white!
Given the affordable price point, you could easily pick several! In fact, many women do this and end up wearing two or three at a time as they are easily stackable.
Enso Rings make all of their silicone bands from only the highest quality, medical-grade silicone so that they are always safe to wear and durable against whatever life throws your way.
This ring also gives you a wide range of sizes, all the way down to a size 3 (perfect for brides with super thin fingers), all the way up to a size 12.
If you choose the wrong size or if down the line you gain or lose weight in your fingers, you can easily replace your ring for the size you need thanks to their excellent lifetime replacement warranty!
3. King Will Thin Red Groove Black Brushed Silicone Set Band

King Will nailed it with this ring. It stands out due to its craftsmanship captured by the intricate details. The first ring features a finely contoured red line giving it a manly feel.
The second option features an elegant smooth red line as an accent feature giving it a modern, stylish appearance.
It's perfect for couples who would love to have matching rings. The slight difference in design makes it perfect for men and women.
The one with a contoured design goes to the man, and the other one with a smooth line will be perfect for women!
Moving on to the structural features, it's made of two materials, which include stamped tungsten carbide and silicon.
Both of these materials are safe, durable, and scratch-resistant. The available sizes range from 6 to 8.
It comes with a lifetime warranty, which should assure you that it's bound to stay in good condition for a long time.
4. QALO Men's Ring

Shopping for your soon to be husband? Is he in search of a band that is very durable and manly looking? Look no further than this band from QALO.
Incredibly durable and featuring either a crosshatch, chevron, or sleek band design, all of the rings in this collection are perfect for any active male who needs a band to match his lifestyle.
Choose from dark colors like black, navy, gray, or go with the incredibly cool camo design, perfect for active or former military members.
These rings are likely the most durable silicone bands you will find as they feature QALO's exclusive material, the Q2X, which can withstand up to 22 pounds of force, is gas and oil resistant, and temperature tolerant for temperatures as cold as -75 degrees all the way up to 575 degrees.
Complete with a flat design and silhouette, these are incredibly comfortable to wear and have a modern look to them.
Perfect for the hard-working man who likes to get his hands dirty! Choose a size between 8 and 14, keeping in mind that their rings fit true to size, making it incredibly easy to make the right choice.
Whether you get a sleek band or choose one of their designs, all of their rings have a step edge design that gives them a really nice look and sets them apart from a basic band.
Wedding bands don't have to be boring, even for men, and these rings prove that!
5. ThunderFit Unisex Silicone Wedding Ring

Are you always on the move or someone who loves biking, climbing, swimming, weight lifting, or any other sport? If so, then it would be a good decision to say I DO with this classy yet extremely safe and durable silicone ring by ThunderFit.
Safety takes priority with this pick. The designer used high performing quality silicone to create a ring that can handle extreme conditions yet remaining incredibly flexible.
It has a nice metallic finish; you would easily mistake it for a metal ring. It comes in different color options, including neutrals for men such as silver, gold, black, and bright color options for women.
It's 6mm wide and 1.5mm thick, which gives you extra protection and sits perfectly around the finger. The sizes go as small as ring size 3.5-4 to 15.5-16, allowing you to find one that fits snug.
Now get this; you get all these amazing features and unrivaled quality for just a few bucks. It doesn't get better than that!
6. HonorGear Silicone Ring

Some people want their rings to have designs, and others don't! If you fall into the latter category, this band is for you.
A completely sleek band with no design or logo on the band at all, it is a clean slate perfect for the man who likes to keep things simple.
These bands are incredibly durable featuring tensile strength over 183N (meaning it won't easily break when under tension).
All of their bands feature the same sleek design, but you have several color options you can choose from gray, red, yellow, black, blue, tan, purple, silver, or light gray.
Featuring a comfort fit and a guarantee for only smooth edges, these are perfect to wear all day, every day.
The rings are also waterproof and made from only the highest quality non-toxic silicone. These are 0.77 cm wide, making them a good width but not overly wide; the perfect size most men would want in a wedding band!
Sizes range from a 6 all the way up to a size 16; there is certainly a ring here that will fit your finger!
Best of all, HonorGear features a lifetime guarantee so that in the event you do manage to damage your ring, you can get another one for free.
No matter how active your life is or how messy things get, HonorGear will stick with you through it all.
If you or your husband are serving in the military, this is probably your best option as it is durable and completely blank and free of any logos or designs.
7. ROQ Silicone Rings For Men

These ROQ silicone wedding bands are perfect for any man that wants to keep things simple but not too simple! Their bands have a sleek design with a beveled inner edge to give them an elevated style and appearance.
Choose between black, gray, or silver as your color options; nothing flashy here! The bands are perfect for just about any groom and will be appropriate to wear every single day.
At 8 mm thick, these have a good thickness to them without being too wide, and of course, are only made from the highest quality hypoallergenic and medical-grade silicone. Sizes go as small as a size 6 all the way up to a size 16!
Best of all, they come in a pack of 4 so that you can switch up your bands depending on your outfit or where you are going.
If you are a groom and you want options for your bands just like your bride has, this is the perfect band set for you.
Finally, their incredible lifetime warranty helps prove how great these rings are. However, if for any reason you aren't satisfied, you can get your money back.
There is no risk involved in buying these bands, especially considering that they are also incredibly affordable!
8. BULZi – Massaging Comfort Fit

These silicone bands from BULZi caught our eye, and they are sure to catch yours too! With a prime focus on comfort, these are excellent bands if you are worried that a silicone band will cause you discomfort.
So, how are these bands different? Their CushDome bevels! These bevels raise the ring up just slightly so that it does not rest directly on your finger, which helps to promote airflow.
If you are concerned that the silicone will irritate your finger or rub and cause irritation or cause your finger to sweat, this band is the perfect choice for you, as it was designed to specifically address all of those concerns.
The bevels also feel nice of the skin to help promote an even more comfortable fit in addition to all of the other benefits.
Made of hypoallergenic silicone, these rings are still just as safe and durable as any other that you will find, with the added comfort you might be looking for.
Because of their design, it is best to order a size down if your ring size is a half size to ensure the ring is not too big.
These rings are made for both men and women, and they come in a variety of masculine and feminine colors, including black, navy blue, purple, pink, sage, turquoise, and even teak. Sizes range from a size 4 all the way up to a size 13.
9. QALO Women's Hibiscus Silicone Ring

We covered QALO men's silicone bands earlier, and their selection of women's bands made our list as well! These are another great option for any woman looking for a durable, yet sweet looking wedding band.
The Qalo wedding band is made of two layers of contrasting silicone. It is then laser engraved with an eye-catching pattern all throughout, giving it a modern flair.
We love the two-tone design as it gives it a unique style, and you get to choose among a wide range of color options such as black and aqua, sand and olive, white, and lilac.
This ring is made of silicone. It's highly durable and flexible. Even if, for some reason, your finger gets swollen, you can count on this ring to stay comfortable.
It's available in different sizes as small as size 4 to size 8, which is perfect for ladies with larger fingers.
It comes at an affordable price backed with a lifetime warranty!
10. Banded Glory Ring

This is another great option if you are looking for a band that will work for both men and women.
The men's bands are slightly wider than the women's bands, but both come in a nice variety of colors. Men can choose between black, blue, gray, and white, and women can decide between black, aqua, gray, pink, purple, red, and white.
These have a nice beveled edge on both the top and bottom but otherwise have a sleek design without any other patterns or designs, perfect for th,e minimalist couple.
The bands are made of hypoallergenic silicone, and as a nice added touch, each band contains the infinity symbol on the inside; the perfect touch for a wedding band!
No matter how active your lifestyle, these rings are a great option that you will be able to wear every day without fear of damaging them. Their comfort fit also ensures you won't want to take them off ever.
This option is a great choice if you are looking for matching bands, but the differences help make them perfect for both men and women.
Sizes range between a size 4 all the way up to a size 12. If you are a half size, Banded Glory recommends you size up to find your perfect fit!
11.Enso
Thin Legend Silicone Ring

The softness and the comfort level for this ring from Enso Rings will surely blow you away. This band is made of high-grade silicone material and features a pretty simple design that we like.
Versatile, safe, and stylish, it's the perfect piece that is sure to give you that cool look without sacrificing your comfort.
The ring was designed with comfort in mind. It provides a safe option for all-day wear regardless of how active you are with your hands.
It's engineered with Anti-Ring Avulsion Technology, which allows the ring to break away when it jams or exposed to a pressure exceeding 43 pounds.
It also has breathable channels that promote constant airflow to keep your finger dry and comfortable.
If you frequently work with your hands or have an active lifestyle, this ring is the most suitable option for you. It's made of hypoallergenic silicone making it a suitable choice for sensitive skin.
You will get a wide range of ring sizes from size 5 to size 10. In addition, it's available in different colors styles, starting with the unicorn design we have featured, pixie, medusa, yeti, mermaid, and loch ness.
Get one for yourself and another one for your partner because these rings are available at an incredibly affordable price.
12. SOLEED Twins – Tugsten and Silicone Wedding Ring Set


Featuring an exceedingly sleek metallic look, this set is a suitable choice for the man who likes to keep a simple and classy look.
The bands are made of silicone and tungsten. The silicone acts as a protector. It is stretchy, flexible, and it will always protect your finger from injuries.
The tungsten carbide, on the other hand, is incredibly hard, scratch, and dent resistant!
Combining these materials means you get a durable, hypoallergenic, and medical-grade set. You can count on this set not to cause any allergies or any other skin reactions.
With a thickness of 2mm and a width of 8.38mm, it's perfect for a man's finger. Both rings are super comfortable, so no worries about that either.
As for sizing, this option comes in different ring sizes ranging from 8.5 to 14.
Expertly crafted and backed with a lifetime warranty, these pack of two silicone tungsten rings is a steal. They come at an incredibly affordable price; you will be tempted to grab two packs!
13.
Enso Thin Elements Silicone Ring

Here is another fantastic option by Enso rings for any woman looking for a durable yet delicate wedding band.
Made of the highest medical grade silicone, it comes with a safety feature called anti-ring avulsion technology. It will break away when it pinches or when under extreme pressure.
It's also equipped with breathable channels to allow airflow making it comfortable and sweat-free.
If you love color, then you're in luck since these are available in 8 different colors from rose gold, black pearl, silver, to brighter colors such as gold yellow, copper, and peacock quartz.
The same selection goes for the ring sizes, which range from size 6 going up to size 10.
The best part? All of this comes at a budget-friendly price!
14.
Knot Theory Unisex Silicone Wedding Ring

Our next pick is all about comfort and style in one gorgeous piece. Like most of our options, this ring is made of silicone. But, there is one feature that makes it different.
It is enhanced with True Comfort Fit, which is a classic bevel design featuring a curve on the inside. This provides maximum air circulation allowing you to wear your ring 24/7.
The inner surface is exceptionally smooth and has no groves that frequently trap moisture. With a super slim bandwidth, this ring has an ideal thickness, so it will fit nicely in your finger without being too wide.
Since it features a unisex design, it's available in a mix of colors that will appeal to both men and women; it also comes in different sizes and bandwidths, so no matter if you're a guy or girl, you'll find a size that fits.
This is one of our most affordable picks. You can even get a pair with just a couple of bucks!
15. Groove Life – Silicone Ring for Men and Women


Groove Life brings you these incredibly trendy and beautifully crafted two-tone silicone wedding bands. These are the perfect choice for couples that would like to get matching rings as they feature a unisex design.
These are also available in tons of colors from neutrals to bright ones, so you can be sure you will find a pair perfect for you and your future husband or wife.
Keep in mind these are high-quality silicone rings. They are designed with a breathable construction that allows moisture to escape, giving you maximum comfort while wearing it.
The rings are available in different sizes from as small as a ring size 4 all the way to a size 10.
With a 6mm bandwidth, these are solid thin bands that also give you enough room for stacking. Better yet, these rings are available in nearly every color you could imagine!
The price? A real bargain.
Criteria Used for Evaluation
✓

Safety and Quality of Material

Silicone rings are durable and extremely tough. They are designed to withstand anything, from light scratching to anything that would break any other type of ring. Everything from intense strain, extreme temperatures, chemicals, and oils, these rings will endure.

All options on our list are made of high-grade silicone. Most are equipped with safety features such as breathable channels and bevels to help promote airflow.

We also included options enhanced with anti-ring avulsion to allow your ring to break away when exposed to extreme pressure, accidental jams, or pinches, hence protecting your finger.
✓

Versatility

Silicone rings and wedding bands come in all the colors you could ever think of. Our list is all the proof you need that you can get tons of color styles for your bands, including two-tone rings.

From neutral tones of grey, black, and dark blue to bold and bright colors such as red, purple, fuchsia, coral, pink, there is certainly no lack of color choices!
✓

Pricing

Most traditional metallic rings don't come cheap, and they might be out of price range for a lot of you reading this article.

Silicone wedding rings are available at a low price. We picked options that are super budget-friendly; for just a few dollars, you can get a gorgeous silicone ring that looks like a million bucks!
Why are Silicone Rings Popular?
There is a wide selection of silicone wedding rings available at an incredibly reasonable price. Most of these options look great, and even if you lose the ring, or it breaks, you won't have any trouble getting a new one without splurging on it.
Ever heard of ring avulsion? It's a nasty injury that can happen if your ring accidentally gets snagged or jammed and doesn't break away.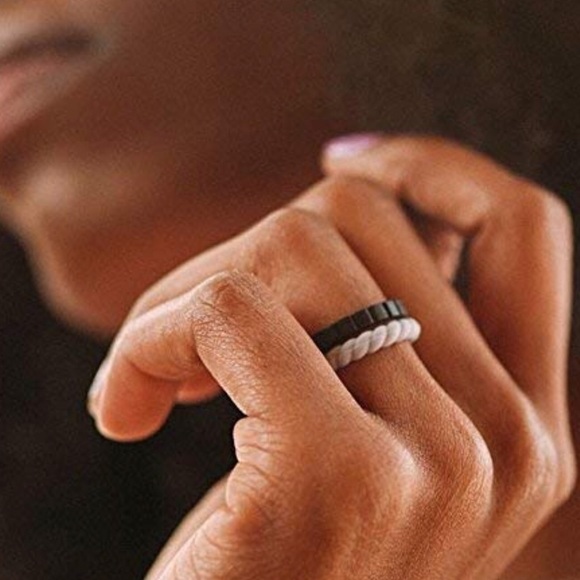 Silicone rings are designed to break when exposed to extreme pressure. If you are involved in a profession that requires lots of handy work such as weight lifting, plumbing, military duty, you should avoid a ring that can easily get snagged or stuck on your finger. A silicone ring is the safest option, thanks to its construction and technical features.
When it comes to traditional wedding bands, your choices are limited to gold, silver, or titanium wedding rings. On the other hand, silicone offers tons of color options and all types of designs and patterns.
The rings can even be customized with inscriptions!
How to Clean Silicone Wedding Rings
If you notice that your silicone ring has accumulated grime and build up, you can always give it a deep cleaning by following these steps:
Soaking: soak your ring in a cup of warm water with just a few drops of hand soap. Let it soak for ten minutes. If you can still see any grime on it, you can rub it with your fingers. Once it's clean, rinse it and dry with a soft cloth.
Clean it in the dishwasher: place the band in the basket compartment in the dishwasher. Wash it with your dishes and run a normal circle. Dry it off with a cloth and put it back on your finger.
Note: Avoid using scouring pads and other abrasives to clean your silicone ring!
Useful Info
Q: Are silicone rings really that much more durable? Can I truly wear them anywhere?
A: Yes! Silicone wedding bands are not just intended to be a more affordable option to traditional wedding bands; they are specifically designed to be incredibly durable and worn anywhere, including getting wet, dirty, in high or low temperatures, and more.
These bands are designed to be worn anywhere and everywhere so that you do not have to take them off.
If you lead a very active lifestyle or have a career that involves you getting your hands dirty in any way, you are likely to have to always keep your wedding band off unless you go with a silicone band.
It is a great alternative that allows you to honor your commitment to your spouse without worrying about damaging an expensive metal band.   
Q: Will I regret not getting a traditional band?
A: While we cannot answer for you specifically in terms of what you want out of a wedding band, we can say this much: silicone bands are very affordable compared to traditional wedding bands.
They are a great alternative for any active couple or any couple trying to cut down on wedding costs.
If you go with these rings and several years down the line you wish you had a more traditional band, you could always purchase one at that point.
You certainly will not feel like you wasted your money on these bands, as they are very affordable, and also great to have for situations when your hands are getting messy.
Many couples, for example, choose traditional wedding bands to exchange on their wedding day and to wear on "safe" days but also purchase silicone bands for more active days or while at work if they get their hands dirty.
Simply put, they are always good bands to have around so you can always have something on your hand without worrying about ruining an expensive gold or diamond band. 
Q: How do I figure out my ring size? Is it the same as a traditional ring size?
A: This is a totally logical question to ask. After all, most rings you purchase are made of metal. Does the sizing stay the same when the band is instead made of silicone?
The answer is, it depends. For some rings, you will find that they are true to size. In fact, if you take a look at the description of certain rings (such as the QALO men's silicone ring) they will list that they are true to size.
For others, they will give you a detailed sizing chart that shows the diameter of each ring based on the size.
To figure out what size you need, get a piece of string and wrap it around your finger (you may need your partner to help you out!).
Mark the point on the string that matches the diameter of your finger and then take a ruler to measure the string- you've got your answer!
Finally…
There you have it! These are 10 best silicone wedding bands, including some unisex options as well as designs specifically for men or for women.
No matter what style you choose, you will look great and feel comfortable, no matter your situation.
From a wild outdoor ceremony to an adventurous honeymoon, to getting your hands messy in your yard or at work, to raising your children, these bands will be with you through all of the messy (and wonderful) phases of life.
If you are still undecided if silicone rings are right for you and your partner, we understand. This is certainly a big step to take and is very different from choosing traditional wedding bands.
It is a big decision that you want to be sure about. Here are some answers to some frequently asked questions that might help you make up your mind.