Oval Engagement Rings in All Price Ranges
last updated:
Aug 20, 2021
Choosing the right engagement ring is extremely important, its something you'll wear and cherish for a lifetime! Whether you like cubic zirconias, opals, morganites or moissanite, we've chosen a variety of stunning oval engagement rings that you'll love.
 
Some of the rings we have chosen are dainty and sophisticated whereas others ooze glamour and sparkle. Either way, we feel our collection caters for all tastes. Plus, we've selected engagements rings in silver, gold and rose gold so you have plenty to choose from!
 
We can guarantee that all our oval engagement rings offer style, comfort, and durability in a range of prices. 
10 Oval Engagement Rings to Add to Your Shopping List!
1

. HAFEEZ CENTER Oval Halo Cubic Zirconia Engagement Ring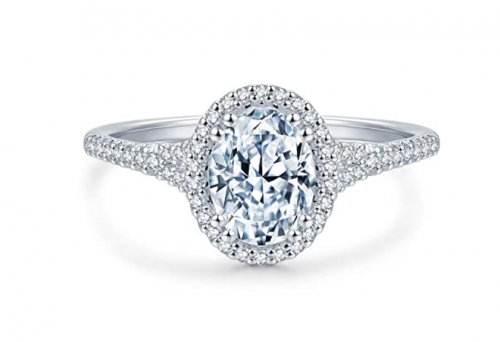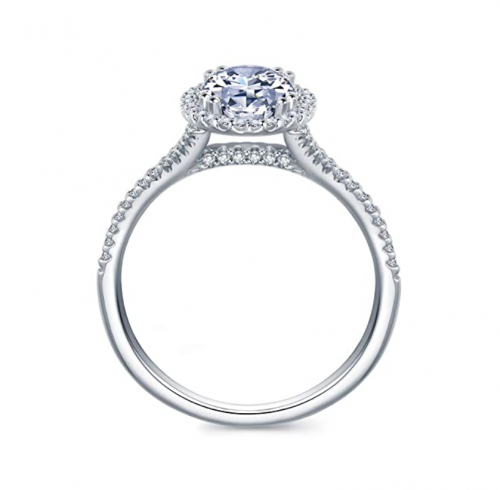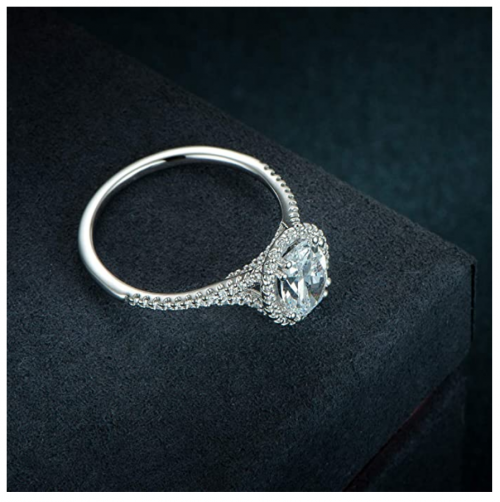 Halo simulated diamond
74 smaller cz stones
Rhodium-plated 925 sterling silver
Our first ring offers something rather special. When you're in search of an engagement ring, we don't blame you if you're looking for something with a little bit of glitz and glamour. This ring offers both and is sure to add that extra sparkle to celebrate your special news. 
Read more
This ring is full of sparkling gemstones! It consists of one oval cut cubic zirconia diamond in the center of the piece. This is a halo simulated diamond which means the stone looks like a real diamond but in facts, it's a fake diamond. They have different physical properties and chemical composition to that of a real diamond.
Even though it is fake, a simulated diamond is a great option because they are a lot cheaper and can look just as good! This simulated diamond is positioned in an 8-prong setting equating to 1 carat. If you're curious about the size, this diamond is approximately 8mm by 6mm giving you a lovely centerpiece to the ring. 
Let's also not forget that this ring features smaller diamonds positioned along the ring's band and around the center diamond, framing it. These smaller stones are also simulated and the ring features 74 of them. They give a gorgeous shimmer creating a sea of sparkle which you won't be able to miss! 
The ring has been created using 925 sterling silver with a rhodium plating. This gives the ring a stunning shine and durability. It's also nickel-free. 
Interestingly, the jewelers at Hafeez Centre only use recycled and re-fined silver, this being a great example. They pride themselves in handcrafting each piece of jewelry in a conflict freeway which is an alternative to a mined diamond. In simpler terms, human life was not sacrificed to make this ring. 
2

. BERRICLE Oval Cut Solitaire Engagement Ring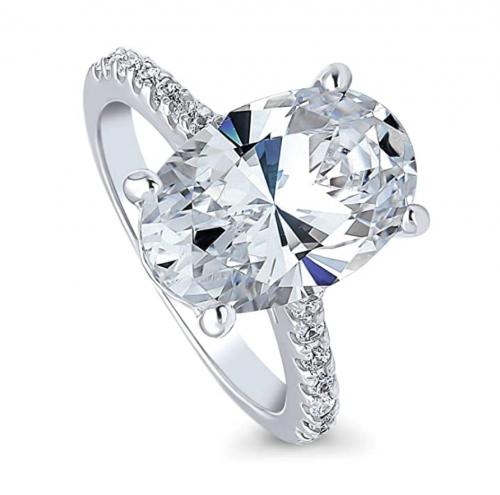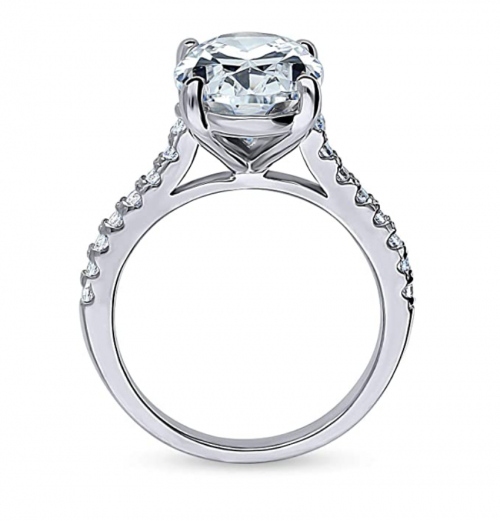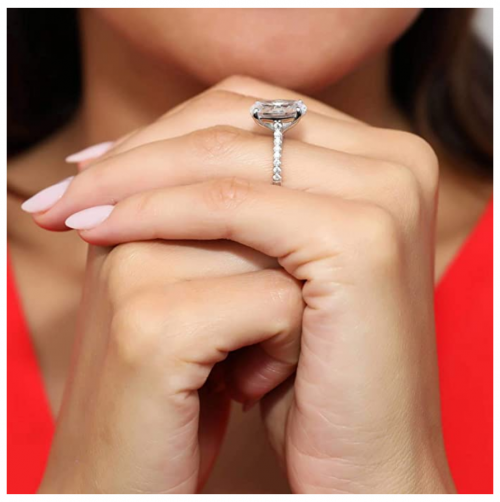 5.5-carat cubic zirconia
Sterling silver with rhodium plating
Comes with a beautiful jewelry box
Sometimes it's best to let the gemstone do all the talking. With this ring, you're sure to turn heads thanks to a stunning 5.98-carat cubic zirconia. This is an elegantoval engagement ring that shows off the beautiful gemstone and adds further subtle detail on the band which perfectly balances the large gemstone. 
Read more
What we love about this ring is that it has a solitaire stone, making it perfect to give as an engagement ring. What's striking about this piece is the size of the cubic zirconia diamond, it's large!
It's also slightly raised above the band, making it stand. The stone which has been cut into an oval shape weighs around 5.5 carats. It's positioned securely within a 4-prong setting and is approximately 14mm by 9.5mm in size. 
The ring also features smaller cubic zirconia gems along the band of the ring giving it a gorgeous sparkle. Without a doubt, this ring oozes sophistication!
This solitaire engagement ring has been created using a 925 sterling silver metal with a rhodium plating. The band measures around 2.3mm in width.
Berricle is a fantastic jeweler! Each of their rings comes in its beautiful jewelry box, perfect for presenting it at a special moment. This piece is also being sold for a fantastic price so you'd be silly not to buy it.
3

. Parade of Jewels 10k Oval Shape Halo Engagement Ring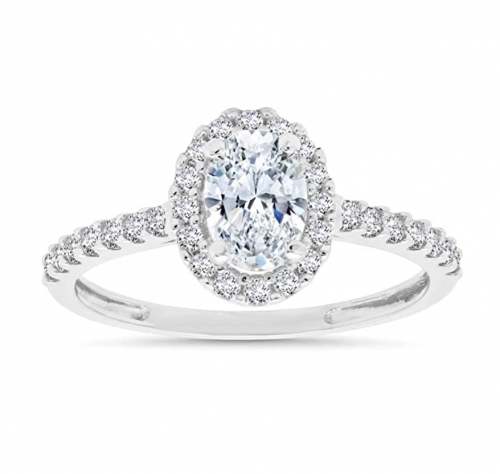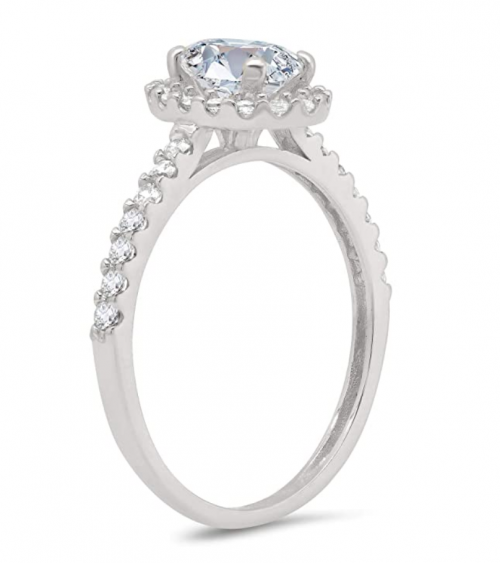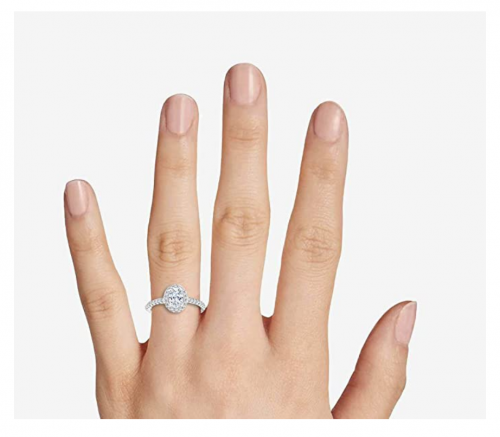 10k white or yellow gold
Cubic zirconia diamonds weighing 1 carat
Complimentary gift box
Halo rings are known for their sparkle and are a popular choice as an engagement ring. This ring features a classic halo setting and amongst dozens of dazzling small gems, sits a large 1-carat cubic zirconia.
Read more
This ring looks the part whether you're wearing on its own or with a sparkly wedding band. You could even match it with a glitzy band for that extra 'wow factor'. 
This gorgeous ring has been created using a 10k fine gold. Available in both white and yellow gold, on this occasion, we've chosen to review the white-gold option. You can be rest assured that this is a quality metal, particularly because the ring is stamped with the "10k" promoting the quality and authenticity of the piece. 
We love cubic zirconias, particularly in this engagement ring where they stand out with a glorious shine! It includes an oval-shape cubic zirconia stone in the center, with around 31 smaller stones positioned around it. These outer smaller stones achieve in magnifying the overall impression of these diamond-like stones. 
This ring comes complete with it's complimentary gift-box. It's also available in a variety of sizes.
4

. Dazzlingrock Collection Diamond Oval Engagement Ring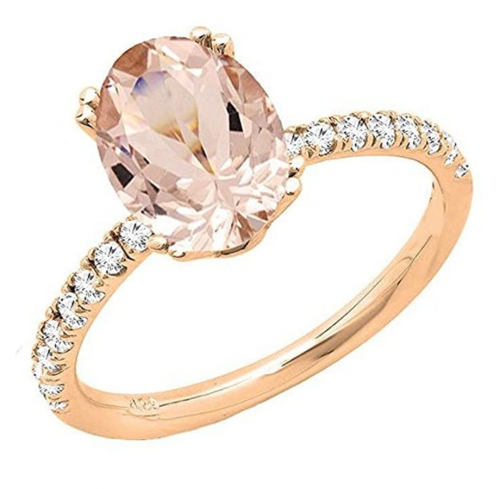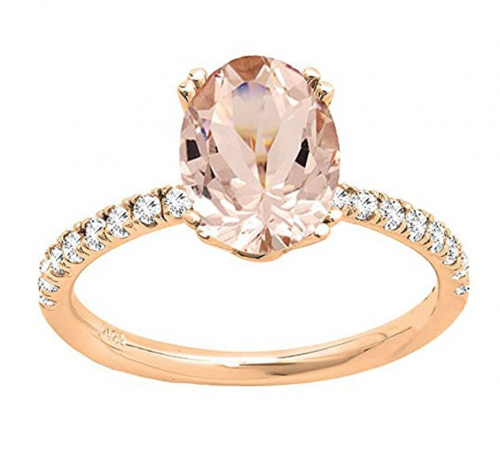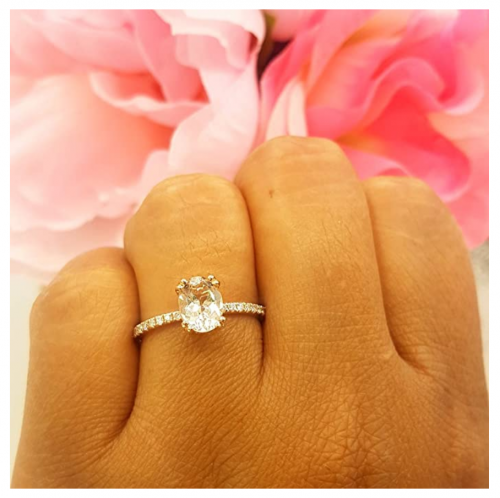 Oval morganite 
14k rose gold
90-day warranty 
If you're looking for something a little different from a traditional yellow or white gold ring, you may want to consider adding rose-gold to the mix. 
Read more
Although the style of this ring is similar to some of the others, we've reviewed it because it combines rose gold with a pink morganite gemstone giving the ring a warm yet classy feel. 
At the heart, it features an oval-cut morganite, approximately 8mm by 6mm equating to around 0.15 carats. What's lovely about this gemstone is that it's pink and has been positioned in a prong setting. The stone is also 100% natural. Interestingly, the jeweler gives you the option of having other diamonds like amethyst, blue topaz, and garnet. 
The ring has been made using a 14k rose gold metal. We love this metal choice because it has a gorgeous shine and smooth surface. The ring's surface features small white diamonds that look beautiful.
 
Whilst we love the shape and style, it's important to point out that the gemstone sits quite high above your finger. This means it looks great, but you may have to be careful to not catch it on your clothes.  
Dazzling Rock also offers a 90-day warranty so if the ring becomes damaged during normal wear, they will fix it for free. 
5

. Charles & Colvard Oval Moissanite Ring
Moissanite gemstone
14k white gold band
Small gemstones
It's easy to underestimate the importance of the design of the band on engagement rings and it can often make a lot of difference. This ring is unique and uses a minimalistic design that balances the 14k white gold with four small gemstones and a large moissanite gem. 
Read more
This is a stacker ring which means that you can easily wear it alongside a wedding band or mix and match it with several other rings. 
The centerpiece to this ring is oval moissanite. The great thing about this gemstone is that it could easily mistake for a real (and very expensive diamond). Featuring moissanite, you're also getting the ring for a fraction of the price!
The center stone is much smaller in this ring however, it still shines beautifully lighting it up. The size of the prong set gem also stays in-keeping with the look and feel of this delicate band. 
The band is made from a 14k white gold metal which is dotted with small gemstones (4 to be exact!). This band is much thinner than some of our other rings but it's still just as shiny and smooth.
The style of the band also makes this delicate ring a brilliant stacker ring, allowing you to mix and match it with your other rings.
 
6

. Gem Stone King 14K Opal and Diamond Ring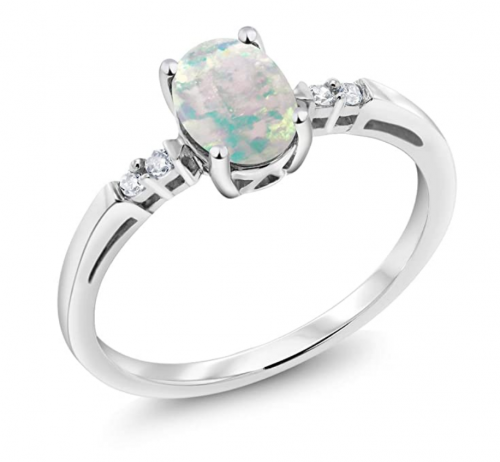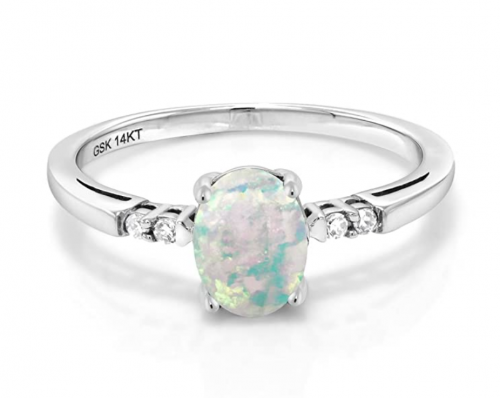 Simulated opal
White diamonds
14K white gold band
Straight away, this oval engagement ring offers a subtle and somewhat mystic feel. It is all about the opal gemstone and the smaller diamonds complement the opal extremely well.
Read more
If you're a fan of gemstone jewelry, this piece offers you an alternative to the more traditional diamond engagement ring. Although it comes in with a higher price tag, it's worth it for the large opal and well-made band. 
It features a simulated opal positioned in a 4-prong setting. What's lovely about this gemstone is that when the sun catches the ring, it makes the opal sparkle and projects a gorgeous array of colors.
Small white diamonds also feature in this piece. Approximately 0.13mm x 0.13mm, these give it an effortless glow!
It's made from a 14k white gold and available in a variety of sizes including 5, 6, 7, 8 and 9. 
Gem Stone King has done a fantastic job in creating such a pretty ring. The attention to detail that has gone into this piece is brilliant. It will arrive in a gift box and if you're not happy with it, the jeweler offers a 100% refund policy. 
7

. Ruby & Oscar Alexandrite & White Topaz Ring
Alexandrite gemstone
White topaz diamonds
9-carat white gold 
Blue and white gemstones have been a popular pairing in jewelry for several years and it's easy to see why. You may have seen a long list of celebrities who have chosen blue and white stones for their engagement ring, perhaps the most famous being Kate Middleton's ring which was originally worn by Princess Diana. 
Read more
At the heart of this ring is a large 1.5-carat alexandrite gemstone which is particularly attractive. This is a created gemstone which has been cut into an oval shape.
If you're worried that this isn't a natural gemstone, don't be. Created gems are often as attractive, if not more attractive than their natural counterpart and when viewed side by side, you may have a hard time trying to spot which one is which.
This ring has a little secret which you might not see until you are wearing it. Alexandrite is a color-changing gemstone and it will change color depending on the surrounding light. You don't get that with every engagement ring! 
The band has also been given some extra sparkle, with several smaller round-cut white topaz stones. These round-cut gems balance perfectly against the larger alexandrite and come together to present a light and vibrant piece of jewelry which makes a great choice for an engagement ring. 
The 9-carat solid white gold band further brightens this ring and it can be easily matched with either a plain or glitzy wedding band. 
8

. Jeulia Moissanite Split Shank Halo Oval Engagement Ring
Diamond-white moissanite stone
14k rose gold
30-day return
As with many things in life, when it comes to oval engagement rings you get what you pay for. That's certainly the case with this ring. This is an elegant piece that offers a dainty and classic look.
Read more
You'll notice straight away that there are a lot of gems on it (we counted 50!) but due to the unique design of the band, this ring has an understated yet eye-catching look. 
At the center sits a sensational 0.7-carat white moissanite gemstone that looks spectacular from every angle. The stone itself is 5mm x 7mm which is a comfortable size to wear whilst catching the light beautifully.
The gemstone is held in place by a simple yet effective four-prong setting so it feels nice and sturdy. Surrounding the oval gemstone are fifty (yes fifty!) smaller white moissanite gems that frame the central gem as well as adorning the band. 
The band is quite different from many other rings. By splitting band into two it gives the feeling of a much larger piece, when in fact this is a delicate and light ring.
You're getting several added benefits with it, including extras such as the opportunity to add an engraving to the inside of the band. It's worth noting that this comes at an added cost; however, it is a nice feature and lovely opportunity to add your name or message.
You've also got the choice of a wide range of metals for the band, including silver, yellow gold and rose gold. If that's not enough, you can even select from either 10k, 14k or 18k gold. So many choices!
Its great to have the option to tailor your ring and this also means there are more affordable options should you be on a tighter budget.
9

. Charles & Colvard Oval Moissanite Engagement Ring
Moissanite gemstone
14k rose gold
Free shipping and free 60-day returns
Moissanite gemstones come in a range of colors and sizes. This ring features a huge 1.5-carat colorless gemstone which is simply awe-inspiring. This ring keeps the focus on the moissanite gem and the 14k rose gold band offers a wider yet attractive ring. 
Read more
It's easy for gems to get lost in a ring if there are too many gemstones involved and we love that this ring keeps things simple. The large 1.5-carat moissanite gem is a real beauty and its near-colorless appearance is something quite special.
Gripped by the band with a traditional four-prong setting, the oval moissanite glistens effortlessly. This gemstone is a great choice for a solitaire ring and the larger size of the gemstone is sure to stand out for the right reasons.
 
We particularly like the side profile of this ring which hugs the gemstone and holds it in place. The design of the band almost feels like antlers that cross over each other, and the finished piece is well balanced. 
The band is clean and defined and the smaller details are subtle. You'll notice from the side profile that it is thinner on the underside of the ring and widens as it reaches the central gemstone.
Made from 14k rose gold, the light color of the band compliments the clear moissanite and offers a nice backdrop to the gemstone. Its smooth, curved edges also mean its comfortable to wear. 
10

. Ruby & Oscar CZ Dazzling Machine Ring
Cubic zirconia gemstones
Sterling silver 
30-day money-back guarantee
Our final oval engagement ring is a statement piece! If you're looking for an option that makes a bold statement with the right balance of sparkle and clean-cut design, you should go for this one!
Read more
Straight away you'll notice the large, oval centerpiece which is studded with dozens of cubic zirconia gems. These round-cut gemstones come together to create a spectacular piece of jewelry. This is a chunkier ring compared to many engagement rings but that's not to say that it isn't pretty.
The overabundance of gemstones is quite subtle due to the simple band. The shoulder of the band continues the trail of cubic zirconia stones which is matched beautifully with the light sterling silver metal. 
It looks and feels like a well-made piece that is built to last. Small details such as the soft edges and small prongs that hold the gems in place, all come together to create a nice ring that would look great alongside any wedding band.
You may just want to remember that the top of the ring is quite large so it's important to bear this in mind when considering what type of wedding band to match it with. 
Evaluation Criteria
Durability
When selecting our 10 oval engagement rings is was important that all options were made from durable stones and metals because being an engagement piece of jewelry, they had to withstand daily wear and still look like brand new.
We felt that each of the stones featured in the engagement rings were extremely hard-wearing. Most of the rings we chose featured either cubic zirconia, moissanite, and opals. These stones were very beautiful as well as durable, meaning that the surface of the stone was unlikely to mark or scratch. 
The rings we chose were made from metals like sterling silver with a rhodium plating or 14k rose gold. The great thing adding rhodium plating to sterling silver is that it makes it durable but still looks beautiful. The advantage of 14k rose gold is that it is made up of gold as well as copper and silver. The gold makes it look beautiful and the copper used makes it stronger. 
Wear Comfort
All our 10 oval engagement rings needed to be comfortable to wear so we selected picks that had comfortable bands and rings that were available in a variety of sizes.
All our 10 oval engagement rings needed to be comfortable to wear so we selected pieces that had comfortable bands and rings that were available in a variety of sizes. 
Some had wider bands or smooth inner surfaces making them comfortable to wear. Sterling silver and gold on their own are soft metals so used in a ring, made them extremely beautiful but also soft when worn against your skin.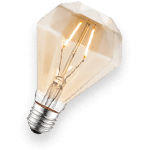 Oval cut diamonds 
Oval diamonds appear larger than they are. This is because they have a bigger surface area in comparison to a round diamond of the same weight. On average, a 1-carat oval diamond will have a 10% bigger surface area than an average 1 carat round diamond. 
56 facets
An average oval cut diamond has 56 facets, some may have a few more depending on the underside of the stone. 
Invention of the oval cut diamond
The oval cut diamond was first invented in 1957 by the Russian-born diamond cutter Lazare Kaplan.
FAQs
q:

What is a moissanite gemstone? 

a:

The moissanite gemstone was first discovered in 1893 by a French scientist named Henri Moissan. Originally discovered in a meteor crater, this gemstone can be mistaken for a diamond because it is clear and gives off a gorgeous sparkle. 
q:

What is a morganite?

a:

It is a variety of beryl which is a clear mineral that includes aquamarine and emeralds. The gemstone normally comes in varieties of pink, orange, and coral colors.
q:

How do I clean my oval engagement ring? 

a:

Care instructions should be provided with your ring however if it doesn't, these are some simple things to do. 

Some rings may come with a jewelry polishing cloth or you may need to buy one separately. The great thing about these is that they are infused with a special cleaner. If you can't get one of these, we suggest using a soft 100% cotton cloth.

If you have a mixture of gold and silver jewelry, you must have a separate cloth for your gold jewelry and another for your silver pieces. 

When cleaning the gemstone, soak the ring in a small bowl of warm water that has been mixed with a dish detergent. It's important to not use a silver liquid cleaner to clean rhodium-plated jewelry.

We also suggest that you take off your ring when you go swimming. It's also important to always put on your jewelry after you've put on any lotions, hair spray or perfume, not before, as this can damage your jewelry.  
Finally...
Choosing the right oval engagement ring is probably one of the first steps you will be taking on your journey with your new fiancé. 
With so many styles, stones and metals to choose from you'll want to find a ring that makes you sparkle. We think we've chosen a selection of 10 oval engagement rings that do this!  
Each of the rings we've chosen offers something different. All of them are durable, comfy and stylish. They also possess that 'wow factor'.
Our selection also varies in price depending on your budget so no matter what you have to spend, you can afford one of our stunning rings!