Earrings / Mix / Necklaces
Minimalist Jewelry: Our Favorite Delicate Pieces!
A minimalist is a person who enjoys keeping things very simple. They enjoy simple ideas and often ascribe to the philosophy that "less is more". There are minimalist artists and minimalist decorators as well as many other minimalist occupations. There are also minimalist jewelry designers!
Ardent jewelry enthusiasts can also be minimalists. Their goal is not to stand in front of the jewelry box and make tough decisions about what pieces to wear. It has to be fun and easy.
Just because you love to wear fine jewelry pieces, doesn't mean you need to wear layers and layers of them. It only means you will enjoy wearing simple statement pieces that complement your clothing without being ornate and overly fussy.
Often the jewelry will present itself as being very dainty. Other times, the minimalist style is created when a person is just wearing the very basics.
We are big fans of the minimalist style and have put together some of our favorite minimalist pieces!
10 Gorgeous Minimalist Jewelry Picks!
1. HONEYCAT Tiny Crescent Horn Necklace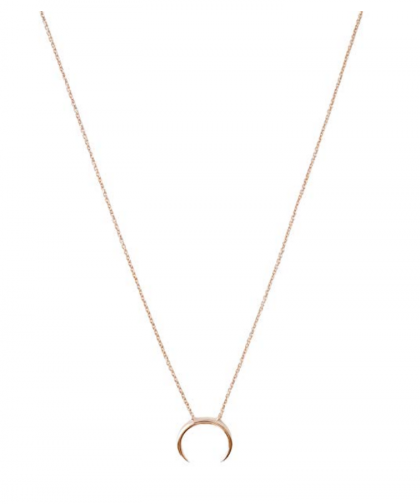 Minimalist jewelry is all about simple and this piece truly reflects that. A tiny, shiny, double horn charm hangs on rose gold and thin cable chain.
At first glance, you might think the charm is a sphere. But, when you look again, it is actually shaped like a crescent moon. At the top of the crescent, there are two rings and a chain attaches to each of these rings. The chain has a small lobster style clasp.
The necklace is plated with 18 karats brushed gold and finished with a protective coating. This piece fills the bill when it comes to the simple and geometric design.
It would be perfect with any outfit from a V-neck T-shirt to a little black dress to an evening gown. You can wear this as a choker, full length, layered, or alone. There are so many options!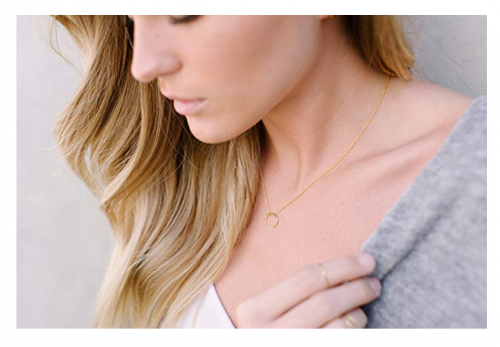 Don't tell anyone, but this piece looks way more expensive than it actually costs. It is affordable and would make a great gift for your bridesmaids, a best friend, a birthday gift, or why not just get one just for yourself!
The shortest length for this necklace is 14 inches. However, when you use the extender, it will adjust up to 17 inches. This means you can have so many more sizing options available to you.
2. Humble Chic Tiny Heart Necklace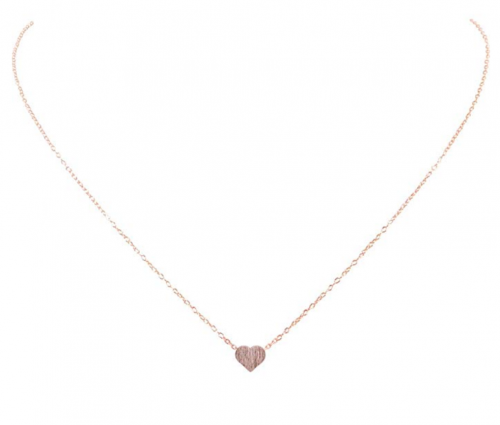 This piece is perfect to wear every day and you can even use it when you wear a dress. Our pick is in the Rose gold-tone, but it's also available in a gold-tone and a silver-tone color. The finish is a brushed finish.
The heart charm is just over ¼ inch tall. It is lightweight and easy to wear. It's beautiful. The small heart pendant is suspended from of fine cable chain. The chain closes with a lobster clasp.
The heart is hollow and the chain runs through the heart at the top on one side and comes out the top on the other side. You can wear this alone or layer it with other fine necklaces.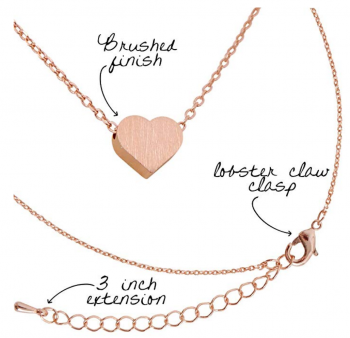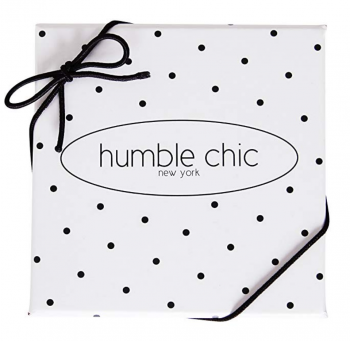 The price of this piece makes it easy to give as a gift. You will want to buy two and that's because yon won't resist getting one for yourself! (Even when you buy two, the cost is not hugely expensive).
The chain on this piece is 16 inches long, but there is a 3-inch extension chain. That makes the total length 19 inches.
There are so many options for chain length with this extension!
3. PAVOI 14K Gold Plated Forever Love Knot Bracelets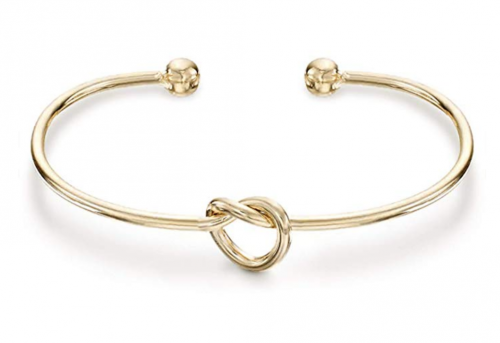 It is a good thing love is in the title of this bracelet. Because we love, love, love it.
This bracelet is a 14 karat gold. The finish is nickel-free and lead-free, making it hypoallergenic.
At the beginning of each side of the band, there is a metal bead. The band extends from each bead and is knotted in the middle. It is so simple and elegant.
You could wear this with another simple gold chain, or keep it pure and wear it all alone. It comes in rose, white, and yellow gold colors.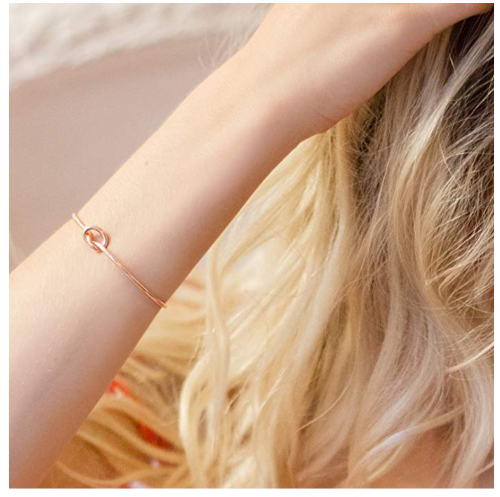 We think this would be the perfect bridesmaid gift and,at this price, it barely makes a dent in your budget.
This piece is one size fits all. All you need to do is snug it up to fit a smaller wrist and widen it to fit a larger wrist. The length is 3.90 inches.
4. BENIQUE Dainty Thin Chain Choker Necklace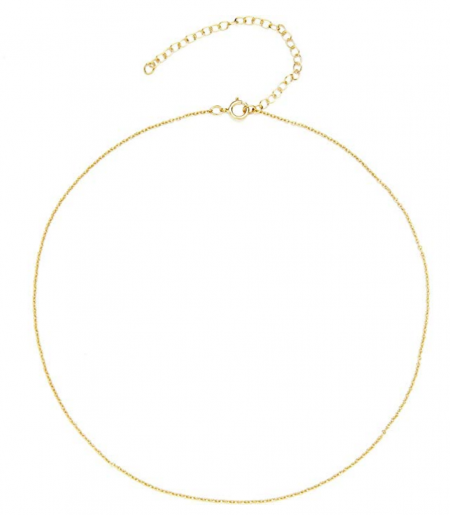 Plain and minimalistic describes this dainty choker chain. This cable chain is 14 karat gold filled .925 sterling silver or rose gold-filled, depending on which size you choose. All you get is the chain. How minimalistic is that!
The very awesome thing about this necklace is that you can add your own charms. It seems the versatility does not end with this piece.
It has even more options because you can choose a chain length. It comes with a three-inch extender chain which gives you more lengths to choose from.
It is simple, subtle and easily combined with other pieces for simple layering. Not only is it simple to layer but it's easy to wear. Dress it up or down for fantastic style.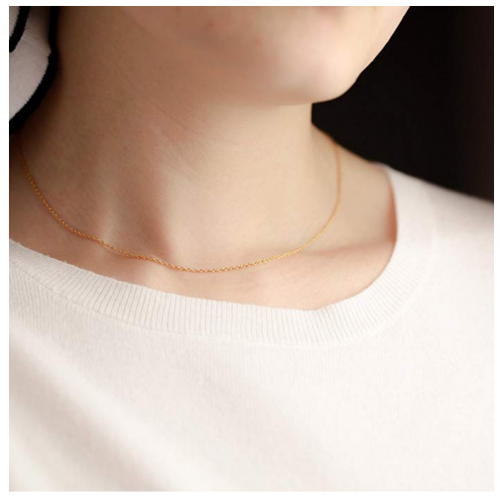 This piece is very affordable making it the perfect choker to wear with anything. If you purchase more than one in different sizes, and the price does allow you to do that, you have the perfect minimalist layered necklace!
The price of this choker slash necklace is very affordable. When you consider all of the sizing options, it's as though you are getting many different pieces for the price of one.
This choker starts at 13 inches at its shortest and 16 inches at the longest. Because of the 3 inch extender, you add three inches to each measurement, making it 16-18 inches. You have a ton of options for length sizing.
5. HONEYCAT Super Skinny Stacking Rings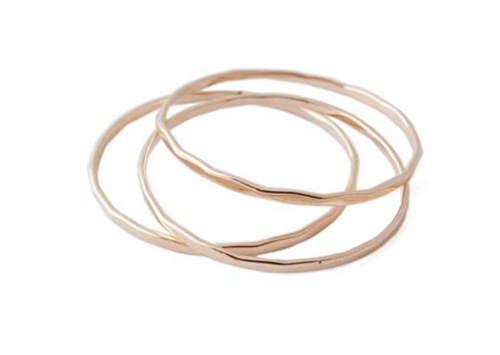 There is no rule saying you can't stack minimalist jewelry…especially with these rings. They are drop-dead gorgeous. This is, by far, our favorite pick. Plain and simple rings are what they are. That's it…no more and no less.
These minimalist skinny rings are available in different finishes and you can get them either hammered or smooth. These come in gold, rose gold, and silver. You can get each color either smooth or hammered.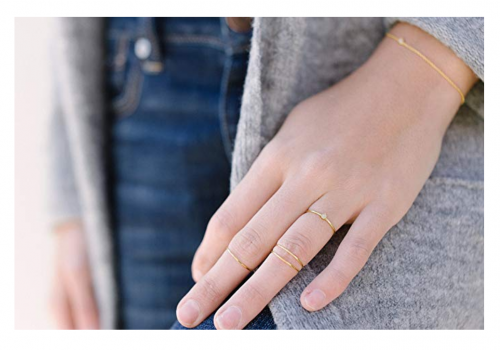 Since the bands are separate, you can wear them all on one finger, wear just one, or wear one on each finger. Because of their delicate look, they can make the jump between every day and out on the town at lightning speed.
The rings are slightly pricey, but not so much so that you couldn't get a set of hammered and smooth in your favorite colors. You would have two different looks and you could even mix and match those!
These rings come in whole sizes from 5 through 9.
6. PAVOI 14K Gold Eternity Band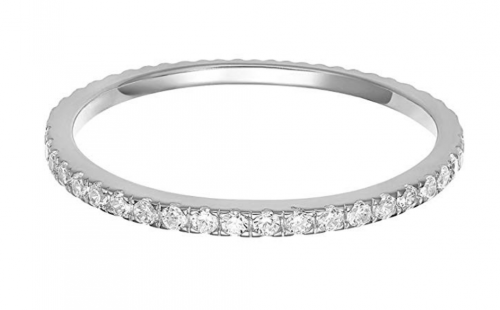 This ring is a minimalist piece that features a little bit of bling. Not too much, just a little, making it the perfect ring to stack or wear alone. This is the perfect ring to stack for mixing metals in the minimalist style.
These thin rings come with variety. There are rhodium plated silver, rose gold plated silver and yellow gold plated silver. You can get one, two, or all three colors. Wear one color alone, or stack two or three of them.
That's not all you get. Each ring is wrapped with quality gem grade cubic zirconia.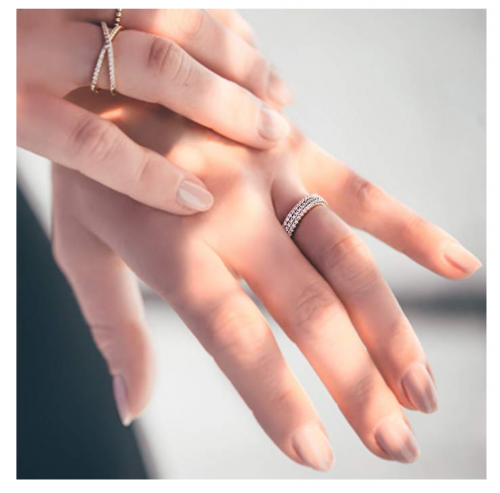 The price of this set varies with how many rings you purchase. One ring is very, very inexpensive and multiplies that times three to get the ballpark or the trio.
They are offered in sizes 5 through 9. They don't come in half sizes.
7. Happiness Boutique Delicate Bracelet in Rose Gold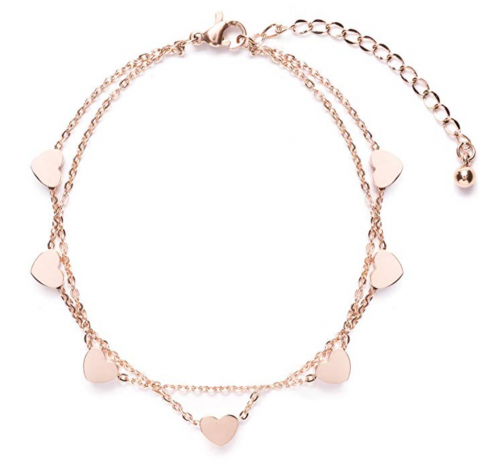 This delicate bracelet does the stacking for you. Two strands of cable chain are connected to a jump ring which is then connected to a lobster clasp. On these chains are dainty, flat, little hearts.
This piece is rose gold in color and a very petite and pretty bracelet. A minimalist will love this adaptable piece. We think it's minimalist perfection!
Making it even better, there is an extender chain to make sizing more adaptable to larger wrists.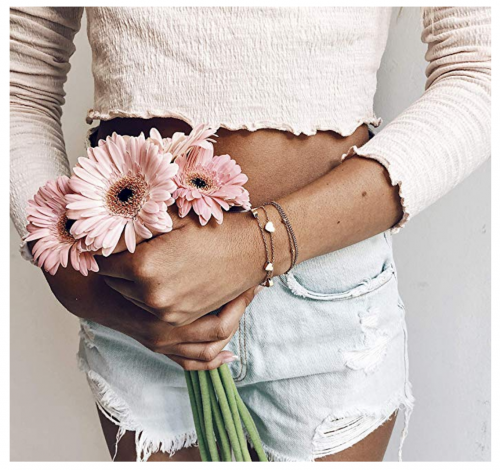 This minimalist bracelet is also minimally priced. We couldn't be more pleased with the cost.
The bracelet base length is 15 centimeters. However, there is a 5 cm extension, bringing the length to 20 centimeters. That's almost 6 inches to 11 inches.
Perfect for both smaller and larger wrists.
8. MiaBella 925 Sterling Silver Open Cuff Bangle Bracelet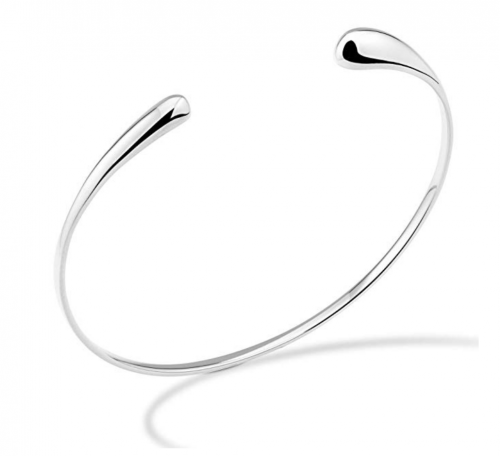 This pick is a tie for first place in our picks! We absolutely love the simple and minimalist style it has and just can't say enough great things about it.
It's very modern. Handmade by Italian artisans, it's very slim and elegant. There is an elongated teardrop at each end of the piece. They thin out to create the band.
The bracelet is silver and is made of .925 sterling. Because it's.925, it's hypoallergenic; there is no nickel and people with sensitive skin should have no problem with this piece. This is a unique design and very comfortable to wear.
It makes a fashion statement and you can wear it with a casual or dressy outfit. You could even wear it to the office. If you wanted to dress up the bracelet, you could stack other pieces.
The minimalist piece easily slides on and off.
The price is a bit more expensive but we don't mind because we love it so much!
This piece is 1/8 inch wide and available in lengths of 6.75-7 inches, and 7.25-7.5 inches.
9. HONEYCAT Long Bar Ring in Gold, Rose Gold, or Silver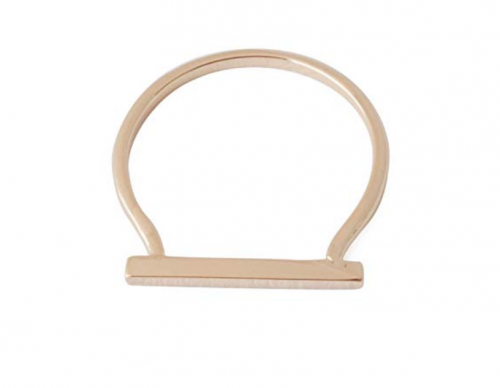 This sleek and horizontal bar sits on a thin band for minimalist style. When you look at it, it almost reminds you of the Greek letter Ω, or an English w.
We love this piece. It comes in rose gold, 24 karat gold, 18 karat rose gold, or sterling silver and those metals are used in the plating process to create this ring. You will appreciate the simple and classy design of this ring.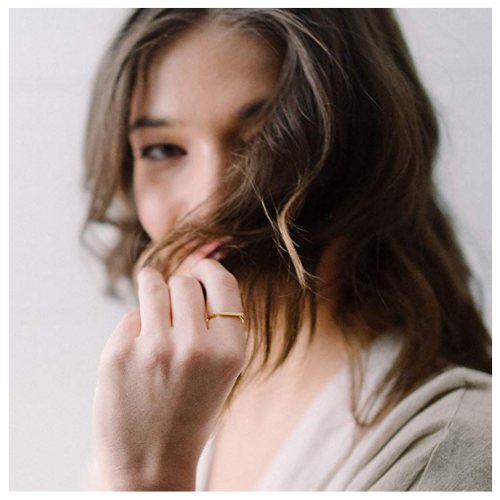 We wouldn't think twice about the price for it. It's a great deal and well worth the money you will spend.
It comes in sizes 5 – 8; does not come in half sizes.
10. 10K Gold Dainty Bow Ring set with Round Cut Swarovski Zirconia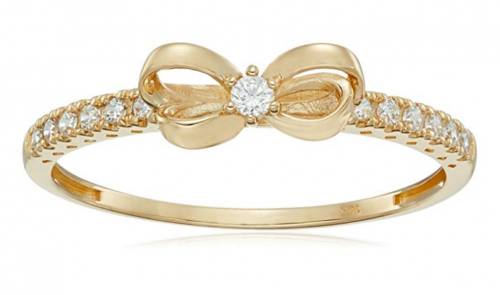 This dainty bow ring contains Swarovski zirconia crystals. The crystals are laser engraved on the ring, giving it high quality. The crystals go half way around the ring from the top to the sides.
It's made of stamped 10 karat gold and a dainty little bow sits atop the band. In the center of the bow, in a prong setting, is another crystal.
This piece has a royal heir about it and looks as though it could be worn by royalty. With all these crystals, you might think this piece wouldn't be minimalistic, but that's not so. It's so dainty that it qualifies!
One of the more expensive pieces on our list, this piece would make a good gift for a special occasion and that special someone.
This bow ring weighs only 1.05 grams or 0.037 ounces. It's very light and comfortable.
It comes in whole sizes 5 through 9. It is not adjustable.
Style Tips
The biggest style tip we can give is to start with the bare essentials. You can always add to it, but when it feels like clutter, it will look more heavy and bold. It will no longer look minimalistic.
Minimalist jewelry is all about not being fussy. Stick to geometric shapes, flat designs, and clean lines. Stay away from too many details. It is all about simple and basic shapes.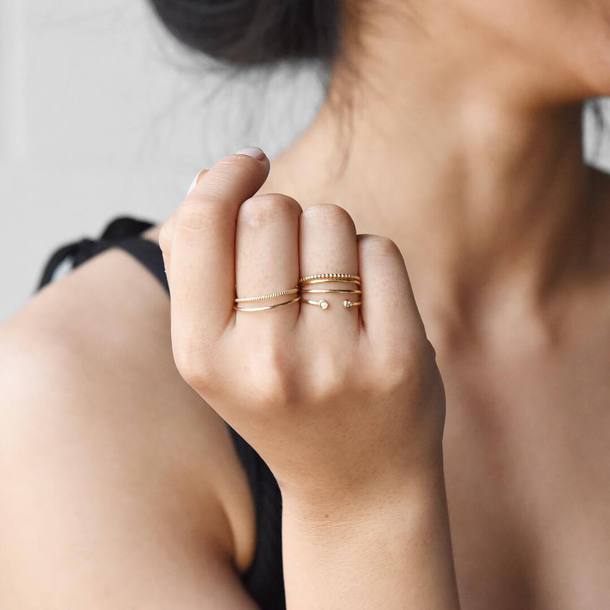 When accessorizing with minimalist pieces always choose quality jewelry so you look stunning and classic, not cheap. If the necklace you are wearing will bounce that's a good rule of thumb to follow for minimalistic. You can let your delicate necklaces without looking tacky.
We like higher and lower cut V-necks with our minimalist necklaces. If you wear a basic V-neck T-shirt, you can pair it with a delicate long necklace. When you loop the necklace around your neck, a layering effect will be created.
Speaking of thumbs, another good rule of thumb to follow,is to ditch the finger-thick chains and ditch the chunky gemstones. Dainty stones are fine, but stay away from too much colo, when you want to go minimalist.
With bracelets, if you have a smaller wrist, choose a plain piece, or one with a very small gem. As far as rings go, keep them simple as well. Leave the finger rings in your jewelry box and choose pieces that are more dainty or plain. Keeping it simple is the bottom line.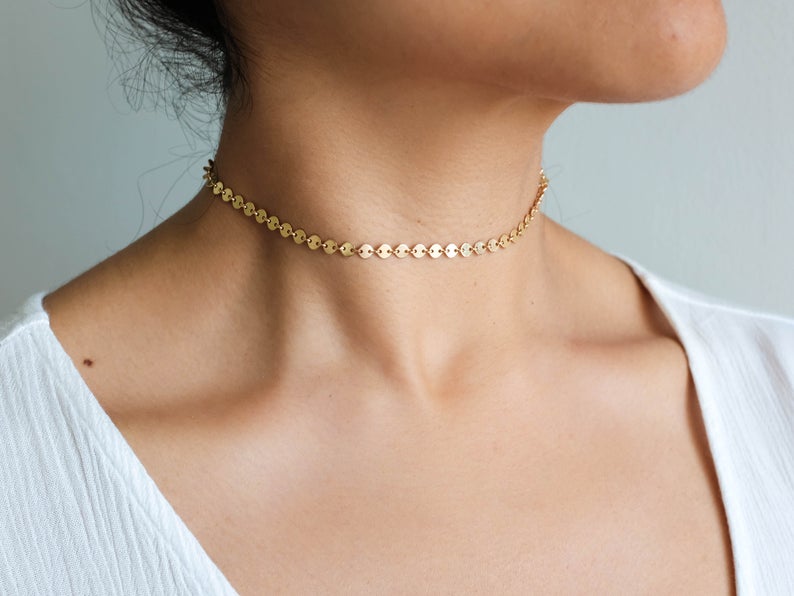 Oh, one more thing, stick with one type of metal, or maybe not. It all boils down to taste. Combining metals draws more attention so keep the design clean and simple. When you combine metals, it's more distracting and your minimalist style isn't quite as cohesive and classy.
With minimalist jewelry, it's all about negative space. Negative space is appreciating what isn't there. You will create a clean look by balancing the size of your jewelry with the empty space on your clothing and your skin.
Criteria for Evaluation
Minimalist design was the primary criteria we used to judge the pieces for our list. They had to be simple, classy and elegant. They couldn't be bold or flashy. They had to be so simple you almost wouldn't even need to think when you were picking them out. You could almost just grab and go.
Just because a minimalist piece is dainty, doesn't mean it is cheap and flimsy. No. Our pieces were required to be sturdy and durable. If they fall apart or brake, you can't wear them and they are a waste of both your time and money.
If there were any gemstones in the piece, they had to be quality as well. However, the gemstones had to fulfill another requirement. They had to be dainty. One of the qualities of minimalistic jewelry is that it's simple and not bold. It doesn't draw attention to itself.
Lastly, many of our pieces were adjustable in size or were offered various sizes. This was very important to us, because in order for the piece to draw your attention, it had to be offered in a size that would fit you.
FAQs
1. Q. What is minimalist?
A. Minimalist is simple, clean and elegant.
2. Q. Can you stack minimalist jewelry?
A. By all means. But, then again, you don't have to. Just keep it simple.
3. Q. What materials are minimalist pieces made from?
A. The same materials any other jewelry is made from.
4. Q. What is minimalist chic?
A. It's about having the simple and clean line jewelry speak for itself. You can pair with other pieces, but keep them thin and more dainty.
5. Q. What clothing can I wear it with?
A. Anything, really. We, however, like our pieces worn with plain outfits that won't clash with our jewelry.
6. Q. Can minimalism apply to other areas of design?
A. For sure! Some artists, interior decorators and other occupations can be minimalists.
7. Q. Can guys wear minimalist jewelry?
A. Most definitely, yes. Ryan Gosling and Will Smith, among others, are known for cool minimalist pieces!
Conclusion
Minimalist jewelry is very trendy right now. It should compliment the beauty of the wearer and not be overpowering. It is also referred to as "jewelry barely there", or "naked jewelry".
There are all sorts of jewelry that take shape in a simple form. You can find rings, earrings, body jewelry, necklaces, chokers, bracelets, and more in the minimalist style.
If you want to, you can also combine minimalist pieces, get a little more daring, and create a slightly more complicated look. The more you combine the heavier and bolder the look. It is easy to rock a minimalist look! That is the best thing about it; it is extremely easy.
Minimalist pieces still require some tender loving care in order for them to last a very long time. Here are a few guidelines to follow:
✓ Keep your piece dry; don't wear it while bathing or swimming.
✓ Avoid sprays, like perfumes and hair spray, and lotions.
✓ Try not to touch it a lot. The grease and/or sweat on your hands may cause discoloration.
✓ Clean your piece with a soft, dry, cloth. Some designers recommend toothpaste. Read your care label. Lastly, always store your piece in a soft lined container or pouch.
The nice thing about minimalist jewelry is that it's usually smaller and uncomplicated. This makes cleaning much easier and less time-consuming. This type of jewelry requires minimalist cleaning!