Necklaces / Women
Shopping for a Meaningful Gift? We Found 8 Heart Necklaces In Every Price Range!
Marianne 09 Mar 2020
3739
The woman in your life deserves only the best. But when you are getting her a gift, you are in for a world of confusion. There is just nothing that is good enough for the wonder that she is. Besides, money, no matter how much, definitely can't buy the perfect representation of your undying love for her. Well, perhaps wads of cash can't express your feelings, but there are some gifts that speak to the heart and spill out all the sentiments. We are talking about the most genuine gift you can get your beloved; it may sound simple but it is true. Jewelry – it can win her over just like the time when you first fell in love with each other.
For ages, jewelry has been the gift of choice for couples. It is romantic, a beautiful sentimental gesture. And it is no surprise that women do love jewelry. They love adorning themselves with glitters and sparkles and when it is a gift from their loved ones, it makes them all the more special. When someone gifts you a stunning piece of jewelry, you can never forget them nor the thoughtful gift; they become an indelible part of your memory and you will cherish it forever. It is a fact that has been true and solid for generations and cultures. There is just something about jewelry which speaks volumes to the heart; it does not need any language to make itself heard. It does not even need to be a particularly expensive accessory. With jewelry, it is always the thought that counts.
Now that we've established the superiority of jewelry as a gift, you still need to make your choice of what kind of jewelry to get your better half. Heaven knows, there are plenty. Earrings, necklaces, finger rings in so many styles and designs – it is enough to make anyone's mind boggle. While you are sure to find a gorgeous piece of jewelry in any category you've set your heart on, we think a heart necklace is as romantic as it gets.
Jewelry lasts a very, very long time. In your heart, jewelry box or family heirloom collection, good jewelry knows how to make its place and stay there. When there's such beautiful permanency to the object, why not make it a piece that represents your relationship – bound by your hearts, shining and shimmering, a feeling which will last forever. Necklaces themselves are inherently romantic; dainty pieces which hang down the neck bring out the best in a woman's features. But with a heart pendant on it, your better half is going to look like an angel in love.
Besides the fact that there is no way to get a heart necklace wrong – there are consistently gorgeous and will definitely suit every face shape – you will find endless designs to suit your lady love's personal style. If she's a badass biker girl, don't think you won't find the right heart necklace for her. A gothic heart necklace will blend into her style and in the meanwhile, express your love for each other too. For the woman with an expensive taste, a diamond-studded heart necklace is a piece she will be going for on every special occasion and show off your love to the world. Moreover, you can always find customizable heart necklaces – a personalized piece never fails to elicit a few happy tears.
Our 8 Favorite Heart Necklaces

Now, to make your treasure hunt for the perfect gift easier, we've picked some of the most romantic heart necklaces we could find. Proceed with caution because these will melt your heart.
1. J.NINA Rose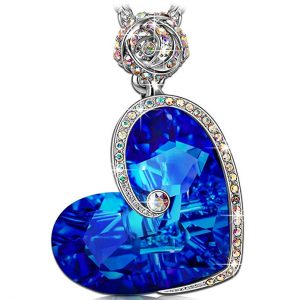 Titanic – the ultimate saga of undying love. The love story of Jack and Rose is so iconic, it has defined an entire generation of lovers. If there ever was a piece of jewelry which is sure to bring tears in the eyes and overflowing love in the heart, it has to be the Rose Heart Necklace by J.Nina, inspired from the most romantic movie of all time.
J.Nina is no stranger to tugging at the heartstrings. Nor are they new to dazzling everyone with their stunning creations.  The online retailer is a force to be reckoned with when it comes to jewelry. Each and every one of their creations is a work of art, studded with crystals, sometimes multicolored. They also love to work with heart designs. One thing's for sure- J. Nina is about to be your new favorite stop for romantic and feminine jewelry.
While introducing the Rose Heart Necklace, we've gone over how saccharinely romantic it is. But did you know it is dazzlingly gorgeous too? Wait till you see how the light reflects from this beautiful accessory. The pendant of the necklace features a rose as a nod to one half of the iconic duo from Titanic; from the rose, a heart pendant sways to the side. Let's start with the rose. Intricately carved in a glorious polish, it is studded with little Aureole Boreale crystals of Swarovski.
Aurore Boreale crystals are bright, multicolored and reminiscent of the northern lights. The heart pendant is just like the Heart of the Ocean from Titanic, with the same color intensity and the very same outpouring of emotions. It is a deep ocean blue Swarovski crystal bevel set and with a prismatic effect which will definitely captivate all eyes in the room. One half of the heart is pavé lined with some more little Aurore Boreale crystals, delicately framing the pendant with a soft glow. Even if this piece wasn't inspired from the tale of the star crossed lovers, we can't deny that the Rose Heart Necklace by J. Nina is a beautiful rendition of love itself, crafted in the form of jewelry.
The chain of the necklace is 17 inches and there is a 2-inch extension as well. As for the metal, it is an environmentally friendly zinc alloy, with no amount of nickel in it. It even passed the Swiss SGS Inspection Standard; so you definitely won't have to worry about allergies or any kind of skin reactions. Besides, if you are less than 100% satisfied with the necklace, J. Nina's money-back policy has got your back.
A heart pendant of the richest of blues, a Prussian magnificence that captures the heart and the soul, sprinkled with flickers of northern lights – this necklace is a lover's dream come true. And with a romantic reference to Titanic, this one will mean so much more to your better half than any other gift.
2. ANCREU Angel Wing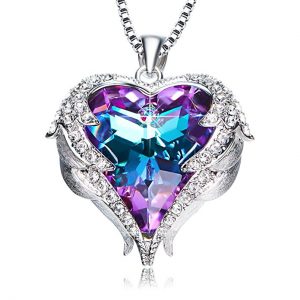 Like an angel, she came into your life and changed you forever. What jewelry could be good enough for her? Honestly, a woman like her deserves the world and more. But sadly since we can't get her that, why not present her with a gift which expresses just what she means to us? If you believe that your beloved is a heavenly angel, then you need to tell her so with Angel Wing Love Heart Pendant Necklace by Ancreu.
Ancreu understands ecommerce to its core. Accessibility and convenience is the name of the game as far as online shopping is concerned. And keeping in line with that view, Ancreu makes sure that their product line does not leave out any demographic untouched. While women will revel at the sight of their stunning jewelry collection, shining gems and sparkling crystals, men will find themselves engrossed with the brand's electronics collection.
Just like your lady who has always had your back, during the good times and the bad, this necklace says "I will always be there to protect you". The heart-shaped pendant itself is available in a number of colors and all of them are simply majestic. There is a sapphire blue, a color straight from the depths of the sea, a purple and blue, a reflective prism of the two gorgeous colors and lastly, a light golden which changes colors as you look at it from different angles and lighting.
The heart is wrapped between large wings, safely ensconced in a heavenly protection. The wings themselves have beautiful detailing; the feathered designs create a soft and romantic formation. Besides, these wings are lined with little crystals which lead to the pointed end of the heart. Who can ever say no to such a beautiful and touching piece of artistic creation which oozes love from every crevice?
The length of the chain is about 18 inches and it has a 2-inch extension too. The width and height of the pendant are both 0.9 inches; it can be comfortably tucked into a sweater or worn right on the front for the entire world to see. It is made from an environmentally friendly copper alloy with no traces of lead or nickel in it.  As a stamp of its quality, the necklace has passed the Swiss SGS Inspection Standard.
Angels are romantic and so our heart pendants. When you bring the two together, you create a beautiful symphony of love, meant to be held close to the heart. The necklace is not just a mere accessory; it is one's solemn promise to protect the heart of the other with all the passion in the world.
3. Kate Lynn Women Jewelry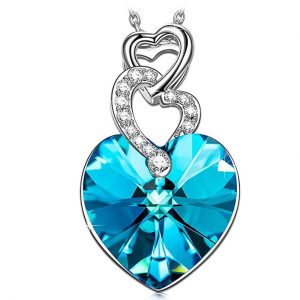 Do you feel like you have a heart to heart connection with your loved one? You don't even need words to communicate; the eyes say it all. To celebrate the love of a couple bound by the hearts, the Heart to Heart Pendant Necklace by Kate Lynn is the perfect gift for the special lady. Not only is it a stunning piece of jewelry, but it signifies everything that your love is made of.
If you've ever shopped online for jewelry, running into Kate Lynn is inevitable. Finely crafted jewelry, made from the highest quality materials and celebrate love, family, and relationships is just what Kate Lynn is all about. It is, after all, a family run business, which began rooted in tradition and as the second generation took charge, is now completely in touch with current trends. But the one thing that has never changed for the brand is their affinity for delicate jewelry which stands for strong relationships.
Yes, we get it. It's like your hearts are interlocked. But instead of saying it, you can now show it to the world by gifting your lady this necklace. Made from a strong environmental copper, this necklace is a vision to behold. Let's begin with the awe-inspiring pendant. It first begins with the frame of a heart in metal; the gentle swooping shape can make anybody's heart flutter.
Interlocked within the first heart frame, there is a second one with a similar swoop but facing the other direction. It is a little larger than the first and this time, the frame is studded with sparkling clear Swarovski crystals. The classic Swarovski is a fine touch for any piece of jewelry and we'd still be madly in love with this necklace had its beautiful artistry ended here. But there's more to it.
At the end of the second heart, within the crystal-studded frame, another stunning crystal heart springs to life and this time, it takes our breath away. The crystal, encased within the frame, is of vitrail light. This means it is basically a clear crystal with applied on one side. The foil reflects against the prismatic walls of the crystal, creating gorgeous shards of colorful light. Sounds beautiful, doesn't it? Well, in real life, it looks celestial.
There are two available colors for the third heart crystal – a Bermuda blue and a purplish pink. For vitrail light crystals, these are both stunning colors and you will find yourself torn between the two choices. The cable chain necklace has a length of 17 inches and there is a 2 inches extension as well. Although it is made from copper, lead, and nickel free of course, the necklace is polished to a shiny silver. All things put together, this is one gorgeous accessory that will melt even the coldest of hearts.
The gradual procession of the hearts, interlaced together and creating a beautiful symphony of emotions, what's not to love about this necklace. If you are looking for a truly meaningful gift that captures your relationship, the Heart to Heart Pendant Necklace by Kate Lynn is the one to go for.
4. 10K White and Rose Gold Mystic Topaz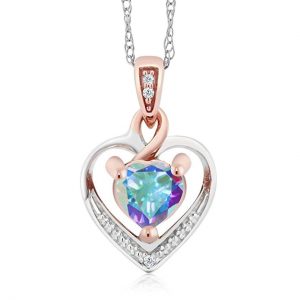 When you are getting your lady love a jewelry gift, it better not is a cheap trinket. Just like your love for her, your precious gesture too should be priceless and definitely steeped in quality. After all, if it falls apart after a few days of wear, that wouldn't sound like a good omen, would it? If you are willing to go the extra mile in your search for the perfect gift, check out the Mystic Topaz and Diamond Pendant Necklace by Gem Stone King.
Gem Stone King is not, by any means, an inexperienced jewelry store. In business since 1903, this is a seasoned player. Theirs is a story which began 115 years ago in Belgium from the humble beginnings of a diamond merchant. While the family carried on the torch, exporting diamonds to far and wide corners of the world, the advent of the internet allowed them to exhibit they're fine craftsmanship to those with an eye for jewelry. The response for Gem Stone King was rapturous and now, they are the brand of choice for those with a refined taste in jewelry.
The necklace may look simple from afar but you only need to look closer to truly appreciate its quiet elegance. If you are always confused between white gold and rose gold, this necklace offers the best of both worlds. The pendant is a delicate heart, latching onto the chain by a rose gold hoop with two little diamonds inside a deep groove. The heart itself is a white gold frame but it swoops inwards in a flurry of rose gold to contain a round topaz, rainbowed in color and bezel set. Inside the heart-shaped frame, right in the pointed end, there is another sparkling diamond. The combination of white gold, rose gold, the intensely colored topaz and of course, the timeless diamonds make for jewelry that can capture anybody's imagination.
The diamonds in the necklace, 0.01 carats, are completely natural and have not been subjected to any kind of treatments. The stone at the center is a Mystic topaz, which is basically a colorless topaz stone which has been a coating for a prismatic rainbow effect. It is held in place by 3 prongs. The necklace itself is 18 inches and made from 10k white gold.
The piece looks beautifully delicate; you will want to protect it with all your heart. But don't be fooled. Made under the solid expertise of Gem Stone King, this piece is a heavyweight. If you think the woman who has been with you through it all deserves nothing but the best, you might want to grab this soothing necklace for her; it will tell her everything she needs to know.
5. Diamond Heart Cross Necklace

Finding the love of your life is a gift from God. And you are blessed to be one of the few lucky ones who've found their soulmate. If you want to show your appreciation for her while letting her know how grateful you are for her existence, a bit of religious symbolism can't do any harm. Have a look at the Diamond Heart Cross Necklace by All Patron Saints – to celebrate the angel in your life, you need a gift to match.
All Patron Saints is an online retailer of religious jewelry and since they started in 2007, they've made quite a niche for themselves, thanks to their quality and artistry. They've got a wide selection within the category that they are leading in- religious cross chains, religious gifts for the family, devotional medallions of the patron saints and much more. You can even search by the names of individual saints if there's a particular one you are looking for. Amidst all the religious jewelry, you will definitely find a meaningful gift for your family members or friends.
This is not just a religious necklace. It will take you nearer to God for sure, but it is also a reminder of the deep love you share for each other, how blessed you are and besides, it looks beautiful. The pendant is a cross but with its softly rounded ends and shiny silver polish, it looks nothing like an ordinary cross. From behind the cross, a heart, in a rose gold-tone, snakes outwards to the top of the cross, finally holding onto it in a gentle sweeping embrace.
The second half of the heart which elegantly drapes over the corresponding side of the cross is studded with an overlay of little diamonds. Even the intersecting part of the cross has a round cut diamond, held up beautifully on four prongs. Every bit of detail, the diamonds, the rose gold accents complementing the backdrop of silver makes for a fine piece of jewelry which reminds you a thing of love can always create something beautiful.
The necklace is made from 925 sterling silver. The making of this jewelry is part of an elaborate multi-step process to ensure that quality is not compromised. The chain of the necklace is about 20 inches and it has a lobster claw clasp at the back for easy opening and closing. The size of the cross pendant is just right, at a height of 1 inch.
Love can take you higher. Although it seems like a fanciful thought, a line straight out of lovelorn poems, it is true. And if you have experienced it and would like the rest of the world to know it too, get your partner this piece. A dazzling accessory she will always cherish for the rest of her life, this is an eternal symbol of the blessed love you have for each other.
6. Sephla 14k White Gold Plated Forever Lover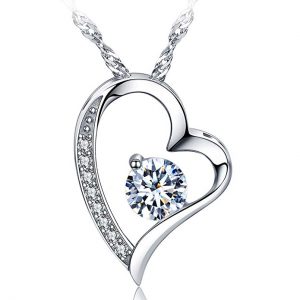 When you are giving your loved one a gift, sometimes you just want it to be a memorable gesture which can be as romantic as possible. Perhaps it's an anniversary and you will be doing everything you can to make the day as special as forever. A romantic walk by the beach, followed by a candlelight dinner and of course, talking about your feelings and laying your heart bare. As much as you wish for such a night to last forever, it will have to come to an end and there's no better way to finish an already perfect date night than with an extraordinarily romantic gift, such as the Forever Lover Heart Pendant Necklace by Sephla.
Sephla is no stranger to crafting beautiful jewelry which steals the heart away. The online retailer has a wide collection of all kinds of dreamy jewelry for the ladies. A common theme is white gold or silver, beautifully glistened with CZ stones, artificial diamonds which look just like the real thing. If there was just one word to describe Sephla's jewelry collection, it has got to be romantic.
This piece is the perfect gift to remind your better half how precious she is. And you bet her eyes will light up at its sight. The pendant is a delicate heart, slanted to the side with a sweeping charm to it. On one side of the heart, there is an inlay of little clear cubic zirconia stones, delightfully sparkling. And on top of the other half of the heart, one large CZ stone, dazzling everyone who lays their eyes on it. White gold against sparkling crystals always makes a dreamy combination, the kind of jewelry that can make a mortal look like a goddess. But your better half is already an angel who touched your life and turned it into something magical. She deserves a piece like this, the Forever Lover Heart Pendant Necklace that is created for someone who is simply extraordinary.
The necklace is plated in 14k white gold with a high shine polish which can be seen from mile afar. Even the wheat chain looks dazzlingly pretty with its rope-like effect in the silvered finish. It has a lobster claw clasp which is very convenient for easy opening and closing. The pendant is the size of about an inch and is just right to grab anybody's attention.
The woman in your life is special. And she deserves to be swept off her feet. Before you get too comfortable, thinking that she is already yours, remember a love that lasts a lifetime needs to be nurtured so. Present her with an enchanting experience that will remind her of all the reasons why she fell in love with you; a gift such as the Forever Lover Heart Pendant Necklace by Sephla will bring a new spark to your relationship.
7. ALOV Jewelry Sterling Silver I Love You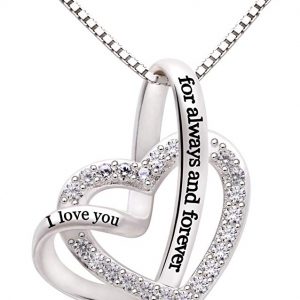 When you love someone with all your heart, you can never say it enough. You want to shout it out, from the depths of the oceans and the top of the mountains, for all the world to know. While that may not always be exactly feasible, letting your loved one know that you indeed can't get enough of her is a good place to start. Have a look at the Always and Forever Love Heart Necklace by Alove – yes, you can't proclaim your love as much as you would like to but you can always gift her a keepsake which always reminds her of your feelings.
This is the perfect piece to represent everything the Alove creates. Beautiful jewelry, simple yet elegant, delicate sweeps of defining metal- if these aren't enough to flood your heart with love, there is always a special text, a poetic line which celebrates relationships. Be it filial or romantic, acknowledging the strength of good old friendship or extolling the human virtues which make us who we are- in Alove, you are sure to find a necklace that doesn't just show what you think, it says it.
One look at the necklace and you know it is a gift from someone special, from someone madly in love. The pendant is basically two interlocked hearts but it's nothing like you would imagine. The first heart, which is the one latching on to the pendant, is a wide swoop, almost like a beautiful silver Mobius strip. The magical words, "I love you for always and forever" is deeply engraved on it, reinstating what you've always known in your heart.
Between this large swirling hoop of a heart, there's another one and this time, it's more of what's expected. This is a gorgeous heart shape, the symbol of love that is known and appreciated in all parts of the world. It is a frame of a heart, to be more exact, and it is completely laced with cubic zirconia (CZ) stones, sparkling in the light. It also has a thick texture, beautifully offsetting the CZ stones and making them pop against the backdrop. The two hearts, interlocked together, are reminiscent of your own relationship, a bond melded for life. And let's not forget the magical words engraved on the heart pendant, words anybody would want to hear over and over.
The necklace has a box chain with a length of 45 cm and lobster claw clasp. The size of the pendant itself is 1.95 cm x 1.77 cm. The necklace comes in a long rectangular box which will make the gift unwrapping process even more special.
Everybody loves to be loved. And if there's someone in your life that you do love, you should do all you can to let them know it. While every relationship has its ups and downs- life itself is not the smoothest of the ride- love is always at the heart of everything that you do. To make sure that your better half never feels anything less than love, get her the Always and Forever Love Heart Necklace, meant for the queen that she is.
8. PLATO H Brave Heart Rainbow Color Pendant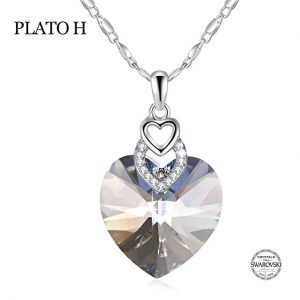 The love you share with your partner is unique and there's nothing like it. So, why get her a conventional gift? Even when you are getting her the most romantic jewelry of all time, a heart necklace, never forget the element of surprise. Among rows of sparkling heart necklaces, the one that you choose for your lady love should stand out like a star among the rest. If ordinary necklaces are not your thing and you want to pick a piece that could make anyone do a double-take, check out the Heart Rainbow Color Pendant Necklace by Plato H. This necklace is just as unique as your love for each other.
Plato H revels in working with sparkling Swarovski crystals and they really know how to work their magic into it. They don't shy away from creating a completely dazzling exhibition of crystals in all the colors of your dreams. From luxurious three-tiered necklaces fit for the royals or engagement rings which elicit a resounding yes when you pop the question – Plato H has got a Swarovski special for every occasion you could think of. Even when it comes to heart necklaces, this brand has got a mindboggling collection which will leave your spoiled for choices.
This is no ordinary pendant necklace. In fact, even the pendant looks like a sharp slice of something burning in the sky- anybody's eyes would naturally want to follow the intensity of this piece. The pendant is a series of three hearts, gradually increasing in size, packing in an impact greater than the last one. The first one is a deep frame of a heart. This one locks into another heart frame, completely studded with clear Swarovksi crystals. This last one is embedded into a large glass shard of heart. It's not literally a glass shard; it is a Swarovski crystal except its refractive effect can even put the northern lights to shame. The entire necklace comes together to create a crystalline work of art; a rare beauty just like your loved one.
The necklace is a box chain, 16 inches long with a 2-inch extension and a lobster claw clasp. The pendant is 0.7 inches wide with a height of 0.94 inches. The crystals are of course 100% genuine Swarovski; Plato H is a certified partner of the crystal behemoth. The rest of it is a rhodium-plated alloy of the highest quality with a high shine finish. As for the pendant, the shard-like crystal which is the showstopper of the piece is available in a number of breathtaking colors- grey, green, classic pink, ocean blue, and color-changing rainbow.
The love of your life is different from everyone else- she is one of a kind. Say it as much as you like but sometimes, you need to show her that you truly believe that is unique. To celebrate this gem of a person in your life, why not catch her by surprise with a gift which is almost as unique as her such as the Heart Rainbow Color Pendant Necklace?
Make Her Feel Special
For the woman who's always been by your side, you don't need a reason or a day to celebrate her existence. This blessing needs to be appreciated any chance that you get. And you know, when it comes to the ladies, it just doesn't get any better than jewelry.
Even when it comes to picking accessories, you will definitely be flabbergasted by all the options. But if it's a matter of the heart, heart-shaped necklaces are the way to go to make your feelings heard. Check out our handpicked selection of heart necklaces and find the one with you better half's name on it.