Rings / Rose Gold / Wedding Jewelry / Women
Rose Gold Wedding And Promise Rings: Find Your Perfect Match!
Rose gold has been a less popular choice among the different colors of gold for a long time, but that is changing. It is unique, modern, and just plain beautiful. It is gaining popularity and becoming much more widely available now. Rose gold makes stunning rings that add lovely touches to your wardrobe. With the growing number of choices, it is easy to find the perfect rose gold ring for you personally. Check out these 20 awesome picks to find your perfect match!
Our Top 20
1. Gem Stone King Blue Topaz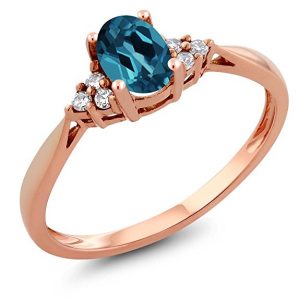 This ring from Gem Stone King is absolutely stunning! It is a very high-quality, truly gorgeous rose gold ring. Unlike many other rose gold ring options, this one is made of solid, 14k rose gold. In addition, this ring also features a lovely center stone. The stone is London blue topaz cut into a beautiful oval shape. This gorgeous topaz goes amazingly well with the rose gold.
On either side of the London blue, topaz, oval stone are three very small diamonds. These really do an amazing job at pulling the entire ring's look together nicely. The ring is available in 5 different sizes ranging from size 5 to size 9. Gem Stone King even stands behind their amazing product with a lifetime warranty! That means that if your ring becomes damaged from normal wear or you lose one of the stones somehow, they will replace it for free! It is a highly valuable, gorgeous piece of jewelry perfect for any collection.
2. Spilove Serend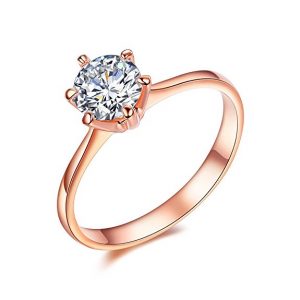 Here is a very lovely ring with a classic look. It is a solid metal band that is coated in beautiful, 18k rose gold. The band is smooth adding to the more classic look of the ring. The ring features a single stone held in place by 6 rose-gold-plated prongs. The stone itself is made of high-quality cubic zirconium. It is 1 carat in size and has the beautiful appearance of a large, shining diamond at a fraction of the cost.
This solitaire CZ diamond ring has a very soft, delicate, and feminine appearance to it. It is very sophisticated and simple. It is available in 7 different sizes to fit a wide variety of fingers starting at as small as size 4 and ranging all the way up to size 9. This should accommodate the majority of women's fingers well. One more bonus is that SPILOVE includes a free velvet bag with your purchase so that you have somewhere safe and classy to store your amazing ring. This ring can be used for anything from an ordinary accent piece to a lovely and simple engagement ring.
3. OPALBEST Criss Cross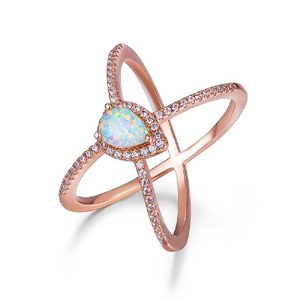 This ring has a super cool, unique design that is very trendy right now! It is made in a criss cross, "X" shape. So, it is almost like two thin rings that cross over each other diagonally to fit on your finger and subsequently create the "X" shape, which is a very trendy look. The metal of the ring is plated with stunning rose gold.
Right at the center, where the two parts of the ring cross, an outstandingly beautiful opal stone in the shape of a pear or tear drop adorns the ring. It is surrounded and held in place by a ring of rose-gold-plated metal in the same pear/tear drop shape as the stone itself. This ring of rose-gold-plated metal is adorned with small CZ stones that look just like tiny diamonds. The top of the "X" is also adorned with these tiny diamond-like stones. They accent the ring beautifully and go amazing with the opal and rose gold. Overall, it is a very stylish and beautiful ring perfect for any modern woman.
4. Galaxy Gold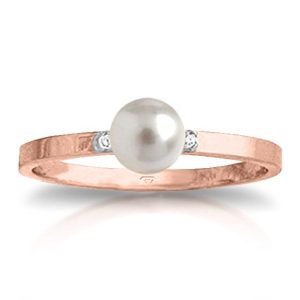 If are looking to seriously "wow" the woman in your life, this is the ring that you need. It is unbelievably beautiful! It is also unique, classy, and elegant. This is another ring that unlike most others, is made of solid rose gold opposed to simply being plated in rose gold. The metal of this ring is genuine, 14k rose gold. Something else that is unique about it is that the band is an even width all the way around the ring. Most rings that have a center stone have bands that thin near the center.
At the center of the rose gold band is a stunning, freshwater pearl. The pearl is a shiny white color, but may vary slightly since it is a real pearl. It is accented on each side with a small diamond. These diamonds are real, natural diamonds which really increases the value of this piece of jewelry. It even comes in a lovely black velvet jewelry box. It is the perfect choice if you are looking for a really high-end, high-value piece of unique jewelry.
5. Double Accent Wedding Collection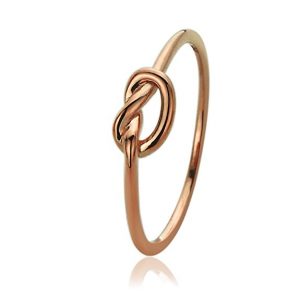 From Double Accent Wedding Collection comes this super beautiful Celtic Love Knot ring. It is another one of the rings on the list that is higher-end as it is made of completely solid 14k rose gold rather than simply being plated in rose gold. It even has a 14k stamp. It is a fairly thin and consistent gauge all the way around the ring. This provides a more dainty, soft look that is also extremely tough and strong.
This ring is available in 5 different sizes ranging from size 5 to size 9. It does not have any stones or other types of accents besides the rose gold. Instead, the wire-like rose gold features a small, elegant knot. It is a Celtic Love Knot. It represents everlasting love. This makes it a fantastic promise ring! The elegant but strong ring is sure to be loved by all, especially with the beautiful rose gold that it is made from.
6. DazzlingRock Collection Morganite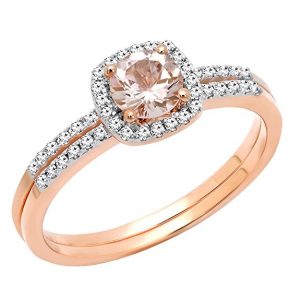 This is one unbelievably gorgeous engagement ring set made with stunning rose gold. The rose gold used to create this engagement ring set is 10k. Each of the two rings in this rose gold engagement ring set is a thin and delicate-looking band with small, real diamonds lining the top of it beautifully. On the main ring, in the center of the line of diamonds, is a considerably larger, pink morganite stone that is beautifully set.
The morganite stone that is the centerpiece of this lovely engagement ring set is 5 millimeters across. It is surrounded by a breathtaking halo of small, real diamonds that match the same diamonds that run across the top of each ring in this rose gold engagement ring set. The set is available in an impressive 13 different sizes ranging all the way from 4 to 10. This almost guarantees a great, personalized fit! This is a very special ring that is absolutely perfect for the very special woman in your life.
7. Hafeez Light Comfort Fit

If you are after something that is a little simpler, or if you want a great wedding band to add to your engagement ring, this is an incredible choice of rose gold rings. It is a very simple ring. It is a band made of 10k rose gold. It is 2 millimeters wide and does not have any decorations, stones, or accents. This provides a classic and simple look that will match virtually anything. It includes a 10k stamp to show metal purity.
This 10k rose gold ring has a high polish to it in order to ensure long-lasting shine of the gold. This ring is available in 13 different sizes, so that it will fit almost anyone's finger. It even includes many half-sizes to really ensure a good, personal fit for almost anyone. It also comes in a lovely velvet box for a nice touch, especially if you are giving it as a gift. Overall, this ring is probably the most versatile choice on our list of the top rose gold ring picks. It is great as a stand-alone piece or goes wonderfully with any other ring that you choose to pair it with!
8. 
PAVOI Yellow Gold Plated CZ 

Get It Here
There is a ton about this ring that is unique. For starters, it is adjustable. As in, it only comes in one size, but that one size will fit most fingers. The adjustability allows the ring to fit sizes 5-8 comfortably. The way that it works is that the ring is not a complete circle. Instead of the ends meeting, they end in small spheres that can be pulled together or pushed apart to allow the ring to become your perfect size. The ring can also be personalized because it comes with your initial on it. All letters from A-Z are available, so you can definitely get the letter you need.
The main feature of this ring is a metal disk that has your initial cut out of it and filled with CZ simulation diamonds, or cubic zirconium. The entire ring is plated in 14k rose gold and this company uses double the plating thickness compared to the industry standard. It is a very nice, attractive ring, perfect for anyone. It makes a great casual choice that is perfect for everyday wear, but also retains some serious elegance and class.
9. FIBO STEEL Titanium

This rose gold ring is actually not made of rose gold at all. It isn't even plated with it. That may seem like a turn-off, but this is actually a spectacular ring. It is made of titanium colored like rose gold. That means that it is not only affordable, but it is super tough and will almost certainly last you a very long time, even with regular wear. The best part is that it looks just like the real thing. The color is still that beautiful rose gold that everyone loves.
The ring is simply a band, so it isn't anything too fancy or complicated that you may not want to wear every day. This is a rose gold ring that will go with anything you wear. The outside of the ring is sand-blasted. This creates a breathtakingly gorgeous effect. It appears to sparkle almost like super fine glitter and has a brilliant texture to it. The inside of the ring is silky smooth for comfortable wear. This ring comes in sizes 4.5 to 10 and makes a perfect gift for anyone, including yourself!
10. Excelsia "Alternate"


Get It Here
Here is a much fancier, but still simple ring that makes a lovely addition to any jewelry collection. The base of this ring is plated in 14k rose gold for that beautiful rose-gold finish that is both modern and classic at the same time. This ring is available in sizes ranging from 4 to 8, so most will be able to find the right fit for them.
The really eye-catching part of this ring is the accents. Along the top of the ring, tiny simulated pearls and simulated, CZ diamonds are lined up in an alternating pattern. The simulated pearls and CZ diamonds go wonderfully together and provide the perfect touch of class and elegance to any outfit. The entire ring is very thin for a sweet and dainty look that screams sophistication. This is a very high-class, rose gold ring.
11. Cat Ear Ring


Get It Here
Cat lovers will adore this super cute rose gold-plated ring from Silver Phantom Jewelry. It has a very minimalistic design to it that is both simple and fun. It is a simple band that has two small triangles that extend up from the ring. This creates the appearance of tiny cat ears on your finger. It is a very whimsical and adorable ring that is playful while retaining an elegant look to it as well.
The ring itself is made out of sterling silver, but it is coated with gorgeous rose gold in order to maintain long-lasting, beautiful color over time. The ring is available in sizes 5 through 9 and as a bonus, it even comes in a nice little velvet drawstring bag with the company's name artfully printed on the outside of it. This helps to increase its value as a gift and gives you a great place to store it along with other jewelry when you aren't wearing it. Overall, this is a super fun and modern rose gold ring that is especially ideal for cat lovers.
12. Bella Lotus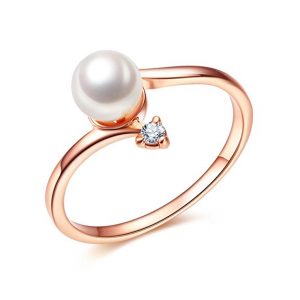 Another nice and modern rose gold ring option is this beauty from SHINCO. This ring is made of a base of copper, but is coated in high-quality, 18k rose gold for a breathtaking finish. The main component of this lovely rose gold ring is a beautiful, simulated, white pearl. It is about 6 millimeters across and round. Instead of the two ends of the band of the ring coming together underneath the pearl, they shoot off in opposite directions right when they get to the pearl. They are held together by the rose-gold-plated copper that holds the simulated pearl in place.
At the tip of one of the ends, a stunning little cubic zirconium, simulated diamond is artfully held in place by 3 tiny prongs. This provides the absolute perfect accent to the shining pearl. The pearl has a high-luster finish that works amazingly well with the shine of the rose gold. The ring is available in sizes ranging from 5.5 to 10 and makes a truly amazing gift for any special occasion ranging from birthday to anniversary and everything in-between.
13. Lemon Grass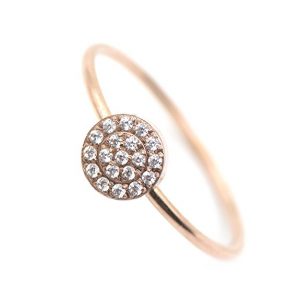 Lemon Grass brings us another fantastic, minimalist rose gold ring. This one is plated in 14k rose gold and is compromised of a very thin, wire-like band that makes a perfect circle around your finger. It is adorned with a circle-shaped disk that is also plated in the beautiful rose gold. This disk is micro-paved with tiny cubic zirconium, simulated diamonds that give it a shining and classy appearance.
This ring also has a modern touch to it, which does also go along with the minimalist theme. The ring comes in sizes 5, 6, 7, and 8, so it doesn't have the size range that many of the rings on the list have, but it should still fit the most common sizes comfortably. Something else neat about this rose gold ring is that it is designed to be stackable, which means that you can easily wear other rings on the same finger right up against this one to create a variety of looks.
14. Multilayer Arrow Opening Adjustable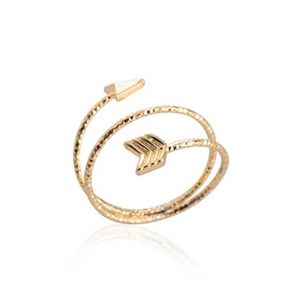 If you liked the idea of the last adjustable ring, you'll love this one too! It is made in a way that allows you to adjust the size by bending the ring slightly. This is possible due to the thin and mailable design of the ring. It is made of copper, but has the rose gold plated onto it for the gorgeous look and long-lasting color. Almost any size finger will fit this ring thanks to how easy it is to adjust it.
The ring is modeled after an arrow and wraps around your finger approximately two full times. The length of the ring if it were to be unraveled would be approximately 2.3 inches. The ring has a slight texture to it that adds a little extra style. It is certainly a very fun and playful ring style that has a classy but casual appearance.
15. Zarbrina Rose Gold Plated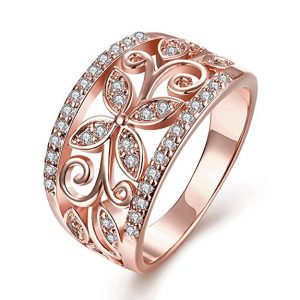 This is a statement piece. It is not as minimalistic or simple as many of the other choices on the list. This rose gold ring has a beautifully complex and intricate design that is elegant and sophisticated. The top of this ring is wider than the bottom, with the widest part of the ring being 1.20 centimeters across. That is impressive compared to most of the other rings on the list. The ring gets thinner towards the bottom of the ring getting down to about half of what the widest part at the top is.
The top of the ring has two outer bands that are connected in the middle by intricate floral designs and small swirls. The entire thing is plated in rose gold. The top of the ring is also accented with many adorable and elegant little cubic zirconium diamonds. Again, this is a very sophisticated ring that makes a fantastic present, but is also, of course, a great purchase for your own jewelry collection.
16. LWLH Jewelry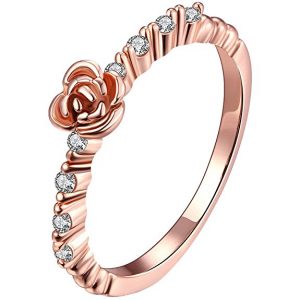 Another floral rose gold ring that is still very sophisticated and elegant, but also simpler and more dainty is this one from LWLH Jewelry. The main feature of this rose gold ring is a metal flower that looks like a rose and is beautifully crafted to erect from the center of the band of the ring. It, as well as the rest of the ring are coated in lovely, high-quality, 18k rose gold that provides a stunning color that is long-lasting and durable.
Coming in sizes 5,6, 7, 8, and 9, this is a ring that will fit the majority of people comfortably. One each side of the beautiful rose-gold-plated rose flower, there are small, artfully cut, cubic zirconium simulated diamonds. Each side of the ring features 4 of these CZ simulated diamonds for a total of 8 on the ring. They compliment the rose gold very nicely and provide the perfect accent for the ring. It is a great ring if you are looking for something that is both sophisticated as well as delicate in appearance.
17. Mid Finger Beaded Knuckle Ring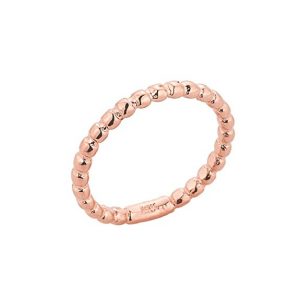 For a more unique and modern look that is refreshingly simple, check out this cool Mid Finger Rose Gold Ring. One of the many cool things about this ring is that it comes in over 20 different sizes. It even includes half sizes and quarter sizes unlike almost any other ring out there. This really allows you to get the exact perfect fit for your own personal needs.
This ring's sizes range from size 2 to 8. It starts at such a tiny size because it is actually designed to sit mid finger rather than all the way at the base of your finger. Keep that in mind when choosing your size. This ring is made of completely solid, 14k, rose gold. It is high-quality, gorgeous, and durable. The design is a kind of beaded looking ball-chain design, so the ring appears to be made up of tiny, rose gold balls. It is very classy and modern and unique.
18. BAMOER White Rose Gold Plated Cubic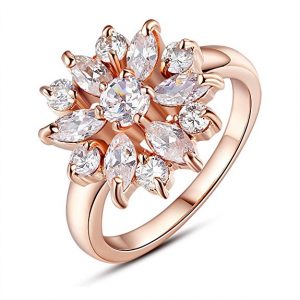 Here is a rose gold ring that is a bit more eye-catching than many of the other choices on our list of the top rose gold rings. This lovely ring is made of brass that is plated in high-quality, 18k rose gold. The band of it is a bit thicker than other options as well for a slightly bolder look. It is also the same width all the way around the ring. This also goes well with the larger center of this rose gold ring.
The main component of the ring is a collection of multiple cubic zirconium stones that look almost exactly like real diamonds. They are different sizes and shapes that come together to create a lovely snowflake design. The snowflake design can also easily be interpreted as a gorgeous flower. Either way, the set-up is stunning. This is a great rose gold ring that captures attention and goes along with virtually any look.
19. Galaxy Gold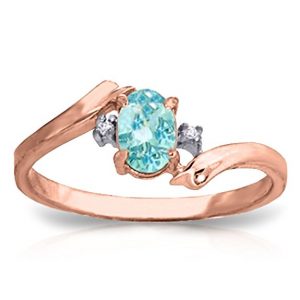 Here is another lovely choice of rose gold ring from Galaxy Gold. This beautiful ring is made of 14k solid rose gold giving it a much greater value than the rings that are only plated in rose gold. The band has a very delicate look to it and the ends of the band, rather than meeting, are bent away from the center of the ring where a sparkling, oval-shaped, blue topaz stone is set.
On either side of the oval-shaped, blue topaz, a small cubic zirconium simulated diamond is set. This adds the perfect accent to this piece of jewelry. This ring is available in 12 sizes ranging from 5.5 to 11. This is great because many rings don't come in sizes as large as 11, so it will fit even larger fingers. For an added touch, this ring comes in a black velvet box making it the perfect gift!
20. Oxford Diamond Co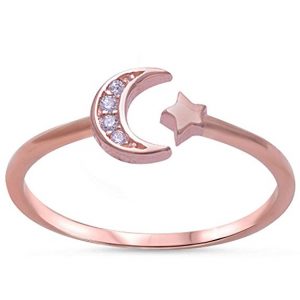 For a celestial look, this beautiful rose gold ring takes the cake. It is made of .925 sterling silver and then plated in rose gold for a beautiful look, durable design, and affordable price. The band is circular like wire and wraps around the finger from the bottom. Instead of ring bring a complete circle, there is a small opening at the top where the two ends almost come together but don't actually touch.
On one side, the band ends in the shape of a crescent moon. On the other end, the band ends in the shape of a small star. The moon is filled with several small, cubic zirconium simulated diamonds for a sparkly, elegant finish. It is available in sizes 4 through 11, so it will fit the smallest of fingers as well as the largest and everything in-between. This ring is very simple, yet stylish. It is, of course, an especially great choice for anyone that loves the sky, night, and space!