Jewelry / Trends
Topaz Stone, Meaning & Our Jewelry Picks!
Topaz is a versatile gemstone for sure. It comes in a good variety of colors ranging from clear or colorless to pale blue, soft pink, bright orange, or even brown.
Pure topaz is colorless and the most common form around. Different impurities within the stone are what allow it to occur in so many different colors and shades. The most sought-after variety of topaz is referred to as Imperial Topaz. This is a bright orange, sometimes almost peachy color. It makes for a beautiful and bright gemstone perfect for jewelry.
Blue topaz doesn't often occur naturally, but clear topaz is often treated to achieve the blue color. This doesn't take away from it being considered real topaz and is part of the reason that blue topaz, specifically, has become quite popular on the market. Some blue forms can resemble aquamarine so well that you can't tell the difference with the naked eye.
This gives a good, affordable alternative to aquamarine for those that love the look but have a tighter budget. Pink topaz is also very rare, which is why yellow topaz is often made to look pink instead.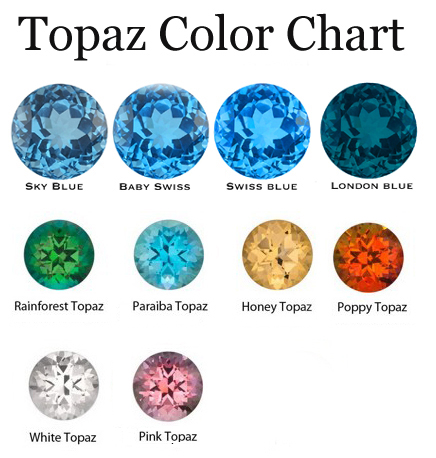 Interestingly, the color of the stone has a lot more to do with its overall value than the size/weight of it. Also very interesting is the fact that the stone forms some of the largest crystals ever known of.
Some of the larger ones can be up to 3 feet tall and can even weigh hundreds of pounds. Sometimes the crystals can even weigh over 20,000 carats. In fact, the largest cut topaz stone weighs a whopping 21,327 carats! It is named the, "Brazilian Princess" and is on display at the Smithsonian Institute in Washington D.C.
There, is also a specimen in the Museum of National History in New York City that weighs 600 pounds! Topaz has a hardness of 8 on the hardness scale. So, it is very hard, but it also happens to break easier than many stones.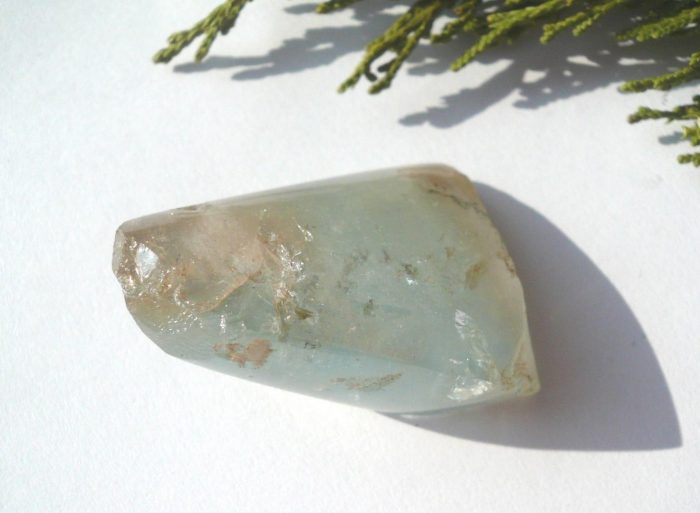 For this reason, topaz jewelry should be handled with special care. In the United States, all topaz must be tested for radiation before being used in jewelry and sold to consumers. This is because some stones do hold radiation, and a stone with stronger radiation can cause serious health issues for the wearer.
The Gemological Institute of America now provides testing to all jewelers in the U.S. using topaz. Because of this, you may want to avoid purchasing it from outside of the United States for safety purposes. This is simply because it isn't regulated everywhere else, and you want to avoid exposing yourself to radiation. Topaz is certainly a beautiful stone that is versatile and, generally, affordable.
Let's Talk History
There are a couple of theories about where the name "topaz" originated. The more popular belief is that it was named after Topazos Island, located in, the Egyptian Red Sea. The island is now known as St. John's Island and was a popular mining site for gemstones for thousands of years dating back to ancient Egypt.
Interestingly, it is possible that what was originally called topaz was not the same stone that we call topaz today. Actually, that island was particularly popular for peridot.
Peridot is a yellow-green stone that can look similar to some varieties of topaz. The Egyptians referred to both as Chrysolite unable to distinguish the differences. A Latin writer called Pliny the Elder is the one that started referring to these stones as topaz supposedly after the Topazos Island.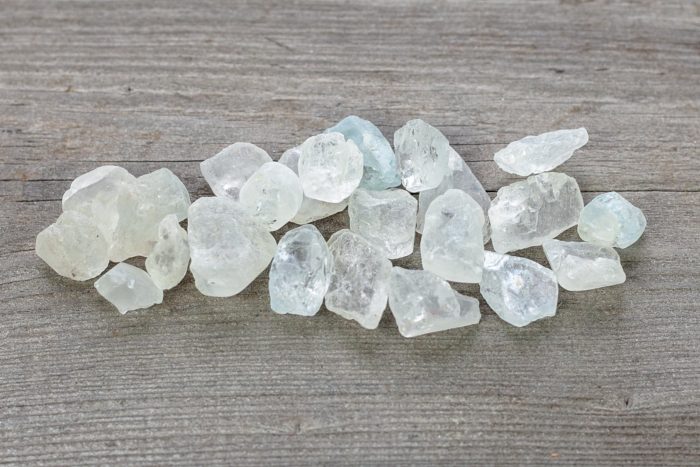 Shortly after, all yellow stones were considered topaz. It was also believed that the stone only occurred in yellow. It is also possible that the name stems from the Greek word, "topazion" which originally meant "fire."
Both Greek and Roman societies placed a lot of value on this gemstone. It was quite prized and rare for a long time, starting around the middle ages until the mid-19th century. It was during this time that a large deposit was found in Brazil. This caused the gemstone to increase in popularity and decrease in price. It becomes very affordable and popular, which remains true of it today!
It also has a history in other parts of the world. In Hindu mythology, topaz is one of the sacred stones of the Kapla Tree. It is also one of 9 stones in a talisman of 9 gems, which makes it very sacred amongst Hindu belief.
They also consider a pendant with this gemstone to have special powers and an ability to relieve one's thirst, increase intelligence and wit, and even increase your life. In Africa, it was also used in special healing rituals and considered sacred by the African Bushmen.
Topaz Birthstones
November has two different birthstones in the United States. One is topaz, and the other is citrine. While any variety of topaz could be used as November's birthstone, it is primarily the more highly sought-after Imperial Topaz that is associated with November. This variety of stone and citrine look almost identical and have often been confused for each other.
These sunny bright stones are both thought to bring the wearers fortunate and warmth while also bringing forth a sense of calmness. Blue topaz, specifically, is also an alternative birthstone for December. This puts it alongside tanzanite, zircon, and turquoise as birthstones for December. All of the stones have a cool blue-ish color that matches well with the start of winter.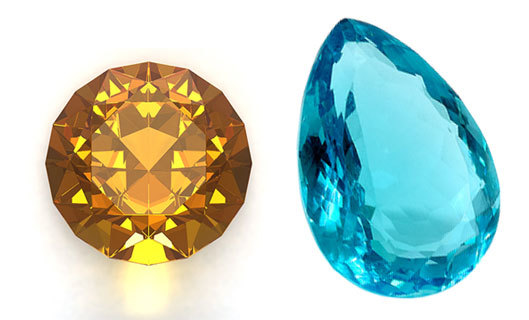 Another cool fact about this stone is that certain varieties of it can be used as stand-ins for more expensive birthstones for other months. April is the perfect example of this since it's birthstone is the diamond!
Since diamonds tend to be pretty pricey, clear topaz can often be used to represent the diamond birthstone of April without having to fork out the money for a real diamond.
Topaz Meaning
Topaz is one of many gemstones that holds multiple special meanings. It is the gemstone meant to be given on the 4th and the 19th wedding anniversaries. It represents love and affection. It is said to increase one's sweetness and also help with a positive and loving disposition.
It is also supposed to be an excellent stone for artists. With the ability to increase both creativity as well as concentration, it can help one hone their skills and produce their best art. It is a stone that helps you control your anger and give yourself a positive attitude in life. The optimism can spread throughout your life and increase the quality of it overall.
It is also supposed to help control one's greed and even keep lust in check. Physically speaking, it has even more benefits. It can increase eyesight, help reduce symptoms of arthritis and other joint issues, and even helps take care of sleep-related issues like insomnia.
This also includes getting rid of nightmares. A dream involving topaz is said to be a sign of good fortune coming to you soon. When used inside your home, it can even provide physical protection from things like accidents and even fires. Since the different colors of the stone can have more specific meanings, we will give you an overview of what each variety can specifically mean:
Clear – Colorless or clear topaz increases self-awareness, brings forth emotional healing, and allows you to more easily perceive truth.
Imperial topaz (and yellow topaz) – This is a stone of nobility.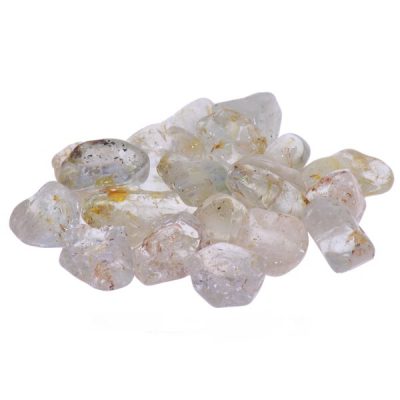 It helps to keep you motivated and meet or even exceed your goals. It provides self-confidence and pride in one's abilities while also encouraging greater generosity to others.
Blue  – While rare, natural blue topaz has incredible benefits of calming the senses and opening up clearer communication. It increases receptiveness to learning complex concepts and helps one to build greater knowledge.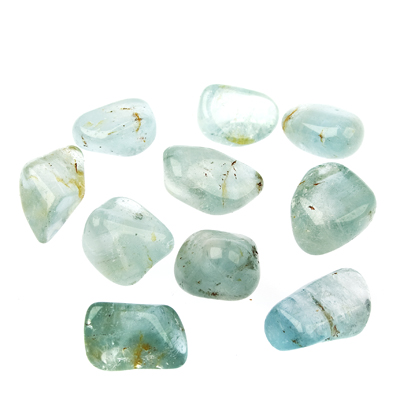 Brown  – This shade is less sought-after but is considered very powerful and makes a great talisman. Brown topaz helps to increase strength and stability both physically and emotionally. It can also help ensure faithfulness and support relationships.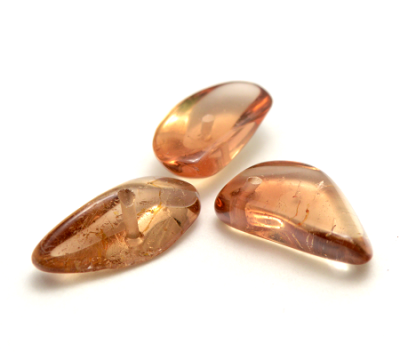 Pink  – This stone represents hope and helps to bring you great fortune in matters of love. It helps you find true love and avoid destructive tendencies.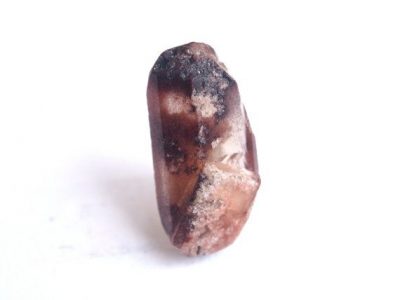 Topaz Jewelry
Topaz jewelry tends to generally be very affordable and versatile. It comes in so many colors and designs. It is easy to find something perfect for almost any occasion. Check out some of our favorite jewelry picks below!
1. Earrings
Gem Stone King 14K Yellow Gold Ecstasy Mystic Topaz Studs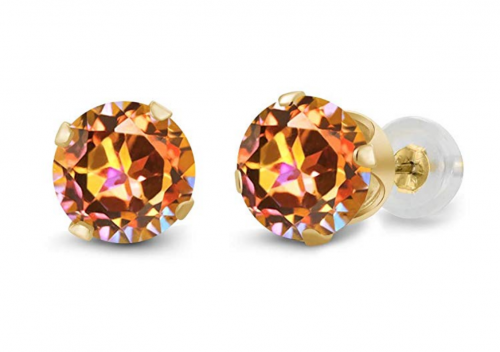 Gem Stone King calls these lovely earrings mystic topaz, but they have the stunning color of the imperial variety. They are a bright orange with very pretty pink undertones that create a peachy look that shines different colors through the multi-faceted round cut. They are set in simple 4-prong settings made from solid 14k yellow gold.
This compliments the colors of the gemstone in the most perfect way. These are simple studs that go well for virtually any occasion from the most casual to the most formal. It all depends on what you match them with!
They would go especially well with warm colors like pink and yellow. The backs slide on easily to secure them to your ears and include comfort padding to ensure you are as comfortable as possible while you wear them.
Each one of the stones in the earrings is nearly 1 carat in size. They are natural topaz but include a coating treatment to help with coloring and durability.
They're mid-priced and come with a nice earring box perfect for storage or gifting. Gem Stone King's lifetime guarantee adds even more incredible value to your purchase!
Melanie Golden Jewelry Tiny Yellow Orange Earrings in Sterling Silver
This is a great example of simulated gemstones. This is the orange variety like imperial one, but it doesn't have that multi-tone look of real imperial topaz. It is still very nice, though, and works great for birthstone jewelry!
These also stud earrings, but they are much smaller for a more minimalist look. Each stone is 3mm across.
They are set in a prong setting made from solid 925 sterling silver. The round cut adds to the simple look, and they do shine very nicely even at their tiny size.
They come with simple solid sterling silver butterfly backs for good security and ease of use. The best part is that these earrings are super affordable for pretty much any budget.
Gem Stone King Sterling Silver Blue Earrings
Another gorgeous choice from Gem Stone King, these are a very sophisticated set of London blue topaz earrings. These are also natural gemstones, but they have received an irradiation treatment to give them the London blue color. This is true of almost all blue topaz sold commercially.
They are still very nice and considered genuine since they are made from naturally occurring gemstones. The stones in the earrings each feature a nice emerald cut that helps give them that touch of sophistication.
A solid sterling silver prong setting holds the gemstones in the most complimentary way. The sides of the silver setting also include swirling silver designs for the perfect amount of simple detail.
The stones hang down to create a nice dangle earring, and the backs are lever-style for convenience and added security. They are a little pricier but well-worth it. Each stone is 8mm by 6mm.
They also, of course, come with great packaging and the lifetime guarantee you get with all Gem Stone King pieces.
2. Necklaces
ChicSilver Heart-Shaped November Birthstone Necklace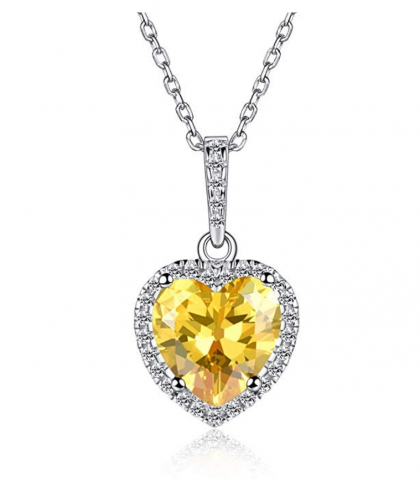 This super affordable and completely adorable birthstone necklace looks very similar to real imperial topaz. Like most simulated imperial gemstones, it simply lacks the pink tones usually seen in the natural imperial stones. Even so, it is still very nice and pretty.
The main stone – the simulated imperial gemstone – is in a very sweet heart cut and even features a stunning halo of little cubic zirconia stones. These sparkle beautifully, just like real white diamonds. They really highlight the pretty look of the simulated gemstone heart nicely.
The whole thing is set in 925 sterling silver and has a pendant hook that connects the heart to the chain of the necklace. This piece features several more of the tiny cubic zirconia stones for more sparkle and detail.
The chain is very simple and has a dainty look to it. It is also made from the solid sterling silver and features an easy lobster-claw clasp. If you really love this necklace, it also comes in a variety of other colors for each birthstone of each month. You can also purchase the option of matching earrings!
Palm Beach Jewelry Emerald-Cut Necklace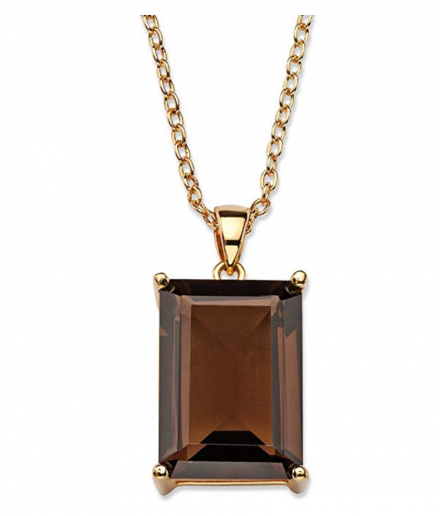 Here is a fine example of brown topaz jewelry. Sometimes brown topaz is also referred to as smoky topaz as it is here by Palm Beach Jewelry.
This lovely genuine brown gemstone has an earthy and classy feel to it perfect for a variety of occasions. This is the necklace that is going to help ground you and give you strength and stability. The emerald cut on this topaz is just dazzling.
It is a nice size at 12mm by 16mm. This makes for a 24-carat stone that is unbelievably beautiful and eye-catching. The chain is brass but is also coated with 14k yellow gold that looks just delicious with the brown stone.
The chain is 16 inches long but also includes a 2-inch extension for easy adjustment and a custom fit. A spring ring clasp is easy to use and secures well. The price is even incredibly reasonable on this lovely necklace!
Leafael Wish Stone Pendant with Swarovski Crystals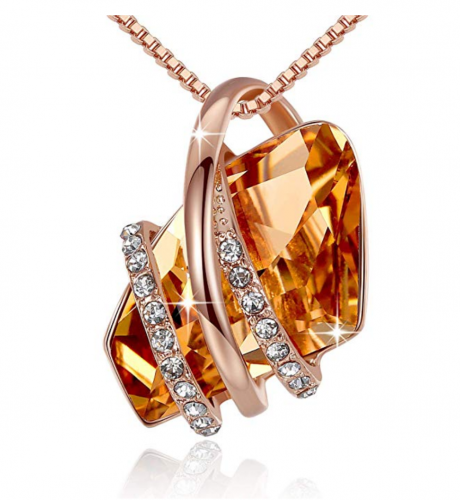 Here is another really pretty and super unique birthstone necklace for November! This necklace also features a simulated stone to keep cost down and make for easy production – but even so, it is still beautiful, and you wouldn't know the difference just looking at it.
This simulated gemstone is an amber-brown color. It is somewhere between brown and imperial topaz and is very nice. What is super unique is that it has a raw cut to it instead of having a super clean specific style cut.
The stone looks very natural and earthy. It is based on metal coated in lovely rose gold. Then, bands of metal wrap loosely around the stone. These bands are also plated in rose gold for a nice cohesive look that shines beautifully with the simulated gemstone. Along the metal bands, there are also some small Swarovski crystals inlaid for the perfect accent.
They are all clear in color, so they look like white topaz or even diamonds. There are about 16 of these tiny sparkly stones on the bands of the metal holding the larger stone.
The chain is looped through the metal bands to hold the stone pendant in place and also features the sweet rose gold plating. This is a fun and unique necklace that can definitely act as a good conversation starter!
3. Rings
Gem Stone King White 3-Stone Ring
This bold and beautiful ring is yet another magnificent choice from Gem Stone King. The ring has a 925 sterling silver band and features 3 lovely white (clear) topaz stones.
The band is thicker on the top and then thins out towards the bottom for a better and more comfortable fit. At the top center of the ring, a large round-cut white stone is mounted in a nice prong-setting.
It measures in with a diameter of 7mm. On each side of this large main stone, there is also a slightly smaller white stone that sits lower on the band, allowing the largest stone to stick out above the others. The smaller two white stones are each 5mm in diameter. They are all set with the silver prongs and match beautifully together.
The band itself also features some really nice detail. On all sides of the upper half of the band, there are swirling silver designs that add the perfect complimentary texture and detail to the white stones. It gives the ring a high-end, sophisticated, and magnificent feel.
It is even pretty affordable and available in sizes 5 through 9. The lifetime guarantee and excellent ring box give it that much more value overall.
Ice Gems Sterling Silver Treated Light Pink Solitaire Ring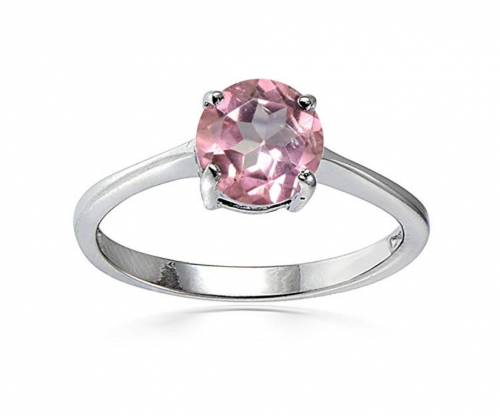 On the other end of the spectrum, this super simple light pink stone ring provides an excellent minimalist look for topaz-lovers.
The ring is made with a natural stone, but the stone has also been treated to give it that light pink color that is so rare to find naturally. The stone is round-cut and 6mm across in diameter.
It is mounted in a sterling silver prong-setting with a total of 4 rings around the stone holding it securely in place. The band is nice and simple to keep the focus entirely on the light pink stone.
It is made of solid sterling silver as well and comes in sizes 6, 7, and 8. The price is almost impossible to beat on this pretty pink ring!
Erllo 6 Carat Butterfly Ring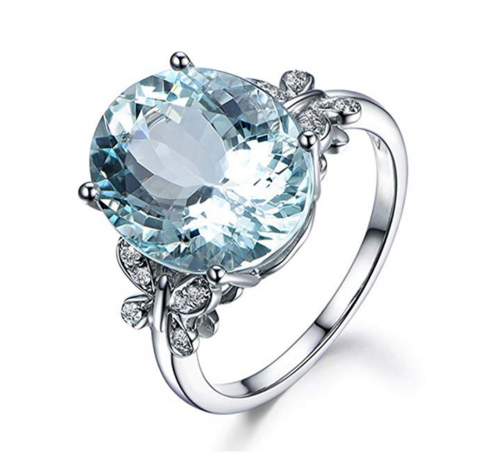 Our last pick features a huge 6-carat blue stone. This is a very light blue stone, and it is also treated to get the color. Even though it is treated for the right color, it is still a natural gemstone. It just wasn't originally blue since blue is rare and can be expensive.
This ring is mid-priced, so definitely more affordable than naturally occurring blue topaz, which is very difficult to find commercially. The stone is highly transparent and has amazing sparkle and shine to it.
The oval-cut is very classic and complimentary. The metal of the ring is all solid sterling silver. The stone is mounted with 4 silver prongs and featured on a dainty band that contrasts well to the large stone.
At the top of the band on each side of the main stone, there is a small silver butterfly design facing the stone. Each section of each butterfly's wings is inlaid with small cubic zirconia stones that add perfect sparkle to the edges.
Choose it in any size from 4 to 10, including all half sizes!
4. Bracelets
Belinda Jewelz Square Bracelet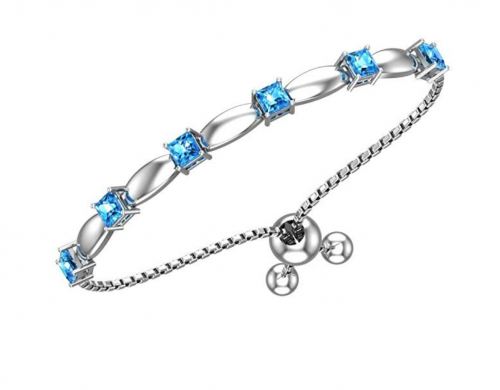 This eye-catching bracelet features 6 different beautiful swiss blue stones. These are natural topaz stones that have been treated to get that bright blue color that has an almost electric feel to it. Each one is the same size and features a nice, sharp square-cut design.
They are all mounted onto a base using solid sterling silver prongs. A small elongated cushion-shaped section of polished silver sits between each of the stones to give good contrast and spacing.
A box-style chain makes up the lower half of the bracelet, which has a very cool bolo style clasp. The ends of the chain are tipped with shining silver balls and a larger silver ball holds the chain ends together while also creating easy adjustability.
It is a very pretty, lightweight bracelet that works great in a multitude of settings at a reasonable price.
Alex and Ani November Charms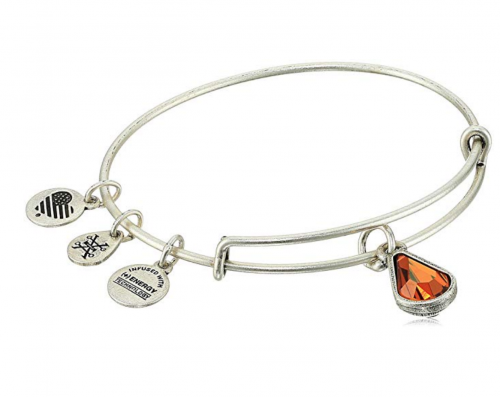 Alex and Ani is a fantastic brand known for their adorable charm bangle bracelets. This one is absolutely perfect as a topaz bracelet. Although, it is important to note that this is a simulated stone. The stone charm featured on the bracelet is actually a Swarovski crystal colored like an imperial topaz stone to represent November's birthstone.
The stone has a pear shape and is bezel-set into a base of silver-toned brass. This little charm hangs on the bangle band of the bracelet. On the opposite side, you will see 3 more little round metal charms that give it the classic Alex and Ani look.
The bracelet is very affordable, and you can even get it with the other colors of birthstones – one for each month.