Mix / Rings / Women
Citrine Rings: Perfect Jewelry Choice If You are Looking for a Dash of Color
Marianne 12 Mar 2020
5160
If you are looking for something to bring a spark of life to your collection of jewelry, then look no further, citrine rings are just what you need. This fantastic gemstone comes in different colors that are not only beautiful but also comes with a unique design. Just one look at them, and it is almost impossible not to fall in love with them.
The set of jewelry comes in different styles that are guaranteed to take your breath away. But even with all these awesome qualities, you can still be assured that they are affordable.
Haven't heard of them before? Then don't worry, we have you covered in this article, from the history of citrine rings to several of them that are absolutely amazing. Scroll down, and in no time you will be on the internet searching for the best citrine rings to complement your fingers.
What are Citrine Rings?
Citrine rings are just like any other rings that you have seen in those beautiful jewelry stores. However, they have something that makes them stand out in style, looks, and quality. And that is the citrine gemstone they are crafted with.
Autumn hues with colors that range from golden orange to bright yellow. The gemstone is really a type of quartz that displays a captivating effect of light, making it look unique. You might not even be able to distinguish certain citrine gemstones from genuine golden topaz.
History of Citrine
Just like most of the other gemstones that you will find in this category, citrine has also been in existence for ages. The gems first came around in the Hellenistic era which was between the 300 and 150 B.C, when it was used by Scottish men to decorate the handles of their swords and daggers. So the decorative purpose is not a new trend. There had always been that timeless attitude embedded into the core of the stone. Also, during world war I and world war II, they were seen elegantly all over the accessories of big celebrities to make a very bold fashion statement.
Citrine is derived from the French word 'citron' which means lemon. It is usually associated with success and fortune, even its bright colors symbolize upliftment of spirit. So when you are depressed or sad, you can always look at it and feel much better.
That's all old history though, most recently citrine is mined from places like Russia, France, Madagascar, and some other places. On the Mohs scale, they are ranked seventh, but that does not stop them from having such a graceful and appealing appearance. And even though they are called November gemstones, you don't have to be born on November to have one adorn your fingers.
Why should I choose to wear citrine gemstone?
Citrine has a very enticing color which cannot be overstated. When considering quality, it stands out among most of the other yellow gemstones. It comes with a hardness of 7 on Mohs scale, has excellent durability and very versatile. Getting one of them for your fingers will make sure you can rely on it for quite a long time.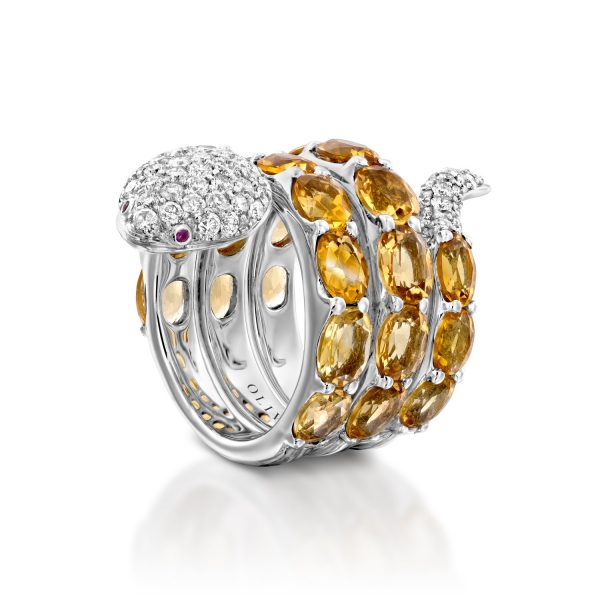 Furthermore, they are very affordable, in fact, they are one of the few top-quality gemstones that you can get the natural one without having to spend too much. What matters the most when you want to get one is to consider its four c's, which includes;
Carat – when the size and weight of gemstones are mentioned, it is called carat instead. You can find unrefined citrine at low prices. But polished and professionally crafted ones will surely be considerably pricey.
Colour – as mentioned earlier, citrine comes in a variety of colors. So pick the one that best suits your other fashion accessories.
Clarity – this is very important when you are determining the price of the ring you want to buy. You might find small blemishes under the surface of other gemstones, but this is incredibly rare with citrine. Before you buy it, however, check it under intense light. This will allow you to gauge the value of the stone.
Cut – citrine is quite natural to shape because of the molecular structure, so you can get any cut you want from oval to rectangular. Just get creative about it.
Popular citrine rings seen on celebrity fingers!
Citrine rings are no stranger to celebrities, you can find it right on their fingers in the red carpet or other showbiz events. One event we can point you to is on the American Idol show where Jennifer Lopez was seen with a 14K cleaved citrine ring. Another one that you should definitely check out is the Duchess of Cambridge, Kate Middleton and the citrine ring she wore three weeks after the birth of Prince Louis.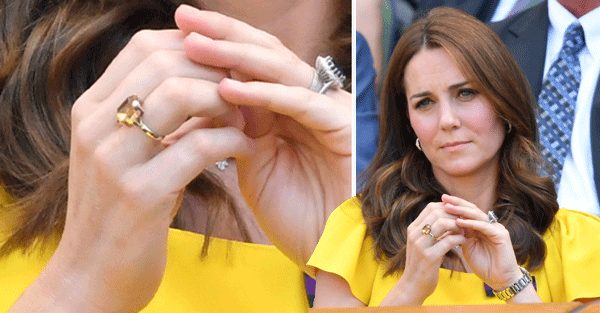 One place you saw the ring and you didn't know is in the avenger's infinity war. Yes, the citrine stone was used to depict the mind stone in that movie. There are a lot more celebrities that use the stone to complement their fingers, especially when they wear orange or citrine gowns. Just look at Anna Kendrick, Kim Kardashian, and other superstars you see on TV.
Now that we have wooed you with all the fantastic features of a citrine ring, you certainly want one to complement your fingers now. But there are so many of them in the store, both online and physical stores. Which is why we the ten best citrine rings that you can find, and we have them all figured out for you in this article.
Our 10 Favorite Citrine Rings!
1. BONLAVIE Women's Yellow Citrine Birthstone Engagement Ring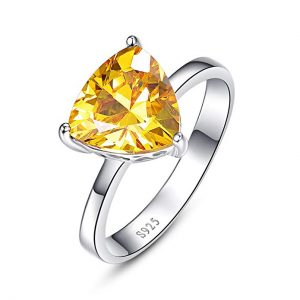 Here is a stunning piece from Bonlavie which can only be described as 'superb.' You can literally tell that you would love the feel on your fingers with just one glance at it, especially if you are looking to add a little bit of sunshine to your jewelry. The ring was specially crafted with such expertise that every curve and inch of the ring is perfect.
The citrine stone on the ring is 5.95 carats and measure 10 millimeters in diameter with its triangular cut. This piece of beauty is set in a 925 sterling silver band plated with rhodium to make sure that they perfectly suit your hand. Quality and durability were not left out in the plan when these rings were being created, and that is why only the best were allowed to handle it. Another catch is the three prong setting that makes it a perfect fit.
Citrine stones are also described as "stone of the mind," and they can be used for engagement ceremonies, wedding, birthdays and any other time you wish to give someone something amazing. Bonlavie was even nice enough to package the ring in a very dazzling gift case that saves you much stress when gifting it.
2. Silvershake Natural Citrine & White Topaz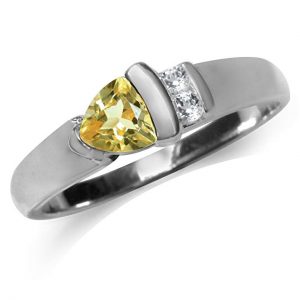 Have you ever seen the fusion of two beautiful gemstones that they almost make you blind with their dazzle? That is what silver shake has created with their citrine and topaz ring. The ring comes with two awesome stones and is a perfect item to compliment whatever it is you are putting on.
The product was made with naturally treated citrine and topaz. The citrine ring has 0.50 carat stones while the topaz has 0.40 carats – both with good cuts and thermally treated. There is no better way to craft the ring than what silver shake did. The citrine stones have a yellow color and yellow topaz. It's like a harmony made in heaven. For perfect balance, the stones are 5 millimeters across, making them a great fit for your fingers.
You should also know that the stones are set into 925 sterling silver metal. Which is one of the best you can get around? With an almost flawless feature and high rating, the amount of expertise embedded in this ring should make the price soar. But citrine rings are beautiful without being pricey. So don't be overwhelmed with all the high and mighty feel, it's very affordable.
3. Gem Stone King 925 Sterling Silver Yellow Citrine Gemstone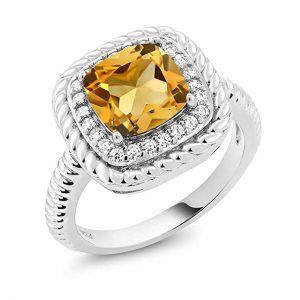 You probably wouldn't find any other citrine ring that is as amazing as this product. With a natural citrine ring that has all the fantastic features that you need to dazzle at that event, you will undoubtedly want to go for it. The ring was made by a gemstone king who has a history of making only the best. They have expert hands to craft excellent jewelry that guarantees your satisfaction. Sparkling and reliable, you can trust them to create beauty out of any gemstone.
This ring has been created with 3 carat of citrine stone that is clean-cut and perfect. You should see the 925 sterling silver metal that has the stone set in it. Also, the stone is just the perfect size measuring 8 millimeters in width. You can be sure that there have been several checks and inspections to ensure you get the piece of luxury that you deserve.
There is that sleek and elegant design that you will love in the ring. Additionally, the ring has been made in various sizes making it very comfortable to wear. Just click on the link above and order yours, and you will undoubtedly have that spark of life brought to your jewelry.
4. Silvershake 1.04ct. Natural Citrine White Gold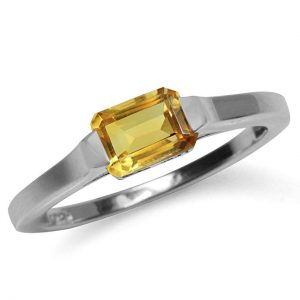 We already have one product from silver shake for you in this article, but here is another equally impressive product that you would love to have. It has a unique shape and features naturally treated citrine stone perfectly cut to make it fit the metal band.
Made from gemstone beauty, the 1.04-carat citrine stone is octagonal in shape. There is also the yellow color that takes the look of autumn hue making your finger look like it caught a drop of sunshine. Rhodium-plated, 925 sterling silver is the material that is used for the band. And this makes it safe for your fingers especially if you have sensitive skin.
Thinking of getting a gift for your loved ones, especially during birthdays, valentine, or any of the other holidays, then this is a perfect option. They will love it and remember you every single time they stare at their fingers. Another perk is their durability and how affordable they actually are.
5. Silpada 'Metallic Mix' Natural Citrine Ring in Sterling Silver, Brass, Copper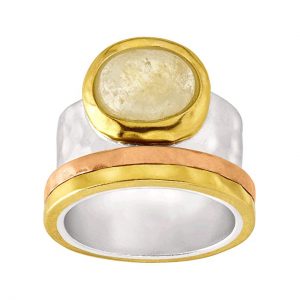 Citrine rings have this awesome sparkle that catches the rays of light at the correct angle and sends out such a beautiful reflection. When you add this amazing feature to a metallic mix of silver, brass, and copper, the result is breath-taking. And this is what silpada have achieved with their natural metallic combination.
Silpada is all about taking care of women accessories. They have the set of experts that make quality and dynamic collection of jewelry. From necklace to hand bands and rings, you can always trust silpada to be unique. This product from them has a 0.8-carat citrine stone set in a ring band that is made with 925 sterling silver stamp. The width is 0.38 inches, and it is naturally treated. What is special about this band is that it constitutes three different materials including silver, brass, and copper. Check out the picture to see how they have been awesomely arranged.
Culturally designed to make it easy to choose your style, the ornate design is so intricate they support the bright yellow color of November birthstone. Durability is not a problem, check the price by clicking the link, and we are sure you will be stunned by how affordable the ring really is. Carefully packaged and primed for perfection, you can also use it as a special gift to that special one.
6. BL Jewelry Antique Finish Filigree Sterling Silver Citrine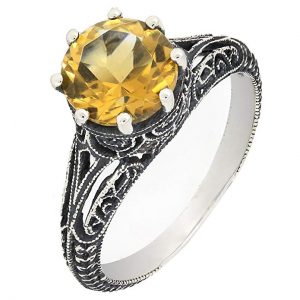 Some of the awesome citrine rings for sale on the online store or jewelry shops are highly affordable but comes with nickel material. They just aren't safe for you; they can cause irritation or slight rash. But with this product, you wouldn't need to worry about that.
The metal band, that houses the citrine stone was made with 1.8 carats of the gemstone, was crafted with sterling silver. It is specially treated with an antique finish to add that vintage style that you aren't familiar with. 9 millimeters in width and the 4 prong setting are that finishing touches that round up the elegance of the ring.
Like all the other options in this review, BL jewelry crafted a masterpiece but still made sure that you can afford it. Naturally crafted and heat-treated, you can't go without this piece of jewelry.
7. Rylos Diamond & Citrine Ring Set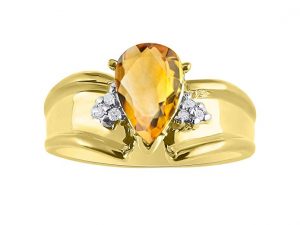 Elegance, sophistication, and eloquence are the best adjectives to use when describing this product. The ring has all the elements that are awe-striking. Right from the citrine stone to the metal band that it is engrafted into, they certainly achieved an exceptional level of perfection.
The ring features a 1-carat diamond that weighs a total of 3.2 grams. It can also be resized to fit your finger perfectly, all at your request. This exquisite piece of fashion is yellow gold and is made with a 14k metal stamp of very high quality. For aesthetic reasons, the stone was cut into an oval shape and naturally created. Another fantastic thing you should know is the presence of 0.05-carat diamond all around the citrine stone, just to complement it.
Although this ring is a bit pricey, you can be entirely sure that it will be worth every penny you spent on it. If you are about to go down on your knees and propose or get married and you need a ring, this is just what you need. She will fall deeper in love with you with a piece like this.
8. Gem Stone King 925 Platinum Plated Sterling Silver Cushion Yellow Citrine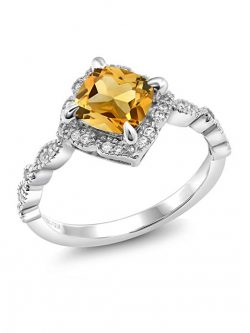 Intricately designed to meet the quality taste of customers, Gem Stone King really came through with this ring. Just like all their other product, their expert craftsmen have fashioned citrine stone into such a fantastic fashion piece. The ring is available in various sizes to fit the hand of everyone who wants to wear it.
Made with 100% natural 1.74 carats of the citrine stone, the piece has a metal band made with 925 sterling silver. You won't need to take it off, and it certainly does not require so much maintenance. The stone is 12 millimeters in width, and it is complemented by 29 cubic zirconia arranged in a twisted form for better ambiance.
Citrine stone symbolizes healing, optimism, loyalty, and vigor and that is captured all in this timeless piece of artifact. Going for casual outings or formal ceremonies, no occasion won't appreciate its beauty, and you can get it for a very affordable price.
9. RB Gems Sterling Silver 925 Ring Genuine Gemstone Oval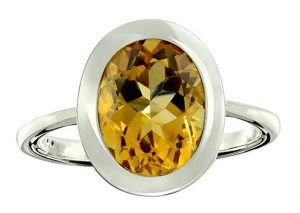 It is inevitable that this ring makes our list, it is a fantastic ring that features November birthstone right at the center. RB gems have professionals that especially handcraft high-quality jewelry collection with all types of gemstones, and this is also one of theirs.
The citrine gemstone that jewelers put into making this alluring piece is 3.19 carats and natural. To make it perfect for your fingers, the diameter is 22 millimeters and has an oval shape. You can also count on the solitaire style to be eye-catching and suitable for everyday wear. Like most of the rings that are safe to wear, the ring band has nickel-free sterling silver plated with rhodium. So you can sleep, eat, party and continue to dazzle while wearing the ring.
With birthday, anniversary or any special event coming around, you can get this for that person. Or you can get two, one for you and the other for her, just to show you are thinking about her. And what more can you ask for, the ring is affordable and highly durable with guarantees all round?
10. Gemstar USA Sterling Silver Citrine and White Topaz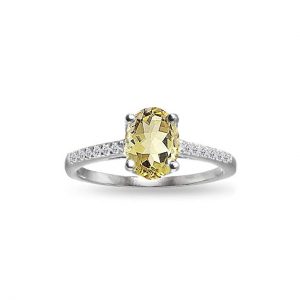 Attractive stone in an appealing setting, that's certainly something worth looking at. Gemstar citrine piece comes with excellent features like the topaz used to accent it. This is one product that has no material that can hurt you. Yo can best describe it as an expensive collection that is selling for cheap.
It has topaz set all around its bands. With a 925 sterling metal, the citrine is a crown of the whole design. This is not the first in Gemstar collection. They have an array of assorted items that will do very well in your fashion library. From the artistic craftsmanship displayed by the creation of the ring, quality and elegance are highly considered. You can click the link above and see how affordable the ring is.
Either it is for an engagement or just a red carpet event, you can use the ring to complement, orange, yellow or amber gown. Just the piece on your finger will collect all the ambiance and reflect them more beautifully at the party.
How to take care of your citrine jewelry?
Citrine is highly durable and really requires no special care to keep them glowing. However, some tips can make sure that you use them for years to come while still preserving their allure. For starters, don't use your ring when you about to go sea diving or jump into a chlorinated swimming pool. You should also make sure they are not exposed to hard knocks or extremely severe conditions.
When you take it off your finger, you can store it away in the box it came in or look for a soft pouch to house it. If you feel the need to brush off the dirt from the citrine rings, take a soft brush and dip it in a little bit of soapy water to brush off dirt. You can also return it to the jeweler once in a while for ultrasonic cleaning.