Silver / Watches
Silver Watches for Men that Love Elegance and Simplicity
We've all heard the saying "a man's best friend is his dog". Well on this occasion we think that a man's best friend is his watch! Why we hear you ask? Well, a watch tells a lot about a man – his wealth, fashion, knowledge, interests and personality. That's why we made a list of the most gorgeous silver watches for men.
A watch is more than just a watch and it symbolizes a lot about a man's values. You're probably thinking we're going a bit deep with this but if you haven't already, you'll soon understand the importance of one.
We're not forgetting that first and foremost the purpose of a watch is to tell the time. But if that's all you thought it did, our top ten list of must-have watches will certainly teach you a thing or two!
So when it comes to buying one there is a lot to think about and consider – the face, the strap, the dial, the material, the style, and the weight. You may notice that the word 'price' didn't appear in that list. We're not saying that the price isn't an important factor, trust us it is! It's just that these other factors tend to come first as a priority.
So if you find a watch that ticks all the boxes but it's slightly more than you were initially willing to spend then you're more likely to extend your budget so you can buy the watch that you love, rather than the watch you like.
You or your man may spend hours researching and trying on options so it's really important that you get the perfect one for you! Fit, comfort, style, and price are all important factors to get right when shopping for your watch.
Celebrity wearing silver watches for men

There will always be a fascination with A-list celebrities and the latest products they wear. When it comes to men and the trusty watch, there is an abundance of rich and famous men that model their beautiful watches.
Award shows and movie premiers are great occasions that see male celebrities showing off the latest watches. Watch brands also make it onto the big screen in movies, television programs, and commercials.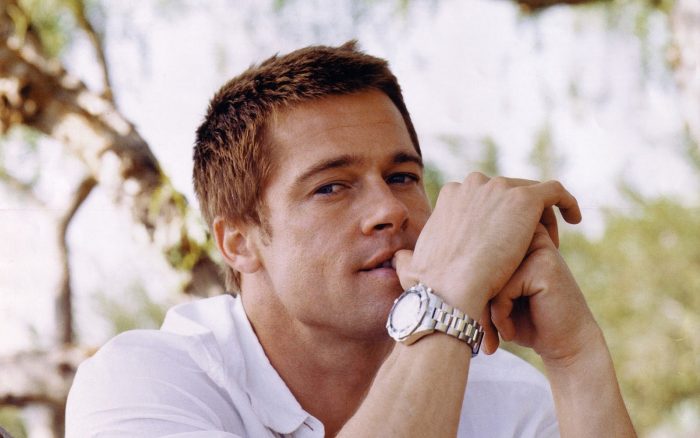 Some of the top male celebrities that we love to see modeling their watches are Brad Pitt, Daniel Craig, Robert Downey Jr, Hugh Jackman, and Sylvester Stallone. There are also the likes of Tom Cruise, Leonardo DiCaprio, Chris Evans, and Ryan Reynolds.
Well known brands like TAG Heuer, Rolex, Cartier, OMEGA, Montblanc, Girand-Perregaux, Panerai, Piaget and IWC are all regularly worn by these A-list male celebrities. Whatever the brand, we look to these male celebrities for the latest trends and rely on the fact that they'll show us the best watches.
Our 10 favorite silver watches for men!

So to make life easier for you we've whittled down our top ten favorite silver men's watches. As discussed, when it comes to a man's watch there are lots of different styles to choose from but one thing's for sure. The timeless silver man's watch is here to stay because it's effortlessly elegant and a must-have an item of men's jewelry.
1. Invicta Men's 8932 Pro Diver Collection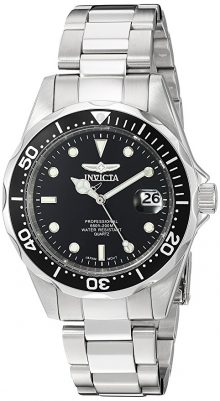 Described by the manufacturer as being big, bold and masculine, Invicta has definitely delivered a classic look here and at an affordable price too! With a black face, this stainless steel silver watch will definitely get heads turning. It features luminous hands and a unidirectional black bezel (here's where the buzzwords come in – a bezel refers to the top ring on your watch and some screw-on, some snap and others can be turned by the hand).
It also has a stainless steel wrist band which has safety clasp, ensuring that this polished accessory doesn't leave your wrist for a second. The watch also has an anti-reflective mineral crystal face which cuts down on those pesky scratches that may occur.
This piece is made by a company called INVICTA Watch Group. Taking a closer look at the brand, they really do make a lovely variety of watch styles, 30 diverse collections to be exact (that's one for every day of the month!).
This manufacturer values itself for crafting timeless and supremely crafted items. Their execution and expertise also lie in the design of this piece as well as the construction and they're known for being very inventive and stylish!
They pride themselves for using only high-quality materials and refer to themselves as being "one of the most technically capable watchmakers in the world". Wow, that is a big and bold statement, much like the design of this option!
2. Bulova Men's 47mm Precisionist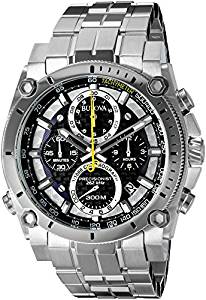 So next up we have this Bulova Men's 47mm Precisionist watch. If you've got a large budget to spend on your hubby than this watch would make a great birthday present!
This watch definitely oozes masculinity in every way! The unique design includes a mixed media dial with four chronograph subdials. It also has a hex-screw accent on the bezel, giving that extra bit of mechanical design and detail.
As expected this watch consists of an analog display and has a Japanese quartz movement. The stainless strap also has a fold-over clasp containing a single push button which ensures a safe closure.
So why does the supplier charge a higher price tag for this gorgeous piece of craftsmanship? Well, Bulova definitely knows a thing or two when it comes to creating a sporty yet dressy styled watch and the detail put into this piece is certainly worth the money. It has a three-prong crystal movement and a continuous-sweep second hand which means that the second-hand moves effortlessly in one smooth motion.
It has a 12-hour chronograph function (in layman's term this is a stopwatch or timer) which has great precision, giving it the timing of 1/1000th of a second. What we love about this watch is the effortless design detail, in particular, the continuously sweeping second hand which is colored in a fluorescent yellow.
It also has a double press safety lock on the strap for extra security so your partner's latest toy doesn't fall off his wrist. Additional comfort also comes in the form of a curved stainless steel backing. The stainless steel strap is also a nice size at 24 mm wide, giving it that extra comfort.
Overall this option is strong, sturdy and attractive. This big, more masculine style watch will definitely accentuate the physique of a larger muscular man. With a clean, polished and durable finish it's well worth paying that extra money for this watch.
We couldn't move onto the next option without mentioning a little more about the manufacturer, Bulova. This American brand has been crafting watches since 1872. Founded by Joseph Bulova in a store in Mainden Lane in downtown Manhattan, they have been making classic watches for years which is why they're so amazing at what they do!
3. CIVO Simple Design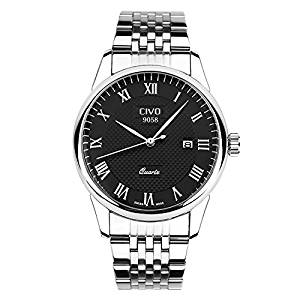 Simplicity is a great way to describe this watch. The silver-plated design represents high-quality luxury and the watch face is assured of being scratch resistant due to the glass that's used.
If you're looking for comfort and durability, this watch delivers 100%. It is made from stainless steel which is super soft, durable and flexible, making it a great watch to wear on those long days at work.
This watch also comes with a few little extras that we love to shout about! Firstly, you'll get a 12-month warranty and 90-day money-back guarantee. The watch also comes in a stylish and luxurious leather paper watch box which includes a microfiber cloth so you can clean your watch regularly. This is what we like to hear, a manufacturer that cares about products and their customers!
Another detail that we just love about it is the Roman numeral numbers which make it easy to read and gives it that classic design. Luxurious and fashionable! If nothing else, the simple design will bring some sunshine into your life after a long day at work. Priced at a low price it certainly looks more than it's worth!
4. Alps Waterproof Chronograph Quartz Watch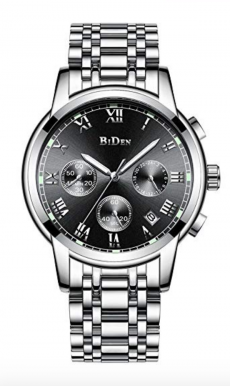 If you're looking for a more casual option but still want that stylish and sleek look, this is a great option. Made by the Alps, this stainless steel silver watch includes luminous green minute and hour hands so it can be seen when the lights are out.
It also has 3 sub-dials which show a 12hr/ 24 hr, a chronograph minute and chronograph second. This function definitely adds to the overall design of the watch face.
We'd definitely describe this as a fashion piece and a great accessory for any man to have whether they're at work or wearing it at the weekend. With a luxurious design and fashionable style, this will grab the attention of everyone's eye!
The manufacturer guarantees that the watch is made from a quality stainless steel case, making it very sturdy and the face is guaranteed not to fade. The stainless steel wrist band is also very comfy and easy to close with a double locking fold-over clasp.
What we really like about it is that it's relatively cheap but looks expensive and classy. What are you waiting for, get yours now!
5. Fossil The Minimalist – FS5307
Our list wouldn't be complete without one made by Fossil. This brand has a national reputation which we all know and love! Sold at a high price you're definitely getting a quality product with this one.
If there was one word to describe the design it would be 'minimalist'. In comparison to other picks in our shortlist, this one has a slim stainless steel face with a black background, silver hand, and linear hour hand as well as minute markers.
Minimalism continues throughout this gorgeous watch and along with its 22mm band. It also includes a mineral crystal face (break-resistant) and 3-hand analog display. It's important to point out that mineral crystal faces can scratch relatively easily so make sure your beau looks after his watch.
Another quality is that it's a very light watch due to its thin and sleek design. Dressed in a smart suit ready to go out for a Saturday night meal with the lady, he won't even realize that he's wearing this watch!
6. Sweetbless Wristwatch

If there's one thing this piece is, it's classy. This striking watch interestingly captures the inside workings of the watch very well. If you don't know what the inside of a watch looks like, this one definitely gives you an insight into the mechanical skeleton design which is extremely attractive to the eye. This exquisite design allows you to see, feel and breath every hand ticking away which is remarkable.
It is, however, important to point that this is a mechanically powered option so all those traditional watch lovers out there will love this piece of craftsmanship.
This is an important thing to mention as if you prefer a battery-powered option this may not be the one for you. It's powered by a wind-up whirl button instead of a battery (Yes you heard it no more batteries to buy or fit!). If nothing else, this watch is certainly unique!
Mechanical technology, durable and a stainless steel color, this watch really offers you a lot, making it extremely desirable. The band also has a textured feel to it which is another reason it's different.
The classic roman index numbers also add to this classic timeless watch. We think this option has that James Bond vibe going on. It's handsome, classy and would look stunning with a suit!
7. Michael Kors Lexington Silver-Tone MK8405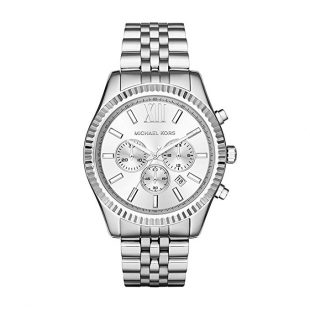 Michael Kors, what's not to like? This Lexington silver-tone men's watch really is something else.
It has a silver-tone stainless steel strap with a coin edge bezel, date display, and chronograph function. The face is 45 mm in diameter and has a mineral dial window.
As expected the watch also has a double fold-over clasp on the steel strap to ensure extra safety. One of the many things we love about this Michael Kors watch is the roman numerals and thick markers which gives it a very distinct style.
The reputation of this brand speaks for itself and this watch gets a big thumbs up from us!
8. Invicta Men's 0070 Pro Diver Collection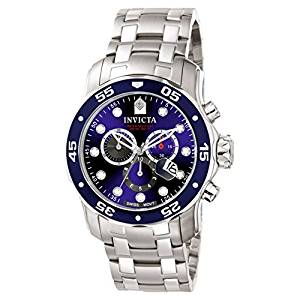 We couldn't help ourselves with our next choice, another of the Invicta watch range. This time we've gone for their 0070 Pro Diver Collection Analog Chinese Quartz.
What we love about this are the stainless steel finish, the attractive blue bezel, and the deep blue face. The silver-white skeleton hands, three chronograph sub-dials, and luminous indices further add to the style of this watch
. The attention to detail with this watch is phenomenal! It also encompasses a Chinese quartz movement (a popular mechanical option movement developed in the People's Republic of China in the 1970s).
It also has a flame-fusion dial window (sounds fancy, doesn't it!) and the stopwatch can measure up to 60 minutes. We really like the stunning blue dial in this watch. It has a slight concave crystal that covers the bezel which makes this watch stand out.
For that extra bit of style, the head includes a large crown and two bold buttons on the right-hand side of the case (the watch face). It has a pearl face featuring two partial dials in different sizes, as well as a cuff style band which we really like.
This watch is going for the chunkier, manlier look and is great if you're after a watch to wear while exploring the great outdoors. Again, if you're after a statement piece of jewelry this will certainly do the job.
Interestingly, Invicta in Latin means 'Invincible'. The designer really shows off their expertise when it comes to executing the design and construction of this watch and it really does feel invincible!
As you're probably expecting, this beauty comes in at a high price but you certainly won't be disappointed with the quality on offer. Big, solid and stylish, more of that, please!
9. Emporio Armani AR2472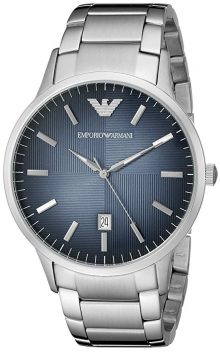 Emporio Armani – this piece is sleek, smooth and utterly sexy.
This beautiful stainless steel case and bracelet would definitely be classed as an everyday piece of luxury jewelry. The blue dial, scratch-resistant mineral in the screen and Quartz movement make this a top watch. It also features a blue textured degrade dial and the three-hand design represents plenty of class.
Another reason why we like this option is that it's got a very professional look about it. If you're a collector, this would definitely be a great addition to your collection. This beauty has a high price tag but its worth every cent!
Emporio Armani is known for their elegant designs and attention to detail and this piece from their exclusive collection is no acceptation.
We think this piece is very versatile, great for work, great for dinner parties and great for chilling out at home. Tick, tick and another one for luck!
10. Citizen 'Eco-Drive Dress' (Model; BM7251 – 53H)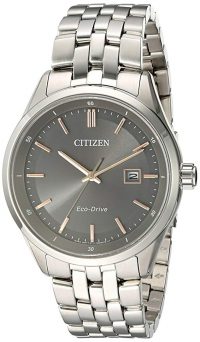 This Citizen piece is classed as an 'Eco-Drive Dress' watch which means this watch will charge in any light, eliminating the need for a battery. If your man values simplicity, this is the piece for him. It has a grey dial, rose gold-tone indices and date window.
The stainless steel bracelet is also very comfortable and stays on your wrist securely. In contrast to our other watches, this watch has a sapphire crystal screen, making it extremely hard and scratch-resistant.
CITIZEN pride themselves on delivering excellence and creativity through their watches. The brand name 'CITIZEN' conveys deeper meanings towards craftsmanship.
The name also lends itself to bearing a sense of responsibility to help create positive change. Learning about the brand we also get a sense of there an on-going evolution through their craft of watchmaking.
All in all, they make a fantastic, elegant and classy piece! This watch is utterly beautiful and would make a lovely present for the hubby or even your dad. It's also not overly flashy. Instead, it's super simple, making it suitable for both formal and casual occasions.
Top tips style tips for silver watches for men

1. Size
Make sure your watch fits properly. You wouldn't go out with your trousers falling (well hopefully not anyway!). So the same care and attention need to be taken with your watch. The band should fit snug and be comfortable
. The size of the dial should also be in proportion to the size of your wrist. Our thoughts are that a loose band looks a tad sloppy so make sure it's sized to your wrist properly.
Remember that your watch will probably come with spare links so that you can make the bracelet bigger or smaller – you can either do this at home or pop into jewelers who will amend the bracelet for you.
2. Have a variety of watches
This may not be to everyone's liking but we recommend not wearing the same watch every day. If you only have one watch that you treasure, try not to wear it every day.
Giving your watch a break at home will certainly make it last longer. Also very few suits an all-occasion look – the gym, dinners out, the office, parties and even chilling out at home.
You wear different outfits for different occasions so why not do the same when it comes to your watch. If you only have a small budget, start to build up a small collection of watches, suitable for different occasions. That way you'll never grow tired of wearing your watch because you'll switch it up every now and again.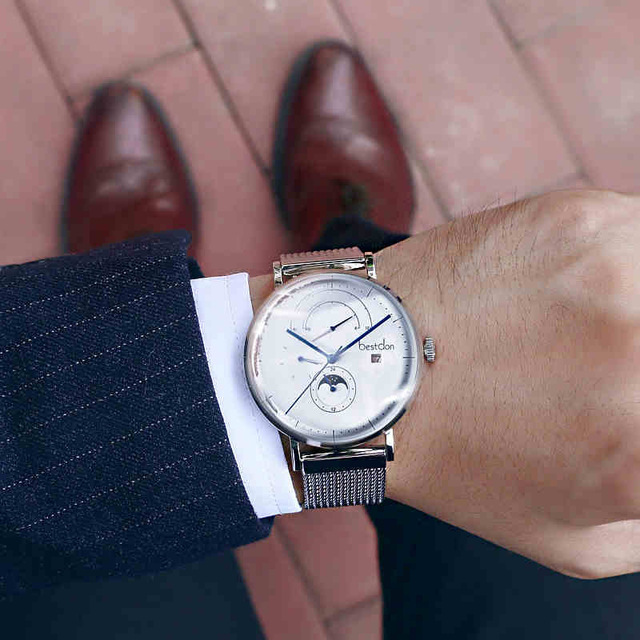 3. Match the color of your watch to the colors in your outfit – A great tip is to match the color of your watch to your shoe buckles, belt buckles, rings, cufflinks, and pins. Wear brown with brown and try not to mix the colors.
We understand a watch isn't just one color so try to focus on matching the color of the metal, the strap or the boldest parts of the watch or even the dial.
Things to consider when buying men's silver watches

Occasion?
it's important to first establish where the watch will be worn as this will affect the style, weight, and cost. Whether it's for use at work, during exercise, for everyday use or for something more formal, these are just some of the occasions to think about.
So whether you're buying a watch for your husband, boyfriend, brother or father, you'll need to know when are they are most likely to wear it as this will make the selection process a lot easier for you.
Who is the watch for?
A watch that you buy for your hubby will be very different from the one for your father. Or, if you've just started a new relationship, you may want to buy something slightly different compared to if you were buying for your big brother as a special 40th birthday present (you may be more inclined to spend more on your brother compared to a relationship 2 months in!).
In all scenarios, knowing a little about the person that you are buying the watch for will help you make a perfect choice.
Is a watch just a watch?
Gone are the days when a watch was just a watch (in some cases, a watch is now a phone!) and it can be a bit of a maze when it comes to choosing a watch. If you haven't already noticed, there are lots of buzzwords used to describe watches including water resistance, date display, bezels and clasps, the list is endless!
This is great for watch nerds and it's great that a beautiful and useful accessory like a watch can unite people, but it can at times isolate the newbie who simply wants to buy her loved one a nice watch for his birthday. That's where we come with our awesome selection of silver watches for men!