Gemstones / Men / Mix
The Obsidian Ring Your Man Will Love
It seems stones for the jewelry we wear can be found anywhere. You can even get them from a volcano. Obsidian is an igneous rock formed from volcanic glass. One of the most iconic pieces of jewelry is an obsidian ring.
The way Obsidian is cut will give it varying appearances. It even has healing properties associated with it. Different colors even have different properties.
Black Obsidian is a powerful stone and it increases self-control. Some think Golden Obsidian can be used for scrying or telling the future.
Mahogany Obsidian resonates with the earth and its grounds and protects you. Snowflake Obsidian is calming and soothing. It's the stone of purity and will teach you to value your decisions and help you learn from your mistakes.
Someone, somewhere, saw Obsidian, thought it was gorgeous, and used it for jewelry. However you want to use it, it's a dazzling stone. And we couldn't agree more.
Here are our top ten picks for men's Obsidian ring picks. You are going to love them!
Our Favorite Obsidian Ring Picks!
1. SunnyCrystals Obsidian Ring

This Obsidian ring is from a rainbow Obsidian. The style of this piece makes us feel as though it was made by a crafty artisan. It's simply spectacular and when kept shiny and exposed to light, you can see grayish-yellow rings in it.
The stone is domed, rectangular, shaped and it's fairly large. It is a natural and polished piece. It's in sterling silver and is set with prongs. The prongs don't go all the way around the stone, however.
There are four prongs on each of the longest sides of the rectangle. Four individual bands are attached in the back for stability. They never join or meld, into a single band.
We may be "going out on a limb", but we think this piece could be a "his and her" ring. If you need a bit of grounding, the rainbow Obsidian releases negativity and lets in the light. It may protect against depression and bring joy and love into your life.
The price? Well, it's a bit expensive, but we think it well worth the money you'll pay. And, it's one of a kind; a definite show stopper.
Much to our chagrin, this ring only comes in a size 10. We really wish it were available in more sizes.
The rarity of this piece makes it worth the price.
2. Enso Rings Men's Infinity Silicone Ring

This ring is only obsidian in color, but we love it! It's actually made from silicone which is hugely popular in wedding band right now.
There is no stone in this piece, only a continuous band of Obsidian colored silicone. On the band, there is an infinity design.
The design section is raised. The shape is a prolate spheroid or football shape. They are all attached to each other, giving you the infinity design.
If you're getting married, this is the casual band you will want to wear every day. There's really no reason to take it off unless you want to wear your expensive piece.
While you won't get any healing properties with this piece, it will give you peace of mind since it's an everyday ring super comfortable to wear.
We like the price point of this ring. It's definitely affordable! If you have a wedding budget, this ring won't blow it. It's a choice for you.
This is a very lightweight piece. You won't even know you have it on.
This piece is available in sizes 8-13. It is not resizable, not even by a jeweler.
3. Sterling Silver Obsidian & Tiger Eye Ring

Get ready to own a stunning Obsidian and Tiger Eye ring!
This masculine ring is all handmade and solid, polished, sterling silver. There are two Obsidian stones and three Tiger Eye. The largest, in the center, is the Tiger Eye. The stones have a slightly organic cut.
The cuts are not perfectly rectangular and the stones are inlaid in the silver. All stones are completely natural and have spectacular color and depth to them.
The silver is 925 stamped sterling. It is authentic sterling silver and the piece is solid.
The edges of the band are rounded and the band is flat at the bottom. Where the stones are, however, it is raised. This gives this piece a classy and rich feel.
If you are feeling a bit "wonky" this may be the ring for you. Black Obsidian is said to release imbalances and negative energies. It may provide support during life's stormy times.
If you are in a serious relationship, this is the ring to give. It's a bit pricey and we put it in the mid-price point. Well worth every penny you'll pay.
It is a bit over 5/16 inches wide. That's 18mm and it weighs a little less than 5 ounces.
4. Barse Sterling Silver and Black Silver Matrix Obsidian Ring

The formation of the silver on this Obsidian ring gives it a matrix effect. It almost looks "wizardly" to us. The pattern is slightly crisscrossed, with a diamond anchoring each strand, as though each line found something of purpose in the diamond shape.
The stone, itself, also has a diamond shape and the special cut gives it a very pretty and interesting appearance. It is very unique.
The band on this piece is single in the back and branches out to form a wider base for the setting and the Obsidian stone. The Obsidian is in a bezel setting.
The metal is 925, stamped sterling silver, which gives credibility to the metal used for this ring.
While wearing this piece, you may experience less negativity and heavy thoughts.
This piece comes with an affordable to mid-price tag. It would be a great gift for the special guy in your life.
This piece is a nice size and it covers about half of the space between the base of your finger and the knuckle.
The Matrix ring comes in sizes 6, 7, and 8. This piece is not resizable.
5. Sterling Silver Black Ring

This is a very nice guy's ring. The band has a flat profile and forms, what we call, angled shoulders. The shoulders are wide, giving this ring a formidable appearance. We think the appearance is more organic because this ring is handmade.
There are three stones of Obsidian used in this piece. Two of them are triangular shaped and are inlaid at both sides of the piece. They are base to base but separated by another piece of Obsidian.
They are divided by, what looks like, an elongated parallelogram. Basically, a rectangle with the sides cut on an angle. The Obsidian stone is natural, volcanic glass and considered to be a healing crystal.
If you are feeling a little out of control, this may be the ring for you. Obsidian is purported to increase self-control. The color is a deep, solid black.
This ring falls in the upper-mid price range. It would make a fantastic Father's Day gift, or a great Valentine's gift for a special guy.
This is a pretty hefty ring and feels really solid. It is about ½ an inch wide. That's about 12 mm.
It comes in sizes 9-13. It could only be resized by a jeweler.
6. Sterling Silver Black Square Handmade Ring

This is a very simple and classic ring. The band has a flat profile and extends to rounded shoulders at the top. There, sits a beautiful piece of jet black Obsidian.
Primarily, it has a square shape, but the sides of it are slightly rounded. It is very plain and masculine looking. The Obsidian is inlaid in a beveled setting.
The band is made of sterling silver and it is all handmade; each piece will be totally different.
If you are feeling any "psychic smog", this ring just may clear that up for you.e.
You can expect to pay an upper midpoint price for this piece. It's worth it, however, because you will own a one of kind, handmade, unique ring.
It weighs in at a bit less than 5 ounces. It is 15mm, or just over ½ an inch wide.
It is available in sizes 9-13. There are no half sizes. A Jeweler may be able to resize it for you.
7. MetJakt Obsidian Ring with Olive Branch Pattern

This ring from MetJakt looks as though it could be worn by a king! It may not protect the body, but a King just may want to wear Obsidian for its ability as a bodyguard of the soul.
It may protect you against anxiety, anger, fear and addiction, none of which your royal self needs to have.
The band has flat profile and it forms wide shoulders at the top. Each side of the ring has an olive branch imprinted on it. The jet black Obsidian stone has a prong setting, but even the prongs look royal.
There are four prongs and each of them is elaborate and royal looking as well. The prongs are set to hold the stone at the corners.
The Obsidian is a rectangular cut, but it's thick and beveled. It looks as though it is sitting on a royal cushion because the 925, stamped silver has an almost brocade look. It's just under the stone, on all sides of the ring.
The olive branch rests in a field of tiny round dots. This piece is handmade and very intricate; it falls in the mid-price range.
This ring is 1.8 cm long, or slightly less the 3/4 of an inch, and 1.5 cm, or just over ½ an inch wide. It weighs in at 13 grams or 0.10 ounces.
8. Sterling Silver Oval Recessed Rim Ring

This pick is solid black. The dark Obsidian stone is connected to the concept of darkness. It is thought to help you discover the inner darkness in yourself and, then, help you shed those traits.
It is handmade, making it a completely unique piece. This ring is, quite possibly the simplest one on our picklist.
The natural stone is an oval shape and is slightly recessed in the sterling silver setting. The band is a flat profile and forms upward to severely rounded shoulders.
The band is also stamped 925 for authenticity and quality.
The Sabrina silver ring comes with a little bit of a hefty price tag. It would make a great Father's Day gift from the family, or a very special Birthday present.
This ring has a weight of a little less than 5 ounces and comes in sizes 8-14. It is resizable only by a jeweler.
9. Sterling Silver Black Obsidian & Malachite Ring

This particular pick has not one type of stone, the Obsidian, but also has Malachite! You get two times the healing properties in one piece.
Both have beautiful color and depth, but the Obsidian stone is lovely jet black. It is made from natural Obsidian and sits in a uniquely beveled, shouldered sterling silver. This piece is not hollow on the inside, but, instead, it is solid sterling silver. The silver carries the 925 stamps of authenticity.
The band is flat on the bottom and progresses to the shouldering at the top. The stones are inlaid in the silver and each one has an irregular rectangle shape.
The stones are set on a diagonal, giving it interest and form. This ring has a rich appearance and is very masculine. It may leave you feeling light, refreshed and in control.
It falls in the high mid-price range. And, for this price, we wish there were a better selection of sizes.
Size is approximately 9/16 of an inch, or 14 mm. This ring comes in a size 9, only.
10. NOVICA Obsidian Artisan Crafted Ring

We think this piece looks "kind of old world". Perhaps it looks that way because it's handcrafted in Peru. From the back flat profile, the band splits in two and attaches to a square. Attached to that square, is a ribbon of diamond shape.
The sterling silver is stamped 925 for authenticity and has a brushed satin finish. The stone is a natural, untreated, and oval. It is in a bezel setting and has a crown cut. The stone is held by four simple prongs, one at each corner.
We must admit this beautiful ring has a heftier price tag. You get what you pay for with this piece, however. And you are definitely getting something good.
It is bigger than US, first-class, postage stamp. It is actually almost ¼ of an inch high, 1.3 inches wide and 1.6 inches long wide.
The stone length is 22 mm x 15 mm wide. That's almost an inch by a little over ½ an inch wide.
This piece only comes in a size 9. It may, however, be resizable by a jeweler.
Style Tips
Most men are minimalistic. They don't like to "junk up" their style. Some, however, will go all out and wear all sorts of jewelry items, even at the same time. In an effort to guide you through the fashion maze, we are going to offer a few tips for styling.
If you like a "rad" look, then we recommend you put rings on your fingers… a lot of rings on a lot of fingers. Wear these with a few sterling chain necklaces and possibly some stud earrings.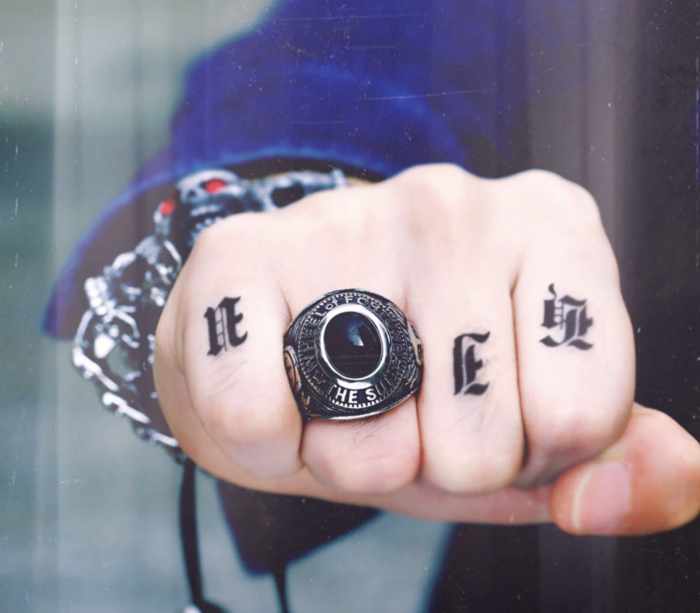 If, on the other hand, you are more conservative, your wedding ring and one other ring will do. You can still wear a sterling silver chain, but hold off on the earrings. While they may be great for Music moguls and rock stars alike, they won't fly in a traditional job interview.
For that interview, scrap the necklace and stick with one, or two rings, next to each other on the same hand.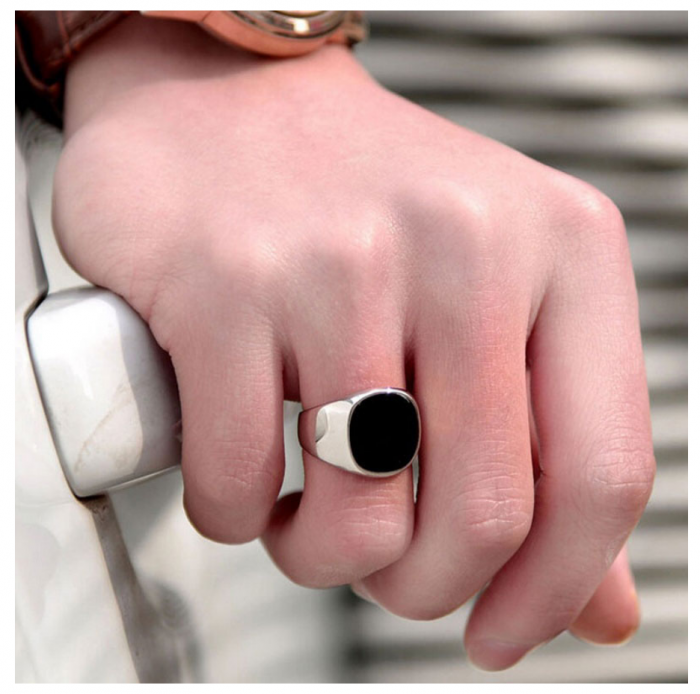 Speaking of rock stars and celebrities, we've seen lots of them wearing all types of jewelry, including rings with gemstones. It really wouldn't surprise us if guys like Johnny Depp, David Beckham, and Keith Richards had been seen wearing an Obsidian ring.
Criteria for Evaluation
When choosing our pieces we looked at a number of things. We wanted a piece that was durable. If it isn't a sturdy piece, it won't last and it's no good.
Obsidian also has healing properties. It's thought to be linked with the root chakra, the energy center that stabilizes your entire system. If it's not a quality stone, or it's a fake, none of this can happen. We tried to show you pieces made from quality stone.
Lastly, we asked ourselves about the ease of wear. An Obsidian piece should look amazing and feel just as amazing. If not, it stays in your drawer it is worthless.
FAQs
1. How do you take care of an Obsidian ring?
A. Obsidian doesn't like harsh cleaning chemical and solutions. Just clean with a soft cloth and soapy water.
Take your piece off, before doing household chores and any strenuous activity. Always store it in a soft lined box, or pouch.
2. Who is Don Crabtree?
A. He is a man who manufactured Obsidian as blades used for surgery. Professionally, he is called a Flintknapper, or someone who fashions stones for use as tools, strikers for firearms, wall foundations, and decoration.
3. Where is Obsidian found?
A. You can find it in: Australia, Argentina, Papua New Guinea, Armenia, Georgia (the country), Azerbaijan, Kenya, Canada, Chile, New Zealand, Greece, El Salvador, Iceland, Japan, Mexico, Peru, Scotland, the United States and Turkey
4. Where in the USA can you find Obsidian?
A. You can find Obsidian in New Mexico, Arizona, Colorado, Washington, Texas, Utah, Idaho and Oregon. You can also find it in Pennsylvania, North Carolina and Virginia.
5. Wait, I thought you needed a volcano to form Obsidian. Why is there Obsidian in PA? There aren't any volcanoes there.
A. That's actually three questions, but correct. In the region of Pittsburgh, when the steelmaking process was booming, the extreme temperature used in that process would heat the ore, limestone, and coke to temperatures greater than they needed to be.
The result was slag. Slag, when poured out, looks and acts just like lava. The Obsidian is found in deposits around Pittsburgh. It's called anthropogenic obsidian or, manmade.
6. What is a snowflake Obsidian?
A. It is a piece that has cristobalite crystals added to it, giving it a snowflake effect. Fun fact…dentists use cristobalite to make models of teeth.
7. Where did Obsidian get its name?
A. The name is derived from the Latin word "Obsidianus". It means "of Obsidius". It is the name of the Roman who is thought to have discovered it.
8. Q. Is it rare?
A. Very old Obsidian is hard to find. It is rare because the rock is easily destroyed by heat and weather. This is another reason to take care of your Obsidian jewelry.
Conclusion
Obsidian is formed from quickly cooled lava. It cools rapidly when exposed to rapid contact to water, or air. However it's formed, we are just glad someone found it!
Obsidian jewelry is classic and stunning and we love the healing properties it has. Our love for Obsidian is well-founded. Back in the day, 12,500 BC to be exact, people used it for pottery.
When it breaks, it has a sharp edge. It was popular in the Stone Age for this reason. Folks would use obsidian for chipped tools, sharp blades, and arrowheads. Because it has such a glossy shine when polished, it was used for mirrors as well.
How you cut off a piece of Obsidian, will give it differing appearances. If you cut it one direction, it will be a gleaming grey color. Cut in another direction it will be a stunning jet black. If you embed it with perlite matrix, it has a greyish-white appearance. However, you cut it we want our guys to "rock" these Obsidian rings.
Take care of your Obsidian. ring using standard jewelry procedures, but avoid using chemical cleaners. Soapy water and a soft drying cloth will do.