The 10 Most Beautiful Black Rings for Women!

last updated:
Mar 06, 2020
When it comes to black rings, there are so many different styles to choose from. To help you decide from the vast selection of rings on sale, we've chosen some of the most beautiful black rings available. Black diamonds, titanium bands, sterling silver, and black onyx, we've got it all!
However, before you start your search you may like to ask yourself a few questions: why am I buying this ring? Is it a birthday present, engagement, wedding or eternity ring? And what is my budget? Do I want my ring to have a diamond or would I prefer a plain band?
Once you've established these things, you're well on your way to buying your perfect ring and to help you do this, look at our top 10 picks, you're bound to find something that you love!
10 Black Rings to Add to Your Collection!
1

. Black Bow Jewelry & Co. Black Diamond Ring
¼ carat black diamond
3mm tapered ring
Rhodium-plated sterling silver
Without a doubt, this ring deserves the top spot amongst our selection of black diamond rings!
Read more
This gorgeous ring oozes elegance. Featuring small black round diamonds in a strip halfway around the band, this ring is something special. What's great about this pick is that it is quite light, weighing approximately ¼ carats.
The lighter weight also makes this ring extremely comfortable. You may even forget you're wearing it!
It has been created using rhodium-plated sterling silver. The advantage of this is that you have a beautiful looking ring which is extremely durable. The rhodium plating makes it very strong and resistant against any scratches or tarnish. We like the sound of that!
Looking at the style, it could be best described as being traditional. The ring consists of an elegant band with a strip of black diamonds. What makes this piece of jewelry different is that it has an undercarriage positioned above and below the row of diamonds.
This fancy detail, which is approximately 3mm wide and tapers to around 2mm, makes the diamonds stand out even more than they already do. This gorgeous design gives it a unique quality.
Even though this is one of our more expensive rings (taking into consideration the design, materials, and workmanship), we think it is well worth the price tag!
2

. Mytys Black Marcasite Cocktail Ring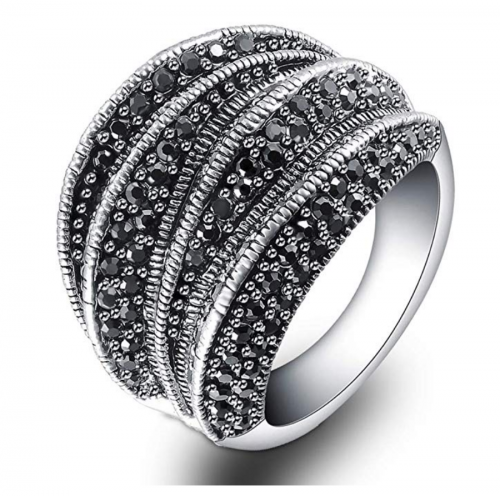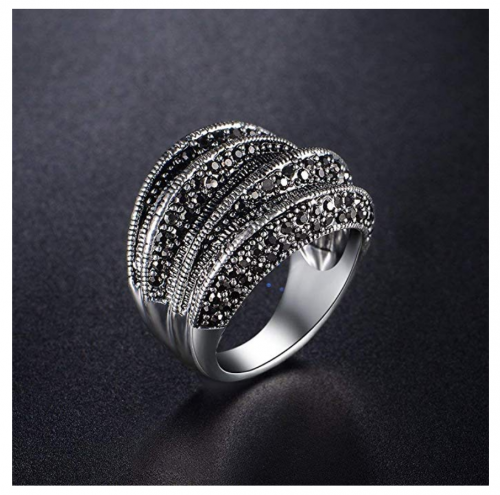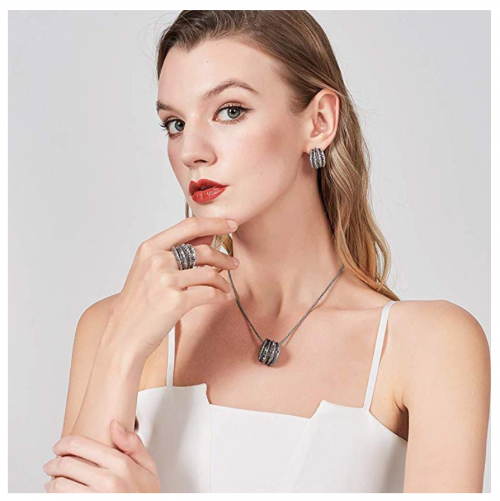 Black marcasite crysals
Pave-setting
30-day return policy
Big, black and bold. Whoever designed this ring, had one purpose and that was for it to stand out!
Read more
The first thing you'll notice about this vintage marcasite ring is its wide band. This not only makes the ring very comfortable to wear but provides plenty of space to feature crystals.
The black marcasite crystals are then positioned alongside smaller silver balls in a pave setting. The mixture of crystals and metal studs gives it plenty of depth and the combination of silver and black jewels makes it a fantastic accessory to wear.
If you have sensitive skin, you won't need to worry about wearing this ring because it is nickel and lead-free and hypoallergenic. This retailer also offers a 30-day money-back guarantee and a 12-month warranty.
The beautiful design and attention to detail that has gone into making this piece of jewelry also make it a great ring to wear on any occasion, whether it's on a day to day basis or to a special event like a wedding. You simply won't want to take it off!
3

. Jeulia Bead Silver and Black Ring
Rose gold-plated silver
Fancy black Jeulia stone
1.7 carats
One of the best things about rose gold jewelry is that it looks great with just about anything!
Read more
This time we've decided to choose a dainty style ring. This romantic piece has been created using a rose gold-plated metal. We like how the designer has given this ring a feminine feel, by using rose gold-plated silver, having a thinner band and featuring a black pear-shaped stone.
To give the rose gold-plated ring a unique twist, the designer has given the band an interesting surface texture which makes it look a lot more expensive than it is. The textured surface also gives it an aged feel which continues throughout the ring, framing the pear-shaped stone.
When it comes to the stone, the jeweler has opted for a fancy black Jeulia stone. Smaller than most of our other rings, this stone is approximately 6mm x 8mm in size and weighs 1.7carats.
The ring is also available in a variety of sizes giving you plenty of options, which is great news.
If you want a contemporary ring that is dainty and unique, then look no further than this piece of jewelry, it's one of a kind!
4

. TIGRADE Titanium Black Ring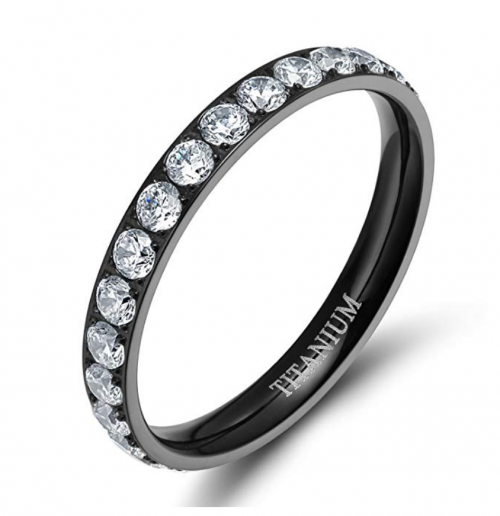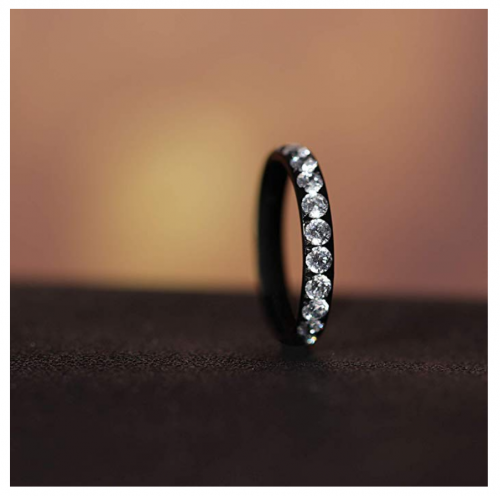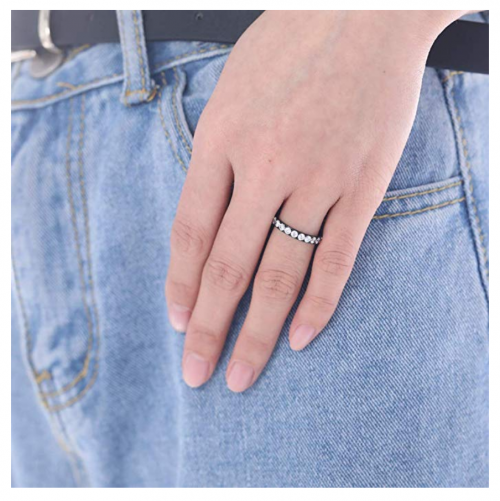 Genuine titanium
Cubic zirconia gemstone
Affordable option
If you want a sparkling display of diamonds for an affordable price, this engagement black ring from TIGRADE is a great option.
Read more
The ring has been made from genuine titanium metal and is approximately 3mm wide. If black titanium isn't your preferred color, it's also available to purchase in silver, gold, rose gold or pink metal.
What we love about cubic zirconia stones is their never-ending sparkle! With the ability to beam and dazzle from all directions, this stunning gemstone could easily be mistaken for a real diamond even though it's a fraction of the price.
The ring is available in band sizes 3 to 13.5 and can be stacked to wear with either an engagement, diamond or eternity ring.
5

. Black Bow Jewelry & Co. Two Tone Stainless Steel Band
Two-tone stainless steel
6 black diamonds
¼ carats
This stainless-steel ring beams style and sophistication! It consists of black-plated and polished stainless-steel metal. The inner section of the band includes a set of six small black diamonds.
Read more
Placing polished and black stainless steel alongside one another, with a hint of sparkle, gives the ring an elegant beauty.
As well as style, comfort also seems to be an important factor in this ring. To ensure the most comfortable fit, the designers at Black Bow Jewelry Co. have created this band with a beveled edge and smooth surface across the inner band. This is a great design decision.
The set of six black diamonds totals to ¼ carats and the band is approximately 9mm wide. The piece weighs on average 11.06 grams.
We think this ring would make a fantastic engagement ring for either a lady or a man. It's design and price make it a fantastic buy!
6

. Gem Stone King Black Onyx Ring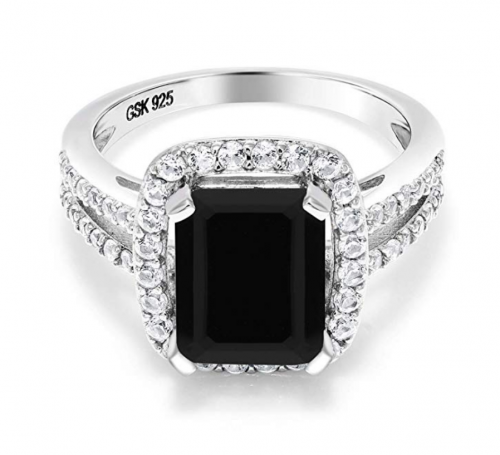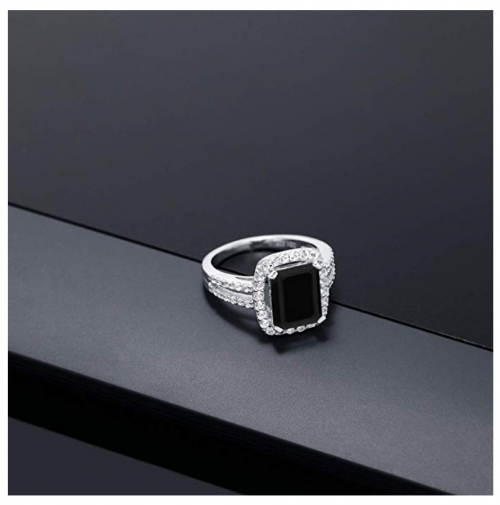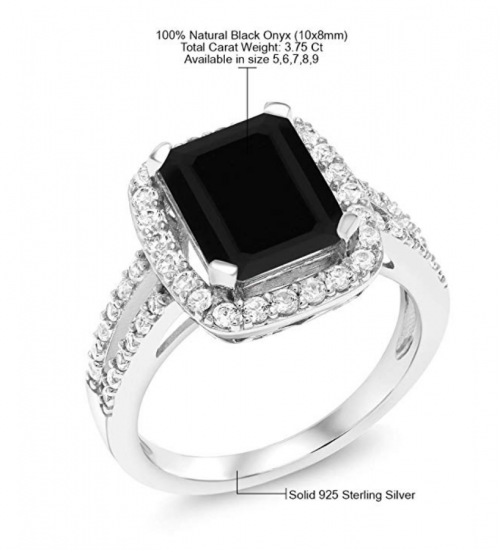 Black onyx
Cubic zirconia
Sterling silver
The company Gem Stone King are experts when it comes to producing black rings. This is one of their latest creations that we simply adore!
Read more
This beautiful ring features a black onyx cut into an octagon shape which is approximately 10x8mm. Black onyxes are known for being the birthstone for December.
Interestingly, some people believe that the gemstone can bring its owner good fortune and inspire a lifetime of happiness. The gem can act as a healing tool when it comes to personal issues. It can also help heal a person's wounds. If these beliefs are true, then we think everyone should have an onyx ring.
What makes it glimmer is its striking display of cubic zirconia diamonds. Surrounding the deep black onyx are dozens of cubic zirconia gemstones. Cut into a round shape, these diamonds are approximately 1.3mm x 1.3mm and weigh around 3.75 carats in total. They are also simulated stones and are white in color.
The ring has been created using sterling silver. This lovely choice of metal not only complements the diamonds but looks great as a backdrop to the black onyx and has no problem holding the 49 diamonds very securely.
When it comes to the style of this ring, it gives off a classic traditional feel which makes it the perfect engagement ring. This black onyx is also a great choice of stone if you want the ring to have sentimental value.
As previously mentioned, the stone is meant to represent the December birthstone, so when paired with the sparkling diamonds, this ring would make your girlfriend a very happy lady!
Even better, it comes in a variety of sizes including 5, 6, 7, 8 and 9. It will arrive in a lovely branded packaging.
7

. QingFox Bohemian Knuckle RIng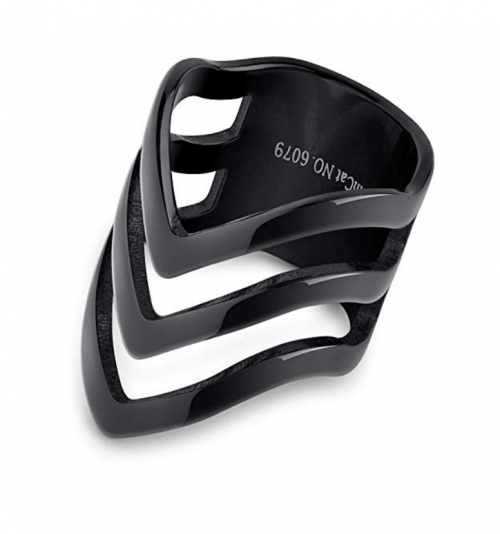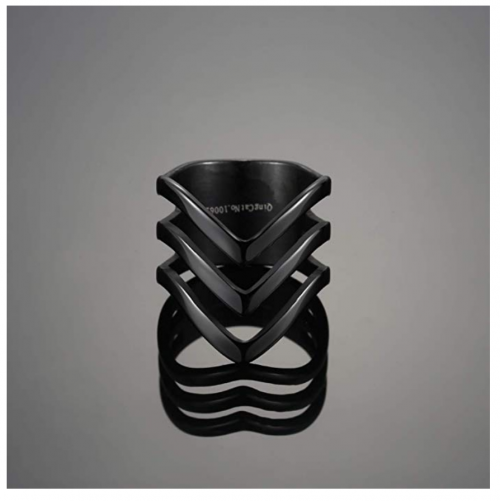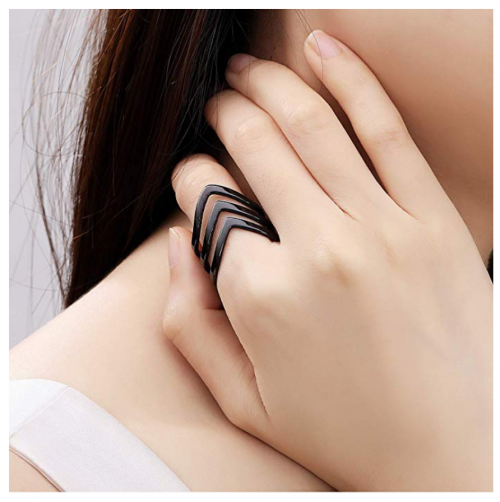 Titanium carbide
Black-plated
Affordable option
You'll notice straight away that this bohemian style ring is very different to the other rings we have reviewed. The design of the ring is very exaggerated and comes across as a fashionable edgy ring.
Read more
The ring consists of three layers, approximately 24mm wide; it has been made from titanium carbide which is an extremely hard refractory ceramic material. One thing for sure, this ring is extremely durable.
Colored in a black plating, the brand uses an electroplating process which ensures that the color doesn't fade. This plating will keep the surface looking bright and new, avoiding any discoloring on your finger!
This pick is extremely versatile, it can be worn on your thumb, index, middle ring and little finger. You also have a choice when it comes to the shape of the inside of the band, either a rounded or comfort fit.
Created by QingFox, it comes with a gift box and it's being sold at an affordable price.
8

. Double Accent Sterling Silver White & Black Ring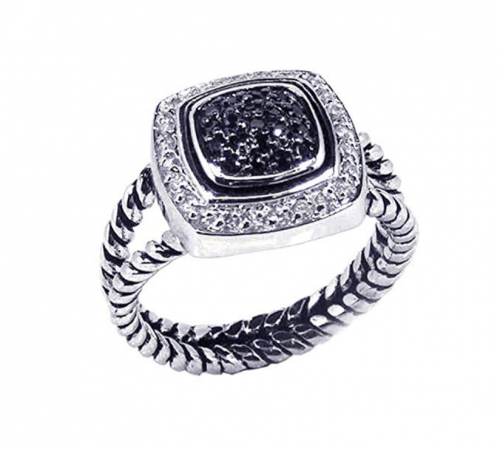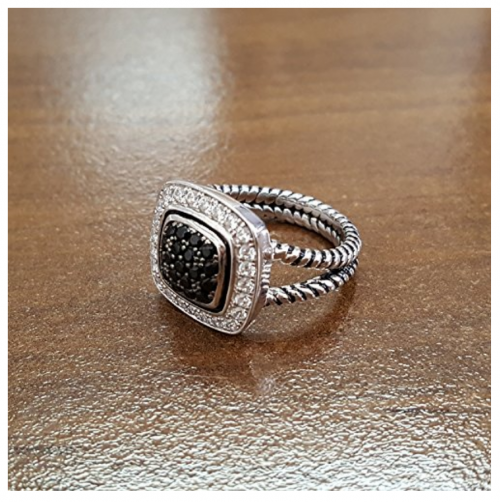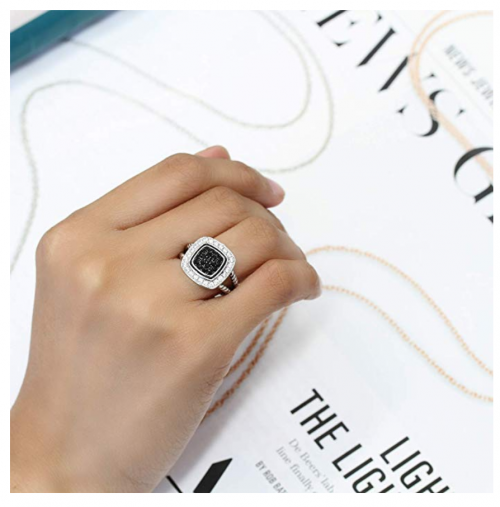 Sterling silver
Cubic zirconia stone
Rhodium-plated
This ring lets the diamond do all the talking! These gemstones could be mistaken for real diamonds, but they're simulated and heat-treated cubic zirconia stones. The designer has chosen to include a mixture of black and white cubic zirconias to create this statement piece.
Read more
Each stone has been cut into a round shape and carefully positioned in a pave setting. The black cubic zirconia stones have been positioned in a square with the white-colored stones placed in a border around them. This combination of the two colors is a great way of making the black diamonds stand out.
This piece of jewelry has a traditional feel to it. The CZ setting and quantity of cz stones used to create this ring makes it looks more valuable than it is, achieving a desirable quality. You could say that the design shares similarities to Lady Diana's iconic blue sapphire engagement ring.
When it comes to the band, instead of having a plain design, it features texture in the form of a rope for a modern feel.
Made using a sterling silver metal and a rhodium plating. The addition of the rhodium plating is a clever one because it not only enhances the shine of the sterling silver, but makes it more durable as well. You'll have no worries wearing it daily.
9

. Black Bow Jewelry & Co. Black Diamond Heart Ring
Heart-shaped black diamond
Sterling silver
Rhodium-plated
What better way to be unique and romantic at the same time then by wearing this heart-shaped black diamond ring!
Read more
Individual black diamonds have been carefully positioned into a heart shape to create this ring. The diamonds weigh approximately 16 carats and are 12-13 clarity.
The jeweler has also used black and H-1 white diamonds that have been heat treated.
The band is noticeably smooth and shiny and has been designed with an interesting curve which appears at the join of the diamond and band. This lovely detail completes the piece by giving it a contemporary feel.
Created using a sterling silver metal, another quality of this ring is the rhodium plating making it tarnish-resistant.
This particular pick would make a great gift for an anniversary, Valentine's Day or any other occasion when love is celebrated!
10

. Bonndorf Black Titanium Band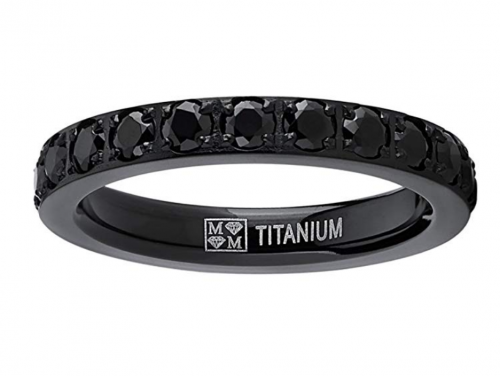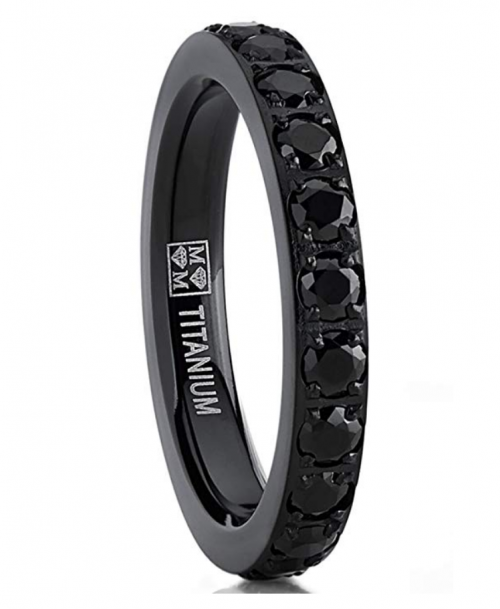 Cubic zirconia
Light-weight titanium
Free elegant jewelry box
Simple yet stunning would best describe this black ring! It consists of black cubic zirconia stones that go around the entire band creating a sea of shimmering glitter.
Read more
These simulated diamonds are positioned in a pave setting and in total come to approximately 1.5 carats.
The band has been made from light-weight titanium metal. The choice of titanium metal guarantees a strong hard-wearing ring which is exactly what you want from a piece of jewelry. The band is approximately 3mm wide by 3mm deep which makes it comfortable to wear.
It's important to point out that it's hypoallergenic so if you have sensitive skin, you're safe wearing this piece of jewelry.
The design is quite striking. The black plating gives it a modern feel which is good if you're looking for something a bit different. It would also look lovely worn next to other rings. Whether it's an eternity, engagement or wedding ring, It's your perfect affordable choice.
The ring's available in all sizes including half sizes which makes it even easier to be worn by either men or women.
It comes with a gift box and the jeweler offers a 30-day money-back guarantee if you're not completely happy with your purchase.
Evaluation Criteria
Durability
If you're spending money on a piece of jewelry, (whether your budget is low or high), you always want to receive a good product that is value for money, and that will last for a long time.
We have chosen a lot of rings that we think are durable. Some of our picks have a titanium plating which makes the band extremely tough and will prevent the ring from becoming scratched.
Others are made with rhodium plating and stainless steel which will also add to durability.
Wear Comfort
We selected rings that featured a comfortable fit. We chose some of the picks because they had a wide band, making them perfect for everyday wear.
We also chose rings that were made from lightweight materials like titanium so that you may even forget you're wearing them!
Selecting the correct size for your ring was also another important aspect when it came to comfort. That's why most of the rings we chose offer an array of sizes.
Style
Black rings come in all shapes and sizes, so we wanted to make sure we selected a variety of styles to suite everyone.
Black rings are an extremely desirably piece of jewelry. Worn for a variety of reasons, whether it is an engagement ring, wedding ring, eternity ring or simply an everyday ring, we felt it was important to select options that were suitable for different occasions.
Depending on your taste, you can choose a black ring that includes diamonds, a band with intricate details or simply a plain band. We felt variety was key and that is exactly what you will find when browsing our list.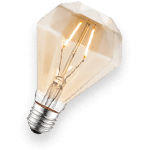 Ancient origins
Not only are black rings the latest must-have, but they can also be dated back to the Greeks and Romans who wore black onyx rings. These rings were chosen for the way they looked as well as because they allowed the wearer to use the ring for official seals.
Through the ages
The reasons for wearing a black ring have changed significantly over time. Victorians often wore them as a symbol of mourning whilst more recently they have been worn to symbolize someone's choice to be asexual.
Black wedding bands
Black tungsten and titanium bands are the latest wedding trend. Known for their hardness and durability, these metal rings are now classed as a symbol of commitment.
FAQs
q:

What is a black diamond (often featured in black rings)?

a:

The black diamond is one of the most popular colored diamonds you can have! In recent years, the popularity of the diamond has surged making it extremely desirable, particularly when it comes to purchasing it in an engagement ring.

Another name for 'black diamond' which you may come across is 'carbonado'. The diamond can be found in places like Brazil and in Central African Republic. A black diamond is one of the toughest diamonds and in its impure form consists of graphite, amorphous and diamond.

You can get natural black diamonds, man-made diamonds and treated diamonds so it is very important to be 100% sure which one you are buying because the price tag can vary dramatically.
q:

What is a cubic zirconia gemstone and how does it differ from a black diamond?

a:

Cubic zirconia also known as CZ is the cubic crystalline form of zirconium dioxide. The cubic zirconia is often compared to a diamond due to its visual appearance, however, because of its durability and low cost, this stone is a very popular option and the best diamond alternative out there.

In its purest form, cubic zirconia is usually colorless but can be made into a variety of colors. On the Mohs scale, it is classed quite hard around 8-8.5.

There are several differences between cubic zirconia and diamond. A diamond is much harder than cubic zirconia, it is the hardest stone there is.

When it comes to the price, you'll find that rings that feature cubic zirconia are much cheaper to buy in comparison to a diamond, making them an affordable option. Cubic zirconia will tend to weigh slightly more than a diamond ring.
q:

What is a black marcasite?

a:

Marcasite can also be referred to as 'white iron pyrite'. It is an iron sulfide with an orthorhombic crystal structure. Marcasite stone is a more brittle and lighter stone.

In its original form, marcasite can vary from a pale yellow to white color, although we mostly know it as black in color. The brittle material cannot be scratched which is very good when it comes to its durability.
q:

What are the benefits of my sterling silver ring being plated with titanium?

a:

There are many benefits of having your ring plated in titanium. Titanium is very durable and resistant which means your ring will not rust or break.

The material is also very difficult to scratch. Titanium is antiallergenic and can give the ring a more unique texture and style.
Finally...
Everyone should own a black ring because they are simply beautiful! What's great about black rings is that there are so many different styles you can choose from.
Historically, only people who were called goths or emos would have worn black jewelry; however, in recent years the attitude to black jewelry has changed.
Today black rings are more and more popular when it comes to choosing your engagement, eternity or wedding ring. A black band or gemstone makes a ring so unique and appealing, as well as super modern. The black ring has become a staple in almost any serious jewelry lover gift box as well!
There are now plenty of styles to suit everyone's taste and we're sure there will be something for you in our top 10 list of the most beautiful black rings.