Rings / Wedding Jewelry / Women
We Found the Most Romantic Eternity Rings for Less Than $50!
If you have an engagement ring and a wedding ring, the chances are that the next ring you'll be looking for is a gorgeous eternity ring. These rings can vary in price from low, medium and high but luckily for you, we've selected ten of the best eternity ring picks for under $50!
The history of the eternity ring
The eternity band holds just as much importance as a wedding and engagement ring by representing commitment, love, and promise.
The concept of the eternity band dates back to 2000BC at the time of the Ancient Egyptians. They believed that the ring symbolized an unbreakable bond between woman and man. The band represented an eternity circle which could not be broken or interrupted by anything, even death.
The eternity ring also represented the union between two people. This ancient belief in the union has been witnessed by archaeologists in numerous tombs dating back thousands of years.
Discoveries have been made of simple rings made from bone, showing how the eternity ring was just as important to back then as it is today.
Choosing your eternity ring
When it comes to deciding on your eternity band there are a number of things to consider including the metal, diamonds, and design. You have a choice of yellow or white gold, silver, and platinum when deciding on the metal for your circular bands. There is also the decision of whether to feature diamonds in your ring or gemstones. If you decide on diamonds its best to buy a ring that has quality diamonds because these will guarantee the greatest sparkle.
When choosing your band, it's important to remember that the 'whiter' the diamond the brighter the shine. If you opt for a gemstone for your eternity ring you can choose from stones like rubies, emeralds or sapphires.
The inclusion of gems in your band will also add a lot of colors and if you know your birthstone, you can even opt to feature your birthstone in your ring to give it even more meaning.
For the design, an important factor to think about is the type of eternity ring you want, particularly as to whether you want a full eternity ring or a half eternity ring. The "full eternity" has stones which appear around the entire ring whereas a "half eternity" has stones set partially around the ring.
Our preferred band is the full eternity ring because you get more diamonds! But of course, the choice is up to you! Your decision will also be influenced by the style of your wedding and engagement ring because you'll probably want your rings to match.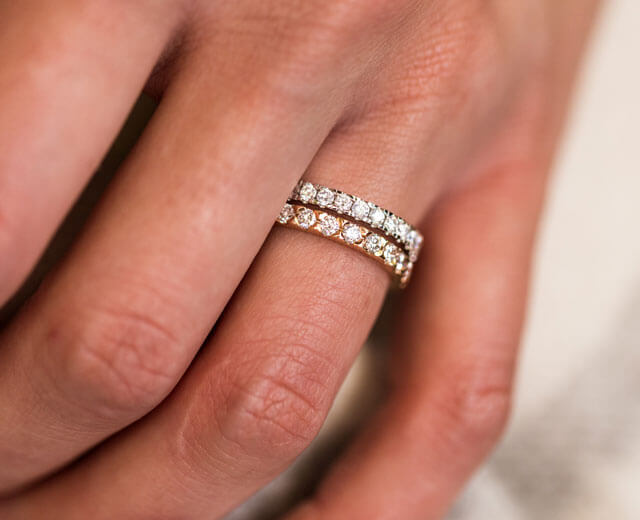 It's good to be aware that if you decide on a full eternity ring it will usually be 2 to 3 times more expensive than a half eternity ring because it has more diamonds. Another benefit of a half eternity ring is that it can be easily be resized. Furthermore, even though you have fewer stones in the half eternity ring you could opt for higher carat weight, but at a reduced price.
Another thing to bear in mind is that it may not be possible to resize a full eternity ring once purchased, due to the fact that there are diamonds around the entire band. The stones on the underside of the band may also be prone to catching on clothes and could result in a fabric tear.
On a positive note, a full eternity ring is a truly stunning piece of jewelry that will certainly get heads turning. When deciding on which ring to go for, it's really down to your personal preference and what's important to you!
If you've decided on your eternity ring the next stage is to decide when you're going to give it to your loved one. Traditionally, the eternity ring is given as a gift on your first wedding anniversary or after the birth of your first child.
Either way, these are both great occasions to surprise your partner with an eternity ring. It also shows them how much you love and care for them.
Celebrities that love these rings

If you're looking for some inspiration for your eternity ring, look no further than your favorite celebrities. Whether it's a half or full eternity ring, gemstones or diamonds, celebrities are really setting the trends when it comes to the gorgeous eternity ring!
Pictured on the red carpet, many celebrities have been captured wearing their beautiful eternity rings. One of our favorite rings includes the Duchess of Cambridge and her diamond eternity ring. This stunning band is worn next to her dazzling blue sapphire engagement ring and gold wedding band, which really compliments her sophisticated look.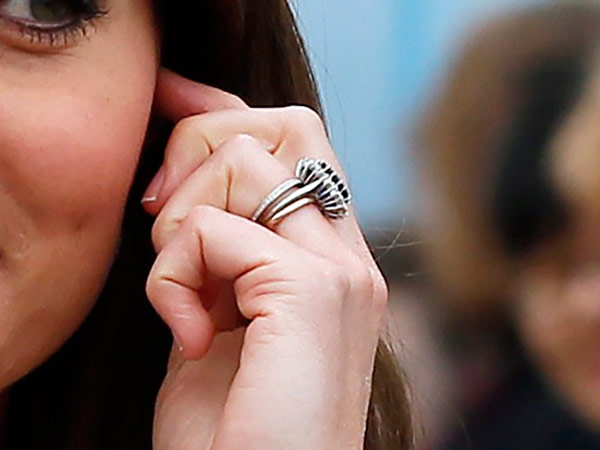 Another is a reality TV personality, Kim Kardashian who has been spotted wearing her thin, simple, pavé set diamond band. Best described as elegant, her eternity ring definitely fits an understated design which we love!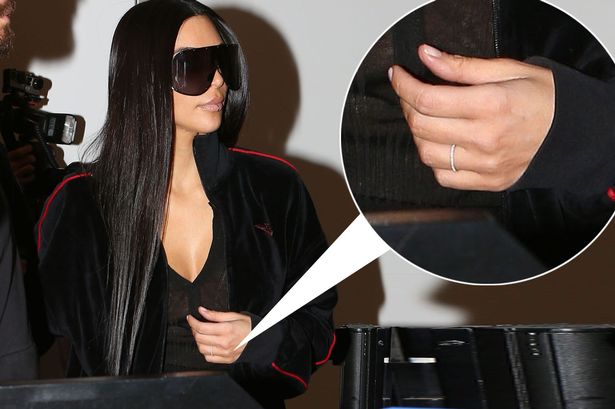 Singer, Pink wears a contemporary style princess cut eternity band which looks beautiful alongside her other rings.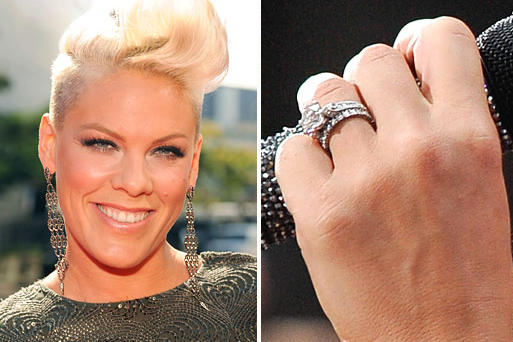 Finally, actor Reese Witherspoon is frequently spotted wearing her eternity ring. Bang on trend, she is often photographed wearing her stackable eternity ring which compliments her engagement ring very nicely.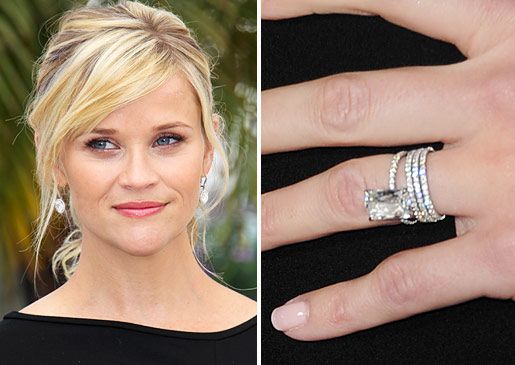 In recent years male celebrities have also been spotted wearing eternity rings, making it more popular and acceptable for men to wear an eternity ring.
Eternity ring picks for under $50!
So if you're looking for the perfect eternity ring but you're under a limited budget we've chosen the best eternity rings that you can buy for under $50. Take a look and get shopping!
1. PAVOI 14k Gold Plated Sterling Silver Diamond Stackable Ring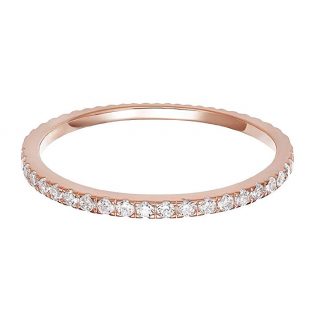 To begin our top ten list of eternity rings, we've selected this gorgeous PAVOI 14k rose gold plated silver ring. One thing we love about this sterling silver stackable ring is that it really sparkles! It's been designed as a stackable ring so it will look beautiful next to your wedding and engagement rings. Even though this ring is thin and dainty it still manages to catch the eye.
If you have a nickel allergy, there's no need to worry when wearing this beauty because the rhodium band will not irritate your skin. We definitely recommend this ring because it's very comfy and great quality for the price.
When it comes to the design of the ring you'll probably notice that the ring follows a simple yet beautiful design. Minimal, timeless and simple!
What's great about the supplier PAVOI, is that all of their products are certified as being real gold or sterling silver. This means they create quality products is that will last. That's what we like to hear! You'll also be happy to know that this brand values two principles – quality and service. Rest assured your jewelry piece will be a high-quality piece sold at an accessible price.
When it comes to packaging this dainty ring is delivered in a stunning suede pouch which will be sure to put a smile on your face!
2. Espere Milgrain Marquise & Round Cubic Zirconia Ring

Looking for a ring that gives you options? This is the one! This elegant eternity piece will look lovely with your engagement and wedding ring but would also look stunning on its own. It also looks great as a stackable ring or lovely on its own with a vintage engagement ring. Modern, classy and traditional – this eternity ring will really complement other rings made from different metals.
Encompassing clear sparkling stones, this silver rhodium plated ring is hypoallergenic making it safe to wear if you have sensitive skin.
If we were describing this piece in one word it would be dazzling! This elegant piece of jewelry made by Espere uses color and design to create a truly stunning eternity ring. You'll be pleased to hear that as well as rings this jeweler has an extended range of jewelry including bracelets, earrings, and necklaces. All of their gifts are delivered in a cute little gift box as well.
If you're looking for a daintier ring to wear with your wedding and engagement ring with a lovely bit of sparkle this is definitely worth considering! It's very pretty and looks a lot more expensive than it actually is!
3. Barzel Vintage Style 18k White Gold Plated Jewelry
If you're looking for a big, bold eternity ring with a vintage vibe to it than this is the ring for you! This eternity ring consisting of three layers of 18k white gold really makes for a stylish piece of craftsmanship. Fashionable and trendy, this really is a beautiful piece of jewelry!
What makes this is ring even better is that the diamonds appear around the entire ring, making it extremely sparkly. You could compare it to an icicle – white, striking and defined. We think that this particular ring would look better worn on its own rather than with any other ring because it really is a statement piece and deserves to be worn solo. This ring has a really smooth inner band cut making it very comfortable to wear.
If you decide on this pick you'll definitely get heads turning!
 4. SOMEN TUNGSTEN 925 Sterling Silver Ring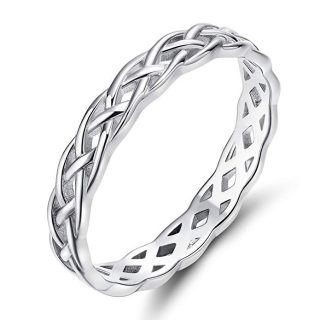 Love and eternity – if you want a more symbolic ring instead of a band simply containing diamonds then this eternity knot ring is a great choice! Made by SOMEN TUNGSTAN, this high polished ring is made from 100% sterling silver.
The ring encompasses a weave braided Celtic design that symbolizes love and eternity. Interestingly, the knot symbol represents love with two individual strands woven together to become one.
The continuation of the Celtic pattern is also meant to evoke infinity and the continuity of spirit, nature, and life. One thing's for sure, this eternity ring certainly holds a much deeper meaning within.
When worn this ring looks shiny, elegant and is extremely comfortable. Even though we've chosen to review the silver band, this eternity ring is also available in rose gold and black. Another thing to point out is that this ring would make a great stackable ring if you wanted to mix and match your rings.
SOMEN RUNGSTEN solely focuses on producing sterling silver rings. Their range consists of promise rings, wedding bands, eternity rings, engagement rings, thumb rings, stackable rings and much more! They love to produce affordable on-trend fashionable pieces of jewelry for women as well as men.
5. 3MM Ladies Titanium Eternity Engagement Band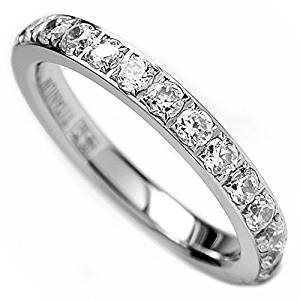 This is certainly an attractive cubic (square) style ring! This high polished titanium eternity ring with a pavé set cubic zirconia around the entire band makes this ring look utterly beautiful. The ring is also 3 mm wide creating a comfortable fit.
Even though this piece is made of titanium we think it looks similar to platinum and has a very shimmery polish. The metal band works really well in enhancing the diamonds. The gems are also big, sparkly and bright!
This item is sold by Bonnodorf. It's worth exploring their collection of jewelry because they sell a variety of beautiful rings.
One important thing to note is that the titanium metal has a dark tone to it so if you're looking for a lighter white metal you may have to look at a different option. Nevertheless, this eternity ring is very pretty and we love it!
6. Blue Apple Co. Half Eternity Weave Knot Ring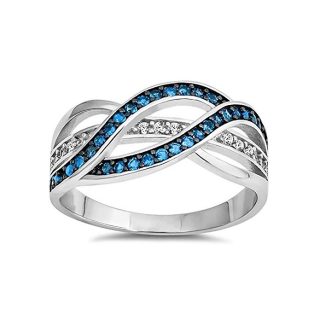 Silver and blue gems – this blue topaz weave knot style ring made from sterling silver contains lots of color and sparkle! The eternity ring is crafted in a weaving knot crisscross design, making it very elegant. If you're looking for something a bit different this eternity ring is a lovely option.
This eternity band is also available in a variety of colors including – simulated amethyst, simulated black CZ, simulated blue sapphire, simulated blue topaz, simulated CZ, simulated green emerald and simulated pink CZ. You can also purchase the metal band in yellow, rose or black gold plated metal.
One thing to make you aware of is that its 10mm wide so it's quite a big piece of jewelry. However, it's flat enough so it won't catch on your clothes.
The supplier, Blue Apple Co, is known for creating stunning jewelry. Their collection includes rings, earrings, and bracelets so there are plenty of pieces to treat yourself to.
7. Metal Masters Co. Men's Eternity Titanium Ring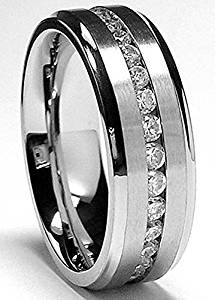 This is a great option for a man's eternity ring. Whether you prefer a more masculine style ring or would like to purchase an eternity ring for your husband, this band is the perfect ring!
Made from titanium, this men's eternity piece is designed with a high polished matt finish. Complementing the matt titanium, this ring contains a set of cubic zirconia gems in the center of the band going around the entire ring. So if your man likes a few diamonds, he'll love this design. Continuing the masculine feel to this ring, it comes in at a much thicker width, 8 mm to be exact, making it very comfortable to wear. This is certainly a classy ring, if a little rugged!
Another thing we like is that it is hypoallergenic so if you have sensitive skin, there's no need to worry when wearing this ring. As well as eternity rings, Metal Masters Co also sell a selection of gorgeous engagement and wedding rings so take a look, you won't be able to resist!
8.  Oxford Diamond Co Simulated Gemstone & Cubic Zirconia Ring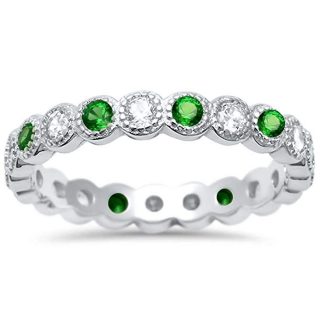 One word to describe this ring is elegant! Made by Oxford Diamond this gemstone and cubic zirconia antique style ring really is something to shout about.
The eternity band is solid silver and is stackable which means you can wear the band with your selection of other beautiful stackable rings. The ring is 3.5 mm wide and is in an antique bezel-set design.
Described as being a simulated emerald birthstone eternity piece, the supplier also sells this ring in a selection of other colors including – rose gold, yellow gold, blue sapphire, stimulated ruby, sterling silver with rose gold accent and sterling silver with clear cubic zirconia.
The ring is very feminine and simple but has a touch of sparkle. It has a lovely shine which makes is stand out in a crowd.
The supplier, Oxford Diamond Co, is known for having created over 15,000 different styles of jewelry. Their collection consists of pendants, earrings, Italian chains, bracelets, wedding jewelry, and engagement rings. They have over 20 different gems to choose from when it comes to their jewelry and they guarantee that the stones are made to the best color and quality.
Interestingly, Oxford Diamond Co has been creating jewelry for over 35 years. They have a particular interest in making natural gemstones and diamonds. They also try to create affordable jewelry which their customers can enjoy.
Based in central Los Angeles, they pride themselves in making quality products, made from only the best raw materials. If you like the sound of them take a look at their collection of gorgeous jewelry.
9.Newshe Diamond Eternity Ring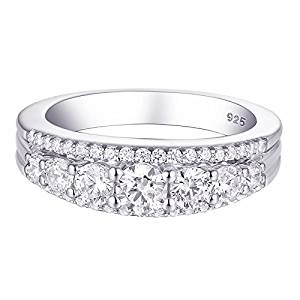 Bright and beautiful, we can't get enough of this eternity ring! The design consists of a pavé setting cubic zirconias which looks similar to that of diamonds. The 5mm band has a very smooth inner and outer surface making it extremely comfortable to wear.
One of the reasons we love it is that it will bring a lot of sparkle into your life because of its beautiful design and attention to detail in the craftsmanship. It's 100% solid sterling silver and is nickel free so you can be sure that it won't irritate your skin, which is what we like to hear!
The supplier, Newshe Jewellery, pride themselves in delivering two principles – quality and service. They also value themselves in producing high-quality luxury jewelry at an affordable price. Their collection consists of simplistic, minimal and timeless pieces of jewelry.
10.TIGRADE Titanium Eternity Ring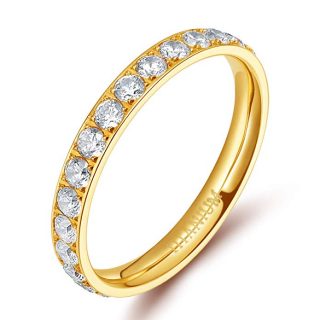 If you prefer wearing gold jewelry rather than silver, this is a great alternative!
Made from titanium, this eternity band is extremely sparkly due to the cubic zirconia gems situated around the whole ring. The gems create breathtaking reflections which make them look extremely realistic. Even though titanium is hard wearing, to avoid any bad scratches or wear, the supplier has suggested taking the ring off while you shower.
They have also recommended that you avoid being in contact with any corrosive substances whilst wearing it and keeping it inside a fabric pocket or soft cloth when not worn. These suggestions will ensure your eternity ring stays protected and lasts for a long time (hopefully for eternity!).
As well as gold this eternity ring is available to buy in pink, rose gold, black, and silver! There's almost enough for a different color on each day of the week!
TIGRADE, the supplier, was founded in 2000 and specialize in crafting pieces from titanium. Take a look at their extended collection of rings and you'll be spoilt for choice!
Frequently asked questions
Is there anything to check when buying your eternity ring?
Yes, it's important to check the quality of your piece. In particular, you'll need to check the diamonds for quality, brilliance and whether they're clean. Some top tips are detailed below:
Quality of diamond – Always ensure that you buy your eternity ring from a reputable supplier. The way the diamonds are set will affect the quality and beauty of the ring so it's important to check this as well.
Brilliance of the diamond – Check the level of brilliance in the diamond (the amount of sparkle and reflection of white light).
Clean diamond – The diamonds should always be clean, meaning they shouldn't have any glaring blemishes in them.
Which finger should I wear it on?
Traditionally it is worn on your "ring finger" alongside your wedding and engagement ring. Historically the Egyptians believed that wearing the rings on the same finger allowed the vein of love to run from the fourth finger to the heart.
Which order should my eternity ring be worn?
When it comes to the order of how you wear it, this really does come down to personal taste. You may like to wear it followed by your wedding ring and then the engagement ring. Or maybe you'd prefer to wear them instead of your wedding ring. Our suggestion is that you should do whatever is most comfortable and most importantly, whatever makes you happy!
How should I measure my finger size?
We've detailed our top tips on how to measure your finger below:
Use a piece of thread or piece of paper and tie it around your finger.
Make a mark where the thread or paper joins
Next, measure the thread or paper up to the mark. This will give you an accurate measurement of the circumference of your finger.
How do I best look after it?
These are our top tips when it comes to protecting your jewelry:
The best way to prevent it from scratching and tarnishing is to keep it stored in a separate box or fabric pouch away from other pieces of jewelry.
Make sure you remove your eternity ring before getting into the shower or going swimming.
Keep it away from lotions, perfumes and cleaning products.
What is the best way to keep my eternity ring sparkling?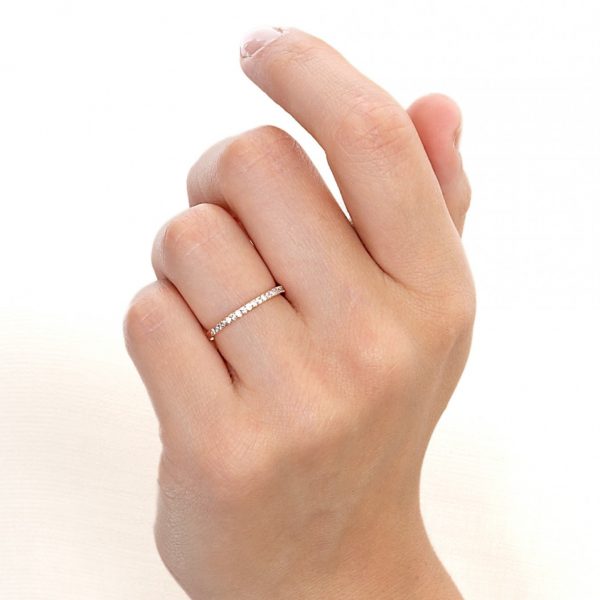 Our top tip for ensuring it stays sparkling is to avoid it coming in contact with moisture.
How do I best look after my rose gold or yellow piece?
Try to avoid your eternity coming in contact with soap because this can cause the gold or rose gold jewelry to become dull.
What other names can an eternity ring be called?
Other names for the eternity ring include "anniversary ring", "infinity ring", "special occasion ring" and "promise ring".