Buying Tips / Jewelry
Affordable Diamond Alternatives Guide
We are covering all of the best and most affordable diamond alternatives, including stones that look just like diamonds, as well as unique gemstones that are just as beautiful and cost a fraction of a diamond's price.
Diamonds may be a girl's best friend, but maybe not when it comes to your wallet! The classic gemstone is certainly beautiful, but the cost associated with it can dim the sparkle, especially if you are shopping for an engagement ring and have the high price of a wedding to consider as well.
We put a lot of pressure on young couples to do everything a certain way when it comes to engagements and weddings, and the first part of that is the engagement ring. Do you feel incredibly pressured to find the perfect diamond ring? It can get overwhelming!
Thankfully, times are starting to change, and plenty of people are turning to diamond alternatives that are just as gorgeous, but that doesn't have a price tag that will make you gasp (or you will be gasping positively for once!).

Whether you are shopping for an engagement ring or simply another piece of jewelry, perhaps aa a birthday or an anniversary gift, rest easy that you have plenty of diamond alternatives to consider.
Lab-Created vs. Real 
Before we get into the best diamond alternatives rings, something else to keep in mind is whether a stone is lab-created or real. This can apply to nearly any gemstone and is a great way to save money. It is also great if you are concerned about things like the environment or fair treatment for workers.
Mining for gemstones can be bad for the environment, and depending on the company, workers may not be treated or paid fairly. It is a dark side to this industry that is concerning for many people, and if that sounds like you, you should consider lab-created stones.
If you are like a lot of people, when you think of lab-created stones, do you instantly think that these are stones that are "fake" and of lesser quality? You aren't alone.
While it is true that there are differences between lab-created stones and real stones, it is important to know what those differences are, as well as what the similarities are.
Lab-created gemstones are simply stones that are created in a lab instead of mined naturally from the Earth. They are not fake versions that simply look similar to the gemstone; they are created to be physically identical to the gemstone in terms of appearance and their chemical structure.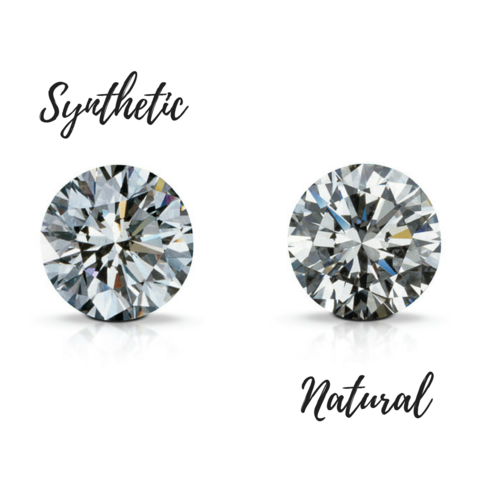 An imitation stone would try to mimic the appearance of a gemstone, but would not be chemically created to be identical. 
Because of how lab-created stones are made, it is nearly impossible to notice a difference in appearance. Where will you notice a difference? Cost!
Lab-created stones are cheaper, making them a great alternative if you do have a certain gemstone in mind that you want to have.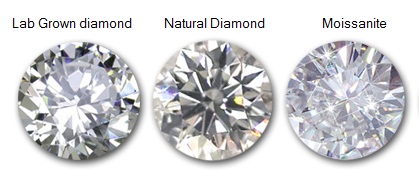 This is especially great if you want a more expensive stone like a diamond or a sapphire. Save money without sacrificing appearance!
If you do have your heart set on a real gemstone, be sure to watch out for that when shopping for jewelry.   
Top Diamond Alternative Rings

Here is our list of the best alternatives to diamond rings. You will also find the average cost for a one-carat stone, to help give you an idea of what each stone costs.
Even though these gemstones will all cost you less than diamonds, there is still a wide range, with some stones still costing a good deal of money. 
For comparison, an average diamond will cost around $2,500 on the low end for a one-carat stone. You can easily find diamonds that are far more expensive than that, but you typically will not find one less than that. Keep these numbers in mind to give you a rough estimate of cost savings. 
Other factors like the band metal you choose, additional stones, and more will also influence the cost, and the quality of the stones themselves will range along with the price.
However, this should give you enough of an estimate that you can make an informed decision about the type of stone that will be perfect for you! 
? Moissanite
If you want a diamond alternative that looks incredibly similar to a diamond, you can't do much better than a moissanite ring. It is a gorgeous stone that also happens to be incredibly durable.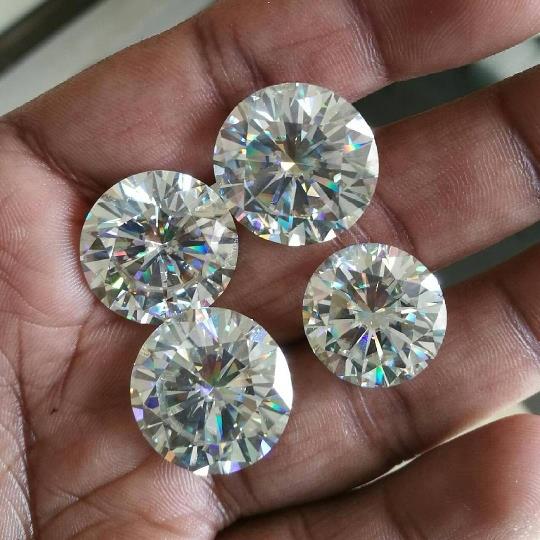 It scores a 9.5 on the Mohs hardness scale and is second only to diamonds! This is an excellent alternative stone to a diamond that looks great on its own or in a setting with other gemstones. 
Cost For One Carat: Around $400
? Morganite
If you are loving the rose gold trend and want a rosy-hued gemstone, but don't want to pay an exorbitant price for a pink diamond, go with morganite! This gemstone has the perfect rose-colored hue that is trending right now.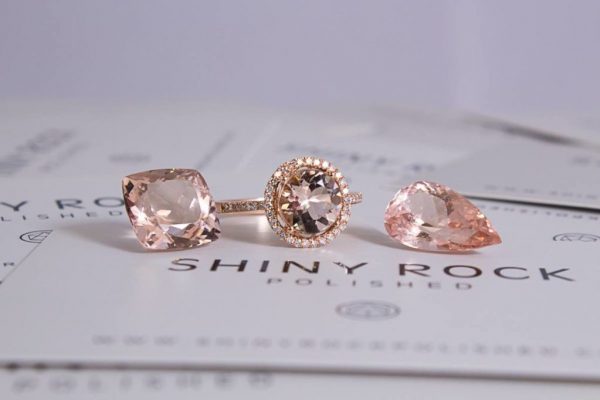 The stone looks great, especially with a rose gold band to match. If you love the vintage look of the rose gold (but also want to be on-trend), morganite is a great way to find that without having to spend thousands of dollars. 
Cost For One Carat: Around $300
? White Sapphire 
When most people think of sapphires, they think of the gorgeous shade of blue they are known for. That's an excellent choice for a gemstone (you can even find it later on on this list!), but did you know that you can also find white sapphire that closely resembles a diamond?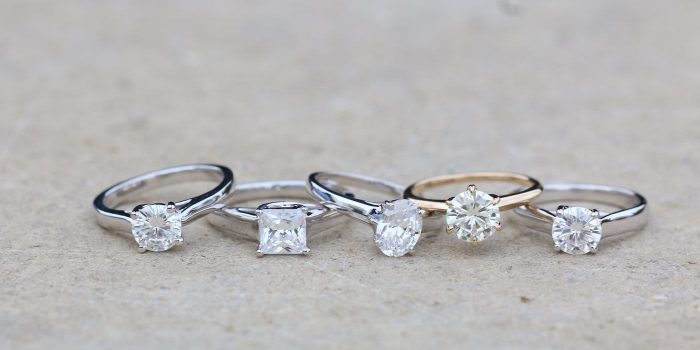 It is a perfect alternative if you do still want the more traditional diamond appearance without paying the price. What makes this type of sapphire white?
It is the lack of metal oxides that keep this stone colorless and a perfect alternative to a diamond! 
Cost For One Carat: Around $500
? Cubic Zirconia 
If you want a super cost-effective alternative to a diamond, cubic zirconia remains a great option. Do keep in mind that this is not a naturally occurring gemstone, so if that is important to you, this is likely not the alternative for you.
However, if you want a stone that is affordable and closely resembles a diamond, you really can't do better than cubic zirconia.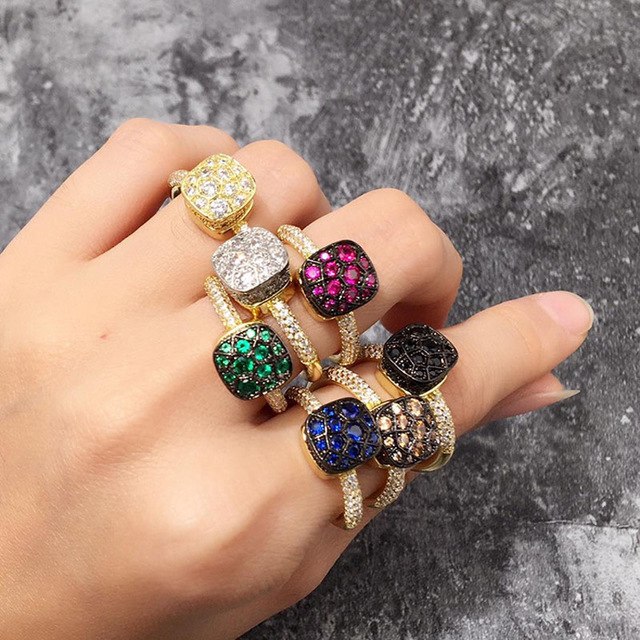 While it is common to find cubic zirconia in fashion jewelry, you can find it in fine jewelry as well, so it is an option to consider if you want a long-lasting engagement ring or other unique pieces of jewelry that you plan to wear all the time. 
Cost For One Carat: Around $100
? Lab-Grown Diamonds 
Remember what we mentioned earlier about lab-created stones? When it comes to diamonds, if you have your heart set on a diamond, but do not want (or cannot) afford to purchase a real one, the closest you can get is with a lab-grown diamond.
This is great for saving money without sacrificing appearance or quality. A lab-grown diamond will look the same and have the same hardness as a real diamond, making it the perfect durable stone that you can wear every single day.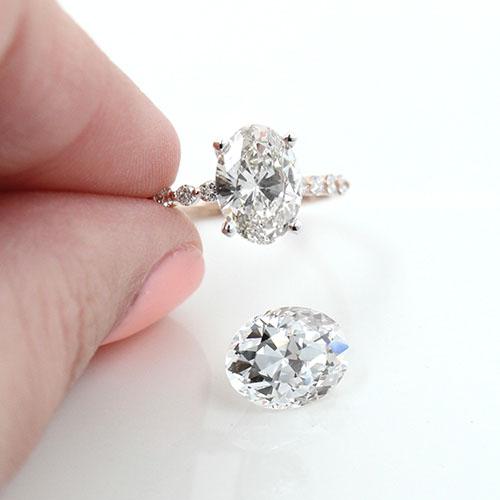 This is also great, especially if you want a larger center stone in say an engagement ring. With a set budget in mind, you can easily see a comparison between what you could buy when purchasing a real stone vs. a lab-grown stone.
You can get a much larger stone for the same price if you go with the lab-grown! 
Cost For One Carat: Typically around $300-$500 
? Sapphire 
Now that we've covered all of the main diamond-like alternatives, what about other gemstones? They are just as beautiful and are perfect for anyone who is looking for a unique piece of jewelry (without having to break the bank).
Sapphires remain one of the most popular diamond alternatives, especially in their striking blue color. Not only are they gorgeous gemstones, but they also are incredibly durable, with a nine on the Mohs scale, behind only diamonds and moissanite.
At a much lower price than diamonds, they are a great alternative, especially if you are wanting a larger center stone but can't afford a diamond.   
Cost For One Carat: Ranges between $200-$600
? Emerald
Emeralds are gorgeous green stones that have a vintage leaning appearance. They may not be as popular today as they have been in years past, but for many, that is what makes them so appealing!
If you are looking for something different from what everyone else is wearing, an emerald is a great option to consider. It's also great for anyone born in May, as the emerald is your birthstone!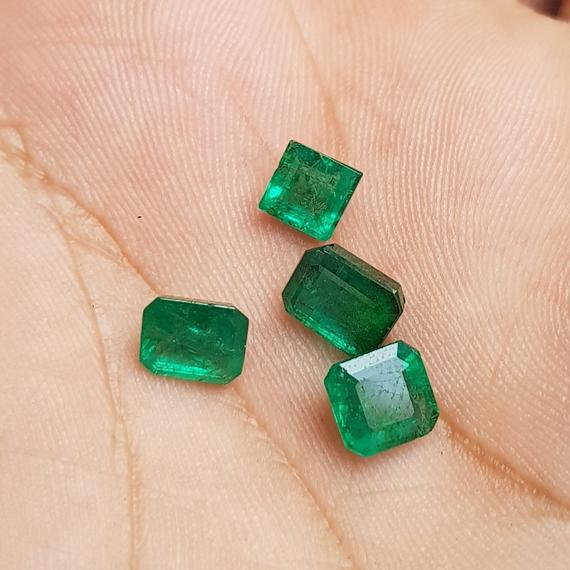 Emeralds look great set in gold or rose gold and have a very regal appearance to them. They still have excellent durability, scoring around a 7.5-8 on the Mohs scale. They are not the hardest gemstones, but are still up there and are very durable. 
Cost For One Carat: Ranges between $500-$1,000
? Amethyst 
Looking for unique diamond alternatives that are incredibly affordable? You can't do better than an amethyst!
Amethysts are some of the most affordable gemstones, but in our opinion, they are some of the most beautiful. We love their gorgeous purple color and think it's a fabulous diamond alternative for anyone who wants something truly unique.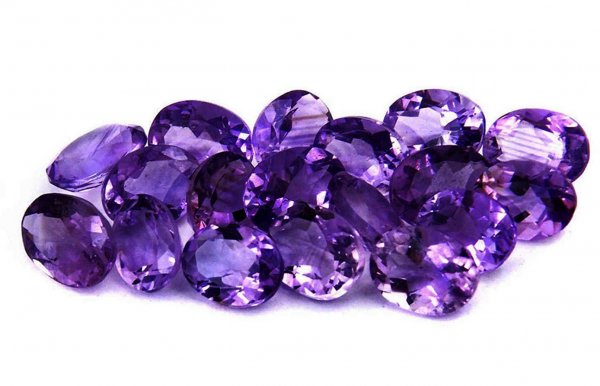 There is a pretty wide range in hues that you can find, including lighter shades of lavender that would make for a gorgeous center stone on an engagement ring. Scoring a seven on the Mohs scale, they are still fairly durable, and with such a great price, it is hard to complain!  
Cost For One Carat: Ranges between $10-$50 
Shop Diamond Alternatives
Have you started to get an idea of what diamond alternatives are right for you? If you need more help, why not check out these rings that you can shop right now! 
Charles & Colvard Solitaire Emerald Colorless Moissanite Ring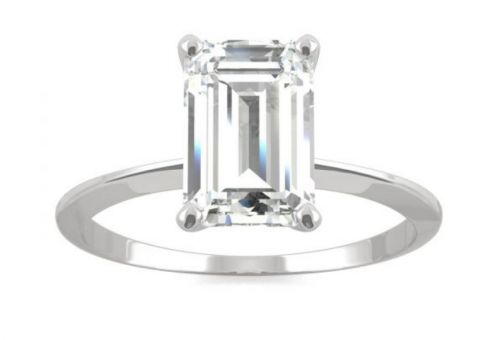 This is an gorgeous, timeless looking ring featuring a beautiful moissanite stone that is over two and a half carats. To purchase a ring like this with a 2.5-carat diamond, you would be paying easily 4 to 5 times more.
Instead, you can get a nearly identical look thanks to the gorgeous moissanite stone. We love the simple band with the emerald cut stone, a large stone like this doesn't need any additional detail work on the band; leave the focus on the center stone!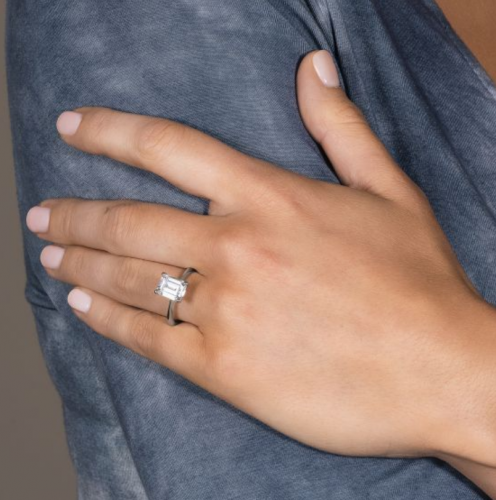 If you prefer more simple jewelry pieces, this is an excellent piece to consider for an engagement ring. 
Jeulia Cushion Cut Synthetic Morganite Ring Set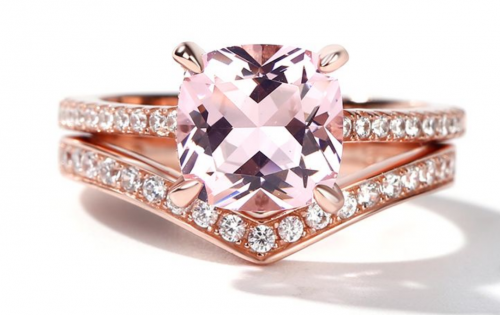 We will always love the combination of a rose gold band with a morganite stone. The beautiful rose shades compliment each other so nicely, and with this ring, you also get a matching second ring to wear as a wedding band.
The morganite stone is cushion cut, which adds to the vintage appearance of this ring. The small diamonds on both bands help give just enough contrast between the band and the center stone.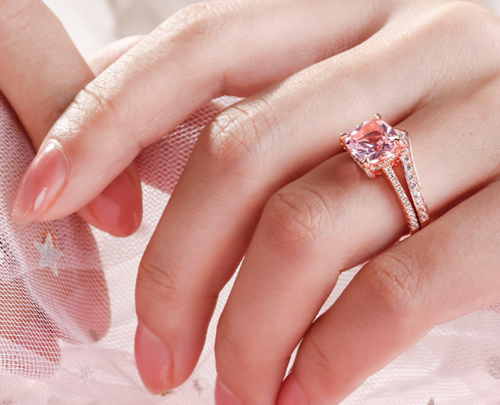 We also love the 'bent' design of the matching band- it gives this wedding ring set a unique appearance from most sets, which we like! 
Palm Beach Jewelry Created White Sapphire 3 Stone Ring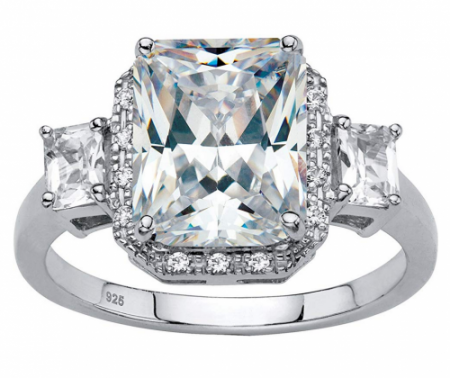 This is another piece that is perfect as a three-stone engagement ring, combining some of our favorite ring elements, emerald-cut center stone and a halo of smaller stones!
Usually, you don't see both of those elements together in a ring, but this does a beautiful job of it. The white sapphire is gorgeous and does look exactly like a diamond.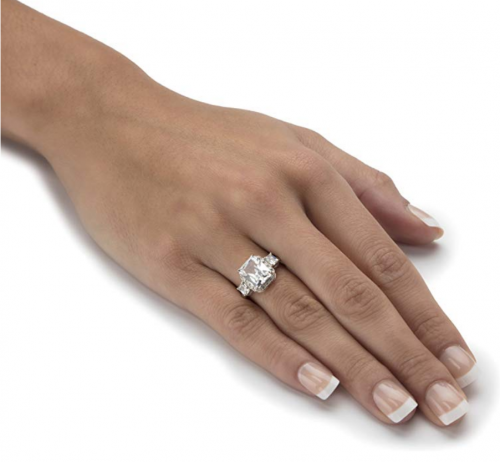 This is certainly a statement ring, especially since it also has the two smaller side stones. If you want a larger ring that features larger stones, going with something like a white sapphire instead of a diamond is a great way to do so without absolutely blowing your budget.  
Ruby & Oscar Cubic Zirconia Halo Ring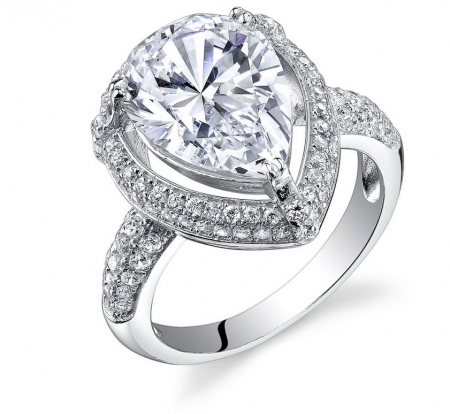 We love pear-shaped stones and think they are a great way to do something different without going too crazy (say with something like a heart-shaped stone that you may end up not liking in a few years).
The pear shape is unique, yet still timeless, and it looks great with this cubic zirconia stone. Hopefully, this ring has you changing your mind about cubic zirconia; it can be found in some seriously stunning rings, like this one!
Complete with the halo of smaller stones, this is a perfect ring that fits in with the trends of today but doesn't break the bank.
Friendly Diamonds Lab-Grown Diamond Ring Set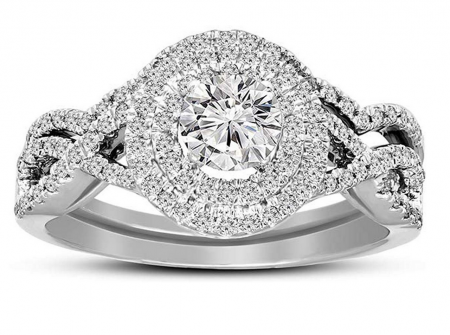 If you want something identical in appearance to a natural diamond, this lab-grown diamond ring set is perfect. You cannot tell the difference between this ring and one with a natural diamond.
Featuring a gorgeous center stone with a halo design, this is a ring that has been incredibly popular over the past couple of years. By going with the lab-grown diamond, you can get a larger center stone and go for the wow factor with this ring. We love it!
Best of all, it comes with the matching band that is perfect if you are getting this as your engagement ring. 
Ruby & Oscar Sapphire & CZ Engagement Ring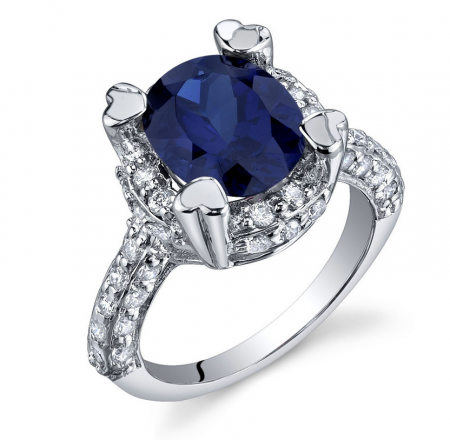 Not only is this ring beautiful in its own right, but it is also a very similar style to the ring worn by Kate Middleton (and previously by Princess Diana!). There is something so elegant about the combination of sapphire with the clear stone crystals, and we think this is perfect for either an engagement ring or as a right-hand ring.
Sapphire is one of those gemstones that will simply never go out of style. If you want a diamond alternative but want something that you think will still be popular for years to come, you cannot go wrong with a sapphire. 
Gem Stone King Simulated Emerald & Diamond Accent Ring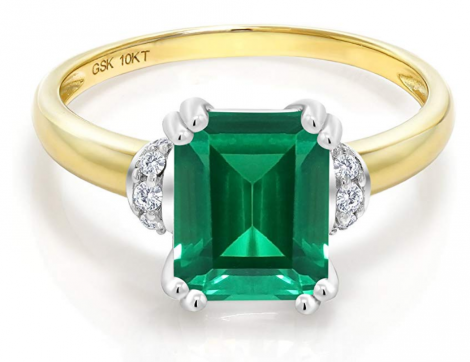 If you love vintage rings, this gorgeous emerald ring is the one for you. Not only does it have the huge center emerald that is over 2 carats in size, but it also features a gold band and an emerald-cut for the stone (an emerald-cut emerald, we love it!).
The gold and green go beautifully together, making for a very regal looking ring. If you want something unique and eye-catching, this is certainly a ring you should consider.
The small side diamonds give it a touch of added sparkle and help draw your attention to the emerald.
Black Bow Jewelry Co. Amethyst & White Topaz Halo Ring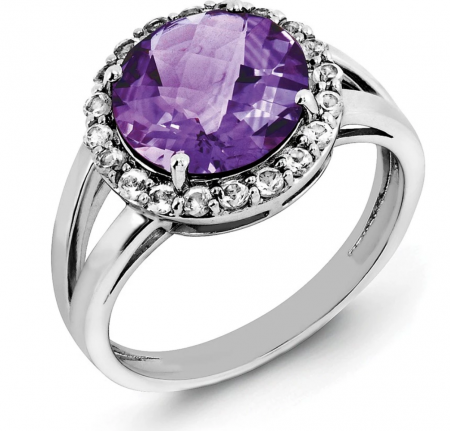 Finally, for something totally out of this world, this amethyst and white topaz ring is perfect! If you want a large center stone for an affordable price, you will not do better than amethyst.
This center stone is nearly three and a half carats! The cool tone of the purple with the white topaz and the sterling silver go together so perfectly; this is one of our favorite rings on this list.
Perfect as a statement right-hand ring or a diamond alternative engagement ring for the woman who is in search of something unique and affordable.
Wrapping Up
If you feel like diamonds are simply too expensive, know that you aren't alone. Diamonds are expensive! Thankfully, there are plenty of affordable diamond ring alternatives to choose from that are just as beautiful.
From the gemstones that look similar to diamonds (or in the case of the lab-created stone- identical to diamonds!), to different gems that are equally as beautiful, you have numerous options for finding the perfect, affordable gem that is right for you.
Whether you are in search of alternatives to a diamond engagement ring, anniversary, or birthday present, you can find the perfect alternative. And trust us, no one will think that you settled for any of these gemstones, they are just as gorgeous.

In most cases, people won't even be able to recognize that the gemstone isn't a diamond. Getting the same look for a fraction of the price, who can say no to that? Happy shopping!