Best Moissanite Engagement Rings Selection
last updated:
Mar 09, 2020
Want to buy a moissanite engagement ring, that will go perfectly with you moissante earrings, but not sure where to look?
Commonly referred by scientists as a gemstone born from stars, moissanite is a mineral sourced from silicon carbide. Natural moissanite is extremely rare.
What we have today is laboratory-created moissanite particles synthesized to yield one of the world's most sparkling gemstones that shines with brilliance, luster, and fire that outshines even a diamond. Yes, you heard us right!
Over the years, moissanite has captured the hearts of many for so many reasons. It is gorgeous, super sparkly, and extremely durable.
Yet, moissanite, which is strong as a diamond, is available at a fraction of the cost.
And since these gemstones are lab-created, they are a better choice for conscious customers as well as the environment.
Best Moissanite Engagement Rings
Criteria for Evaluation
Price
We understand that buying an engagement ring is an incredibly big decision to make, and in most cases, a serious investment. But you don't have to break the bank while at it.
Moissanite is one of your best alternatives to a diamond; its nearly as strong as a diamond and even has a higher refractive index, which makes it the most brilliant gemstone to exist.
Yet, it comes at a fraction of a diamond's cost making it an affordable option for people who are looking for the same appeal and durability that come with diamonds.
Jewelry Metal & Gemstone Quality
An engagement ring should last a lifetime. It's for this reason that we picked moissanite in all our options.
It's one of the most durable crystals. It is eco-friendly and possesses luster, and brilliance that you wouldn't find in any other gemstone.
We mainly picked bands crafted from 14K gold, sterling silver, and platinum-plated sterling silver. These are extremely durable metal options that don't tarnish in time.
They corrode or rust even when exposed to water. Most importantly, these metals are absolutely safe on the skin, so you can count on all our picks not to cause any skin reactions.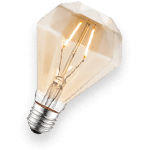 Style tips
Moissanite rings are the latest talk. These fiery gemstones possess brilliance and luster that closely rival diamonds.
The gemstone twinkles and sparkles flashing colored light that is absolutely impressive and almost hypnotizing.
Our awesome selection of jaw-dropping moissanite engagement rings is all the proof you need that you can get a diamond-alternative engagement ring that works for you and comes at a friendly price.
Our list includes stunning pieces in all styles, from statement rings to classic and vintagy options.
Style tips
We listed a good number of classic solitaire moissanite rings. You can never go wrong with a solitaire. These rings are simple and a perfect way to look all sophisticated and classy.
A solitaire engagement ring pairs quite well with a variety of bands. It leaves the band with enough room for extras, and some designers choose to line it with more gems for accents and the glitzy effect.
We also catered for those who love sparkle. If subtlety is not her style, go for halos, extra stones, and don't forget side accents gems.
Let the carats do all the talking. Big and bold rings with extra sparkle and shimmer are gorgeous as long as the lady loves dazzling jewelry.
We didn't leave out women who prefer a non-traditional approach to rings.
Our list includes rings designed with a modern twist such as vintage-deco styles, bejeweled eternity bands, split and twisted shank styles, and different metal colors rather than only going for the classic silvery-platinum color.
FAQs
q:

What is moissanite?

a:

It's a rare mineral sourced from an incredibly durable substance known as silicon carbide.

Because this mineral is rare, what we have today are lab-created crystals fashioned into moissanite crystals through a thermal growing process with the same silicon carbide composition.
q:

Is moissanite a simulated diamond?

a:

No, and neither is moissanite a substitute for diamond. It is a unique gem possessing its own set of optical and chemical properties.
q:

Is it durable?

a:

Yes. Moissanite is one of the hardest gemstones, second only to diamonds. It's scratch-resistant and even more heat resistant than its diamond counterpart.
q:

What are the common shapes for moissanite?

a:

Round cut, oval cut, and cushion cut are some of the most popular shapes with moissanite.
q:

How do I take care of my moissanite rings?

a:

Moissanite can be cleaned the same way you clean a diamond and other valuable gemstones.

Ultrasonic cleaning is recommended for moissanite as with any other fine jewelry with precious gemstones.

You can clean your ring using a non-acid jewelry cleaner. Or, clean with water and mild soap using a soft toothbrush.
Finally..
An engagement ring is a symbol of enduring love and a lifetime bond with your partner that is meant to last forever.
It is one of the finest jewelry pieces in your collection that you are likely to wear every day and for a long time.
So, when you are making a decision on which engagement ring is perfect, you have to consider factors such as durability, style and most importantly the cost.
Diamond rings have been a traditional classic choice, but they are costly. However, we believe that everyone should experience the beauty of owning a beautiful sparkling diamond and should not miss out because of the cost.
Now there is another "forever" gemstone that is capturing the hearts of many these days. It's super gorgeous, sparkly, conflict-free, and comes at a fraction of a diamond's cost.
Meet moissanite, the gemstone that is your best alternative to diamond jewelry! In fact, to an untrained eye, it would be incredibly hard to tell the difference between a diamond and moissanite.
Our fantastic list is enough proof that moissanite rings are quite stylish, and they are available in all shapes, sizes, and styles.
Remember that moissanite is an ethical choice for the conscious lot. Secondly, it's an excellent alternative to a diamond.
This makes it an ideal option for those who want the appeal of diamonds but don't want to dig too deep into their pockets.
Finally, in terms of durability, moissanite is comparable to diamonds. It can withstand the rigors of daily wear for years on end. And it's environmentally friendly!
Time to shop for a moissanite ring as your cart deserves to have one added, at least once in a lifetime!