Dazzling Moissanite Earrings Selection
last updated:
Feb 17, 2020
A diamond is a girl's best friend, but that may be because she's not familiar with moissanite. Today, we decided to feature our 10 favorite moissanite earrings.
This gem has a lot of things in common with classic diamonds, but there are some key differences that make it worth checking out.
At first glance, it may look like a diamond, but moissanite catches the light differently. Light refracts to cause a rainbow of brilliant colors, and it is actually more refractive than a diamond!
These gems are created in a lab, so you can feel good about the sources from which they are derived.
The price point of this gem is significantly less than the traditional diamond, which means you can drape yourself from head to toe in sparkling gems without draining your bank account!
Our Top 10 Picks!
1

. Charles & Colvard Moissanite Hoop Earrings
14k rose gold
38 moissanite stones
Lifetime warranty
This brand is a powerhouse when it comes to crafting classic and dazzling pieces. These hoop earrings are something that is bound to catch the eye while still being understated.
Read more
The small hoops are crafted from warm 14 carats of rose gold that won't irritate even the most sensitive ears which won't flinch when it comes to 14 carats.
There are 38 small moissanite stones that line the outside of these hoops. They are closely spaced so you cannot see the rose gold beneath, and are punctuated with small gold posts between the gems.
They have a hinged backing that easily slips into your ear and securely snaps in place.
If you have sensitive ears, these hoops are small and lightweight, and the choice of 14 carats rose gold is perfect for even the most finicky ears. They are won't pull down your lobes like some of the heavier designs.
2

. DovEggs Heart Arrows Moissanite Earrings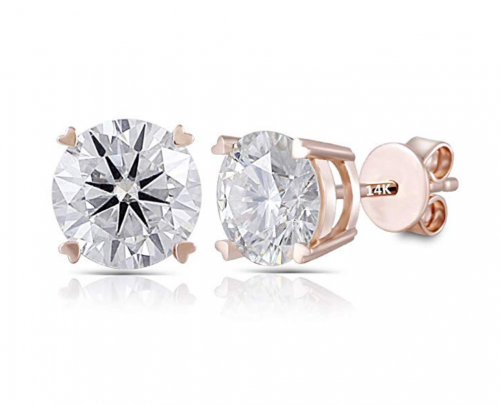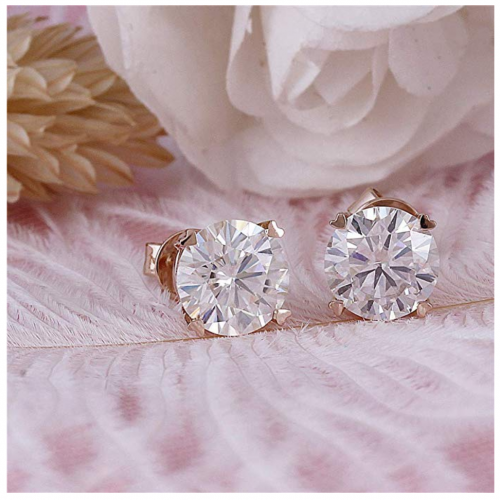 14K rose gold
2.00 carats
Very good cut
If you really want something that sparkles and shines, this design from DovEggs is worth a look. This moissanite has deep heart arrow cuts that really catch the light and reflect it brilliantly.
Read more
They may be simple and classic diamond-like stud earrings, but they are bound to attract some attention.
Each post boasts 1 ct of moissanite, and the pair equals 2 carats. Unlike some other cuts of moissanite, this design does not cast a yellowish glow and has a clear and simple design.
The posts are constructed from 14K rose gold that is perfect for even the most sensitive ears. Backs are held in place by a 14K matching rose gold push back.
These simple posts are a classic design and the round stones that aren't too big and bulky and go with just about everything that you own!
3

. Charles & Colvard Pear Halo Earrings
14K white gold
2.22 carats
36 moissanite stones
Charles & Colvard makes our list yet again with these stunning stud earrings. The price tag is a little shocking, but don't stop reading! The quality, simplicity, and intricate detail of these posts may quickly become your go-to piece in your jewelry box.
Read more
The posts are silver but are made from a gorgeous white gold that doesn't detract from the beauty of the stones. It has a push back closure that is also made from the same quality of white gold as the posts.
What we really want to talk about is the stones. These posts are adorned with pear-shaped moissanite stones that measure to be 8.0mm x 5.0mm each. Combined, both studs contain 2.22 ct.
If a large and dazzling pear-shaped stone wasn't enough, each stone is lined with smaller Moissanite stone. In total, both posts possess 36 individually cut gemstones that catch the light in a myriad of ways.
While the price tag is a little jarring, the classic design and purity of the moissanite make it well worth the price tag. Plus, it is crafted from metals that are kind to even super sensitive ears.
4

. Dazzlingrock Collection 3.00 Carat Moissanite Earrings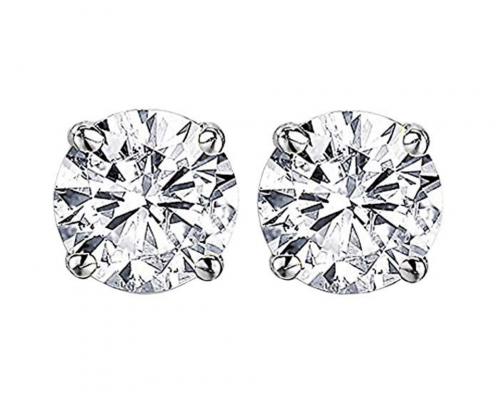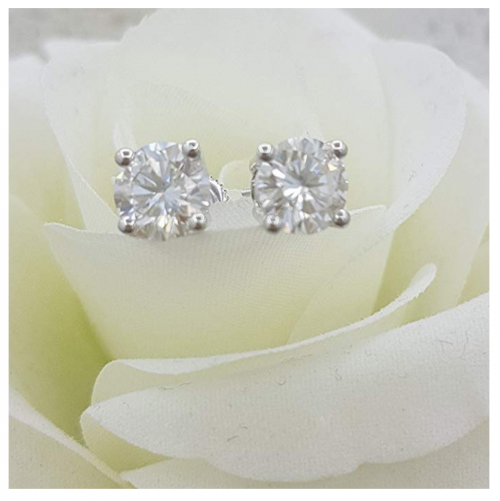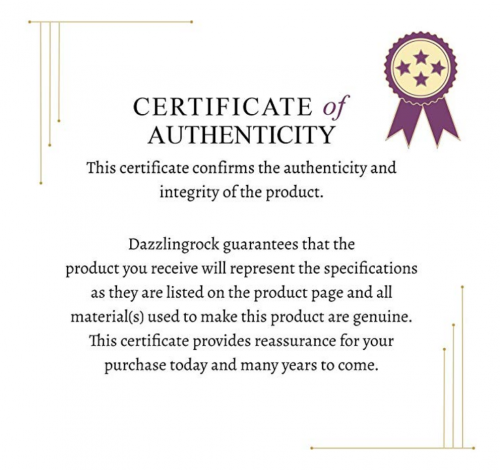 14K white gold
30-day money-back guarantee
3.00 carats
The bigger the better, right? If you are blown away by the sparkle of these stones, you may want to check out these posts. This classic design boasts a round cut moissanite stone with deep cuts that really reflect the light and create a lot of sparkles.
Read more
One post offers 1.5 ct, for a total of 3 ct in total. Many posts only provide 1 ct per post, which makes these posts just a little bit bigger than others that we have seen.
The posts are made from 14K white gold, which is perfect for sensitive ears. It measures to be 7 mm wide, which is just slightly larger than most as well.
One may assume that larger stones mean a larger price tag, but that's not the case with these moissanite earrings!
While the price point is still a little shocking, it is one of the more affordable options from Dazzlingrock Collection.
5

. Charles & Colvard Moissanite Slim Hoop Earrings
14K white gold
52 moissanite stones
Friction earring back
What we love about these hoops is that they are slender and delicate, and are lined with small moissanite stones to light up any room.
Read more
Unlike other hoops, the inside and the outside is lined with delicate gemstones that measure to be 2 mm. Two hoops are loaded with an impressive 78 stones that are 2.78 carats.
These moissanite earrings measure to be 35 mm in diameter or 1.37 inches. The stones are held in place with a 14K white gold frame. They lock in place in your ears with a hinged post that makes them easy to pop on and off with ease.
The cost of these hoops makes them one of the most expensive earrings to grace our list. However, when you take into consideration that they are loaded with an impressive 78 stones, the price point is well worth the compliments you are bound to receive.
One of the things we loved most about these hoops is that they are incredibly thin and delicate. Lining the inside with gems means that they will sparkles from the back to the front as well.
6

. Clara Pucci Solitaire Diamond & Moissanite Earrings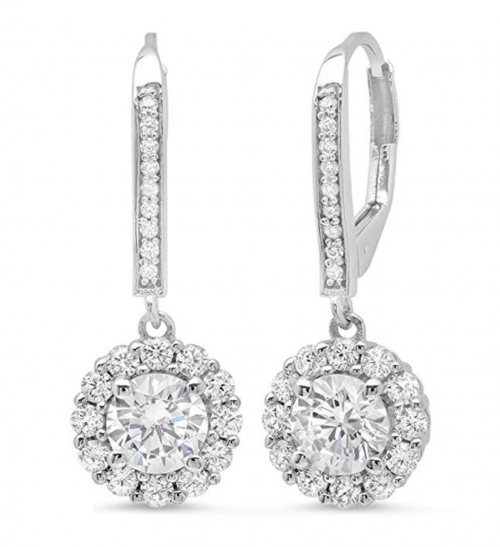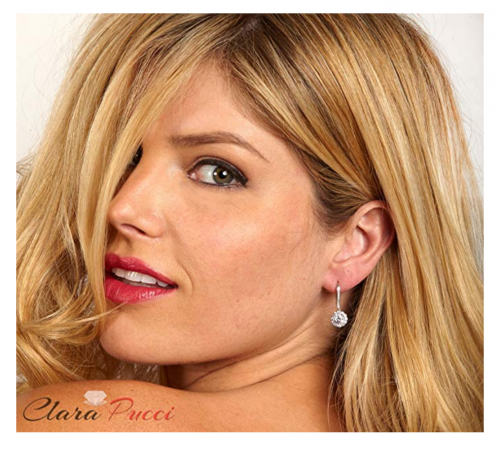 14K white gold
3.55 carats
Made in the US
This design is the perfect marriage between posts and hoops. It boasts a large stone that is surrounded by smaller stones and a long mini-hoop lined with more gemstones.
Read more
Both moissanite earrings boast over 3 ct, which makes it one of the larger ct counts on our list. It measures to be 3 cm long, 4 cm high, and 2 cm wide. The large center stone is surrounded by smaller gemstones that really catch the light.
Both earrings have an impressive 78 stones in total. It has a 14 ct white gold post that is also hypoallergenic. It has a higher price point than most, but considering that it has a unique design and 78 gemstones, it makes it well worth the elevated price tag.
Plus, Clara Pucci is a trusted brand that designs and manufactures all of its pieces in Los Angeles at very competitive prices when compared with other high-end brands.
7

. Charles & Colvard Moissanite Drop Earrings
14K white gold
52 moissanite stones
0.48ctw
This unique styling of this pair of dangle earrings is what makes them stand out from the rest. These stones are held in place with a 14K white gold that allows these small, round gems space to really shine.
Read more
The 14K white posts are held in place by a 14K white gold backing, so it won't irritate your ears. The moissanite earrings hang down 2 inches from your ears, so they weigh down only slightly.
Combined, both earrings are adorned with 52 small stones with a carat count of .48. This makes them slightly less sparkly compared to some of the other options making our list.
While the carat count is significantly lower, it also means that the price tag is far more affordable. If you want to give moissanite a try, these dangle earrings are an excellent place to start. We love that they have a unique yet neutral styling that is perfect for both casual and classy affairs.
8

. Charles & Colvard Heart Shaped Stud Earrings
14K white gold
0.18ctw
Heart-shaped
What we adore about these cute moissanite earrings is that they are simple and affordable. They are constructed from 14K white gold, and the silver post design doesn't distract from the gems.
Read more
Each heart-shaped post holds 3 round gems that really catch the light brilliantly. The three gems contain just shy of .20 carats. While this is one of the lower carat counts making our list, it also means that it is also incredibly affordable.
The 14K white gold line outside of the heart studs created a thick and shiny border. The posts, as well as the push friction backing, are also made from 14K white gold so it is sure to be kind to your ears.
Simple posts can often be a little bit boring, so the heart design adds a little bit of spunk and character to your jewelry collection.
9

. FANCIME Moissanite Stud Earrings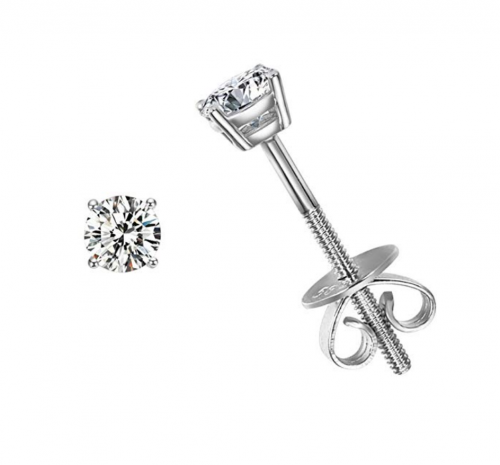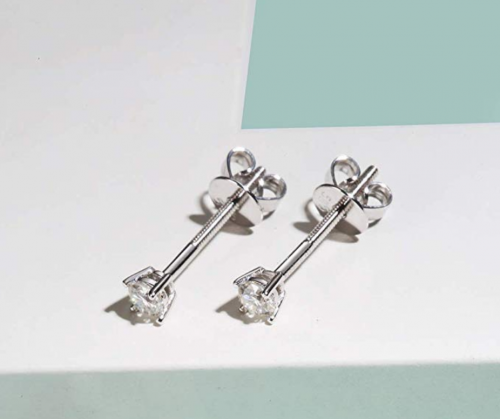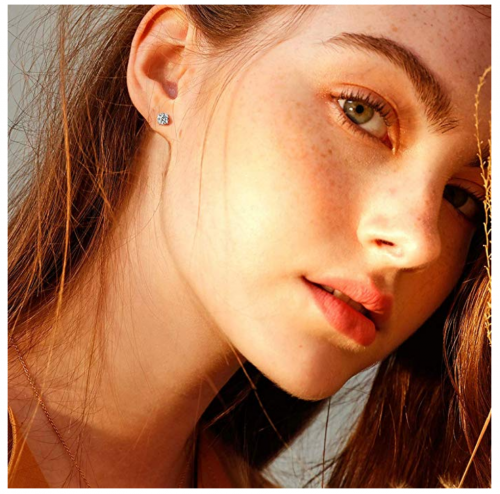 14K white gold
0.20 carats
Full refund or exchange
Many moissanite earrings on our list pack quite a price tag, but this option from FANCIME is one of the most affordable pieces to add to your collection. If you want to give these gems a try, the simple posts are perfect and are something that will never go out of style.
Read more
The round cut gems on these posts measure to be 3 mm and are .20 carats. The posts are constructed from 14K white gold, and the backing is made from white gold as well so it won't irritate sensitive ears.
What we loved most about this design is that it is not a friction push backing. Instead, these 14K gold backings screw in place so you know it is secure.
While it may take you a little bit longer to fasten these earrings to your ears, it means that you won't have to worry about losing your backing throughout the course of the evening!
10

. Charles & Colvard Moissanite Bar Earrings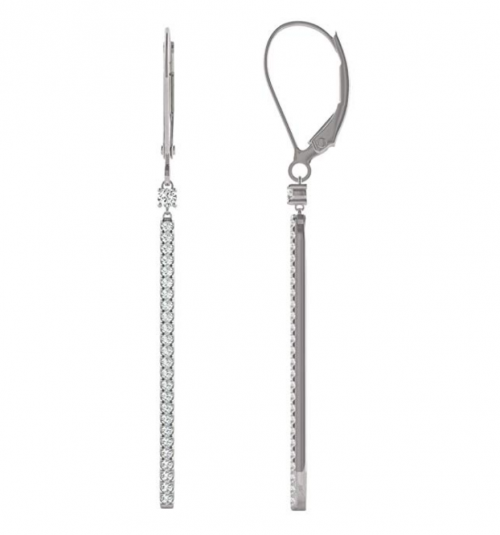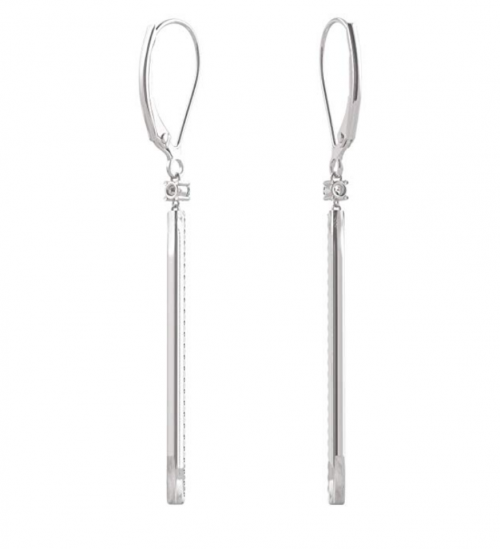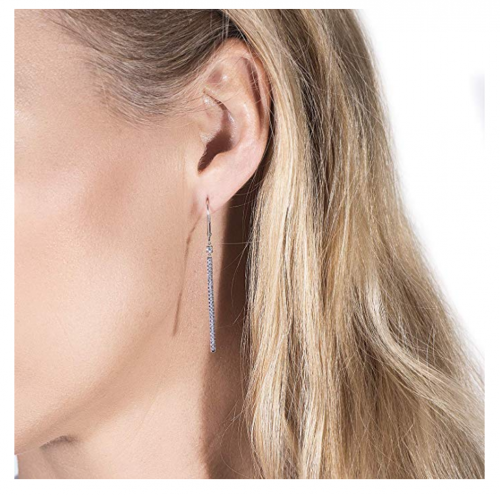 Rhodium-plated
52 stones
Made in the US
Love the idea of a dangling hoop but you don't like how easily hoops catch on just about everything? These bar earrings give you a little bit of dangle without the worry of being caught.
Read more
The two earrings have a total of 52 stones that are just shy of .25 carats. Each individual stone is 1.8 mm in length. The stones are held in place with 14K white gold that will not irritate even the most sensitive ears.
Worried about your earrings slipping out of your ears? This design offers a latch closure that snaps closed so you won't have to worry about them accidentally slipping out of your ear. Plus, this style of closure makes it easy to pop on and off quickly.
This design is something that is classic and timeless, and the thin frame is incredibly delicate. If you want something outside of the standard post of a hoop, this dangling piece is the way to go!
Evaluation Criteria
Durability
The great thing about moissanite is that it is one of the most durable gems out there on the market.
Diamonds are considered to be the most durable, and moissanite comes in at number two.
This gem was initially found at the impact site of a meteorite, so you know that it has to be tough! It clocks in at 9.26 on the Mohs scale, which means it can take quite a beating without even flinching!
The gemstone is also described to be incredibly scratch-resistant, so you don't need to be as gentle or paranoid about damaging it as you are with your other pieces.
The addition of 14 ct posts or hoops also helps boost its durability. Using gold instead of gold-plated metals means that it won't chip. Plus, it means that your ears will thank you for using higher quality material to put inside of your ears.
Gold is also great because it will not discolor your skin or tarnish over time. Plus, it is incredibly easy to clean. It is also a non-porous material which means it won't hold on to bacteria before sliding it back into your ears.
Style
When you pay a high price tag for a piece of jewelry, you want to be able to wear it with everything.
That's why we selected pieces that were considered to be simple and timeless so you can wear it with everything that you own.
Simple posts are one of the most popular pieces of jewelry that everyone should have in their jewelry box. Posts don't dangle down past your ear, so you won't have to worry about them getting tangled on your jacket or in your hair. It is a staple that will never go out of style and looks good with a little black dress or a pair of jeans.
Hoops are a great way to add a little bit of spunk while still remaining timeless. The reason that we selected hoops for our list is that it is something that can be worn with just about anything. It is a classic piece that is somehow casual and glamorous all at the same time!
The great thing about the moissanite gem which is colorless is that it goes with everything that you own. Whether you are dressing it up for evening cocktails or just out running errands, there is no outfit these earrings will not compliment!
If you like the idea of a little bit of dangle but hoops make you a nervous about getting caught, there are some other options as well. We like a simple dangle design because it offers the same look as hanging hoops without the loop that can get tangled in your hair or on your sweater.
Wear Comfort
Unlike other pieces of jewelry such as necklaces and rings, earrings don't just fit on top of your skin, they actually go into your skin.
Due to this fact these slip into pierced ears, the quality of the metals used is paramount for optimal comfort.
We all know that very specific irritation of wearing earrings with cheap metals. It makes your ears feel like they are burning, and they itch like crazy. It's hard to feel glamorous when your ears are the color of a tomato!
To spare you this irritation, we wanted to select pieces that only used top quality metal. For most, this means 14 ct gold. This type of gold doesn't just look great, it also has to pass specific tests to be safe for use. All 14 ct gold is tested to be nickel-free and cleared for biocompatibility.
Gold-plated pieces are not considered to be comfortable to wear for the long term. The gold is often coated in a very thin layer and chips off to expose an irritating metal to your skin.
We also wanted to select products that were easy to take on and off. Earrings typically come in two different styles; those that have a push back and those that have a clasp. We feel that both methods are perfect for getting on and off, but there are a few things to keep in mind.
One of the things that we considered is the quality of the push backing. Many brands claim their earrings are 14 ct gold, but it only applies to the post. We wanted to make sure that we selected posts and backings that were classified as 14 ct gold.
If you elect for a style that is constructed from 14 ct gold, it ensures that your ears won't become red and inflamed with extended wear.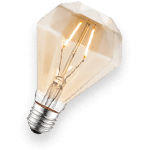 Space Diamonds
The gem of moissanite was actually first discovered at the impact site of a meteorite in Arizona. Originally, Henri Moissan first thought he had discovered diamonds. When he took the gem back to the lab for research, the moissanite was born. Since standing around waiting for space debris to crash on Earth is impossible for production, making these gems in a lab is easier, cost-effective, and sustainable.
More Sparkle
Moissanite is actually more sparkly than diamonds! The sparkle of a gem is calculated on the Refractive Index Scale, and Moissanite ranks higher than diamonds. When reflecting light off of the surface, some find that when exposed to a lot of light it causes a disco ball effect.
The Humble Hoop
Worried about pieces in your jewelry collection going out of style? This is something you will never need to worry about with hoop earrings. The very first hoops were discovered in 2,500 BCE in Nubia, Africa. They were also seen worn by Ancient Egyptians and Romans. Today, they still remain a staple of most jewelry collections!
FAQs
q:

What is moissanite?

a:

It is a gem that is manufactured in a lab and considered a great diamond alternative. At first glance, it may look identical to a diamond but there are a few key differences that make it different from diamonds.

The differences in this gem do not make it inferior to a diamond, it just makes it different.

It catches the light in a different way, and it is much easier to manufacture. This ease in manufacturing makes it much more affordable than diamonds.
q:

How is it different from a diamond?

a:

The first thing that users notice is that the way this gem catches the light. The light reflects off of the surface, it shines in every color of the rainbow. While some users feel that it makes it glisten in a unique way, other users feel that it can look a little bit like a disco ball.

Another key difference is that some moissanite has a very subtle yellow or gray hue to it. If you don't like the idea of a hue to your clear gems, you may want to opt for a smaller gem. When you select a larger gem, there is a greater chance that the slight colored hue may be noticeable.

The production of this gem is done 100% in a lab, which means that there is no mining into the earth. If you want your gems to come from a sustainable source but you like the shine of diamonds, you may want to try moissanite!
q:

Is it always manufactured in a lab?

a:

To answer this question, we must first talk about where this gem was discovered.

Henri Moissan discovered what he thought was diamond at a meteorite crater in Arizona. Upon further tests, he realized that white these particles looked like diamonds, they were something different altogether.

There are simply not enough meteorite impact sites on planet Earth to be able to manufacture these gems from nature. Therefore, all of the moissanite found in jewelry production has been manufactured in a lab.
q:

What makes it so much more affordable?

a:

Rarity is a big factor that determines the price of a gem. The rarer the gem is, the more expensive it becomes. When you can manufacture these gems in a lab, it makes it more accessible which in turn lowers the price point.
q:

Why is 14K gold perfect for earrings?

a:

Did you know that 20% of the population suffers from metal allergies? With that being said, it is important that the metal that you put into your ears will not cause irritation.

While a metal allergy isn't something serious, it can really put a damper on your evening. That's why 14K gold is perfect, even for those with sensitive ears.

The reason why it works for everyone is that it is free of nickel, and it is also tested to be biocompatible.
q:

How do I clean it?

a:

The good news here is that these gems do not require any special cleaning instructions. What we love about moissanite is that it is incredibly durable and does not show wear and tear the way other gems may show their age.

Like any other gem, however, continuous wear leads to a build-up of oils and hand lotion on the surface. As oils collect on the surface, its brilliance and sparkle may start to diminish.

To get your gems back to their sparkling best, we recommend giving them a good cleaning every few months. Using a simple gentle soap and a soft toothbrush is the best way to clean the gunk off of the surface.

We love soaking our jewelry in ammonia to really get our gems shining! You may feel that ammonia is a harsh chemical, but it is actually a great way to dissolve away dirt.

Gently brush away debris, and use a very sold cloth to try your gems when you are finished.
Finally...
No jewelry lineup is complete without a classic pair of posts or hoop earrings.
Moissanite is a gem that you can feel good about wearing for more reasons than one. All moissanite on the market is crafted in a lab, so you know that it comes from ethical and sustainable sources.
The simple design of the moissanite earrings that we selected for our list goes with just about everything you own and are great to wear for casual or classy events.
What we love most about this gem is that it shines differently than diamonds, which give it a unique look unlike anything else out there on the market.
Plus, it comes in at a much more affordable price so you won't have to eat beans out of a can for dinner next month in order to add a little glam to your life!