Rings / Wedding Jewelry / Women
Best Vintage Engagement Rings We Fell for at First Sight!
Marianne 09 Mar 2020
2893
Engagement season is almost here! November through February is the most popular time for people to become engaged, and it's obvious as to why. The holiday season is one of sentimentality, pushing people closer together through intimate gatherings, and it's only natural for couples to start envisioning their own holidays together. Since everyone's families come together, it's natural to start thinking about creating your own families. One of the first steps to doing that is proposing, and most people want to find a ring to do that with. But where do you even start with so many different options? One of the timeless options could be a ring from our selection of vintage style engagement rings.
History of Engagement Rings
Engagement rings have varied quite considerably over the ages but had its beginnings by being part of the "bride price," a payment of wealth to the bride or her family in exchange for marriage. In ancient times, the engagement ring was placed on the left hand due to the belief that the vena amoris, literally the vein of love, went straight to the heart from this finger. This was a belief held as early as the 4th Century BCE, with Ancient Egyptians giving betrothal rings made from various materials – hemp, bone, ivory, and even leather.
Roman women were given two rings – one made of iron to wear at home, and one of gold to wear when out in public. Iron was a very typical metal to use in jewelry in ancient Rome, with silver and gold rings not being given to a wife unless he absolutely trusted her with his valuable property. In the middle ages, Pope Innocent III convoked the Fourth Council of the Lateran, instituting what was called the banns of marriage, essentially prohibiting clandestine, or secretive marriages. This is a huge part of why eloping has negative connotations – you can thank the 13th century for that! These banns of marriage also spawned a large influx of engagement rings, which is speculated to be due to the requirement of marriages being made public. It was a physical way to show the world you were betrothed, aside from the public announcement requirement.
While diamond engagement rings seem like the standard now, that's only been within the last hundred years. Diamonds were incredibly rare to give to your future betrothed up until the 20th Century, generally reserved for only the high elites and royalty. It wasn't until 1477 a diamond ring had been documented as an engagement ring, given to Mary of Burgundy by the Archduke Maximilian of Austria. This started the royal influence of using diamond rings as engagement tokens. It's important to remember that in this time, diamonds were considered relatively rare.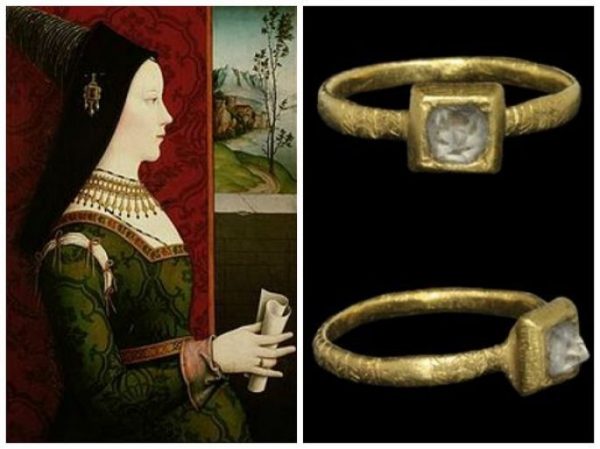 But in 1866, the engagement ring market would be changed forever with a large cache of diamonds discovered in South Africa. With this large influx of stones, those who weren't of royal descent could finally afford diamonds, and while many people did purchase diamonds as a token of engagement, tradition still dictated that diamond engagement rings were reserved for the aristocracy. Many people still preferred the simpler bands during the Victorian era.
After World War I and the Great Depression, the diamond market was struggling. Many people did not have disposable income, and the price had essentially crashed due to a lack of demand. The market research also suggested that the younger generation, faced with the struggles of living through poverty, were not in style anymore, adding to the decline of the diamond.
Engagement Ring Styles
There is no denying that diamonds are beautiful – their fire and sparkle are incredible, and they are very durable and can withstand everyday wear. But if you're not interested in diamonds, there are still plenty of other options. The best part about choosing a center stone that isn't diamond is the cost. While diamonds are no longer rare, the trend of diamonds as engagement rings has hyperinflated their prices. Many people also choose to have sapphire, ruby, or emerald engagement rings. There is a colorless stone called moissanite which has even more fire and radiance than a diamond!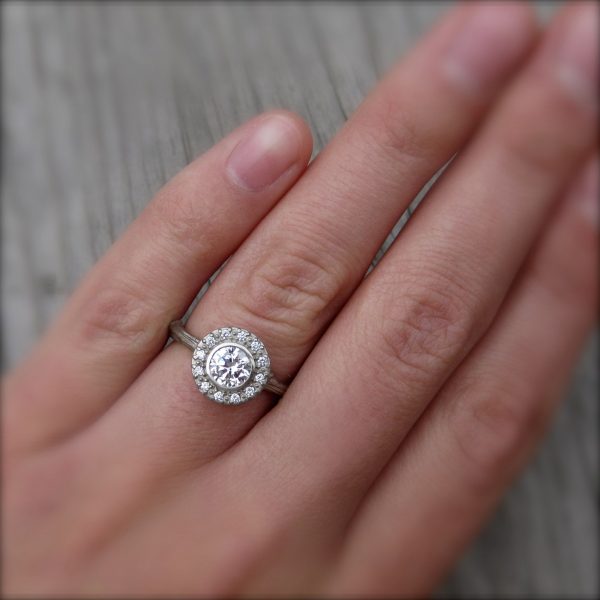 Originally found in meteorites, it's an excellent way to have a colorless gemstone with fantastic sparkle at a fraction of the price. We've waded through hundreds of engagement rings and selected ten different ones out of the vintage category. These rings are generally made to emulate the styles between the 1800s and 1930s – think Victorian, Edwardian, and Art Deco styles.
Victorian rings are made in the style of Queen Elizabeth's style of jewelry, romantic with a lot of filigree. These rings were typically set in yellow gold and had rows of channel-style diamonds. Victorian style is the quintessential feminine – flowers, birds, hearts, and beads all adorn this style of ring.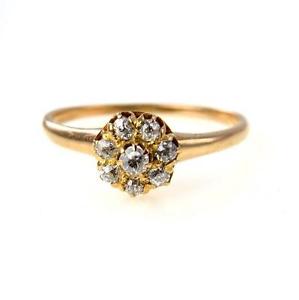 The Edwardian style was quite similar, but incorporated more "lacy" designs, and favored white gold and platinum over yellow gold. These also favored flowers, bows, and scrolls, with the intent of matching the intricate dresses and hats wore in Edwardian times – big bustles with large skirts and lacey hats were all the rage! What distinguishes Edwardian from Victorian is more of the use of scrolls and filigree woven into lace patterns. It's a fine distinction, but a distinction nonetheless.
Art deco threw away these more feminine silhouettes and went with bold, geometric patterns which were more fun and mimicked cubist styles. Flappers, speakeasies, and jazz music – this is what Art Deco embodied fully. White gold became the most popular metal to use in these rings, as new alloys were discovered and allowed people to have the beautiful white shine of platinum without the associated costs. Yellow gold was so out of style so anything embodying an authentic art deco vibe won't have that. (That doesn't mean you can't have it that way, though!) Since there are so many similarities between Edwardian and Art Deco, a great way to distinguish between the two is the use of space. Art Deco feels more industrial, more modern, and tends to have more geometry, while the prior is more based in nature.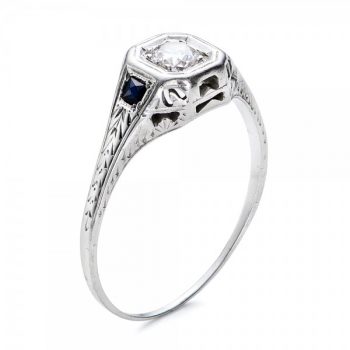 The vintage category of rings is a hard one to nail down at times, especially due to the mix of more delicate filigree with bold angles. But no matter whether you're looking for inspiration for your own engagement ring, or looking to propose to your special someone, we've got a list of antique and vintage-inspired engagement rings for you to choose from. There are a few from each of the styles mentioned, so if you're having trouble finding that perfect ring, we're here to help!
Victorian Inspired Vintage Engagement Rings
1. Morganite, 14K Rose Gold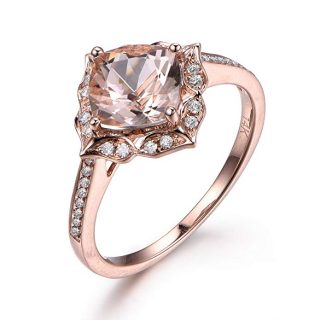 This ring caught our eye faster than anything on this list – we can't believe it's so affordable! Have you ever seen morganite before? It's a delicate pink stone that pairs well with warmer skin tones and metals such as rose gold. A relative of emeralds, it resides in the beryl family. Unlike emerald, however, morganite tends to be quite clear and free of inclusions, making it a great choice of gemstone for those who are budget minded but looking for quality. The morganite stone in this beautiful vintage-inspired ring is a whopping 1.35 carats, meaning it's huge! If you're a fan of large stones, this is a ring you don't want to ignore.
You have your pick between rose gold, yellow gold, and white gold, each coming in 14k. We would recommend pairing it with rose gold, as it would most naturally bring out the pink hue, however, if you're a fan of white or yellow, it would look just as wonderful. The white gold will make the stone look darker, and the yellow gold would bring out more orange tones.
Surrounding the morganite center stone is a beautiful flower shaped halo, inlaid with cushion cut diamonds both in the halo and band. Morganite makes a beautiful engagement ring and is something you should consider if you're not a fan of colorless gems. Keep this beauty in your idea file for later – it's a great ring to say "yes" to!
Price Range: $
2. 1.3 Carat t.w 14K White Gold Victorian Halo Style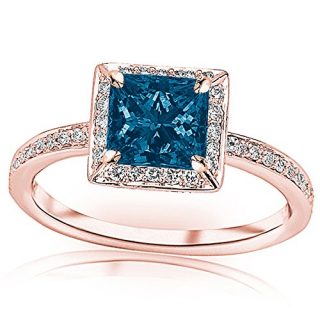 A blue diamond – how cool, right? Blue diamonds are incredibly rare – and usually quite expensive. Thankfully, modern techniques allow us to be able to replicate this amazing color at a fraction of those cost using nearly the exact same methods in nature. Blue diamonds get their blue color from the boron present in the formation process, and we can recreate this process through irradiation. The best part about this is that irradiated diamonds are still natural, real diamonds, and if anything, their value is increased due to having the same refractive index but having a "fancy" color.
Houston Diamond District has a beautiful 1ct square-cut blue diamond surrounded by a halo of 0 .3 carats total weight of round white diamonds. This ring allows you to choose between rose gold and white gold, each of which flatters the beautiful blue diamond in different ways. The rose gold will make the stone appear warmer, and tones down the sharpness of the bright blue hue. However, if your veins run a bit icier, the white gold might be for you – it will certainly make the blue in the center diamond pop, along with the diamonds in the halo and band. In fact, if you're looking for a way to showcase the blue hues, white gold or platinum is the way to go. It makes the blue colors really stand out!
Price Range: $$$
3. 2.6 Cttw 14K White Gold Heart Cut Antique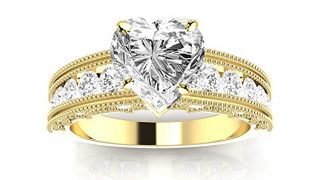 If you're a fan of milgrain, this ring is one for you. Borrowing from the romantic inspiration of Victorian jewelry, this cute ring comes set with a 2-carat heart cut natural diamond. This ring boasts a whopping 2.6 carats total weight, which is a ton of diamond. The sparkle will certainly be noticeable from across the room no matter where you are. It's a dazzling ring, one that you would be happy with for a very long time if proposed to with. We adore the cute heart-shaped center stone – it's an adorable way to represent your undying, eternal love for your beloved.
The center stone is I-J quality, so if you prefer the stone to have that "ice," you will want to choose either rose or yellow gold for this ring. If you're a fan of warmer colors in your gems, then the white gold or platinum will bring that out for you! This ring is certainly the priciest on this list, but the quality of the workmanship from Chandni Jewels makes it worth considering. If you're looking for a unique, vintage style ring, keep this one on your radar.
Price Range: $$$$$
Edwardian Inspired Engagement Rings
4. Vintage Sapphire & Diamond, 1 Carat (ctw) in 14k White Gold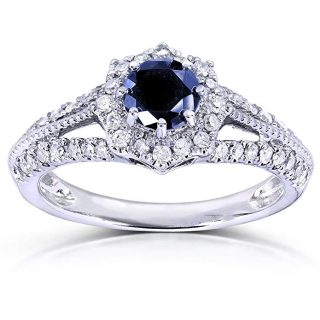 This gorgeous ring is an interesting example of the transition period between Edwardian and Art Deco – still flowerlike but having bold geometry. Konelli brings us this beautiful vintage sapphire and diamond engagement ring guaranteed to turn heads! In the middle of the split is a milgrain separator, giving this vintage ring a unique shape not often seen in split rings.
All the diamonds in this ring are 100% natural and conflict-free diamond and have a total carat weight of 0.3 carats. The diamonds are round cut and have a minimum of H1 color and I1/I2 clarity. These are commonly used grades of diamond for side stones and produce a beautiful shimmer for a great price. The center stone is a natural blue sapphire, weighing in at 0.7 carats.
This brings the ring's total carat weight to 1ct, which is quite large for the price! The quality of the stones is very good as well, with nice and clear stones without haziness or inclusions. The sapphire itself is of A quality, which is in the top 50-75%. Sapphires of this quality are generally opaque and have a rich, dark blue hue. This ring includes a certificate of authenticity telling you exactly what the ring is made of, so you can be sure your investment is genuine. If you (or your beloved) is a fan of sapphires and white gold, this is a ring you don't want to miss out on!
Price range: $
5. Antique Milgrain Sapphire and Diamond in 14k White Gold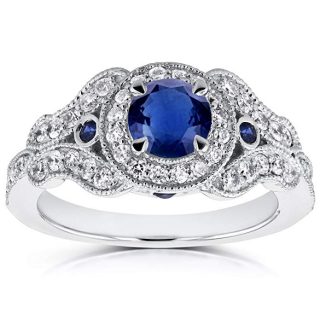 If you're a fan of sapphire, you'll love this ring. The beautiful filigree pattern extends nearly the entirety of the piece, embodying that intricate Edwardian aesthetic. The center stone is a 0.5-carat natural blue sapphire surrounded by round-cut diamonds totaling 0.5 carats, bringing this beautiful ring to a total of 1ct of gems. Set in 14k white gold, this dazzling ring will be sure to let you stand out in a crowd.
It's a beautiful nod to Kate Middleton's ring, utilizing a bright sapphire as the center stone. It's unusual but beautiful. Be sure to give this piece some extra consideration, as it's an amazing value for the price! You'll be sure to have a piece of jewelry that garners compliments for years to come.
Price Range: $$$
6. 0.5 Ct. 14K Solid White Rose Yellow Gold | 1/2 ctw Genuine Diamond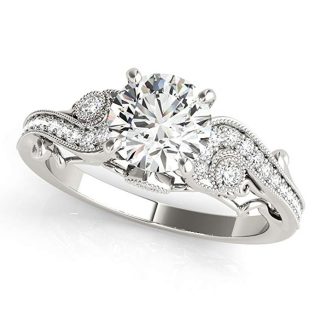 This is an amazing, budget-friendly piece. MauliJewels brings us this stunning round-cut diamond, coming in at .35 carats and a diameter of 5mm. Accompanying this center stone are 30 diamonds inlaid in the sides, coming to a total weight of .15 carats. This ring totals in 0.5 carats of diamond weight, making it a great value considering all 31 of these diamonds are all natural, untreated, and conflict-free. The center diamond is between either I/J/K color and the clarity of these stones is I2-I3. This means the gems will have a warmer hue and may pair better with a warmer toned metal such as rose or yellow gold. But if your love prefers warmer colored stones, then white gold is fine with this, too!
This ring features a delicate scroll pattern, reminiscing back to Edwardian style. The tasteful milgrain along the scrolls accents this piece even further, creating a beautiful beaded border surrounding those luscious diamonds. The great thing about this ring is that you can choose between rose gold, white gold, and yellow gold, making it perfect for a budget-friendly engagement ring in a variety of colors. Don't skip over this ring if you're looking for something flashy, yet affordable!
Price Range: $
Art Deco Inspired Engagement Rings
7. Near-Colorless (F-G) Art Deco Moissanite with Sapphire & Diamond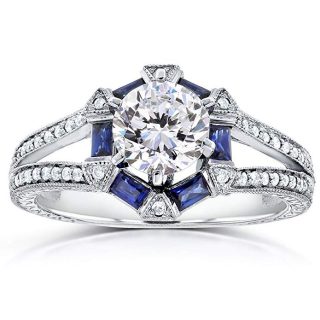 This ring was so eye-catching we had to include it in this list! Kobelli combines hints of art deco style with the bold, geometric shapes and intricate stylings down the band with the modern open-shank design, resulting in a combination that is exquisite. This amazing moissanite, sapphire, and diamond ring will leave you breathless – it certainly did for us! The bright moissanite plus the splash of blue from the sapphires easily makes this ring a gorgeous conversation piece – perfect for the bride-to-be!
Made of 14k white gold, this piece is set with a 1ct center stone of near-colorless moissanite. The sapphire is baguette shaped, and a rich deep blue color coming out to 0.6tcw. The diamonds lining the ring's open shank total .25 carats, making this a little ring with a lot of sparkles! It's incredibly budget-friendly, and if you've ever purchased a diamond before, you'll love how happy your wallet will feel getting moissanite instead.
Its art deco style runs true with the white gold and bold sapphire, giving you a piece that feels modern, yet timeless. Show your sophistication while having a bit of fun with this gorgeous vintage ring from Kobelli.
Price Range: $$
8. 14kt Gold Lab Alexandrite and Diamond 8x6mm Emerald Cut Art Deco Ring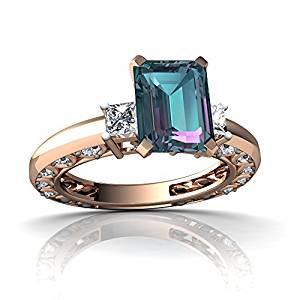 Alexandrite is a stone you should be aware of – it's got seemingly magical color-changing properties, changing between purple, green, blue, and red depending on the lighting (if you are into color-changing rings, check out our mood ring list). It's a magnificent stone, and perfect for an engagement ring. Prized by Russian royalty for centuries, this stone is gaining popularity once again due to it being able to be synthesized, making this magical stone affordable for the masses. Alexandrite makes an amazing engagement ring due to it being such a unique stone, plus with this ring by Jewels For Me, you still get the diamonds so prized in a traditional engagement ring.
That stunning alexandrite stone is put on display in an 8x6mm emerald cut stone and surrounds it with 18 beautiful diamonds – one on each side of the alexandrite, and 16 running along nearly the entire length of the band. The diamonds on the band are set along the side as opposed to on top – it's a beautiful detail that really accentuates the funky art deco style.
This piece is available in 14k yellow, rose, or white gold, allowing you to pick the metal that's best for you. We would recommend rose gold with the alexandrite. Rose gold was the metal the Russians primarily used in their royal jewelry, and we can certainly see why – the warm hue brings out the purple of the stone quite dramatically. if you're looking to enhance the blue, yellow or white gold does the trick quite well. The geometric cut of the alexandrite ties in with the unique band styling wonderfully, making this a ring that's sure to become a family heirloom for years to come. Be sure to point it out to your future fiancé (or take note if you're the one buying!) as this is one you want to consider having on your finger forever.
Price Range: $$
9. GIA Certified 14K White Gold, VVS1-VVS2 Clarity Center Stone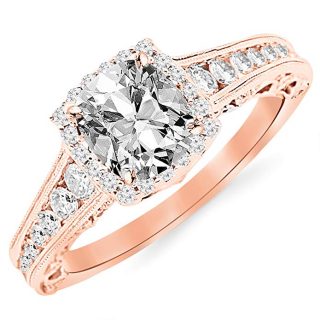 This engagement ring from Houston Diamond District brings in the modern with art deco flair. Set with a 0.70-carat D-E color and VVS1-VVS2 diamond, this virtually colorless gem is surrounded by a halo of G-H quality diamonds, making an amazing sparkle wherever you are. The band is inlaid with cushion-cut natural diamonds, surrounded by intricate milgrain beadwork. This beautiful ring comes in platinum, and 14k rose, yellow, or white gold, allowing you to compliment your other jewelry perfectly. The color of this gem will be on the cool side due to it being virtually colorless, so if you're wanting to make that more apparent, you'll want to select either platinum or white gold. If you want the white to be even whiter, go with rose or yellow gold.
The price of the center stone in a ring this beautiful really can't be beaten – D color and VVS1 clarity are so good, that you are only able to detect flaws in the diamond with a microscope! It's amazing that this ring has that, plus an entire .75 carats of additional diamonds on it! Since this ring is GIA certified, you'll get a certificate of authenticity, so you know that you're getting the absolute best diamond your money can buy – these are direct manufacturer prices, so if you know you want a diamond, be sure to keep this one in mind. It's a showstopper!
Price Range: $$$$
10. 1.3 Carat GIA Certified Cushion-Cut 14K White Gold And Pave Set Round Diamond
An incredibly opulent choice, this amazing diamond ring is yet another winner from Houston Diamond District. A .5 carat center diamond is surrounded by baguette and cushion cut diamonds, creating a very large halo effect. The band has three rows of cushion cut diamonds nearly halfway around the band, making a stunning display of fire and sparkle. Available in 14k rose gold, 14k white gold, 14k yellow gold, or platinum.
The quality of these stones is incredible, and the D-E color of the diamonds means that these gems are indeed colorless – the highest grade of diamond that you can get! While this ring is a bit pricier, the diamond grade is certainly worth it if your beloved loves diamonds. If she does, be sure to keep this ring on her list – it'd make her one happy lady!
Price Range: $$$$
Which Ring is "The One?"
With so many beautiful styles to choose from, it can be a difficult endeavor finding that perfect engagement ring. If you're looking to figure out what style you want to communicate is the best, we hope this list of vintage engagement options narrows down what you're looking for! The vintage style compliments so many modern styles, it really is a great way to have everyday elegance. The best part about getting one is that it's always fashionable – these patterns have been around for centuries, and it's unlikely that they'll suddenly go out of style during the duration of your ring ownership.
If you've looked at this list as someone who's looking to purchase an engagement piece for your partner, here's a hint: find out what your partner likes the most. Maybe they don't want you to spend a ton of money (or maybe they do!), or perhaps they don't like diamonds. It's always in both of your best interest to find the wearer's preferences in the style of ring they'll be wearing, especially since it's something meant to last a lifetime. But if they've mentioned vintage style as one of their favorites, there's something here they'll like! Ask questions about what they like, and don't be afraid to look at jewelry with your beloved. You might be pleasantly surprised at what they're looking for in an engagement ring.
Which of these was your favorite? Let us know in the comments below! Best wishes from us at Jewelry Jealousy – we're hoping you find the perfect piece for your upcoming proposal!