Mood Rings: Get One For Each of Your Moods!
last updated:
Feb 12, 2021
Do you miss the 70s style? We do too! That is why we are here today to walk you through one of the biggest sensations of that era - mood rings!
The best mood rings are a fashion statement that has transcended through the years. They add the perfect vintage flair to all of your outfits while adding a subtle quirkiness.
You'll find plenty of different mood ring styles with this unique element that is sure to be a conversation-starter.
Our Top 13 Picks!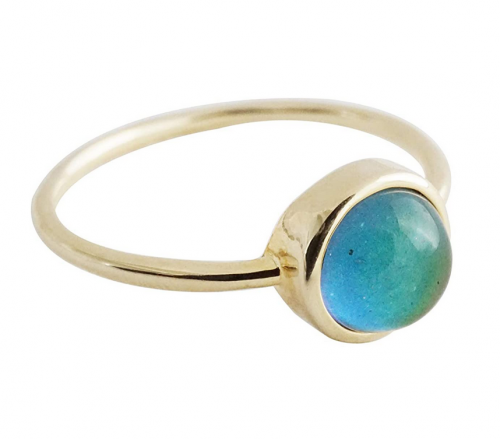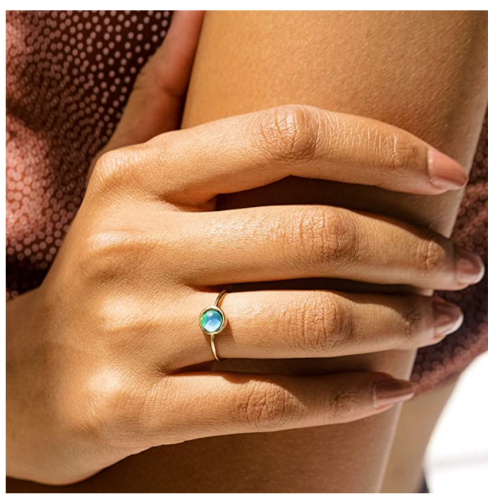 18k gold plating
Nickel and lead free
Mood color chart included
Though this mood ring is pretty small in size, the material it is made of is pretty high level. It comes in three variations of plating such as 24k gold, 18k rose gold or sterling silver. Evidently, its price is a bit higher than the others on our list because of all these valuable elements.
Read more
From its approach to delicate and minimalistic design, this ring will mainly suit the grown-up men and women who belong to the age group of the late 20s and up.
It gives out the vibe of somebody who has gone through the restless stages of life and is now at a place of emotional stability.
Its brand Honeycat happens to be a company from Southern California and promises guaranteed happiness for the customers of their product. You can gift it to your mother, father or grandparents with the provided gift box.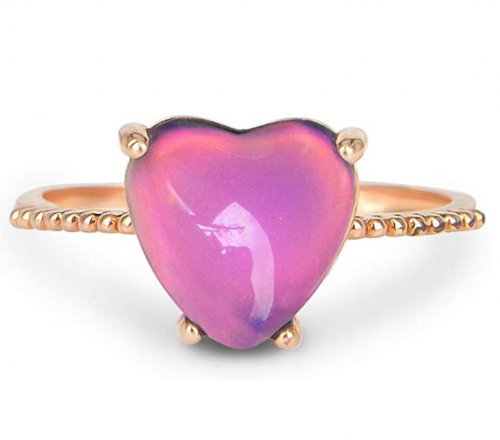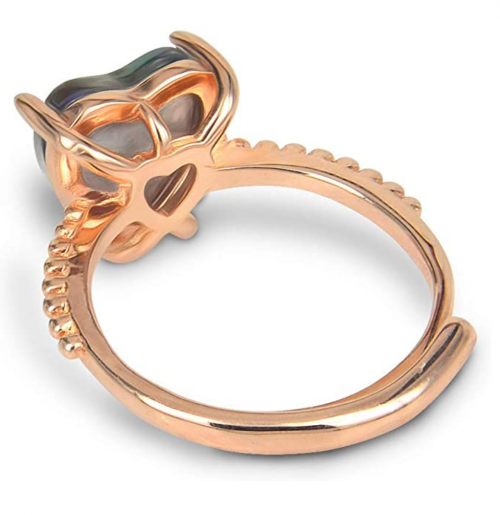 10mm x 10mm mood stone
Rose gold-colored band
Adjustable design
The Fun Jewels mood ring is a subtle piece to add to your collection. It has a beautiful mood-changing stone in the center with a uniquely beaded band to encompass your finger. You'll love its minimalist approach, which puts most of your focus on the stunning gemstone.
Read more
There's a unique elegance to this ring that you're unlikely to find elsewhere. The enchanting rose gold band fits delicately around your finger as a dainty accent.
If you're a fan of mood rings but are looking for something a little more subtle, this ring is optimal. Its delicate nature adds a beautifully feminine touch, and the large stone size will become the central focus.
The stone measures 10mm by 10mm and is perfectly set in the center of the beaded rose gold-colored band.
As your body temperature shifts, the color of the brilliant stone will transform into vibrant colors. As an added benefit, the ring band is fully adjustable, so you can easily fit it to any finger. The color changes cycle between black, brown, amber, green, blue, and violet.
If you intend to give this ring a gift, it ships with a unique gift box and a mood color chart.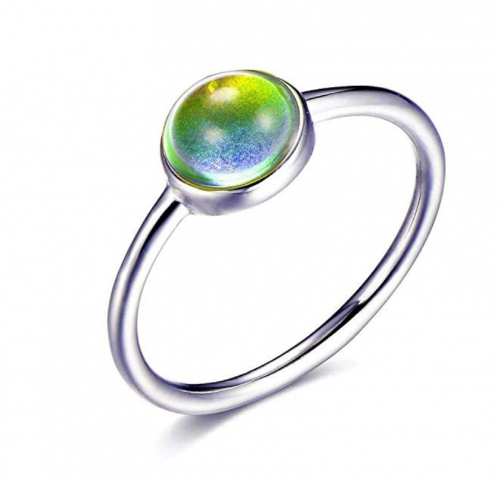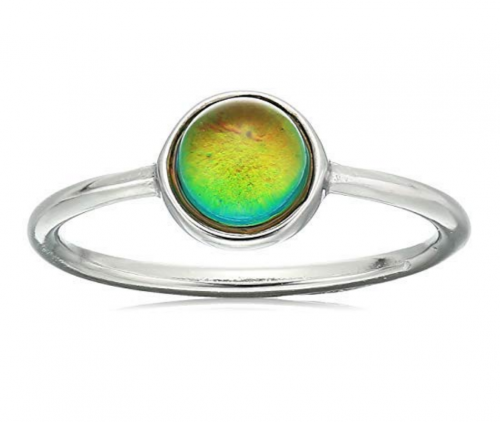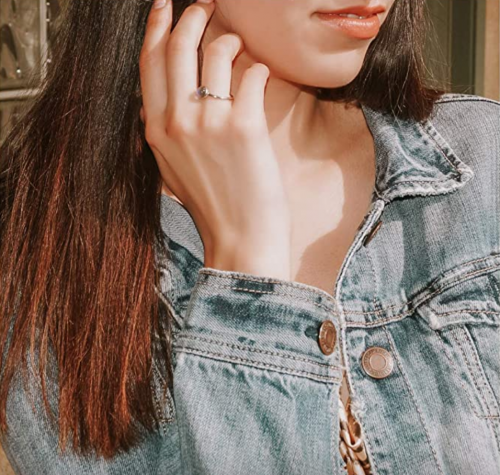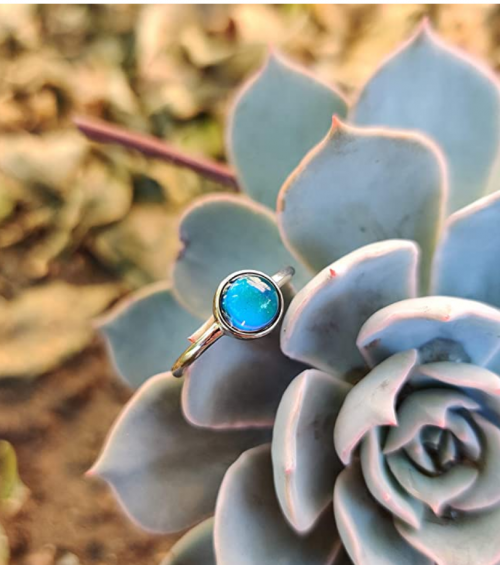 Stainless steel
comes in 4 metal colors
30 day money back guarantee
One of the most trustworthy companies called Ello Elli brings you their stylish mood ring. It is very minimalistic in terms of design. Its silver plastic frame gives support to the beautiful stone in the middle.
Read more
The band is very thin and thus doesn't take up much space on your fingers, letting the spectators focus more on the color-changing stone.
If you are having a retro-themed party based in the 60s, 70s or 80s, you can order a bunch and have as much fun as you and your buddies want! This is feasible too since it is one of the cheapest ones on our list!
The band is adjustable. So you don't need to worry about ordering the perfect size!
It can look good for both males and females.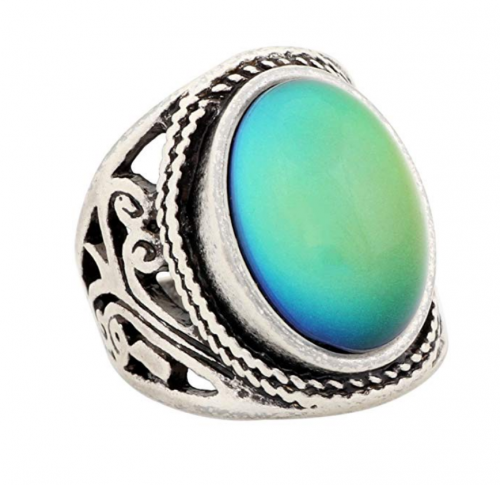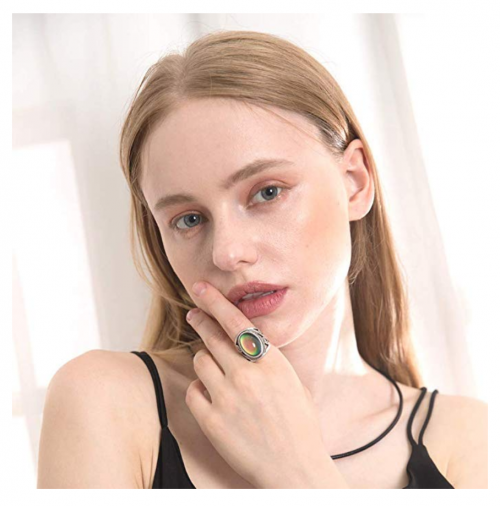 Silver plated
Made following EU standards of safety
Variety of sizes
From the name, it may seem like this ring is made of solid silver, but in reality, it only has the looks of sterling silver. The main inner metal base is actually made out of safe zinc alloy plated with sterling silver.
Read more
It has been developed by the makers of Mojo Jewelry, a brand that has more than a decade's experience in this field of mood changing ornaments.
All of their products are created according to the CPSIA and EU standards. So the high quality of the material has been maintained throughout.
These rings portray a big oval stone of 9.2 grams weight in the middle and bear a wide range of 12 vibrant colors!
The meaning or mood associated with each of them has mentioned in a paper it comes with. They are available in sizes 7, 8 and 9 of US standard measurements.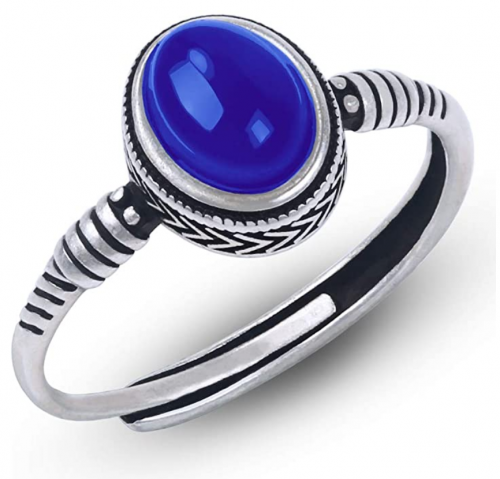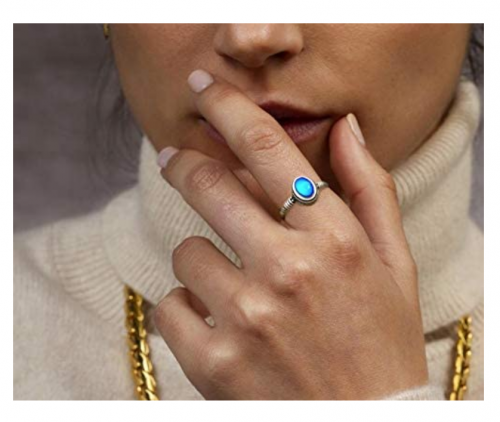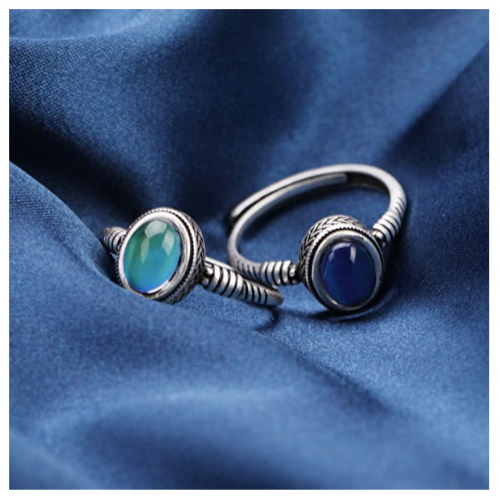 This ring is a more elevated approach to standard styles with its sterling silver band. There's something that rings true 80s fashion with this design, making it iconic for any outfit. You can easily pair this style with any other ring or it makes a brilliant statement on its own.
Read more
This mood ring is designed with a retro appeal you won't find elsewhere. As a novelty piece of jewelry, it has a lovely set of marbled stone in the band's center.
When your body temperature changes, the mood stone will cycle through several colors to show your mood. You will find golden yellows, blues, greens, and purples are the most common.
One of the most impressive features of this attention-getting piece is its 925 sterling silver band. Compared to other metals, like brass, sterling silver offers longevity and an intricate appeal.
Every piece designed by the manufacturer has been hand polished, so it's sparkling distinctively upon arrival.
When worn, you'll quickly be able to tell that it weighs less than four grams and the stone stays perfectly placed. Also, the material is nickel and lead-free to prevent skin irritation.
The dainty 2mm band will fit delicately on your finger along with the oval-cut 11mm x 9mm stone.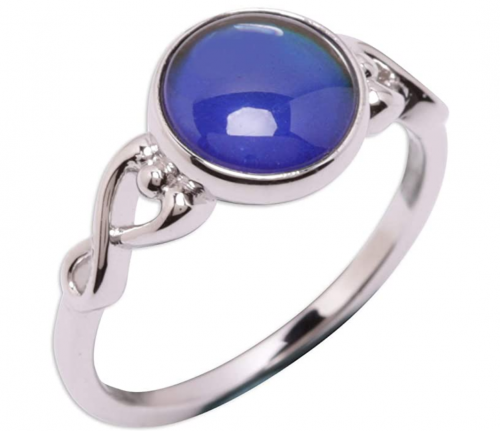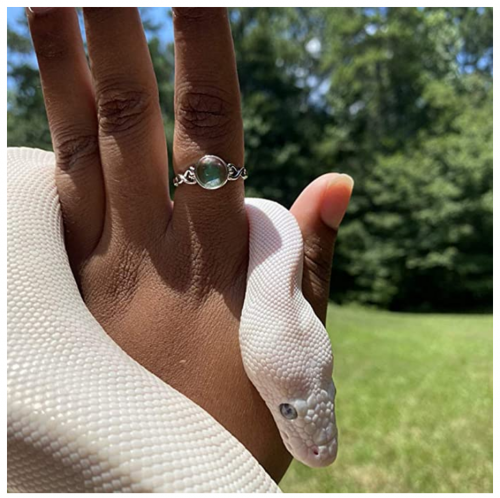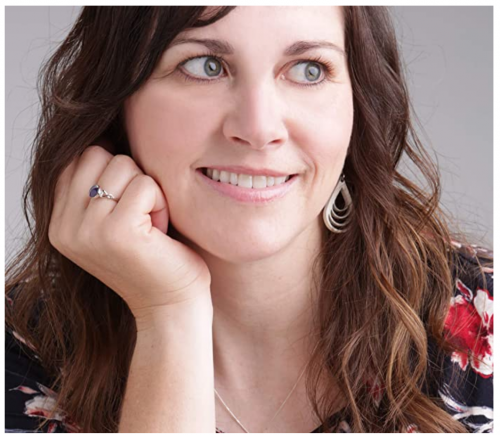 Vibrant color-changing stone
Rhodium-plated sterling silver band
Sizes between two and eight
Arrives with gift box
The prismatic stone in the Precious Pieces sterling silver color changing ring sets it apart from the pack. You'll love its distinctive heart-shaped mood-changing stone surrounded by delicate sterling silver. It's the perfect option if you're looking for a gift to treat yourself or a loved one.
Read more
Instead of being adjustable, the ring is designed for sizes between two and eight. It's also one of our most recommended options for anti-tarnishing capabilities.
The base composition of the band is crafted from high-quality 925 sterling silver. What makes it unique, however, is that it also boasts luxurious rhodium plating to prevent tarnishing. You'll easily be able to wear the piece in and out of water without any significant signs of damage.
With the premium-grade mood-changing stone, you'll always be able to show off your hidden emotions. The liquid crystal cycles through several colors as your body temperatures fluctuate throughout the day. You'll notice the ring will start to turn darker the more intense your emotions feel; while it turns lighter, the happier you are.
Gifting this option is effortless, as it comes with a beautiful black velvet box. You'll find a unique color chart that helps you better understand the stone's color-changing process inside the box.
This style is a reflective and premium-grade option for anyone searching for the perfect mood ring.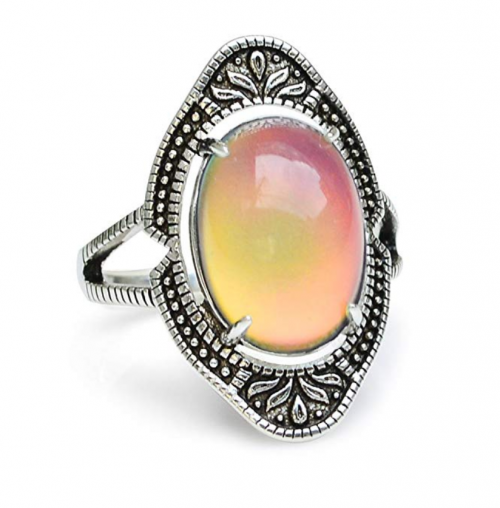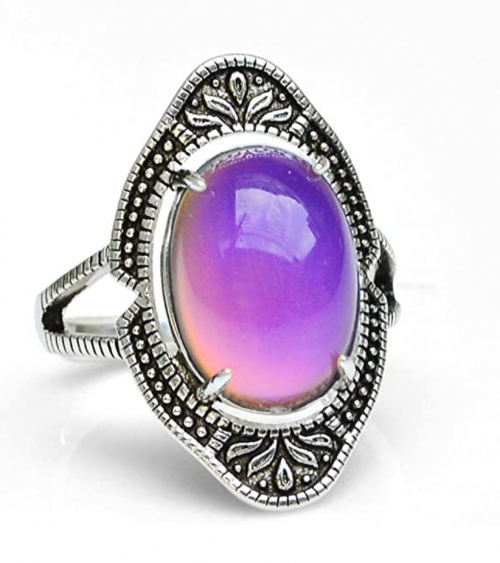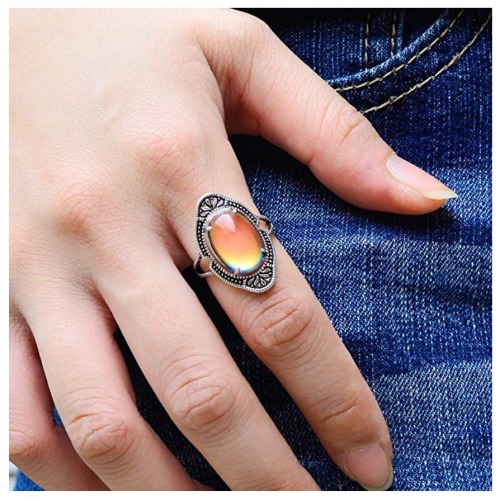 Brass with silver finish
Adjustable band
Mood color chart included
The most attractive part of this beautiful ring is the pretty pattern surrounding the central stone. These patterns look like the brush strokes of a proficient painter around the canvas of its oval frame.
Read more
There are eight to twelve colors the stone can embody depending on your mood and the temperature of your body. You can see the changes clearly since it is pretty huge in size but not so big that it will look odd.
The price range changes from very affordable to reasonable values depending on the size you choose.
It is very light in weight and will suit most women over 30 years' age.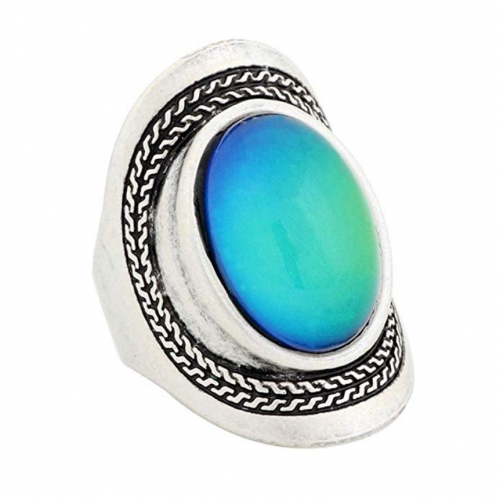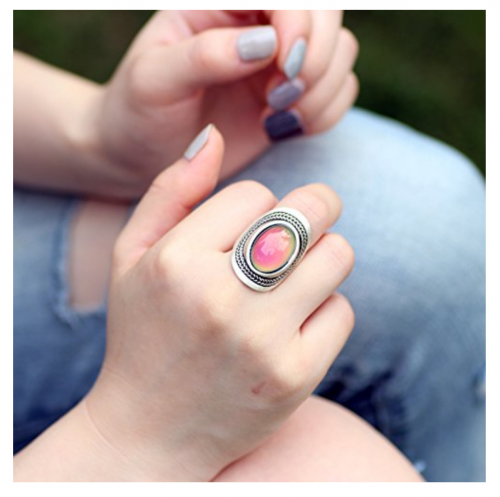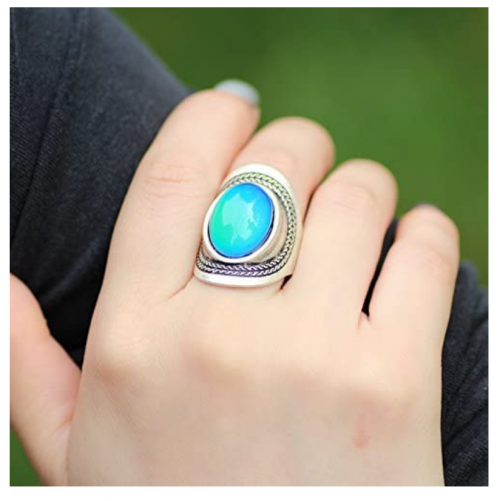 100% handmade
Made of safe zinc alloy
Plated with silver
This one is also from Mojo Jewelry and has a pretty big stone in the middle to let everyone around you know how you are feeling today! The shape of the ring and frame aims at both men and women with its sturdy structure.
Read more
The width of the ring frame is bigger than usual, giving it a stronger look. As a result, the stone itself takes up more of the attention than the frame whenever you look at it. Thus you can start getting a lot of second looks and compliments!
The stone is oval and changes its colors within a wide spectrum.
Though this stone is pretty big in size, the overall weight of this ring is pretty light.
You can get it at a pretty reasonable price in three US sizes of 7, 8 and 9.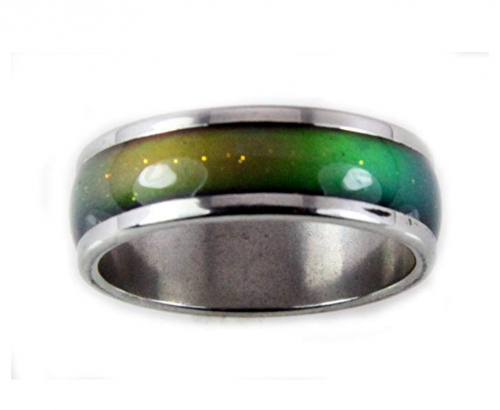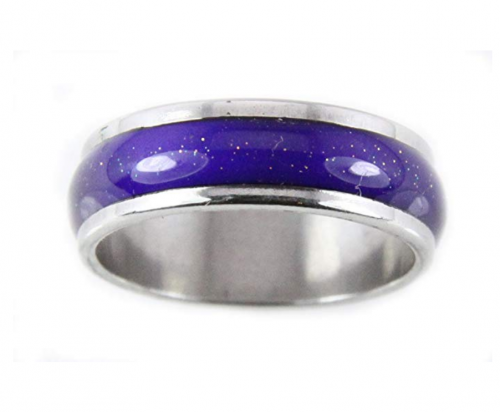 variety of sizes
Unisex
Gift box included
This one has a very minimal look which makes it suitable for both men and women. Its simple band of 8mm width stops it from looking too feminine.
Read more
There is no way to fix its size manually but it does come in a variety of sizes from 6 to 13. Thus, in case your younger ones wanted one, you can go for it just by choosing the right size!
The band itself is hypersensitive and made of stainless steel. It is ultra-thin so that it keeps your look chic and bohemian at the same time.
Its colors mainly roam around within their own rainbow which consists of - black, green, blue, blue-green, dark blue, gray and amber.
It looks like it has come back to the future from the 70s but does not lack style in any aspect. The ring arrives with a pretty fashionable gift box, making it easier for you to hand the ring over to your beloved ones.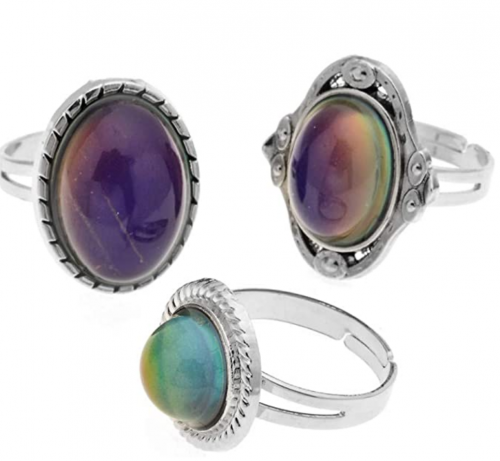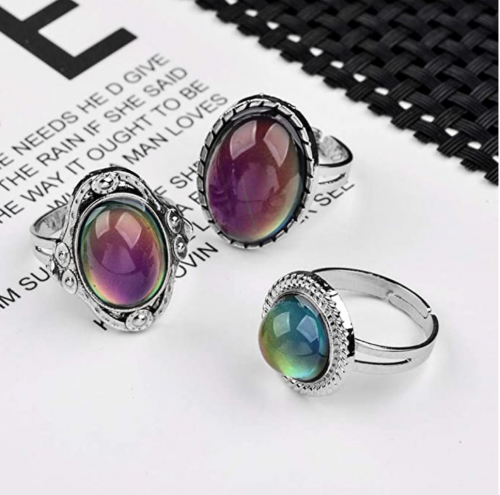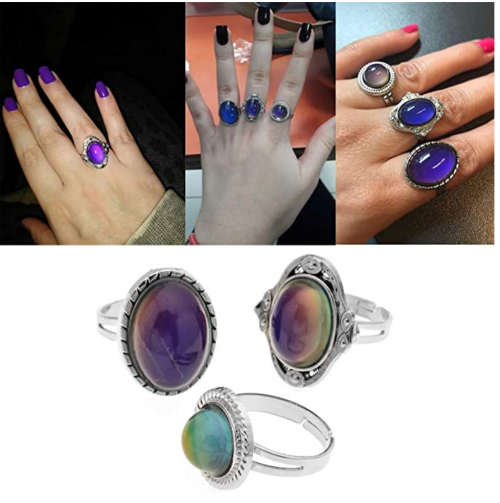 Three-piece set
Large color changing stones
Adjustable brass band
Having enough rings for yourself and your besties is essential, especially as a group gift. The LUBINGSHINE mood ring set comes with three separate mood rings to show off your unique style. They're a beautiful addition to any vintage collection of jewelry to add an element of classic elegance.
Read more
If you're in the market for an affordable mood ring with a unique design, this is the perfect ring set for you.
Each of the rings has an authentic vintage appeal with a stunning center-set oval color changing stone. The third ring features a center-set dome color-changing stone that's easy to pair with other pieces.
The bands are crafted from brass, making them lightweight and easy to wear for men or women. Also, they're fully adjustable due to the material's malleability so that you can wear them on any finger.
Like most mood rings, the color-changing stone will alternate through colors based on your body temperature.
The band's sophisticated design is exceptional for wearers of any age, and they also make a fantastic gift. It's a stunningly charming piece to have in your collection for everyday or formal occasions.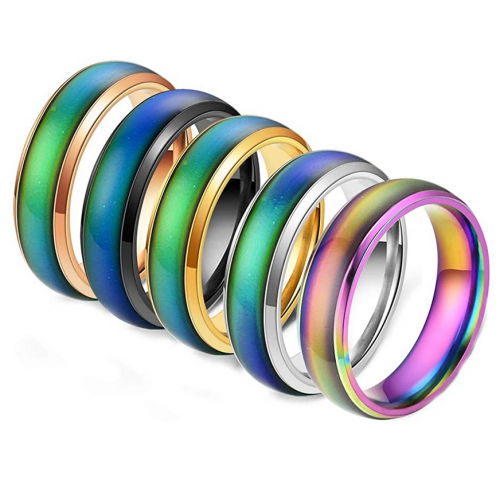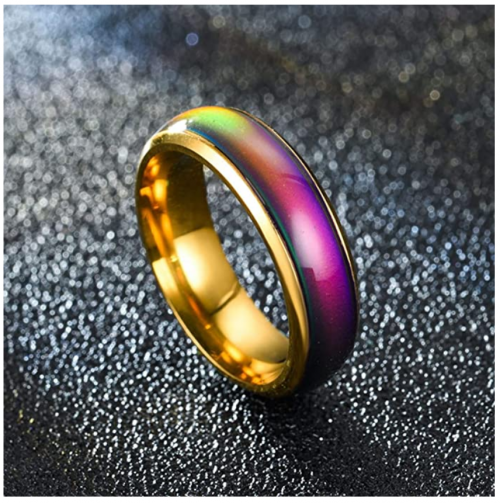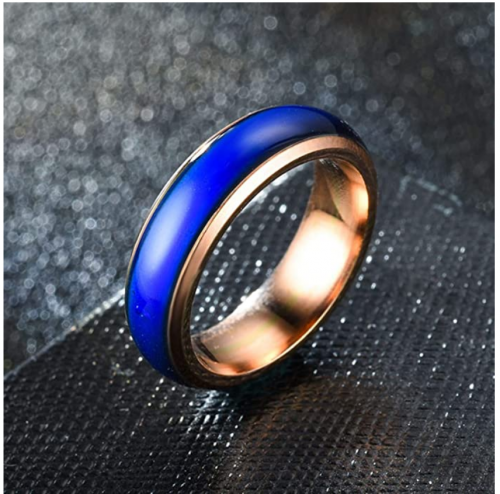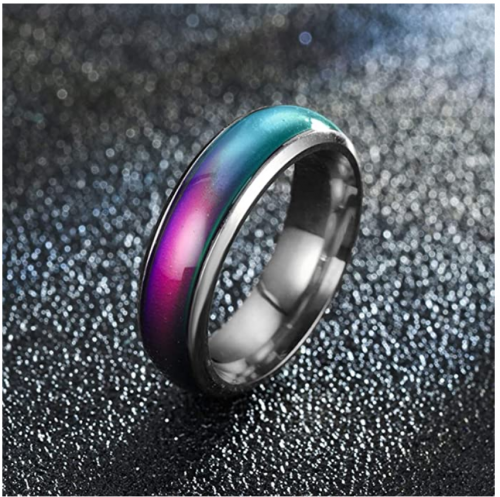 316L stainless steel band
Curved edges for comfort
Stellar color spectrum
Mood rings can be the perfect accessory for men with a unique style, which is why this style catches our attention.
Also, it's ideal for women who are searching for a minimalistic band-style ring for everyday wear. The Aokarry ring brings a nouveau and modernized appeal to a style known for its retro flair.
Read more
This exquisite color changing ring will quickly become your most-worn piece of jewelry because of its streamlined silhouette. It's structurally flawless, offering a flattering style that looks great on men and women alike. There are plenty of fine features, such as the curved edges that sit comfortably against the skin.
The majority of the ring is delicately crafted using 316L stainless steel, which reduces fading and tarnishing.
You'll also find the material is incredibly sturdy while still being healthy for sensitive skin. The brilliant polishing arrives shiny and lustrous and will dull to a more subtle finish over the years.
It's a phenomenal alternative to traditional mood rings, as the color-changing stone stretches through the entire ring.
The dimensional band shows off a brilliant display of stunning colors as your mood changes.
You can opt for a five-color set, which includes a ring for yourself and four of your friends. Alternatively, you can choose from different band colors, including black, colorful, gold, rose gold, and silver.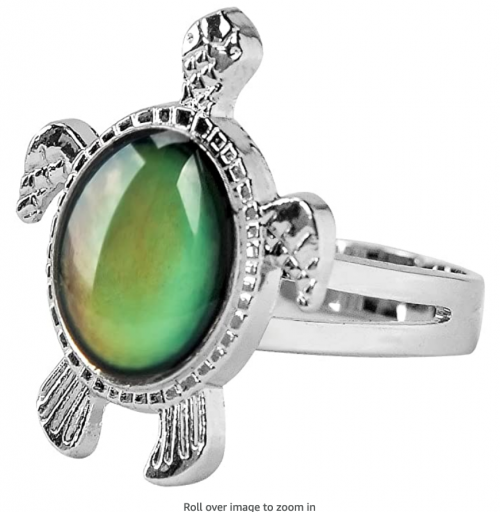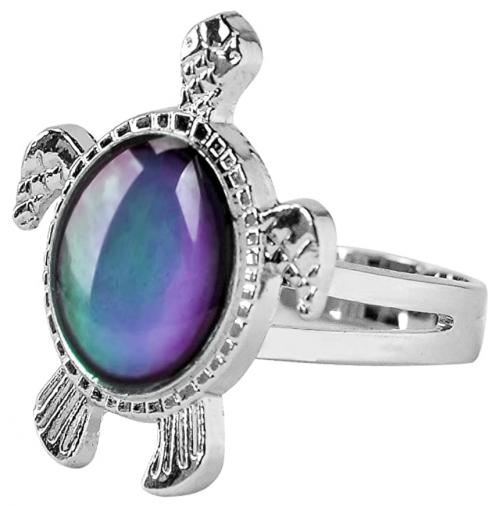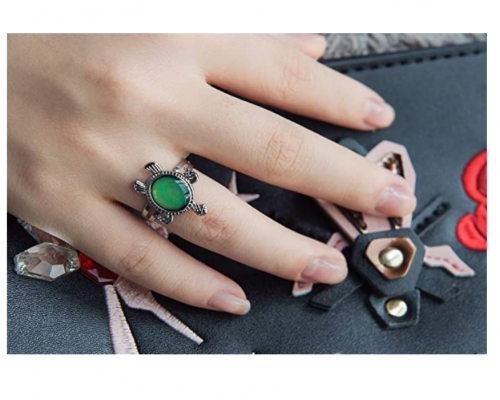 Unisex style
Adjustable fit
Super affordable
This mood ring comes in the shape of a cute little turtle with intricate details! There are various decorative patterns all over the silver frame and structure.
Read more
The underlying material is strong and can sense all the emotions going through your body.
It then transfers all those tiny bits of information to the embedded stone which changes its color according to your mood.
You can adjust the diameter to git your preference and comfort level. This ring can come with a decorative rope that can be used the letter as an extra accessory for the wrist or as the ring sling.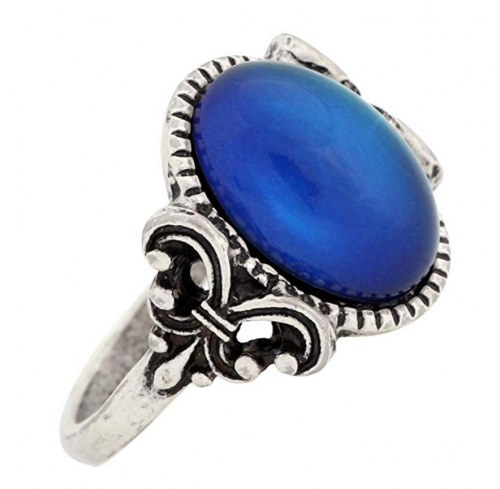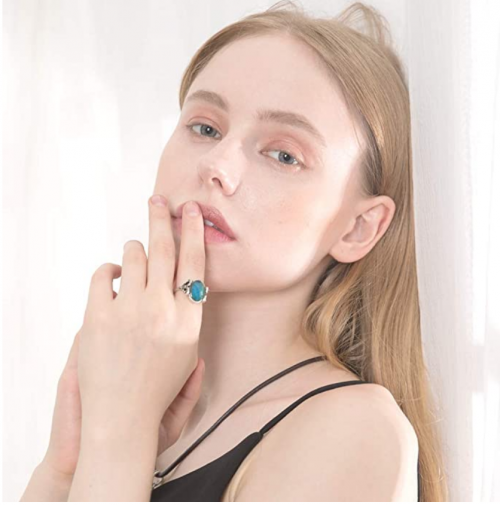 Flower pattern
Sprayed with protective coating
Comfortable fit
This one also is a product of Mojo Jewelry and is thus similar to the above one in many aspects. It too reflects the superior quality of material and is made to meet the CPSIA and EU standards.
Read more
However, the stone itself is a bit smaller this time embellished with floral patterns on both sides.
The ring plated with antique silver is crafted beautifully keeping the gothic vibes in mind. The frame which holds the mood stone is also engraved with attractive patterns.
It is almost half the weight compared to the previous ring and therefore is easier on the finger to carry.
There are twelve bright colors the stone can take depending on your mood. This will suit women the most since its design is completely feminine.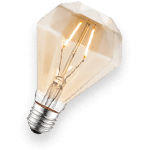 What are mood rings?
Mood rings have been here for almost 30 years. Nevertheless, its charm and unique science behind don't seem to be anywhere near "boring".
These rings basically have a particular stone embedded in them which change their color according to your mood. They are not always accurate but surely a very entertaining aspect for a mere finger-hugging jewelry!
The Science behind it
The main color changing stone called the "mood stone" is actually just heat-sensitive. They are made of thermotropic liquid crystals. Because of this characteristic, they can sense the change in temperature of your body.
Along with this change, they modify their structure accordingly and as a result, the amount of light to reflect or absorb by them also changes. Ultimately, this results in a drastic change of color from red to green to black and much more!
FAQs
q:

What do the colors mean?

a:

Normally, these mood rings come with a chart of their own listing down which color stands for what emotion. But in case it doesn't, we are here to back you up with some of the information we hold!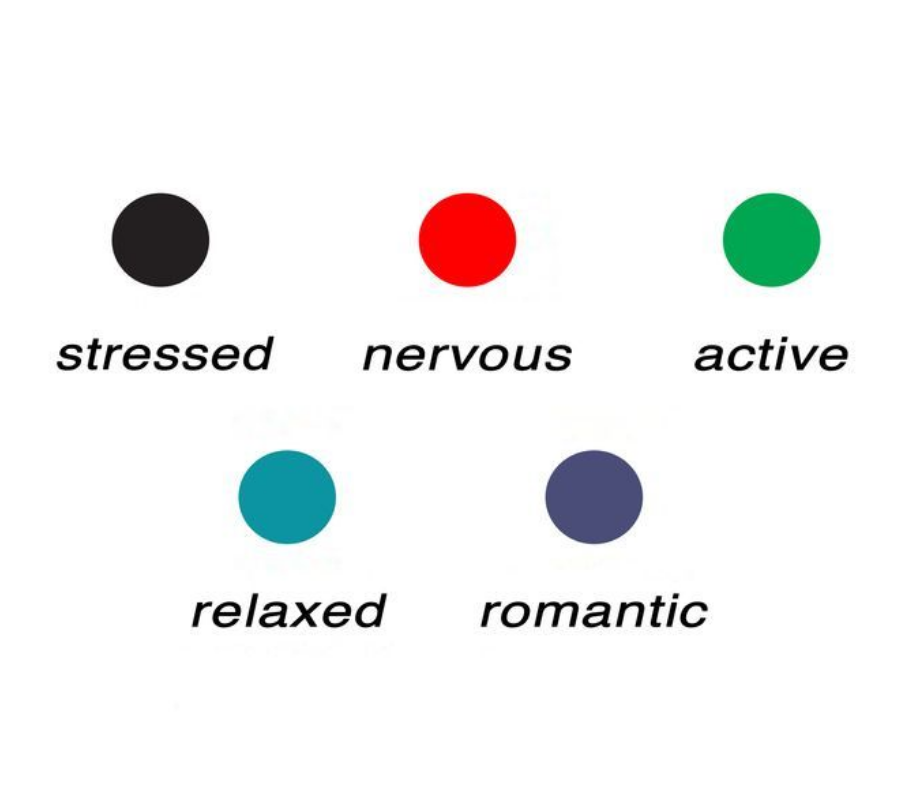 We have always heard that red represents love or romance. As it turns out, the color for that is actually purple!
Red instead will give you a hint that you are getting more worried by the second. So, even though it looks pretty, red color on your mood stone is not a very positive sign.
If you are feeling highly worried, the stone might start looking more orange since yellow represents anxiety, During yoga class, you may see the stone changing into blue since it stands for calmness.
On a class at the college or university, or while reading a book with an intriguing storyline, the stone can turn green.
Green is supposed to stand for curiosity and an active mind.
The most hurtful one is black since it represents pain. and stress. We hope you never see black on your stones except when you buy it for the first time. That is because most of these rings are black by default, which also means black shows a complete absence of emotions.
Even though these colors are meant to illustrate a number of distinct emotions, they might not work accurately all the time. The reason, of course, being - the human mind is immensely complex!
Sometimes even we ourselves don't know what exactly is the emotion we are feeling. So it is pretty obvious, that a piece of stone depending on our body's temperature will not always be correct.
q:

Do mood rings actually work?

a:

The concept of mood rings can be cute, and they have a lot of lore behind them due to their popularity.

It's important to note that they do not have a scientific basis when reading your natural emotions. They work by reading your external temperature, which then causes the chemicals in the ring to change.

As your body temperature fluctuates, the ring will go through a cycle of heat-sensitive colors. The color readings are often inaccurate, as you could be the same temperature when you're angry as when you're stressed. You'll also find that each ring is different regarding the changing colors and their meanings.
q:

Are mood rings dangerous?

a:

Modern mood rings aren't dangerous, as they contain skin-safe chemicals and materials. In the past, vintage mood rings would contain lead, which can cause adverse skin and health effects.

Always ensure the jewelry you're buying is both lead and nickel-free to prevent skin allergies and discomfort.
q:

How to use and maintain these rings?

a:

The first and most basic thing to remember is to never let the ring get wet. Since these mood stones depend on the temperature of your body to change their colors, it is very important to not ruin their own heat quotient by letting them get drenched by water.

If water gets into it, the stone will turn black and will not change color at all anymore. Though how much it can be affected due to touch with water depends on the material.

The sterling silver can fight such damage the most. It can usually survive a few splashes of water without getting damaged.

If your ring band is made out of silver-plated material, then make sure you are not making it withstand long hours of sweat. They are much more affordable than sterling silver, but you need to maintain them using a silver polishing cloth regularly to prevent fading.

In case you want something more durable for your mood ring frame, you can look for one plated by rhodium. They are usually shinier and stronger than silver variations. This is often found in the infinite or band type of rings.

For people who are victims of severe perspiration, there are stainless steel rings. These are, as good-looking as the other options but are way less susceptible to getting tarnished.

Brass ones are prone to get discolored and need to be kept dry. Get them out of your fingers if you are going to a place where your temperature will rise like crazy, such as the gym. But it is easy to keep them clean by using lemon juice, baking powder or other cleaning products on the band part. Never let this stuff touch the main stone.

Nevertheless, it is best to take out your mood rings before taking a bath and going swimming. If it does get wet anyway, dry it up with a piece of soft cloth. It is also important to keep these rings away from shampoo, lotion, perfume, and other rough chemicals.
q:

How to store mood rings?

a:

While storing these rings in a jewelry box, make sure the material of that wooden box is not oak. Oak boxes are known to release fumes and that can mess up or completely damage the capability of mood stone.
Finally...
Keeping the few points above in mind, you can make a whole collection of the mood rings you like and share with your loved ones for generations!
It is one of the best choices for gifting someone precious since many of them come with a pretty box and also, this will let the person know that you really care about their emotions.
So, no need to utter the words to let people know what mood you are in today! Let the rings do all the talking!