Mix / Other / Personalized
Mood Rings: Get One For Each of Your 20 Moods!
Do you miss the 70s style? We do too! That is why we are here today to walk you through one of the biggest sensations of that era – mood rings! No matter how long has passed since its first appearance in the market, it still compels people with its beauty, design and of course – the magical color changing stone! With a variety of mood rings embodying modern style sense and retro vibes, we have picked the top 20 ones to meet your needs.
What are mood rings?
Mood rings have been here for almost 30 years. Nevertheless, its charm and unique science behind don't seem to be anywhere near "boring". These rings basically have a particular stone embedded in them which change their color according to your mood. They are not always accurate but surely a very entertaining aspect for a mere finger-hugging jewelry!
The Science behind it
The main color changing stone called the "mood stone" is actually just heat-sensitive. They are made of thermotropic liquid crystals. Because of this characteristic, they can sense the change in temperature of your body. Along with this change, they modify their structure accordingly and as a result, the amount of light to reflect or absorb by them also changes. Ultimately, this results in a drastic change of color from red to green to black and much more!
About the temperature shifting, it is considered to be a result of our physical response to our emotional state change. The blood capillaries move the depth of epidermal area which is the main driving force behind this shift.
What do the colors mean?
Normally, these mood rings come with a chart of their own listing down which color stands for what emotion. But in case it doesn't, we are here to back you up with some of the information we hold!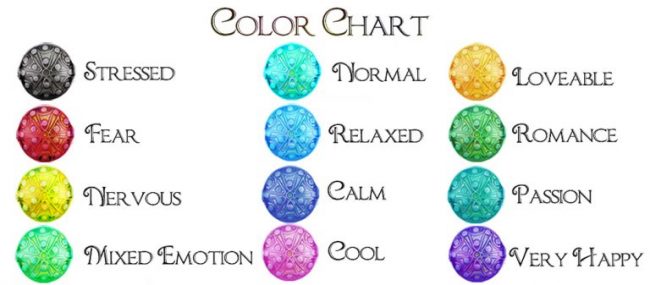 We have always heard that red represents love or romance. As it turns out, the color for that is actually purple! Red instead will give you a hint that you are getting more worried by the second. So, even though it looks pretty, a red color on your mood stone is not a very positive sign.
If you are feeling highly worried, the stone might start looking more orange since yellow represents anxiety, During yoga class, you may see the stone changing into blue since it stands for calmness.
On a class at the college or university, or while reading a book with an intriguing storyline, the stone can turn green.
Green is supposed to stand for curiosity.
The most hurtful one is black since it represents pain. We hope you never see black on your stones except when you buy it for the first time. That is because most of these rings are black by default, which also means black shows a complete absence of emotions.
Even though these colors are meant to illustrate a number of distinct emotions, it might not work accurately all the time. The reason, of course, being – the human mind is immensely complex! Sometimes even we ourselves don't know what exactly is the emotion we are feeling. So it is pretty obvious, that a piece of stone depending on our body's temperature will not always be correct.
Our 20 Favorite Mood Rings!
1. Inspiration Turtle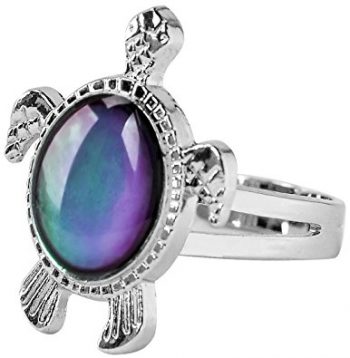 This mood ring comes in the shape of a cute little turtle with intricate details! There are various decorative patterns all over the silver frame and structure.
The underlying material is strong and can sense all the emotions going through your body. It then transfers all those tiny bits of information to the embedded stone which changes its color according to your mood.
You can adjust the diameter according to your preference and comfort level. This ring can come with a decorative rope which can be used the letter as an extra accessory for the wrist or as the ring sling.
2. 8mm Solid 70's Style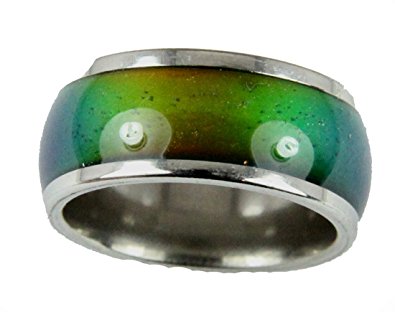 This one has a very minimal look which makes it suitable for both men and women. Its simple band of 8mm width stops it from looking too feminine.
There is no way to fix its size manually but it does come in a variety of sizes from 7 to 12. Thus, in case your younger ones wanted one, you can go for it just by choosing the right size!
The band itself is hypersensitive and made of stainless steel. It is ultra thin so that it keeps your look chic and bohemian at the same time! Its colors mainly roam around within their own rainbow which consists of the colors – black, green, blue, blue-green, dark blue, gray and amber!
It looks like it has come back to the future from the 70s but does not lack style in any aspect. They all come with a pretty fashionable gift box, making it easier for you to hand the ring over to your beloved ones.
3. Antique Sterling Silver Vintage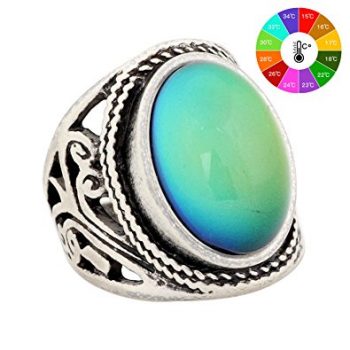 From the name, it may seem like this ring is made of solid silver, but in reality, it only has the looks of sterling silver. The main inner metal base is actually made out of safe zinc alloy and then the ring has been plated with sterling silver.
It has been developed by the makers of Mojo Jewelry which has more than a decade's experience in this field of mood changing ornaments. All of their products are created according to the CPSIA and EU standards. So the high quality of material has been maintained throughout.
These rings portray a big oval stone of 9.2 grams weight in the middle of the ring and bear the wide range of 12 vibrant colors! The meaning or mood associated with each of them has mentioned in a paper it comes with. They are available in sizes 7, 8 and 9 of US standard measurements.
4. Gothic Flower Pattern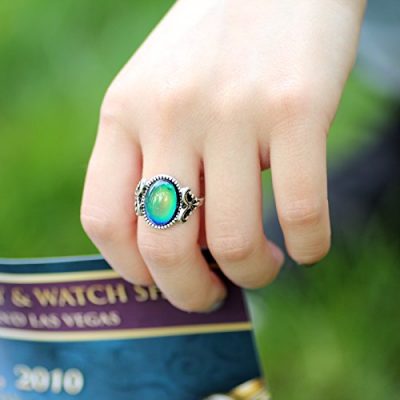 This one also is a product of Mojo Jewelry and is thus similar to the above one in many aspects. It too reflects the superior quality of material and is made to meet the CPSIA and EU standards.
However, the stone itself is a bit smaller this time embellished with floral patterns on both sides. The ring plated with antique silver is crafted beautifully keeping the gothic vibes in mind. The frame which holds the mood stone is also engraved with attractive patterns.
It is almost half the weight compared to the previous ring and therefore is easier on the finger to carry. There are twelve bright colors the stone can take depending on your mood. This will suit women the most since its design is completely feminine.
5. Mjartoria Oval Antique Bronze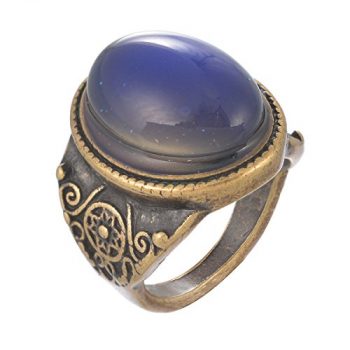 This one looks like it has appeared right from the Victorian palaces and the queens of that era. The frame is made of antique bronze. It is a bit wider than usual and embellished with gorgeous designs reflecting the long-lost era.
Since it is a mood ring, it changes the colors of the stone in respect of your current mood. You can gift this to the one you adore so that the next time they are lying and saying "I am fine", you can catch it right away from the color of this stone.
Do remember to put some clear nail polish on the inner arch of the frame so that it does not put green color on that finger area. However, the outer side does not fade with time at all. So you can be sure to show it off to friends and colleagues for a long time!
6. Titanium Steel Rings for Lovers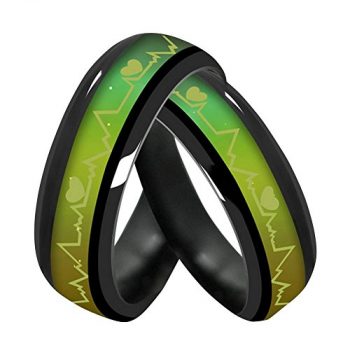 Are you looking for the perfect ring to gift your significant other this Valentine? Look no further! This is the absolute number one both in terms of budget and looks. Within a very affordable range, you can get two similar mood rings. These two bear the same heartbeat patterns embedded in the same black frame.
The patterns are inspired by the actual heartbeats you get to see on the ECG screen at the doctors'. These couple rings, of course, come in sizes of 7 to 11 for men and 5 to 9 for women.
The frame is made out of high-quality Titanium steel and thus is not prone to fading, rusting or corrosion as other similar options. It is also hypoallergenic and made to last for a long time. So this can also be a good way to start your long-lasting love story by bringing it out on the proposal day!
7. Tinksky Smiley
Get a playful accessory to your wardrobe by acquiring this quirky smiley faced mood ring from Tinksky. There is big smiley carved into the main stone of the ring and the frame carrying it is made of an alloy material.
It initially comes in the size of 7 (US) or O (UK). Although, it has the option to be adjusted according to your preference. The design is not aimed at any particular gender either. As a result, it can be worn by any gender and any age group, including toddlers, kids, teenagers, adults, middle-aged and elderlies. All men and women can reflect their current state of mind just by putting it on one of their fingers.
This ring comes at a very reasonable price and can upgrade your casual look by putting in some bright colors and a big smile.
8. Honeycat Mini Ring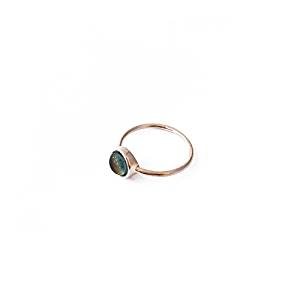 Though this mood ring is pretty small in size, the material it is made of is pretty high level. It comes in three variations of plating such as 24k gold, 18k rose gold or sterling silver. Evidently, its price is a bit higher than others on our list because of all these valuable elements.
From its approach to delicate and minimalistic design, this ring will mainly suit the grown-up men and women who belong to the age group of the late 20s and up. It gives out the vibe of somebody who has gone through the restless stages of life and is now at a place of emotional stability.
Its brand Honeycat happens to be a company from Southern California and promises guaranteed happiness for the customers of their product. You can gift it to your mother, father or grandparents with the provided gift box.
9. Antique Silver Plated

Out of all the rings from Mojo Jewelry, this is the biggest one. Its price varies with the size and goes from very cheap to a reasonable range. The frame itself is pretty wide to support the huge color-changing ball in the middle.
Go through the chart given with it to figure out which of the eight colors stands for what emotion. These colors include black, brown, yellow, pink, green, blue, cyan and purple.
Just like their other products, these rings are also built maintaining the EU and CPSIA standards. It is a little heavier in weight due to the heavier piece of stone. There are three sizes available of 7, 8 and 9.
From the shape and design, it is pretty safe to say that it is mainly made for the males. But if you are a woman who really doesn't care about the rules and want to have some fun with her looks, you too can try this out.
10. Handmade Unique Pattern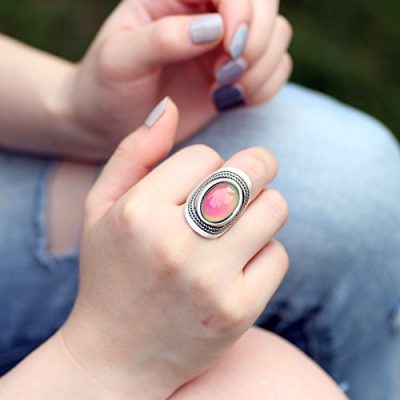 This one is also from Mojo Jewelry and has a pretty big stone in the middle to let everyone around you know how you are feeling today! The shape of the ring and frame aims at both men and women with its sturdy structure.
The width of the ring frame is bigger than usual, giving it a stronger look. As a result, the stone itself takes up more of the attention than the frame whenever you look at it. Thus you can start getting a lot of second looks and compliments!
The stone is oval and changes its colors within a wide spectrum. Though this stone is pretty big in size, the overall weight of this ring is pretty light. You can get it at a pretty reasonable price in three US sizes of 7, 8 and 9.
11. Ocea Creations Mermaid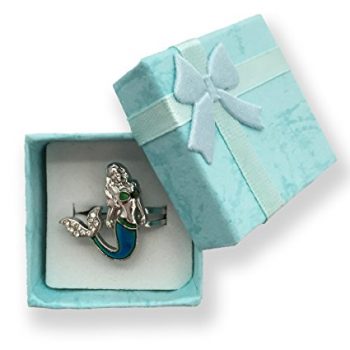 A breath of fresh air on our list is brought in by this mood ring from Ocea Creations. It embodies the shape of a pretty mermaid. The mermaid seems to have just come out of the water and is taking a rest for now in a relaxing pose. Her dress is a plain one with the same color all over and she has some shining white stones embedded into her tail. Taking a look at the current color of her attire, one can tell what mood you are in right now.
This cute ring can suit adults and kids alike. To help you properly give it as a gift, the ring also comes with a very pretty pastel box. You can check out the colors and their respective meanings from the provided paper. It is a bit expensive compared to other products but the beauty and functionalities of the ring are totally worth it!
12. Mojo Vintage Retro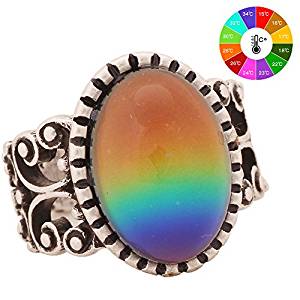 We can't get enough of the goodness and prettiness of this vintage retro ring from Mojo Jewelry! The oval mood stone is medium in size but can reciprocate your inner feelings very accurately.
All the shades displayed on it are as vibrant and distinct as any two colors can be. You can view the transformation from one hue to the other clearly here.
This one is feminine in nature and can look good in the hands of women mostly. It can be your daughter, granddaughter, sister, wife or any other beloved lady of your life.
The design of the band consists of lovely and exquisite floral patterns, contributing more to the overall visuals of this ring. There are three sizes available of 7, 8 and 9 according to the US standards. It is very light in weight and comes at a very reasonable price.
13. S16 Stainless Steel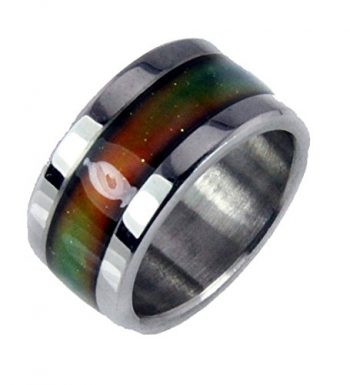 This is one of those mood rings which can suit both the genders equally. Instead of just one stone sitting in one place, this ring has a full circle of the mood changing material throughout the frame.
The band is made of stainless steel which will prevent rusting, corrosion and overall tarnishing, making it a very durable accessory. It comes in a wide variety of sizes from as small as three to as huge as 14, including the half variations!
The heavy gauge construction will make it fit your finger even more comfortably. It comes at a very reasonable price and can add a lot to your overall daily styles.
14. Mjartoria Oval Pattern Engraved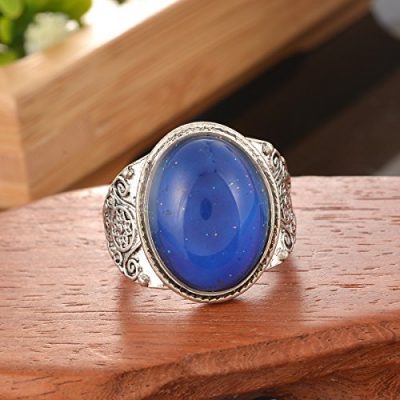 Let's all marvel together at the beauty this ring is! The stone embedded in the middle is big and bright. Mjartoria brings in this prettiness following a retro pattern in design.
There are exquisite patterns on the band and especially around the stone area. These patterns carry the motifs of old royal buildings and have done their part of adding more impression to the product.
It does not turn your fingers green even if you wear it for days. They are available in three sizes of 7, 8 and 9 and at an incredibly affordable price.
Due to their feminine design, we would say it is perfect for the stylish ladies who want the world to know how good or bad they are feeling today.
15. Loftus International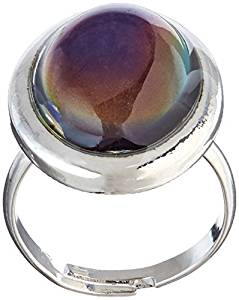 One of the most trustworthy companies called Loftus International brings you their stylish mood ring. It is very minimalistic in terms of design. Its silver plastic frame gives support to the beautiful stone in the middle.
The band is very thin and thus doesn't take up much space on your fingers, letting the spectators focus more on the color-changing stone.
If you are having a retro-themed party based in the 60s, 70s or 80s, you can order a bunch and have as much fun as you and your buddies want! This is feasible too since it is one of the cheapest ones on our list!
The band is adjustable. So you don't need to worry about ordering the perfect size! It can look good for both males and females.
16. CJesnia Heart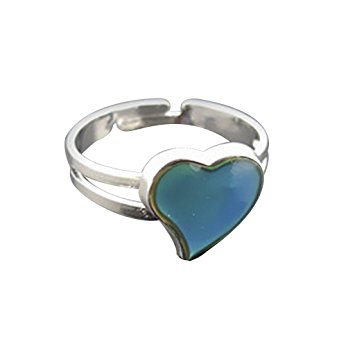 One of the cutest mood rings on our list is this one which comes in a warped heart shape! It costs less than a dollar and we can assure you, it cannot get any cheaper than this without compromising the quality.
This ring from CJesnia has a band that is quite adjustable and is covered with silver color. The adorable embedded heart changes its color between shades of yellow, blue and green according to your emotion. Whatever hue it takes though, looks really pretty. It is suitable for women and kids mostly since it supports small sizes more.
17. Basic Antique Sterling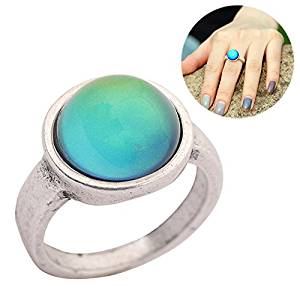 This one is yet another addition to our list from the creators of Mojo Jewelry. However, it is much more minimal from all the options we have seen from them so far.
The band is much thinner but not thin enough to go completely unnoticed. The stone it holds is very pretty and cut out in round shape. For this design which combines simplicity and style, you can wear it almost anywhere – at the office, at get-togethers or at parties! It will add a splash of color to your overall look.
It can last with the color-changing function intact for as long as three years if you take proper care of it. There is no stain mark left in case you love to wear it all the year-round.
The ring comes at a reasonable price. Though it will look the best on young women, it can also go with the style of kids and older women.
18. Classic Pattern Antique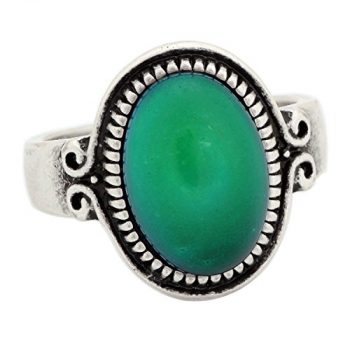 The most attractive part of this beautiful ring is the pretty pattern surrounding the central stone. These patterns look like the brush strokes of a proficient painter around the canvas of its oval frame.
There are eight to twelve colors the stone can embody depending on your mood and the temperature of your body. You can see the changes clearly since it is pretty huge in size but not so big that it will look odd.
The ring is in compliance with the CPSIA and EU standards just like any other Mojo Jewelry ring. The price range changes from very affordable to reasonable values depending on the size you choose. It is very light in weight and will suit most on women over 30 years' age.
19. Groovy Energy Adjustable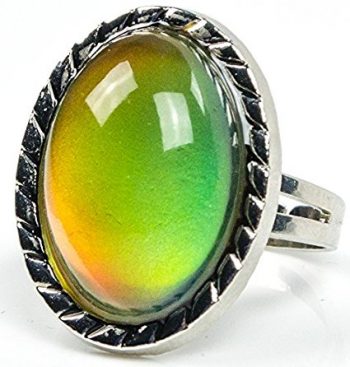 This one is from Groovy Energy and has a range of bright colors to show on the stone. The most attractive part of buying this one would be your freedom to choose the shape!
While almost all rings come in a fixed shape and size, this one lets you decide which one to put your mind to. These rings are available in four shapes of heart, oval, mermaid and smiley. All of these are pretty popular in the mood rings arena. So you can choose whatever you please and show it off!
It comes with a chart where all colors and meanings are listed down for your convenience. The default size is 7 but you can adjust it as you like. The band or frame of this ring is free from lead, cadmium, and nickel. Also, they are created by maintaining the CPSIA and EU standards.
20. Mojo Hand Polished Antique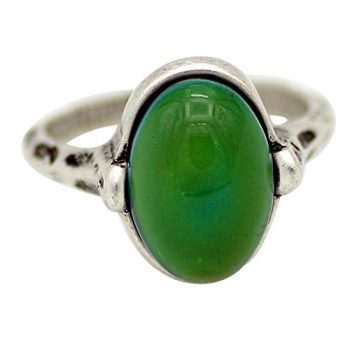 Wasn't this imminent? The last entry on our list is also from the mighty Mojo Jewelry! This one is, however, the most simplistic we have found so far from them. The band of this ring has unique patches on it which give the whole thing a unique look.
The weight is also very light and the oval mood stone portrays a wide range of colors highlighting your current emotion. To know which color stands for which feeling, go through the given list and see how you are really feeling today!
This ring will look good on women mostly, but can also put some extra style on young men's casual or hippie looks. They come at a pretty affordable price range.
How to use and maintain these rings?
1. The Material to go for
Well, the first and most basic thing to remember is to never let the ring get wet. Since these mood stones depend on the temperature of your body to change their colors, it is very important to not ruin their own heat quotient by letting them get drenched by water.
If water gets into it, the stone will turn black and will not change color at all anymore. Though how much it can be affected due to touch with water depends on the material.
The Sterling silver can fight such damage the most. It can usually survive a few splashes of water without getting damaged. If your ring band is made out of silver-plated material, then make sure you are not making it withstand long hours of sweat. They are much more affordable than sterling silver, but you need to maintain them using a silver polishing cloth regularly to prevent fading.
In case you want something more durable for your mood ring frame, you can look for one plated by rhodium. They are usually shinier and stronger than silver variations. This is often found in the infinite or band type of rings.
For people who are victims of severe perspiration, there are stainless steel rings. These are, as good-looking as the other options but are way less susceptible to getting tarnished.
Brass ones are prone to get discolored and need to be kept dry. Get them out of your fingers if you are going to a place where your temperature will rise like crazy, such as the gym. But it is easy to keep them clean by using lemon juice, baking powder or other cleaning products on the band part. Never let these stuff touch the main stone.
Nevertheless, it is best to take out your mood rings before taking a bath and going swimming. If it does get wet anyway, dry it up with a piece of a soft cloth. It is also important to keep these rings away from shampoo, lotion, perfume, and other rough chemicals.
2. Discoloration of fingers
Many times your fingers where the silver or gold rings are put frequently might show a line of green or black color. This happens if your skin is highly acidic. Normally plating prevents this but for some extra protection, avoid using a lotion that particular finger. You can also put on some clear nail polish on the inner frame to prevent discoloration. To never worry about this problem in the first place, settle on a mood ring made of stainless steel.
3. No oak box
While storing these rings in a jewelry box, make sure the material of that wooden box is not oak. Oak boxes are known to release fumes and that can mess up or completely damage the capability of mood stone.
Keeping the few points above in mind, you can make a whole collection of the mood rings you like and share with your loved ones for generations! It is one of the best choices for gifting someones precious since many of them come with a pretty box and also, this will let the person know that you really care about their emotions. So, no need to utter the words to let people know what mood you are in today! Let the rings do all the talking!