Rings / Women
The Perfect Vintage Accessory is a Cameo Ring: We Found 10 Worth Anyone's Jewelry Collection
Cameo ring is easily recognizable due to its presence as a form of art practiced and appreciated by countless craftsman & historians throughout history. It's a method of carving that involves the use of gems (crystals, pearls or coral, shells, and even stone) or a piece of jewelry. In this case, the object of choice is a ring.
Cameo rings are the epitome of art & tradition with their raised images, and since they also act as a symbol of love, they're perfect as a vessel to communicate the same to someone special to you.
In this post, we've reviewed ten vintage cameo rings that get all the proper parts rights. That is, they're budget-friendly, aesthetically pleasing, and have excellent build quality.
10 Cameo Rings to Consider
1. Lux 
White Shell and Black Onyx 10K

This classic piece from Lux is one of the higher-priced cameo rings on the list and unsurprisingly, it's for a good reason. From value to the aesthetic appeal and build-quality—this dainty ring has everything covered.
Going with the value first, this is a cameo ring made from a combination of three materials, black onyx, 10K gold, and a hard cameo shell formed of tree resin. All three materials are fairly expensive, and it's a fact that they don't lose value easily.
When it comes to the aesthetic appeal, you'll soon notice that using these materials make this piece quite the looker. It has a cameo in the form of a detailed feminine silhouette, which then fills up a gold bezel-setting—while the black onyx band carries all of them.
Also, the band is thicker at the face than at the base, which makes wearing the entire thing comfortable. One last detail is that the cameo doesn't sit flush with the band. Instead, the carving is elevated, and as its background color is gold, it contrasts well against the black of the onyx.
Finally, the build quality of the ring is phenomenal. For example, onyx has a hardness score of 7 Mohs, which is pretty close to diamonds' 10. Sizes for this ring are available from 6 to 10. Also, because each cameo ring is hand-carved down to the silhouette's hair strand, pendant necklace, and even her dress, the cameo will be different in person.

Cons: We've found no fault in the ring
.
Other info: 23 mm W x 9.5 mm H x 30 mm L. 9 mm Shank W.
2. Jewelili Sterling Silver Pink Cameo

This is a cameo ring from Jewelili, and it's formed from a mix of high-quality, but budget-friendly materials. The band, including its roguish decoration, is made out of sterling silver, and this metal is renowned for being durable, gorgeous (resembles white gold), and hypoallergenic.
As expected though, the 0.75-inch oval cameo is the highlight, and it's a raised figurine carved from pink-colored resin to resemble an elegant lady. The woman's details include her face (expertly-carved nose, eyes, and smile) & wavy hair, and her neckline, which disappears into a dress.
On each side of the cameo, you'll discover a lab-created white sapphire (4 stones in total) complementing the cameo.
You can get this as a gift for someone close to you.
The piece of jewelry is perfect for that best friend of yours who has always been into history. Otherwise, you should keep this for yourself. We like this ring because the design is minimalistic despite the top-notch materials. You keep the inconspicuous look, but then you get versatility in terms of what you combine with it.
Cons: Only comes in size 7.
Other info: Comes in a regal blue pouch.


3. Providence Vintage Jewelry's Light Blue Ring

This pick is one of the team's favorite due to the vintage, flat design it adopts. For one, it is made from brass to keep the price relatively low, and for the sake of people with sensitive skin, it's electroplated with 18K yellow gold (comes with an 18k HGE stamp) to make it hypoallergenic.
Following that, we have the cameo and it features the carved image of a literal white lady with a light blue background. This color scheme this piece is one of the best on this list due to how well it combines with outfits.
That said, the choice in material for the cameo is a shell of tree resin, and it sits flush, together with the cameo, in an oval bezel-setting measuring 20 x 15 mm. The image is reminiscent of a Roman woman in the ruling class division.
That's definitely not a bad look to have associated with you or really anyone! The figurine's features include her beautiful face with wavy hair tied up with a hairband. She also has a gown on, and there's an emphasis on her neckline in the form of subtle details from the artisan.
Directly below the ring's bezel, there's a decoration in the form of printed love signs. Our recommendation here is that you should buy it for yourself. It'll easily complement your wedding ring.
If that's not enough reason, the piece of jewelry is versatile, so it'll look radical with any outfit. 

Cons: Despite the gold certification, the brass is still something to worry about
.
Other info: Currently available in sizes 5 and 11.


4. GEMSforyou 
14K Yellow Gold Filigree Lady Ring

This option from GEMSforyou is slightly more expensive than some other on the list. Heck, the price for this is more than double of the Lux variant above. The ring is made out of three metals, 14K yellow gold band which features a mesh-like decoration that smoothly transitions into a prong setting.
The shell of tree resin comes next; it sits in the prong-setting where its orange hue contrasts with the gold. The advantage of the setting is that it keeps the cameo secure, while it also levels with it to create a flat, minimalistic look. It's perfect for any outfit, both formal and informal.
 Lastly, we have the skills of the artisan who brings the cameo to life.
To that last part, the image carved is that of an old estate woman. She has her hair tied into a bun, and her facial details show her experience. This type of design-choice is rare, and it also carries a sense that it's vintage.
We believe it's a great addition to your collection. You can also give your mom on her birthday or maybe on Mother's Day during an outing. It's an excellent idea if you've noticed the vintage design of the cameo.
Other info: This weighs just 4.7 grams, which is quite comfortable since gold feels better.
5. Ian and Valeri Co.
 Amber Sterling Silver Cameo

This option is born from a combination of sterling silver and a natural Baltic amber which is actually a shell of tree resin. In the case of the metal choice, the band is silver-made, which means it is sturdy, beautiful, and hypoallergenic too.
After that comes the design, wherein the band smoothly transitions into a bezel-setting that contains the amber. It's the amber that grabs your attention instantly due to the color scheme. The shell is hand-carved to form a yellow rose which comes in the form of a detailed corolla, with expertly-carved leaves in the orange background.
So while other rings carry a sense of appreciation, this is what we would call the romantic piece. The design is vivid, with the amber changing shades depending on the angle that light hits it. This gives the cameo a lot of depth and it seems the rose is floating when you look at the ring from the side.
The last noteworthy incentive to getting this piece is that it comes at a budget-friendly price. And that's despite the manufacturer's attention to aesthetic appeal and build-quality!
Cons: Size in some case is a bit off
.
Other info: Available in sizes 6, 10, and 12.
6. Art Jewelry HGJ
 Vintage Shell Piece

EMENOW is pretty popular for her luxurious hand-crafted jewelry accessories. This pick combines two parts in the form of sterling silver and a Carnelian shell, gorgeously sitting well together. Starting with the former, the band, including the 1940s ornate filigree, is entirely made out of sterling silver.
As usual, that metal introduces certain incentives to the 'table'. And these come in the form of silver's ability to resist wear, its inconspicuous aesthetic appeal (literally fits all your outfits like gold), and the fact that it is hypoallergenic.
Despite these attributes, sterling silver is still cheap, which is why it's one of our favorite metals. 
As for the second part, it involves the manufacturer's ingenious use of an oval Carnelian shell to portray a cameo. The latter portrays the image of a Roman lady whose details include her beautifully hand-carved face, expensive-looking dress, and wavy hair, with the choice in hairband being a bow to create an imposing aura.
Combine all of this together, and you get a super chic ring that can go with anything in your wardrobe. With that said, the last unique thing about it is that the size is adjustable (starts from size 5).
Cons: The picture is a bit misleading, and it always looks a lot better in person
Other info: The top is ⅞ inches tall X ½ inches broad.


7. EMENOW
 10K White Gold Mother of Pearl

With this option, the design involves the use of 10K white gold together with a cameo made from a mother of pearl. The white gold is worked into a chic, decorated band that features a bezel-setting.
As usual, gold is a permanent investment due to its durability and aesthetic appeal. An added advantage is that this. Metal will literally never go out of style.
The cameo comes in a bold rectangular shape and it uses a mother of pearl to create the image of an elegant woman. The lady's details include her beautiful face and her curly hair.
The foreground this time is white, while the background shifts from gray to almost brown in certain areas/angle. Couple that with the neutral color of white gold, and the ring easily blends with any outfit you've got in mind. The last feature we love is that its size is adjustable.
Cons: A bit expensive
.
Other info: Face of the ring is ⅝ " long by ⅜ " wide. Also, the size starts at 5.25.
8. EMENOW 
10K Cameo Ring with Beau Lady

This one comes with a band made out of 10K gold and a Carnelian shell. The first one has the advantage of being luxurious and durable, while the second is hand-carved to create a beautiful Lady. Her details, down to her curly hair, is highlighted beautifully in the cameo. Nevertheless, the design elements don't stop there.
For one, the cameo features an orange background that contrasts beautifully with the white figurine. 
The gold itself also features decorations in the form of stripes running down the sides of the band. To us, they've successfully pulled off their roles as accents to the cameo.
The final highlight is that the size is adjustable (6-7).
It increases its value as a long-term souvenir for yourself.

Cons: This is also an expensive cameo ring.

Other info: The face of the ring is ½ " long by ⅜ " wide.
9. EMENOW 
Antique CAMEO in Sterling Silver


This is one of the cheaper options from EMENOW since it's made out of sterling silver, rather than 10K gold. As expected, it has all the features of silver such as exceptional longevity, aesthetic appeal (like that of white gold), and hypoallergenic tendency.
Moving on to the cameo, it's hand-carved to form a white vintage figurine. And this time around, the theme is a Victorian who's wearing a headdress & robe.
Here, the meaning of the cameo is similar to a motto of strength, leadership, and order. 
We also love the fact that the design is held together in a 4-prong setting. It's definitely more secure and pretty this way.
As always when it comes to EMENOW jewelry, this accessory also expands since the size is adjustable by an inch (either from size 7 to an inch less or more).
Cons: Price remains high
.
Other info: The face is 1 " tall x ½ " wide.
10. Jewelrylized Black Cameo

Our last pick from Jewelrylized is a combination of silver-plated brass and a vintage cameo made out of black amber. The use of brass is not uncommon since it keeps the price low.
At the same time, the silver plating protects the brass from wear and makes it hypoallergenic. Essentially, this is a piece of fabulous long-term jewelry that's also skin-safe.
In terms of looks, silver's typical glossy appearance is not to be missed, though the real highlight here is the cute petal imprints that run along the sides of the band.
The cameo shows the image of a beautiful woman whose details (down to her curly hair) is finely carved by the artisan. Her white figure also contrasts well with the opaque black background to form a vivid image.
That said, while the cameo remains the highlight, we can't help but mention that the ring is adjustable (from sizes 6 to 7.5). This feature makes sure the ring isn't limited to a single finger since you can adjust it and wear it on any finger of your hand!
Cons: Only uses silver plating.

Other info: The cameo is 25 X 18mm.
Frequently Asked Questions
1. How to spot an authentic piece?
Even though this type of jewelry has been around for years now, people still don't know how to differentiate between authentic and fakes.
Check the materials: As with any accessory, the first part you should inspect if you want to avoid fakes is the materials used to the accessory. If they say it's made from gold, it needs to be real gold (not plated, not an imitation metal). The same can be said about silver and the cameo shell too (though the former isn't as common as gold).
As for the shell, you should inspect it under a jeweler's 10x loupe. Look for details that imply the cameo was hand-carved, but know that cracks are an indication the ring is not original. Note: cameo rings can be made from materials even cheaper than this while maintaining good quality.
The Transparency: Tthe shell used must be see-through. If you hold it up in a bit of light and look through the backside, you should be able to spot the cameo. For any cameo ring that doesn't pass this test, the shell is defective.
If the piece is expensive, take it to a respected jewelry dealer for inspection. This is possibly the best option to consider here, but keep in mind that prices can vary.
2. Why are these rings so popular?
Cameo itself has been famous for centuries now, but it was popularized by the Romans first, then during the Renaissance, and the 19th century followed soon after. Nowadays, the style of carving is only practiced by a handful of designers.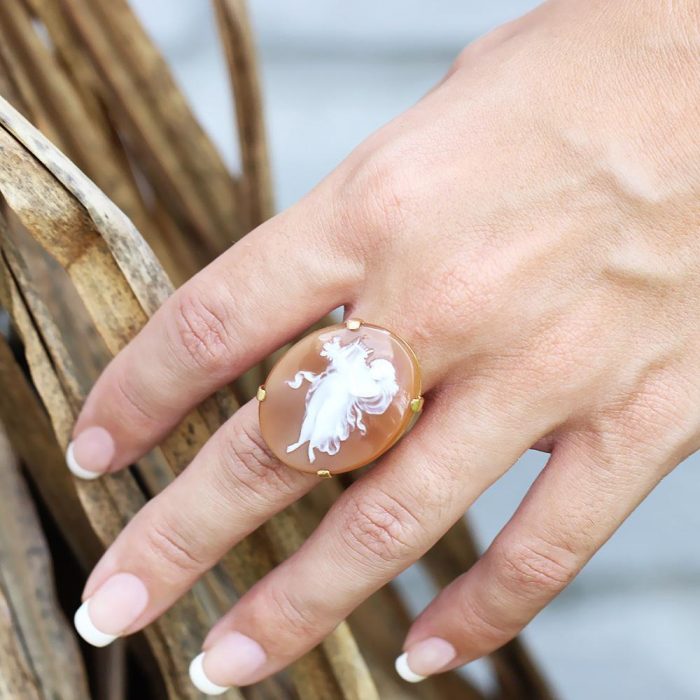 During the Roman era, one of the reasons why cameos were appreciated was because of the value families placed on it. The accessory would be transferred from one generation to another, with the children updating the setting while leaving the cameo intact.
3. What does cameo mean?
"Cameo" is a modern Italian word for "To Engrave". The word is suspected of having roots in the Arabic word "Khamea" which means "Amulet". Cameos have been objects that humans have used for personal adornment for a long time.
The style is usually in the form of a small scene or a figure. All artists approach this art-type by focusing major drama into a tight space.
4. How do you maintain your shell jewelry?
If your piece of jewelry is made from a gem, chances are, the stone won't fade in color nor crack due to time (if it's genuine at least). With options made from a shell, they are more prone to cracking and discoloration due to time and dryness.
Shell cameos are soft, with pores that need regular 'moisturizing' if you want them to last long.
Our advice is to use mineral oil which you can apply with a Q-tip. Allow the cameo to soak it up overnight, and watch it glow the next time you put it on. You only need to do this two times in a year so it's pretty easy maintenance-wise.
5. How to clean it?
If you want to clean any type of cameo ring, there's no fancy business going on. You need to make a solution from any mild soap and clean with a soft toothbrush. You can use a fiber cloth to clean up the residue after rinsing with lukewarm water.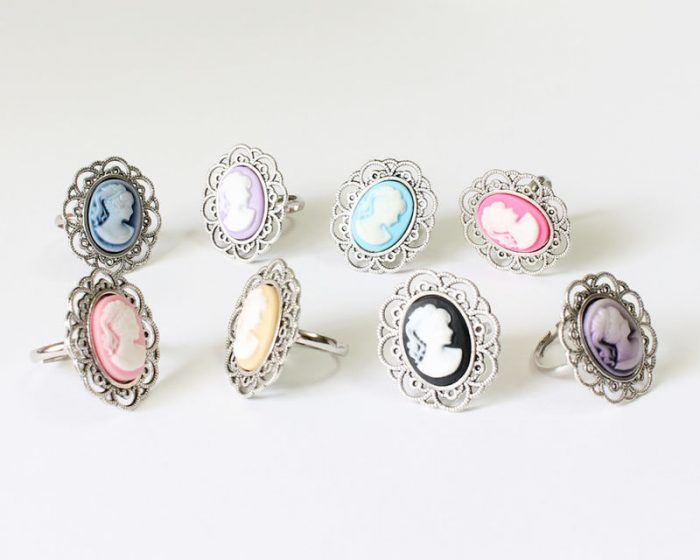 Major Tip: Don't use a jewelry cleaner. Many of these cleaners contain harsh chemicals that may discolor the shell or pearl.
6. What's the Intention behind gifting this type of jewelry?
A ring by itself represents a vow between two individuals. Turn a ring into a cameo, and it carries another meaning entirely. Based on the design you choose and the symbol the cameo carries, it makes for the perfect gift for a person to whom you want to express love, gratitude, friendship or whatever else you choose.
7. What's the best alternative to this jewelry?
There's none better than intaglio accessories. Intaglios, unlike cameos, are recessed engraving, in the sense that the figure isn't raised against the shell. Intaglio, in older times, had a practical use other than being an adornment. The piece of art, when inked, could be used as a stamp to mark a letter or document.