The Perfect Vintage Accessory is a Cameo Ring: We Found 7 Worth Anyone's Jewelry Collection
last updated:
Jun 12, 2021
Cameo ring jewelry is one of the few accessories shrouded in elegant mystery. Often used in various artistic avenues, it's one of the more intricate styles to express one's creativity.
When put into jewelry, it often depicts biblical beings, mythical creatures, and, most commonly, vintage portraits.
If you're looking for the perfect whimsical piece with classic features and distinctive elegance, cameos are iconic.
Let's take a look at some of the most attractive options that you can adorn on any finger with uniqueness and confidence.
Frequently Asked Questions
q:

How to spot an authentic piece?

a:

Even though this type of jewelry has been around for years now, people still don't know how to differentiate between authentic and fakes.

Check the materials: As with any accessory, the first part you should inspect if you want to avoid fakes is the materials used in the accessory. If they say it's made from gold, it needs to be real gold (not plated, not an imitation metal). The same can be said about silver and the cameo shell too (though the former isn't as common as gold).

As for the shell, you should inspect it under a jeweler's 10x loupe. Look for details that imply the cameo was hand-carved, but know that cracks are an indication the ring is not original.

The transparency: The shell used must be see-through. If you hold it up in a bit of light and look through the backside, you should be able to spot the cameo. For any cameo ring that doesn't pass this test, the shell is defective.

If the piece is expensive, take it to a respected jewelry dealer for inspection. This is possibly the best option to consider here, but keep in mind that prices can vary.
q:

Why are these rings so popular?

a:

Cameo itself has been famous for centuries now, but it was popularized by the Romans first, then during the Renaissance, and the 19th century followed soon after. Nowadays, the style of carving is only practiced by a handful of designers.

During the Roman era, one of the reasons why cameos were appreciated was because of the value families placed on it. The accessory would be transferred from one generation to another, with the children updating the setting while leaving the cameo intact.
q:

What does cameo mean?

a:

"Cameo" is a modern Italian word for "To Engrave". The word is suspected of having roots in the Arabic word "Khamea" which means "Amulet". Cameos have been objects that humans have used for personal adornment for a long time.

The style is usually in the form of a small scene or a figure. All artists approach this art-type by focusing major drama into a tight space.
q:

How to clean it?

a:

If you want to clean any type of cameo ring, there's no fancy business going on. You need to make a solution from any mild soap and clean with a soft toothbrush. You can use a fiber cloth to clean up the residue after rinsing with lukewarm water.

Don't use a jewelry cleaner. Many of these cleaners contain harsh chemicals that may discolor the shell or pearl.
q:

What's the Intention behind gifting this type of jewelry?

a:

A ring by itself represents a vow between two individuals. Turn a ring into a cameo, and it carries another meaning entirely.

Based on the design you choose and the symbol the cameo carries, it makes for the perfect gift for a person to whom you want to express love, gratitude, friendship or whatever else you choose.
q:

What's the best alternative to this jewelry?

a:

There's none better than intaglio accessories. Intaglios, unlike cameos, are recessed engraving, in the sense that the figure isn't raised against the shell. Intaglio, in older times, had a practical use other than being an adornment.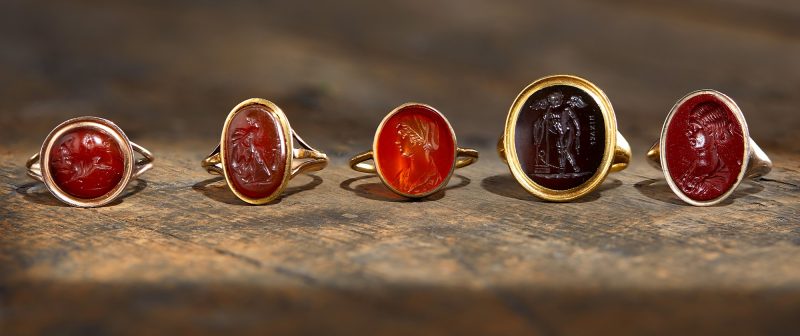 The piece of art, when inked, could be used as a stamp to mark a letter or document.
Finally...
Cameo rings are easily recognizable due to its presence as a form of art practiced and appreciated by countless craftsmen & historians. It's a method of carving that involves the use of gems (crystals, pearls or coral shells).
Cameo rings are the epitome of art & tradition with their raised images, and since they also act as a symbol of love, they're perfect as a vessel to communicate the same to someone special to you.
In this post, we've reviewed 7 vintage cameo rings that get all the proper parts rights. Make sure not to miss on the opportunity to get one for your jewelry collection!