The Perfect Vintage Accessory is a Cameo Ring: We Found 7 Worth Anyone's Jewelry Collection
last updated:
Jun 12, 2021
Cameo ring jewelry is one of the few accessories shrouded in elegant mystery. Often used in various artistic avenues, it's one of the more intricate styles to express one's creativity.
When put into jewelry, it often depicts biblical beings, mythical creatures, and, most commonly, vintage portraits.
If you're looking for the perfect whimsical piece with classic features and distinctive elegance, cameos are iconic.
Let's take a look at some of the most attractive options that you can adorn on any finger with uniqueness and confidence.
Top 7 Picks
1

. Ports 1961 Cameo Strass Ring
Gold-tone hardware
Intricate cameo detailing
Individually set gemstones
Flexible band
The Farfetch Ports 1961 ring takes advantage of the traditional style of cameo rings with modern updates. It's one of the more structurally exciting pieces we've seen, with a versatile and comfortable design.
Read more
You will appreciate the fine details, such as the individual hand-carved engravings around the cameo's encasement.
There are also individually set gemstones surrounding the primary setting for added glitz. Light will be captured effortlessly within the clear gems, bringing an ample amount of sparkle to your finger.
Another stylish feature of this piece is the immaculate detailing throughout the cameo.
The piece offers plenty of depth, especially within the portrait's hair, showing intricacy beyond your expectations.
You will also love the thickness of the ring, which makes it feel heavier and more luxurious than other pieces.
The gold-tone hardware effortlessly fits into the ring's aesthetic, offering a striking contrast against the gemstones.
Also, the band is flexible, allowing the ring to move with your hand throughout the day.
2

. Palm Beach Jewelry Cameo Ring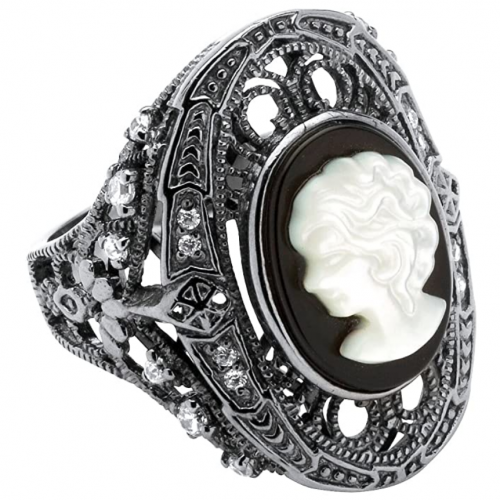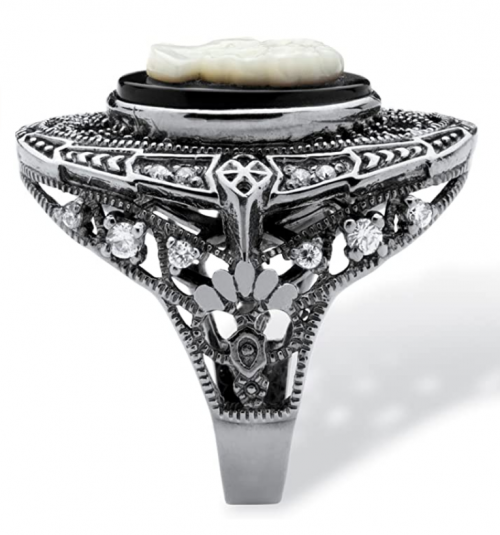 Ruthenium-plated sterling silver
Cubic zirconia
Genuine onyx
Oval cameo
There's nothing better than having an exotic piece of jewelry to capture the attention of every passerby. The Palm Beach Jewelry cameo ring is a fabulous example of a timeless piece with bold features.
Read more
The gothic influences in this piece are pretty noteworthy, especially with its immaculate structural detailing.
Every section of the ring incorporates something unique, ranging from its materials to whimsical engravings.
Even the cameo features unparalleled depth with intricate details that you're sure to appreciate over the years.
This ring is crafted primarily from natural black onyx, which also holds a hidden symbolism of strength and resilience.
The ring itself is crafted from ruthenium-plated sterling silver, which adds another layer of depth.
This ring has a darker, edgier appeal that works perfectly with formalwear compared to other cameo pieces.
You will also find it's rather large in size, measuring 19mm wide, 26mm long, and 9mm tall.
3

. Macy's Green Agate Cameo Ring
18x25mm green agate
Four diamond accents
Sterling silver settings
1.5 ct. Sapphires
The heartwarming meaning behind the Macy's Green Agate Mother & Child Cameo Ring makes it a fabulous choice as a gift. It has a stunning handcrafted appeal with gorgeous features and an assortment of high-quality gemstones. Not to mention the timeless cameo in the center makes it a piece to be remembered for generations.
Read more
This is the perfect gift for an existing or expecting mother. The intricate cameo centerpiece depicts a mother and child, an eternal bond that can never be broken.
It's perfectly carved out of authentic green agate, adding an extra vintage touch to the piece.
For added sparkle, you'll find individually set sapphires as well as four remarkably brilliant diamond accents.
The combination of glistening diamonds with deep blue sapphires and soft green agate brings the whole piece together.
One of the most convenient traits of the ring is that it's encased in sterling silver, a highly resilient material. You will find it's lead and nickel-free, making it ideal for sensitive jewelry wearers.
Also, it helps to make this luxurious piece more affordable, rather than using white or yellow gold.
The oval shape of the piece speaks to its vintage origin, offering a classic Victorian appeal that looks great on anyone.
4

. Ross-Simons Italian Cameo Ring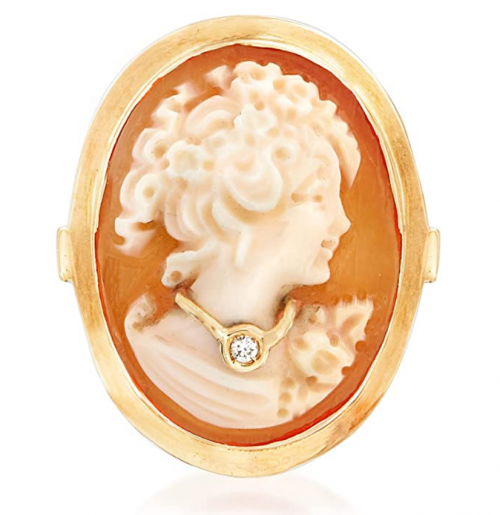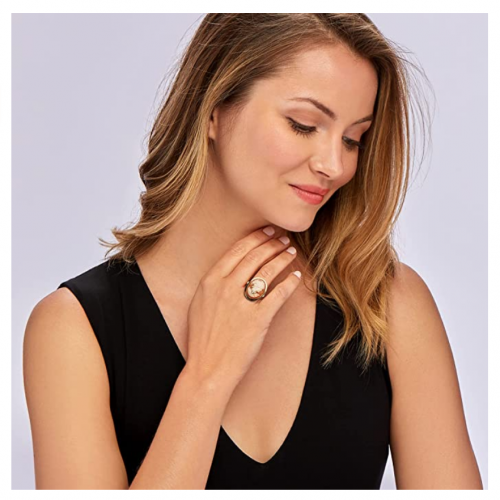 Orange shell cameo
18k yellow gold plating
Sterling silver
Diamond accent
The Ross-Simons Italian Orange Shell Cameo Ring has beautiful details that make it a significant piece in your collection. Its warm tones make it iconic for everyday wear, and it features high-quality finishes expected from Italian jewelry.
Read more
There's no doubt that this piece oozes luxury, especially with its 18k yellow gold-plated band.
The majority of the ring is crafted from sterling silver, which is also resistant to plenty of wear and tear.
You will fall in love with the orange shell cameo, creating a bright background for the brilliant focal point.
As an added elegant touch, you'll find a slight gold accent as well as a diamond accent, pulling the piece together.
Along the neckline of the cameo, a polished gold necklace sits delicately with a glistening diamond in the center.
This feature is undoubtedly what makes this piece stand out, as all of the sleek details add a sexy, feminine touch.
5

. Macy's 2028 Pewter Carnelian Ring
Ivory cameo design
Carnelian background
Pewter setting
Silver-tone mixed metal
The Macy's 2028 Pewter Carnelian Ring has a spectacular high-class design with graceful finishes. It's a more subdued cameo ring with unique styling around the band rather than the piece's focal point.
Read more
There are plenty of immaculate features to consider with this ring, especially if you're a fan of antiquities.
The burnished metal has an old-world feel, especially as the band is made from pewter. You will find it carries a more authentic appeal than polished metal and retains its quality over time.
The burnished pewter mixes perfectly with the distinctive detailing throughout the band.
You will also appreciate the lower profile the ring offers, making it easy to wear without feeling too cumbersome.
One of the most impressively designed features is the cameo centerpiece, which will capture attention.
Instead of offering a glittering and glitzy embellishment, the center is crafted using a cameo with a carnelian background.
The contrast of the white ivory against the burnt red background helps to showcase the exceptional detailing of the carving.
Over time, you're far less likely to notice any signs of damage or tarnishing, thanks to the worn pewter finish.
6

. Providence Vintage Jewelry Ring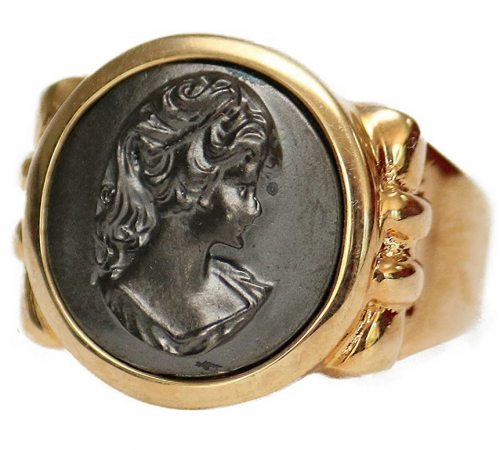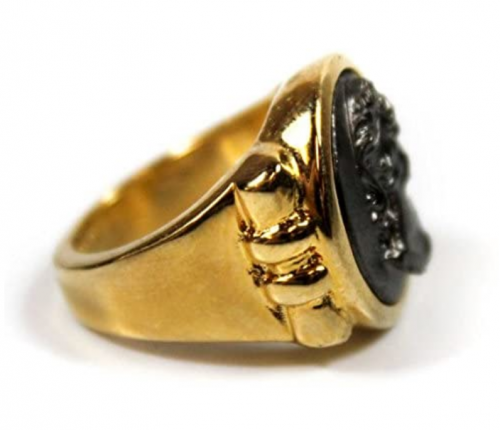 Oxidized black cameo
18k electroplated yellow gold
1970s Victorian revival design
15.8mm diameter
The antique features set it apart from the rest, as it has an old-world feel that's unmatched. Using unique manufacturing processes, there are exquisite details you aren't likely to find elsewhere.
Read more
At first glance, the Providence Vintage Jewelry ring looks like an authentic piece of old-world jewelry.
It has the same features you'd expect to find in an archaeological find, making it incredibly unique.
Its etched detailing is eye-catching, and it also has a fancy glamour to it that you'd expect to see on a duke or duchess.
One of the most spectacular details of the piece is its 1970s Victorian revival cameo centerpiece. It's uniquely oxidized, transitioning from the typical ivory finish to a deep black.
Also, the band's thickness makes it the perfect option for middle fingers and thumbs, especially as a standalone accessory.
7

. Jewelili Sterling Silver Pink Cameo Ring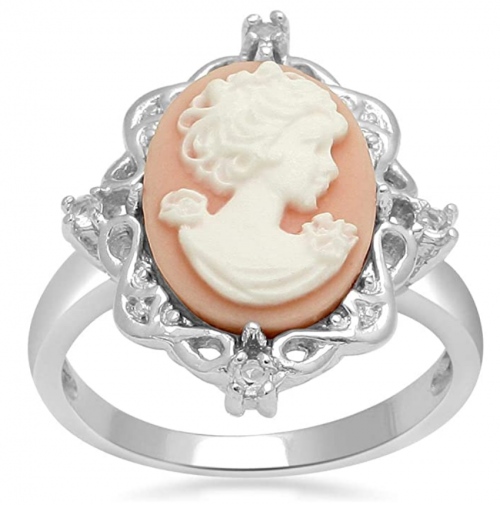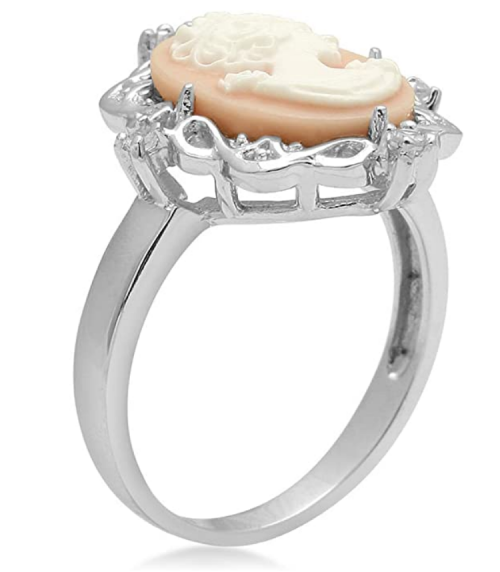 Sterling silver
Lab created white sapphires
30 day return policy
Affordable
This is a cameo ring from Jewelili, and it's formed from a mix of high-quality, but budget-friendly materials. The band, including its roguish decoration, is made out of sterling silver.
Read more
As expected though, the 0.75-inch oval cameo is the highlight, and it's a raised figurine carved from pink-colored resin to resemble an elegant lady.
On each side of the cameo, you'll discover a lab-created white sapphire (4 stones in total).

We like this ring because the design is minimalistic despite the top-notch materials.
You keep the inconspicuous look, but then you get versatility in terms of what you combine with it.
Frequently Asked Questions
q:

How to spot an authentic piece?

a:

Even though this type of jewelry has been around for years now, people still don't know how to differentiate between authentic and fakes.

Check the materials: As with any accessory, the first part you should inspect if you want to avoid fakes is the materials used in the accessory. If they say it's made from gold, it needs to be real gold (not plated, not an imitation metal). The same can be said about silver and the cameo shell too (though the former isn't as common as gold).

As for the shell, you should inspect it under a jeweler's 10x loupe. Look for details that imply the cameo was hand-carved, but know that cracks are an indication the ring is not original.

The transparency: The shell used must be see-through. If you hold it up in a bit of light and look through the backside, you should be able to spot the cameo. For any cameo ring that doesn't pass this test, the shell is defective.

If the piece is expensive, take it to a respected jewelry dealer for inspection. This is possibly the best option to consider here, but keep in mind that prices can vary.
q:

Why are these rings so popular?

a:

Cameo itself has been famous for centuries now, but it was popularized by the Romans first, then during the Renaissance, and the 19th century followed soon after. Nowadays, the style of carving is only practiced by a handful of designers.

During the Roman era, one of the reasons why cameos were appreciated was because of the value families placed on it. The accessory would be transferred from one generation to another, with the children updating the setting while leaving the cameo intact.
q:

What does cameo mean?

a:

"Cameo" is a modern Italian word for "To Engrave". The word is suspected of having roots in the Arabic word "Khamea" which means "Amulet". Cameos have been objects that humans have used for personal adornment for a long time.

The style is usually in the form of a small scene or a figure. All artists approach this art-type by focusing major drama into a tight space.
q:

How to clean it?

a:

If you want to clean any type of cameo ring, there's no fancy business going on. You need to make a solution from any mild soap and clean with a soft toothbrush. You can use a fiber cloth to clean up the residue after rinsing with lukewarm water.

Don't use a jewelry cleaner. Many of these cleaners contain harsh chemicals that may discolor the shell or pearl.
q:

What's the Intention behind gifting this type of jewelry?

a:

A ring by itself represents a vow between two individuals. Turn a ring into a cameo, and it carries another meaning entirely.

Based on the design you choose and the symbol the cameo carries, it makes for the perfect gift for a person to whom you want to express love, gratitude, friendship or whatever else you choose.
q:

What's the best alternative to this jewelry?

a:

There's none better than intaglio accessories. Intaglios, unlike cameos, are recessed engraving, in the sense that the figure isn't raised against the shell. Intaglio, in older times, had a practical use other than being an adornment.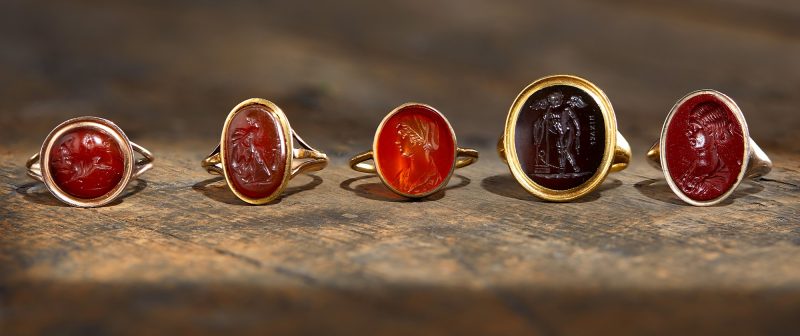 The piece of art, when inked, could be used as a stamp to mark a letter or document.
Finally...
Cameo rings are easily recognizable due to its presence as a form of art practiced and appreciated by countless craftsmen & historians. It's a method of carving that involves the use of gems (crystals, pearls or coral shells).
Cameo rings are the epitome of art & tradition with their raised images, and since they also act as a symbol of love, they're perfect as a vessel to communicate the same to someone special to you.
In this post, we've reviewed 7 vintage cameo rings that get all the proper parts rights. Make sure not to miss on the opportunity to get one for your jewelry collection!