Mix / Rings / Women
Need a Gift? Check Out 10 Birthstone Rings for Your Mom
Marianne 20 Mar 2020
4527
It occurs every year, and each one is as exciting as the last! Birthdays are like timers that tell us we're growing older. Your mom, in this case, will look back on what she's accomplished so far on her day. From success and luxury to the slight mistakes she's made. Check out our picks for birthstone rings for your mom.
Obviously, you're part of her success in life and the strong emotional connection that ties you together is proof. So, let's put it this way. Birthdays are incredibly rare as they're limited to once per year (out of a whopping 365).
So it goes to say that on that day, she'll receive a lot of gifts. But yours will matter the most since you're the best reminder of her endeavors and trials.
We have got to show you some birthstone rings that we found! Birthstones represent a whole full month instead of a single day. So, giving your mom one fit for any day of the month her birthday falls in has another meaning. You're essentially telling her that the whole month is hers. Her joy isn't limited to a single day. At the same time, if you pick the correct birthstone ring, you're making sure something from you will be with her for an indefinite amount of time.
This is why we prefer this option. It's not a dress or a shoe that'll only see use some days in a year. And chances are, if you pick either one, you'll want them to be expensive. That's great but it is limiting as she'll only want to wear it for special occasions. On the other hand, a birthstone ring will probably see her birthday the next year, as it can be worn every single day. It's just that kind of gift that more or less become a habit.
12 Birthstone Rings for Your Mom
There are 12 months in a year, so we'll be reviewing 12 birthstone rings. That's one for each month! The only thing left to do is look for your mom's particular birthstone and you're good to go. For references; January is garnet, February is amethyst, March is aquamarine, April is diamond, May is emerald, June is pearl, alexandrite, and moonstone, July is ruby, August is peridot, sardonyx, and spinel, September is sapphire, October is opal and tourmaline, November is topaz and citrine, and December is tanzanite, zircon, and turquoise.
Luckily, each month as a cute meaning, which will make a good impression.
1. January Stone –  Oval Red Garnet Gemstone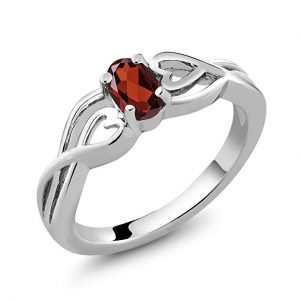 Garnet comes in different colors. You can find it in orangy red, yellowish green, simple yellow, and even red and its variations. We chose the last one since it's a universal color. Most people like it and those that don't can definitely live with it. Luckily, for this particular ring, the red isn't that kind of vivid red. It takes on a black tone (darkish red), that your mom should love. Even if she isn't a fan of red.
Garnet is the physical representation of the love found in relationships (romantic or otherwise). And we find that meaning particularly interesting. In fact, if we were you, a small card will be packaged with the gift, explaining the meaning of the stone. That should definitely set a tune that'll increase the bond between you guys. Here, it's not even about the price, but what the gift means. And as you can see, the meaning is quite deep.
The ring is from Gem Stone King and it's made from solid 925 Sterling silver into a fancy design that she'll love. If you remember what we said about the ring being worn every day and even seeing your mom's next birthday, then it's the work of the material. Sterling silver is durable and can handle everyday use. So, you don't have to worry about the gift suddenly quitting after some use. A lovely gift box also comes with the ring. You could use that, or you can find something else if you think the box doesn't cut it (here).
2. February Stone – Sac Silver Infinity Knot Ring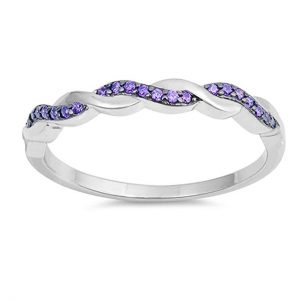 Amethyst doesn't have any other color than purple. Or better yet, let's say it has a shade of purple that's almost transparent. Hence, you can expect a hypnotic look, when you stare at the stone. Now, check this out; amethyst is a calming stone. If your mom is born in February, it works to improve your emotional bond with her and also promote balance and peace. It's like giving her a lucky stone that'll see her through many years and more birthdays to come.
The ring comes in various sizes and you may need to ask her for this. But if you're trying to make it a surprise, take a peek at her wedding ring but try to be discreet. The metal used for the ring is Sterling silver and it's durable enough for constant use. Although, she'll probably be using it casually and to work as well (luckily, that's the everyday life). Anything too physical, mothers will more than likely put it somewhere else. The fact that it's you who gave the gift kind of demands such attention. The amethyst is designed to form a knot with the Sterling silver.
With that point made, there's another advantage of this particular ring. It's budget-friendly, and we think you should buy two. One for her birthday and another for her marriage anniversary (month). You're going for the throat if you do this since you're connecting her birthday with the occasion that led to you being born. Awesome right?
3. March Stone – 
CloseoutWarehouse Cubic Zirconia Heart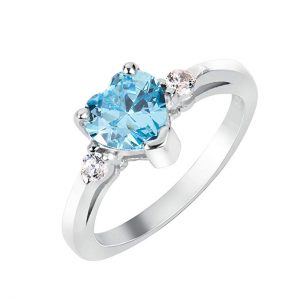 March stone can either be aquamarine or bloodstone. We're choosing aquamarine this time around due to its shade of blue. The name doesn't do it any justice, especially when you see the CloseoutWarehouse ring. Its color is a combination of blue and green, though with differing ratios. It certainly does make a gorgeous sight, and it's exotic enough to catch your mom's eye. Regardless if she has specific tastes too.
Like the previous months, the ring uses Sterling silver, and thus, is durable. The stone is all about good luck and a good life, and considering the situation, both are welcome. In other words, the ring takes the form of all the goodwill and wishes you have for your mother. Moving on to the ring's design, the stone sits on a round band of the silver and is shaped in the form of a heart. It's rather symbolic considering your connection with your mom.
4. April Stone – Amazon Collection Gold Blue Sapphire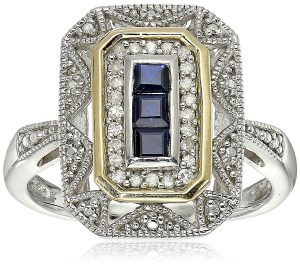 Do you remember the saying "diamonds are forever" with the nice echo of "forever". We're a little dramatic, but you do get our point. Another point is that diamonds are very expensive and valued by all. Now just relate this meaning to that of your gift. And it's your way of telling your mother that you'll always treasure her forever. You could even think of it as an expensive gift (a little) for an expensive and irreplaceable mother.
It's your choice, though, we give you permission to use some of these lines if you're thinking of including a gift card.
The diamond stones form an octagon on the ring and are mixed with gold (14K) and sapphire to create something gorgeous. As a result of this, she may only want to limit its use to special occasions only. So, do make sure you mention the ring's durability.
All of the stones are held on a dense and durable band made out of Sterling silver. She can wear it anywhere she wants. In fact, the good looks make it a perfect replacement (though temporary) for her wedding ring. It comes in a beautiful case too, so you don't need to buy a gift box for her. A bit of packaging might be needed though. If you can, buy a diamond necklace (being her birthstone and all) to go with the ring too, it'll be nice. Though, we understand that it might not be that budget-friendly.
5. May Stone – 
RB Gems Sterling Silver 925 Ring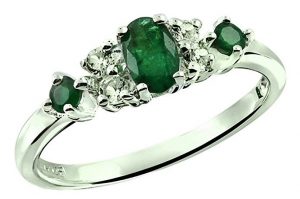 Emsione 925 Sterling Silver Plated Created Amethyst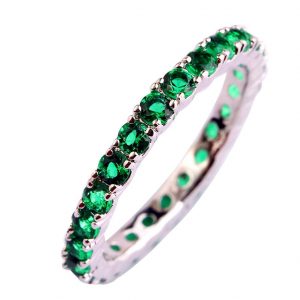 Bright green is synonymous with emerald, which is your mother's birthstone. Did you know that emeralds and royalty are close pals? Your mom being born in this month more or less means she's royalty to the people who matter the most. We gave one recently as a gift too. The mood we set was that she's the most precious we have in our lives. And considering the fact that emerald is more expensive than diamonds due to its rarity really drives that point home.
We chose two emerald rings. The RB Gems ring is the main jewelry, while the Emsione is our second choice. You should buy both, since wearing them combined is really awesome. Otherwise, you can choose either one, but we feel since the Emsione ring is budget-friendly, both should be very much affordable. Both of the rings are made of Sterling silver and compared to the Emsione that has emerald stones around the band, the RB Gems has a big emerald stone combined with two smaller ones to create a design with exquisite looks.
The smaller is perfect for simple and casual scenarios, while your mom can definitely pull off the later for special occasions. You know, like your wedding maybe. That'll definitely make for a sweet sight. She can also use the bigger ring out for a spin outside since we're not recommending it because of its good looks alone. The Sterling silver makes will make it favorite of your mother.
6. June Stone – Silvershake Natural Moonstone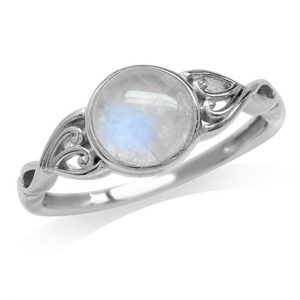 Out of all three stones, we're picking the moonstone for mothers who are born in June. A moonstone is a pearly or semi-milky white in color, and aesthetically, it's one of the most beautiful stones to be used in jewelry making. You must think about the stone's potential to really appreciate it. Every woman, whether young or old has a deep love for beautiful things. Lord knows how long we take on our makeup/grooming.
So, gifting a moonstone to your mom is like your mom herself giving candy to your kid self. An instant favorite is what it is. The moonstone, before we forget, represents feminine energies. In better terms, it's for that famed girl power!
The metal holding the stone is 925 Sterling silver, and it's super tough. In fact, the twisting pattern adopted by this ring even gives it a little more thickness. That's welcomed as it means better life on your mom's finger.
7. July Stone –  Heart Shaped Created Ruby Ring
Ruby is a girl that you can trust befriend. She's also loyal to a fault and cares deeply about the people around her. So just think what her family means to her. We're guessing this properly describes your mom. Rubies are a vivid red (think traffic light red) and they'll easily cause a lot of stares. And to tell you the truth, there's nothing wrong with being stared at. It's actually very nice, as it's just a form of acknowledgment which your mother is sure going to enjoy. She deserves it!
The ruby set into the gold and Sterling silver band is heart-shaped. A cliché, but it really works well in this scenario. In regards to the toughness, it can handle a lot of beatings. This means she gets to wear the ring indefinitely with any of her outfits. She has a meeting, it's good to go. And it's only a simple get-together, just know that your name will be mentioned a few times as the source of the gift.
8. August Stone – Green Peridot Women's Ring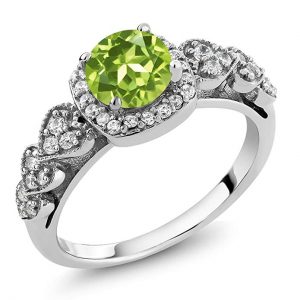 Peridot takes on a lighter shade of emeralds, though its meaning is in no way or form light. In fact, it's the direct opposite as it represents strength. That is, it symbolizes all the endeavors you made to get to that point on her birthday. It represents her ability to power through situations and pull off the impossible throughout her life. You can also say you're giving her more than enough strength to continue pulling off the impossible.
It certainly sets a sweet tone, but you absolutely have to inform her of these facts. She'll definitely love your ingenuity and attention to her special day. The ring is made from Sterling silver and there's around stone embedded in the center. It doesn't look luxurious, but it does have an earthy vibe. The color is carefree and is wholly perfect for everyday use. It's what she wears outside to greet some friends, shop for groceries, and just make simple appearances. Finally, before we forget, the company behind this ring are including a gift box. It's really fresh and you may not even have to purchase something separate.
9. September Stone – Caperci Blue Sapphire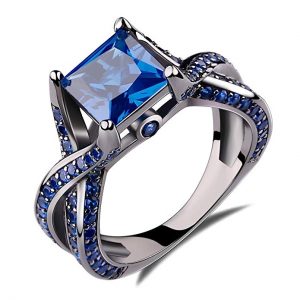 September is the month of Sapphire, which is a deep blue color. It's bold, makes a loud statement, and puts you in another class. Better yet, your mom will stand out with jewelry. We feel it's better for special occasions due to the number of sapphire stones embedded in the black gold-plated Sterling silver. It's durable also by the way. And the thickness itself serves as an assurance. You need to feel it see what we mean actually.
Sapphire stands for wisdom, good fortune, and even in some cases, royalty. It might not be the latter, but it's one of the closest stones to that, and your mom certainly deserves that.
The ring can likewise pass off as her wedding ring since sapphire likewise stands for faithfulness. So, what's the probability of September being your mom's wedding anniversary?
10. October Stone – PAVOI 14K Gold Plated Opal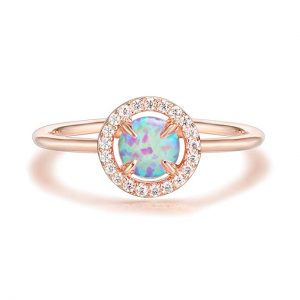 Here, we talk about opal! It's all about seduction, and in this particular case, it's a perfect gift that won't only be shared between your mom and you. We extend its reach to your dad as well, since the seduction part is for him. Nevertheless, there are still other definitions for opals since we know you might not be comfortable with the other representation.
An opal ring very much means loyalty and faithfulness also. And that's towards the relationship you have with your mother. Also, did you know that opals come from the Greek word "Opalus" which means precious jewel? Considering the purpose of the gift, you're essentially telling her that she's the most precious person to you. The ring is rose gold-plated and the opal embedded is round. It's a bit inconspicuous though, which makes it perfect for any outfit you have.
11. November Stone – Merthus Created Mystic Rainbow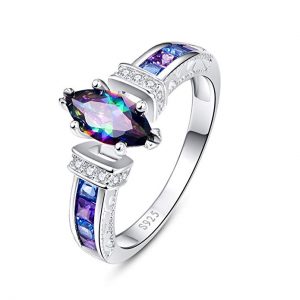 We picked topaz due to its color, or might we say colors. It's like a rainbow of colors are embedded in a white crystal. You're on the other end looking at the mesmerizing hues. Luckily, we have a ring that explains what we're talking about. The Merthus ring is made from Sterling silver, coated with rhodium for extra shine, and the topaz stones follow along the side of the band. The biggest stone on the ring measures a generous 5mm × 10mm.
It looks great with any outfit due to its myriad of colors. We think your mom will love such application as she can keep your memento with her constantly.
The stone symbolizes love and affection, and if there was ever an object that can successfully house these two emotions, we recommend this topaz ring. We think your mom will love how much you love her too.
12. December Stone – Silver Gemstone Ring with Genuine Turquoise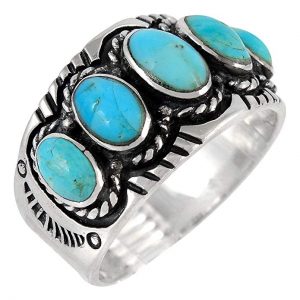 We're selecting turquoise as December's stone. It's not because of we personally like its color of aqua blue. We just very much prefer it since it's versatile in application. It's a ring that'll go with any outfit your mom wears, and we think this is what you should look for. She'll be able to use your gift every day, and with the vintage look, the stares will be kept to a minimal. At least when up close, and if she's even bothered by it.
The stones on the ring are held by Sterling silver and it comes in various sizes that you can choose from. Be discreet though, when you're checking your mother's ring size. Wouldn't want to spoil the surprise. Though if she isn't the type of like surprises, you might as well speak to her about it. Just make sure you inform her of the stone's meaning, even if she might know it before.
The stones mean feminity, a point that connects to your mom's age and her increasing understanding, tranquility, and joy.
Question most People Known Want to Know about Birthstone and their Rings
What do I Do if my mom has her month's birthstone?
Well, in this case, we advise you to buy an alternative to the form of birthstone accessory she has. If she has a necklace, get her a ring. If it's a bracelet, you could also get a ring for her. It's a simple way of spicing up her wardrobe. Still, she might have a ring too. In which case, you definitely shouldn't limit yourself to this list. You can check out other accessories, in as much as she's super pleased with her birthday gift.
Not to forget, buying another jewelry that contains her birthstone is actually exciting. You can simply match both pieces of jewelry together, and you would have still made your point with the gift.
How to select a ring size for your mom?
We know we've already hinted you as to how you can select a ring for your mother. But we still have information explaining those tips and more.
Take a look at her ring
The first is the most obvious; borrow her jewelry. Just look for a time that she leaves her ring unused and then find a piece of paper. Draw out the inner and outer circumference of the ring and measure it later to get her perfect size. We, of course, know some mothers who don't know how to part with their rings. So, we have the next step.
Use a string
It's time to go undercover! If your mom is a deep sleeper or even if she snoozes a little bit and you have a sure slot, you can try using a string to measure her fingers. It's definitely exciting! But do note that if you're caught, you may have to find another gift entirely for her since she'll more than likely associate her upcoming birthday with your recent activity.
Make that call
Does she have a close pal that knows all her sizes? We mean, literally all her sizes. At this point, it's not unfair to use your mom's friend to get her size. And since it's maybe one of her best friends, she won't even be suspicious of what you're going for.
So, just call her to tell you what her size is, or at the least, help you measure what she wears with a small question of "You look kind of fat. Does your ring even size you anymore?". She can definitely capitalize on that fact to get what you want.
Grasp her fingers
Here, what you need to do is simple: just grab her fingers, and find any of your own fingers that matches her own. It's an inaccurate way of finding her fingers, but it's still good enough to work for you.
How to recognize ruby and garnet?
Check out the color
If the stone you're looking at has any hint of orange or even anything other than pure vivid red (except purple or blue hues), then you're most likely looking at a garnet.
Make use of the light
When you hold up a stone that's actually a ruby in the path of light, you should see its spectrum. When you have a light source, tilt the stone until it creates a rainbow. Now, here's the fun part. The rainbow must not contain any yellow or green band if it's a ruby.
On the other hand, if the stone is a garnet, you'll find yellow and green bands in the rainbow. Although, the bands that you find might be a bit small.
Use a professional jeweler
This is a straightforward method. If you want to skip the step of making use of a light source and even the color, a professional jeweler is what we would also use. They'll tell you the result after a thorough review of the stone.