10 Love Necklaces To Gift This Season!
last updated:
Oct 25, 2019
Today we thought of how much we think a love necklace is a beautiful piece of jewelry. Not just because it's trendy; the meaning behind such jewelry can go way beyond the look of a necklace.
You may be intrigued by the added depth and meaning that comes with the short four-letter word. Love. It stems from beauty and affection.
And even further, love is defined as an intense feeling of deep affection, beauty is defined as a combination of qualities that pleases the intellect and moral sense, and affection is defined as a gentle feeling of fondness or liking. Wow! That is a whole lot of detail behind one word.
And that's just starting to scratch the surface. Love is one of the most passionate and overwhelming feelings we can experience as human beings.
Love is often the root of happiness and joy!
Top 10 Picks
1

. Mevecco Layered Handmade Love Necklace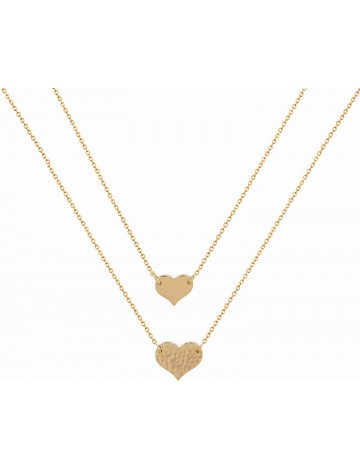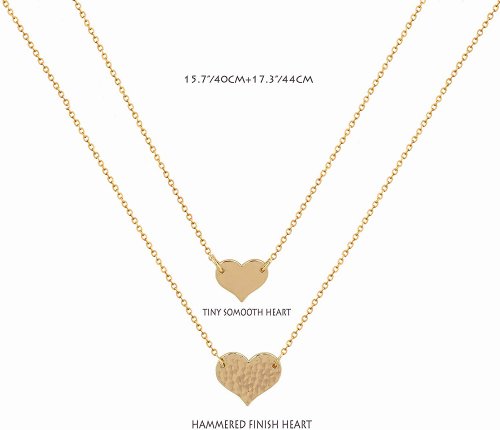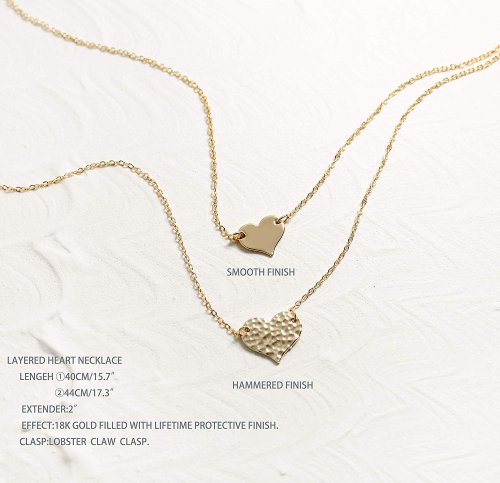 We have this beautiful layered necklace that comes in three different styles that we are absolutely amazing.
Read more
Each one is plated twice, once with 18k gold and then a lifetime protective finish. It is a trendy double necklace that you will love wearing daily.
The first style features two dainty hearts, one smooth and the larger with a textured phase. The second option is layered with a heart and a small arrow, while the longer chain features an open circle pendant.
Finally, we have the third option, which displays a heart on the short-chain and a vertical bar on the longer layer.
We love the way this piece is versatile between day and night time attire. But more than that, we love the way that it will satisfy any age and is appropriate for any holiday gift-giving.
This is an excellent deal, and you may even want to buy all three to share with more than one friend or loved one.
2

. Dazzle Flash CZ Accent Heart Necklace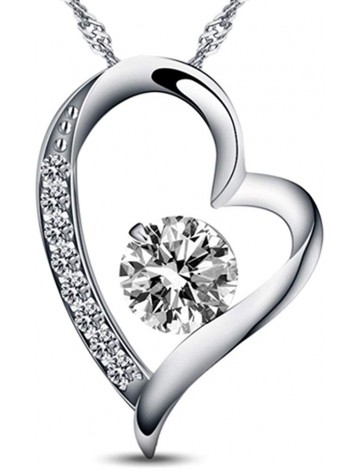 We were struck by this necklace and the way it immediately catches your eye and your heart.
Read more
This sterling silver necklace with cubic zirconia stands out with its unique design and the endearing look. Could it be any cuter or more heartfelt?
Now don't get us wrong, we are all about making sure to say I love you a couple or a dozen times a day.
But this will give that constant reassurance and respect that she deserves, especially if the necklace is meant as a gift.
The pendant on this lovely necklace is 23 millimeters with an 18-inch chain. It comes in a simple black jewelry box.
It is inexpensive and sure to thrill your special someone. This Mother's Day, Christmas, or whatever holiday you are celebrating, it will make a perfect gift for any woman you love!
3

. AOBOCO I Love You Forever Necklace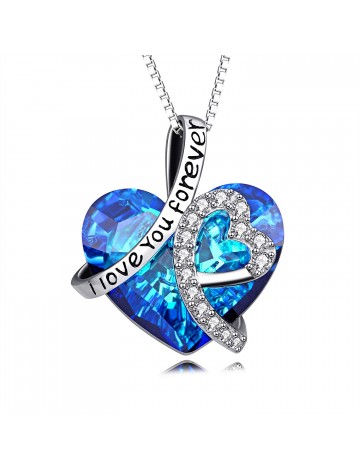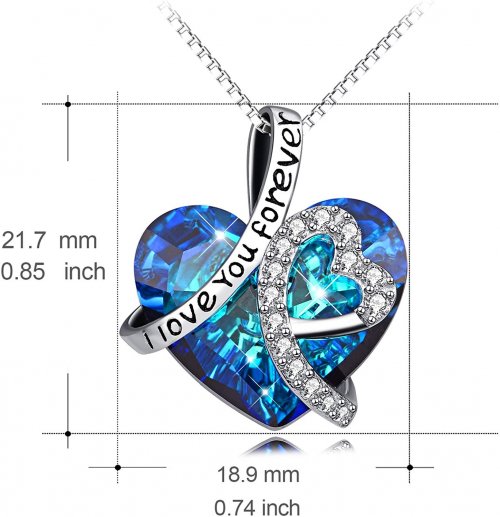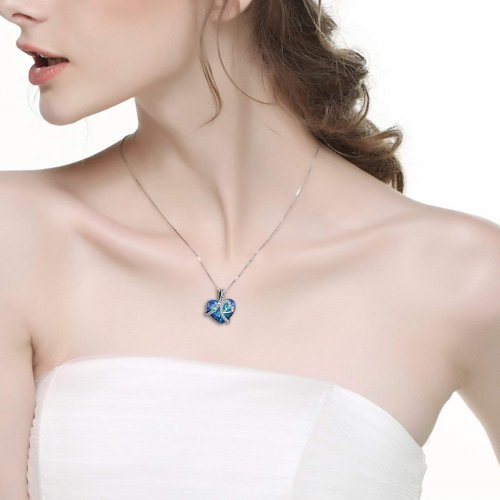 I love you forever. Forever. What a beautiful thought. Do you have someone special in your life that you love forever? Are you looking for a way to show them just how strongly you feel?
Read more
This piece is available at a mid-range price. It is made of hypoallergenic sterling silver highlighted by cubic zirconia with Bermuda blue heart crystals from Swarovski.
The necklace is packaged with a gift box and ready for giving during the next holiday season with your family and friends.
We love the way the bold blue shines with the contrast of the small white crystals.
Whether it's your daughter, your wife, your mom, or any other significant woman in your life, you can bet she will be feeling special flaunting this necklace around her neck.
4

. ANCREU Angel Wing Necklace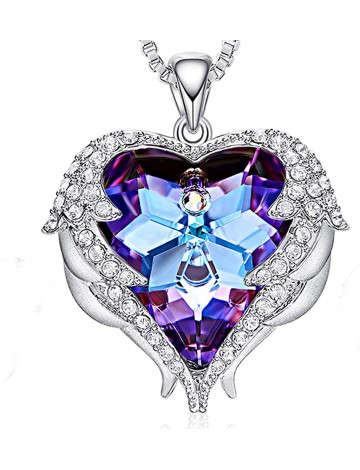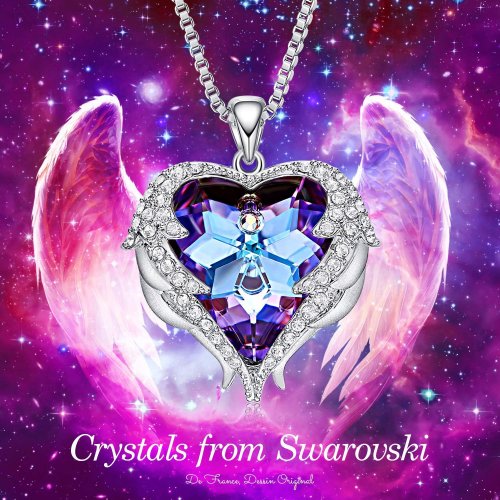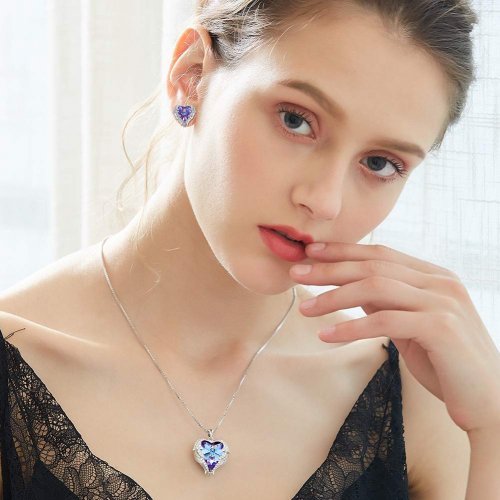 This piece first sparked our interest because of the significant wings that wrap around the heart.
Read more
We think of Cupid, or any angel who may be passionately wrapping their arms around our hearts.
This is the perfect gift for someone who is an angel to you. Whatever your beliefs, this is the perfect symbol to share comfort and sincere love. It sends the message of always being loved and protected.
There is an abundance of options for this gorgeous piece, ranging from variations on the heart, and a handful of colors to choose from when it comes to the pendant wrapped in wings.
The necklace is made of white-gold-plated metal complete with Swarovski crystals. The chain is 18 inches long with a 2-inch adjustable chain extender.
The heart pendant is just short of an inch wide and under an inch tall. The price is super affordable!
5

. SIVERY 'Love Heart' with Swarovski Crystals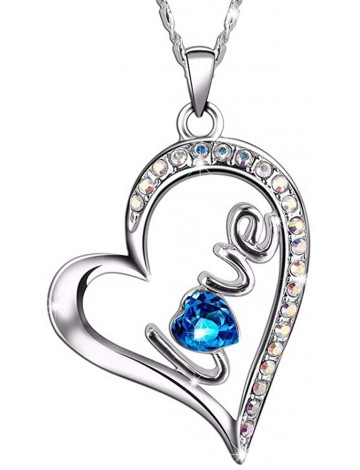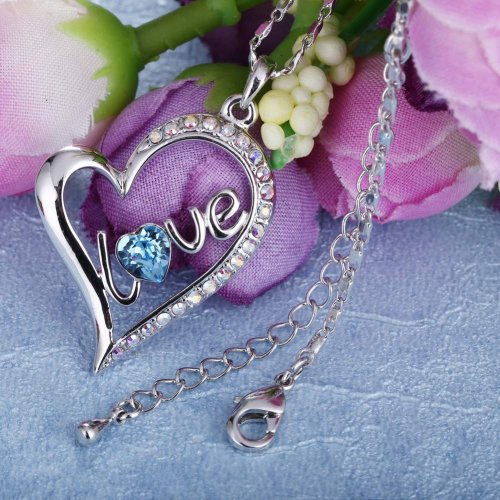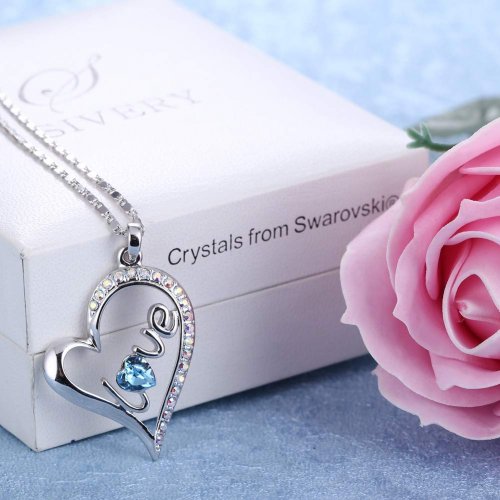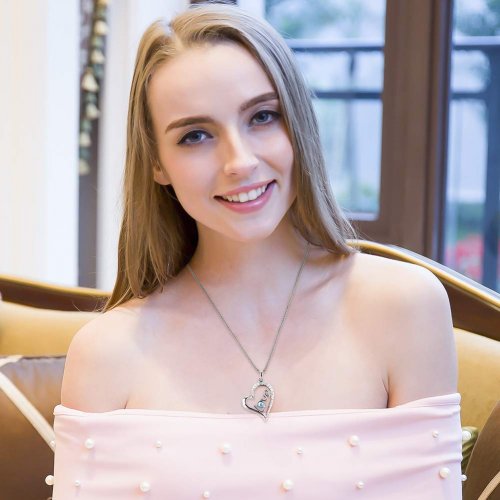 Egyptians and Greeks alike connected hearts with love because they believed it represents life and morality or that it controlled emotions.
Read more
If you could visualize a moment or if your mind wandered to a specific person while reading this, we've found the perfect gift for you to give that special someone!
This gorgeous necklace can be purchased for a very reasonable price. The pendant comes with Swarovski crystal stones of various colors and shapes.
The most beautiful one is the blue, heart-shaped crystal stone encrusted in the word love filling the heart-shaped pendant.
We love the way the crystals add enough detail to make the necklace stand out and sparkle without taking away from the beauty of the pendant.
This necklace comes on a 16-inch chain with a two-inch chain extender.
If you're looking for a gift that would be perfect for any age and occasion, this would be a fantastic option for you!
6

. I Love You in 120 Languages Necklace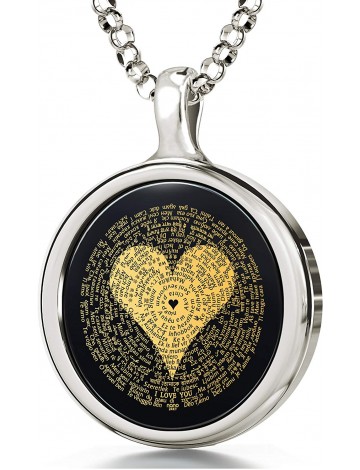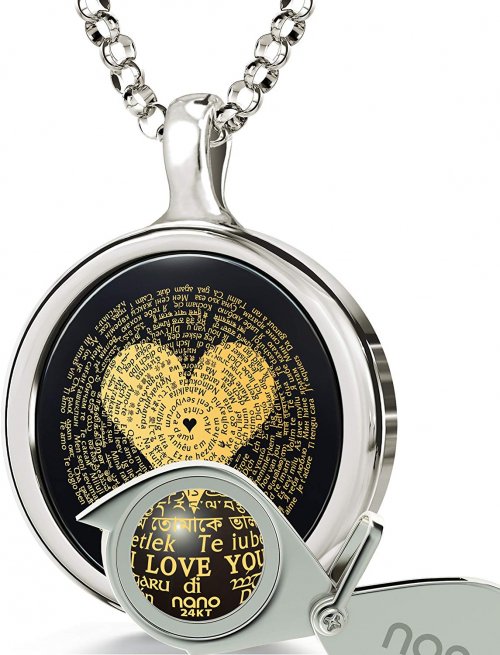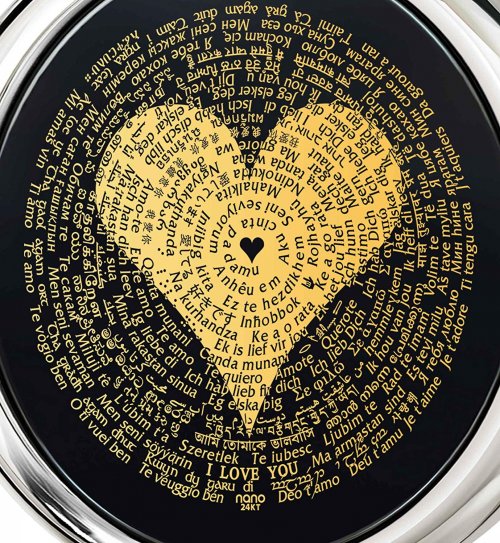 Isn't this necklace wonderful? It is so intriguing and quite unique. This piece of jewelry is a little costly since it's 24k gold.
Read more
However, you can choose it in sterling silver, gold-plated silver, white gold, or yellow gold as well. The price will vary depending on your choice of metal.
The fascinating thing about this pendant is that it says I Love You in one hundred and twenty languages. Isn't that absolutely incredible? Who wouldn't love that?
It also comes with a miniature magnifying glass. This can be used to examine further the many languages of I Love You's.
The pendant comes on an 18-inch high-quality rolo chain made with traditional Italian gold.
The round black onyx gemstone is detailed with a dainty gold heart and tiny lettering over the surface of the stone.
This piece is the perfect gift for an anniversary, whether it be a one year, five years, or 30th anniversary!
7

. Stainless Steel with Vertical Bar Pendant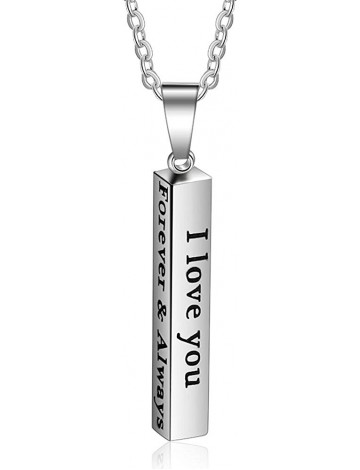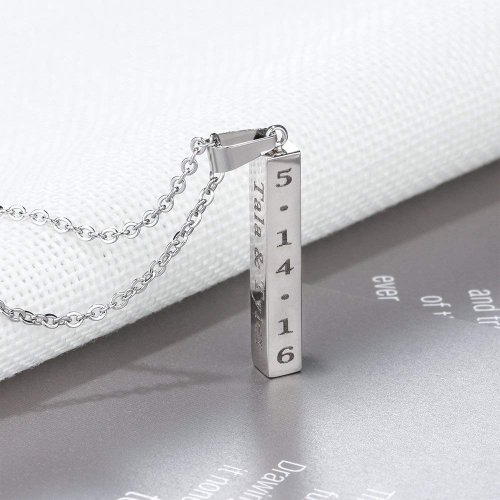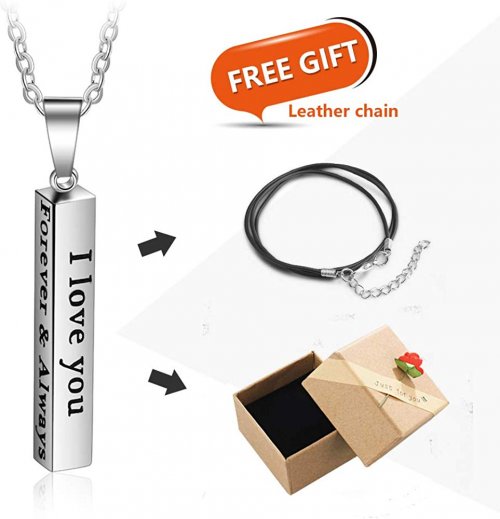 This inexpensive piece is a great way to share your love in a personal and customized way.
Read more
The pendant is made of high-quality stainless steel and is the type of necklace you would wear daily.
It comes in silver, black, and rose gold, all offered at the same low price. You'll get it in a classy box with a free leather chain.
This is a fantastic choice as it is completely customizable. You can personalize any side of the bar; you get to choose what message to share and what special dates to engrave on it.
This may include a simple message like "I love you," "Forever and Always," or "xoxo."
You may want to engrave your names on the necklace or dates like your anniversary, the first time you said I love you, or any other date that is meaningful to you.
8

. SunnyHouse His & Hers Matching Set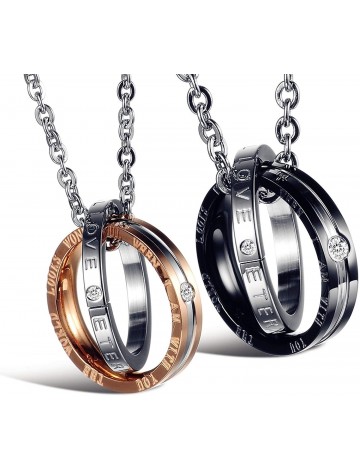 These fantastic his and her necklace set is titanium stainless steel detailed with laser cutting and a polished finish.
Read more
One thing we love about this type of metal is that it is extremely low maintenance and durable. The male chain is 24 inches long, while the female is 22 inches.
We love the sweet details of this set. It is designed with 2 rings tied together.
The smaller band, laced through the larger band, says 'Eternal love'; the other ring states 'The world looks wonderful when I am with you.' This is all done with an elegant laser cutting.
Each ring has a cubic zirconia stone that gives it just enough sparkle to make it dazzling yet elegant. The pieces come in their own small box perfect for gift giving.
The couple set of love necklaces is the perfect gift for any couple out there!
9

. FIBO Stainless Steel Set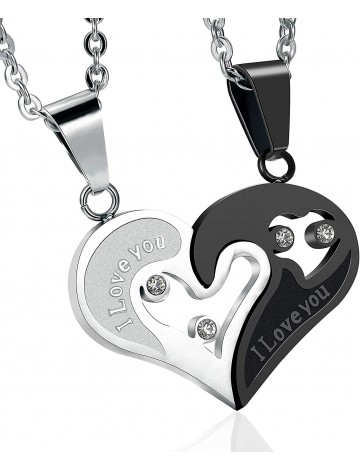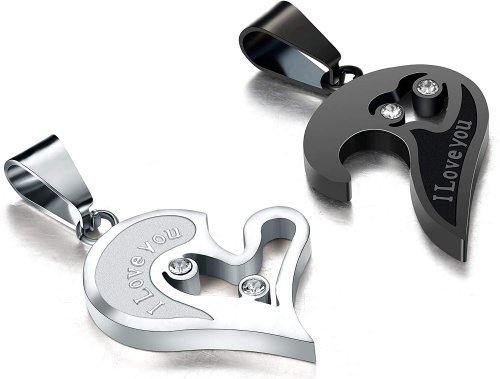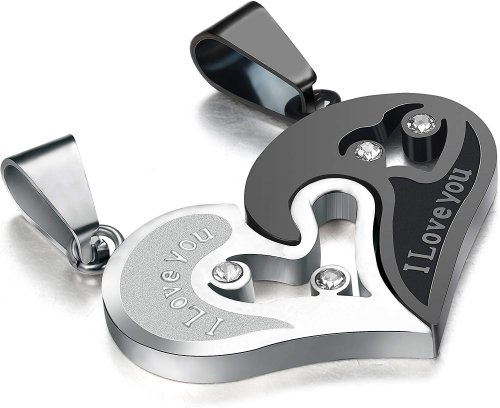 This matching two-piece men and women's set will have your significant other smiling from ear to ear this holiday season or special occasion. It comes at a price that will leave you smiling even more!
Read more
The pendants are made of high-quality stainless steel. They each come on a 22-inch chain with a heart puzzle pendant.
The 2 pendants make up for a heart when put together, and now each person getting it will be wearing one half of the heart. The black necklace is meant for your guy while the silver one is for you.
Each pendant features a laser-cut 'I love you' engraved on it and 2 small crystals encrusted in it.
When you look at the price of this necklace, set it pretty much anyone out there can afford it, and the best part is that it comes with a 90-day warranty as well!
10

. Dogeared Pearls of Love Necklace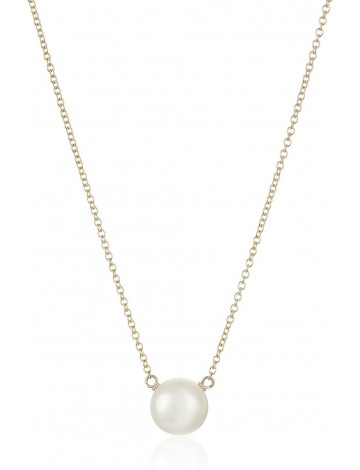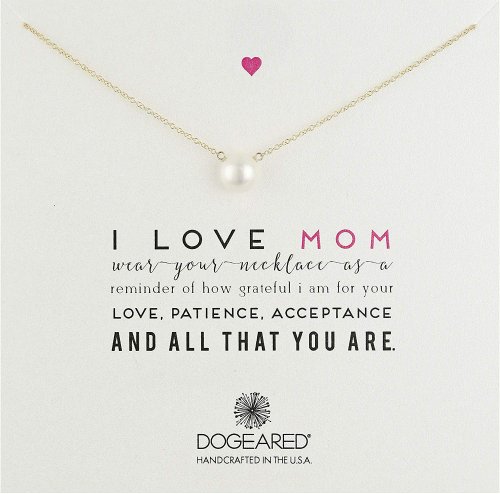 This beautiful and dainty necklace comes in 2 metal choices: white, gold, and silver.
Read more
The necklace comes with a beautiful freshwater cultured pearl hanging from a 925 sterling silver cable chain with a lobster claw clasp.
The chain measures 16 inches and is made of sterling silver. It's super durable and not prone to wear and tear or tarnish.
Called 'the pearls of love', this piece comes with an inspiring card and a sweet message of love.
The necklace is entirely made in the US by Dogeared, a Californian jewelry brand that produces affordable yet beautiful everyday jewelry we simply love!
Finally...
There are so many ways to show your love. Have you heard of the 5 languages of love? Most of us may have heard of them, but even if you haven't, it is an interesting way to think about showing and receiving love.
Whether you stand by the philosophy of the love languages or not, we all can agree that there are different ways for us to show love and different ways for us to experience or feel love, right?
The way you give or receive love can come in various ways, but these love languages sum it up nicely with: getting gifts, affirmation words, physical touch, quality time, acts of service.
One thing that makes jewelry so special and enticing is that it can fit into numerous categories.
Jewelry offers words of affirmation, whether it be on the piece or the gift packaging or product label, or even within the symbol that may be displayed on the jewelry. It offers words that let your special someone know just how much you love them.
You may be serving your wife by surprising her with breakfast and a bracelet, or the way you clasp her necklace around her neck before your date.
No matter your better half's love language or style, we have some gorgeous options for a love necklace to be gifted on any occasion!
Whether it's for Valentine's Day, Christmas, Mother's Day, a birthday, or any special occasion or simply to bring back the romance in your life, any of these necklaces are sure to bring smiles, tears, and put a big smile on the face of the person who'll wear it.
A love necklace is a beautiful symbol and gift, and that's why we included 10 love necklace picks in all price ranges and designs for you to choose from.