Mix / Other Accessories / Women
The Best Smart Jewelry We Will be Adding to Our Christmas List
Marianne 09 Mar 2020
3722
Are you looking to add to your jewelry collection in a new and exciting way this Christmas? We know there are a handful of smart technology jewelry pieces that we will be putting on our Christmas list! Smart jewelry came in quick and has exploded since the first releases, less than a decade ago. It's amazing that your generation may have gone through their entire childhood and even into your teenage and adult years without ever once hearing about or seeing a smart tech watch. Nowadays we see them everywhere, even for children! These smart devices may seem a bit daunting, but they are full of benefits for your health, convenience, and even your safety!
When you think of smart jewelry, what kind do you think of first? Often times, it's a watch or fitness tracker of some sort. Is that what comes to your mind? As fantastic as these watches are, and don't worry, we have some beautiful options on our list, they are not all that the smart technology jewelry world has to offer! Whether you are wearing your smart jewelry as a watch, a bracelet, a necklace, ring, or even a brooch style, there are so many positive elements to wearing it!
First, most of these products are connected to your smartphone. If that is the case, a lot of them offer longer battery life on your phone. Why is this? Well, for starters, let's talk about time. How many times a day, even if you just did it one minute or five minutes ago, are you checking your phone to see what time it is? Look no more, because most of these devices have a clock display for you!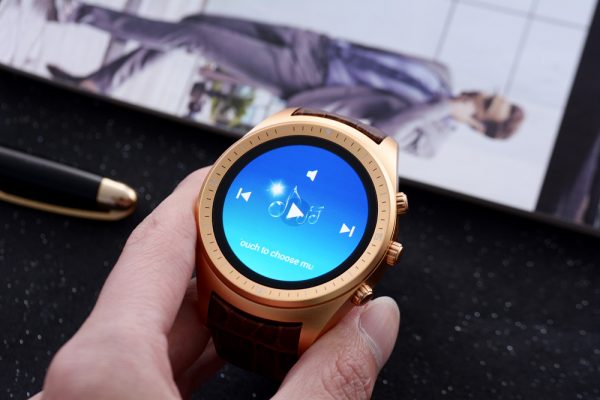 You won't have to be lighting up your phone as you wait for noon to come around so you can get lunch or 5:00 pm to hit so that you can go home after work. Just glance down at your smart technology watch, and make less of a scene while still getting the answer you're looking for. Next, we love that you are able to see notifications from your phone on a lot of these devices as well. The stress of checking your phone every time you think that important call is coming through, only to see an unknown number, is now gone. You also will be more likely to catch your notifications because they will pop right up on your wrist, oftentimes even offering a little vibration so that you are sure to see it.
Let's not forget the health benefits of these pieces of jewelry. These range from knowing your heart rate at all times to being able to record data about your sleeping patterns. Most of them also track your steps, and some can help you keep count of your calorie intake. We also love the benefit of safety that some of these pieces offer. We'll wait to surprise you with the details of one of our favorites from this list, but we are ecstatic at the idea of a product that can keep you safe if you are ever to find yourself in harm's way.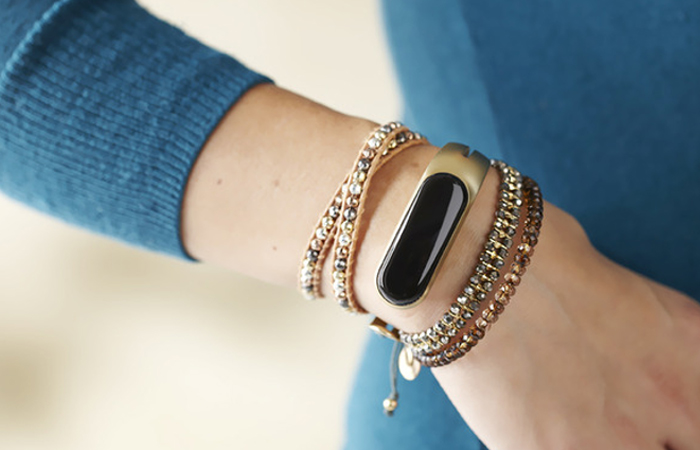 It can be a bit of a scary world out there, sadly. Don't you think? But we have found smart jewelry that makes it so that you can feel a little more secure and not have to worry about being able to pull your phone out in case of an emergency. Aside from all these wonderful benefits, smart jewelry is trendy! Plain and simple. The Apple Watch alone, first released in April of 2015 has already sold millions and millions. These smart jewelry pieces make our busy lives more convenient, help us to be more reliable to others, and even more accountable to ourselves. So let's take a look at what awesome smart technology jewelry we will be putting on our Christmas list this year!
1. Apple Watch Series 1 Sport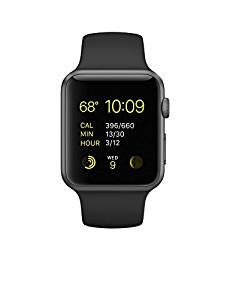 First up on our Christmas list full of the best smart jewelry, we have the ever so popular Apple watch. Trust me; we won't be the only ones with this one on our list. In one quarter in 2017, Apple sold 8 million Apple Watches. So don't feel left out, this thing has the raving reviews that it does for a reason! The Apple Watch launched in 2015 with the series one and has released two new series since then, the fourth has also been announced and is now on pre-order and will officially be on sale September 21, 2018. Each of these serious has a variety of different models within its series. So what is so great about the Apple watch?
This incredible device is one of the best that you will see in the smart technology jewelry world. It is sleek and classy, with different sizes and band colors and materials available. You can get this piece to look pretty much; however, you want, and it's stylish for both men and women. It is a more expensive piece of jewelry that you may be used to seeing or purchasing, but with all of its perks, it can certainly be worth the investment.
A lot of the benefits of smart technology jewelry that we mentioned before taking action here in the Apple watch, regardless of the series. They tell you the time, the weather, and the date. They can track your workouts and daily routine exercise as well as calorie intake. You can also check notifications, use apps, and even text and make calls through this watch as it is linked directly with your smartphone. It's almost like having a second phone, one that is even more convenient and easy to use than the one we put in our back pocket. Speaking of said phone, do you have a problem losing yours or forgetting it when you leave places? If so, we've got good news. Not only can you use your watch to find your phone, but if you are to get within a certain distance away from your phone, your watch will alert you! No more stress of a lost or stolen phone, your watch has got your back!
We could go on for days about the positive benefits of the Apple watch, and trust us when we say that people do go on for days about how much they love it! If you are looking for something to make your life a little, or a lot, more convenient, this is a fantastic option. It is absolutely in style, it's beautiful, and it's incredibly functional. Whether you are using it for health reasons, as an easy way to text or make calls, to make easy payments at checkout, or anything and just about everything in between, you will want to add this to your Christmas list too! Now the hard part is deciding what size of face you want on your watch, what color of the band, and what texture and material of the band. The options seem endless.
2.
TicWatch Pro Bluetooth Smart Watch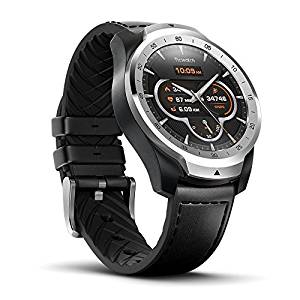 Now all of you Android users out there, don't worry, we haven't forgotten about you! As popular as the Apple watch is, it doesn't mean it's the only option for smart technology watches out there. We've got one for you too that you can add to your Christmas list! This smartwatch is called the TicWatch Pro.
It is full of fabulous features that will make you want to switch to the life of smart jewelry right away. We love that this watch looks like a regular watch, so it doesn't stand out as smart technology, but still offers an abundance of perks. This watch has a power-saving LCD that makes it so that you can get a lot of wear out of it between charging. It always shows those necessary things that you are looking for in a watch, such as the time and date. But it also features a step counter and heart rate monitor as well.
We love the way that these smart jewelry pieces are truly inspiring a healthy lifestyle. Furthermore, this watch has a GPS tracker, a total calorie burned counter, step counter, and it keeps track of speed and cadence as well. You will be able to make payments at participating stores, which most seem to be jumping on board with nowadays, right? The NFC payments feature allows you to easily connect your Google pay to make purchases just by scanning your wrist. The ease that this watch brings to your life will make you wish you had asked for it last Christmas! But it's never too late. Put it on your list this year.
3. Activity tracker Pedometer Bracelet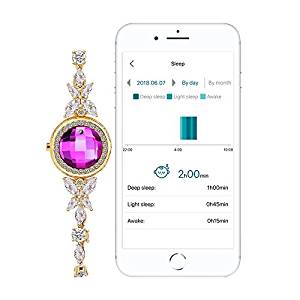 This next smart jewelry piece will leave you shocked that it really does what it says it will. Do you like the idea of wearing a smart piece, but just don't want to showcase the obvious technology on your wrist? We totally get it. With this piece, you don't have to sacrifice your style in any way to still get a lot of the benefits of smart jewelry.
This gorgeous bracelet is made of 925 sterling silver and cubic zirconia/SWAROVSKI crystals. It is available in a gold-colored band with a purple gem or a silver-colored band with a sapphire gemstone. If you are still shocked that it is actually a smart technology piece of jewelry we completely understand. But seriously, it is! This stunning piece makes tracking your health easy and fashionable. It tracks your steps, as well as how many calories you burned and the distance you moved.
On top of that, it measures your sleep patterns and connects easily to your phone, which then allows you to receive calls, text, and alarm alerts. Too good to be true? We've got more. You can also use your fancy bracelet to operate the camera on your phone and to find your phone. It's truly amazing what you can do all that from a piece that you would never know is actually smart technology-enhanced if you weren't the one wearing it! This bracelet can be paired with Android or iOS smartphones and is simple to sync to your health apps on your phone. It's incredible! Keep your style, wear a gorgeous bracelet every day, and enjoy the benefits of smart jewelry!
4. Garmin vívosmart HR Activity Tracker Regular Fit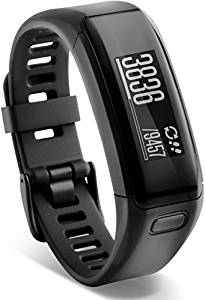 Are you looking for something a little simpler than the watches we've seen? Maybe you are looking for something with a smaller price tag too. If so, this is a fabulous option. Introducing the Garmin Vivosmart HR Activity Tracker. You can find this piece in numerous colors and models. It is a great option if you are looking for something that is geared more towards healthy living specifically. This smart jewelry displays your steps, distance, calories, your heart rate, and even activity intensity and floors climbed. That's right; it will make you want to choose to take the stairs instead of the elevator just because you'll have proof! Its wrist-based heart rate tracker is very accurate and also allows for more accurate calories burned counter.
If these features are what you are looking for, this is one you will want to put on your Christmas list. And don't worry if you want something a little more, because you will also be able to get vibration alerts for things like calls, texts, and social media right on your wrist. It's functional, practical, and will help you live a healthier lifestyle!
5.
Michael Kors Access, Women's Smartwatch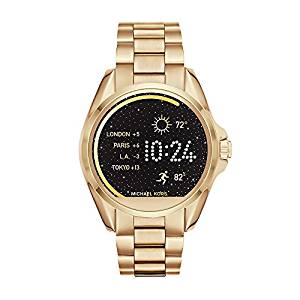 As smart jewelry emerges and grows rapidly in popularity, jewelry brand designers are not letting the cell phone world take over. This gorgeous watch is brought to you by Michael Kors, and it offers all the fashion you could ever desire in a watch while still offering a handful of smart features. It's a win-win! This watch offers up to 24 hours of battery life and pairs with Android and iOS devices. It's available in a wide range of colors and is full of features you will love.
You can control your music, notifications, and alerts; It has a microphone and speaker as well as touchscreen functionality. You can also use this watch for daily activity and sleep tracking. The screen is customizable, so you can display the features that you use most for easy viewing. This is a great option if you don't want to compromise style for convenience. This is gorgeous, smart jewelry from an icon designer!
6.
Bellabeat Leaf Nature Smart Jewelry Health Tracker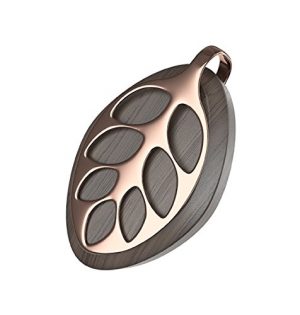 We are totally and completely obsessed with this piece. First and foremost, let's talk about all the gorgeous ways you can wear this smart jewelry. This can be worn as a bracelet, a necklace, or even a brooch. The smart pendant comes with a beautiful rose gold chain so you can simply wear it as a necklace, a fabulous double wrap bracelet to easily transition it to, and it can be worn alone, slid on to a blazer or even your shirt. We love that one piece can be worn in so many stylish ways. It is made up of splash-proof natural wood, and the clip is hypoallergenic stainless steel.
Next, let's talk about what this piece can do for you. This gorgeous rose gold leaf can be worn morning and night, as it is functional for both. During the day you can wear it to track your steps, including the GPS of your routes. It also tracks the calories you burned and, women listen up; it tracks your menstrual cycle and stress. How amazing is that? No more guessing games or trying to find an app that you can keep records in. Wear your smart jewelry Bellabeat Leaf, and you can keep track of so many aspects of your life!
Yes, we also recommend wearing this piece at night. But why is that? This handy device can track your sleep patterns for you. It will help you figure out all the details of your nightly sleep. This device also wakes you up in the morning and alerts you to stay active throughout the day. It's truly one of the best in the smart jewelry world and one that might change your life!
7.
Fitbit Alta Smart Fitness Activity Tracker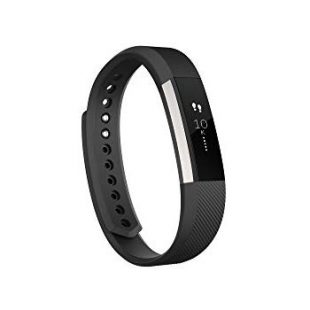 If you are intrigued by smart jewelry at all, there is a good chance you have heard of this piece. This is the Fitbit. It is a simple, sleek, and highly functional wristband. It is a dream when it comes to healthy living and holding yourself accountable. There is a reason that so many of the men and women you see at the gym are wearing these, and people are constantly raving about them! It is available in numerous colors such as silver and black, gold and black, and pink and gold, to name a few. It is also available in various sizes, ranging from 5.5 inches to 9.3 inches. We love that the Fitbit has so many incredible features, but comes at a very reasonable cost.
What is so great about the Fitbit? If you've been curious for a while now, or this is the first you have heard of it, we have got some answers for you. Of course, with a name like Fitbit, you can probably guess that it is full of healthy living features. These include, but are not limited to, tracking your distance and your steps, the amount of time you have been active, and the calories you burn throughout the day. The display is small, keeping this piece sleek and classy, but still very functional. You are able to see the time and your stats throughout the day, and the battery lasts up to five days!
This fantastically smart jewelry will also track your sleep patterns and how long you sleep. Don't worry about turning it on when you start to feel tired, as it will automatically track it! You can even set an alarm that will vibrate when it's time to wake up. As gorgeous as this piece is in the colors we have listed, there is almost no limit to the options you have to make it exactly what you want. You can even switch it up from day to day or morning and night. There is a myriad of different wristband options and colors that make this piece easy to match to your style. This is one you will absolutely want to add to your Christmas list!
8.
invisawear Smart Jewelry – Personal Safety Device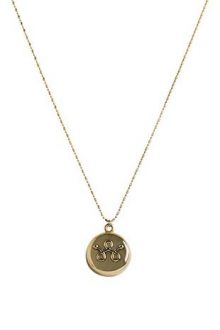 Remember how we mentioned that smart jewelry could help you feel safer in this sometimes crazy world? This one specifically is incredible for that. This simple and beautiful necklace is called Invisawear. It may not seem like smart jewelry as it doesn't look like a lot of the other things we see. That is the point of it. What do we mean by that? This necklace is meant to look casual or like an everyday piece of jewelry. It comes in gold-plated-brass and rhodium-plated-brass. The reason it is meant to look like a simple charm is that it actually can easily alert someone if you find yourself in harm's way.
How does it work? Before wearing the necklace, you connect your necklace to an app that allows you to set-up a profile, and there you can choose your top five contacts in case of an emergency. This might include your spouse or significant other, your best friends, your co-worker, or your parents. There is also an optional 911 feature that connects you to your local emergency dispatchers. So as much as we hope not to be in a situation where we would need it, this helps us to be confident that we can reach out to help quickly. To activate the alert, double press the necklace and a text message with your exact location are sent out to your emergency contacts.
This will let them know that you are in need of help right away. As much as this is a great option in the face of danger or crime, it is also a fabulous option for the elderly or someone with medical conditions that may be life-threatening. Double-tap the charm, a text goes out, and help is on the way! This is a great option to put on your own Christmas list or to give as a gift to someone who you feel may really benefit from having that security with them at all times!
9.
Smart Watch for Kids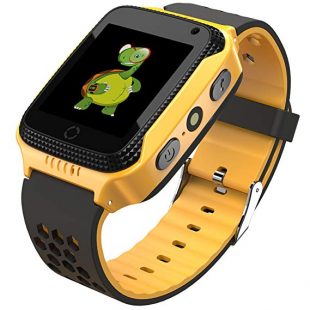 Are you looking for kid-friendly smart jewelry? If so, we have a great option for you to put on your Christmas list this year. This is a smartwatch that is made specifically for children. It has a GPS tracker that will help you know exactly where they are, and if you want to use it, it even offers a feature that you can call their watch and tune in to live recording and sound. Other features include intuitive SOS that gives them three numbers they can call if they need to contact someone.
These numbers are preset, and as they press and hold the watch for 3 seconds, it calls through each of the three numbers until someone answers. With this children's smartwatch, the child will also be able to enjoy features like a pedometer, rewards, voice chat, quick learning, and more. For those of you who may feel concerned about how this will affect your child in the classroom, they have a solution for that! There is a feature on the watch that is programmed specially for the school. During this time of day, the watch simply disables those features.
This watch is available in pink, blue, and yellow. It is a great way to keep your child safe for your reassurance as well as theirs. It is one that kids will want on their Christmas list and that parents will be happy to see there!
10. Motiv Ring Fitness, Sleep and Heart Rate Tracker – Waterproof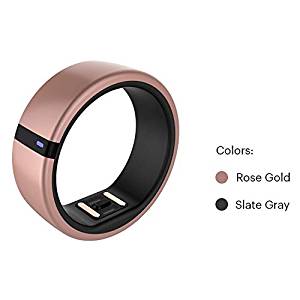 This fabulous smart jewelry piece is one of our favorites. It's a smart ring! How awesome is that? This ring is full of features and comes in gorgeous rose gold or slate gray. Some of the features included in this nifty device are a heart rate monitor, a pedometer, activity tracker and even calories burned. Furthermore, you will want to keep this ring on at night because it monitors your sleep patterns as well. The ring is made of ultralight titanium with a battery life of up to 3 days.
It's waterproof and low maintenance, which we love! This is such a great option if you are looking for something different than the norm when it comes to smart technology jewelry. It's a great way to simply highlight your jewelry collection without having a large or bulky statement piece. We will definitely be adding this smart piece to our Christmas list!
Final Notes
There you have it, the best smart jewelry that we will be putting on our Christmas list this year. We hope you have found something to add to your Christmas list too, now that you know you can't live without it! Smart jewelry is all the craze for a reason! It is beautiful, convenient, and makes life better in so many ways. Now, how nice do you think we'd have to be to pull off a few of these on our Christmas list this year?