Watches / Women
Affordable Women's Watches That Look Like the Real Deal!
Marianne 09 Mar 2021
7340
Accessories can make everything look better. And if there was one timeless piece of accessory which is every man and woman's favorite, every trendsetter's must-have, then it has got to be a watch. It's amazing how a wristwatch can add so much elegance and class to your overall look. The first advice for a person who wants to be taken seriously is to wear a watch. Every article, video and class on proper grooming always has watches on its list. It's not just about maintaining a professional look; the truth is- watches look amazing!
Yes, when phones took the world by storm, wristwatches began seeming redundant. All you have to do now is switch on the screen of your phone and see the time for yourself. But to those who think wristwatches are now obsolete, perhaps they are forgetting watches are about so much more than just timekeeping. They add a powerful gravitas to your personality that is impossible to emulate with any other accessory.
It's a proven fact that people who wear watches have great taste and an eye for elegance. And everyone knows it too. Luxury watchmakers such as Rolex, Chopard and Patek Philippe are still the kind of brands which we aspire for. Even when it comes to timekeeping function, watches do it better. Have you considered just how rude it is to whip out your phone every now and then to check the time? Especially in professional meetings, such behavior won't take your far.
Wristwatches, on the other hand, instantly take you a few rungs higher in the social hierarchy when you've got one on your wrist. But have you ever thought about how watches are predominantly considered to be men's domain? To complete the transition from a boy to being a man, watches seem to be indispensable.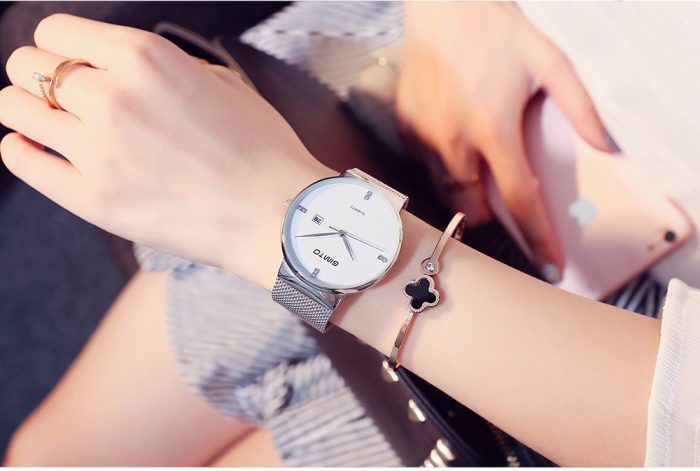 In a man's lifetime, there's a lot of conversation about this accessory. From his grandfather to men's fashion blogs to even his boss, everyone's got their two cents on the subject and it is invariably the sentence- "A real man wears a wristwatch." But what about all the ladies? Here's one fact which we think will blow everyone's mind away. The very first wristwatch in the world was made for a woman.
Chew on that for a while now. Done? Here's the full story. Although there is a bit of debate on who the first wristwatch was made for, the consensus has always been that the intended wearer was a woman. Some say it was made for Countess Koscowicz of Hungary by the luxury watchmaker Patek Philippe in 1868 while others claim the wristwatch goes further back to 1810 when made by Abraham-Louis Breguet for the Queen of Naples, Caroline Murat. The concept of wristwatches is actually much older than that as there are records of Queen Elizabeth I receiving one in the 16th century, although it is documented as being an arm chair. If there's one thing we know for sure, it's that wristwatches were exclusively intended for females and royalty at that. Decorative timepieces, marketed as bracelets, was a necessary part of the regalia of these noble women.
It was only towards the end of 19th century when men, who traditionally used pocket watches, slowly started making the shift towards wristwatches. And it all started in the battlefield. For the men in military, it made little sense to use pocket watches while being in the enemy's line of fire. Instead, wristwatches were a much more convenient option. It was the convenience element which pushed the wristwatch through the professional circles of army officers, aviators and men in the navy. After the First World War, the world had picked up on the functionality of the wristwatch and the mass market burst open for it.
Since then, there has been no stopping for wristwatches. Propriety and functionality was always a part of the package but with but the fashionable appeal was not left too far behind. After all, when wristwatches were first invented, it was to add to the ornamentation of the female royalty.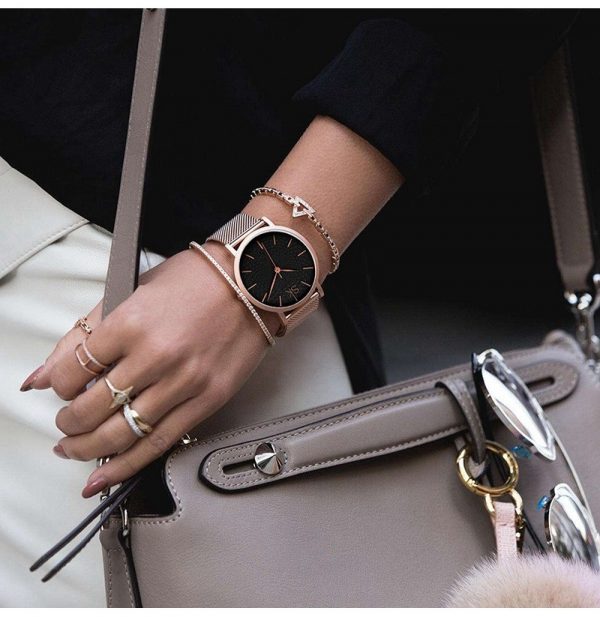 The simplicity of a simple leather band with a timepiece was popularized after the World War I and indeed, these are still just as popular with their timeless elegance. But over time, we've seen plenty of twists and variations in wristwatches, innovative designs and eye-catching styles. A great wristwatch has been elevated to being something of a status symbol too; just ask the luxury watchmakers who cater to an exclusive clientele we'd all die to be a part of. And no gender is leading the race when it comes to wristwatches. Both men and women find themselves fascinated by this accessory.
Not all of us women can afford Rolexes and Pateks. But are we going to let that stop us? There are just so many affordable options, with amazing style and quality that lasts a lifetime, that it would be a sin not to own them. If you can't seem to find these gems, let us help you with our reviews of some affordable women's wristwatches that you will want to buy right away. Be warned though- some of these can dupe even the most hawkeyed observer for being a luxury watch.
1. XOXO Analog Watch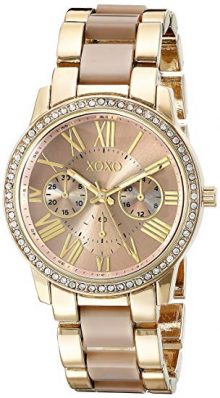 Analogous watches with a tungsten toughness but with a hint of femininity – as impossible as this combination might seem, Xoxo makes your wish their command. And just like that, with their Gold Tone watch, you can see this impossible magic come to life with your very own eyes.
Ladies, if you're looking for affordable clothing and accessories that can give luxury brands a run for their money, Xoxo is your one-stop fashion destination. This online retailer of everything which screams trendy and fashionable does your wardrobe a favor that we never thought was possible. Even when it comes to women's wristwatches, they have an enviable collection of some of the most dazzling pieces which could fetch a pretty penny in any one of those fancy stores. But over at Xoxo, the unbelievable prices make these must-haves for the young girl with an expensive taste.
When it comes to women's watches, a lot of the options you will see feature overpowering crystals, a heavy dose of femininity as if that's all the ladies want. The ladies want style, class, elegance and let's not forget quality. This wristwatch, however, needs no telling. With a dual tone color, rose gold with gold, the colors do the watch justice. The band has a three-linked with a fold over clasp which wraps easily onto the wrist.
Made from quality alloy metal, it is definitely sturdier than most of the watches designed for women. The screen is rose gold in color with undertones of taupe, encased in glass protection. The round dial is surrounded with an inlay of dazzling rhinestones; small and shiny, they look like sparkling snowflakes. With a diameter of 37 mm, reading the time on this one is no problem. Inside the glass window, the time is displayed in Roman numerals in a gold shade which contrasts very nicely against the soft rose gold background.  There are three more subdials on the watch which add to the beauty of the wristwatch. It also should be mentioned that this wristwatch isn't water resistant; so you might want to keep it away from water.
To spruce up your feminine look with an accessory which looks perfectly professional, there's no better watch for the ladies than this one. The colors, the inlay of rhinestones and even the little details such as the stylizing of the numbers of the dial come together to create a truly elegant wristwatch that will make any woman feel like a boss girl.
2. Nine West Rose Goldtoned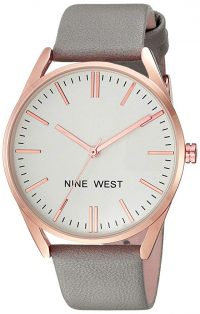 Simplicity is often underrated. But sometimes, a piece comes along, and you see exactly what you've been missing out on.  The Rose Gold Tone Grey Strap Watch by Nine West reminds everyone why there's nothing quite like an understated elegance and it's time to bring it back.
Nine West is an authority of itself in the fashion industry and if you're a style watcher, you will know that the influence of this megabrand is hard to escape. Based in Manhattan's fashion district, they've got everything you need to give your closet a trendy makeover. Bags, shoes and every kind of accessory, every single piece of the Nine West collection seems to be fresh off the runway, the trendiest accessories every woman would love to own. Even the variety is mindboggling – watches in every kind of straps, shoes in every style you could want such as stilettoes, mules or even plain flats.
If simplicity and class could be boiled down together to form one accessory, then this would be it. A straightforward, this one needs to frills to make a heavy impact; just one glance at this watch tells you that it means business. Starting with the color theme, the combination of grey and rose gold creates a magical palette that could turn Instagram turn green with envy. The clean, simple aesthetic is even more highlighted with the thick texture on the grey strap which is made from polyurethane. The clasp on this wristwatch is a buckle style, reminiscent of the utilitarian design which took the world by storm right after the World War I. The screen is covered with glass and is surrounded by a rose gold metal frame. No, there are no rhinestones on this one but when the piece oozes as much quality as this one, who even needs stones? The thickness of the glass case is about 10 mm and the diameter of the screen is about 36 mm. The dial inside is a matte white, a stylish color when it comes to watches.
As for the numbers, those are just thick straight lines in rose gold, a minimalist dream. The hands are also in the same rose gold shade with Japanese quarts movement. This one too is not water resistant, so do avoid from exposing this wonderful wristwatch to water.
The art of aesthetics has little to do with glitz and glam. In fact, to turn the notch up on aesthetics, there is nothing quite like simplicity and this piece has got it nailed. To bring a quiet elegance to your look as you run to the office, this wristwatch will definitely add a forceful gravity to your aura which will be impossible for anyone else to emulate.
3. Fanmis Luxury Floating Crystal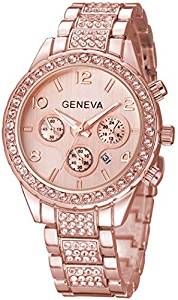 Frustrated with how everything that's luxurious always costs a fortune? Every woman needs to have a showstopper accessory in her closet but the eye popping prices often make it a difficult addition. We think that owning rhinestones and crystals, as many of them as possible, is every female's birthright. And to push that point further home, we present to you the Crystal Stainless Steel Watch by Fanmis.
If you are a collector of wristwatches, you definitely know of Fanmis and might even have a couple of their gems. A wholesaler based in China, they are quite experienced when it comes to international styles, supplying their products all over the world. At reasonable prices, their vast collection brings great style within our reach with the kind of variety which few other online retailers offer. Vintage or luxury, mechanical or digital, leather or steel straps – there's nothing you can't find here. Besides, even when it comes to gender, Fanmis does not discriminate; they have separate collections for men and women and even have a modern unisex take on many of their watches.
The watch is so glamorous that it is quite difficult to believe that it isn't a Christian Dior original, custom-made for a Hollywood starlet. But the truth is anybody with an eye for style can grab this piece and so can you. The strap is made from stainless steel; so, good luck getting a dent in it even after months of heavy use. The rest of the watch is a high-grade alloy and since it will be face down in contact with your wrist while you're wearing it, you don't have to worry about damaging that part either. The straps have a triple link style, and the middle link is completely covered in neatly rowed clear crystals within squares of metal. The display of the wristwatch is about 40 mm in diameter; it will be impossible to miss this crystal-studded work of art on your wrist.
The screen is protected with a mineral glass and surrounded in a circle of yet more dazzling little crystals. Within the glass case, this is an analog watch with Japanese quartz movements. The hours- 12, 2, 4, 8, 10- are printed inside but the rest of the hours are straight lines, creating a beautiful symmetry of numbers and geometry. There are also three subdials inside, but Fanmis informs that these are just for decorative purposes and indeed, they decorate this wristwatch very nicely.
You will also find a little digital calendar date display, a little above between the 4th and 5th hour and it works perfectly too, giving the watch additional functionality. On the side of the screen, there are three crowns. The entirety of this wristwatch is a beautiful rose gold color. If rose gold is your aesthetic, you will definitely snap this up. Only the hands of the watch have a bit of white within a frame of rose gold.
Who doesn't want to live their life in style? With this piece, you too can get a taste of what's it like to sit in the lap of luxury. Crystals so dazzling they could blind anyone and a soft rose gold hue that emanates a light of its own, at the price at which it comes in, it would be a sin not to own it.
4. SK Leather Band Luxury Watch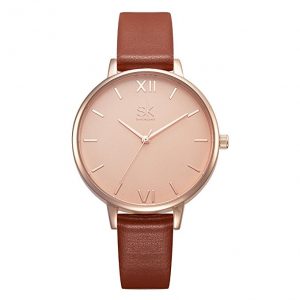 Watches look great, of course. But let's not forget their primary purpose is functionality and ladies shouldn't have to be deprived of finding a timepiece that is, above all, functional. After all, many of us lead enjoy an active life and we'd also like accessories which are compatible with our lifestyle. To find what you're looking for, check out this wristwatch by SK- one of the very few pieces which are functional and nevertheless stylish.
SK stands for Simple Life, Keep Cycling, taking the first letters of the first and third word. For men and women who lead an athletic life or just enjoy cycling, SK is your one-stop destination for everything you could need. From clothing to shoes to helmets, with so many options, SK could even make you fall in love with cycling if you aren't already. Although cycling and athleisure is their primary focus, this brand offers a wide product variety which includes home appliances, baking tools and even electronics. And as we are reviewing, let us not forget watches. If there is one common string which ties all their products together, it has to be quality and functionality.
When you are out and about on a regular day, you shouldn't have to leave out your accessories. A wristwatch is not just a style staple; it is a quintessential piece for the woman who is a go-getter. The straps of this watch are made from leather; durable yet soft, it snuggles comfortably against the skin. It has a hook buckle clasp which is easy to wear. Moreover, with a buckle clasp, you don't have to worry about it falling open if you are partaking in heavy activity. The screen is covered in Hardlex which is a kind of mineral crystal glass and is highly protective as it prevents the screen from scratching or breaking. The diameter of the screen is about 1.5 inches with a thickness of 0.32 inches.
As for the straps, those have a width of 0.5 inches with a length of 8.7 inches. Unlike the fancier wristwatches, this is very light and even if you wear it for a hours at a stretch, you will barely feel a thing. The soft leather straps certainly help its case. The numbers on the watch are minimalistic straight lines although the 12th and 6th hour are printed in roman numeric. This watch with a Japanese quartz movement has a crown on the side which you can use to set the timing. Although SK recommends you don't immerse the watch in water for prolonged periods of time, it has a waterproof depth of 3 bars which means accidental splashes of water or just a bit of handling with water won't affect the functioning of this watch.
What we love about it is color selection it is available in. There is the brown band with a rose gold dial, grey band with a sky blue dial, pink band with a white dial, brown band with a white dial, black band with a white dial and black band with a black dial. The numbers and the hands inside the case for all of these are in the soft gold tone which complements all the colors very nicely.
It is rare to find a watch which is functional and durable but is yet feminine in style. This one, however, is literally called Feminine Watch as its Portuguese name, Relogio Feminino, stands for. If you're a woman with a busy lifestyle with lots to do or just enjoy having an active life going trekking, hiking or cycling, you will want a watch like the Relogio Feminino Ladies Wrist Watch on your wrist, your perfect partner in crime.
5. ETEVON Quartz Silver Piece
The great thing about women's accessories is that there are just so many styles to play with. And wristwatches aren't exempt from our experimental streak. We've seen glamorous watches studded with crystals and we've seen simple wristwatches which mean business. But now it's time to have a look at what a work of art looks like in the form of a wristwatch. We are talking about this watch by Etevon.
Etevon is the one-stop destination for a watch enthusiast. Outdoor sports watches, big and bulky or feminine watches with leather straps, soft and retro, the rich collection of this brand could turn luxury watchmakers turn green with envy.
This piece is like an artist's dream with an abstract style that is stylish yet timelessly elegant. It even has a futuristic look to it without looking completely alien, which makes it suitable for everyday wear. Made from stainless steel, this wristwatch is going to last you a lifetime. It has a bracelet style clasp which gives it a chic feminine look. The section of the band which is interlinked with the dial is in the shape of a crystal droplet cutout, showing just a sliver of skin from underneath the watch. The window of the screen is covered in Hardlex, a kind of scratch resistant crystal glass. The hour markers are just little silver circles while the markers for the 12th, 3rd, 6th and 9th hours are represented by little crystals. The screen itself is white with silver hands of Japanese quarts movements. There is one crown on the side to adjust the timing. The entirety of the rest of the wristwatch is a silver steel tone, a very modern look for the woman of today.
The diameter of the case is 0.9 inches and the width of the band is about 0.2 inches; it is a dainty watch and just the right size for a chic wristwatch. It is water proof for regular wear although Etevon recommends that you put away this watch if you plan to go swimming or diving. If the top notch aesthetics of the wristwatch doesn't convince you, Etevon also offers extensive customer service- money back policy within 90 days, replacement or full refund if there are any problems with the quality within a year of purchase and 2 years of maintenance support, courtesy of Etevon.
This is just the kind of accessory you want on your wrist if you're planning to snap an Insta-worthy picture. A polished silver with barely flecks of crystals and classic cutouts which steal the gaze, this item is all you need to tell the world that you are light years ahead of everyone else in the style stakes. You don't even have to store it away for special occasions. With quality and durability, you can wear it anywhere you want and anytime too.
6. Women Luxury Bangle Watch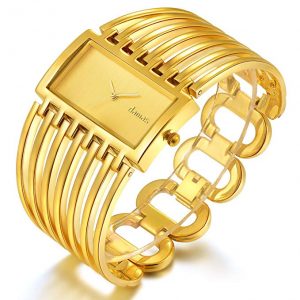 Who said wristwatches can't be eclectic? Although for years, wristwatches have been worn as basic timepieces or luxurious accessories, it's 2018 now and we don't accept anything that is less than unique. This piece by Chrysansmile exhibits the kind of creativity you would expect from luxury fashion houses for whom the sky is the limit. You would also expect an item such as this to come along with a hefty price tag. If that's what you thought, we are happy to say that you would be wrong on both counts.
Chrysansmile is based in Malaysia and is a leading brand there, specializing in women's accessories. The Southeast Asian touch in their designs, traditional motifs with a hint of western influence, is a dream for hipsters all over the world. Which certainly explains the success of Chrysansmile as they are delivering to all parts of their world through their retail partners. No matter where you are, the floral tote bags and standout bangle wristwatches, designed by this Chrysansmile will always catch your gaze.
If you are wearing it, be prepared for countless compliments to come your way. Made from stainless steel of high quality, it is designed like a large cuff bracelet or bangle bracelet which engulfs your wrists. The screen is a small, rectangular automatic display, covered with durable crystal glass, with a crown on the side. As for the straps, it is nothing like a regular wristwatch. It is inspired from bangle bracelets, with multiple parallel strands forming a cage which eventually closes together as a watch clasp. The display dial does not have any numbers on it but there are three hands. However, you don't have to worry about its functionality as a timepiece; there is a guarantee certificate for this item which claims there will be no minute or even second error for a period of 2 years.
It's is available in a number of colors- an all gold, a gold with the white screen and alternating silver and gold strap strands with a white or gold screen. Although it has a water resistance, Chrysansmile suggests the wearer should carefully wipe it clean if water spills on it.
This bracelet wristwatch is not for the fainthearted. You need to have the right kind of attitude to pull it off. With eccentricity and a touch of showmanship, save the Women's Luxury Bangle Bracelet Watch for a special occasion when you want to rock a statement piece. Pair it with a neutral look, going light handed on the makeup and other accessories and give this watch the spotlight. Rest assured, all eyes will be drawn towards you.
7. Top Plaza Crystal Accented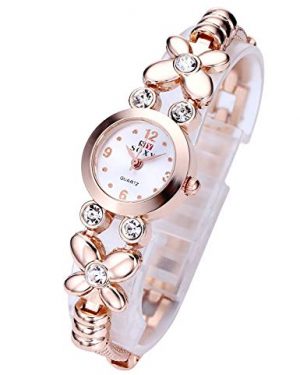 Most of the wristwatches we've reviewed are heavy pieces, designed for women who have errands to run and work to go to. But we aren't about to leave out the young girls who are only newly making their foray into womanly fashion. And to give them some back to school accessories, we present to you the Girls Crystal Accented watch. Suitable for young ages, it retains the gravitational pull of a wristwatch without taking away from the playfulness of younger girls.
Top Plaza is an online retailer with such a vast collection that it is impossible to categorize them into any type; it is indeed a plaza. But that doesn't mean this brand falls short in any product category. Since we are discussing wristwatches for women, Top Plaza does offer plenty of women's accessories which can take your breath away. They have an especially wide collection of wrist accessories- tree of life chakra healing bracelets, feminine watches or spiritual reiki birthstone bracelets. They also have plenty to offer for men such as lion head bracelets, black skull studs and so much more.
With a fresh and fun vibe, this wristwatch is a beautiful accessory for not just young girls but any female who is young at heart and wants to remain so. It is made from a high-quality alloy which is durable and will not irritate the skin. It is completely rose gold, the millennial color of choice which is taking the world by storm. The screen of the dial, however, is a white which pops nicely against the rose gold numeric, hands and the rest of the watch. The 12th, 3rd, 6th and 9th hours are printed on the screen but the remaining hours are displayed as little rose gold spherical. There is a crown on the side of the screen which can be used to adjust the timing.
Moving onto the design of the watch, it is such a delicate piece which just cools the eyes. The screen is linked to two rhinestones on each side, followed by a flower cutout with a rhinestone in the middle, a metallic stacked pattern and a thinner snakeskin textured design which finally leads to the watch clasp. With such intricate detailing, this wristwatch is sure to hold everyone's attention for a very long time.
The diameter of the screen is about 0.86 inches, small enough to complement the design of the watch. The band was a width of 0.6 inches and a length of about 7.5 inches. If it is not the right size for your wrist, Top Plaza also sends a band removal tool which you can use to resize it according to your preferred length. Also, it should be mentioned that this wristwatch is not waterproof and it is recommended to not immerse it in water.
The girl going to school can never have enough accessories. And with her standards which can put all of us to shame, you can barely find ones good enough for her. But with this item, a stylish accessory which will give her a look straight out of the latest edition of Teen Vogue, it can also be paired with her latest back to school wardrobe. Older women don't have to be left behind either. For a fun and flirty lunch date with girlfriends, wear this wristwatch with a sundress and we assure you, you will look like as you've found the coveted fountain of youth.
Luxury Women's Watches at an Unbeatable Price
Ladies, you don't need to look wistfully at the designer watches which will cost you a fortune. Nor do you need to pick up watches which just don't fit your style bill but you're only getting them because they are at a price you can afford. Now, you can find yourself the most gorgeous of wristwatches and at such prices that you can own an entire plethora of them.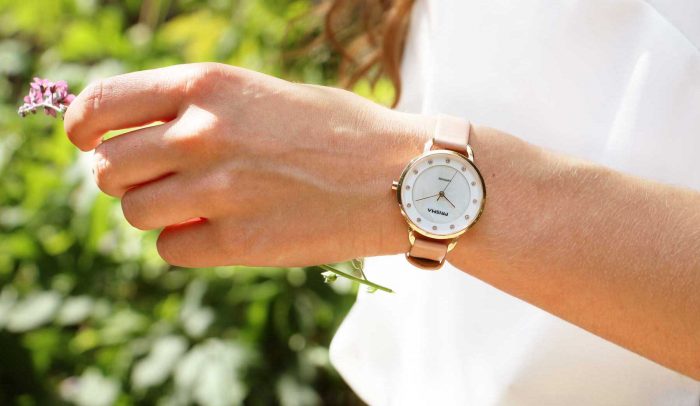 Wristwatches are timeless; fads come and go but the evergreen pull of a nice item remains irresistible across the ages. You could chase short-lived trends but to attain true grace and elegance, there is no alternative to a wristwatch, the ancient ornament for women of nobility.
We believe money can't buy class. On the other hand, a well-honed eye for style can. If you find yourself drawn to eternally timeless accessories, have a quick look at our wristwatch reviews and find yours.