Baby Bracelets For Girls And Boys!
last updated:
Apr 26, 2021
Baby bracelets are a delicate and precious way to welcome a new life into the family. They're also some of the most elegantly crafted pieces with subtle details and decorative elements.
If you're on the hunt for a cute and sparkling accessory for your bundle of joy, we've found some of the most attractive options.
Top 10 Picks
1

. Disney Mickey Mouse Bolo Bracelet
Disney is one of the top manufacturers of children's jewelry, giving you peace of mind.
Read more
The Disney Mickey Mouse bolo bracelet is a phenomenal addition to a baby's accessories as it's durable and easy to maintain.
You can also guarantee it's one of the higher quality pieces of jewelry with an affordable price.
It has a glamorous and distinctive design with the addition of Swarovski crystals for a luxurious finish. Each of the crystals glistens with the sunlight and is also prismatic when exposed to artificial light.
Each bracelet features handset Swarovski crystals, which helps to ensure they maintain their integrity over time.
You'll love the bolo-style of the bracelet, which makes it lightweight and comfortable for all-day wear.
Also, it's easily adjustable, so the accessory can grow with your child rather than having them wear it once.
Most wrist sizes can be accommodated with the easy-to-use clasp, as it can extend to eight inches in width.
2

. Maisonette Sontakey Baby Heart Bracelet
Baby bracelets don't have to be traditional; they can also be fashionable and modern. The Maisonette heart bracelet is a straightforward and casual piece for any outfit.
Read more
The most considerable benefit of this bracelet is that it has an original design with a relaxed and comfy feel. You'll love how it's made from high-quality materials, including stainless steel.
Also, there's a thick overlay of 18K gold, which helps to protect the piece's integrity over the years.
It's one of the simplest pieces of baby jewelry that you can coordinate with relatively any outfit.
With the added benefit of tarnish resistance, you can even pass the bracelet down through the generations.
Instead of having a generic adjustable clasp, you simply open and bend the bracelet as needed.
With that said, be sure not to readjust the accessory too often, as the metal could lose its integrity.
With regular adjustments, however, it can withstand plenty of wear and tear.
3

. Precious Pieces Baby Bangle Bracelet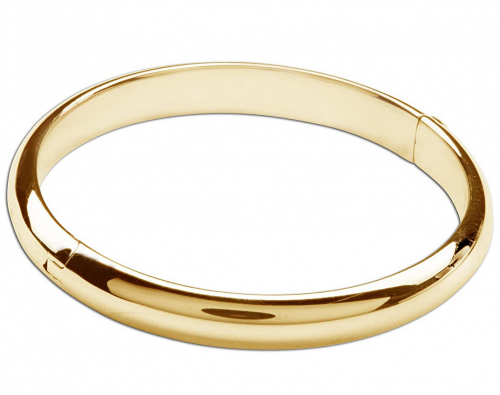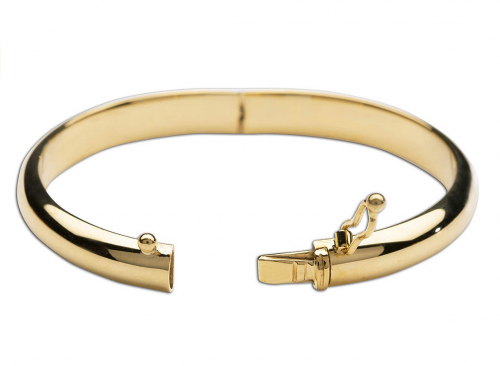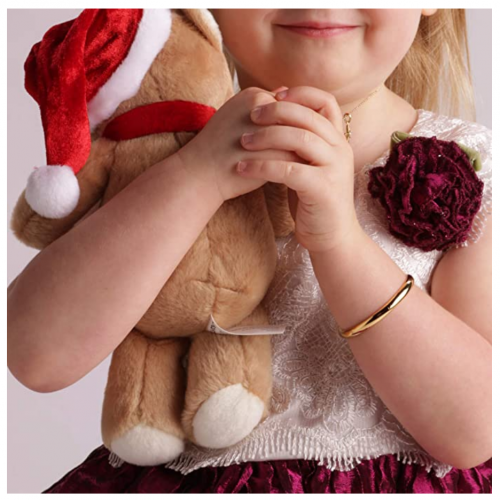 Bangle bracelets are a fan favorite when it comes to baby jewelry because they're sleek and easy to wear.
Read more
There's nothing more fashionable than a straightforward and streamlined gold bangle for adults and babies.
The corrosion-resistant material helps to elevate its appeal with the perfectly polished metal.
 
Instead of being pure gold, this functional bangle is crafted from 925 sterling silver, anti-tarnish and hypoallergenic.
To add to its elegance, it features a thick 14K gold plating. Alternatively, you can opt for the premium sterling silver version, depending on preference.
 
One of our favorite features of this polished piece is that it doesn't require any resizing. Instead, you simply slide the bracelet on and off as needed.
With that said, it's essential to measure your child's wrist before choosing the correct size.
 
For your child's safety, the baby bangle has been carefully tested to ensure the highest quality materials are used.
All of the components have been thoroughly tested for child safety and rated for kids 0 to 12 years old.
4

. Crystal Dream Christening Baby Bracelet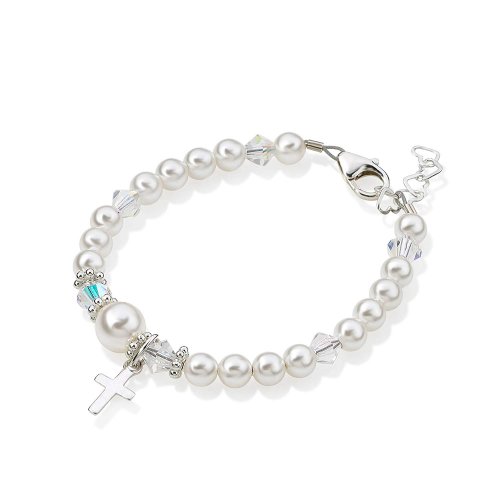 A pretty white bracelet to welcome the baby to this world would be this one from Crystal Dream.
Read more
It has a charm of the Christ, as well as crystals and simulated pearls. So the child can have blessings of the Lord and look gracefully stylish at the same time!
The simulated pearls and clear crystals are from Swarovski. There are also sterling silver spacers and an inch-long extender chain of the same material to add to its style quotient.
The chain allows it to grow along with the baby as time passes by.
It is available for all ages ranges up to 12 years. This includes even infants who have just been born.
5

. Child to Cherish Baby To Bride Bracelet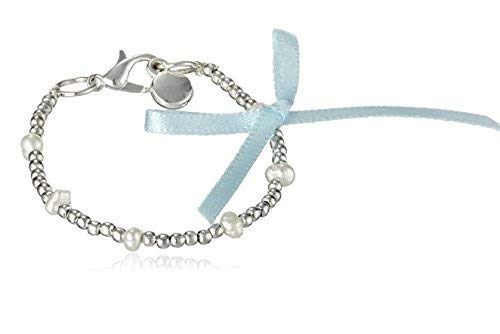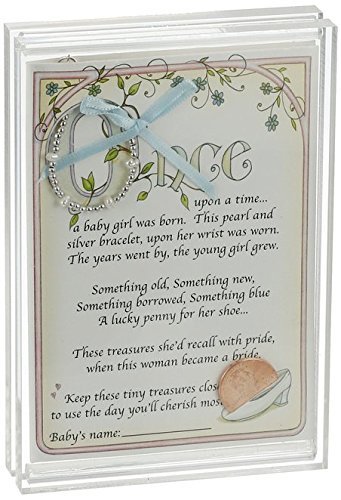 This is one spectacular gift idea for any little girl out there!
Read more
This one is a very special entrance on our list since this bracelet does not aim to stay in your little angel's life for just three or four years; instead, it wants to be with her till her wedding day!
It is surely one of the most sentimental presents a baby girl and her whole family can receive on her birthday.
That is why this bracelet from Child to Cherish comes with an acrylic frame where a beautiful poem is written describing the transition of the baby girl into a woman in a few lines.
On the back of this frame, there are detailed directions on how to use it on her big day.
The bracelet is made of sterling silver and freshwater pearls. They are put together in such a classy and elegant way that no one can take their eyes off of them for a while.
It is two inches in length and is obviously very durable. It comes packaged in a clear box and is pretty affordable.
6

. Crystal Dream Elegant Baby Girl Gift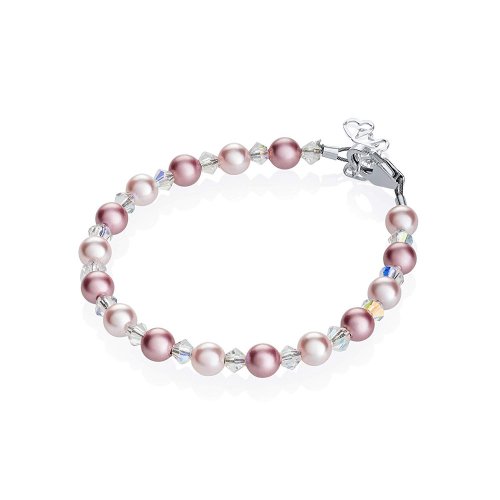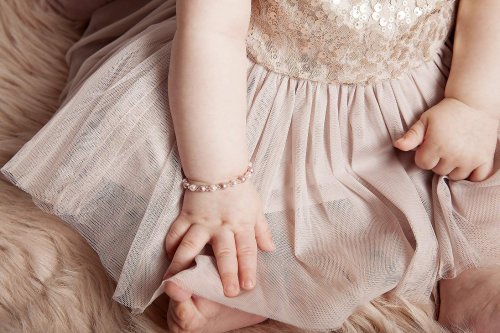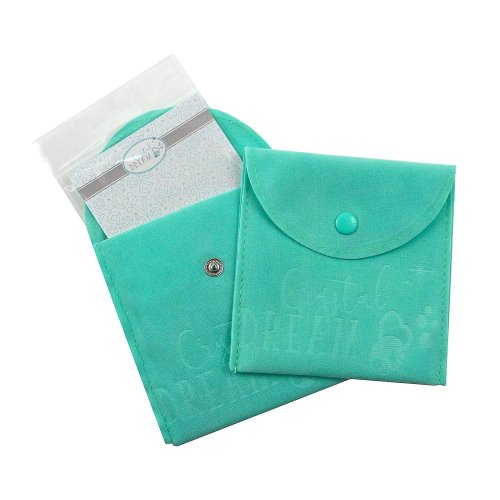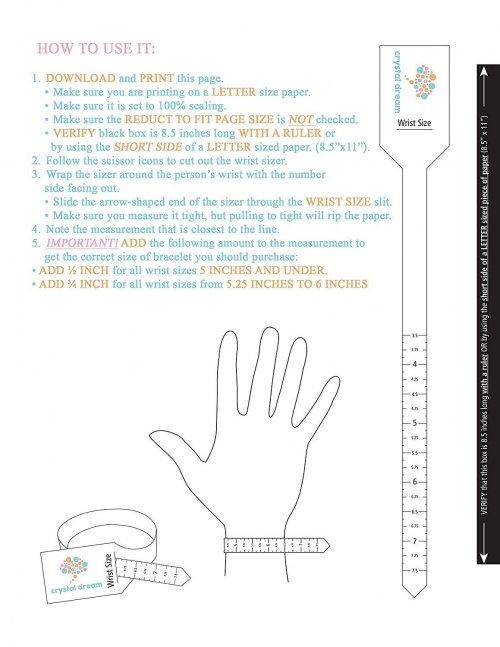 Crystal Dream brings you yet another pretty and elegant bracelet for baby girls!
Read more
This one is made of Swarovski simulated pearls in pink and rose colors, as well as Swarovski crystals.
So along with the classic elegance of pearls, the baby will also be getting some sparkles on her hand.
The bracelet comes in a variety of sizes from 3.75 inches to 6 inches, covering all age groups from newborn to 12 years!
There is also a one-inch extender growth chain so that it can adjust its length according to the baby's growing body. The lobster clasp and the base are made of sterling silver.
All these parts have been put together and handcrafted by Brooklyn Mom. This cute and dainty bracelet is pretty lightweight at only 0.8 ounces!
Moreover, it is not expensive at all and can be a good investment for anybody.
7

. Petite Boutique Name Bar Baby Bracelet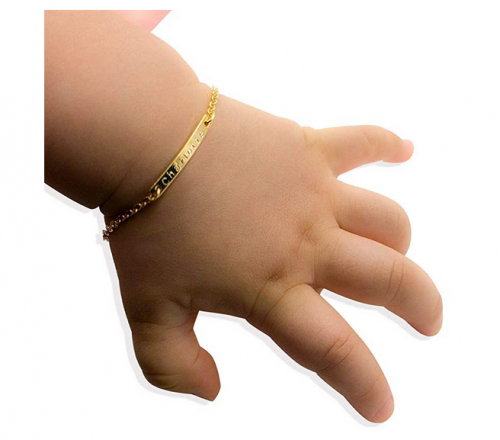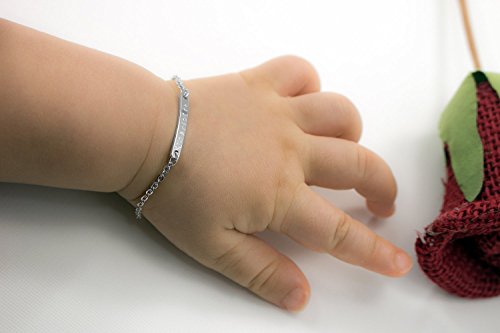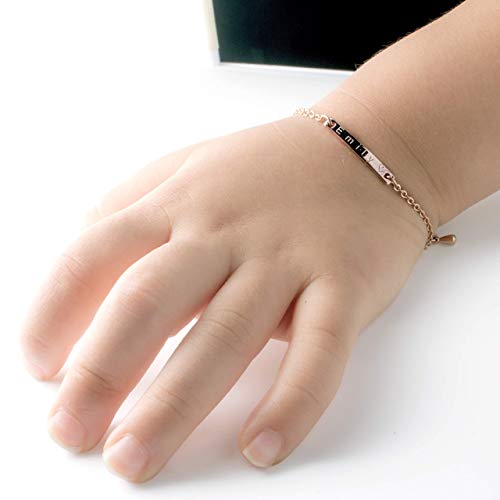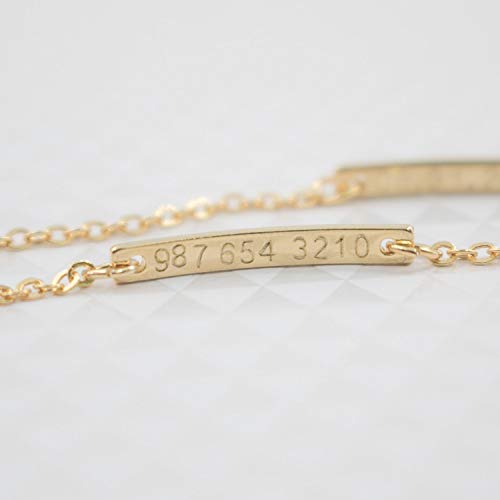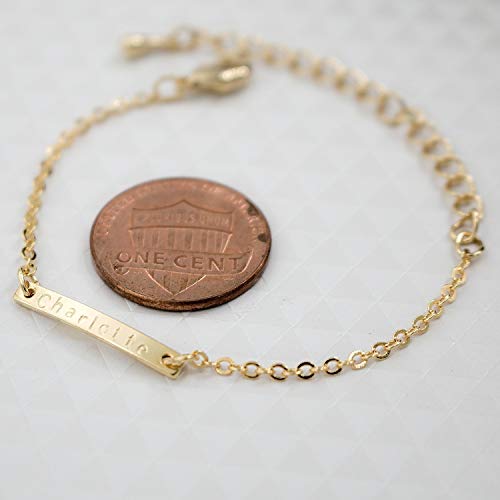 One of the simplest, cheapest, and most lightweight baby bracelets is this one made in Texas.
Read more
There are two chains on both sides of the solid plate in the middle where you can engrave the baby's name or any other word you want!
The whole bracelet is made of copper and can be plated in 16 karats gold, rose gold, or silver.
The length of the plate itself is just three-quarters of an inch, while the chain can be from 4 to 6 inches depending on how you adjust it on the baby's wrists.
Since the design is so plain and straightforward, it will look good on both girls and boys.
It suits babies who are just born up to infants aged a year. Even though a lobster claw clasp is provided, the baby needs to be under adult supervision at all times to prevent any choking hazard.
8

. Unicornj ID Bar Pink Ladybug Bracelet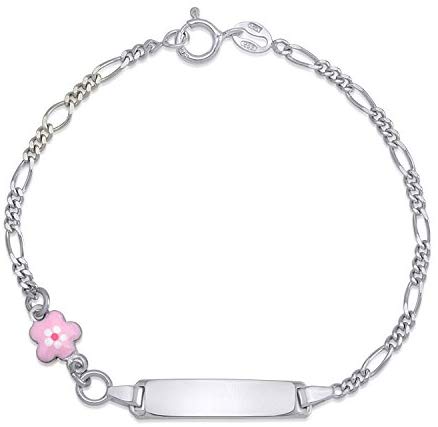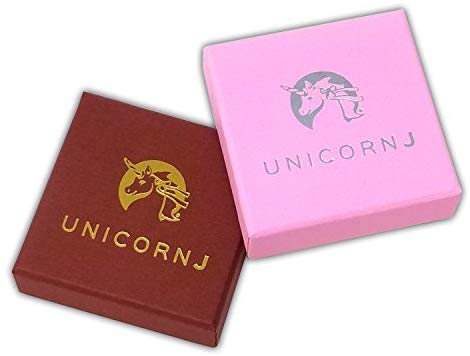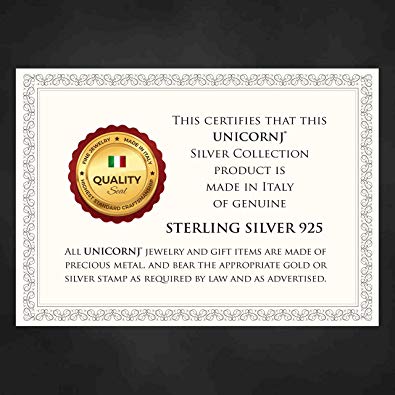 Out of all the baby bracelets, this one has a unique design. It is overlaid with silver and has a solid bar in the middle.
Read more
But on one side of this bar, there lies a pink ladybird looking at the pink flower charm just above it!
The minimalistic yet eye-catching design is sure to make the guests take more than one look at the baby's wrists.
It comes with a two-year warranty and weighs about 0.32 ounce only. It is available in two sizes of five and six inches.
This bracelet can suit baby girls up to the age of two years, and it is the cheapest one on our list!
9

. Crystal Dream Baby's 1st Birthday Gift Bracelet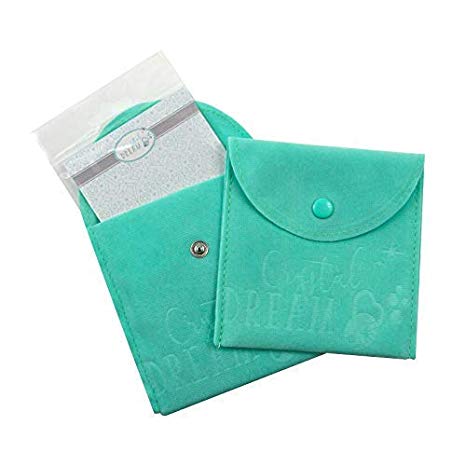 This is the second "baby to bride" bracelet on our list and is meant for the little girls who will grow into beautiful brides one day.
Read more
This adjustable growth is allowed by the provided long growth chain with a white ball in the end for some added style.
It looks very fashionable with clear crystals along with white and pale pink pearls from Swarovski.
These are separated in groups by blockheads and spacers made of high quality 925 sterling silver.
The clasp and heart charms are also made of the same material. For all these top-notch components included, it costs pretty expensive.
In terms of packaging, they come with two options for you – one is pink themed and the other is silver.
The silver option includes a heart-shaped box whose top is exquisitely designed with details and white stones.
10

. Maisonette Pink Flower Evil Eye Bracelet
Instead of a metal bracelet, this comfortable corded bracelet is fantastic for everyday wear. It's also incredibly adjustable, which helps the piece grow with your baby as they get older.
Read more
The immaculate styling of this bracelet is what makes it so long-lasting, especially with its simple adjustability.
All you have to do is put the bracelet on and tighten the paracord to find the perfect fit. At the end of the day, simply loosen the paracord to remove it.
There are a couple of delicate embellishments on this bracelet that set it apart from the rest.
First, you'll notice two small bulbs at the bracelet's ends that help to prevent the material from fraying.
You'll also fall in love with the evil eye pendant shaped like a cute flower acting as the piece's focal point.
Evil eye pendants are also one of the more trendy accents you'll find on jewelry today, helping to pull the piece together.
There's a whimsical and lovely air to this bracelet, making it the perfect partner for any occasion.
The vibrant pink cord adds a fabulously feminine touch to the piece, taking away from its otherwise sporty feel. There are also faux-gold accents surrounding the bracelet, which elevates its class.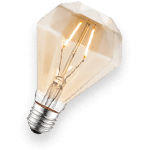 How to Take care of baby bracelets?
Here are some very easy tips to follow to give you a general overview of how to wear these precious baby bracelets and take care of them:
✓ Keep the bracelet away from hair spray, body lotion, deodorant, and any other product of this sort.
✓ Store it in a cool area if the bracelet is not meant for daily use. In such a case, also keep it away from extreme heat, sunlight, and sweat.
✓ You can wrap it in a tissue or some other soft fabric to stop it from getting scratches.
How to Take care of baby bracelets?
✓Unless the bracelet is of the teething kind, always keep the baby under adult supervision when he or she is wearing it.
Otherwise, the child's teeth and gum can get hurt, or the ornament can get damaged.
✓ If it is made of any plated material, never gift it to a baby with sensitive skin. Because doing so can cause allergic reactions immediately or over time.
✓ Clean it regularly with a cotton ball or soft cloth to get rid of the daily dust, preferably after each use. Apply the ball or cloth on each bead, and if it is waterproof, cleanse it with spring water.
✓ In case the bracelet is already stained or tarnished, use a jewelry cleaner or toothpaste on it to bring back the shine.
Frequently Asked Questions
q:

Can babies wear bracelets?

a:

Babies can wear bracelets as long as parents find a baby-safe piece to purchase. Ideally, you'll want an accessory that doesn't have any small pieces, or that can be taken off by accident.

It should sit securely on your baby's wrist without being too tight or too loose.
q:

What age can a baby wear a bangle?

a:

Deciding when babies can wear bangles is all dependent on the parents and their preferences. The most important rule is to ensure your child isn't left unattended, regardless of how secure the piece is.

Some parents wait until their babies are 18 months, while others accessorize significantly earlier.
q:

Can babies wear sterling silver?

a:

Sterling silver is known to be a hypoallergenic material, so it's likely your baby can wear it. For example, when it comes to bracelets and necklaces, pay close attention to when the metal touches their skin.

If there appears to be any redness, itchiness, or general discomfort, it's better to side with solid gold.
Finally...
We hope you and the baby both giggle as soon as he or she sees the bracelet!
It is a great way to start a new and pure bond with a kid, as well as to welcome the little angel to this planet.
With all our good wishes and blessings, these little humans will surely make the world a better place once they grow up!