The Cutest Dog Jewelry For Dog Lovers
last updated:
Dec 18, 2019
If you have a dog, we're sure your undying love for the furry ball in your life has no limit and this includes splurging on dog-themed jewelry.
Dog jewelry does not only symbolize adoration for the 4-legged besties, but it can also be a unique type of animal-themed jewelry to accessorize with on any given day.
This type of jewelry is also a great gift idea for all the dog owners out there and we bet they'd love wearing a dog-shaped ring or a paw print necklace (both to be found on our list!) they got from you.
So, no matter the reason you're browsing for dog jewelry, this list of 10 picks selected by our animal-crazed team members is a must-read!
Our Top 10 Picks for Dog Themed Jewlery!
1

. Amazon Collection Sterling Silver "Dog Mom" Necklace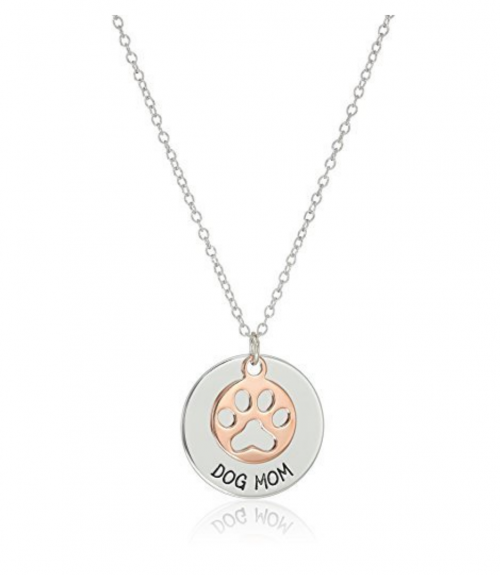 925 sterling silver
18k rose gold
We love this dog-paw disc necklace both because it's simple as well as super cute at the same time!
Read more
The necklace is made out of 925 sterling silver so you know you're getting a skin-safe, hypoallergenic metal which won't tarnish or turn your skin green.
The 925 sterling silver is rhodium-plated, meaning it was given an additional layer which enhances its shine as well as protection against scratches and discoloration.
The disc-shaped pendant includes a paw-shaped print in 18k rose gold and we love the contrast between the sterling silver background of the disc and the rose gold of the paw print!
The disc pendant also features a 'Dog Mom' inscription just below the paw, so if you're a dog mom or you're looking for an affordable gift for someone who is, this is it!
Keep in mind that the cable chain the pendant comes with is very thin and dainty, so it requires careful handling and storing to avoid knots.
The seller is Amazon Collection and you know you are getting a good deal since their jewelry is super affordable yet quite sturdy as well as pretty looking!
2

. MignonandMignon Dog Portrait Personalized Dog Necklace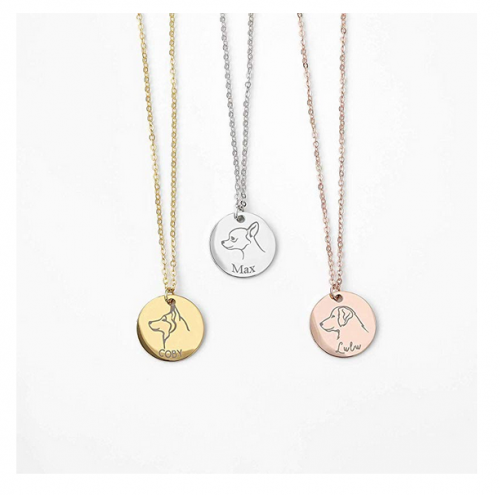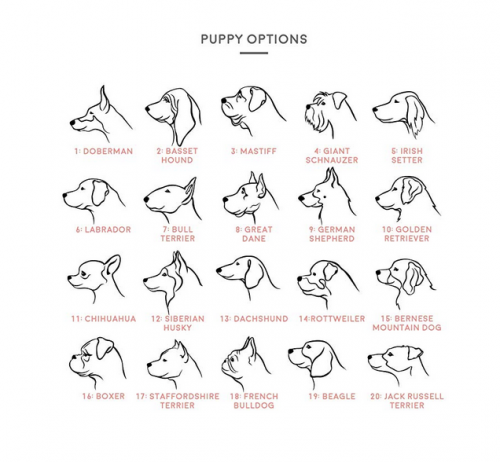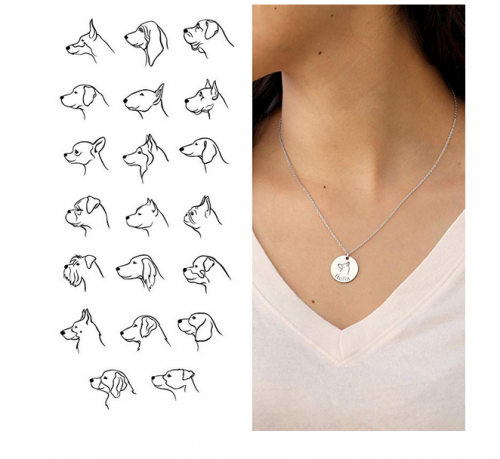 You get to choose the dog breed print & name
20 dog breeds and 8 fonts available
18k gold or silver-plated
Want to have a specific dog breed featured on your piece of jewelry? MignonandMignon offers just that!
Read more
The cute and dainty coin necklace can be personalized with both your dog breed as well as your dog's name.
Honestly, the portrait print is done so well it looks like a hundred dollar necklace (it's way way more affordable than that).
The brand lets you choose among 20 dog breeds and 8 font styles for the name print.
You also get to choose your favorite metal color and the options are gold, silver and rose gold.
The necklace is made of a 16k gold or silver-plated base. You get a cable chain type with a lobster claw for a secure hold.
The pendant is 0.71" in size so a lit bit larger than your usual coin pendant necklace.
This option is a lovely gift choice for anyone who just got a new puppy dog!
3

. Black Bow Jewelry & Co. 14k Yellow Gold Pendant
14k yellow gold plating
Perfect charm size
Comes with free gift box
1 year warranty
Looking for something flashier? How about this name-style necklace but instead of a personalized name you get a dog love declaration in a jewelry format!
Read more
The 'I ❤️ my dog' tag comes in 14k yellow gold. The finish is texturized rather than just smooth gold.
It may look like an oversized pendant but it's actually quite small and perfect for adding to a yellow gold necklace along with other charms. The actual pendant size is 5/8 Inch x 1/2 inch.
Keep in mind the pendant does not come with a chain but it will arrive in a beautiful signature box with a black bow.
The price tag is slightly higher compared to our first 2 picks; however, considering the yellow gold plating and cool design, we'd still splurge on it!
4

. Alex and Ani Womens Paw Print Bangle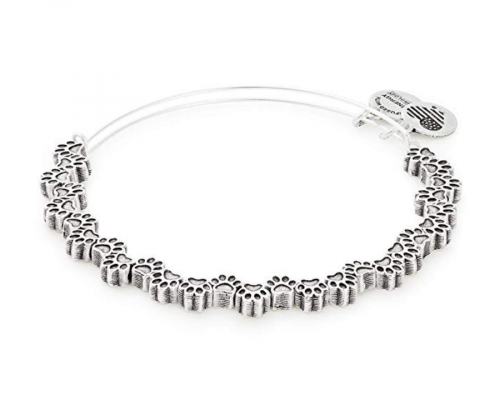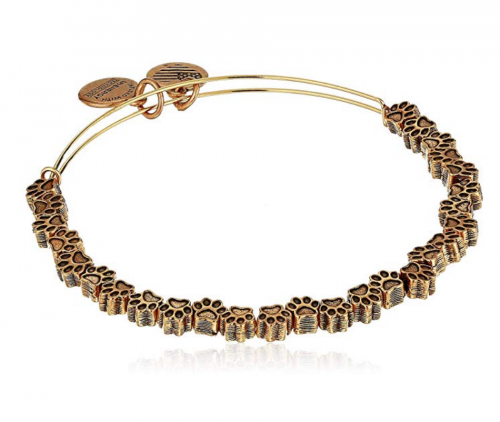 Gold or silver color choice
Adjustable closure
Free Alex and Ani signature box
Who's not a fan of Alex and Ani or doesn't own at least one of the awesome Alex and Ani bracelets? We know we do!
Read more
Alex and Ani have done a great job of using their signature design and incorporating small paw-shaped beads on this particular bangle.
The braceley is made of brass and you can choose it either in silver or gold. It's a little bit different than your usual bracelet since it does not come with a clasp.
Instead, you get a sliding type of closure which is great since it makes the size of the bangle completely adjustable for the perfect fit.
It will arrive in a gorgeous Alex and Ani signature box with a bow and the price you'll pay for this option is less than a dinner for two!
5

. Turquoise Network Dog Paw Earrings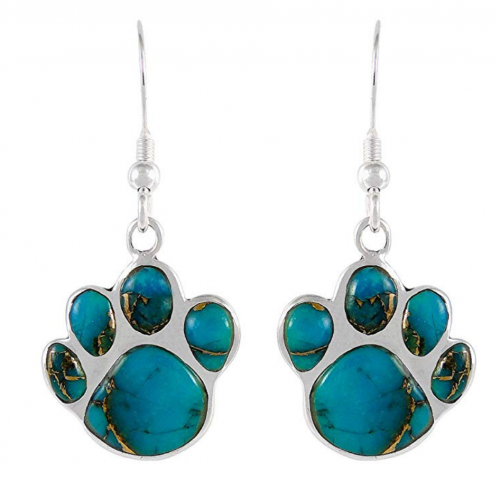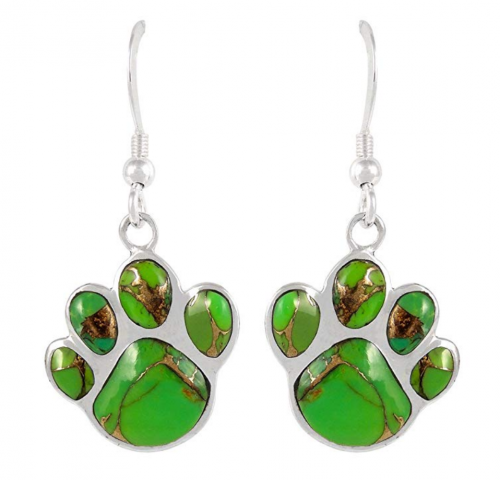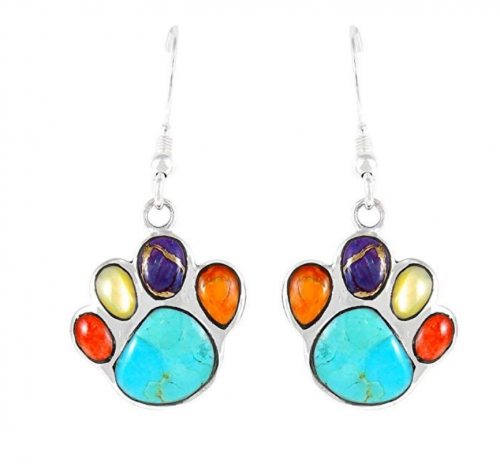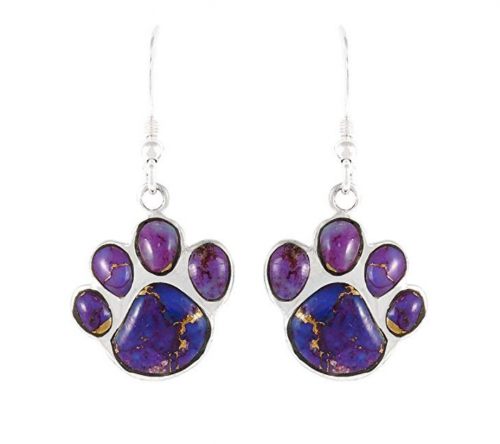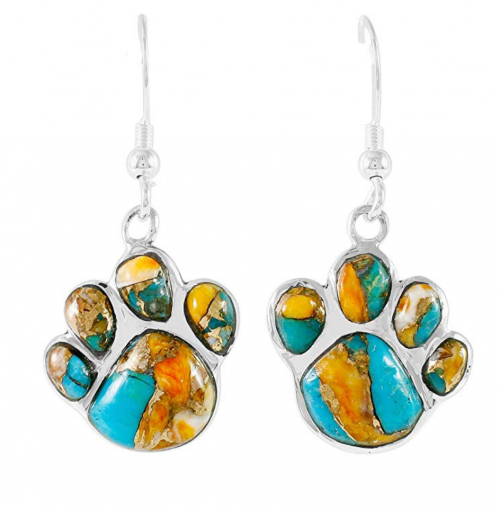 925 sterling silver
Natural turquoise
5 color choices
This is what we call a gorgeous pair of earrings. Beautiful turquoise stones shaped into a paw and sterling silver!
Read more
The earrings are our favorite pick on this list. There's just nothing not to love about turquoise earrings, especially when they come in the shape of a doggy paw!
What you get here os 925 solid sterling silver and genuine turquoise stones.
The best part is that you also get to choose among 5 turquoise stone colors, including purple, light blue, and multicolor stones.
The earrings are small, meaning they won't weigh down on your earlobes (2/3" tall).
If you're still in doubt, just check the reviews and ratings for this option (5/5!!!); it can't get any better than that!
6

. Rosa Vila Dainty Dog Earrings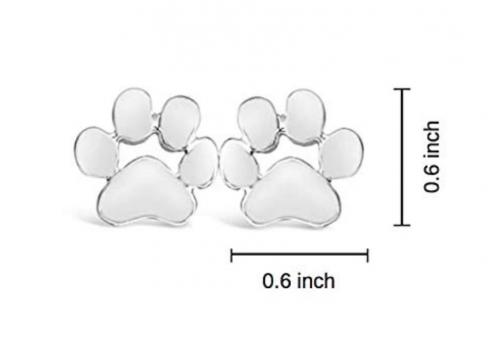 Super affordable
3 color choices
This is the cheapest entry on our list and quite an irrestible pair of paw stud earrings!
Read more
Made of alloy metal with a secure post back, the studs are small and extremely light.
They measure 0.6 by 0.6 inches; this is the perfect size if you have more than one ear piercing as you will be able to wear them along with other studs.
You get to choose among 3 colors: gold, rose gold and silver (silver being our favorite option!).
As mentioned, the price is ridiculously affordable so even if you're on a super tight budget, you'll be able to afford these.
These are an alloy, so we do not recommend them in case you suffer from any metal allorgies.
7

. Victoria Townsend CZ Dog Paw Adjustable Bracelet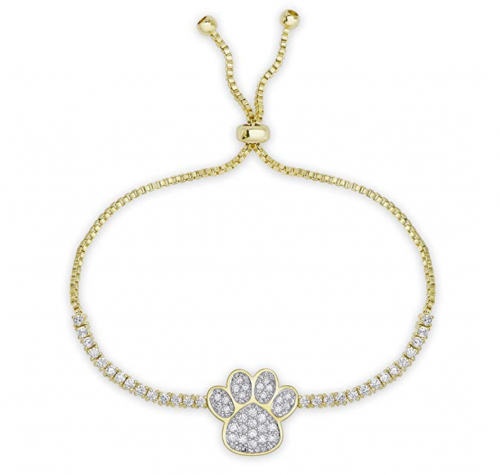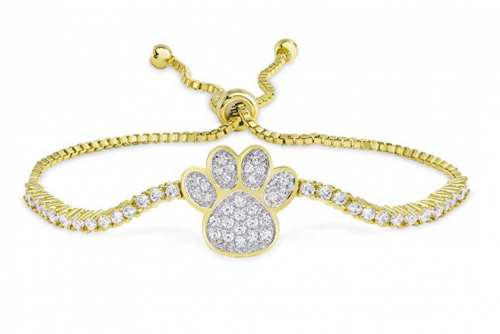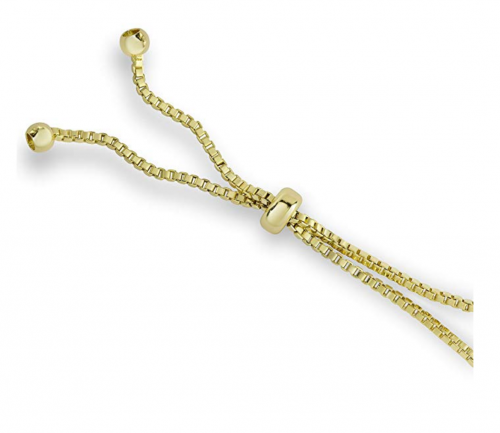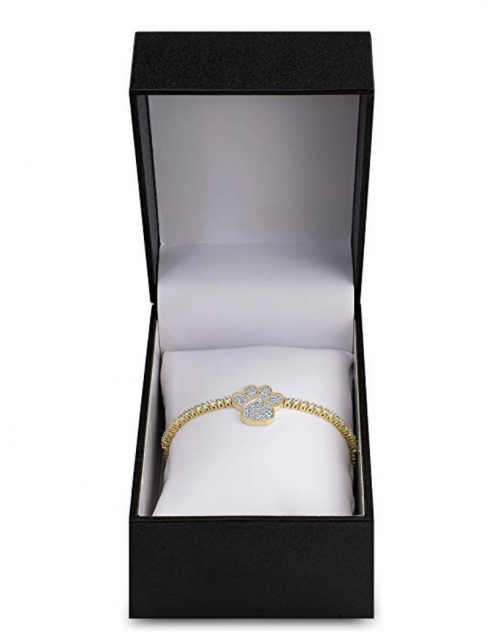 When it comes to a little bit of bling bling and dazzle, this bracelet is exactly that! It has a sweet paw print, lots of sparkles and dazzling stones.
Read more
The base of the bracelet is platinum-plated brass, so you get a sturdy metal plated with platinum, meaning the jewelry is super polished and shiny, as well as nickel and lead-free (hypoallergenic!).
The bracelet is covered in cubic zirconia stones and we're talking about loads of tiny, dazzling diamond-like stones!
There are 58 cubic zirconias in total, ranging from a 1 mm to a 2 mm size.
The bracelet is adjustable in size since the closure is a sliding bead type so it fits any wrist.
In case you're thinking of getting this pick as a gift, you'll be pleased to know it comes in a pretty gift box and with a 90 Day money-back guarantee.
8

. Jeulia 'I Love My Dog' Dog Jewelry Charm
925 sterling silver
Can be added to bracelet or necklace
1 year warranty
This gorgeous silver hearts charm works both with bracelets and necklaces so it's the perfect addition to anyone's jewelry box!
Read more
The Jeulia charm consists of two, 925 sterling silver hearts hanging from a single ring.
On one of the hearts, there is crystal clear, sparkling stone set into it. The stone is a Jeulia® stone.
Jeulia produces lab-created gemstones that are super shiny, durable and scratch-resistant. This means that the gemstones you get with their jewelry are conflict-free, high-graded and cut in a way to enhance sparkling when hit by light!
The total weight of the charm is 2.26 g while the little diamond-like stone is 0.02 ct.
The charm is quite small and will not weight down regardless of how you decide to wear it (on a bracelet or on a necklace).
Jeulia gives you a 30-day money-back guarantee as well as a 1-year warranty on this piece.
9

. AILIN Jewelry Personalized Dog Bone Name Ring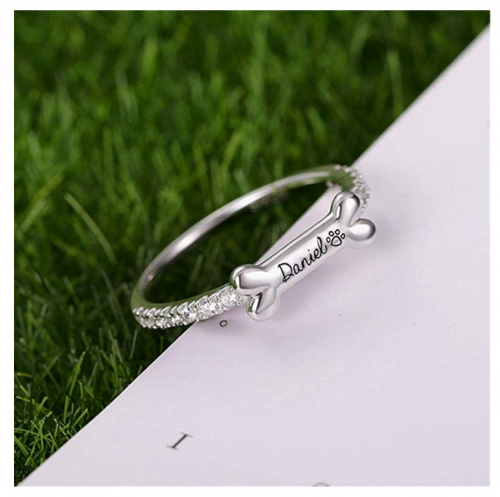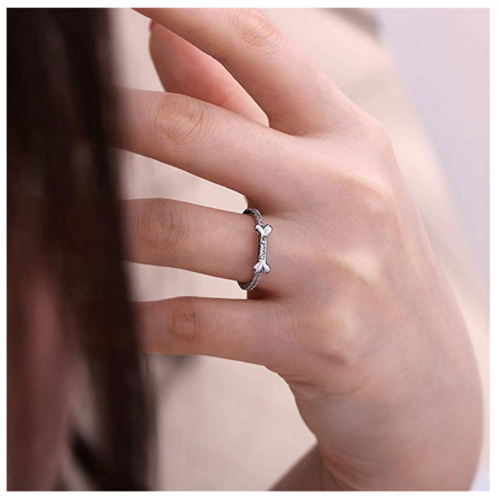 925 sterling silver
Engravable with name and dog paw print
15 sizes and 2 metal colors available
This is the first ring on our dog jewelry list and honestly, it's so sweet we'd wear it anyday, even if we weren't dog people. Since we do love our pups and most of us own one, more than 1 person at the office added this ring to their cart!
Read more
This is a name ring that can be personalized.
You can choose to engrave it with a name and a dog paw print or just a name (9 characters max). The engraving will be placed on the bone-shaped plate attached to the ring in a prong setting.
The ring comes in 925 sterling silver and the band is partially encrusted with tiny, colorless sparkling stones.
You get to choose between two colors, silver and yellow gold, as well as 15 ring sizes (including half sizes)!
The name ring will arrive in a well designed white gift box with a light blue ribbon so this option is a great choice if you're looking for a special gift for a dog owner.
The brand gives a 99-day money back guarantee and a 1-year warranty on all of their products.
10

. EUDORA Paw Print Necklace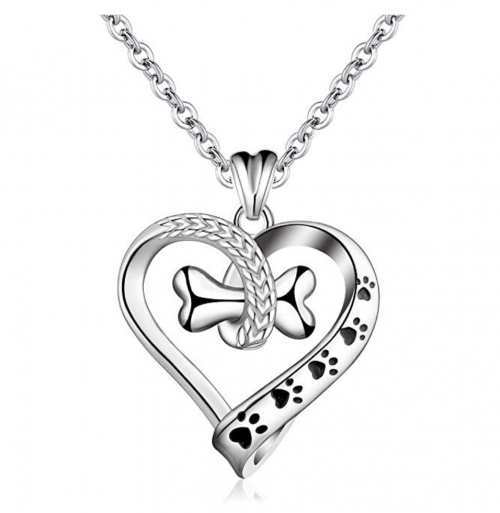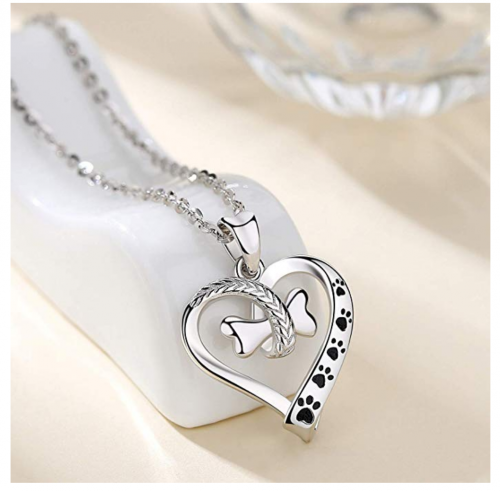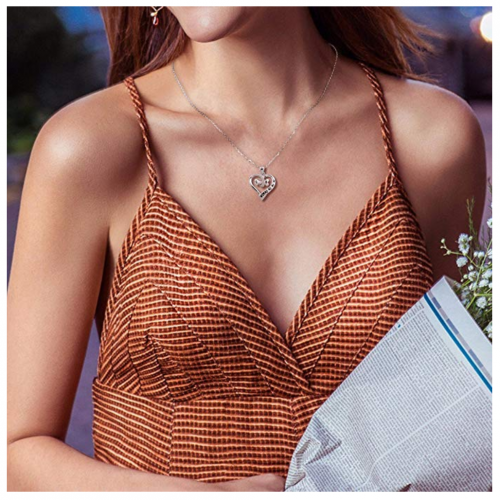 Our final pick is a silver heart necklace adorned with dog paw prints and a bone-shaped charm.
Read more
The necklace is made of 925 sterling silver and designed by Italian jewelry makers. The heart pendant is 0.79*1.01 in and hangs from an 18 inches link chain.
The chain length is mid-size so this is the perfect necklace that you can use for layering as it will sit below your collar bone.
Being sterling silver, both the pendant and the chain are super-polished and smooth; the dog paw prints come in a laser-engraved, black-ink design (this means it won't fade any time soon!).
This is a dainty, everyday necklace that anyone can afford and bear in mind you'll get it in a velvet pouch with a gift box and a polishing cloth.
If you don't like it once it arrives, you can return it and get a full refund.
Evaluation criteria
Jewelry Metal & Gemstone Quality
When selecting jewelry items to include in our list, we pay attention to the metal quality the item is made of.
For this reason, most of the jewelry items we selected are made from either 925 sterling silver. Sterling silver is known for its hypoallergenic and durable nature.
It's also a scratch-resistant metal that appears super smooth and shiny. If taken care of properly, sterling silver jewelry will last you a long time.
Price
Price is an important factor for us and we make sure to select items you will be able to afford.
All of the items on our list are steal products; while the prices are super affordable, you still get jewelry made of quality sterling silver, money-back guarantees, and warranties.
Wear Comfort
This is a criterion that often gets overlooked. Is the jewelry on our list comfortable to wear on an every day basis?
All our jewelry picks are easy to put on and off and won't weigh down on your earlobes, around your neck or around your wrist or finger.
All the dog jewelry we selected is perfect for everyday wear, although we do recommend to take off your jewelry during showers or workouts.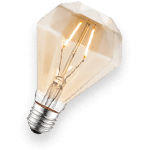 How to wear your dog jewelry
Dog jewelry is a sweet way to show off your love for the 4-legged fur balls. Dog-inspired and dog paw print necklaces, bracelets, earrings, and rings are not only loved by dog owners; anyone can wear this type of jewelry if they like a particular design.
If you like wearing charm jewelry, Jeulia's 'I Love My Dog' charm is perfect for layering or adding it to a necklace or a bracelet with other charms.
Amazon Collection's "Dog Mom" necklace will also look well layered with other types of necklaces such as chokers or 18'' necklaces.
How to wear your dog jewelry
If you love name or initial necklaces, why not add a necklace engraved with your dog's name to your collection of personalized jewelry.
Option 2 and option 9 on our list allows you to personalize the jewelry pieces with your puppy's name!
When it comes to option 2 in particular, MignonandMignon's personalized necklace, we love it since you can choose your dog's breed as well and the brand will laser-cut the portrait of your dog's breed onto the necklace's pendant!!
How to wear your dog jewelry
Our dog-inspired bracelets and ring (option 4, 7, 9) will all work stacked with other pieces.
The Alex and Ani bracelet can be stacked with other bracelets by the same brand as most of their bracelets were conceptualized as stacking pieces.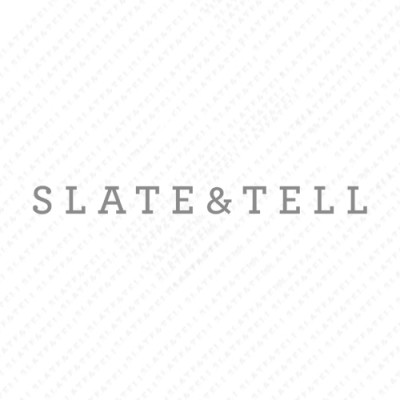 The dog bone ring will also work stacked together with other rings since it's quite dainty and it's width allows for more pieces to be added either on its top or bottom.
FAQs
q:

Who is dog jewelry for?

a:

Dog jewelry is the perfect type of jewelry for anyone who's a dog lover and a dog owner.

However, we think you don't have to have a dog just to wear cute dog paw print jewelry or dog-inspired pieces!
q:

Is the jewelry on your list made by renowned brands?

a:

The dog jewelry picks on our list are mostly made by indie brands; however, we also feature pieces by some renowned brands.

Regardless of the brand, we can promise you all options are made from quality, hypoallergenic and durable metals.

You'll also notice that most options come with money-back guarantees and 1-yeear warranties.
Finally...
Our dog jewelry picks made our day and we're sure that any dog lover and dog owner will agree with us when we say there's nothing sweeter than wearing dog-inspired jewelry.
We made sure to include a variety of jewelry pieces, including dog print necklaces, bracelets, dog-shaped earrings and a paw print ring.
When browsing our list, you'll find options made of fine metals and natural gemstones as well as super affordable picks.
No matter what option you like the most, we can assure you all jewelry pieces are safe for your skin, pretty and designed by a trusted brand!