Gemstones / Mix / Women
Turquoise Earrings For a Pop of Color!
Turquoise is a fantastic stone to wear in your jewelry particularly when it comes to earrings! The color turquoise is fun, vibrant and adds a breath of fresh air to any jewelry setting. Turquoise earrings are a wonderful piece of jewelry to wear all year round but particularly in the summertime!
The color turquoise is extremely versatile because it can be worn with a variety of other colors. What's great about the turquoise stone is that it comes in a variety of jewelry pieces ensuring that there's something suitable for everyone!
As well as having many fashion benefits, the turquoise stone is also believed to carry many beneficial properties. It's believed that the stone is meant to help with well-being and emotional healing.
It can also open the heart, clear thoughts and enhance spirituality within the wearer of the piece. The color turquoise also looks stunning when worn with silver, gold and rose gold.
Perhaps one of our favorite features of a turquoise gemstone is the deep hue which can range from a rich green to a deep blue color. You'll notice that within many turquoise stones there will often be hints of other colors such as orange and brown which add another depth to the gemstone.
This also means that you'll never find two of the same turquoise gemstones. It is well known for being a bright color which is sure to look great in a piece of jewelry.
Our 10 Favorite Turquoise Earrings!
1. Turquoise Network Sterling Silver 925 Earrings with Gemstones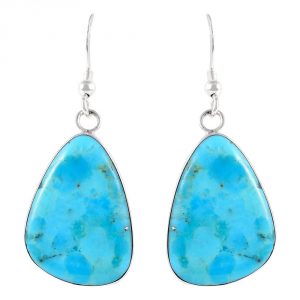 To begin our list of the top ten turquoise earrings we chose this gorgeous pair of sterling silver earrings because we like them so much!
The shape of these earrings is a combination of a pear and triangle shape. The jeweler has used a natural stone but they have then been treated and color enhanced to give them their vibrant color!
They've been cut to a decent size, approximately 0.10 inches high by 0.50 inches wide and 1 inch long. The base of the earrings has been lovingly crafted using solid sterling silver.
What's great about these earrings are that they have a brilliant shine. The sparkle will complement the turquoise and catch the attention of everyone when wearing your beautiful earrings.
What we love about these earrings is that they're extremely elegant and fun to wear. They also look beautiful reflected against the light! It's important to point out that different turquoise earrings upon purchase may vary in color.
The jeweler has included a disclosure saying that the gemstone may vary in shade, color, and matrix. They also say that imperfections with the gemstone are normal.
These are being sold by Turquoise Network for a low price which is fantastic because they're a great bargain. If you take a look at their website you'll love their jewelry collection which consists of turquoise jewelry. There are lots of pieces you'll be spoilt for choice!
2. Turquoise Network Earrings in Sterling Silver & Genuine Turquoise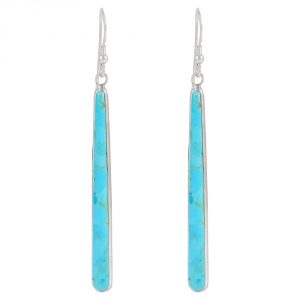 Another of our favorite pieces sold by Turquoise Network is a pair of stylish earrings.
These long thin earrings are a stunning piece of jewelry that will be sure to brighten up your wardrobe. When you first see these earrings your eyes will be drawn to the tall thin shards of turquoise which dangle beautifully.
Perhaps our favorite feature is the thin strip of sterling silver which surrounds the stone. The silver offers a lovely shine and is a fantastic border to the deep turquoise gemstone.
One way that the jeweler has achieved in enhancing the gorgeous shade of the turquoise is by treating and color enhancing the stone. The method of heat treatment really does make these earrings standing out and grab your attention!
When it comes to the structure of these earrings there is a lot of hard work and craftsmanship that has gone into making these.
The base has been delicately crafted using solid sterling silver and genuine stone. To give you an idea of the size of these earrings they are approximately 2.5 inches long by 0.2 inches wide and 2.5 inches long, making them a lovely size.
These long earrings will work in enhancing your neck and draw a line. They also look fantastic if you normally wear your hair up in a ponytail and fashion a shorter bob hairstyle. Another great thing about these earrings is that they're extremely comfortable to wear.
The earrings can be easily hooked onto your earlobe securely. This is definitely a quality piece of jewelry that you'll want to wear every day of the week!
The gorgeous pair is being sold by Turquoise Network who love their jewelry! This particular pair of earrings is being sold for a medium price, making them a great bargain.
If you take a look at this jeweler's website they offer a range of pieces including earrings, necklaces, bracelets, and rings. All of the pieces are turquoise as well! Take a look for yourself.
3. Mints Stud Earrings with Round Cut Brushed Finish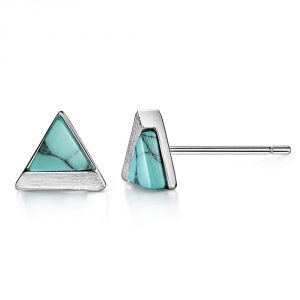 If you fancy something a bit more interesting then take a look at this triangular pair of stud earrings!
The color is very different from the other earrings we have reviewed. These are a cool blue turquoise color which incorporates an interesting pattern along with the stone.
This gem has been created synthetically and has had a reconstituted treatment. This stone has also been treated to enhance its beautiful surface giving it a wonderful shine.
When it comes to the structure, the designer has chosen to incorporate sterling silver into the stud earring along the bottom of the triangle gemstone. This solid sterling silver has been given a lovely brushed finish that gives the piece a stylish finish.
It's important to point out that the silver is rhodium plated making it extremely strong and durable.
It will also last much longer than normal. To give you an idea of the size of the earrings they are approximately 8mm wide by 7mm high; they weigh approximately 1.2g. When it comes to the fixing the earring has been designed with a post and nut making it very secure to wear.
These are being sold by Mints for a low price. The jeweler, Mints design and make beautiful fine jewelry.
They founded in 2015 in the US and since then have been developing fashion and fine jewelry products. They specialize in making items with gemstones and sterling silver. These earrings are extremely pretty and simple and they'd make a lovely piece of jewelry to wear with a casual and formal outfit.
These gorgeous earrings are wrapped in a beautiful deluxe gift box, making them a great gift to give to your girlfriend, wife, mum, sister or daughter. If you're born in December this is the birthstone for the month so would make a lovely birthday present.
4. Turquoise Network Dog Paw Earrings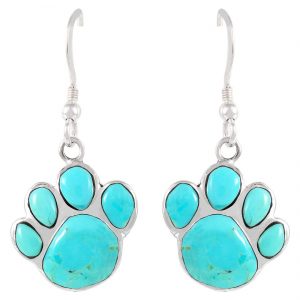 If you adore your dog as much as your jewelry then why not treat yourself to these dog paw style earrings. This means you can have a token inspired by your furry friend close to you all the time.
This stone has been cleverly crafted into a dog paw shape giving them a unique shape. The natural gem has been heat treated to enhance the color and makes it shine beautifully.
It's important to point out that these turquoise earrings can vary in color so you may not receive the same colored stone as captured in this photo.
This gemstone has been set on a solid sterling silver metal base. What's great about incorporating silver into the design of this piece is that it creates the foundation of the paw. When featured alongside the stone, it stands out beautifully!
The silver is also extremely smooth and shiny so looks very attractive. The dangle earrings are approximately 0.6 inches wide by 0.65 inches long.
As mentioned these are dangle earrings with a loop ear fixing that is extremely comfortable to wear and easy to put on and take off.
These stylish earrings are being sold by Turquoise Network for a low price. This jeweler has created a fantastic collection of turquoise jewelry including rings, necklaces, bracelets and earrings, all unique and extremely individual.
We love their collection and think you will too! Take a look at their collection and see their inspiring pieces!
5. Wonderent Bohemian Dangle Metal Earrings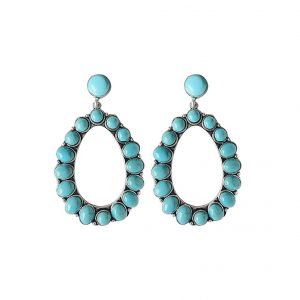 If you're looking for the perfect balance between elegant stud earrings and eye-catching dangle earrings we've found just what you're after! These bohemian dangle earrings show off the turquoise gemstone in all its glory.
The top features a small stud design to which the dangle earring is attached. The lower part is attached to the smaller stud earring by a simple hoop and these earrings dangle effortlessly. This means that you'll get a lot of dangle for your dollar and they're a great way to show off these beautiful gemstones.
If you look closely you'll see that the dangle design features a mixture of oval and circular gems which gives them a very pretty oval shape. The silver detail that sits around each of the gems offers a very simple yet attractive setting for the turquoise gemstones.
From top to bottom these measure 3 inches so they're a good size if you're looking for a mid-sized pair of earrings that aren't too big but something a little more substantial than a stud earring.
You might think that this pair is similar in shape to an egg and we agree, the smooth oval shape is very simple. But we also think that the shape of these earrings is what makes them so attractive. The 'egg' shape works really well with the smaller round gemstones.
They are available from Wonderent and a quick search on their product page shows the wide range of turquoise jewelry that they offer. We highly recommend taking a look at the selection of their stunning jewelry, we're sure there will be something to complement your jewelry collection!
6. DesignsByKaren Gold Wire-wrapped Earrings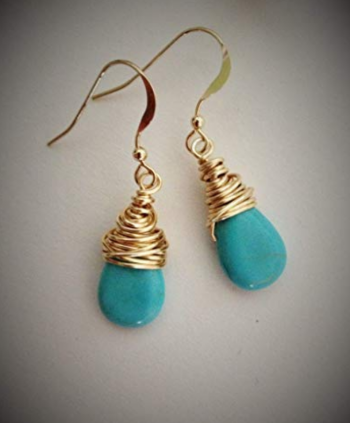 When you think about turquoise earrings, the first thing that pops into your head is probably quite a simple design. But these are far from a simple design! These earrings feature a gold wire which is wrapped around the top of the gemstone and links the gems to the top of the earring.
You'll usually find with jewelry that the more symmetrical the design, the more attractive it is. However, these earrings throw that idea out the window!
You can probably guess from the name that they are meant to have a messy yet attractive feel and these earrings really do achieve the bohemian look they're going for. The gold wire has been used in a way that effortlessly wraps the earring and gives them a rustic feel.
What makes these earrings even more special is how well the color of the gold works with the deep hue of the turquoise gemstones. We also love the shape of these gems which have a real teardrop feel to them.
They almost look like small pebbles that you would expect to see washed up on the beach (only they're bright turquoise!).  The gemstone used here is a turquoise stone and we love the hints of orangey brown that you can make out in each gemstone.
Although each stone is only 11mm wide, these stones are a very attractive choice for this pair of earrings and they balance very well with the thin gold wire.
The shape of these gemstones helps to give these earrings a rustic feel so this item of jewelry will work well if you're going for a more casual look.
We also think that these could be worn with a formal outfit, perhaps if you are looking for something a little different to wear for a special occasion. Whatever the scenario, we're sure that these earrings will add that extra sparkle!
These vibrant earrings even come in a special gift bag so you'll have somewhere to keep them safe whether you're planning to buy them as a gift or if you just can't resist and you decide to keep them!
7. Ross-Simons Earrings in 14kt Yellow Gold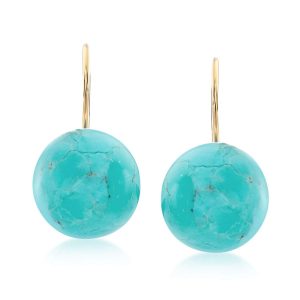 Sometimes it's best to let the gemstone do all the talking and that's very true with the next choice in our shortlist. These earrings feature a stabilized, 'good cut', natural gemstone. Although these gemstones are turquoise, the stone is actually classed as a blue gem and has a very pretty hue.
The button drop style of these earrings offers a very classy and minimalistic feel and although they sit within a mid-low price range, you'd expect earrings of this quality to come with a much higher price tag!
One of our favorite details is the choice of metal that has been selected to complement the turquoise gemstone. The polished 14-karat yellow gold offers a very pretty backdrop to the gemstone and the two colors work really well together.
Another feature that we're sure you'll love is the elegant lever backing which not only provides extra comfort when wearing these earrings but also ensures that they will remain safe and secure.
A key feature with this style of earring is that the gemstone sits approximately ¾ of an inch below the earlobe and from a distance, the gems almost seem to float below the ear.
This is a very pretty design and the thin metal complements the large, round gemstone very well. We've not seen very many other earrings that match this shape of gemstone with a lever design and we're starting to wonder how we've not seen this style more often. It's simply stunning!
8.TurquoiseNetwork Sterling Silver Earrings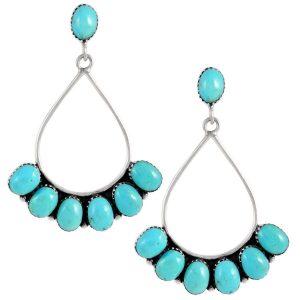 The great thing with these earrings is that you can be quite daring but still achieve that classy look. When we first saw these earrings a couple of things came to mind. The first was a footprint (although with 6 toes!). The second was of a peacock's tail stretching out in all its glory.
These earrings are very clever in how they extend from a small stud earring into a much larger dangle earring. Worn with the right outfit, these earrings have a very art-deco feel about them and we think they would look fantastic with a bob haircut and a vintage flapper dress.
They feature a solid silver teardrop design which makes them feel quite large, despite being quite a minimalistic design. The top of these earrings feature a simple oval turquoise gemstone and a simple hoop fixes the dangle earring to the upper earring.
The gemstones on these earrings are natural gems which have been treated and color enhanced. The resulting look is of a very shiny gemstone which is bright and clear.
We also love the small detail on these earrings. Especially the addition of a flash of black which is a fantastic backdrop to the green gemstones on the lower part of the earrings.
They are 1.5 inches in length and 1 inch in width so they are a mid-sized earring that will hang just above the jawline. It's worth noting that the tone of the gemstones in your earrings may differ slightly due to the nature of this style of the gem; as with many gemstones, all are different and unique in their own way.
But regardless of the color, shape, and dimensions of the gemstones in your earrings, this style of the earring will not disappoint!
9. TurquoiseNetwork Earrings in 925 Sterling Silver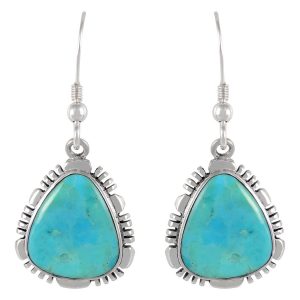 A lot of earrings often look very similar to other designs but these earrings are truly unique! Let's start with the shape. The gemstones on these earrings are almost triangular in shape with smooth edges. The gems are quite thin but this adds to the design. This also means that these earrings will be light and very comfortable to wear.
Perhaps the most striking part is the sterling silver border which surrounds the turquoise gemstones. This design has the feel of an Aztec item of jewelry and the polished metal helps to lighten the deep color of the turquoise.
We particularly like the design of the upper earring which includes some additional design features which catch the light very well. The blue turquoise in these earrings is very attractive and we love the patterns within the gems. There's almost a hint of green which gives these earrings a look of marble which is a very stylish look.
These are great dangle earrings and although they sit in quite a high position above your jawline, you'll see quite a bit of movement (or quite a bit of dangle!), due to the lower part of the earring being attached to the upper earring using a simple hook.
They are sold by Turquoise Network who offer a range of turquoise jewelry including rings, earrings, necklaces, and bracelets. We'd certainly recommend taking a look at their website to see their full collection.
10. Pinctore Natural Turquoise And White Sapphire Stud Earrings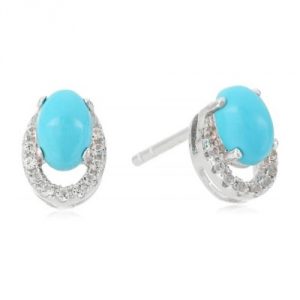 We've often seen how well small crystals complement larger gemstones and our final choice proves it! The larger gemstones within these earrings are an oval, stabilized natural turquoise. You'll see straight away how clear these gemstones are, with very few inclusions.
These are very pretty turquoise gems and come in at 1 carat each. Along the lower section of these earrings, you'll find 24 white sapphires. These offer the ultimate accompaniment to the larger gemstone.
The white of these sapphires balances really well with the deep turquoise color. Also, the smaller gemstones brighten up these earrings nicely.
The turquoise stone is held in place by a simple 4 prong setting. One of our favorite features is the way that that the sterling silver oval shape is slightly oversized. This frames the earrings really well and is a great way to include the white sapphires.
This is a truly stunning pair of stud earrings which can be worn to add sparkle to any outfit. For this price tag, you're really getting a bargain and your earrings will even come in their own deluxe box.
These earrings are available from 'Pinctore'. A quick look on their product page will show you the range of jewelry that they offer. But our favorite item from their selection has to be their turquoise jewelry and in particular these beautiful stud earrings!
Meaning of turquoise jewelry
Wearing turquoise jewelry is known to give the wearer good luck, offer them protection, help them to become a better communicator and help them to develop their psychic development. The color turquoise is associated with wisdom, truthfulness, clarity of thought, psychic and spiritual development.

The different spectrums of color within a turquoise stone can represent different symbols. For example, sky blue can be associated with heaven and the color green can be associated with earth. The turquoise gemstone is known for being the birthstone for someone who is born in December.
How to best clean your turquoise jewelry
Here are some of our top tips on how to best clean your turquoise jewelry:
✓ Always use a cloth and water when cleaning your turquoise jewelry because cleaning solutions can damage or discolor your turquoise earrings.
✓ The best way to remove any unwanted dirt from your earrings is to wipe the turquoise stone using a gentle motion. This will avoid any damage occurring to the turquoise stone.
✓ Once cleaned, ensure that your turquoise earrings are dried using a clean cloth. The best way to do this is by gently dabbing the excess water from the stone.
Other useful ways to ensure your turquoise stone stays in good condition:
✓ It's important to make sure your earrings are dried after being cleaned and are kept away from a damp environment.
✓ Only clean your turquoise earrings when they appear dirty because cleaning them too often can damage the stone.
✓ When you're not wearing your turquoise earrings keep them in a fabric-lined jewelry box.
✓ As well as a damp cloth you can also use a damp soft-bristled toothbrush to clean the turquoise stone.
✓ It's important to not soak your turquoise stone in water because turquoise stones are porous and will absorb the liquid.