Native American Jewelry Picks!
last updated:
Oct 08, 2019
If you want to add a few authentic, Native American jewelry pieces to your collection, then you have come to the right place!
We mostly focused on picking Navajo jewelry which dates back to 1850s was commonly worn as a symbol of beauty and pride.
These traditional designs bear cultural significance and are still treasured to this day.
One thing that stands out distinctively with Native American jewelry, is the bold design followed by the use of silver which is usually inlaid with excessively large and bright gemstones.
The motifs mostly featured include flowers, beads, leaves, and hand stamp work.
But we can't talk of Native jewelry without mentioning turquoise which is the most popular gem used and honestly, the amazing blue stone turns any type of jewelry in a timeless piece that looks gorgeous!
Time to browse our list and start adding to the cart!
Our Favorite Native American Jewelry Picks!
1

. Tskies American Made Native Jewelry Bracelet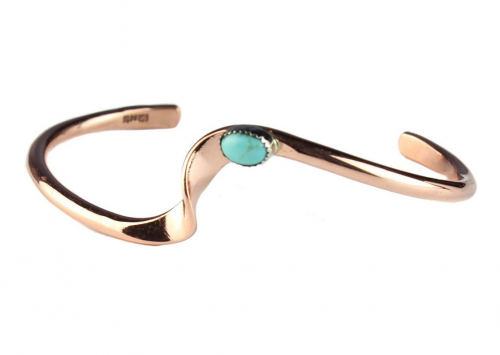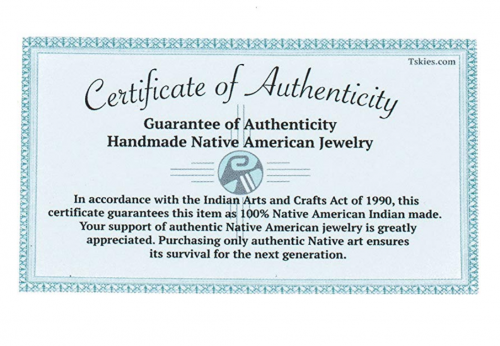 Made in USA
Designed by Navajo artists
Natural turquoise stone
Bring in all fun and your unique personality with this sleek copper bracelet showcasing stylish simplicity. The copper Navajo style bracelet had to be our first pick. It features a delicate shank twist with a small gap making it an open curve bracelet.
Read more
Even with its dainty appearance, the bangle has a durable element in it. It is hand made using top quality materials.
In addition, it is 100% native and the piece comes with a certificate of authenticity. You are definitely getting the real deal with it since it's genuine Navajo jewelry made in USA.
The highlight detail has to be the inlaid turquoise stone that sits delicately in the middle part of the bracelet.
It brings in a nice contrast against the copper charm and adds a subtle sky color with a hint of vibrancy to the entire piece.
This bracelet has an antique style which is a great way to dress up an evening wear. The turquoise stone gives it glamorous appearance that will go well with fabrics like velvet, silk and satin.
Even though Native American jewelry comes attached with a high price tag, this particular turquoise sky copper bracelet is a steal. It is reasonably priced and quite affordable.
Perfectly sized with a diameter of approximately 6.75" which fist most women wrists.
2

. Jayde N' Grey Turquoise Squash Blossom Navajo Necklace & Earrings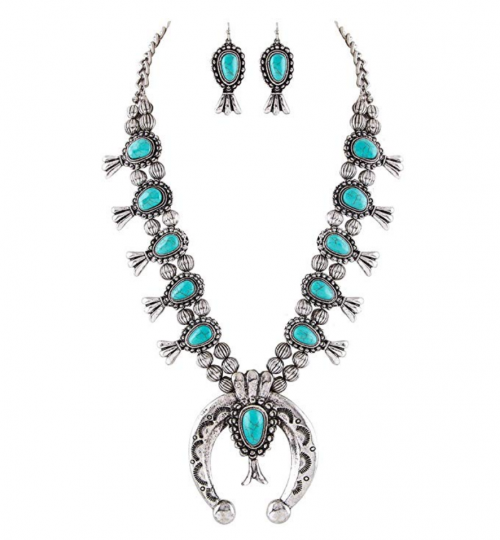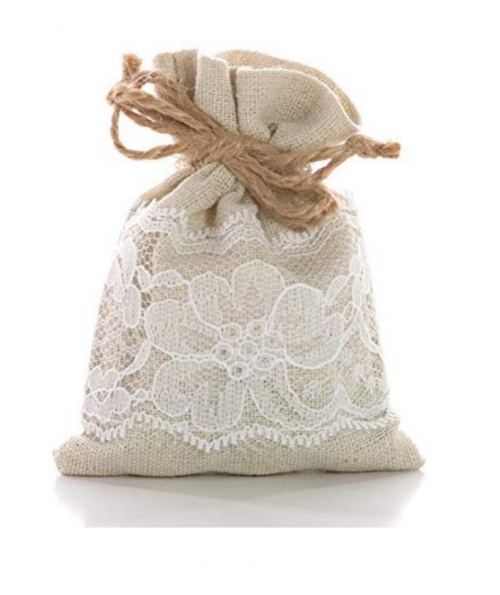 Made of quality materials
It has an adjustable length
Comes with matching earrings and a jewelry bag
This elegant piece right here is a true representation of what Navajo jewelry stands for. When you think of Native American jewelry, there is only one design that is likely to mind, squash blossom necklace.
Read more
There is a whole history that runs behind this symbolic design and its popularity has grown tremendously over the years.
The most outstanding feature in this necklace is the crescent shape "Naja" pendant, a symbol of protection.
However, in the modern times, the squash blossom necklace incorporates a fusion of cultures. It's not only synonymous with Southwest Native American Indian but it is also classic and timeless jewelry for anyone who wants to flaunt a statement piece.
Resting neatly throughout the necklace are 11 absolutely stunning artificial turquoise stones made of resin.
The turquoise squash blossom looks so real you would never think the stones are not natural.
We must admit that the combination of the metal base that provides a channel setting and the lovely sky blue stones is quite elegant.
Surrounding each stone are remarkably designed silver leaves, rope knots and elaborate wave works. And to finish off the design there is a dangling Naja pendant!
The rope knots extend to form an adjustable chain. This gives the necklace a bit of versatility when it comes to sizing options.
This Navajo inspired squash blossom necklace comes with matching earrings and a lovely jewelry storage bag. We believe these extra details make this a suitable gift for special occasions.
Real Native American jewelry is quite pricey but we feel the price for this set is s great compromise especially since you're getting a jewelry set and not only one piece!
3

. Native-Bay Navajo Wrap Bracelet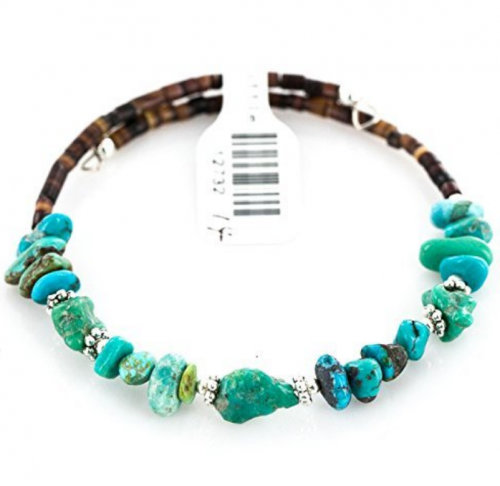 Handcrafted by Native American Artists
Certified as authentic Navajo Native American jewelry
Adjustable
Did we mention that according to Indian lore, turquoise stones bring protection and fortune to those who wear them? We sure need these positive vibes especially if it means adorning this elegant authentic Navajo genuine turquoise bracelet charm!
Read more
Proudly handcrafted in the USA, this is a verified authentic piece featuring genuine turquoise stones and Heishi.
We like that it features a minimalist design yet it doesn't lose the cultural aspect that comes attached to it.
This is as a real as they come. All the stones used in the crafting of this elegant charm bracelet are natural and carefully picked by a Native American jewelry artist.
Purchasing it means you are contributing to a good cause and supporting Local Native American Artists.
This is an adjustable bracelet with a diameter of approximately 2 ½ inches. it is quite versatile when it comes to sizing and it can actually go up to 2 sizes up.
It weighs about 0.8 ounces so you wouldn't have to about excessive weight on your hand. In fact, it is so light you won't even notice having it on making it ideal for all day wear.
There are small beads separating each stone and the Heishi to make sure they don't rub against each other.
Since we are talking of real turquoise stones and the piece is certified as authentic, we believe the price tag is a steal!
4

. Rich Peel Turquoise & Coral Drop-Earrings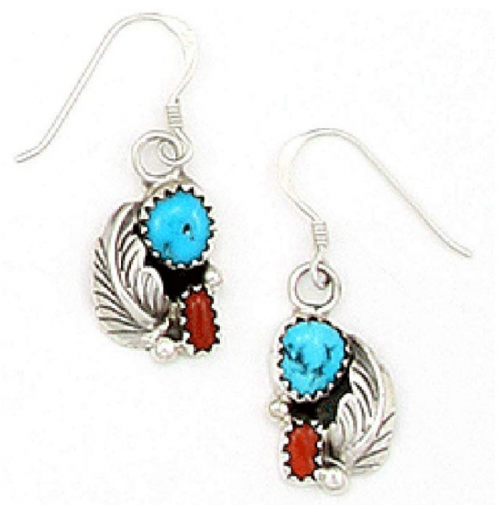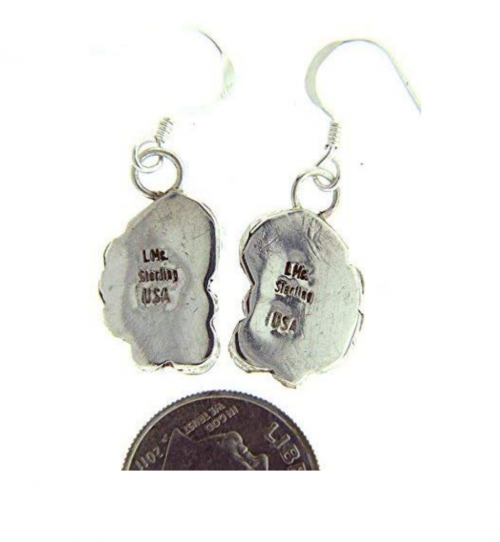 Handcrafted by a Native American Navajo artisan
Made of sterling silver, turquoise and coral stone
Perfectly-sized
These beautiful unique silver-sterling turquoise and coral drop earrings are just what you need to bring a dash of boho vibe and color to any of your outfits. Made by a Navajo artist, Rebecca Dawes, the earrings have a whimsical and flirty appeal!
Read more
These showcase the beauty of turquoise, coral and sterling silver which is a signature look for authentic Native American Jewelry.
The earrings are made of gleaming stealing sliver crafted into a delicate leaf design that forms the shape of the earring.
The sky blue turquoise and coral stones sit delicately in the prongs setting and both give a nice contrast against the sterling silver gleaming white background.
The earrings measure approximately ½ inch from side to side and 1 ¼ inch top to bottom and this includes the thin sterling silver French wires. The stone weighs 0.2500 carats.
What we like about them is that they are perfectly sized. They are not too large nor or heavy and yet not too small not to be noticed.
These beauties will match with other Native American Navajo jewelry. They are stylish enough to be worn nearly with every outfit all year round!
The lovely earrings are handmade using natural stones and come with a certificate of authenticity, hence the pricing is quite reasonable.
5

. Tribal Tassel Bead & Hoop Earrings by Pashal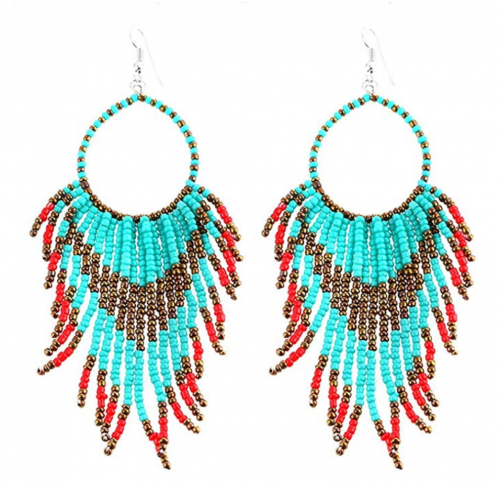 Available in more than one color combination
Long and lightweight
We can't go on about Native American Navajo jewelry without throwing in some beads in our top picks. Beaded earrings are absolutely fun to wear and can easily jazz up a plain outfit without really putting much of an effort in it!
Read more
There is a special charm that comes with wearing something so unequivocally child-like in a casual set up.
These beautiful tribal dangle fringe earrings are so pretty and bright! They will instantly dazzle up your outfit and give it a fresh coral look.
Don't be surprised if you suddenly get the urge to drive down to the beach. The earrings are the epitome of all things boho and what it means to adorn with feel –good jewelry that also looks gorgeous.
Just to point out, the earrings are very long but lightweight. They are 5.5 inches long from top of the wire. They hung down all the way to your shoulders.
The height totally makes sense since it's statement jewelry we are talking about. You will surely stand out in any crowd by sporting these lovelies on your ears.
They are made of quality materials and the beads are sewn closely to each other creating a full look. in addition, the colors blend perfectly giving them an exquisite appearance.
The lovely Navajo earrings are available in different color blends. What more, you will not have to dent your pockets to own a pair. In fact, they are so well priced you can pick more than a pair!
6

. Handcrafted Navajo Sterling Silver Bracelet by E. Tahe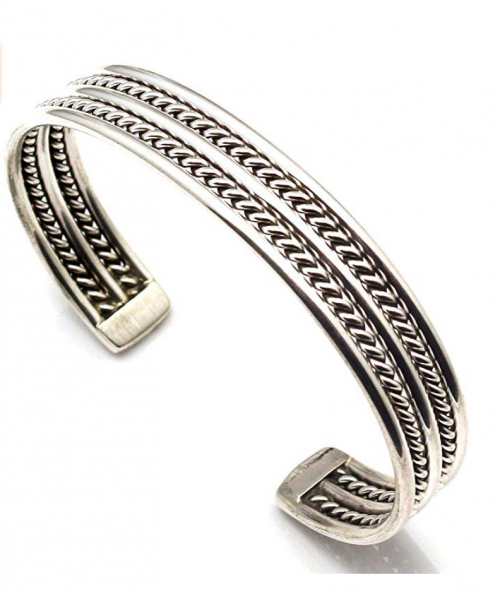 Hand crafted using sterling silver
Simple and elegantly-designed
Comes with a white gift box
This handmade sterling twist wire bracelet is the perfect pick for the person who loves minimalism who wants to rock super cool jewelry. Even though it has a simple design, this piece is awesomely elegant!
Read more
The marvelous bracelet is completely handcrafted and tooled by Navaho Artist Elaine Tahe.
It is made of two pieces of silver twists expertly and skillfully combined together by quarter round sterling silver wire.
The combination of the two pieces form an amazing pattern running to the ends making an accentuating curve.
The bracelet measures approximately 5" tip to top (can fit a wrist size up to 6.5 inches in diameter). The width of the vintage looking pick measures around 3/8" inches.
This is a versatile bracelet and it can be paired with just any outfit, whether casual or formal. The minimalist design makes it an ideal bracelet suitable for both men and women!
This is authentic Navajo jewelry crafted with 20 grams of pure sterling silver. We believe the price tag is a steal and quite reasonable for an authentic piece like this one.
7

. Turquoise Skies Sterling Silver Necklace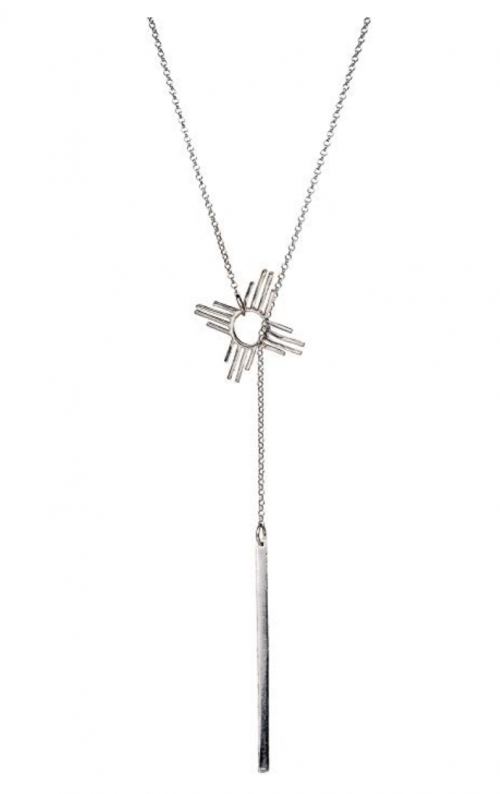 100% Native design
.925 sterling silver
Hypoallergenic
This classic piece is simple, elegant and 100% Native. At first glance, you might think this is a simple sterling silver necklace. By taking a closer look you will notice distinctive details synonymous with Native American jewelry style.
Read more
Each piece comes attached with a Certificate of Authenticity so you can be assured what you get is the real deal.
What more, purchasing it means you will be supporting a non-profit-coop that works with Native artisans.
The necklace is made of pure .925 sterling silver. It features a handcrafted petite silver chain that connects to a pendant in lariat style.
The gorgeous necklace has a 20" sterling silver chain making it versatile when it comes to sizing options. You can wear it short or long depending on your style and outfit.
Because it has a simple and elegant design, we believe it will look fantastic with any outfit whether casual or prom. It also makes a great gift for special occasions from anniversaries to Valentines.
Being an authentic piece the price is more than reasonable making this pick a steal!
8

. Copper Reflections Unique Flower & Wildlife Earrings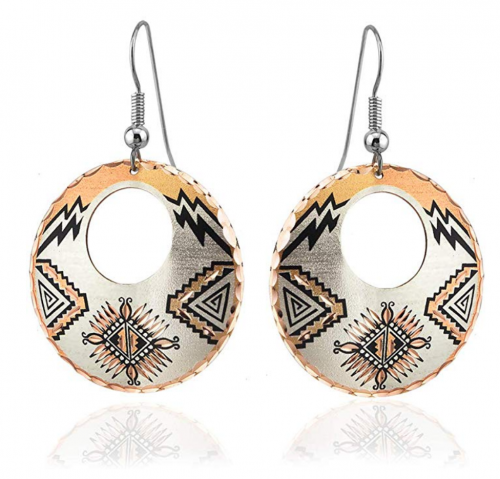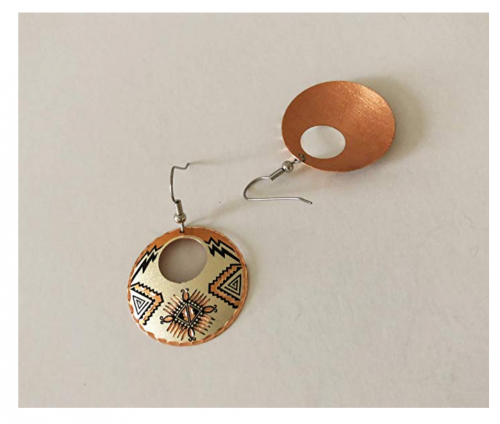 Embellished with Native American geometric designs and graphical lines
Made of silver plated base on copper
The ear wires are hypoallergenic
The handcrafted copper sun burst earrings will not only make stunning adornments, but we also believe they will be a great addition to collectors' items. These are great for showcasing the rich history of the Southwest American culture.
Read more
The earrings are skillfully embellished with different geometric designs and graphic line styles synonymous with Native stories and legends.
The lovely cultural adornments are made of copper with a silver plated base. The designer incorporates copper accents to the surface which create a lovely contrast with the black graphics against the silver background.
These earrings have a concave design and are approximately 1/8" high. The outer circle encloses a circular cut-out and measures about 1.25" in diameter.
Weighing only 7.55grams, they are not heavy and are comfortable for all day wear. In addition, there is are three layers of acrylic finish. This means the earrings  won't tarnish and will last you in time.
The fish hooks which are the ear wires are hypoallergenic making them safe to wear.
The jewelry is skillfully handcrafted and then screen printed in the silver plated copper sheet.
Not only do the motifs and the graphics tell a story, but they will also complement any any outfit by simply being a beautiful piece of jewelry.
9

. Turquoise Skies Natural Turquoise Ring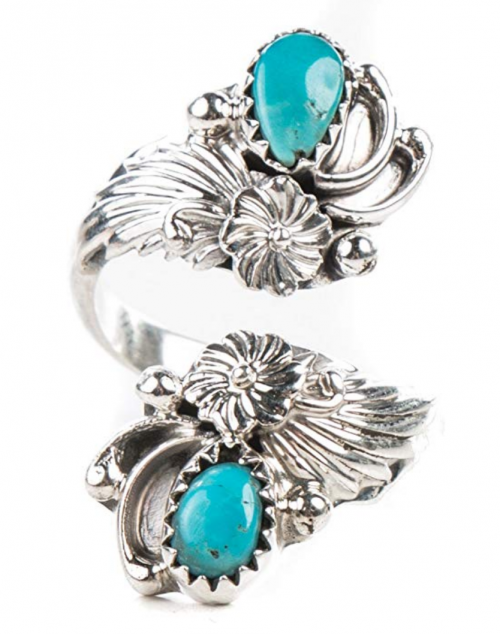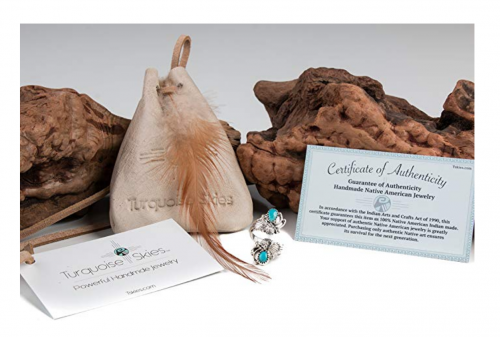 925 sterling silver
Adjustable ring band
Two natural hand-laid turquoise stones
It's said that good things are worth waiting for and that's why we feel this stunning silver ring with natural turquoise stone has a special place in our hearts!
Read more
This is the kind of piece that you pass down from generation to generation simply because it's authentic and 100% native and it's so gorgeous it deserves to be worn by generations to come.
It features not one but two hand laid turquoise stones in bezel setting. Each stone weighs approximately 0.20 grams.
And if by any chance you are wondering if they are real stones, you will be pleased to learn that these beauty comes with a Certificate of Authenticity. It is 100% Native!
The refined-looking ring is made of quality material. The adjustable ring band is made of pure .925 sterling silver. The stones' sky blue color is not only striking but also creates a stunning contrast against the silver background.
If you look closely, you will notice that the stones are surrounded by a wide bed of stamped silver flowers and leaves. These are fine details that add a whimsical touch to this ring and give it a unique style.
The ring band is adjustable and can easily fit between size 5-8.
What we like about this authentic piece is the sensational sky blue color from the stones. It will easily upgrade your outfit without much effort. It's versatile and a great accessory for both casual and formal wear.
The seller makes the ring a perfect item to gift by packaging it in an authentic, recycled and reclaimed leather pouch.
All this authentic goodness comes with a super friendly friendly price tag!
10

. Copper & Stone Bracelet and Jewelry Store Apache Bracelet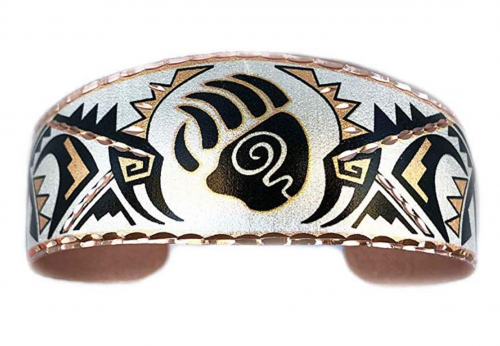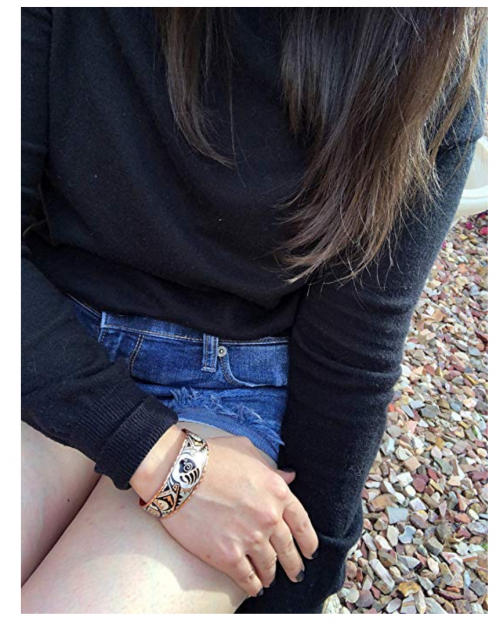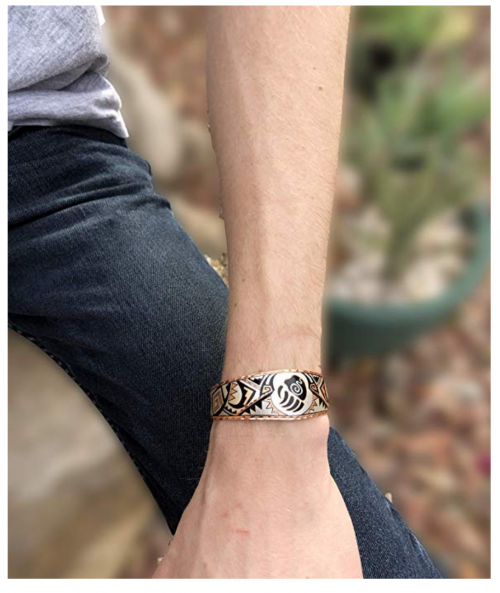 Adjustable
Copper material
Comes with a money-back guarantee
Among our favorite picks is this marvelous copper cuff bear claw bracelet featuring a Southwest Apache design. What we like most about it is that it has a significantly simpler design than most pieces we talked about above. This makes it a suitable pick for men and women.
Read more
The bracelet is adorned with a beautiful and colorful geometric motif inspired by the rich culture of Native Southwest.
To acquire the dazzling appearance, the designs are individually and skillfully handcrafted on silver-plated and diamond-cut copper.
The bracelet has an open curve design making it super pretty to wear. Additionally, it's adjustable and can fit wrist size from sizes 6" going up.
If you have been looking for a bracelet to either stack with other Native jewelry or to wear all day long and match with all your casual outfits, then this pick is perfect for you!
The price is affordable especially if you consider that this is an authentic design.
Criteria Used for Evaluation
Style
Native American style jewelry has now made a triumphant comeback and is trending pretty much everywhere; from Instagram to designer jewelry, we're seeing Native style and we love it!
These cultural designs are quite appealing to the eye. The modern designers have reinvented and reprized the native vintage pieces to match the trending styles.
Turquoise is an elegant timeless gemstone. It adds a special flair and a sophisticated look to every piece. It's the new fancy diamond!
Durability
This type of jewelry comes attached with a costly price tag. These are authentic, original designs, handcrafted with natural stones by native American artists.
We wanted to make sure you get pieces that will last you a long time and at the same time, get value for your money.
Most of our picks will arrive with a Certificate of Authenticity and this will give you a piece of mind when wondering how your piece of jewelry was made.
Materials
One thing that stands out with these pieces is the versatility of the materials used. The combination of turquoise jewelry and silver or copper goes almost with everything and this is exactly what most of the pieces on our list are made of.
The pieces we feature in this style guide can be worn with nearly everything and all year round.
With stones such as turquoise and coral and beautiful Native Indian inspired graphic and lines, you can't go wrong no matter how you style any of the picks above!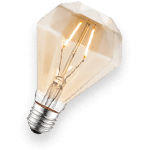 How to style Native American jewelry
Our list combines exclusive and exquisite jewelry pieces that are bound to turn many heads. All our picks are versatile and go well with different styles, colors, and outfits.
For example, the squash blossom necklace is sure to add a tad of sassiness and style to your personality.
It can be worn with a tee or a colored plain dress to achieve a chic and dashing look. It can easily transform into an elegant boho look when equally paired with a western outfit.
The earrings and bracelets will give you the freedom to go all chic. The coral drop earrings will elevate your style and take your look to the next level.
Yes, they are a bold choice, but they will look gorgeous with a plain white tee as well as paired with an LBD!
Layering and stacking your pieces
One thing that stands out with almost all our picks is turquoise. The soothing blue sky color works brilliantly with white, black, and denim.
You can take advantage of turquoise to create a popping contrast and make a bold statement. It will bring a bit of excitement to your neutrals.
Layering can work perfectly with some of these pieces as well. If you want to go all out with your jewelry you can stack turquoise rings and make a true statement when it comes to combining jewelry. The same goes for necklaces and bracelets!
If your style is synonym with simplicity, then a classic turquoise necklace will make a glamorous statement.
FAQs
q:

How do I know if a piece of jewelry is authentic/Native American?

a:

The best way to make sure you are getting an authentic Native piece is by asking the seller for a Certificate of Authenticity.
q:

How of do I take care of my  jewelry?

a:

The first step is to make sure you store your jewelry in airtight bags. It will keep the pieces safe and prevent tarnish and discoloration from taking place.

Do not soak the jewelry in any solution or clean it by using abrasive chemicals. This can damage the gemstones and the metal.

Instead, use a polishing cloth and gently wipe clean the gemstones. For the silver, use an anti-tarnish cloth.

Do not widen or bend the necklaces, bracelets or any other jewelry that consists of metal.

Take care of inlay gems placed in some of the designs since are delicate. Make sure they don't come in to contact with hard surfaces and avoid wearing such jewelry when working with your hands.
q:

Can I have my Native American jewelry repaired?

a:

Yes, this type of jewelry can be repaired. Most native jewelers and artisans stand behind their work and the pieces they have created.

This means you can contact the seller and ask for your piece to be repaired in case of damage. This may come at an additional fee if the damage caused to your jewelry was on your part.
Finally...
When well worn, Native American jewelry is powerful and gorgeous. We have made it easy for you by selecting only stand-out statement pieces. There is nothing that will stop you from looking amazing and stand out from the crowd with these traditional native pieces!
According to the Navajo tribe, turquoise, which is the most common gemstone for most pieces, represents fortune, luck, happiness, and health. These are qualities that make us appreciate this rare stone.
We like the jewelry simply because it can transform and dress up a simple outfit. You can be boho glam and not look like you are about to go to a Coachella festival. When paired well, these Native pieces will add a pop color and boost your entire outfit.
Our top 10 picks are all the proof that you need that Native American jewelry can be as elegant and modern as you wish. Some of the pieces are laid back, others are fashionable, and others stand out as statement pieces. All you need is to choose what works well with your personality and style.
Trends will constantly evolve and bring new innovation, but these designs will always remain authentic and absolutely unique!