Mix / Necklaces / Women
Statement Necklaces You Can Wear Every Day
Did you ever pick out a necklace and want to use it as an "every day" item, but felt it was too much, or too "glitzy"? We all like to wear statement necklaces and, some of us like to go bigger and bolder. But, for some pieces, bigger and bolder isn;t suitable for daily wear.
Or, have you wanted to wear a necklace that just says something about who you are as a person? It's not necessarily what you'd think of when you think of a statement necklace, but a statement piece is something that is truly a statement about you.
If you're looking for your first statement piece, you might start with an oversized, chunky link chain that works with almost anything in your wardrobe. Or, would it help if you could, literally, just have some options at your fingertips?
Below we made a selection of 10 statement necklaces you can wear every day, right at your fingertips.
All you need to do is push a button and the one you like the most it's yours!
10 Statement Necklaces That work with Everyday Outfits!
1. FAMARINE Vintage Tribe Chunky Collar Necklace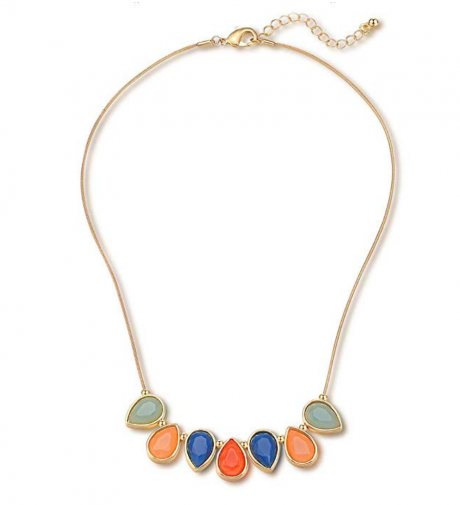 This chunky collar necklace really isn't all that chunky. In fact, we think it's just right to dress up or dress down. This piece is a multi-colored teardrop pendant and there are seven of them on an 18.89 inch, gold, snake chain.
The colorful teardrops in the necklace are patterned with the point of the drop, down and then up and continuing in that manner. You also get a pattern, inverted in the color of the stones. From left to right there is a light moss green, coral navy blue and red in the middle. After that, it's the blue, coral and green color stones.
Each stone is attached to the chain, set in a gold alloy and looks as though it's surrounded by gold. So pretty!
Again, the chain is 18.89 inches and is super lightweight. This piece does come with an extender chain, making it adjustable from 18.11 inches. The chain fastens with a lobster claw that makes it easy to put on yourself.
We like this piece for another reason as well. We like it because of the price. You do not have to break the bank to own this statement necklace.
2. Bocar Personalized Layered Strands Turquoise Necklace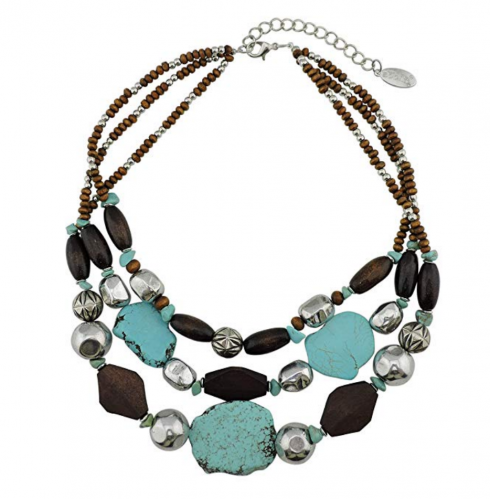 Who doesn't love a turquoise, brown and silver in a necklace? We sure do! Turquoise, silver, and brown beads are on a three-strand in one necklace.
This statement piece has a slight tribal feel. The center for each strand is a different, fabricated bead, or stone. The bottom strand has the turquoise as the center stone.
It's flanked by two silver beads, then two brown beads. The middle strand has a brown bead as the center and has a silver bead on each side. Then, there are two turquoise and then silver.
The top, shortest strand has, at its center, a decorative silver bead and a brown bead.
The longest, bottom strand has the larger beads, the middle carries the medium beads and the shortest strand, the smaller beads.
At about the breastbone, each strand will move to very small brown, accentuated by a few silver, stones. They join at a spring-ring clasp.
The shortest strand is 46 cm, the middle is 49 cm, and the longest is 53 cm. If you don't care for this length, there is a 7cm extension chain, making this piece completely adjustable to any length up to 60 cm. That's 18, 19.25, and almost 21 inches. The adjustable length is through about 23.5 inches.
So, for about the price of dinner for one, you can get a pretty necklace that will make people take a second look.
It's sure to bring you lots of compliments!
3. FitandWit Rhinestone Crystal Statement Choker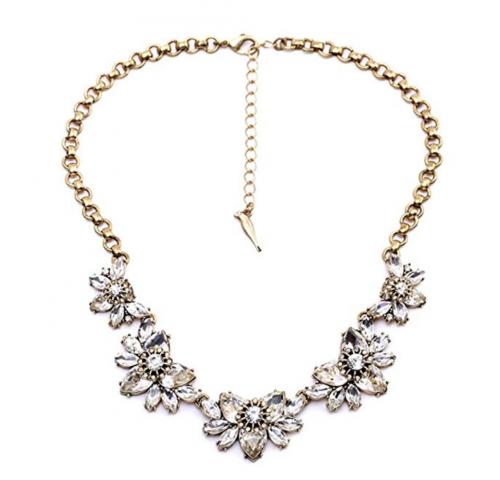 This rhinestone choker necklace has seven clusters of rhinestone, crystal flowers set on an environmental alloy of gold color (though we think they remind us of butterflies or angel wings).
Each stone is held in place with prongs to keep it securely in the piece.
Center stone is surrounded by a halo of tiny stones.
The center stone sits on top of three teardrop stones that come to a point. Two football-shaped stones are placed in the joints of the teardrops, giving this piece a very classy look.
A gold Rolo chain and a lobster claw closure finish this piece. But, just when you thought it was finished, there is more. This piece also comes with a 3.15-inch extension chain.
The "original" length of this choker is 18.11 inches. If you don't want it to be that tight on your neck, or you have an outfit calling for something a bit longer, you can use the extension.
When you do this, you can achieve a length of anywhere up to 21.25 inches in length.
This piece is moderately priced.
This is a pretty piece to wear with a dressy suit at the office, a jean jacket, or with a dress. Use your imagination!
4. JANE STONE Fashion Drusy Stone Bead Statement Necklace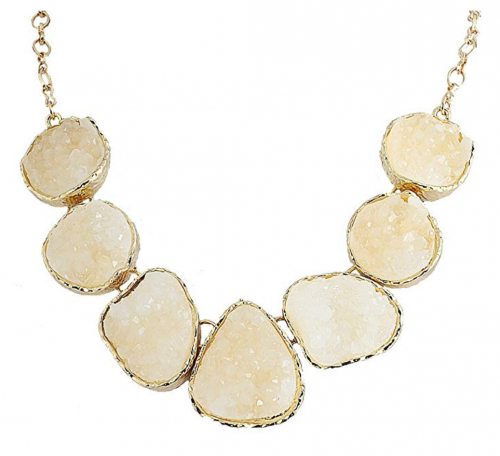 Elegant but every day is how we would describe this piece. You can wear it with dressy T, a suit, dress, or even for formal wear. Talk about versatile!
Seven, flat, druzy stones are attached to the round link chain. They are ivory/beige in color and appear as there are hundreds of smaller crystals joined together to form one stone. They are very organic looking and not perfectly round.
Not only do the stones sparkle, but the gold inlay of each stone is shiny and gives this piece its class.
The gold plated chain is 21.7 inches and has a 3.2 inch extension chain. The closure is a lobster claw clasp. It makes this piece adjustable up to 24.9 inches. That's almost 25 inches!
The weight of this piece is only 1.23 ounces. It may look heavy, but it's not!
If you are looking for an extremely budget-friendly piece, this is it.
5. Jane Stone Bubble Bib Chunky Necklace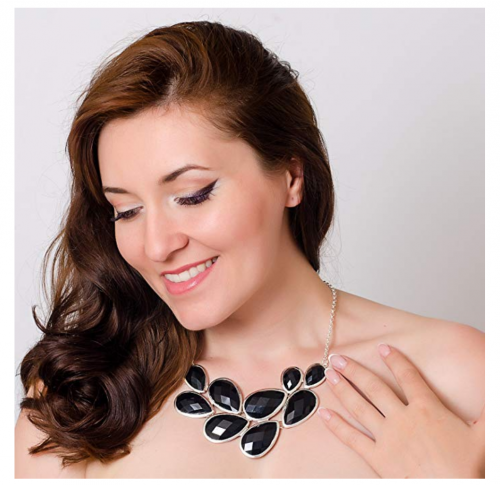 This chunky necklace is a great piece for everyday office wear. The black of this piece and the way the teardrops are set, remind us of peacock feathers. There are nine black resin stones. They are shaped like cut crystal and they are inlaid in silver. They vary in size and are all attached to each other.
The stones aren't super shiny but rather a semi-matte. The silver, round link chain begins on each side of one of the smaller "feathers". The necklace is made of a zinc alloy and it's nickel free. It will not fade and won't harm your skin.
We really like this piece with a collared blouse, but it'll look great with a scoop neck shirt as well.
This piece is more of a short necklace at 47 cm or 15.75 inches long. However, it has an extension of 6.5 cm or about 2.5 inches. In total, this piece will adjust to 53.5 cm or about 21 inches. It has a lobster clasp closure. It's not heavy, either!
This piece may have a feather'like shape, but there are no high-flying prices with this one. You can get a great looking piece at a very low cost.
6. Bocar Seed Beads Multilayer Chunky Knot Necklace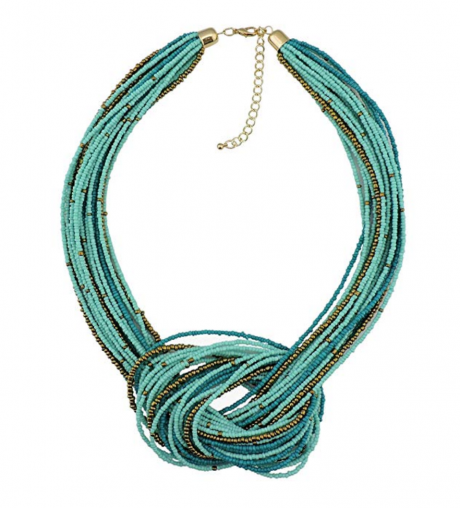 We count about 14 or 15 strands of lovely seed beads in this piece. The beads are in strands of turquoise and copper. Each of the strands is completely filled with seed beads.
The majority of the strands are turquoise in color and they are accented with a few silver beads here and there. The copper strands are simply copper and contrast the turquoise nicely. There is no string or chain visible.
The strands are knotted and then the knot falls at the center of your breastbone, filling a low neckline. The strands are gathered into the lobster claw tube attachment.
We thinks this would make a great piece to wear every day with a collared blouse, a dress, or T-shirt. You could even throw on a jean jacket, or blazer for more versatility.
The necklace is 23.5 inches long with a 3-inch extension chain. This makes the total length of 26.6 inches.
This is definitely a budget-friendly piece. It's on the low end of the price scale and you won't even blink when it comes time to pay for this necklace!
7. Guy Harvey Enameled Sea Turtle Necklace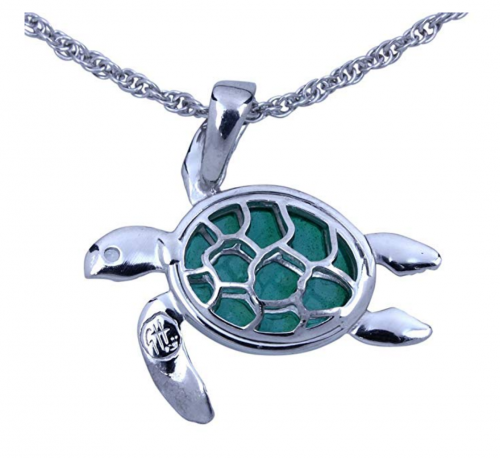 This is our favorite pick! This enameled sea turtle necklace isn't what you think of when you think of a statement necklace, but it makes a definite statement about you!
It screams, "I care about sea life"!
This necklace is heirloom quality, not big and chunky but instead a beautiful little sea turtle on a chain. The turtle is formed using the process "Plique-a-jour. It's French and means letting in daylight. It is reminiscent of stained glass and the effect is absolutely gorgeous.
Turquoise colored enamel is applied in the openings of the sterling silver body, giving this little sea dweller a shell. A white topaz gemstone is set for the eye. The little guy is an inch tall and an inch wide.
The chain for this piece is a double link and lends a greater quality look to the piece. It is made of sterling silver and is 16 inches long. In addition, it has a 2-inch extender. This makes the total length up to 18 inches.
This necklace will make a statement in your pocketbook. It is one of the most expensive picks on our list.
Guys, we recommend giving this as a wonderful gift to anyone who loves the sea, nature and cute little animal-shaped jewelry of course!
8. MyNameNecklace Personalized 4 Sided Vertical Necklace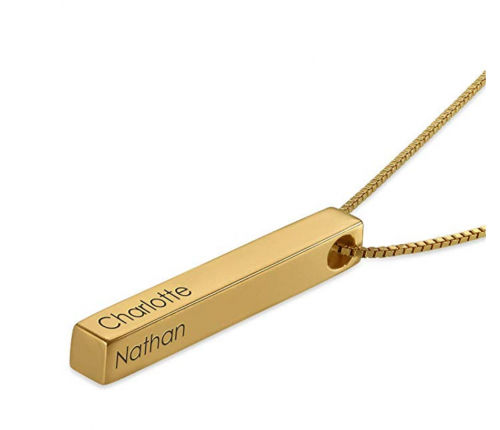 While this isn't what it may come to mind when talking about statement necklaces, you will be making a statement when you wear this one!
When wearing this beautiful personalized necklace piece you are telling the world these are the people you love and the people that love you.
It's a dynamic piece with a 30 mm x 4 mm (1.18 inches x .16 inches) 3D, rectangle, on a 16-inch gold vermeil chain. The gold is a very rich and elegant color.
The chain is a box chain, giving it more strength and beauty than a standard chain. The clasp is a spring ring and you may be able to attach more than one pendant if the clasp fits through the hole. If not, you can take it to a jeweler and have it done.
The chain goes through a hole at the top of the pendant…again, more strength! You can wear this 3D bar necklace with almost anything and at any time.
Another expensive piece but well worth it!
This is a stellar Mother's Day gift or a super Valentine's gift with his and her names engraved on it.
9. Jstyle Stainless Steel Dog Tags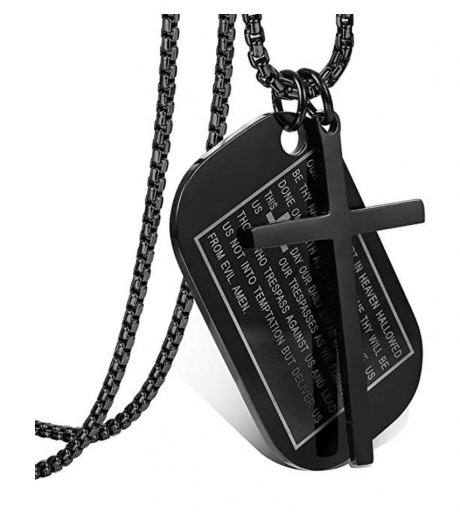 Get it here
Guess what? Guys wearing a necklace can make a statement as well. The statement he'll be making is about his faith. However, we like this piece because we think it works as a unisex piece!
Attached to the Rolo chain by a jump ring are a beautiful charcoal black colored dog tag and a cross. On the dog tag is the Lord's Prayer.
Both the cross and tag are 1.38 inches by .84 inches or 46 mm by 28mm. The rounded edges on both pendants are smooth so as not to scratch the skin or snag clothing.
The cross is not flat but, instead, has some depth, making it 3D. The writing on the dog tag is legible and clear. The metal has a natural luster and we would describe it as a matte finish.
This is great to wear with a T-shirt, sweater, or a blazer with a crew neck!
The chain on this necklace is 24 inches long; perfect for the guy(s)and girls who like dog tags and wearing a super cool one!
This is the lowest priced item on our picklist. It comes in at about what you might pay for a sandwich and fries!
Everyone can afford this piece and you may even want to get more than one.
10. YFN Cross Necklace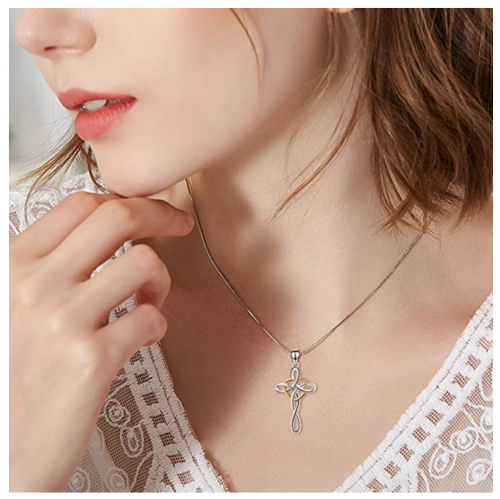 This is another faith statement necklace but this time for her; not big and gaudy, just a whole lot of "This is who I am".
The cross is inspired by the Celtic knot. It is an infinity piece. Intertwined, in the silver cross is a gold heart. The metal used for the cross is 925 sterling silver. It is platinum polished and is nickel, cadmium and lead-free making it hypo-allergenic.
The cross is 31.5 x 15.5 mm, or 1.25 inches x .61 inches. It is very elegant and beautiful. The pendant is attached to the chain with a bail, giving it a more sophisticated look than just a jump ring.
This statement cross and heart necklace has a rectangular-shaped lobster clasp on the 18-inch box chain. The box chain brings extra strength to the piece.
The Celtic knot cross necklace has a lower to mid-price point. We think it would be a great gift for graduation or confirmation.
You could give as a gift to remember an occasion or a special person. Or simply purchase this piece for yourself, making a statement of your faith.
Style Tips
Honestly, we feel the selections we made should be worn alone. The pieces attractive enough to bring attention to themselves and don't need an accompanying piece (around the neck), or pieces such as earrings to make a statement.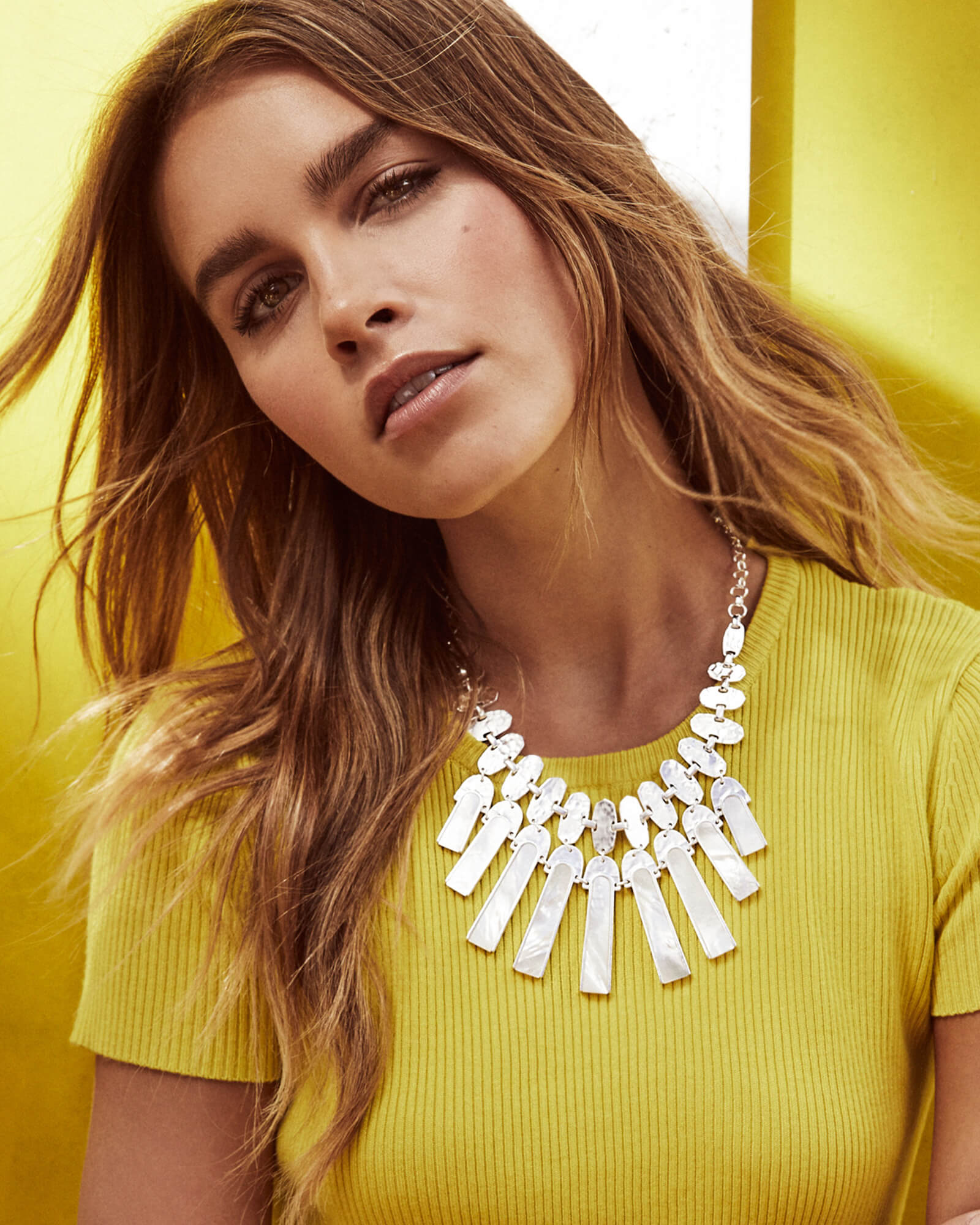 If you're going to wear a bracelet, go simple. If you'll be wearing something really chunky and layer it up, choose one of the more simple statement necklaces.
We like simple hoops as earrings to accompany each necklace.
Any of these pieces can be worn with a blouse, and/or a blouse with a jean jacket, or blazer. You can also wear them with a dressy T-shirt and sneakers, either alone or with the jacket, or blazer.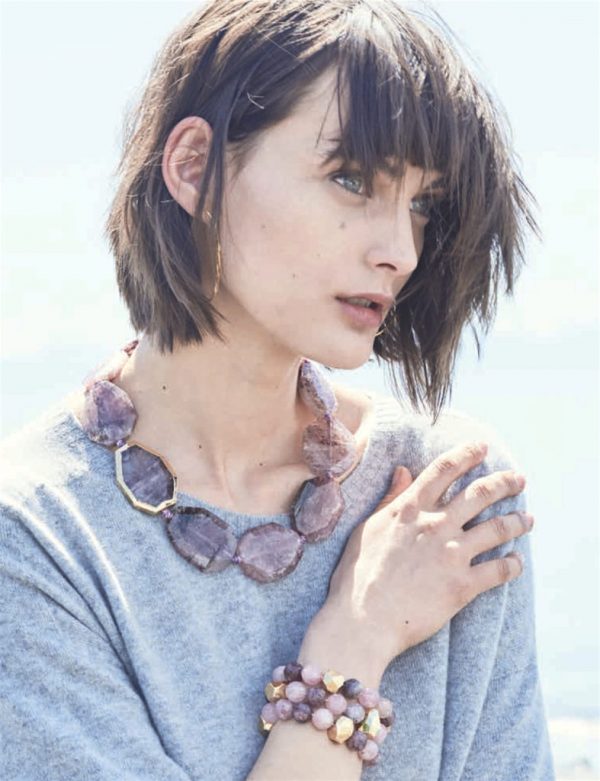 Some of the pieces on our list can transition to evening-wear and heels, or your Sunday best. Other options will look great with a shell top and jeans, or slacks.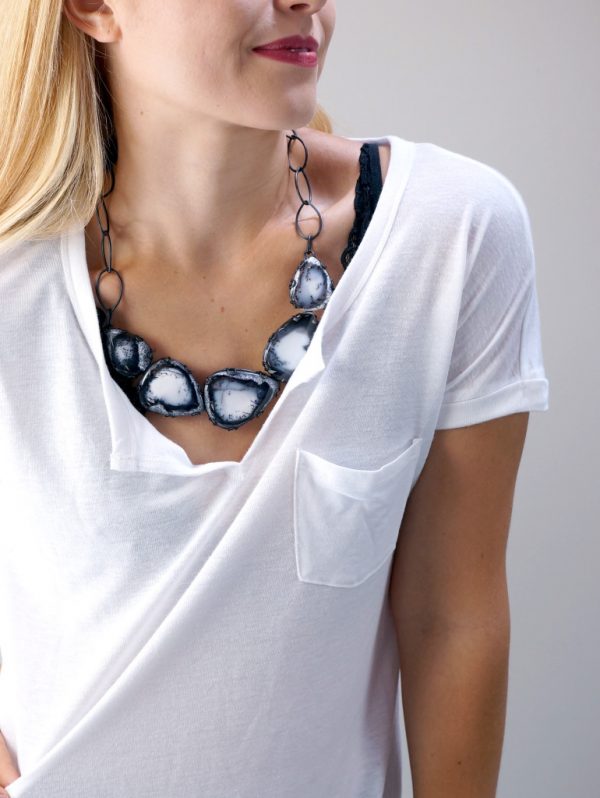 If you want to wear a dress, we think a sleeveless wide strap would look phenomenal. And, when the weather changes pair them heels, jeans, and a sweater. The sky's the limit, so use your imagination.
Criteria for Evaluation
When choosing the picks for statement necklaces, our primary consideration was ease of wear and comfort. When you wear a chunky necklace the last thing you want it to feel like is, well, chunky. We wanted it to be lightweight and most of all fun!
What good is a necklace you love if it doesn't stand the test of time? The necklaces are all made of good materials. The pieces we have chosen, when taken care of properly, should last for a very long time. They are all a great value for your investment, whether you spent a lot or a little.
Last, but not least, we wanted pieces that were versatile. Can they be resized to give you options of how to wear them? Most of our pieces have extension chains, making them versatile and great to wear with different clothing items from your closet.
FAQs
1. Do statement necklaces need to be clunky?
A. Not at all! A statement necklace can be very lightweight.
2. Can a statement necklace have to be full of gaudy stones, or can it just make a statement about who I am?
A. Absolutely! A statement is just that, a statement. Whatever necklace you wear will say something about you and convey a message about you as a person.
For example, if you combine some pearls with some silver strands, you may be saying, "Hey, I like my first class with a little bit of second class."
3. How do I take care of my necklaces?
A. We recommend you treat them as you would any other fine piece of jewelry. This will ensure they look great, last you a long time, giving you a good amount of use.
4. Can I swap chains on my pieces?
A. Sure, as long as the clasp goes through the pendant. Otherwise, you will need to take it to a jeweler or purchase a repair kit to do it yourself.
5. Can I give these as a gift?
A. Why not? Some are more appropriate for more formal occasions, but any of them would be a great birthday or Mother's Day gift, etc.
6. When I wear a necklace, do I need to wear heels?
A. Nope. If you can rock the piece, wear the shoes that complete the look.
7. Are the necklaces on our list made in the USA?
A. Not all of them.
8, If they aren't made in the USA, are the pieces quality items?
A. You bet!
Conclusion
When you typically think of a statement necklace, what comes to mind? Usually, it's something bigger and chunkier looking. Always, it's a piece that is unique and attention-grabbing. Many pieces fall under this wide umbrella of a definition. And, we took the liberty of taking it a step further and stretching the concept of the word "statement".
We feel statement necklaces should indicate something about who you are as a person. It can be dressed up or down, but it should always tell the world something about you. It should be personal and meaningful.
There are tons of ways to show your style and your piece should be an extension of who you are. It should reflect your inner beauty. And, if you're a guy, you can shout that to the world as well. Gone are the days when only women wore necklaces. Now guys are getting on board and making a statement with the jewelry they wear.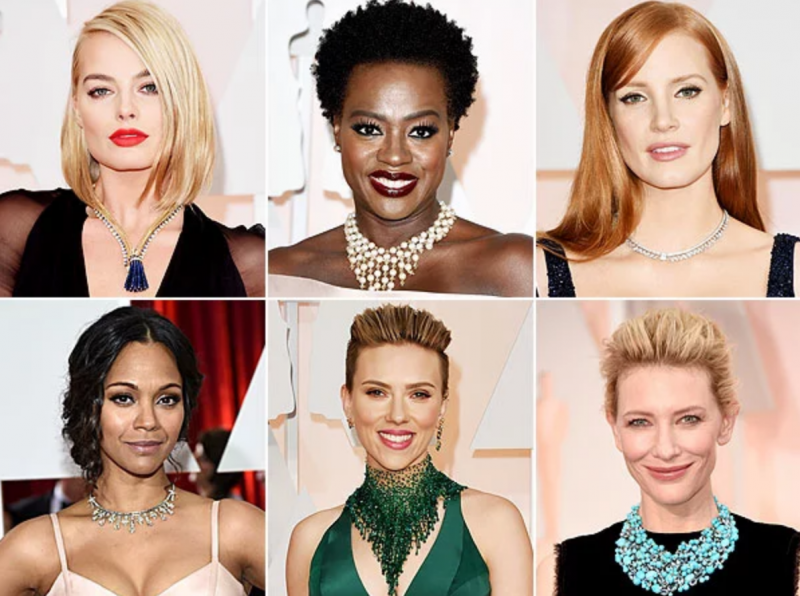 The pieces you wear don't have to cost a fortune either. You don't have to be rich and famous to wear really nice statement necklaces.
We have, however, seen Scarlett Johansson, Margot Robbie, Cate Blanchett, Kate Middleton and Camilla Parker Bowles wearing them. Celeb men include Johnny Depp, Ryan Gosling, David Yurman, and others.
If you think statement necklaces are only found in the 20th and 21st centuries, boy, are you wrong? King Henry the 8th, Anne Boleyn, and Chancellor Thomas Moore of England as well as others wore large necklaces that created a presence and a statement.
If you want to keep your pieces looking royal for a very long time, there are several guidelines to follow:
✓ Keep your piece dry; don't wear it while bathing or swimming.
✓ Avoid sprays like perfumes and hair spray, and lotions.
✓ Try not to touch it a lot. The grease and/or sweat on your hands may cause discoloration.
✓ Clean your piece with a soft, dry, cloth.
✓ Lastly, always store your piece in a soft lined container or pouch.