Gift Guides
10 Affordable & Unique Mother's Day Gift Ideas!
On Mother's Day, you want to get the mom, stepmom, grandmother in your life a gift that would count. However, this could come across as really hard, as being an older person makes people wonder what one would appreciate for a gift.
Whether she's in her 70's, 60's or even 50's (which is highly unlikely), older women are usually put into a box. Once a woman earns the title "grandma", people put them in a box.
For this reason, every attempt to get her a gift gets one thinking, "Would she wear that at all?" "Does she have events to wear that to?" At the same time, you want to get her something special that she would look upon and be happy that she's got, great children and grandchildren.
You also want a gift she can look upon from time to time and say she got for her 70th birthday or last Christmas. You want it to be personal and you also want it to touch that special place in her heart.
While a nice mug that says, "We love you you are cool", this generation of older women have moved past that. They have plans for their lives; friends to visit, planned trips, hikes planned out and in fact, the list is endless.
Why Jewelry Make the Best Gifts
Here a couple of reasons why jewelry makes the best gift on Mother's Day:
✓ Jewelry is timeless. Yes, it never goes out of fashion!
✓ It is appreciated by people of every age. No matter how young or old a person is, good jewelry is sure to sweep them off their feet.
✓ You do not have to break a bank. Don't get panicky about the price, we got you! In this article you will find affordable jewelry piece mom will still fall in love with.
✓ Jewelry pieces are relevant no matter the occasion. The occasion does not matter; jewelry pieces just always fit in!
✓ Jewelry goes with every skin tone. No matter the skin tone, a beautiful pendant or necklace, whether in gold or silver, will be a great match for any mom out there. Just keep in mind your mom's preference when it comes to the metal of choice!
✓ Bold or dainty pieces? It's all about the personality type. Does your mom like statement pieces of jewelry? Or she more of a dainty necklace type? Whatever the case is, we chose options for every possible type of woman out there.
✓ You can personalize jewelry gifts! This is one important reason. Imagine mom wearing a piece that reminds her that you really love her all the time. Even while you're not with her, she will always think of you and then smile.
The best part is that to get a personalized jewelry gift, you don't have to break a bank. We made sure to include options that give you the chance to personalize your gift without splurging a fortune!
10 pocket-friendly Mother's day jewelry gift ideas
1. Feelmem Cuff Bracelet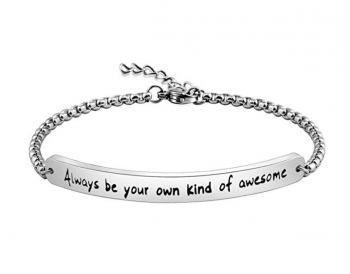 Talking of a gift that mom can keep close to herself as a reminder that she is loved and you get this amazing bracelet! On it is inscribed the words "Always be your own kind of awesome". It is a jewelry piece that can be worn on any day and at any time; whether she's going on a trip, trying out a game or hanging out with the old girls. It fits for every occasion, without leaving out any.
Its design is a great one; it looks absolutely gorgeous. The material is made of stainless steel and therefore it is guaranteed that this jewelry will not get rusted or tarnished.
The details on the jewelry are great, yet not conspicuous. You can gift it to her on Mother's Day or just any random day to remind of how much you love her and how awesome you think she is.
It is adjustable, so you don't necessarily need a measurement of her wrist before you purchase it. However, its dimension is 3.9 X 3 X 0.5 inches and it only weighs 0.48 ounces.
2. Rose Gold Sweet Mama and Cub Bear Bar Necklace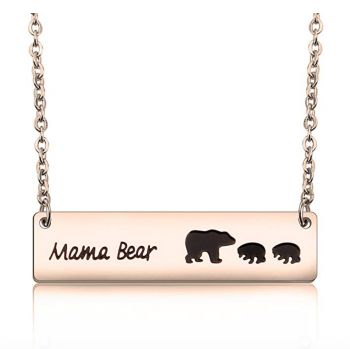 This sweet necklace's inscription and artwork is one that would bring sweet memories to any mother. She would appreciate it deeply as she would see it as a recognition and appreciation for all the years she has shown great love and protected her kids.
It literally tells her how you appreciate her as a warrior and which makes it no random gift.
It would sit perfectly on her neck and the best part is that you get a chance to personalize this necklace with any inscription you want.
This necklace is made of stainless steel and so, it doesn't get rusted and it doesn't get tarnished either. It is highly durable and the chain is as long as 46cm with a 5cm extension.
Its dimensions are 4 X 3.1 X 0.5 inches and it weighs 0.8 ounces. It is nickel free, so grandma's safety is guaranteed. Its affordability is just an added advantage. The fact that it is a unique gift is enough reason to purchase it.
3. Set Heart Bar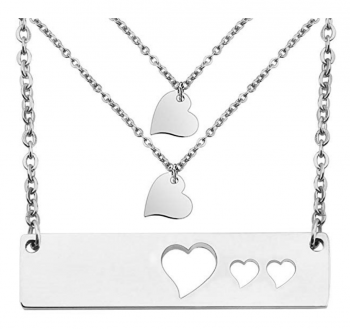 This necklace is a symbol of the bond of love between daughters, mothers and grandmothers in any order. It is a set of necklaces; usually three to four of them in a set.
All are made of stainless steel and are to be shared. Alternatively, for a generation of daughter, mother and grandmother; for a set of three–the grandmother could get the last part (the part with the big bar and love carved out at the center), the mother could get one of the necklaces with the tiny heart, while the daughter gets the last one (which has a tiny heart as well).
This is a representation of a bond that would last forever between mother, daughter and grandmother.
It is properly packed in a red velvet bag and ready to be gifted.
4. 925 Silver Crystal Heart Dangle Charm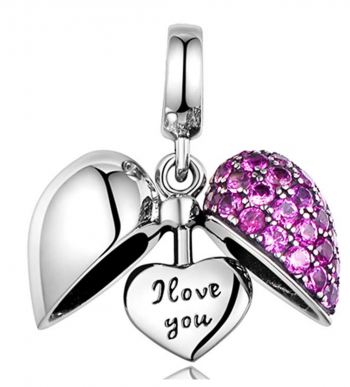 With the inscription "I love you" on it, even though this jewelry is very affordable, it is something any mom out there would appreciate!
You could change her tv set or change her entire wardrobe, but what would really remind mom that you love her are the little things she can carry around. This dangle bead could be one of such things for her, if you purchase it.
Its heart shape would be something that really counts to make her happy. It comes in a nice velvet pouch so you do not have to worry about the packaging.
Despite the fact that it comes at a pocket-friendly price, there's a 30-day guarantee on this product, just to ensure 100% customer satisfaction.
It is a great gift for any occasion and your mom sure deserves it and even more! It weighs 0.32 ounces, so you don't have to worry about how she'll have it with her everywhere she goes.
5. Silver Family Tree Necklace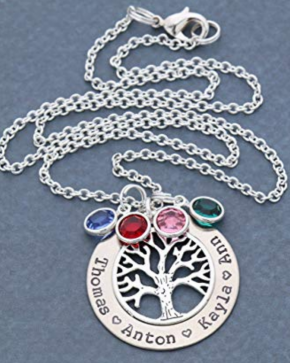 The pendant has a family tree on its inside, so mom can easily have each of her kids represented by a birthstone, so she can carry the memories of them everywhere she goes. It makes for such an emotional gift!
It is made with high-quality material, so it is totally worth the price. It has such a long chain that comes with the pendant which can be worn as one or folded into up to four layers
. This jewelry is carefully designed and hand-stamped, as opposed to mass production which isn't done as carefully as the kind of work put into the making of this piece.
The pendant can be personalized with names and as stated before, birthstones, and this makes it the perfect choice for Mother's Day!
6. 3PCS Charms Adjustable Cuff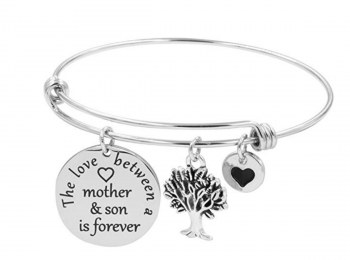 Thanks to its stainless steel, this jewelry neither rusts nor fades. It comes in a beautiful pouch and the words written on it reads, "The love between mother and son is forever".
Manufactured by Yiyangjewelry, a company that uses highly-rated technology in welding hence the charms of the bracelet will not fall off easily.
The bracelet is adjustable and expendable, so her size would not be a problem. It is properly packaged too, so once you've bought a gift, you don't have to worry about a box in which you can wrap it.
7. 925 Sterling Silver & Cubic Zirconia Petite Studs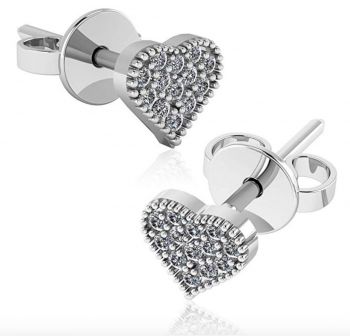 Got a fashionable mom who likes all things that glitter? Then, you need to get her this studs! Made with the best of sterling silver with 92.5% a precious form of silver metal, this is a great choice for a perfect gift.
These are free from materials such as lead and nickel, so you can be sure her sensitive skin wouldn't get affected in any way.
It was made with the best of cubic zirconia gemstones; this is what makes it sparkle so well. In fact, people have been found to mistake this cubic zirconia stone used for diamonds, so this really good stuff.
The studs come with a 30-day guarantee following purchase, just to ensure you have the exact product you want and you're satisfied.
8. Generations Necklace – Interlocking Circles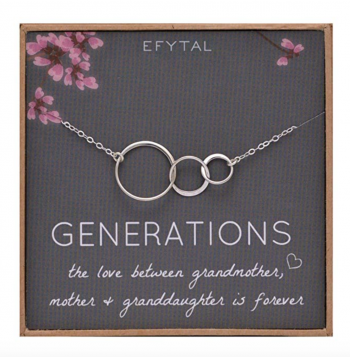 This is a necklace with three interlocking sterling silver circles representing each generation of women in the family.
It comes with a beautiful note inside and it's packaged attractively, ready to be gifted. It was manufactured by Efytal; a company known for making super cute and dainty jewelry that does not break easily.
This necklace will certainly capture her heart and every time she wears it, she will have both her mom and her daughter near her heart!
9. Stainless Steel Pendant Necklace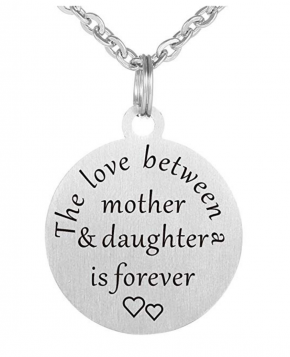 "The love between a mother and a daughter is forever". This is what the pendant of this beautiful necklace reads. There's an added heart right over the pendant and it makes the piece even cuter.
Made with high-quality alloy, it comes in a super cute pouch that can be used to store this necklace as well as other jewelry laying around.
It also has the extra advantage of coming with an 18" long chain. The best thing is the company behind this piece of jewelry gives you the option to return it for free or exchange it for something else in case you're not satisfied with the product you get.
Now that's what we call a great5 customer service!
10. Heart Pendant Necklace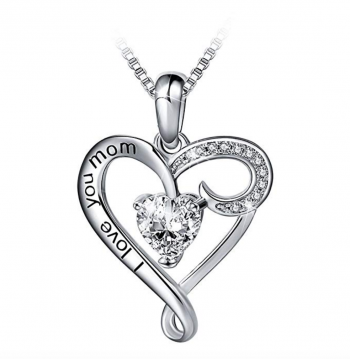 The message engraved on this pendant is very simple, yet very straightforward and striking. It reads, "I love you mom".
This makes for a great, affordable gift that looks fantastic while holding sentimental value. What mom wouldn't want to be given this gorgeously sparkling pendant on Mother's Day?!
The pendant is made from 925 sterling silver plated in white gold for added shine. The beautiful gemstone heart is sparkly zirconia. For quality assurance, the designer has included the S925 stamp on the clasp so you know you're getting pure sterling silver!
Nickel and lead-free, the beautiful heart-shaped pendant will arrive in a dark silver box wrapped with a bow, ready to be gifted to any mom appreciative of super pretty jewelry!