Gift Guides
Bridal Party Gifts the Bride Will Never Forget!
A bridal party is a great occasion for the bride to celebrate with her closest friends and family. This is not only the perfect occasion to talk about the pending wedding but also get and have some fun, let your hair down and enjoy a drink or two. When it comes to bridal gifts it may be tricky to decide on what you should buy the bride to be and how much you should spend.
If you're looking for some special keepsake gifts for the bride to be, then we've collated a list of some of the best gifts for you to surprise the bride with at the bridal party. These sentimental pieces of jewelry will show her how much you mean to her and what a special person she is. Enjoy shopping!
Our 10 favorite picks!

1. Miss Pink Wedding Gift
If you've been looking for the perfect keepsake item for the bride to be then you may have found it with this cute little bangle. This thin silver bangle contains four pretty charms that all represent and will connect to the soon to be the bride in some way. The first is a circular coin that includes a message saying 'Bride to be'.
This special message will remind her of her special bridal party and will act as a momentum of the time running up to her special day. Next we have a cute little silver bouquet of flowers that represent her flowers on the wedding day. The third charm is an engagement ring. This again can act as a reminder of the day she was proposed to by her fiancé and memories from that day. Finally, the last charm represents a glass of red ring and the day she will spend celebrating her wedding day.
This bangle has been made from a high polished stainless steel metal. What's great about a bangle rather than a bracelet is that this bangle is easily adjustable so can fit most wrist sizes. The 2.5 inches in diameter makes the bangle a great size. The four charms that are featured on the bangle are made from an eco friendly zinc alloy. They're also nickel free and lead safe which is great for ladies with sensitive skin.
The receiver of this charm bangle would definitely be happy with this gift. This piece of jewelry contains lots of meaning and would definitely put a smile on any ladies face. This gift also comes in a soft velvet bag which will protect the gorgeous bangle.
This pretty gift has been made by Miss Pink and this jeweler certainly loves their bangles! Browsing their collection, this jewelry loves personalised gifts that mark a special occasion. Their individual pieces also carry a lot of sentimental value for the receiver. This particular bangle is being sold at a low price and if you take a look at their larger collection, all of the items are being sold at a low price as well. Enjoy looking at their collection, there's a lot to choose from.
2. Cate & Chloe Stella Jewelry Set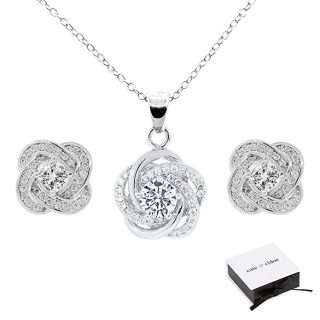 Glitter and sparkle! You won't be forgetting this pretty necklace and earring set in a hurry.
This sparkly necklace and matching stud earrings consist of a beautiful shimmering swirl design in a halo shape setting. This lovely set has been created using an 18k gold plated brass metal and gorgeous cubic zirconia jewels that are truly breathtaking. One look at these jewelry pieces and you won't want to take them off in a hurry. I hope you'll agree with us when we say this matching set has plenty of character. The lucky lady who receives this gift set won't be able to take her eyes of the stunning diamonds.
What's great about this matching set is that they're made using lead and nickel free metal. The earrings have a butterfly backing which makes them very comfy to wear. The necklace also has a chain which is approximately 16" in length and is extendable to 18" if required. This gorgeous set will also arrive in a luxury gift box with a beautiful ribbon on wrapped around it.
This lovely necklace and earrings have been made by jewellers, Cat & Chloe. Their extensive collection consists of earrings, necklaces, pendants and bracelets – all of which feature lots of diamonds! This set is being sold for a low price, making it extremely good value for money. If you take a look at the rest of their collection, they are also being sold at a low price. We think this is an absolutely stunning collection so go on and treat someone special to a gift!
3. La Regis Jewelry Cultured Pearl Set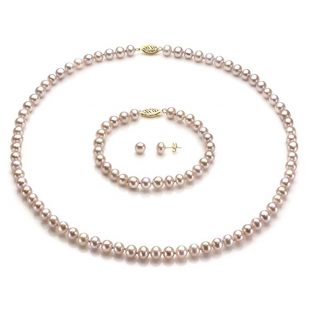 This freshwater pearl set is a truly elegant gift to get the bride to be. Consisting of a necklace, bracelet and earrings, this beautiful set is a timeless collection that will last for years to come.
Made from 14k yellow gold, this jewelry set includes an 18-inch length necklace, a matching bracelet and earrings. Both the earrings and necklace complement this gorgeous necklace and will complete your entire outfit. The great thing about these pearls is that they are very versatile. Whether you're meeting up with friends, going to the office or attending a fancy event, you can guarantee a pearl necklace will go with any outfit. Fresh water pearls can also vary in price, so you may even to be able to pick up a bargain!
These particular fresh water pearls have been cultured which means they have been farmed and discovered from freshwater mussels. Cultured pearls are produced in China but can also be produced in the US and Japan on a limited scale. The great thing about cultured pearls is that they have a lovely shine to them which makes them look exquisite. Pearl's are definitely a necessity for any girls jewelry box!
Whether the bride to be is young, middle aged or slightly older, a pearl necklace, bracelet and stud earrings like these would make a lovely bridal gift. You can guarantee that a lot of love, care and attention have gone into making these beautiful pieces.
If you're wondering about the size of this necklace it's approximately 18", the matching bracelet is 7" and the gorgeous freshwater cultured pearl studs are the size of a cute button shape bud.
When purchasing pearls it's important to be aware that they come in all different colors and sizes. This particular set has a light pink shade to them and are a semi-round shape which is approximately 6 – 6.5mm in diameter.
This timeless jewelry set has been created by La Regis Jewelry. If you take a look at their collection you'll notice their love for pearls straight away! Earrings, necklaces and bracelets. White, pink, black, blue and brown – this jeweler really likes to create unique and stylish pieces of jewelry. Take a look at their collection now!
4. Devin Rose Adjustable Bolo Style Bracelet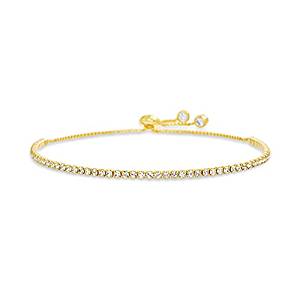 If you want to treat your best friend to a piece of glitz and glamour ahead of her wedding day then this tennis bracelet is an unforgettable gift that she'll truly cherish!
This bracelet is a dainty piece of gold jewelry that has been elegantly designed to include sparkling gemstones throughout the bracelets. The bracelet has been made from yellow gold plated brass metal which gives it a very sophisticated look. The sparkling gemstones that feature along the bracelet are Swarovski crystals which have been cut into a round shape. If you're not familiar with this style of bracelet, they're actually called a Tennis Bracelet which is a flexible gold bracelet that features multiple diamonds in a row. You may also ask the question, why is the bracelet called a tennis bracelet? This is because in 1987 during a tennis match Evert lost her designer diamond bracelet while playing her tennis game and the rest is history…
The great thing about it is that it has a slider back and is adjustable so can fit any size wrist. However if you've got a petite wrist, this style of bracelet would look great on your wrist. The Swarovski crystals are cut to approximately 2mm in size and are held securely in place by a prong setting. This particular bracelet also includes a clear colored crystal which makes it extremely sophisticated. This particular bracelet has a yellow gold plated brass chain, however the designer also gives you the option of purchasing a bracelet in either rhodium or rose gold metal. The adjustable attachment to this bracelet also makes this piece very comfortable. If you're lacking in a bit of sparkle in your life this is definitely the bracelet for you!
Another fantastic thing about this bracelet is that you can either wear them on their own or they look great stacked together! Why not buy a couple of them, varying in metal types and wear them in a layered look. By doing this the bracelets will certainly brighten up your wrist. This is also a great accessory to wear with any outfit. This minimalistic accessory looks effortlessly glamorous.
This gorgeous bracelet arrives in a soft velvet pouch that will keep your bracelet safe. This pretty piece of jewelry has been made by Devin Rose. Based in New York, they create fashionable pieces of jewelry with a modern twist. This jeweler is definitely known for being a trend setter. If you take a look at their collection, they make beautiful earrings, necklaces, bracelets and rings.
5. Zodiac Jewelry Constellation Star Necklace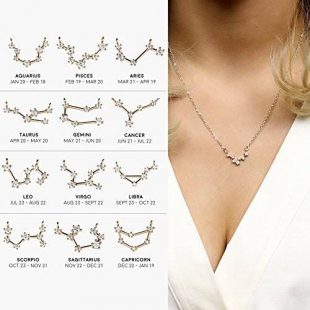 Personalised jewelry is a great way of showing a loved one how much you care for them. Take for instance a bridal party, if you want to give the bride to be a present that no one else will, then this necklace is a wonderful gift!
These gorgeous necklaces have been designed to represent the constellation of the month you were born. This unique and special way of representing your DOB is a lovely way to symbolize someone close to you.
This dainty necklace has been made from a 16k gold plated metal which includes gorgeous diamonds which are made from cubic zirconia gemstones that stand out beautifully next to the gold metal. The gorgeous gemstones are colorless and have been cut to a round shape with a size of approximately 2.34mm in length, 2.6mm in height and 2.34mm in width.
If you're wondering how large this necklace is, the jeweler has designed this piece to actually be very small and dainty. However the length of the necklace and chain is a descent size, approximately 1.35 inches in width and 17.50 inches in length. The necklace also has a lobster claw clasp which is an easy way of undoing the necklace but also keeps it secure on your neck.
What's great about this supplier is that if you don't like gold jewelry, this necklace is also available in a silver plated metal and rose gold metal, giving you plenty of options! Each piece of jewellery has been handmade and made to order which means every piece made is individual and unique to you. No one will have the exact same necklace.
This super cute necklace has been designed and made by MignonandMignon who love their personalised jewelry. Necklaces, bracelets and earrings -this jeweller loves their monogrammed jewelry. They also use a variety of metals to create their unusual pieces, including yellow gold, rose gold and sterling silver.
6. Pandora Wedding Day Charm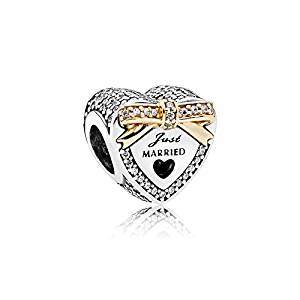 If your best friend adores PANDORA bracelets just as much as her hubby to be, then this gift would be a lovely present for the bride to be! This pretty little charm is shaped into a lovely little heart with a bow on the top. If you love some glitz and glamour this charm includes sparkling gemstones which will glisten all day long. The heart shaped charm also includes a cute personalised message 'Just married' which will remind her of what a great friend you are!
This genuine PANDORA charm has been made from both silver and gold. The charm includes gorgeous little gemstones which are made from white zirconia stones. If you're wondering what this particular charm is called it's 'Heart of Wedding'. W think it would make the perfect bridal party gift.
When it comes to PANDORA, they have done a fantastic job with designing and creating this pretty little charm. The lovely charm will arrive in a stylish but simplistic white PANDORA box, held in a white PANDORA branded bag. There's no need to worry about any additional gift wrapping for this gorgeous piece because it's all done for you!
When it comes to the price, this pretty little charm it being sold for a high price. However if you compare it to the high street price you'll be pleased with what a great deal this it. Everyone loves a bargain!
PANDORA is an international jeweler who founded in 1982. The jeweler started off life in a shop in Copenhagen and is now known all around the world for making customized necklaces, rings and charm bracelets that are utterly gorgeous! They also design and make stunning watches! If you haven't heard of them before where have you been? This is a lovely keep sake item that they'll be wearing for years to come. Look at their range of jewellery products now and choose your favorite!
7. Mariell Cubic Zirconia Bridal,Dangles
Every lady loves a bit of sparkle, especially some sparkle in the form of a pair of earrings. Our dangly earrings from Mariell would make the perfect bridal gift.
These stunning dangly earrings have been created using the finest quality cubic zirconia jewels. They have been shaped to a pear drop shaped earring that looks utterly fine. These jewels can be described as a brilliant diamond and are completely colorless so will catch the light beautifully. The cubic zirconia jewels have also been securely held in place by a prong setting. When it comes to the sizing these earrings are approximately 1.50 inches in length, 1.5inches in height and approximately 0.5 inches wide, giving you a great size.
These are big enough to be a statement piece which people won't be able to take their eyes off but at the same time won't be too big to be uncomfortable to wear. This pair of earrings comes with a dish back which provides extra support and comfort for the wearer. These earrings are also made from a rhodium plated brass metal. Rhodium not only makes the earrings durable but also gives them a lovely shine. These earrings would make the perfect gift for any bride. They may even like to wear these on the day of the wedding, when walking down the ale.
With these stunners we promise plenty of dazzling jewels and shimmer. Whoever wears these earrings will definitely be a head-turner. You'll be shocked by the price of these gorgeous earrings. They're being sold for a low price, which is very reasonable if you look at the quality and design! They'll also arrive in a lovely little black box which will keep your precious earrings safe.
The beautiful pair has been created by Mariell who specialise in bridal jewelry and accessories. If there's one thing they can do well is make wedding jewelry! If you take a look at their website you'll see their stunning selection which includes earrings, necklaces, bracelets and hair pieces – all of which contain lots of sparkles!
8. THE PEARL SOURCE 9-10mm Genuine White Freshwater Ally Earrings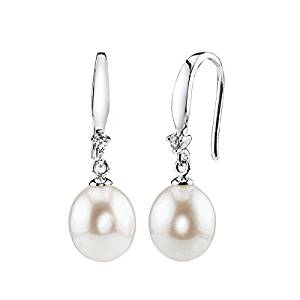 We've selected another pearl item that you just won't want to take your hands off! This elegant pair of pearl earrings is another gift that the bride to be will love as a present.
This pair of earrings has been made from white freshwater pearls that have been cultured. To give you a rough idea of the size these earrings are approximately 9-100mm long in the drop and have been made from a high quality pearl. These handpicked high quality pearls have been mounted on the finest sterling silver metal. If you're missing that tiny bit of sparkle these freshwater pearl earrings also include cubic zirconia gemstones which sparkle beautifully. When it comes to the shape of these pearls, they have been shaped to a round shape and the surface of the pearl has a very light blemished finish. The white pearls have a French hook backing to them which keeps them securely in place and avoids them from coming off your earlobe.
This pretty pair of earrings has been sold from The Pearl Source, who love their pearl jewelry! This particular pair of earrings is being sold for a medium which makes them a great gift to give to your friend on her bridal party.
What's great about The Pearl Source is that they exclusively sell pearls. They hold a lot of knowledge and expertise in this area, in particular for a unique gem like a pearl. The Pearl Source pride themselves in being the experts in their field and they hand select all of the pearls, ensuring that they are of the highest quality. They are committed to offering the best quality products and uniformity. They can also guarantee that they create jewellery using genuine cultured pearls. To prove this they include a certificate with each of their pieces, confirming the quality and origin for their pearls.
9. WeimanJewelry White Gold Plated Bracelet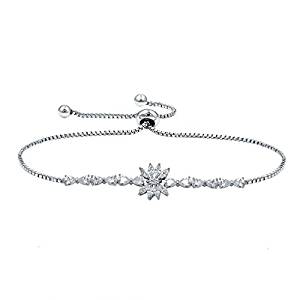 For the lady who loves her dainty jewelry this is a gorgeous bracelet! This pretty chain has been created with a diamond encrusted leaf design along the chain. This design is meant to represent a flower and leaves but could also be mistaken for a snowflake, especially with the amount of sparkle present within this bracelet.
It has been made from a white gold plated copper metal and includes beautiful cubic zirconia diamonds. The gemstones are held in place securely by a prong setting. The great thing about this bracelet is that the silver chain can easily be adjusted to make the perfect size. When it comes to the design of this bracelet it features a flower in the middle of the bracelet along with a mini flower either side. One word to describe this bracelet would definitely be elegant! The bracelet is also very light weight making it extremely comfortable to wear. You may even forget you're wearing it!
This bracelet has been created by a jeweller called WeinmanJewelry who love making dainty jewelry with plenty of sparkles! If you take a look at their extensive collection they make earrings, necklaces and broaches – all of which sparkle!
10. JewelryPalace Stackable Wedding Band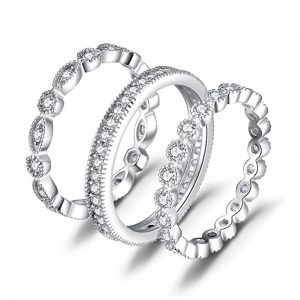 If the bride to be loves pretty rings then why not get her this beautiful set of three stackable rings made by JewelryPalace.
This set of three rings has been beautifully made from sterling silver. Each ring holds a unique intricate design which makes them stand out amongst one another but at the same time complement the other ring. Even though each ring varies in design they all include a selection of gorgeous cubic zirconia held securely in a prong setting. You'll be surprised to hear that these three rings hold around 75 diamonds – that's a lot of sparkles!
The cubic zirconia gemstones have been cut to a round shape and are white so will reflect beautifully against the sterling silver metal. An important thing to point out is that as well as the sterling silver, these rings are made from a rhodium plating which means they will last for a long time and will keep their brightness and shine. The rhodium plating will also ensure that these rings have a lasting silver colored finish to them.
This beautiful trio will arrive in a lovely bright blue jewelry box that looks extremely sophisticated. JewelryPalace has created this collection of layered rings and they look utterly gorgeous together. Founded in 2007, these gem experts have been making beautiful jewelry pieces since then. When stacked together these rings make a fantastic accessory that you won't want to take off. If you take a look at their collection, this jeweler loves to create rings, pendants, necklaces and earrings – all containing lots of sparkle or colorful gemstones!